We've stayed in some amazing hostels during our eight years of travel, but none can compare to the incredible place that we recently just stayed: La Serrana Eco-Farm and Hostel in the coffee region of Salento, Colombia. In our opinion, if you don't stay here, you're missing out!
Note: We weren't paid to write this review and we didn't receive a free stay. We paid for our room just like you…but we loved it so much that we felt it deserved this write-up! 🙂
Our Room
La Serrana has numerous room options: camping in your own tent, camping in their luxury tents, dorm rooms, private rooms with shared bathroom, private rooms with ensuite bathroom, and our room which was actually in a separate house, about a 7 minute walk down a dirt road from the main hostel.
Our house was called "Las Camelias", and it was shared with 2 other rooms. We were in the King Room and it was spectacular!
From our bed, we looked out through a large window at the mountains across the way. The sun beating in the window in the morning was the best way to wake up! During the chilly evenings when it was raining, we would light a fire in our private fireplace and crack open a bottle of wine.
The bed was comfortable and the attached bathroom was a bonus.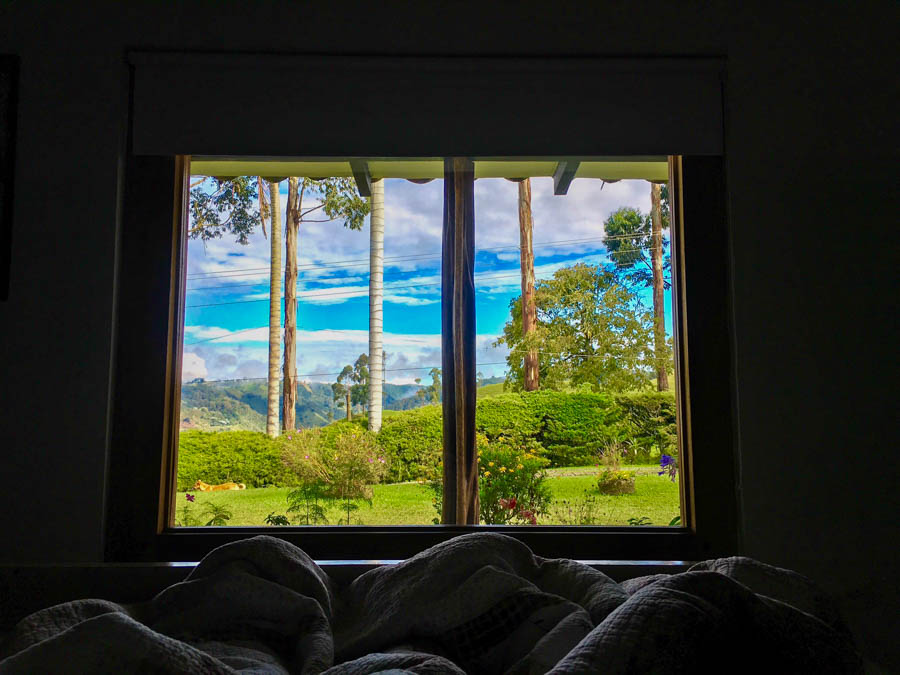 We also had access to the entire farmhouse, with the other two couples who were staying in the other rooms. We had some great housemates! The living room was filled with comfortable furniture, another fireplace, a large dining room table and a kitchen for us all to use.
The entire living and dining room areas were blessed with floor-to-ceiling windows. The expansive views across the valley were awe-inspiring.
Each day, our room was cleaned by the friendly staff and the wood for our fireplace was replenished. A large breakfast of eggs, toast, fruit and coffee was included in the room rate as well. Our wonderful room was 135,000 pesos ($44.75) / night, but because we stayed for 7 nights, we received a 10% discount, making the room around $40 / night.
The Amenities
La Serrana, which is considered the main farm-house / hostel, has a kitchen for guests to use, and a very large common area with couches, tables and chairs. Laundry service is available for 7,000 pesos ($2.32) / kilogram. The receptionists here are a wealth of knowledge, with one person speaking English, and the rest speaking Spanish.
No matter where you're planning to travel to after Salento, you'll find the information you need by flipping through one of the travel binders the hostel has put together, or simply asking the staff.
In the house next to La Serrana (on the same property), you'll find a few of the double rooms and the main kitchen (staff only). Here they offer a nightly dinner for 17,000 pesos ($5.60). The cuisine changes each night, and it's not offered on the weekends. The women who serve breakfast and dinner here are lovely!
Just beside that kitchen is a backyard with covered picnic tables and a bonfire area – which is lit every night, weather permitting.
To the other side of the kitchen is a large area for camping, either in your vehicle, your tent, or one of the stilted tents available from the hostel. There is a large outdoor bathroom / shower area, plus benches and tables with outstanding views of the mountains. This is where we chose to enjoy our coffee in the mornings.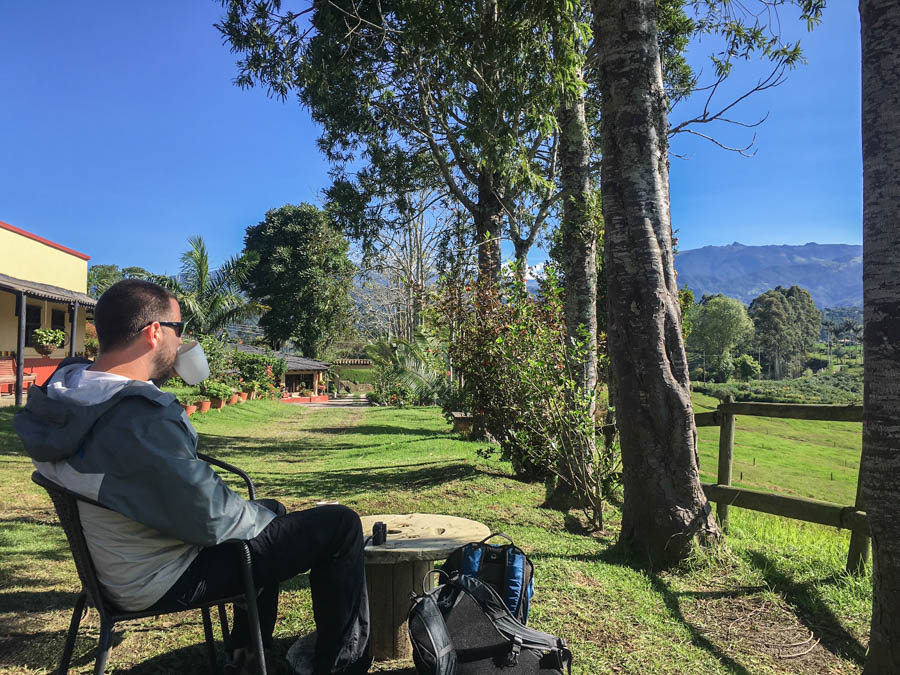 In the mornings, we would walk down our dirt road to join everyone for breakfast in the morning. And for dinner when it was raining and we didn't feel like going into town or to the main hostel, we would order in from one of the restaurants! There are two in town that deliver (Brunch and Beta Town), and they would bring our supper directly to our door – gotta love that!
If you go to the Luciernaga restaurant, guests of La Serrana receive 10% off, and a free beer.
The Landscapes
If you love vast mountain ranges, deep valleys and a peaceful atmosphere, then this place is for you. The farm-turned-hostel is set on a hill surrounded by a valley, with towering mountains in the distance. This area receives quite a bit of rain, so the hills are a vibrant green colour and are incredibly lush.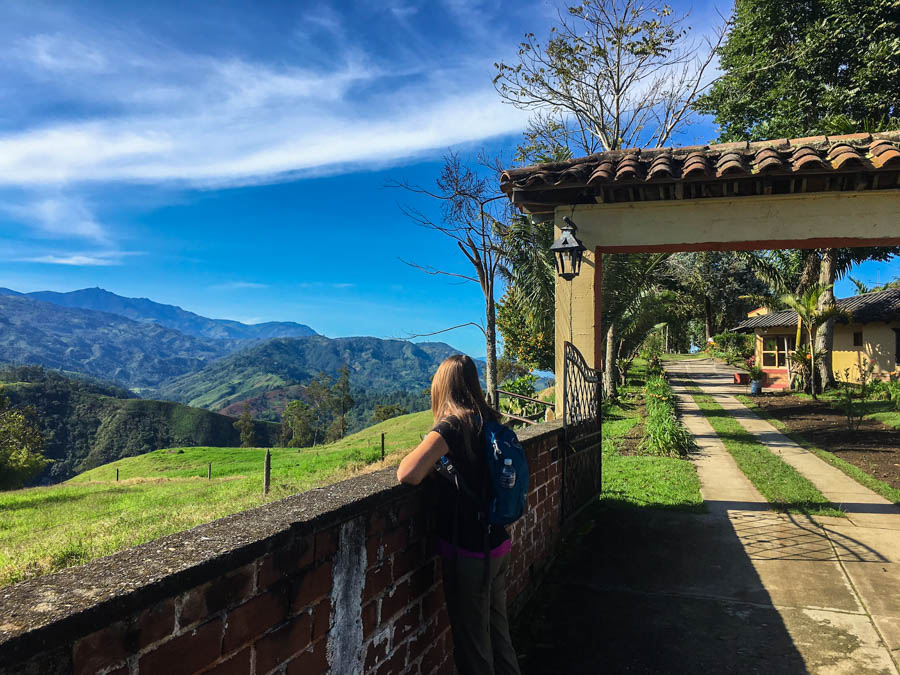 Even during the rainy / cloudy weather, we were in awe of our surroundings, especially when the mist would rise from the valley floor to create an eerie atmosphere!
We spent many afternoons and early mornings with a cup of coffee in hand, an adorable stray dog by our side, and gorgeous vistas in front of us. This hostel was so serene.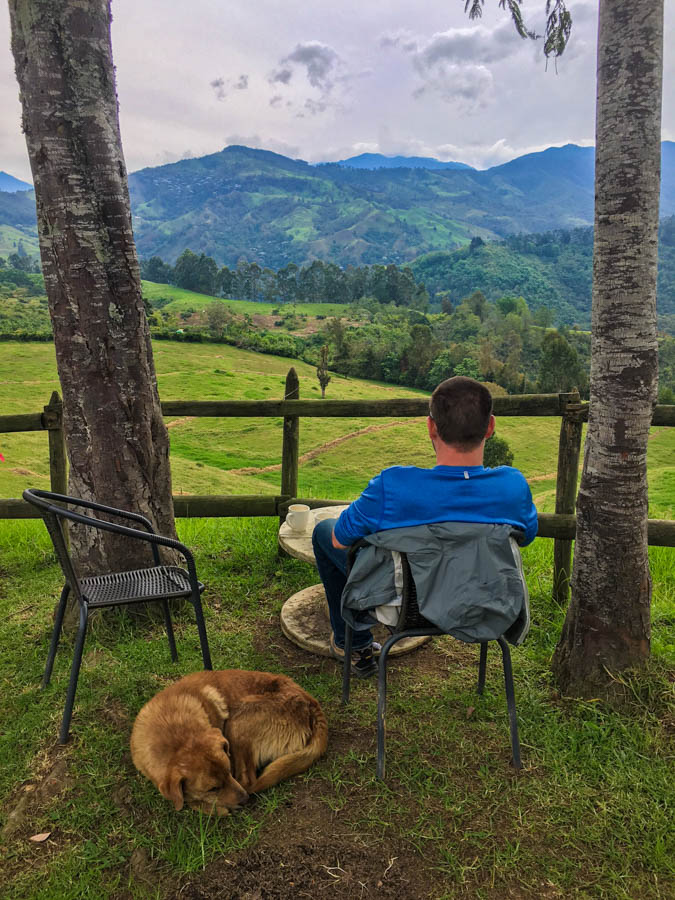 The Activities
There are numerous things to see and do around Salento, all of which can be arranged at the hostel, or at least they can help you out with any questions you may have.
There's a small dirt road directly beside La Serrana which is a very nice, 45 minute walk to reach the coffee farms of Osaco and Don Elias. You can hire horses to take you to the coffee farms, or to the waterfalls as well – arrange this from the hostel.
For trips to the incredible Cocora Valley, La Serrana can call a "willy" (jeep) for you, and they also have directions for the hike printed out.
La Serrana also offers Yoga at the hostel twice a week, and you can arrange for Spanish lessons too!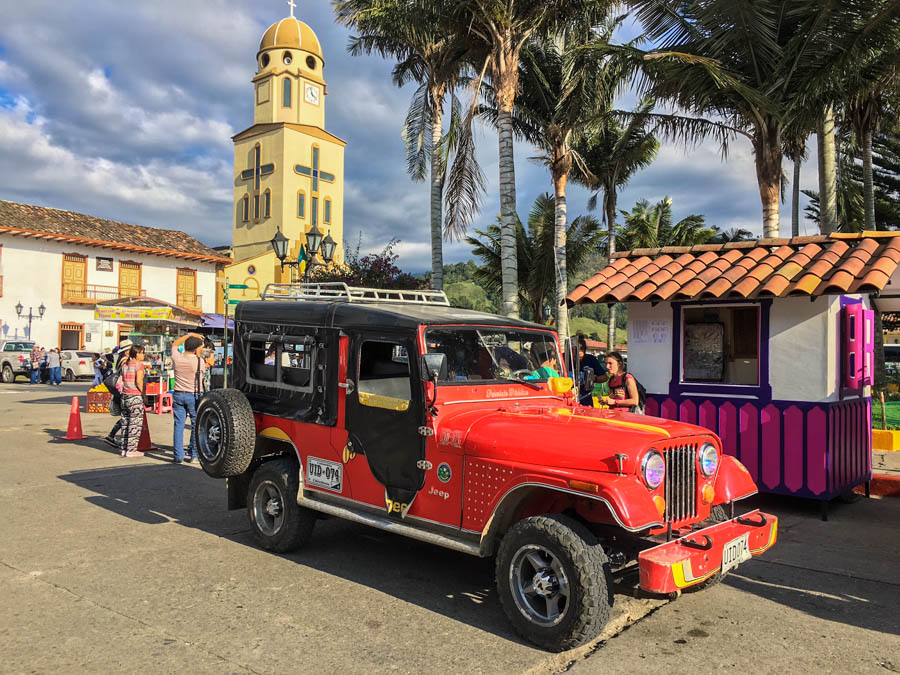 Convinced Yet?!
After spending 7 nights at La Serrana Hostel in Salento, we can honestly say that it's our favourite accommodation to date. The staff went out of their way to help us with any and all questions that we had, and they were a pleasure to be around. The property was so large that even though the hostel was filled with like-minded backpackers, it never felt crowded.
Being able to have our own little farm-house, with fireplace, really added to the romantic and tranquil feeling of the area. We highly recommend you stay here during your trip to Salento, but be warned, this place books up fast so if you are planning a trip to this area, definitely book ahead if you want to stay at La Serrana 🙂
Again, we weren't paid to write this, and we didn't get a free stay at La Serrana! It was just so awesome that we wanted to share it with you. Cheers!
Where has your favourite accommodation been? Tell us in the comments!
Check out our quick video of our time spent in Salento!
Like this Post? Pin it!