Laganas Beach in Zakynthos is the most popular beach destination on the island and while it does attract a large number of young partiers during the summer months, the calm bay with golden sand also attracts families for its many accommodation options and shallow gradient into the clear Ionian water.
Even though it's a busy spot, it still made our list of the best beaches in Zakynthos.
In this post, I'm going to break down everything you need to know about Laganas Beach Zakynthos so that you can make an educated decision about where to stay on Zakynthos. This post will include all of the best hotels, restaurants, day trips, nearby beaches and more.
Let's get started with our travel guide to Laganas Beach.
Read More: 15 Cool Things To Do in Zakynthos
About Laganas Beach
Laganas is a love it or hate it kind of place. For those who don't mind the crowds, all-day watersports, all night clubs and package tourism offerings, then this is the place to be, particularly in July and August.
But for those looking for a slice of Zante Paradise, then Laganas Zakynthos may no be the best base to explore the island unless you're visiting in the shoulder/offseason.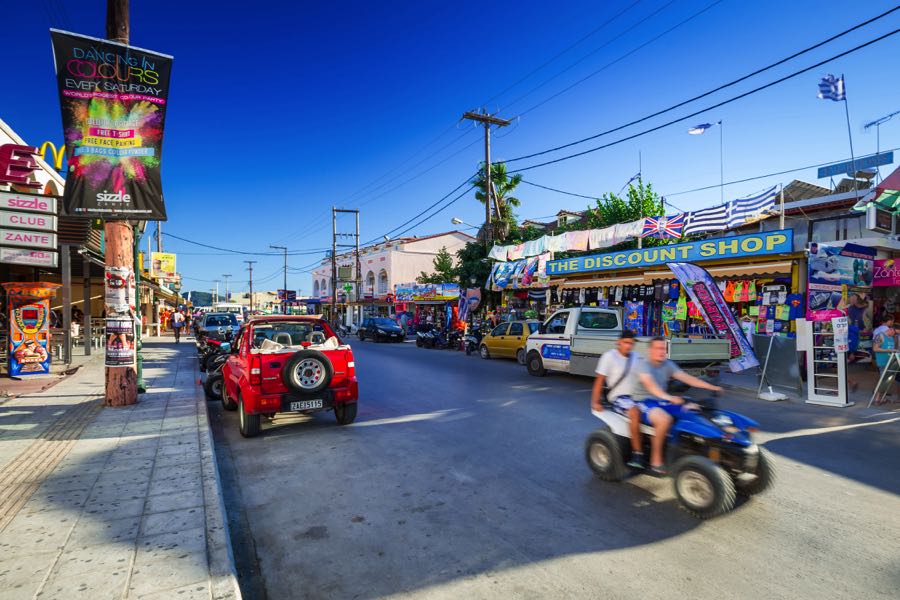 The island of Zakynthos has a population of around 41,000 people and an area of 405 kilometres² (156 miles²). The capital of the island is the city of the same name on the southeast coast (Zante Town aka Zakynthos Town).
Read More: The Ultimate Guide To Greece Travel
Where is Laganas Beach?
Laganas Beach is located on the island of Zakynthos (aka Zante) in the Ionian Sea of western Greece. The island of Zakynthos is a growing tourist destination in Greece located about 20 kilometres west of the Greek Peloponnese mainland and 249 kilometres west of Athens, the capital.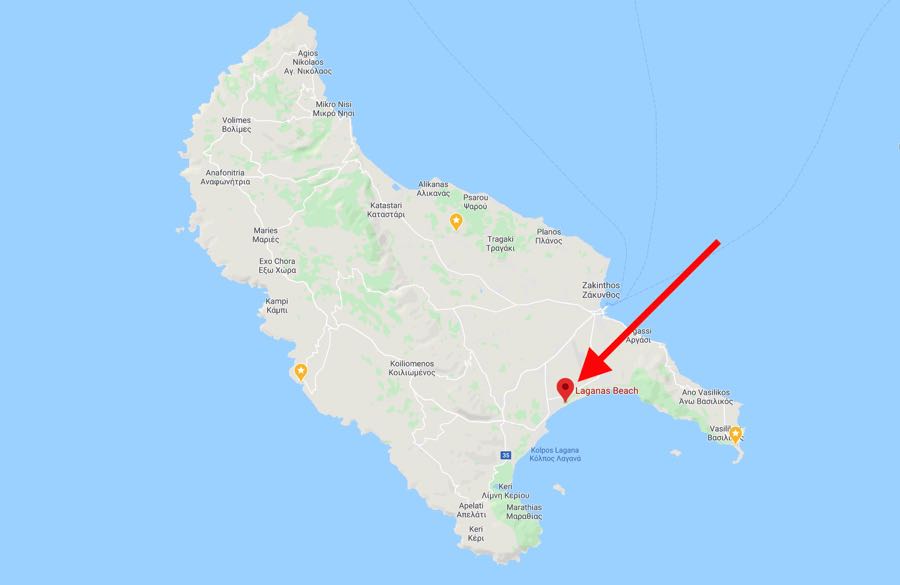 Laganas Zante is located about 8 kilometres (16 minutes by car) south of the capital of the island, Zante Town. It's in a large natural bay wedged between the Visilkos Peninsula to the east and the southern tip of the island which leads to Keri Beach.
Other Places On Zakynthos Island
How To Get To Laganas Beach
Because Laganas is one of the most popular stops in Zakynthos, there are plenty of ways to get here. The airport is only 15 minutes away by car and the ferries from mainland Greece to Zakynthos port at Zante Town about 20 minutes away. For Ferries onward to Kefalonia, you'll have to go to the northern port town of Agios Nikolaos.
Rent a Car
The best way to get around Zakynthos is by renting a car. We rented a car for the entire duration of our stay on the island (around 10 days) and we couldn't recommend it more.
The cost of car rentals in Greece starts at around €16 per day, whereas day tours around the island will usually cost you around €30 per person. While there are some day tours you'll still want to do, having a car will give you the freedom to explore on your own and it will cost you a lot less than tours, particularly if you have more than one person sharing the cost.
Public Transport
If you're staying in Laganas Beach, you'll have plenty of public bus options as well. The bus times can be a bit unpredictable and most buses will run through Zante Town first, but you can definitely get to most of the southern and eastern towns using the public transport system.
The stops for the public bus are as follows:
Argassi – Xirokastelo – Vassilikos – Porto Roma – Tsilivi – Planos – Tragaki – Kipseli – Alykanas – Alykes – Katastari – Orthonies – Anafonitria – Volimes – Exo Hora – Kambi – Agios Leon – Agios Nikolaos – Machairado – Galaro – Gyri – Keri – Agalas – Lithakia – Laganas.
Renting a Boat
A third option for getting around the island from Laganas would be to rent a boat and drive it around the island. You won't be able to go too far as the seas can be dangerous and the boat rental companies have justified limitations, but it's a great way to see many places on the south shore.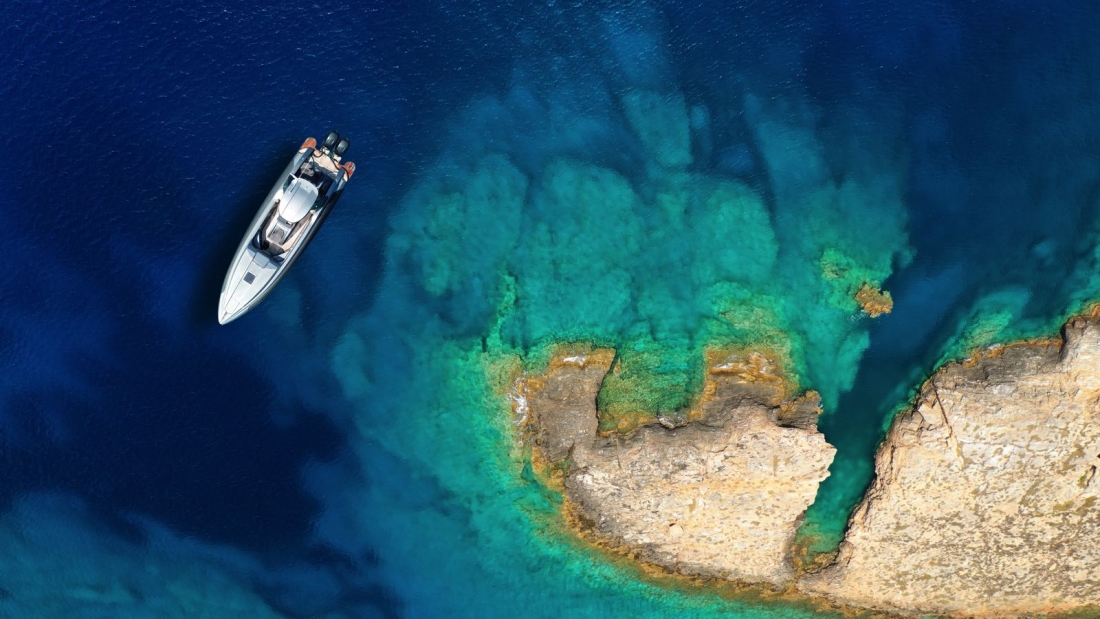 Boats start at around €80 per day + gas and in my opinion, renting a boat isn't just one of the coolest things you can do in Zakynthos, it's is one of the best things to do in all of Greece.
Click Here to read our post all about renting a boat in Zakynthos and also check out our experience renting a boat in Kefalonia.
Getting To Laganas Beach from the Zakynthos Airport
Laganas Beach is located about 7 kilometres (15 minutes by car) south of the Zakynthos "Dionysios Solomos" Airport. If you choose not to rent a car at the airport, the cost of a taxi from the airport to Laganas Beach area will start at around €17. Get Your Guide also offers this luxury shuttle service.
Best Time To Visit Laganas Zakynthos
If you're planning a trip to Greece and you plan to hang out on a beautiful beach like Laganas Zante, then you're going to want to plan to come when the weather is clear and the sea is warm. If you're only coming for a quick visit on a day trip around the island, you'll also want to come at the perfect time of day to see the beach in all of its glory.
The Best Time of Day To Visit Laganas Beach
The best time of day to visit Laganas Beach is basically any time of day. In the morning you can see the sky light up to the east as the sun rises over the Greek mainland. In the late afternoon, you can see the reverse effect to the west (Laganas Zakynthos is a great beach for sunset), and in the middle of the day when the sun is directly overhead, it illuminates the sand, turning the Ionian water an electric blue.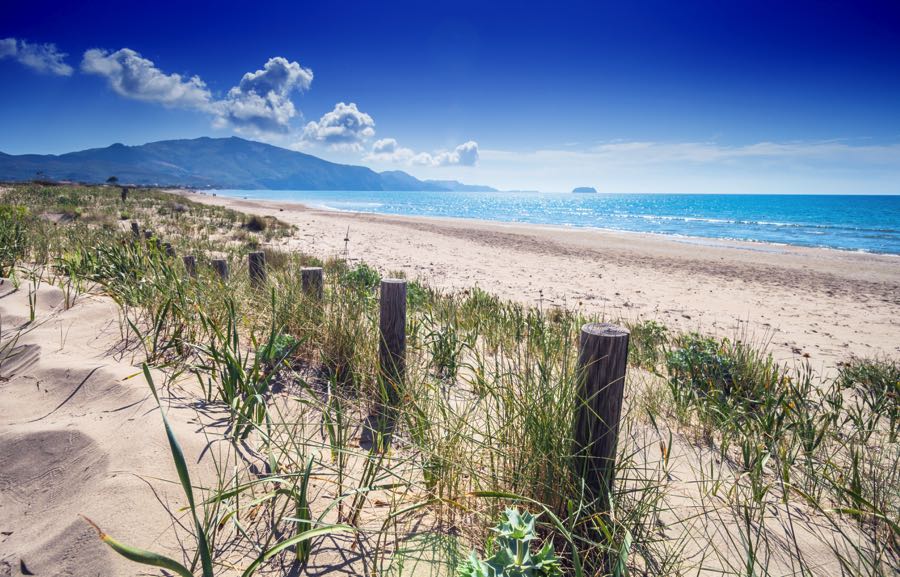 The Best Time Of Year to Visit Laganas Beach
While Greece is a year-round destination, the absolute best time of year to visit Greece is generally between the months of March and November. But if you're coming for a beach holiday to Laganas Zante, then you'll want to skip the cooler months on either end.
The best time to visit for beaches is any time between May and October when the sea is warm enough to swim and the sun is likely to be shining. July and August are peak months when Laganas Beach can be absolutely crammed with tourists. That's why we prefer to visit in the shoulder (quieter) months of April-May and September-October.
The Type of Sand on Laganas Beach
Zakynthos Island is blessed with many sandy beaches and Laganas is one of its prettiest options. Aside from the crowds, this is one of the best beaches in Zakynthos. The sand here is fine and golden and the gradient going into the water is a gradual slope, making it perfect for families with kids.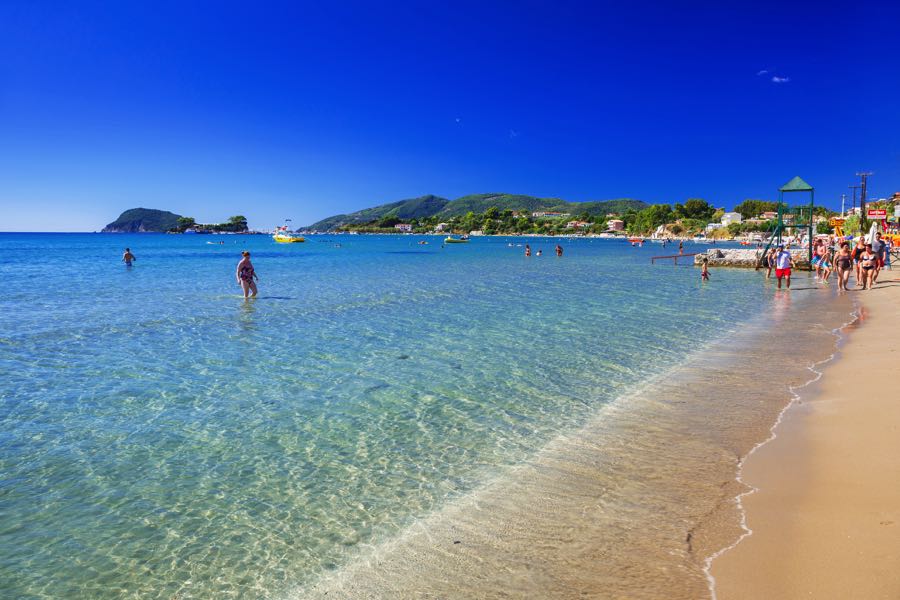 Facilities on Laganas Beach
Laganas Beach is a popular nesting ground for the Loggerhead Turtles and as such, the facilities on the beach have to abide by certain rules to ensure that the turtles and their nests aren't disturbed any more than necessary.
There are umbrellas and sunbeds for rent but the chairs should be placed strategically as to not disturb any nests. Be careful when moving your chairs. The cost of rental starts at around €8 per day for 2 sunbeds and 1 umbrella.
Technically there aren't supposed to be any watersports on Laganas Beach because its part of the Zakynthos Marine National Park, but that doesn't stop shops from renting them and tourists from driving them up and down the beach.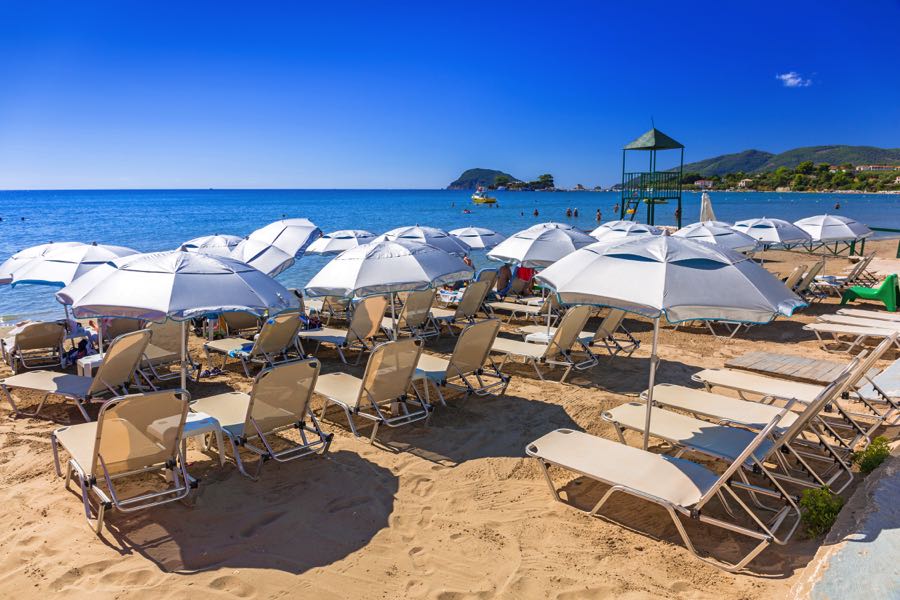 If you're going to rent jet skis from the rental places on either side of the beach or take part in any watersports, consider going elsewhere and not within the marine park.
There are also plenty of restaurants, bars, hotels and apartments lining the beach. Many offer showers, toilets and sunbeds for rent.
Where To Stay Near Laganas Beach
As this is the most popular beach resort on the island, it's not surprising that Laganas Beach Zakynthos has a ton of accommodation options. There's something here for every budget, from luxurious resorts to budget apartments, you'll find it on Laganas Beach.
Budget
Tropical Studios
📍Laganas, Laganas, 29092, Greece
★ 4.77/5 (31 Reviews)
💵From €50/night
Tropical Studios is located just 400 meters from the sand at Laganas Beach Zante and about 800 meters from the center of town. They have nicely appointed apartments with AC, fridge, kitchenette, coffee machines, private bathroom and shower. Every room has a balcony with a garden view and they're pet-friendly.
Click Here to see the latest prices on booking.com.
Midrange
Memories Apartments
📍Laganas, Laganas, 29092, Greece
★ 9.1/10 (214 Booking.com Reviews)
💵From €87/night
Memories Apartments are luxurious, resort-style small apartments a few minutes walk to the beach. They have a massive seasonal pool for guests to use as well as a barbecue area and plenty of common space. The rooms have flat-screen TVs, mountain views (or pool or garden views), small kitchenettes and free wifi around the entire property.
Click Here to see the latest prices on Booking.com
Top End
Golden Sun Resort & Spa
📍Kalamaki, Kalamaki, 29100, Greece
★ 8.7/10 (28 Booking.com Reviews)
💵From €300/night
Technically on Kalamaki Beach about a 10-minute walk up the sand from main Laganas Beach, Golden Sun Resort & Spa is a luxury, Adults Only place located right on the sand. Some units have a private pool, while others have a small private hot tub. The room rate includes breakfast.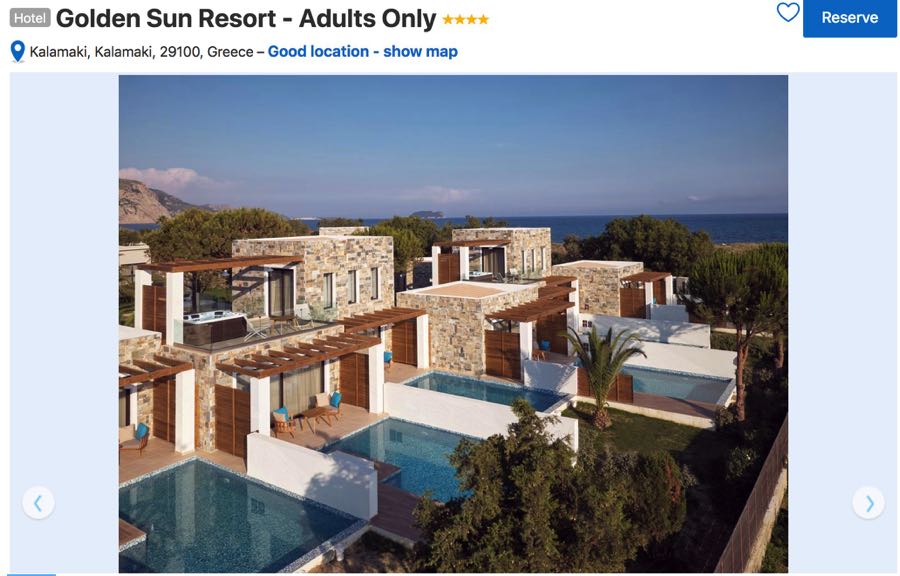 Click Here to see the latest prices on Booking.com
Best Restaurants Near Laganas Beach
Again, given the popularity of the beach here, it's not too shocking that there are also a lot of great restaurants nearby. If you're planning a trip around the island, however, don't miss more authentic Greek dining experiences like Lofos Restaurant and Taverna Psarou near Psarou Beach.
The Isles Greek Tavern & Restaurant
📍Laganas Beach, 290 92, Greece
★ 5.6/5 (177 Google Reviews)
💵Mains from €7
Set right on the sand this is definitely one of the most popular tavernas in Laganas Zante. You can get all the Greek classics here as well as spring rolls, fish and chips, pasta and other pub favourites.
Pános
📍Zakynthos 290 92, Greece
★ 4.7/5 (177 Google Reviews)
💵Mains from €7.50
Set a couple of blocks back from the beach on the main road leading into Laganas Town is this popular grill house. Pános serves up all of the Greek favourites as well as pizzas, pasta and soups. On some evenings in the high season, they also have traditional Greek music and dance here.
Cool Peppers
📍Laganas 290 92, Greece
★ 4.4/5 (363 Google Reviews)
💵Mains from €9
This place is a Laganas institution and often gets the vote as the best restaurant in town by many visitors and Greek locals alike. A lovely, beachfront location with a fun atmosphere, stunning views and cool music, this is the place to come for sunset drinks or a romantic dinner. The food is a bit more than some other places in Laganas Beach, but it's worth it for the ambiance, service and quality of food at Cool Peppers.
Tásos
📍Zakynthos 290 92, Greece
★ 4.3/5 (310 Google Reviews)
💵Mains from €8
While Tásos also serves a bewildering variety of food including risottos and some American classics, they do Greek food best. If you come here, stick to the Greek items on the list and you won't be disappointed. It's fresh, well-prepared and the staff here is excellent.
Chevys Bar
📍Laganas 290 92, Greece
★ 4.3/5 (118 Google Reviews)
💵Mains from €5.50
Another Laganas institution, Chevys Bar is a classic American diner set right in the center of Laganas town on the main road to the beach. Come here when you've had enough Greek food and you're looking for some North American variety. From American breakfast and burgers to chilli con carne and chicken fajitas, you'll find your comfort food at Chevys.
Day Trips From Laganas Beach
There are a lot of tour offices in Laganas Beach offering all types of tours, from quick hops over to Zakynthos, to round the island full-day trips. If you're basing yourself in Laganas Beach Zakynthos, here are a few day trips you won't want to miss.
Navagio Beach
Without a doubt, the most breathtaking beach in Zakynthos and probably one of the best in all of Europe, Navagio Beach (aka Shipwreck Cove) is a beautiful strip of pebbly white stones surrounded by the iconic electric blue Ionian water and 200 meter-high towering cliffs.
This is one place you don't want to miss. With your own car, you can drive to the lookout point on the cliffs overlooking the beach, but to actually swim at Navagio you'll have to join a day tour.
Some great ones are offered by Get Your Guide. Click Here for their latest prices and Click Here to read our post all about how to make the most of this epic day trip.
Swim With Turtles
While you do have a decent opportunity to swim with the famous caretta caretta (Loggerhead) turtles at Laganas Beach, perhaps the best place to spot them is at the quieter Gerakas Beach south of Zante Town.
Check out Viator for trips to see these beautiful protected creatures and don't miss our post all about sustainably spotting them in the wild.
Keri Cliffs
About 15 minutes west of Laganas Town by car and you'll reach the village of Keri. While the village itself is quite charming in its own right, the reason you'll want to come here is for the spectacular view off of the 300 meter high cliffs here and out to the Ionian Sea.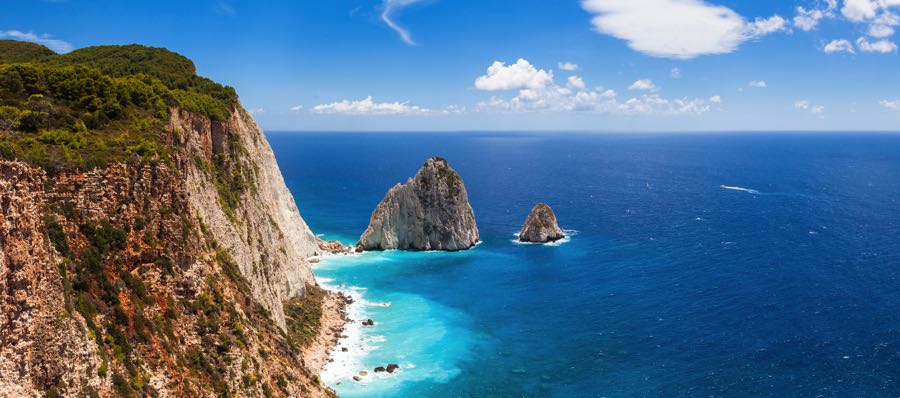 The best time to come is at sunset. Pick a tavern and watch the sun dip into the water over a nice cocktail and some traditional Greek food. Click Here to check out our guide to the best taverns, places to visit and when to visit Keri Cliffs.
CLICK TO READ MORE THINGS TO DO IN ZAKYNTHOS
Should You Go To Laganas Beach?
Laganas beach is a place that draws contrasting reviews, to say the least. When we visited in May, it wasn't too crowded, so we could enjoy the lovely sandy beach and it was the perfect place for sunset drinks and a swim.
But talking to locals and researching for this post it became very clear that this place can be very hectic in July and August. Perhaps if you visit Zakynthos during these high-season months you should opt to stay at a quieter beach town (like Psarou or Tsilivi) and visit Laganas on a day trip.
Either way, this is a beautiful beach with crystal clear water in the Ionian Sea of Greece, so you can't really go wrong.
Like This Article? Pin it!