This is a guest post from fellow travel-lover, Heather of The Urban Gypsy. You can read more about her travel tales on her website, and learn more about her in the bio below. In this article, Heather shares her highlights of a trip through Laos!
Through all my travels I can honestly say that one country stands out as a top contender on my list of suggested places to travel. This would be the little, landlocked country of Laos.
This hidden gem is often overlooked by travelers because it stands in the shadows of its more popular South East Asian destination stops like Thailand or Vietnam. But I guarantee that even though it may not be on the front of every travel brochure, you too will leave feeling like you just stepped out of a fairytale.
Vientiane
Laos' capital city of Vientiane is an old French colonial trading post. This city is both abundant in French architecture as well as beautiful, ornate Buddhist temples. Even though it is the country's largest city, it has not lost its friendly and laid back character.
Don't miss out on visiting one of Laos' most sacred monuments – That Luang which is also known as The Great Stupa. Dating back to the 16th century this massive golden temple is jaw dropping as its central stupa stands 148 feet tall!
Another distinct landmark of this city is called Patuxai Victory Monument. This giant arch closely resembles France's Arc de Triomphe but is intricately carved with images of Hindu Gods and topped with Laotian style towers.
The Vientiane Night Market is also a must see. It is targeted toward tourists with rows upon rows of interesting souvenirs to buy. What makes this market so special is that it is located right along the Mekong River and as the sun slowly sets you can't help but be captivated by this city's tranquility.
Driving through the countryside is a must. The roads may not be in the greatest of conditions, but the views are like nothing I've ever seen. Even though Laos remains one of the poorest countries in the world I can honestly say that the poverty isn't as apparent as in other countries that I have visited.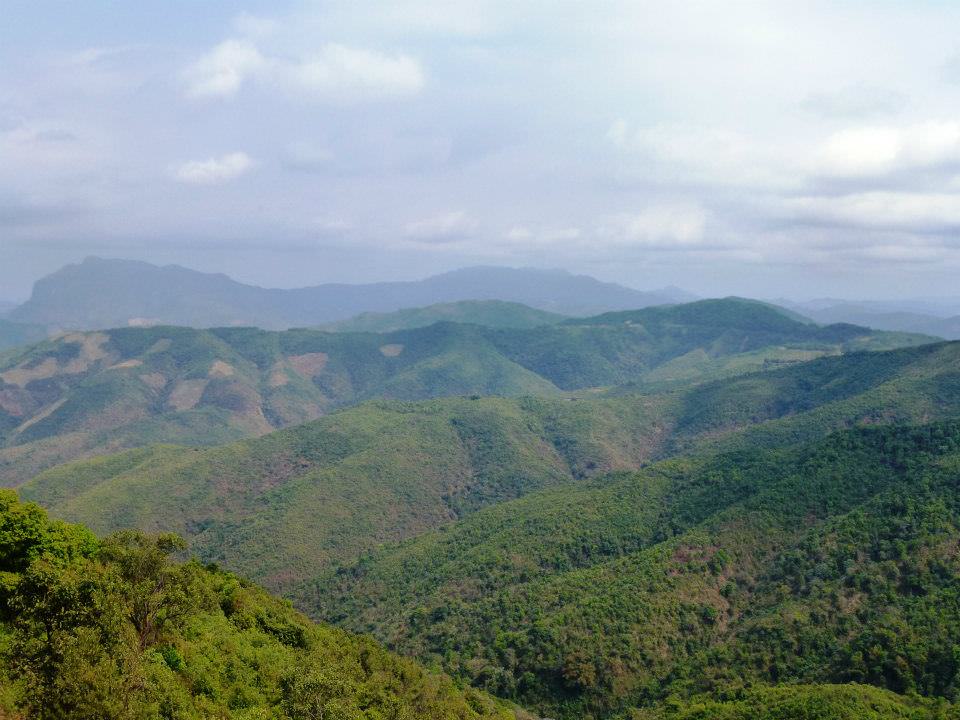 Vang Vieng
Traveling north to the town of Vang Vieng is like arriving in a complete sanctuary. This little town is nestled among massive limestone mountains and bright green rice paddies. It used to be known as a party town where backpackers would come from near and far to float down the Nam Song River in inner tubes while stopping at bars that lined the river banks.
The government however has shut down the party scene making Vang Vieng the perfect place to explore and take in many of the river activities. I would definitely take the day to float down the river as this is one of the most beautiful backdrops you imagine.
Another place not far from town that is worth checking out is the Blue Lagoon. This picture perfect lagoon is a tempting shade of blue and comes fully equipped with rope swings and platforms to dive off of.
There are also covered places to sit and relax, and just steps away are the Tham Phu Kham Caves. Inside the dark and cool caves are Buddhist shrines which make the trek up that much more spiritual and surreal.
Luang Prabang
Luang Prabang is the next suggested stop on your visit to this fantastic country. The city itself is a Unesco Heritage Site and it truly is a traveler's paradise that is so rich in culture and beauty.
Not far from town are the Kuang Si Waterfalls. Hidden in the middle of the jungle is an oasis like nothing else. These magnificent multi-tiered waterfalls have turquoise blue pools to swim in. To top it off there is a Black Bear Rescue Center located between the park entrance and the waterfalls.
Seeing these sleepy bears close up was definitely an added surprise to an already amazing excursion.
Visiting the Mount Phousi Temple is another must. You may swear while climbing over 300 steps to get to the top, but visiting the seven-tiered golden pagoda of Wat Chom Si is well worth the effort. Not only is the temple a sight to see, but the panoramic views over Luang Prabang is one that you will not want to miss.
And finally you wouldn't want to leave Luang Prabang without experiencing one of Laos' sacred traditions – giving daily alms to the Monks.
Monks are only allowed to eat food which has been donated to them before noon. Bare foot and draped in bright orange robes, they make their way to the temple before sunrise. If you wake up early enough you can line the streets and wait for them to give them their alms.
This is truly an unforgettable experience and one that forever will be embedded in my memory.
Don't Miss Laos!
These are only a few of the highlights of such a unique and dream-like country. The pace is slower, the people are friendlier and it is one of those countries that doesn't feel like it has been tainted by mass tourism yet.
I urge anyone who is traveling to South East Asia to include Laos in their itinerary. I promise that Laos will hypnotize you, and leave you wanting to come back for more!
Have you travelled to Laos before? Which highlights would you add to this list? Tell us below!
Like this article? Pin it!