Are you looking for an online ESL company where you can teach adult students and create your own schedule without a long-term commitment? Would you love a company that provides lesson plans and doesn't require a BA degree? If so, Lingoda might be a great choice for you!
Teaching English online is becoming very popular, especially now that more people than ever are working remotely. As you start your online teaching journey, you might be wondering which company to teach with. There are dozens of great platforms out there but it can be confusing to wade through all the different options.
In this Lingoda teacher review post, I'll tell you all about teaching online with Lingoda — which is one of the top online teaching platforms in Europe.
With promising teacher reviews, no degree requirements, and a large student base, Lingoda is an attractive option for aspiring teachers.
This post will help you decide if you should become an online teacher with Lingoda and what to expect if you do.
About Lingoda
Lingoda is an online language school based out of Germany that offers classes in English, German, Spanish, and French.
Students can choose between 60-minute one-on-one classes or small group classes. Because Lingoda caters to adult students with busy schedules, classes are offered 24/7.
Lingoda strives to be a compromise between learning apps and in-person classes. They want to offer students more structure and consistency than a casual language app, but without the hassle of an onsite language course.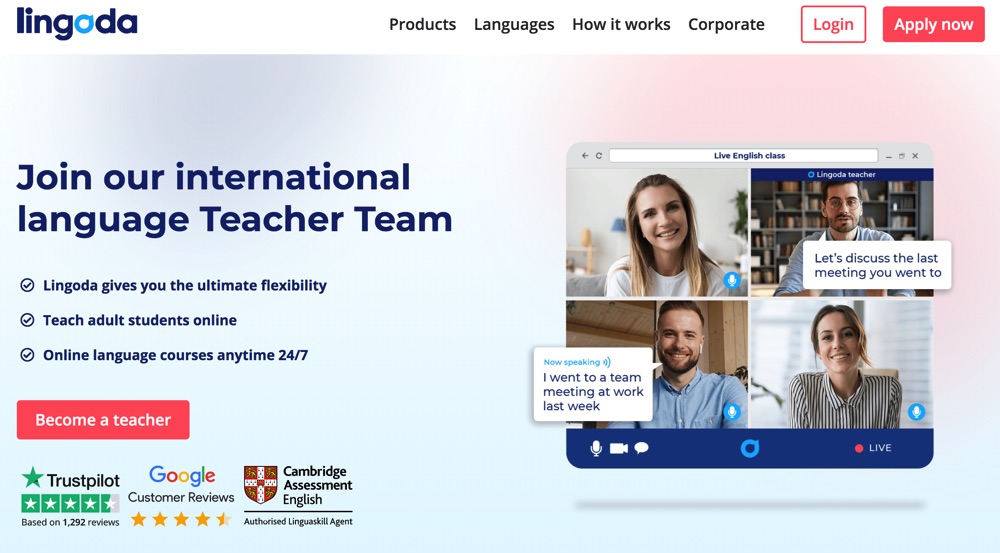 The result? A fully online learning experience that offers intense bundled language lessons from the comfort of home.
Lingoda Regular Courses
Students can pay monthly for a course bundle which includes either one class per week, two or three classes per week, or a class every day. Regular enrolment includes a 7-day free trial and can begin at any time.
Lingoda Marathon Courses
Students can also sign up for Language Marathon Course bundles. Options include 45 classes in 3 months, 90 classes in 6 months, or 180 classes in 12 months. If a student completes 90% of the classes in their plan, they'll receive a cashback bonus.
Lingoda Sprint Courses
Sprint courses are designed to help students speak a new language as fast as possible. There are two options: A sprint bundle which includes 15 classes per month for three months, and a super spring bundle which includes 30 classes per month for three months.
If a student completes all their classes in the sprint bundle, they receive a 50% refund for their course fee. If a student completes all their classes in the super sprint bundle, they get 100% of their course fee back from Lingoda.
Sprint Courses have a set start and end date, so students must wait for them to open to join.
Why Become A Lingoda Teacher?
Teaching with Lingoda is attractive to people who want to work with adult students and who require schedule flexibility. Lessons in Lingoda are provided, saving teachers time and energy.
Lingoda is also an awesome option for individuals who want to teach Spanish, German, or French since they offer these languages too.
Adult Students and Small Class Sizes
Lingoda is a platform for adult language learners. This is appealing if working with children isn't your strong suit. Adult learners are typically very motivated since they are taking language classes by choice. Teachers won't have to deal with behavioral issues that sometimes come up with young students.
Lingoda also offers small class sizes, allowing you to provide a more customized learning experience. The average class size is three students with five students being the maximum.
Schedule Flexibility
With Lingoda, teachers get to choose their own schedule. There are no minimum or maximum hours, so you're free to work as much or as little as you want. Teachers love that they can book classes several weeks in advance or open classes short notice.
When you log into the teacher website, you'll see a list of available classes and which time zone they are located in. Simply choose the classes that work best for you and sign up to teach them.
Lessons Are Provided
Before you signed up to teach a class, you'll have access to lesson materials and the ability level of the students. This is great for teachers who prefer teaching about particular topics. It also means you won't be stuck teaching a lesson you don't like.
Because lessons are prepared for you, there's no need to reinvent the wheel creating lesson plans and English language activities. All you have to do is review the material and teach.
Multiple Teaching Languages Available
If you're a native speaker, you can teach English, Spanish, German, and French with Lingoda. This is one of the only multi-language platforms I know of that provides lesson plans for teachers in each language.
Lingoda Teacher Requirements
The good news is that you don't need a Bachelor's Degree to teach with Lingoda, but you will need to meet these qualifications:
Teacher Qualifications
To teach online with Lingoda, you'll need to be a native speaker in the language you would like to teach. In their website FAQ, Lingoda mentions that they also hire teachers who are C2 level proficient in their chosen language, however many of their promotional materials say that they are looking for native speakers.
You must also have a certificate showing that you can teach your language as a second language. If you plan to teach English with Lingoda, a TEFL certification will fill this requirement.
Teachers must also have at least three years of teaching experience. While online teaching experience isn't required, it's nice to have.
Finally, teachers must legally be able to work as freelancers to qualify.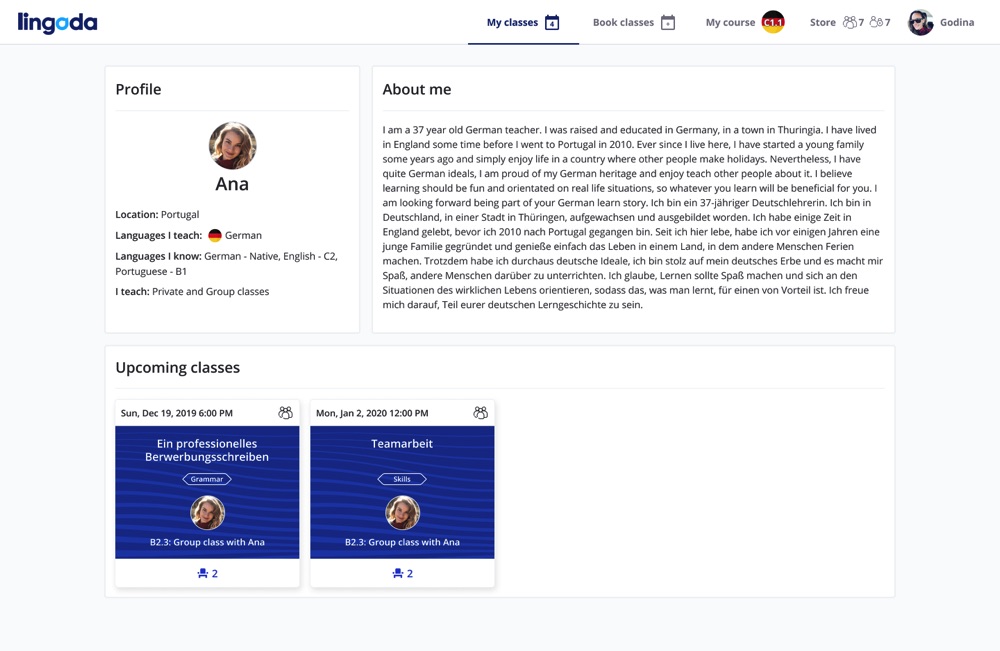 Technical Requirements
Lingoda teachers will need to meet the following technical requirements.
A computer that can handle zoom video conferencing
High-speed internet connection
Laptop webcam or external webcam for videos
Microphone and headset
Quiet workspace free from distractions
How To Get Hired With Lingoda
To get hired with Lingoda, you need to complete an online application. Because they will test your technology as part of the application, make sure you're filling it out from your home computer and not your phone.
Here's what you'll need to provide:
Personal Information
First, you'll submit your name, birthday, and profile photo. You'll indicate which language you want to teach and your fluency level in that language. You can also update your time zone.
On the next screen, you'll fill in your phone number, email address, and mailing/home address.
Teaching Experience
On this part of the Lingoda application, you'll fill in any languages you speak and your proficiency level. You'll also share the amount of teaching experience you have. Finally, you'll be asked to upload a PDF of any teaching or language certifications.
If you'd like to teach English, a TEFL certification will fill this requirement. You can read more about the best online TEFL courses in this post.
Internet Connection
Next, you'll be instructed to run an internet speed test on your computer. Use the computer and internet connection you'll be using for teaching so you get accurate results. Once you receive your results, you can fill them into the application form.
Teaching Hours
Here, you'll explain how many hours you're planning to teach per week. While there are no official minimum teaching requirements, Lingoda would prefer that you teach at least 5 hours each week.
Motivation
In this section, you'll write about why you want to teach with Lingoda. You'll also fill out a section explaining where you heard about Lingoda. Finally, you'll upload your CV in a PDF format.
Interview And Onboarding
After submitting your teacher application, you'll be invited to an interview if you meet all of the requirements. After passing your interview, you'll complete onboarding materials and upload any required documentation.
Once that's finished, you'll be ready to start teaching!
What Do Lingoda Classes Look Like?
Lingoda classes are taught on the Zoom platform. Lessons are small groups or one-on-one. Group classes have an average of three students per class. Teachers can see the lesson materials, the topic of the class, and the learning objectives in advance.
Once class starts, the teacher and students will be able to see each other throughout the lesson. Lessons are self-explanatory and should be easy to understand. Students are typically highly motivated to learn, making classes flow smoothly.
Lessons cover a wide range of topics depending on the ability level of the students. The focus is on building fluency and comprehension. Lingoda prides itself on getting away from the textbooks and teaching people practical conversation skills.
Teachers are not required to have special teaching decorations, backdrops, rewards, or props. These are typically used to entertain and engage younger students, so they aren't necessary for adult lessons.
Lingoda Scheduling and Bookings
There are a few things to know about the schedule and student bookings.
Scheduling
There are no minimum or maximum teaching hours for Lingoda so teachers are free to choose a schedule that works for them. That said, the Lingoda website recommends that teachers try to teach at least 5 hours per week.
To schedule classes, teachers can browse through listings of all available courses. You can book classes far in advance or within just a few hours. You can also see the lesson topic and ability level of the students before signing up to teach the class.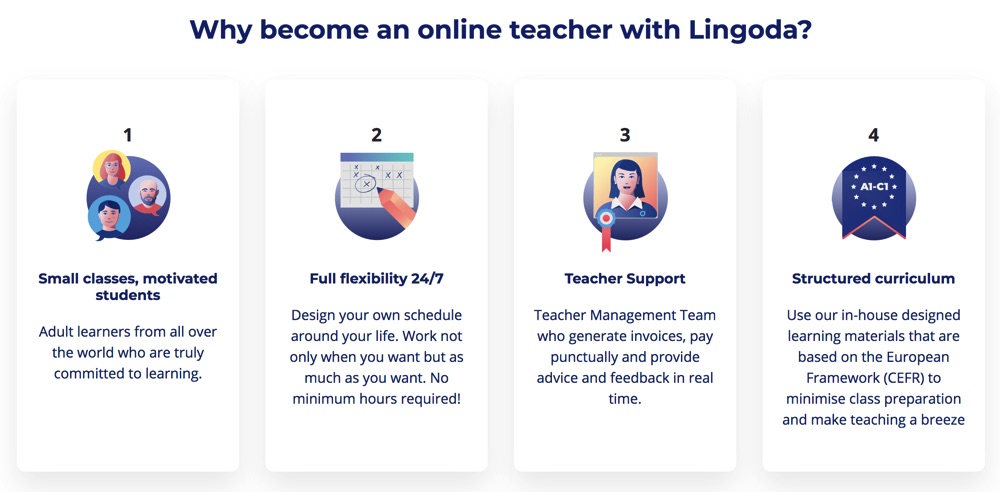 Will I See The Same Students Every Class?
Lingoda teachers usually won't see the same students in each class because there is no set teaching schedule. While it's possible to coordinate with students you enjoy teaching, expect to meet a variety of people from all over the world.
Ultimately, this is better for the students because it exposes them to a wide range of accents and conversation styles.
No Shows And Cancelations
Teachers will receive 50% payment for a class if the student cancels the class within 48 hours or doesn't show up for the class at all.
Teachers can cancel classes without penalty as long as they do it more than 48 hours in advance. If a teacher cancels a class within 48 hours, they will be blocked from booking additional classes for two weeks.
How Much Does Lingoda Pay?
Your Lingoda pay rate depends on where you are located, your qualifications, and what language you're teaching. There is not an official pay rate listed on the Lingoda website, as your pay rate will depend on your qualifications.
However, $8 – $13 per hour for native English-speaking teachers is the going rate, but it seems like there a variation in pay rate based on many factors.
You can choose to be paid via bank transfer or Paypal.
Lingoda Teacher Reviews
As with any company and job, there are some pros and cons to working with Lingoda.
Pros of Teaching For Lingoda
In general, teachers seem pretty happy with Lingoda. On review websites and job boards, teachers rate the platform well for overall satisfaction. Here are some of the best parts of Lingoda.
Automatic Invoicing: With Lingoda, you're paid through an automatic invoicing system. You won't need to worry about filling out tons of paperwork — it's all handled for you and existing teachers report that payouts are reliable.
Freelance Status: Since you'll be working with Lingoda as a freelancer, there are no long-term contracts or commitments. You can change your schedule as often as you want and you aren't locked into teaching for an extended period of time.
This is perfect for people who want a flexible side hustle or who have inconsistent availability.
25% off Lingoda Language Lessons: If you're interested in learning another language yourself, you can get 25% off of classes on Lingoda! This is a great perk if you've ever dreamed of speaking a second language or if you just enjoy learning new skills. Click here to learn more about learning a language on Lingoda.
Connections With Students: Lingoda teachers get to meet students from all over the world. Because students are driven adult learners, there's an opportunity to make lasting friendships and meet interesting people.
Work From Anywhere With Reliable Internet: Being able to teach anywhere with reliable internet is perfect for teachers who want to work from home or work while travelling. As long as you have a consistent internet connection, Lingoda does not have location requirements for teachers.
Cons of Teaching For Lingoda
Even though there's a lot to love about Lingoda, there are some downsides too. These Lingoda cons were mentioned a few times on teacher forums and review sites, so keep these in mind as you decide if Lingoda is the best fit for you.
Penalties For Canceling Classes: Like with most online teaching companies, Lingoda has strict penalties for canceling classes. Canceling a class within the 48-hour mark will result in a 2-week block from booking more classes. You can still teach the lessons on your schedule, but you won't be able to sign up for new ones.
Lower Pay Rates: Compared to some other online English companies, the pay rates for Lingoda are lower. Also, there's no way to know what rate you'll be offered until after you've filled out the application, which can be frustrating.
Not Much Teacher Training: Even though lessons are provided, there isn't much teacher training included for new Lingoda teachers. Some teacher reviews point out that it feels like you're jumping into the deep end, but luckily you learn fast.
If you're looking for training materials and coaching before you start teaching online, you won't find it with Lingoda. On the plus side, with a shorter training period, you'll be able to start teaching and making money online faster!
Who Is Lingoda Best For?
Lingoda is a great online teaching company for people who are native speakers of English, French, Spanish, or German. It's ideal for teachers who prefer working with adults and who want lessons provided for them.
While the pay rate makes it difficult for this to be a full-time income source, many teachers love teaching with Lingoda as a side hustle or part-time gig. It's a chance to make a bit of extra cash and meet interesting people without the stress of a set schedule and strict booking requirements.
If you're an aspiring teacher with teaching experience but no degree, Lingoda could be a great fit for you!
Like This Article? Pin it!