From the northern coast of Colombia to the most southern country on the continent, we boarded our flight in Cartagena bound for Buenos Aires, Argentina, which would be our temporary home for the next month.
Renowned for its mouth-watering steaks, robust wines and sultry tango dancing, we were very much looking forward to stepping foot in our second South American country.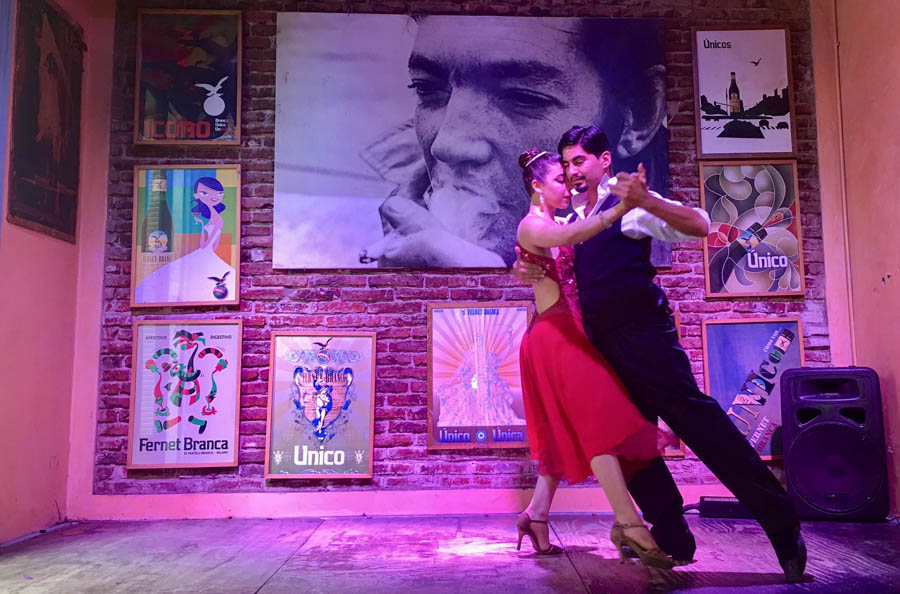 It all sounded perfect and we had high hopes for our time in the famous Latin American capital, but, unfortunately, we were slightly let down.
I can hear the responses already:
"Are you crazy?"
"How could you not like one of Latin America's most vibrant cities?"
"You must've missed it then."
You know when you arrive somewhere and you instantly know you're going to love it, and you just "click" with the place? This has happened to us numerous times and we almost always love everywhere we visit. But, we're all about first impressions and Buenos Aires just didn't have the vibe or the feeling of other big cities we've been to.
To be fair, many people fall in love with the city and there are numerous things to do in Buenos Aires, but for us, there was just something missing.
It could have been because we weren't ready for an apartment yet and still wanted to travel more of Colombia. Or perhaps it was due to the fact that the location of our apartment was much further away from the main sites and neighbourhoods than we thought it would be. Or, maybe it's because I had to spend 2 weeks visiting doctors due to my back pain.
Did our experience in Buenos Aires suffer due to our personal feelings, or is the city simply not all that appealing? We personally had a love / hate (dislike) relationship with the city during our 1 month stay, and numerous things about BA surprised us as well. Let's break it down.
The Love
Our Apartment
Groggy from the overnight flight with layovers, we met with Carla, the owner of our Airbnb. This was the first time we had ever used Airbnb and we had our fingers crossed in hopes that it would be a good experience. Thankfully the host was very sweet and the apartment we rented was just as it was described on the online booking site.
Our little apartment was located in the Villa Crespo neighbourhood, about a 20 minute walk from Palermo. Fitted with a solid wi-fi connection, a very comfortable king-sized bed, couch and chairs and a flat screen TV, this apartment would be our digital nomad base for the following 30 days.
The accommodation had a well equipped kitchen, an oven (yes!) and a breakfast bar. Just moments away from the apartment was a fitness center, a large grocery store, a couple of restaurants / cafes and a bus stop.
About a 20 – 30 minute walk through leafy streets, brought us to the trendy Palermo neighbourhood which offered our favourite wine bar, an amazing burger joint, some shopping and lots of (relatively expensive) restaurants.
A 30 minute walk in the other direction brought us to a beautiful park, Parque Centenario. We enjoyed lazing around some afternoons watching the locals sip on their mate while chatting with their friends.
We definitely loved our little apartment.
Recoleta Cemetery
To the east of Villa Crespo is the neighbourhood of Recoleta, which is one of the more upscale places in Buenos Aires. Home to the famous, incredibly ornate cemetery, this is a must-see for anyone visiting Argentina's capital.
There are 4691 mausoleums lining the "streets" of this cemetery, in a wide variety of architectural styles – neo-Gothic, art deco, baroque and more. Most of the tombs are in excellent condition, but some of them are really unkept with broken glass, cobwebs and garbage inside.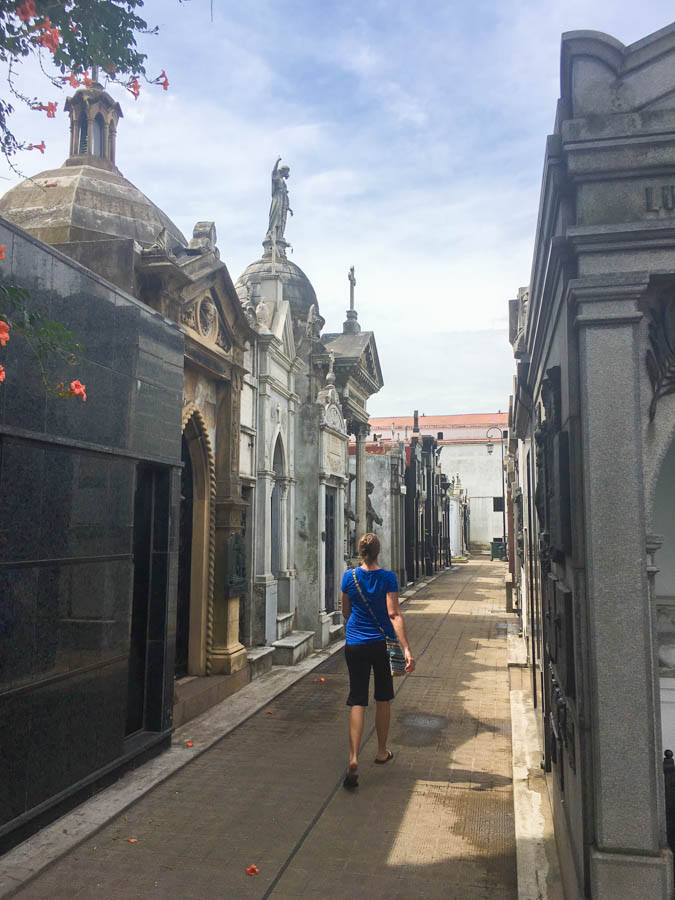 I've never seen a cemetery like this before. So many of the tombs looked like mini churches, or court houses! It was a very impressive site.
The People of Buenos Aires
We found the Porteños (people from BA) to be very friendly and welcoming – especially for a big city. We had heard that people in Buenos Aires can be a bit "hoity-toity" and think of themselves as being the best, but as tourists, we didn't get that feeling whatsoever.
The people were well-mannered, polite, considerate and generous. More often than not, we saw locals giving money to street performers and to homeless people as well. Plus, the men almost always gave up their seats on the bus to women, and held open the doors of restaurants and shops – chivalry isn't dead!
San Telmo Sunday Market
South of Recoleta is the interesting San Telmo neighbourhood, which is one of the oldest barrios in Buenos Aires. This is where we were actually able to watch some tango dancing – something we thought would be seen much more frequently. There aren't as many high rise buildings here, and the neighbourhood is simply more interesting than others.
The Sunday market starts at Plaza de Mayo and lines the street of Defensa all the way to Plaza Dorrego and beyond. The market is bustling with both locals and tourists each Sunday. Anything you can imagine is sold here and we loved spending a Sunday wandering through the streets.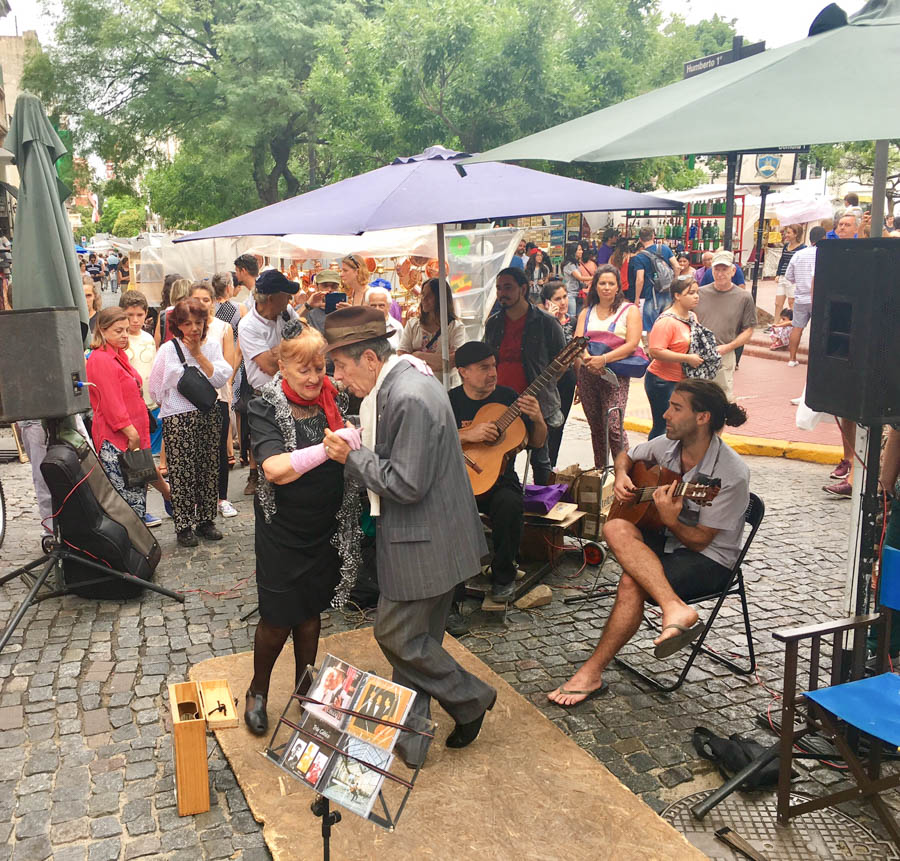 The Hate (or, Dislike)
As you can see, there was a lot that we loved about Buenos Aires, but every city has its flaws. Some of the things that we disliked about Buneos Aires weren't actually the city's fault, it's just that we personally didn't jive with it for these reasons:
Dog Shit
OK, so maybe this one is the actual fault of the city!
There was dog poop all over the sidewalks, all over the city. And it wasn't because there are strays all over BA, actually it was quite the opposite. We didn't see any strays, just well taken care of, owned dogs. The dogs would do their business, and the owners wouldn't pick it up. So gross.
It's hard to enjoy walking around looking up at architecture and trees when you have to dodge countless piles of doggy do-do on every sidewalk.
Eating Late
We really struggled to get on the eating schedule of Buenos Aires. The people of Argentina, and especially in the city of Buenos Aires like to eat dinner at 10:30 – 11:30 at night. And it's not just that the people like to eat late, but the restaurants don't open up until around 9:30pm, and are basically empty until about 10:30pm.
Even kids are eating at that time!
Because of this, we ended up eating many meals at home.
Once we even ordered-in some sushi through an app that is popular in Buenos Aires. We waited for 1.5 hours and the food didn't show up. So, we messaged our AirBnB host and asked her if food normally takes this long to be delivered in BA. She laughed and said that obviously the sushi place isn't open yet, it's only 8:30! But, that our order would be first when they opened. It arrived just after 10:00 pm.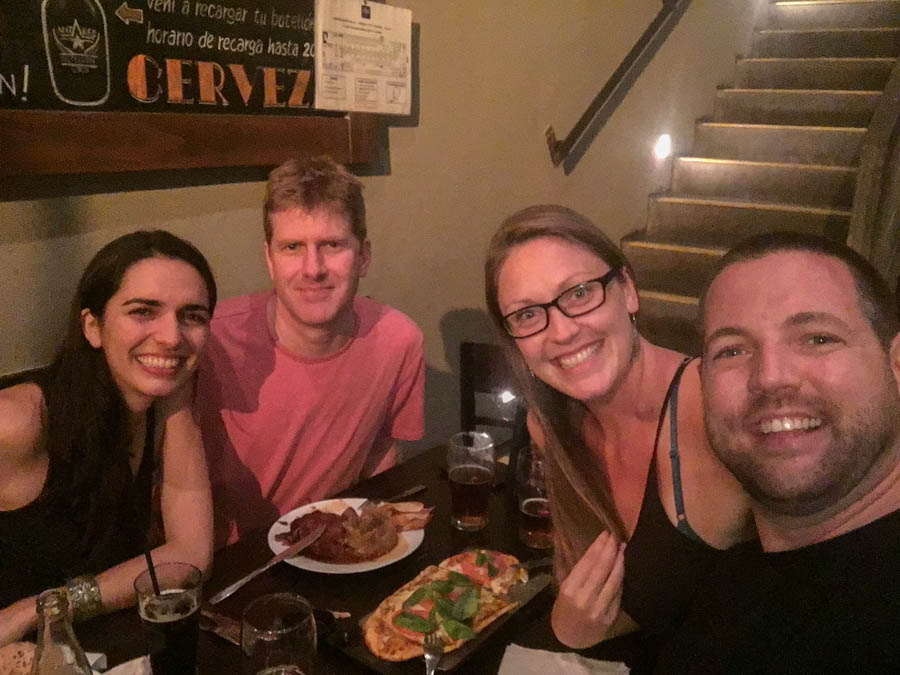 The Size
We quickly learned just how sprawling and grand the city of BA is. Many of the streets are extremely wide and traffic filled, while numerous parks, plazas and roundabouts are enormous.
In fact, one day we were on a road with 12 lanes…12! And it wasn't like we were outside of the city either, we were just on our way to the port to take us to Uruguay.
Because of the sheer size of Buenos Aires, it wasn't so easy for us to just "pop over" to another neighbourhood to grab some dinner, and we definitely couldn't walk to San Telmo, Recoleta, La Boca or Centro. Going anywhere was a bit of a task.
Needless to say, we got a lot of use out of our public transportation card.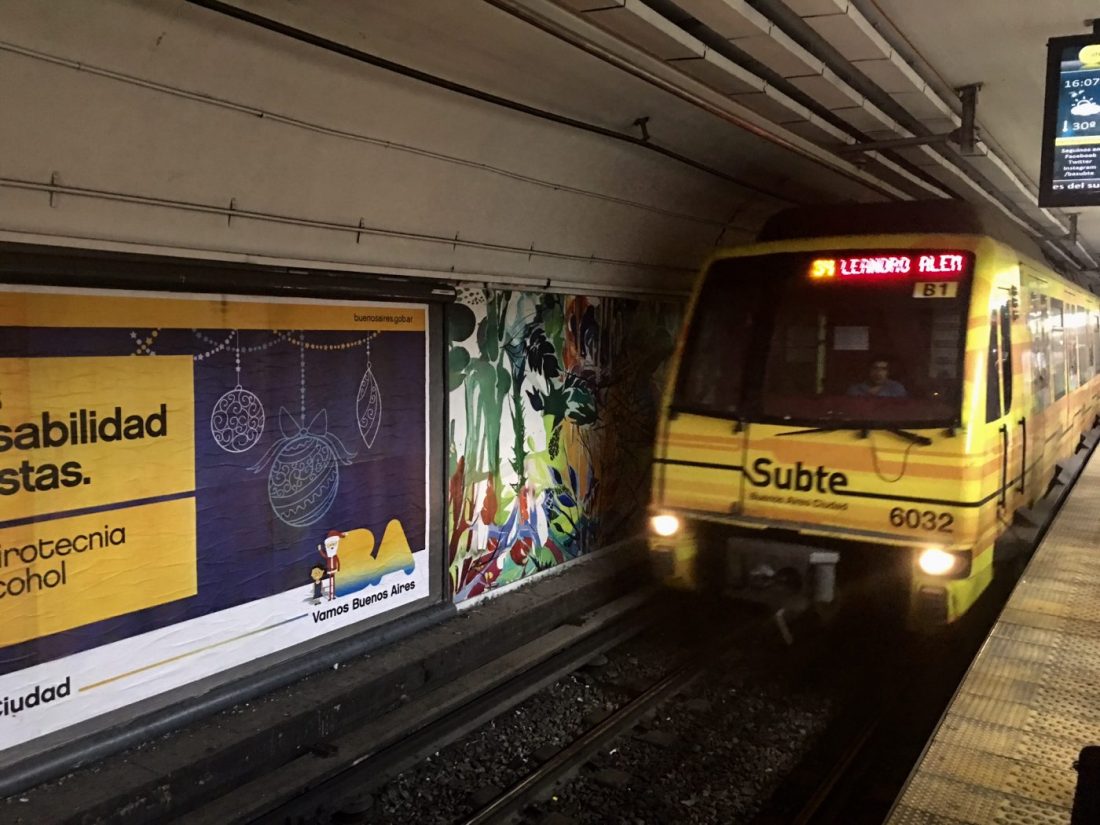 Difficult Spanish is Spoken
We don't speak Spanish. But, we had just been in Colombia for 6 weeks and could usually understand what people were saying. We were able to order food, get around on transportation and have some basic conversations.
The Spanish spoken in Buenos Aires is unlike any Spanish we've ever heard. They speak with an Italian tone and a double "L" in a word is a "sh" sound, rather than a "y" sound (ie: for chicken it's not poy-o, it's po-sho). They also speak incredibly fast and use a lot of slang!
We struggled a lot to understand when people were speaking to us, and no one understood what we were saying. This wasn't great for our confidence.
Not Very Charming
To our surprise, we didn't find Buenos Aires to be all that charming. We had expected there would be numerous lively streets lined with cafes and bars. We thought we'd find street performers doing tango. We envisioned small plazas great for people watching.
Instead, there were a few cafes here and there, tango only on Sunday at the San Telmo market (or if we wanted to start our night at 3:00am, we could go to a milonga), and huge plazas with not a lot going on.
For us, Buenos Aires just didn't have the charm we were hoping it would.
Things That Surprised Us
It's Not Like the Postcards
You know those photos of Buenos Aires and its colourful buildings? Well, yes, there is the area with colourful buildings, but it's only in La Boca neighbourhood, and it's only on one very small street. The rest of the neighbourhood is "too dangerous" for tourists to go walking around.
The other photos we had seen were of beautiful European buildings towering over the streets. And again, yes, there are some really gorgeous buildings, but they're really only around the Centro and Recoleta area and are few and far between.
This really surprised us as we thought there would be more areas like we had seen on the pictures before we arrived. It turned out that photographers had cleverly selected the nice buildings to photograph, which really doesn't properly illustrate the city as a whole.
The Low Costs
Buenos Aires wasn't as expensive as everyone had said. Our apartment wasn't the cheapest ($1,200 USD / month) but we were able to have meals at a restaurant for under $10. Groceries were very affordable, transport was $0.50 / journey and bottles of really good wine could be had for less than $15 – and I mean really good, Gran Reserva bottles.
For a big city, and one with a reputation of being expensive, we actually found it to be quite affordable.
No One Around For The Holidays
We were really looking forward to spending Christmas and New Year's Eve in such a famous city! But, when the days came, there was no one around. Apparently, everyone flees the city during the holidays with their families and heads to the beach.
We hit the streets on New Year's Eve because there had to be tourists around, right? We left the house at 11:30pm and the streets were dead. It was so eerie. We made our way to the Serrano Plaza in Palermo and found lots of tourists sitting at the restaurants looking extremely bored. In fact, at the bar we were at, Nick and I were the only ones to do the countdown to the new year.
This was not the celebration we were looking for whatsoever.
But, the saving grace was when a group of Candombe dancers and drummers from Uruguay started playing on the street and we ended up dancing for a couple of hours. The photo below paints a pretty fun picture of New Years in Buenos Aires, and for the hour that the drummers were there, it was fun… but for the rest of the time, it was dead.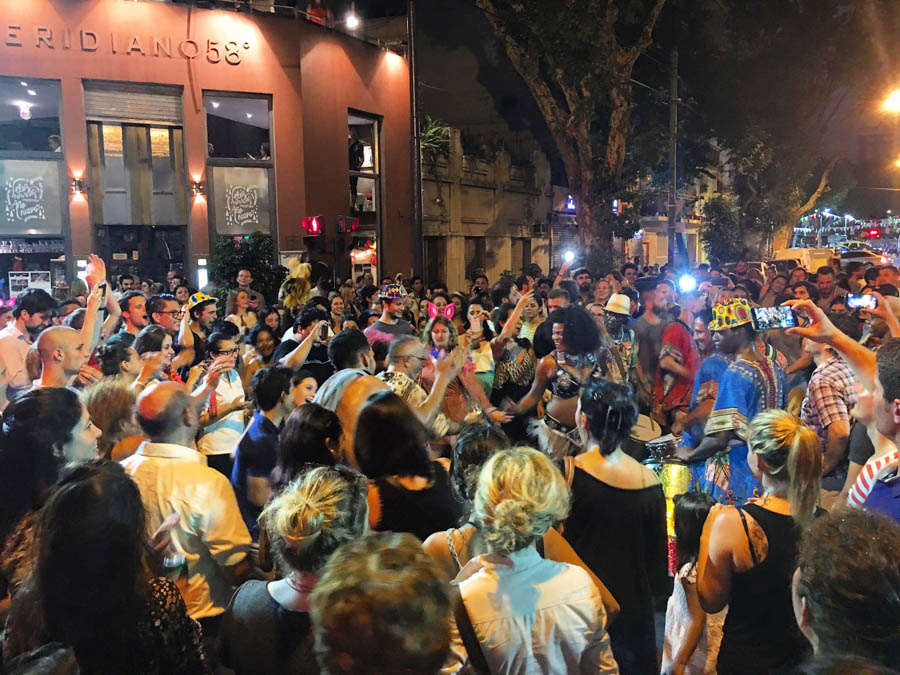 The Italian Influence is Prominent
During 1857 to 1940 there was a massive influx of Italians immigrating to Argentina, and in particular, Buenos Aires.
According to Wikipedia, 25 million or 62.5% of Argentina's population have at least one Italian immigrant ancestor. Because of this Italian influence, many people speak Italian, the Spanish spoken has a similar Italian tone to it, hand gestures are used when speaking, eating ice cream is a national pastime, and there is pizza and pasta served everywhere.
We love Italy, so this was a bonus for us and could've fallen under the "love" category in this post 😉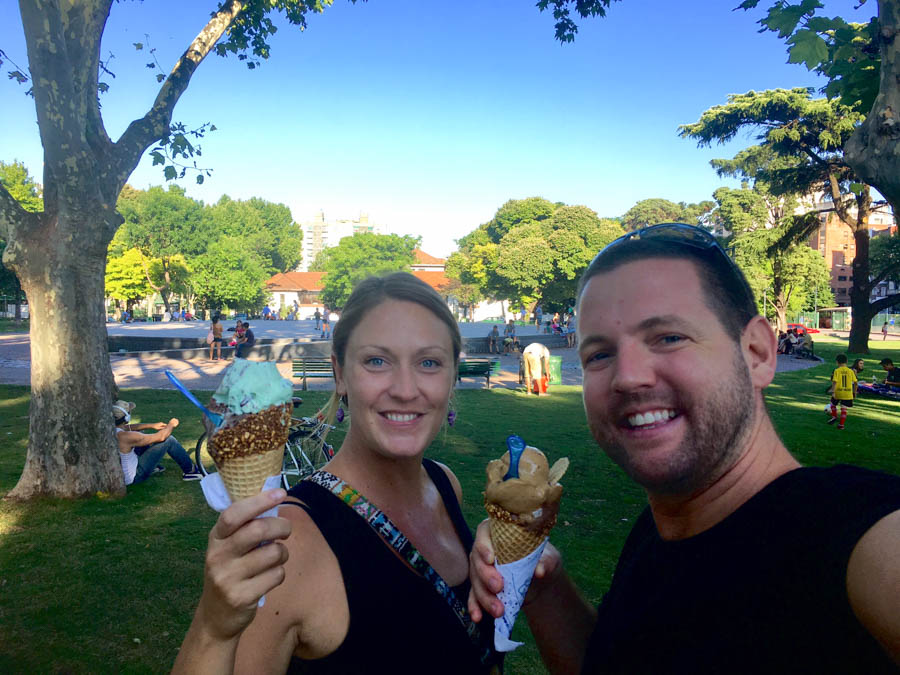 Will We Return to Buenos Aires?
The answer is yes. We will return to give it another chance, but we would stay in the San Telmo area, as it's more manageable in size and is more charming. In fact, we will be returning to BA in April, as we will be flying to Istanbul for a conference.
In the end, hindsight is always 20/20 and even though Buenos Aires isn't one of our favourite cities to date, there were still some positive aspects and we definitely had some good times. We would never go back for Christmas and New Year's, but the city has a lot to offer so we're excited to give it another shot.
What about you? Have you been to Buenos Aires? What did you think of it?
Check out more of our Argentina Videos here!
Like it? Pin it! 🙂