In this ultimate guide, you'll find out everything you need to know about living in Albania as a digital nomad.
Albania's biggest attraction is its beautiful and extensive coastline which attracts most of the country's tourists. However, there are many other incredible places to see in the country.
Albania also has pretty cobblestone towns, a wealth of history to discover, and is home to some of the friendliest people. Pair all this with WiFi and affordable living, and you have a digital nomad's dream.
I recently spent over two months living in Albania and fell in love with this relatively undiscovered country. As a digital nomad, it was a perfect base; read on as I share my experience and findings with you.
About Albania
Albania is a country of nearly 3 million people located in southeastern Europe. It shares a border with Montenegro to the northwest, Kosovo to the northeast, Macedonia to the east, and Greece to the south.
Albania is an incredibly diverse country. It shares a picturesque coastline with Croatia and Greece with the Ionian and Mediterranean Seas lapping at its shores. Inland, it has beautiful snow-capped mountains and a huge range of flora and fauna.
Its capital is the stunning and modern city of Tirana which retains poignant and important reflections of its communist past. It's a country of beautiful nature and fascinating history and I believe it offers something for everyone.
Albania for Digital Nomads
As a digital nomad in Albania, you'll have the choice of varying and diverse cities and landscapes to live and work in.
Throughout the major cities in Albania, the WiFi speeds and reliability are good. This is supported by a great 4G network which makes living in Albania as a digital nomad a great choice.
The cafe culture here is also conducive to being a remote worker in Albania. Most cafes have good WiFi and sitting for hours with a coffee and working on your laptop is common and encouraged.
Along with the infrastructure, the choice between cosmopolitan cities or beachfront towns makes Albania a great choice for digital nomads.
☞ SEE ALSO: 15 Best Cities for Digital Nomads
Best Places to Live in Albania
There are some amazing places to live in Albania, the location really depends on what you want from your digital nomad base; here are my 5 recommendations.
1. Tirana
Tirana is the capital city of Albania and its most populous area. It's an excellent base for both digital nomads and expats in Albania.
What are the Best Areas to Live in Tirana?
You're spoiled for choice with the different neighbourhoods in Tirana. For trendy bars, restaurants, and the best nightlife, head to Blloku. This neighbourhood was once reserved for the Communist elite but is now the place to be seen in Tirana.
If you prefer the traditional cafe culture then I suggest Zona 1 which has the largest fish market in Albania in the New Bazaar. It's close to the central Skanderbeg Square but away from the crowds, with plenty of cafes and bars for people watching, (and working).
Komuna e Parisit is a great neighbourhood for families or for those that like green space. It's still close to the bustling centre and is located near the Grand Park of Tirana and the Artificial Lake.
How to Find Apartments in Tirana
The best place to find short to mid-term apartments in Tirana is through Airbnb. There's a huge range of options across all neighbourhoods of the capital city. Check out my 10 best Airbnbs in Tirana here.
Additionally, I recommend joining the "Expats in Tirana" Facebook group which can assist with accommodation and keep you up to date with everything happening in Tirana.
The more general group "Expats in Albania" is also helpful. Tirana features heavily in the group as the country's capital city.
Coworking Spaces in Tirana
Tirana has the most, and the best, coworking spaces in the country. The only difficulty is choosing which one to join.
Dutch Hub is perfectly located in the heart of Blloku. So, if you're staying in this area and want to be in amongst the action, Dutch Hub is a great option. It has plenty of private and semi-private office options for those wanting some seclusion.
Coolab is one of my favourite coworking spaces in the Balkans. It has a great cafe out the front and a coworking space to the rear. There are many hot desks available as well as private meeting and conference rooms. The tennis tables also create a great blend of work and play.
As well as the formal spaces, nearly every cafe in the city offers WiFi and a great, cool place to sit and work away from the heat. The chains of Mulliri Vjeter and Sophie are great, reliable options. For something quirkier, head to Komiteti, an incredible cafe museum. Stay after your work is complete to enjoy a cocktail or two.
Things to Do in Tirana
Tirana is packed full of culture, history, and nature. You'll never be bored as a digital nomad in Albania whilst here.
One of my favourite things to do in Tirana is to take a walking tour around the city. I love a walking tour but the Tirana option really is excellent. It's helpful to learn your way around the city and teaches you about the recent Communist history of the city and the country as a whole.
I highly recommend taking the cable car, (The Dajti Expres), up to the Dajti mountains. Here, you'll find lots of activities such as horse riding and ATV tours, as well as a panoramic restaurant with incredible views over the city.
If you're a foodie like me, I advise you to explore the restaurants in Blloku. There seems to be a new bar and restaurant opening in Blloku every week which makes the food scene really exciting.
Head to Komiteti cafe and museum for a stunning blend of communist artefacts and excellent food and drinks. If you're looking to try some interesting local dishes, Era is an excellent restaurant to try some traditional Albanian cuisine with a modern twist.
For some more inspiration for living in the city, take a look at my best things to do in Tirana blog.
2. Durres
Durres is the second largest city in Albania and is located on the western coastline of the Adriatic Sea.
It's an important port city in Albania and is a great base for digital nomads in Albania due to its modern infrastructure and coastal location. It also has a great nightlife scene and a lot of fun things to do when you're not working.
Where are the Best Areas to Live in Durres?
If you want to be in a central location in the heart of the action then head to the central square on Rruga Aleksander Goga. It's a recently renovated public square surrounded on all sides by bars and restaurants; both international and local.
For sea views within the city itself then you can find lots of accommodation options along Rruga Taunlantia which overlooks the Adriatic Sea. It's an easy walk to the centre and has a beautiful promenade for relaxing evening walks along the seafront.
If you want to be by the beach, then you'll have to head slightly east out of the city towards Durres beach on the other side of the port. This long stretch of beach offers plenty of apartment options with easy transport links back into the centre.
How to Find Apartments in Durres
There are a lot of Airbnb options in Durres as you may expect of the second largest city. Airbnb is increasingly popular in Albania and Durres is no exception.
Aside from Airbnb, check the "Expats in Albania" group mentioned above which often shares some good options for Durres.
For a more specific Durres focused Facebook group, I recommend joining "Expats, Immigrants & Albanians in Durres". Despite its slightly lengthy name, it has lots of advice and options from those already based in Durres.
Coworking Spaces in Durres
Despite its size, there aren't any formal coworking spaces in Durres. However, what it lacks in office space, it makes up for in cafes and bars for coworking.
Oborri Lounge Bar is a really cool cafe during the day and a bar by night, with a laid-back feel and colourful décor. The tables are a good size to work at and the WiFi is reliable. They have snacks and pastries during the day for that much-needed fuel whilst your work.
The Wall is another good bar option for working during the day. It has plenty of seating both inside and out. It has good WiFi and the drinks and food options are well-priced. It's conveniently located close to the central square so is simple to reach.
Things to Do in Durres
For fans of ancient history then a trip to Durres wouldn't be complete without a visit to Durres Amphitheatre. It's arguably one of the best pieces of ancient architecture in Albania. It was built around 100AD by Hadrian and was laid undiscovered until the 1960s.
Of course, if you're in a city on the Adriatic then you have to go to the beach. Durres beach is more than 10 kilometres in length, sandy, and dotted with hotels, restaurants, bars, and beach clubs. There are plenty of sunbeds for those that want them or you can just relax on the sand.
If you love to hike, you should walk part of the Via Egnatia, a historic roman road which began in Durres and reached all the way to Byzantium; modern-day Istanbul. Retrace the steps of ancient traders and discover various bridges and roman features along its 475km route.
3. Saranda
Saranda (also spelled Sarande) is in the heart of the Albanian Riviera and is a mere 30 minutes by ferry from Corfu. It's often grouped with Ksamil which is 20 minutes down the coast and home to some of the most incredible beaches in Albania.
Saranda is a much better option for living in Albania as a digital nomad than Ksamil, which is great for a day trip, but is more of a tourist resort rather than a working base.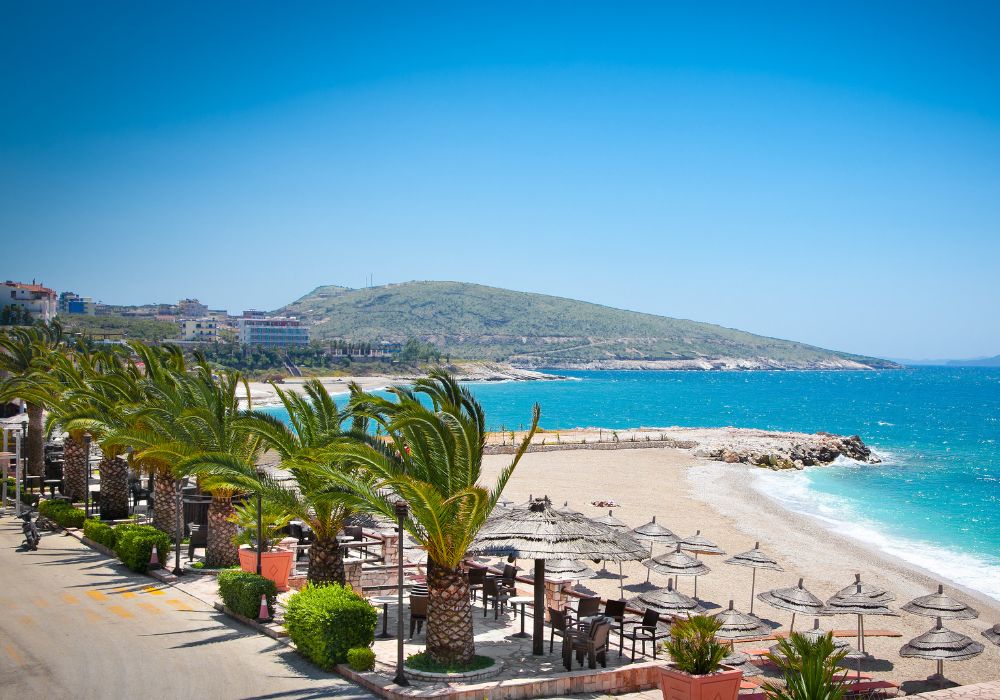 What are the Best Areas to Live in Saranda?
Saranda is a bay on the western coast of Albania and so the best areas of this city are located around the various sides of the bay.
To the west is Kodra which is probably the most cost-effective part of Saranda for a digital nomad in Albania. It has good beach bars and is within walking distance of the port and Saranda beach.
The centre, Qender, is an ideal location if you want to be in the centre of the action. It's set back above the main Saranda beach and within walking distance of the port. This area is great for those wanting a central location with a good mix of international and local cafes and restaurants.
To the east is Rruga Butrinti. There are lots of highly rated restaurants here as well as the better, (and louder), late bars and clubs. The accommodation is also more modern here and most come with great views over the sea.
How to Find Apartments in Saranda
As with other parts of Albania, there are some great Airbnb options in all three of these neighbourhoods in Saranda. Prices are generally a little lower than in Tirana, (unless you're booking in the peak summer season).
I recommend this Facebook group which has accommodation options as well as lots of members ready to help with anything else you may need as a digital nomad in Albania.
Alternatively, there are plenty of expats in Albania and the Sarande Expats 2.0 group is great. Here, you can connect with expats and other long-term residents in Saranda for anything from accommodation to restaurant recommendations.
Coworking Spaces in Saranda
There are currently no coworking spaces in Saranda, however, it has some excellent local and international cafes and bars that are more than happy to welcome you in with your laptop.
One of my favourite places is Hashtag2 which is in the Qender area of Saranda. It has a mix of indoor and outdoor seats, they have good WiFi, and some plugs if you need to recharge. They offer coffees as well as smoothies and fresh pastries.
Another great option is My Time Coffee Bar. It's a great place to escape the sun with cool AC and chilled tunes in the background. The WiFi is good and the tables are a decent size to work at.
Things to Do in Saranda
There are so many great things to do in Saranda for Digital Nomads.
I strongly recommend taking a car or taxi up to Lekuresi Castle for a drink at sunset. This beautiful restaurant sits inside the old castle and offers a hilltop view over the bay of Saranda.
At sunset, the views are simply incredible. If you're peckish you can stay for food at the restaurant.
With Corfu visible on the horizon, I cannot recommend enough that you visit. You can take a fast ferry over to Corfu in just 30 minutes and spend the day on the Greek island; explore Corfu's old town, including the Old Fortress, and sample some delicious Greek food. It's a great day trip from Sarande.
I loved taking a boat trip from Saranda when I was living in Albania. I hired a private boat for 4 people, and the captain took us to visit 4 different hidden beaches along the coast from Saranda.
If you head down to the promenade at Saranda beach at night, you'll find plenty of operators offering you great prices for your own personal trip.
The Blue Eye is a must-see in Albania. This is an incredible half-day trip where you walk 2km through the Blue Eye National Park to reach this natural phenomenon.
It's a crystal-clear underwater spring so deep, and with so much pressure, that divers haven't made it to the bottom yet.
It's a beautiful thing to see in a lush jungle/forest setting. I recommend combining it with a trip to the stunning Gjirokaster on this excellent day trip tour.
4. Vlore
Vlore is the third largest Albanian city and one of the best places to live in Albania.
It sits on the western coast with beaches on the Ionian Sea and the Ceraunian Mountains behind it. It has a beautiful beachfront promenade of shops, bars, and restaurants and benefits from a Mediterranean climate and feel.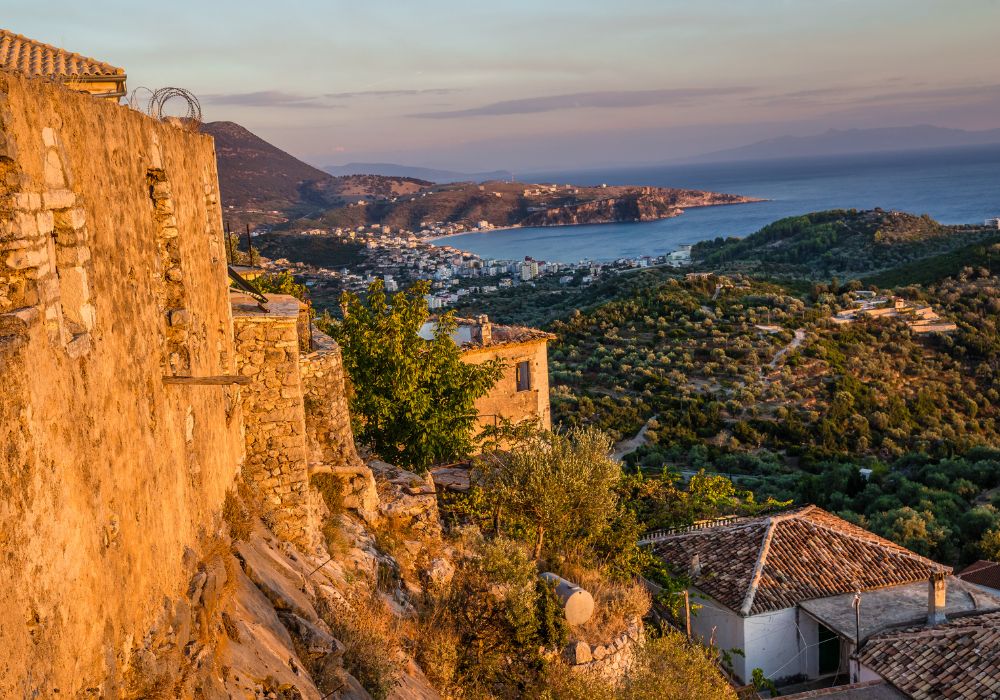 What are the Best Areas to Live in Vlore?
Lungomare or the promenade/beachfront extends several miles to the south of Vlore centre along the beach. The newly renovated promenade separates the beach on one side from the coolest bars, restaurants, and nightlife on the other. Perfect for waking up with a sea view.
The heart of Vlore is Ismail Qemali boulevard. This main road joins the promenade to the Old Town. It has plenty of local and international shops, bars, cafes, and restaurants. It has the most cafe options to choose from when working in the city.
To the northern end of the boulevard is the small but perfectly formed Old Town. It has cobbled streets and picturesque Albanian and Mediterranean architecture. It houses lots of boutique shops and quirky bars and restaurants making it a great place to be based.
How to Find Apartments in Vlore
One of the better Facebook groups for those looking to set up a base in Vlore is "Expats in Vlore". The page isn't as busy as other groups for living in Albania but the admin is very helpful and knowledgeable and can be contacted directly.
I also suggest looking at the "Expats in Albania" group mentioned above. Vlore is often referenced on this page given its size and so can often provide some helpful accommodation options.
Airbnb also remains a great option for finding apartments in Vlore as there are a lot of affordable options in all three main parts of town.
Coworking Spaces in Vlore
Vlore has some excellent cafes and restaurants which are very welcoming to digital nomads in Albania.
Mon Cheri is located at the top of the promenade for a great place to work with a reliable WiFi connection and great coffee. If you're staying near the boulevard then Mulliri Vjeter to the bottom end of the street is another great place to sit, work, and watch the world go by.
If you're staying to the west of the main boulevard, I particularly enjoyed Corner Café. Here, have the choice of indoor or outdoor seating, plenty of tables, good WiFi, and all-important plug sockets. The great coffee and tempting ice cream help as well!
Things to Do in Vlore
There are plenty of great things to do in this coastal Albanian city.
One of the highlights is a trip just north to Zvernec Island. This small island is reached by a wooden causeway and houses a now-abandoned monastery and a beautiful little church.
You can reach Zvernec island on a bike or, if it's particularly hot, consider hiring a scooter or a car to make the 13km journey. On the way back, stop in at the beautiful Narta Beach.
A trip to Vlore isn't complete without a trip to its stunning Old Town. It's really pretty by day with its perfectly preserved Mediterranean-inspired streets, and by night it comes alive with beautiful lighting and a buzz from the nearby square where you'll find lots of alfresco dining options.
One of the main attractions in Vlore is its nearly renovated promenade and its long, sandy beaches. Take a trip to the beach where you can hire loungers or set up camp on the sand. The water is crystal-clear, blue, and calm; perfect for swimming or lounging.
By night, the promenade is the place to be to sample the busy bars and trendy restaurants, and mingle amongst people of all ages enjoying an evening stroll or a few drinks.
5. Korce
Korce, pronounced Korcha, is a small city in southeastern Albania and is just 3 hours from Tirana. It has an amazing cafe culture for digital nomads in Albania to enjoy and is a beautiful place to visit.
What are the Best Areas to Live in Korce?
The best area to live in Korca is within the centre. The city is fairly small and so most amenities are within walking distance from the centre. This is also where you'll find the most Airbnbs. The best streets to be close to are St George Boulevard or Bulevardi Fan Noli. These are where you'll find the most cafes, (along with tourists and expats).
You'll also be close to Korca's main attractions; including the Old Bazaar which is a delight to walk around and has an amazing selection of cafes, bars, and local taverns to stop by.
If you want to live somewhere greener, you could consider living by Rinia Park which is a large park filled with beer gardens, families, and students with quite a fun and relaxed vibe. It's just a 15-20 minute walk into the centre from here.
How To Find Accommodation in Korce?
There are some great affordable Airbnb options in Korca as it's less touristy than other cities in Albania.
I recommend this Facebook group which has accommodation options as well as lots of members ready to help with any queries you may have as a digital nomad in Albania.
Coworking Spaces in Korce
Dutch House is a coworking space and hotel located just off Bulvevardi Fan Noli. It has lots of workspaces and a little kitchen so you can take your lunch to work. It also doubles as a bar, so is perfect for those who like the more social aspect of coworking.
Aside from Dutch House, Korca has a huge selection of cafes. Take a wander along Bulevardi Gherji Shen, (St George), or Bulevardi Republika, (which run parallel to one another), and you'll have many more options to choose from. Sophie Caffe and Komiteti are both reliable spaces to work from.
Things to Do in Korca
Korca is one of the most quaint and romantic towns in Albania. It's often referred to as the Little Paris of Albania.
Korca is a very homely city, with lots of green space, beer gardens, and historical and cultural monuments to explore. It's also the home to Albania's treasured beer, Birra Korca and its brewery which I recommend you visit.
One of my favourite things to do in Korca is to take a walk down St George Boulevard, a pedestrianised road lined with apple trees, bars, and coffee shops. It's so pretty.
At the top of the boulevard, is the panoramic tower which offers incredible views over the entire city and the mountains in the distance. Entrance to the observation deck costs around 50LEK ($0.50USD).
A visit to the Old Bazaar is a must. Once a historical site, refurbished into a cosmopolitan space, it's home to lots of small cafes and eateries which spill out onto the cobbled streets. This is where you'll find Komiteti bar to take your laptop, as well as many other cool cafe choices.
Finally, you have to have a beer at the Korca Brewery – it's what this beautiful city is most famous for. It's made using natural spring water from the nearby mountains so their beers have a very light and fresh taste. They have a restaurant and beer garden onsite, which is a great place to chill out.
Is Albania Safe?
Albania is a very safe country and is generally considered safer than walking around the UK or USA. Crime is rare and locals are hospitable and welcoming.
It's also considered a safe country for women and female travellers; I never felt uncomfortable or unsafe during my time in Albania.
Like in many other European countries, pickpocketing does happen but as long as you're sensible, and mindful of your surroundings, you shouldn't be affected by this.
Cost of Living in Albania
The cost of living in Albania is extremely affordable.
The cost of living, including rent, will be higher during the peak summer months, particularly along the coast. However, if you visit in the Spring or Autumn, you'll likely have a very affordable time in Albania wherever you choose to base yourself.
I visited Tirana in May and the one-bed apartment I stayed in was around €520 per month. In Sarande, along the coast, a one-bedroom apartment by the beach cost around €800 per month but these are peak prices.
As most tourists visit the coast, other cities like Korca can be more affordable in the summer.
A meal for two at a restaurant in Sarande will cost around €25-30. In Tirana, you could eat much more affordably. If you eat at a local Zgara, (grill), and I recommend that you do, you can eat a good meal for around €7.50 each – including a beer!
Weather in Albania
Albania experiences great weather all year round which makes it a great place for being a digital nomad in Albania no matter the time of year.
Along the coast, the summer is Mediterranean; very long, hot, and dry. The winters are mild.
If you head inland and to the north, the weather is seasonal and has very cold winters and snowfall, with hot dry summers and storms. This makes it a great place for skiing in addition to working as a digital nomad.
In the summer it's very hot and usually sunny. The temperatures can reach highs of 35°C and you'll enjoy warm evenings too. It's the perfect place for discovering beaches.
Living in Albania Pros and Cons
As with anywhere in the world, there are both pros and cons to living in Albania.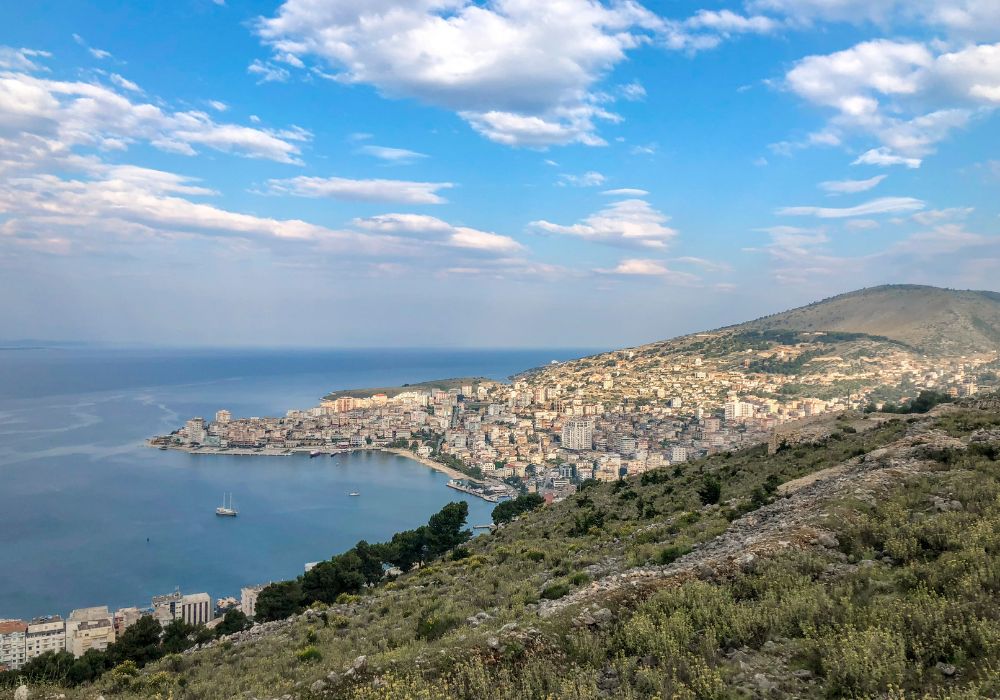 Pros of Living in Albania
The beautiful beaches on the coast – some can rival those in Greece
Hiking, lakes, and mountains to discover
Welcoming people
An active outdoor lifestyle
Amazing cafe culture
Great WiFi availability and quality
Affordable cost of living
Cons of Living in Albania
The temperature in mid-summer can reach 35°C which could be too hot for some
During the peak summer months, it can get very crowded, (particularly along the coast)
Transportation can be long and sometimes uncomfortable in the summer months – there's not always air conditioning, or proper space for bags, and it can be expensive
Card payments are not widely accepted in bars and restaurants so you should always carry cash with you
What is the Visa Situation?
If you're from the UK, USA, Canada or Australia, (among other countries), you don't require a visa and can enjoy living in Albania for up to 90 days, within a 180-day period.
If you want to stay longer, you can apply for a long-term visa so long as you meet the criteria listed here.
Generally speaking, if you're a digital nomad in Albania, you'll be entitled to enjoy 90 days in Albania visa-free.
Conclusion
Albania is a fantastic place to live as a digital nomad. Its cafe culture perfectly matches laptop life, the WiFi is excellent, and there are some great coworking options too.
In your downtime, there are some incredible historical, natural and cultural places to visit to achieve that work-life balance. Not only that, but it's a very affordable country, and one of the few places that still feels relatively undiscovered in places.
Like This Article? Pin it!