In this ultimate guide to living in Cyprus you'll find out everything you need to know about life as a digital nomad in Cyprus.
Cyprus is Europe's sunniest island and is a hugely popular tourist resort as a result. But, it has so much more to offer than sun, with the slower pace of life in Cyprus being a big draw for digital nomads and expats alike.


I recently spent three months living in Cyprus and will be returning again shortly as I loved it so much the first time around. This island offers a perfect blend of beaches, culture, history, nightlife, and of course, digital nomad amenities.
There are so many great places to see in Cyprus. Learn more about living in Cyprus in this detailed guide.
About Cyprus
Cyprus is an island in the southeast of Europe, with Turkey to the north, and Syria to the east.
Legend has it that Cyprus is the birthplace of Aphrodite, the Greek Goddess of love. Aphrodite's rock and baths remain popular attractions to this day.
Cyprus' capital city, Nicosia is the world's last divided capital city. The north of Cyprus is self-declared as the Turkish Republic of Northern Cyprus after the Turkish Invasion in 1974. The south of the island is known as the Republic of Cyprus and remains part of the EU.
Cyprus has some of the most beautiful beaches in Europe, and some of the best weather due to its geographical location. Despite this, the Troodos mountains are open for skiing in the winter. It's one of the only places in Europe you can ski in the morning and be on the beach in the afternoon.
This unique blend of mythology, geography, and history makes it a unique place to live. As a digital nomad in Cyprus, you could have an idyllic way of life that I don't think can be matched in Europe.
This blog will focus on the Republic of Cyprus but there are opportunities to cross the border into Northern Cyprus, particularly from Nicosia.
Don't miss our complete guide to traveling Cyprus for everything you need to know about visiting this unique island nation.
Cyprus for Digital Nomads
Living in Cyprus as a digital nomad has its pros and cons but overall, I think it's a great option. You'll benefit from fantastic weather and a cafe culture that is conducive to working. 
The internet connection in Cyprus, particularly in the cities mentioned in this blog, is very good. Nearly every cafe I visited had super reliable WiFi for working. 4G signals are also abundant within the cities.
When you're not working, there's so much to see and do. The beaches are incredible with their beautiful sands and clear waters. The tavernas and restaurants serve amazing traditional food, and the mountains harbour some brilliant vineyards for wine lovers. 
The cities are established and modern, so you'll find all of your home comforts in Cyprus. Combine that with the siga siga, – translating as "slowly, slowly" – way of life in Cyprus and you have a recipe for a great digital nomad location.
Best Places to Live in Cyprus
There are so many great cities to live in in Cyprus but here are my top 5 recommendations for digital nomads.
1. Limassol
Limassol is the second largest city in Cyprus and the most cosmopolitan. It's located on the southern coast and has seen a huge increase in glass skyscrapers, restaurants, and trendy bars appearing in recent years. 
You'll also find lots of great coffee shops to work at. I think it's the best place to live in Cyprus.
What Are The Best Areas to Live in Limassol?
For me, Limassol is one of the best places to live in Cyprus as it's a year-round, modern city combined with lots of local beaches.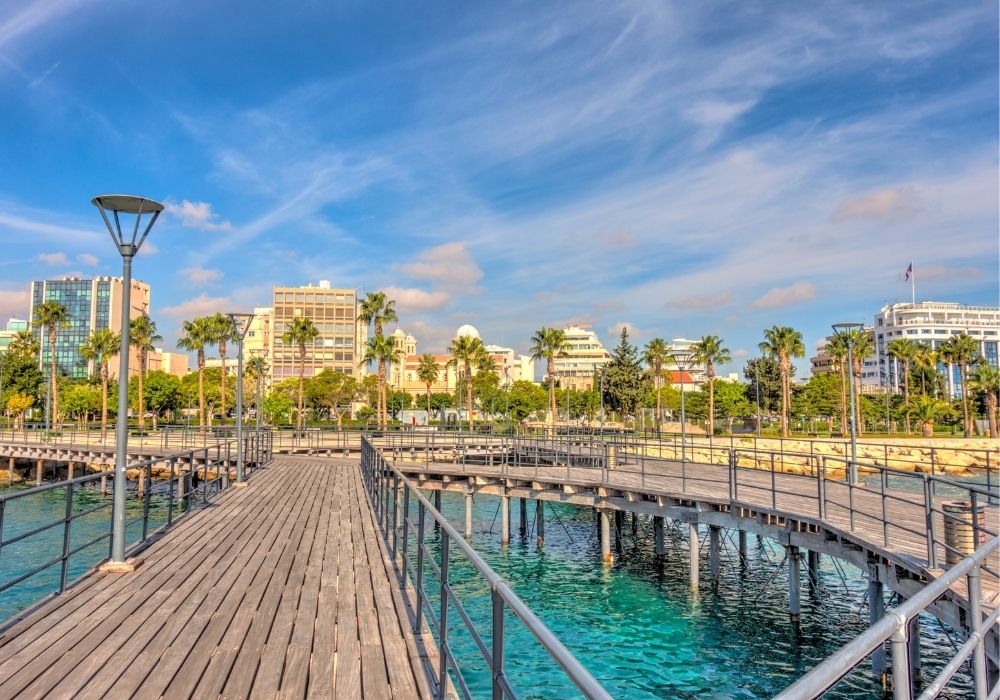 The main parts of Limassol for any digital nomad are along the coastal road. This stretches around 10km from the Old Town and marina in the west, to Agios Tychon, known as the tourist area in the east by the Four Seasons Hotel.
I would suggest living anywhere along this beach road, but the middle is slightly less developed – I would personally choose to live at either end.
The tourist area has some of the best city beaches to offer, and plenty of bars and restaurants to try. Alternatively, the Old Town at the western end has some beautiful buildings, lots of quirky bars and restaurants, and is close to the modern marina and beachfront promenade, Molos.
Both would make excellent bases to explore Limassol.
How to Find Accommodation in Limassol
One of the best ways to find a place to stay is by looking at Facebook groups. Many of these advertise places to rent which aren't available on Airbnb, and you can get a good deal for long-term stays. Sometimes these are better equipped for longer stays than those available on Airbnb.
I'd recommend this rental group, and this digital nomad group. See Also: 15 Best Airbnbs in Limassol
Coworking Spaces in Limassol
Some of the best coworking spaces in Cyprus are in Limassol.
HUB Design Platform is the most popular coworking space in Limassol and attracts a host of professionals who want a remote base from which to work.
Limassol Grind is a more laidback remote working 'incubator' with open spaces and regular workshops to bring the community together.
Alternatively, many of the cafes in Limassol also offer coworking spaces such as Tasters, and Second Cup. I spent most of my time in cafe chains like La Croissanterie, Caffé Nero, and Coffee Island when I was in Limassol and found these to have solid WiFi.
Things To Do in Limassol
There are so many things to do in Limassol, you'll certainly never be bored.
One of the best things to do is to check out some of the beaches just outside of the city centre. Whilst the city beaches are great, the beaches at either Lady's Mile to the west, or Governor's beach to the east, are most worth exploring.
Get away from the coast and head into the Troodos mountains for a glimpse into traditional Cyprus. The beautiful village of Omodos is famous for its wine-making and quaint architecture. Spend a day exploring its cobbled streets and indulge in a well-deserved glass of red.
If you fancy your chance at eternal youth, then head west to Aphrodite's Rock. Legend has it that swimming around the Greek Goddess's birthplace will make your wishes come true and bring eternal beauty.
2. Paphos
Paphos is located in the southwest of Cyprus and is a unique blend of historical culture and all the mod-cons that you would expect from a popular holiday destination.
The blend of old meets new makes Paphos a superb place to sun yourself in Cyprus. It also has its own international airport; making travel to and from Paphos, Cyprus very convenient.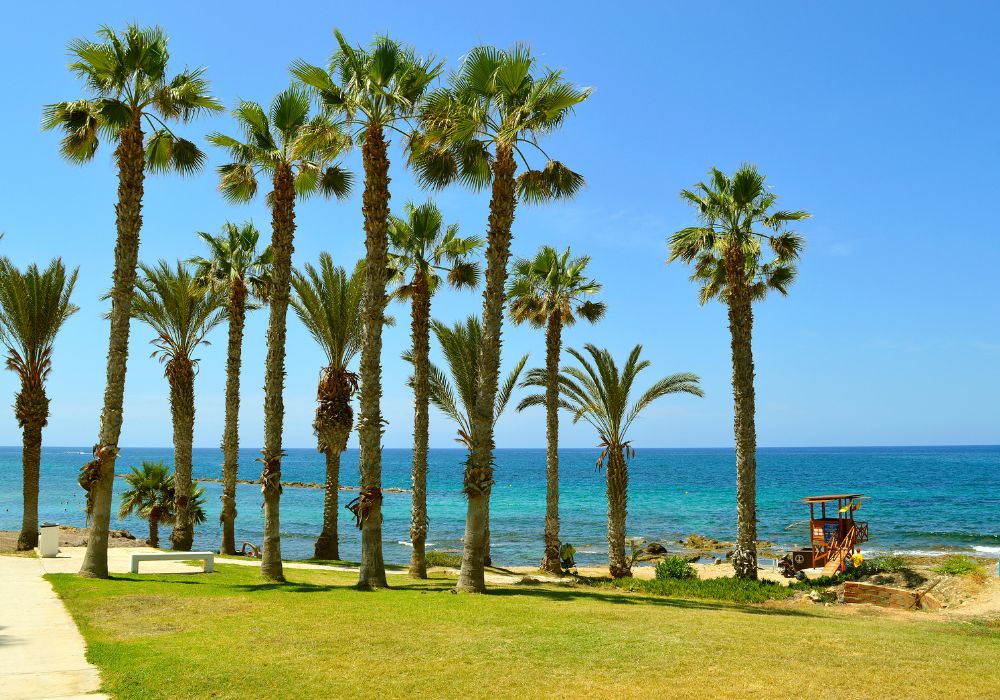 What Are the Best Areas to Live in Paphos?
The heart of Paphos is known as Kato Paphos and is located close to the harbour. During the summer months, this part of town is full of tourists. If you love being amongst the action then this is a good place to be based.
Slightly further away from the crowds is the beautiful district of Mousallas. This is the Old Turkish Quarter and much more local and authentic whilst still being close to the amenities of Kato Paphos.
If you're after somewhere more peaceful, then I would suggest the town of Peyia, just north of Paphos. It's close to Coral Bay – one of the best beaches in Paphos.
How to Find Apartments in Paphos
There are a lot of Airbnb options for Paphos and most hosts will offer good discounts for longer rentals, and out-of-season lets.
There are also a few useful Facebook groups such as Paphos Property Rentals and the Cyprus Digital Nomad group which also covers Paphos.
Coworking Spaces in Paphos
Paphos is seeing an increase in coworking spaces as it diversifies its tourist background.
Hugge Coworking is an excellent option with fantastic workspaces. It's a huge space set over three floors with private offices and meeting rooms. There's also a really cool rooftop lounge for views over the sea; perfect for enjoying that all-important coffee break.
Jungle Space is a slightly smaller but great option with another rooftop lounge – a necessity in a country as warm and beautiful as Cyprus. Flexible membership options are available here and it's very centrally located.
As with the rest of Cyprus, you'll find a plethora of cafes in the centre of Paphos, all of which can be relied upon to have WiFi and coffee.
Things To Do in Paphos
One of my favourite things to do when I was living in Cyprus was to visit the incredible Akamas National Park, just outside of Paphos. Hire quad bikes or take a guided tour and head into the National Park to see the incredible Blue Lagoon and the turtles of Lara Beach.
If you want to explore more beaches, then head up the coast to Coral Bay. This is probably the best beach area in Paphos and a great escape from the centre.
For your dose of history, visit the Tomb of Kings which is part of Kato Paphos Archaeological Park. The tombs were inspired by their Egyptian counterparts and are carved out of solid rock. The whole park is a fascinating look into the impressive history of Cyprus.
There are numerous fun things to see and do in Paphos to keep you busy.
3. Larnaca
Larnaca is the third largest city in Cyprus and is characterized as the laid-back sibling to bustling Limassol and touristy Paphos.
Its swaying palm trees and seafront promenade are supported by little streets lined with cafes and markets which make this port city feel truly authentic.
What Are the Best Areas to Live in Larnaca?
Larnaca isn't a huge city and so wherever you stay you should still be able to get to the main attractions easily.
Larnaca is famous for Finikoudes Beach; an incredible city beach just next to the marina in the centre of Larnaca. I would recommend staying around Finikoudes Beach and/or the adjacent marina to be in the heart of life in Larnaca.
If you want to stay somewhere more traditional and quaint but still be within easy reach of the beaches, then check out the Turkish Quarter around the impressive Church of Saint Lazarus. From here, you'll be within walking distance of the main nightlife in Larnaca, but far away enough not to hear it when you go to bed.
If you want to be a little further out of town, then you'll want to stay by Makenzie Beach. This stretch of coast has an excellent blue flag beach and is very family friendly as the water is very shallow.
Just 50m offshore, the water is only waist high which is perfect if you have kids in tow. It's a popular area for locals wishing to escape the city and always has lots going on.
How to Find Apartments in Larnaca
The best way to find good apartment options is on Airbnb and again, you'll find some discounts for stays over a month, and outside of high season.
This Facebook group posts some options for renting in Larnaca and can often be of great value.
Coworking Spaces in Larnaca
iDesk.Space offers workspaces in its minimalist working environment. You'll find plenty of desks and a good community of coworkers here. They offer flexible plans for part-time or full-time use. It's slightly out of the centre, at a 20-minute walk from the Turkish Quarter, but is accessible by bike or car.
As you may expect from this relaxed beach city, a lot of the coworking here is done in cafes.
Paul's Coffee Roasters is an excellent cafe within easy reach of both Finikoudes Beach, and the Turkish Quarter. It has plenty of seating with large tables for working. There are lots of plugs for charging, the WiFi is excellent, and so is the coffee – it's somewhere you can stay all day long.
If you're a little further along the coast at Makenzie Beach, then Caffé Nero is a nice spot for getting some work done and is a popular spot for remote workers in Larnaca.
Things To Do in Larnaca
The Church of Saint Lazarus is a very impressive church from both inside and out – make sure you check out the intricate decoration inside. There's also a small museum of religious relics and icons onsite.
Mythology has it that after rising from the dead, Lazarus lived in Larnaca for another 30 years and was ordained as a bishop. When he died a second time, this time for good, he was buried in Larnaca where the church now stands.
For divers, Larnaca is one of the best places to live in Cyprus. Some of the best sites include the Zenobia wreck, a cargo ship which sank in 1980 with over $200m of cargo on board. The wreck is accessible to all levels of PADI divers.
In addition to this, is the Museum of Underwater Sculpture along the coast between Larnaca and Ayia Napa. All 93 submerged sculptures can be explored by diving or snorkelling.
Finally, enjoy the beaches of this pretty city. Finikoudes beach is the most central, whilst Makenzie beach is a little outside of town and more relaxed.
If you have a car, Perivolia Beach or Cape Kiti Beach are both gorgeous beaches with pretty coves, just 15km south of Larnaca. There are numerous things to do in Larnaca, you'll never be bored while living here.
4. Nicosia
Nicosia is Cyprus' capital and its largest city. It's also the only divided capital city in the world following Turkey's invasion in 1974.
As a result, it's a fascinating place. Full of history and culture which offers a perspective on the two very different ways of life either side of the Green Line. Think winding narrow streets with trendy cool bars and restaurants inside historic buildings at every turn.
As Nicosia is inland and divided by the Green Line, you'll get a very different vibe here than you will do in the coastal cities mentioned in this blog so far. But the charm and historical importance of Nicosia is not to be underestimated.
What Are the Best Areas to Live in Nicosia?
The two main areas to stay in Nicosia are the city centre and the Old Town.
The city centre is very modern with lots of recognised brands and chains. It's also home to the main mall in Nicosia and some of the trendier bars and restaurants.
Not far from the city centre is the Old Town, with its maze-like side streets. The main street in the Old Town is Ledra Street. It's this street that provides the main access from the Republic of Cyprus into North Cyprus and vice versa.
There's a checkpoint and border crossing to pass from one side to the other. The entirety of the Old Town is divided by the Green Line.
The buildings are much older in the Old Town as the name suggests, but there are plenty of modern shops, bars, and restaurants. I'd say this is the cooler part of town to stay in, but it can be very busy in the summer months as it's the main attraction of Cyprus' capital city.
How to Find Apartments in Nicosia
There are loads of options on Airbnb as would be expected in a capital city. You'll be spoilt for options in both the Old Town and the city centre in Nicosia.
Be aware that there are little to no options to the north of the Green Line and so if you wish to stay in Northern Cyprus, you'll need to rely on Facebook groups or hotels.
Try these Facebook groups for longer-term rentals in Nicosia, or this expat Facebook group for rental ideas and advice on living in Cyprus as an expat.
Coworking Spaces in Nicosia
As the nation's capital, there are some excellent coworking options in Nicosia.
Ygantourgeio TheWorkplace is one of the coolest coworking spaces in Cyprus as it's based inside an old mill building in the Old Town. It combines historic charm with modern amenities and offers a variety of private offices and shared spaces.
It's created a super cool community which is perfect for an expat or digital nomad looking to meet like-minded people. I'd really recommend this place.
Hub Nicosia is slightly further out of town and provides a more basic offering than Ygantourgeio, whilst still having everything you'll need as a digital nomad. It's a good choice for those who want somewhere to simply go and get a bit of work done without the frills.
Beyond the dedicated coworking spaces, there's a myriad of cafes in both the city centre and the Old Town, which provide excellent WiFi and amenities for working remotely.
Try Mikel Coffee on Ledra Street, or the beautiful Old Town Café Nero. In the city centre, iheart Café or Brewlab are both good options for working.
Things To Do in Nicosia
My favourite activity in Nicosia, as a bit of a history nerd, has to be walking the Green Line and crossing over into Northern Cyprus.
The Green Line offers a stark reminder of the division on the island and provides a very real look at the consequences of the 1974 invasion. Cross the Green Line, (remember to take your passport), to see the contrast in the two parts of Nicosia, known as Lefkosa in the north.
You must visit Ledra Palace – once a hotel for the rich and famous, it now serves as the headquarters of the Sector 2 United Nations Roulement Regiment (URR), part of UNFICYP. You can still see the bullet holes in the facade.
Stop in the Home Cafe opposite the hotel for a surreal can of Freedom Beer in no man's land.
Finally, one of the joys of Nicosia is getting lost in the Old Town and exploring the many cafes, bakeries, bars, and restaurants located down narrow backstreets.
My favourite café in Nicosia is Apomero for its amazing homemade cakes, pastries, and baklava – all served with the friendliest service. Halara near Ledra Street is a top spot for a beer and some nibbles whilst watching the world go by.
5. Protaras
Protaras is located southeast of the island and is known for its crystal clear waters and some of the best beaches in Cyprus.
Protaras isn't my top pick for places to live in Cyprus, as it's a resort town and is virtually closed in the off-season. However, its incredible beaches and affordable cafes and bars are a big draw for digital nomads.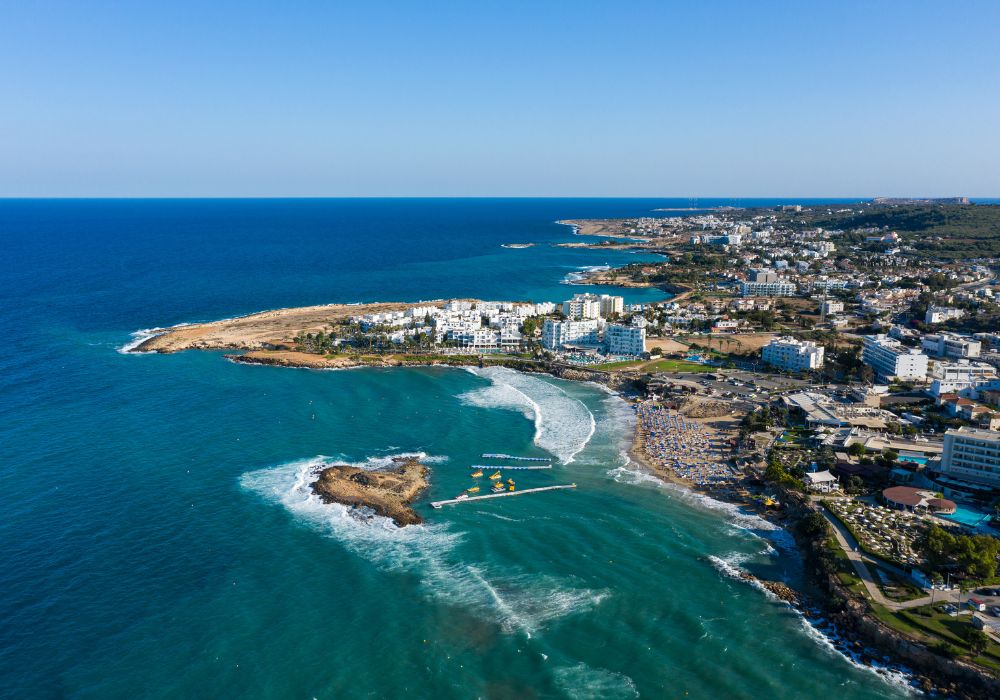 What Are the Best Areas to Live in Protaras?
Protaras is largely arranged along the main road, or tourist strip, from the famous Fig Tree Bay to the south, to Protaras Pier at the northern end of Sunrise Beach. Accommodation is plentiful along this main road and around Fig Tree Bay. The majority of hotel resorts can also be found in this area.
In the peak summer months, it's a hugely popular part of the island and becomes super busy. As Protaras is a tourist destination, prices can be much higher in June – August, but offer great value options out of season.
If you're heading to Protaras in the summer months and want a quieter area, then I'd recommend you look to stay in the main village of Paralimni, (of which Protaras is part of). Here you will find a much more authentic Cypriot village with lots of local amenities.
How to Find Apartments in Protaras
There are a couple of helpful Facebook groups for those looking for longer-term rental options in Cyprus. One of them is this private group, and another helpful Q&A group.
Otherwise, as with the rest of Cyprus, Airbnb is a failsafe option with apartments in both Protaras and Paralimni offering discounted stays for longer-term rentals, and off-season stays.
Coworking Spaces in Protaras
As a tourist destination, there aren't any dedicated coworking spaces in Protaras. Whilst Protaras isn't likely to become a digital nomad hub, it's where you'll find the white sandy beaches you see on the postcards.
That doesn't mean there aren't places to focus, as there are lots of cafes to work from. I spent many hours working in Coffee Island, which offers a relaxing space, reliable WiFi, and plugs for your laptop.
Things To Do in Protaras
Protaras is known for its incredible beaches with crystal clear waters and fine sand. It's no surprise that beach days are some of the best things to do in Protaras.
One of my favourite beaches in Protaras is Fig Tree Bay a sheltered, white sand beach. Further down the coast is Nissi Beach, a 500m blue flag beach with incredible turquoise water.
Cape Greco is a headland just south of Protaras, and is home to a series of sea caves providing a beautiful vantage point over the ocean. See the bright blue waters during the day, or a spectacular sunset at night.
If you wish to learn more about the Turkish invasion then take a day trip from Protaras to Famagusta in Northern Cyprus. Inside lies Varosha – the famous 'ghost town'. During the 1974 invasion, its citizens fled and it has been abandoned ever since.
Is Cyprus Safe?
The short answer is yes. Living in Cyprus as an expat or digital nomad is very safe. Crime rates in Cyprus are statistically low.
The figures reflect how I felt when I lived there. I was never worried about going out at night and the friendliness of the locals made me feel at ease from day one.
Driving in Cyprus is generally safe too. The rules of the road are relaxed in a classically Mediterranean way and so it may take a few days to adjust.
Cost of Living in Cyprus
The cost of living in Cyprus is on par with the rest of western Europe and reflects its status as a popular tourist destination.
Therefore, during the peak summer months (June – August), rent is likely to be higher. Conversely, if you're staying out of season then you can find some bargains, particularly in Paphos or Protaras which rely heavily on the tourist trade.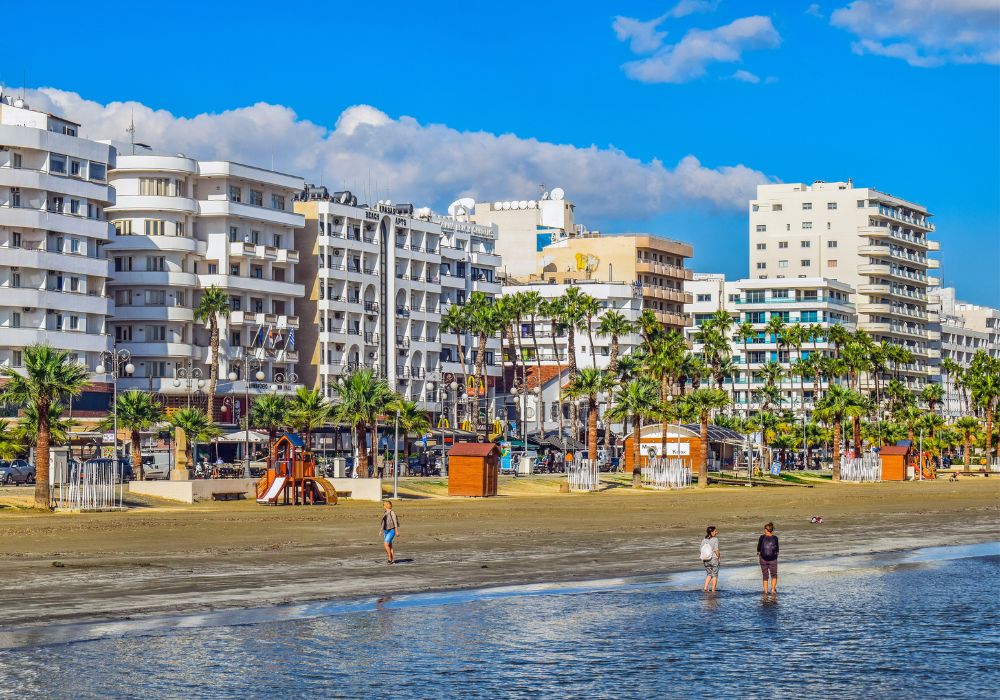 Limassol is the most expensive city in Cyprus. The one-bed apartment I stayed in from September to November was around €800 per month. During the peak summer months, that price could increase by 50%.
Costs in Larnaca and Nicosia are more stable as they're not so influenced by tourists.
A meal for two at a restaurant would cost between €30 – €50. A beer is around €5, and a bottle of wine in a restaurant is around €25. Despite Cyprus being an island, fish is surprisingly much more expensive than meat.
More information on the cost of living in Cyprus can be found here.
Weather in Cyprus
The year-round sunny weather is one of many highlights of living in Cyprus. The summer starts around April, and ends in October. The temperature can reach highs of 40°C in July and August. Rain is rare during these months and you can count on plenty of blue sky days.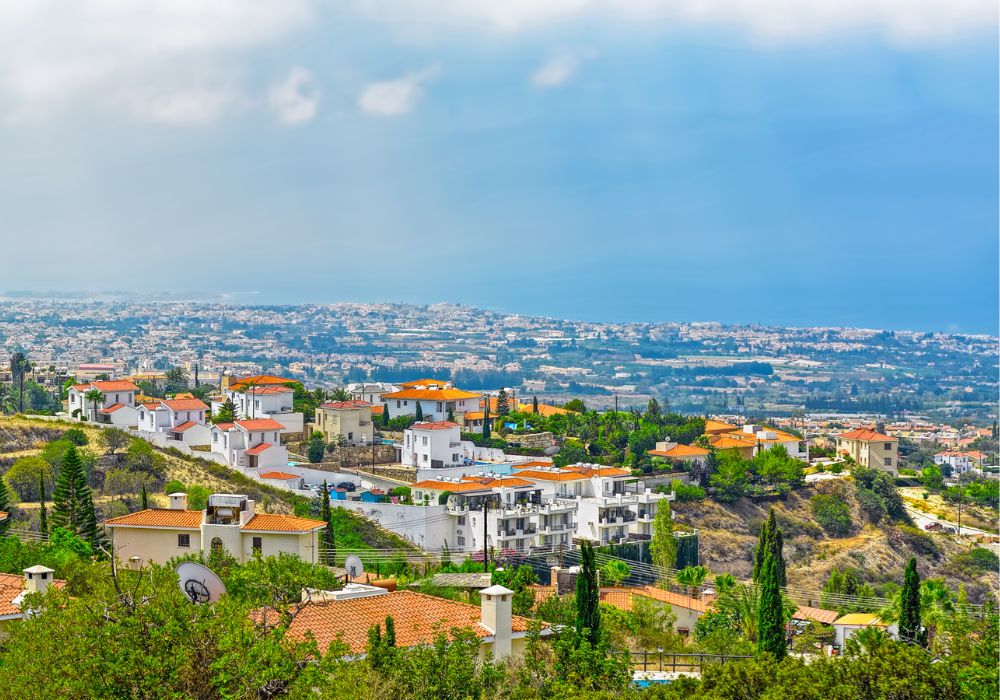 The winters are mild and see more rainfall than the summer. However, it doesn't get cold. Lows during this time are around 17°C. You can still expect lots of clear blue skies with temperatures around 20°C.
If you head inland to the Troodos Mountains, then the elevation means the temperature drops dramatically. Even in the summer, the top of the Troodos Mountains can be 10 degrees cooler than the coast. A trip here provides a welcome break from the summer heat. See our guide to the best time to visit Cyprus.
Pros and Cons of Living in Cyprus
As with anywhere in the world, there are both pros and cons to living in Cyprus.
Pros of Living in Cyprus
The year-round great weather
Incredible beaches – some of the best in Europe
Hiking, mountains and waterfalls in-land
Friendly and welcoming people
An outdoor lifestyle
Cafe culture and the "siga siga" way of life
Fantastic cuisine
Solid WiFi availability and quality
Cons of Living in Cyprus
You'll probably need to hire a car which is an expensive additional cost. Public transport is not perfect and cities such as Limassol are spread out
The cost of living is higher than in other places in this eastern part of Europe
During the peak summer months, there's a significant influx of tourists which increases prices
The temperature in mid-summer can reach 40°C which could be too hot for some
Those are a few of the pros and cons of living in Cyprus pros and cons I encountered on my trip!
What is the Visa Situation?
If you are an EU national, then you do not need a visa for living in Cyprus. You can stay indefinitely.
If you are from the UK, USA, Canada or Australia, (amongst many others), then you can enjoy life in Cyprus for up to 90 days in any 180-day period without a visa.
There are various visa exemptions for other countries as detailed here.
Generally speaking, you'll need a visa if you are not an EU national and you wish to stay in Cyprus for longer than 90 days in any 180-day period. Cyprus has a visa for remote workers which, if you qualify, allows you to stay for 1 – 3 years in the country.
Conclusion
So there you have it, my ultimate guide to being a digital nomad in Cyprus. This is genuinely one of my favourite places that I've visited as a digital nomad so far and I just love life in Cyprus.
Living in Cyprus combines beautiful beaches and a perfect climate with friendly people, fascinating history and modern amenities. The result is a fabulous country that makes for a top destination to base yourself as a digital nomad in Europe.
I hope this guide helps you answer any questions you might have about living in Cyprus.
Like This Article? Pin it!