If you're wondering what it's like to live in Denver as a digital nomad, you're in the right place. Even though it's a pretty large city, living in Denver, Colorado is an excellent way to experience this beautiful part of the United States.
I've been living in downtown Denver for the past 8 months, and it's been fantastic!
While I'm not technically a digital nomad, I do work remotely for myself and run my own freelance branding and web design studio while working with clients worldwide.
By the end of this post, you'll know everything from the best area to live in Denver and the cost of living, plus what it's like to be a remote worker there.
Read More: 101 Best Places To Visit in The USA
Here's everything you need to know about living in Denver as a digital nomad.
What's It Like Living in Denver?
Living in Denver is unlike living in any other city, which is why I personally love it so much and think it's the perfect place for digital nomads.
Denver is located right at the foothills of the breathtaking Rocky Mountains, so it's often used as a home base for adventuring throughout the mountains and the rest of the state.
So many great day trips are just a short ways away, like Rocky Mountain National Park, Idaho Springs, and Boulder.
Everyone in Denver is so kind, especially the locals, which (in my experience) is a vast difference from the eastern United States.
Denverites love helping people who just moved to the area or are visiting, and people are just so incredibly welcoming here.
There are numerous things to do in Denver and those who live in and around the city are very much into the outdoors.
It's not often that you'll meet a local who hasn't at least attempted to hike a 14er (mountains that rise 14,000 feet or higher), and pretty much everyone knows how to ski or snowboard — sports are big here.
One thing that you should know about Denver is that it is located high above sea level (5,280 feet / 1,609 meters), which is why it's dubbed as the "Mile High City." Because of the elevation, you can get dehydrated really quickly due to the dryness in the air.
However, the elevation helps a lot when it comes to weather. Denver gets more sun than Miami as the locals like to say, with an average of over 300 days of sun every year. Plus, when it's warm, it's never humid.
Remote Working in Denver
Working remotely while living in Denver, Colorado, is terrific because there are so many other freelancers, entrepreneurs, and remote workers in the city.
Plus, as I mentioned earlier, you can be working in your hotel or co-working space in the morning only to be hiking to the top of the Flatirons in Boulder by the afternoon.
The area is filled with so many fun destinations that should be at the top of anyone's Colorado bucket list.
Hotels and accommodation in Denver are relatively affordable compared to other big cities (according to Numbeo, rent in Denver is 44% lower than New York). Airbnbs are also pretty abundant here and can be affordable for more extended stays — especially if you share the costs with a roommate.
So many events are held in Denver throughout the year, some of which are free. This can be a great way to meet other locals or travellers who are digital nomads just like you during your visit.
In addition, Denver is a massive foodie city. Plus, you can get almost anything delivered right to your door with Grubhub, Uber Eats, Doordash, or Postmates.
Because everyone loves staying active in Denver, it's really easy to stay healthy too, which is essential for digital nomad life. Join a local gym, attend a free outdoor yoga class at the Red Rocks, or rent a city bike and ride it around the city.
Is Denver Safe?
According to Colorado Biz, Denver is the safest city in the USA! When it comes to violent crime, property crime, natural disasters, drinking water violations and transportation fatalities, Denver ranks lowest.
Denver is mostly safe for anyone travelling or living here. Of course, you shouldn't travel places alone at night or visit areas that may seem sketchy.
Like anywhere, there isn't any specific area in Denver with absolutely no crime, but you can try to stay in a place with lower crime rates. More on the best area to live in Denver can be read about in the next section of this article.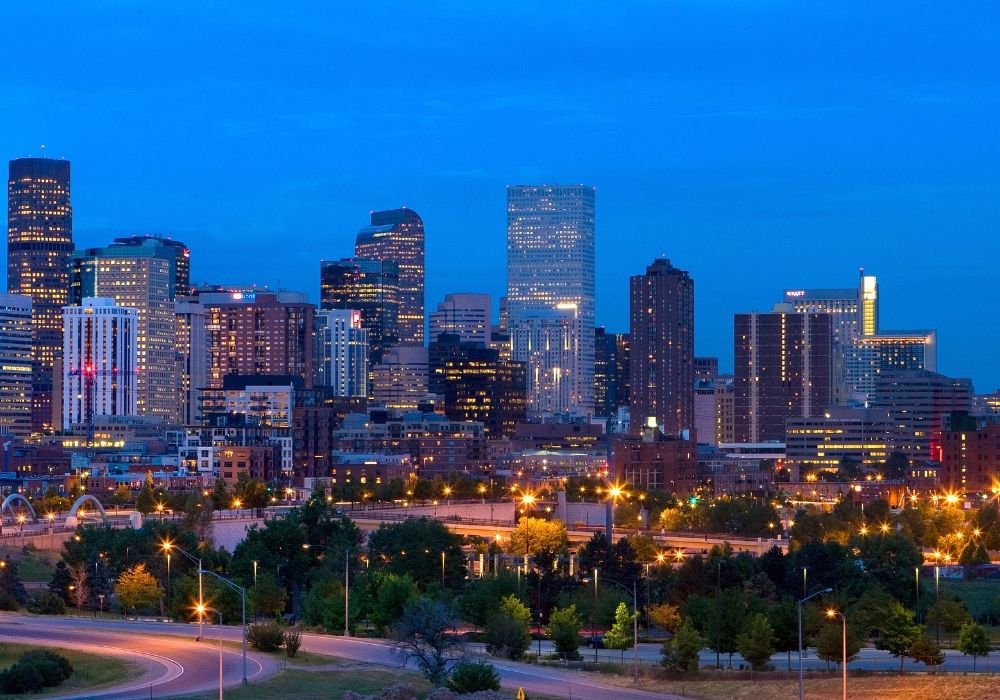 Personally, I have had nothing unsafe happen around me since moving here 8 months ago, and I live in one of the busiest areas of the city. However, I do use common sense like I would if I were travelling anywhere else.
Here are a few things that you can do while living in Denver, Colorado to keep yourself safe.
Don't Jaywalk
It can be so tempting to jaywalk when you're in a city, but it's illegal almost everywhere in the United States.
Plus, just because you think there isn't a car coming doesn't mean that one won't just turn a corner and suddenly be there honking a horn at you.
Utilize the Bike Lanes
You'll most likely find yourself getting around by riding a bike or an electric scooter — it's affordable, you can get some exercise and enjoy the fresh air.
Make sure you use the bike lanes throughout the city marked in green paint so that you don't hit any pedestrians on the sidewalks.
Also, according to this article, Colorado residents are known to be some of the worst drivers in the country, so be cautious when riding your bike!
Stick to Populated Areas
A good rule of thumb is to stick to areas where there are many people. Generally speaking, when there are more people around, the odds of incidents occurring are less likely due to all the potential witnesses.
This goes for anywhere in the world. Avoid empty alleyways, quiet dark streets and just be cautious when walking alone.
Keep a Close Eye on Your Belongings
When walking through a crowd, make sure you keep your important belongings close to you. A great way to do this is to also use a bag with zippers instead of one that is always open such as a tote bag.
Have Insurance
You should always have insurance, but if you plan to enjoy any of the outdoor sports on offer in Denver (and you should), make sure to have proper insurance in case of any accidents. Have a look at Safety Wing's nomad insurance to see if it works for you.
What Is The Best Area To Live in Denver?
There are many great neighbourhoods in Denver. Here are a few of the best places to consider staying while living in Denver as a digital nomad.
LoDo (Lower Downtown)
LoDo is the historic area in Denver that's considered the centre of the city. It's located near everything; Union Station, Coors Field, the 16th Street Mall, Larimer Square, and the Capitol Building.
Because it's right downtown, you'd think that it'd be crazy expensive, but that's not the case.
Apartments here, in particular, aren't that expensive (they tend to be around $1700 USD per month), and there are hotels and hostels in the area with low'ish rates.
Living in this part of the city means that you won't have to rely on public transportation as much and you can get around on foot.
Cherry Creek
Cherry Creek is arguably one of the most beautiful neighbourhoods in Denver, but it can also be pretty expensive to stay here. This part of the city is always kept the cleanest, and there are tons of activities to do in the area.
In Cherry Creek, you can grab a bite to eat at the famous Cherry Cricket, shop at the mall, or check out the art galleries. However, this is an area to consider if you have a bit more money to spend on accommodation.
Five Points/RiNo (River North)
Just north of LoDo is this hip and trendy neighbourhood. It's filled with tons of street art, delicious food, and many local breweries, so you'll never be out of things to do here.
This area doesn't have the high pricetag as downtown does and it's a more affordable neighbourhood for digital nomads.
However, living in this area, you'll most likely have to rely on public transportation because it is a bit farther from all the must-visit places in the city.
Highland Park
To stay right outside of all the best attractions in Denver, consider staying in Highland Park. This area is located right next to Confluence Park, one of Denver's best and biggest urban green spaces right along the river.
Highland Park is relatively walkable and has tons of great shops and restaurants. Plus, it's home to the iconic Little Man Ice Cream stand, a favourite among locals and tourists.
Co-Working Spaces in Denver
Because the cost of living in Denver is pretty low compared to other states in the USA, you'll have some money to spend at one of the city's great coworking spaces. Luckily, there are quite a few.
Here are some of the top-rated coworking spaces in Denver.
WeWork
WeWork has taken the world by storm, so it's kind of a given that there are quite a few locations throughout Denver. They have locations in the Financial House, Wells Fargo Center, Tabor Center, The Circa Building, The Lab, and the Triangle Building.
Rates at WeWork are pretty affordable, and you can choose between a private office, hot desk, or even purchase day passes using the app.
Green Spaces
Green Spaces on Walnut Street is another of Denver's great coworking spaces. It's located in RiNo and has a really fun industrial and modern feel to it, and is the perfect way to meet and work among other remote workers.
Similar to WeWork, you can purchase access to a dedicated desk, private office, or hot desk.
Expansive 16th Street
If you are staying downtown, then you'll most likely be pretty close to Expansive 16th Street.
This co-working space is located right on the 16th Street Mall and stands out from others in the city because it has a huge rooftop balcony so you can work outside and enjoy the Denver sunshine.
There are private offices, suites, conference rooms, and hot desks here. Plus, the amenities are endless.
Creative Density Coworking
This fun community, Creative Density Coworking, was built by freelancers for freelancers. The inside is painted in fun, vibrant colours, and they have locations in Uptown, Cap Hill, and Lone Tree.
At this co-working space, you can get a hot desk, office, or permanent desk. No matter your budget, this co-working space can most likely accommodate you, which is why it's such a great place to work as a digital nomad.
How To Find Accommodation in Denver
It's pretty easy to find apartments and other accommodations throughout Denver. Below are a few of the easiest ways to find a place to stay during your time in the city.
Airbnb
To book accommodation and have an apartment to yourself or stay in someone else's house in a private room, check out Airbnb. As with most locations, try booking a stay for an advanced period of time to get a discount.
A great way to find better prices on Airbnb is to be a bit more flexible with your dates by clicking the +-7 button when picking your travel dates. This helps widen up your search!
Be sure to also be on the hunt for locations run by Superhosts, which means they are hosted by top-rated hosts on the platform and have received lots of great reviews since putting their home on Airbnb.
Facebook Groups
If you're on a time crunch, then you'll want to check out a few local Facebook groups that make finding a place to stay easy.
These Facebook groups include people looking for a place to stay and those who are putting their house or apartment up for rent, or even just a room in their home.
Check out Denver Housing, Rooms, Apartments, Sublets, Roommates and Denver Apartments/Rooms/Houses for Rent/Sale. You do have to request to join these groups, but once you're in, there are places to stay galore.
VRBO
Similar to Airbnb, VRBO is a great resource for finding a place to stay in Denver. They have some different locations that aren't mentioned on Airbnb, so it's worth checking out both of the sites to cover your bases.
Wifi Speeds in Denver
Wifi speeds are pretty great while living in Denver. I'm living in downtown Denver and at my apartment, I ran an internet speed test and I have a download speed of 150 Mbps and an upload speed of 40 Mbps. Not too bad!
I've never run into issues with wifi speed in Denver, and sometimes I also work at local coffee shops. Wifi is not something you'll have to worry about as a digital nomad in Denver.
Cost Of Living in Denver
Denver may not be the cheapest city to live in the USA, but it's definitely affordable.
The cost of living in Denver really depends on where in the city you are staying. My average monthly spending is around $1,000 total and I have a roommate.
I use public transportation, live in LoDo, and shop at King Soopers.
For reference, you could probably expect to spend between $2500 to $5000 for two people, depending on where you choose to stay.
Below, find a breakdown of the cost of living in Denver.
Accommodation Costs in Denver
Accommodation costs vary more than any other cost depending on where you stay within the city.
The average accommodation cost for two people on Airbnb is around $1800 a month, but it can range up to approximately $4,000 for luxury accommodation.
For pretty affordable housing in a great location, definitely consider LoDo. With a short walk, you can be in Cap Hill, watch a Rockies game at Coors Field, or get to Union Station to travel around the rest of the Denver surrounding area.
Transportation Costs in Denver
If you use public transportation, your costs can be kept relatively low. Day passes can be purchased starting at $5 USD, which lets you take buses and trains locally, which is all you'll need to get around.
Getting around by scooter or bicycle is a great option. Just download the Lyft app and you're all set. Scooters are $1 to unlock and $0.30 per minute.
If you plan to have a car, definitely try to find accommodation with a free parking spot if you can. Parking is $4/hour in a lot, up to $24/day. Learn more about monthly parking here.
Grocery Costs in Denver
While there are many different grocery stores in Denver, try to avoid Whole Foods and Trader Joe's if you want to save some money.
Opt to shop at shops like Safeway or King Soopers to keep costs lower, and download their respective apps to get immediate coupons and rewards.
I spend around $350 a month (split between two people) for groceries in Denver, so you could expect somewhere around that number for two people. Unless, of course, you prefer higher-end groceries and specialty foods.
Restaurant Costs in Denver
Most meals in Denver at restaurants are pretty reasonably priced and are comparable to meals in other cities.
The average entree at a restaurant downtown on the 16th Street Mall costs around $15 USD, while more luxury meals start at around $50 USD.
Save money on restaurant meals during one of Denver's best week-long festivals, Denver Restaurant Week. This happens 1-2 times throughout the year and a whole bunch of restaurants offer three-course meals for affordable prices.
Gym Costs in Denver
Denver is filled with many different gyms, so definitely shop around before locking in a price and signing a contract for your membership.
Prices start as low as $10 USD at rec centres but can go up to around $250 USD for more premium memberships.
Some apartments also include a gym membership in their rent, like the place that I stay at in LoDo. Definitely keep that in mind while you're doing your accommodation search, because it can help you save a bit of money.
Weather in Denver
Honestly, the weather in Denver is one of the reasons that it makes such an ideal digital nomad location. As mentioned earlier, it's sunny almost every day of the year, so even when it's cold, it's not that cold.
Because of where Denver is located, it does get all four seasons, so you can expect to have snow if you visit in winter. Colorado is a winter sports paradise, after all.
When it does snow, it never stays long because of the sun. If you wake up to a foot of snow, it may be mostly melted by the time you get ready for bed in the evening.
Here are some of the average temperatures each season.
Winter: 0°C (32°F)
Spring: 9°C (48°F)
Summer: 40°C (75°F)
Fall: 11°C (41°F)
If you do visit during winter, keep in mind that they don't plow the snow off the roads or sidewalks here when it snows. This also includes the highways.
Be sure to plan your digital nomad trip wisely by thinking about the activities that you most want to do during your time living in Denver. If you want to snowboard, for example, you definitely won't want to visit in the dead of summer.
Pros and Cons of Living in Denver
There are quite a few pros and cons of living in Denver, but the pros definitely outweigh the cons. Below, find some of my own pros and cons that I've come across over the past eight months.
Pros of Living in Denver as a Digital Nomad
It's right next to the Rocky Mountains, so nature is just a short drive away
The weather is almost always beautiful, and the sun is pretty much always out
There are many coworking spaces for digital nomads
Wifi speeds are relatively high
You can easily live here without a car and use public transportation
It's a safe city
Cons of Living in Denver as a Digital Nomad
If you don't book accommodation in advance, it can be costly
It's a city so you'll pay more than living in a suburb
Denver is landlocked
Conclusion
Now you know all about living in Denver, Colorado as a digital nomad. I absolutely love living here and it's one of my favourite places that I've ever lived, or even travelled to.
There's no better feeling than being able to escape the world for a little while to head to the mountains or support locals at a delicious brewery while taking a break from work.
Be sure to save and pin this for later if you're looking for your next best digital nomad destination.
Like This Article? Pin it!