As if out of nowhere, the sea abruptly ended and land appeared under the wheels of our aircraft. The plane gently touched down on the tarmac and we both looked at each other with huge smiles, we had finally arrived in Grenada and we were about to see our temporary dream home for the next 7 months.
It was a long journey, travelling by boat, car, bus and plane to get from Belize to Grenada. Once we arrived at the tiny airport and were greeted by our furry friend and his owners, we knew that pet-sitting on this Caribbean island was the best decision we could have made.
After about a 25 minute ride, our car pulled into the driveway and even though it was dark by this point, we knew the property was stunning. The dim veranda lamps, twinkling stars and bright moon guided us through the pathway to our home.
We were shown to our luxurious cottage and given a quick run-down, before being left alone to settle in and enjoy the fantastic spread of food that was awaiting us! We were both starving from our journey and were very grateful for the amazing meal that was prepared on the table: fish pie and lobster salad with delicious sides, ice cream with freshly grated nutmeg on top, rum punch drinks and a bottle of red wine. Such a wonderful welcome from the owners!
Buzzing from excitement (and booze) we unloaded our backpacks, threw our clothes on the bed and started setting up our home. We were thrilled to have somewhere to hang our clothes for the next few months; it's the little things in life that make us nomads happy!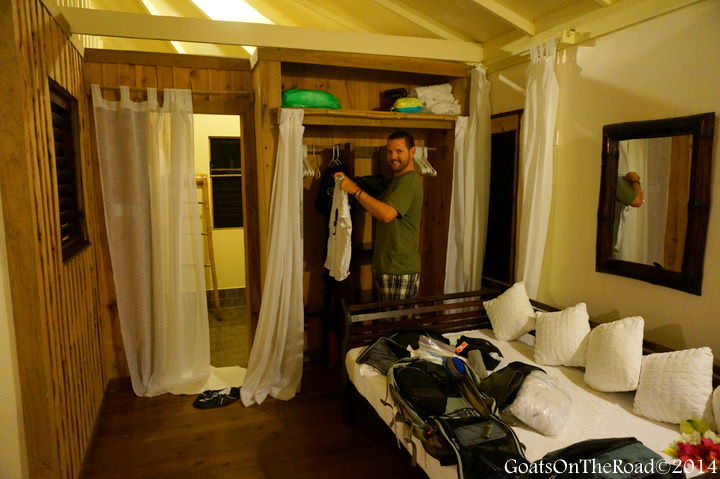 This house / pet-sit is different from a typical job we would be offered. These owners have 5 villas on a stunning piece of land. Instead of sleeping in their personal home, they have chosen the "Honeymoon House" for us to reside in while we take care of their divine dog, Spare. The cottage, and the property it sits on, are both perfect.
Our four-poster bed stands comfortably in the main room of the cottage, with a small corner sitting area next to it. A dark wood day-bed and a desk with a chair also furnish the room. White, see-through linen curtains hang over the windows and doors, while bamboo framed mirrors and local artwork adorn the walls.
The bathroom is separated into two: one room has the toilet and sink, while the other has the shower with a tiled floor and bamboo towel rack!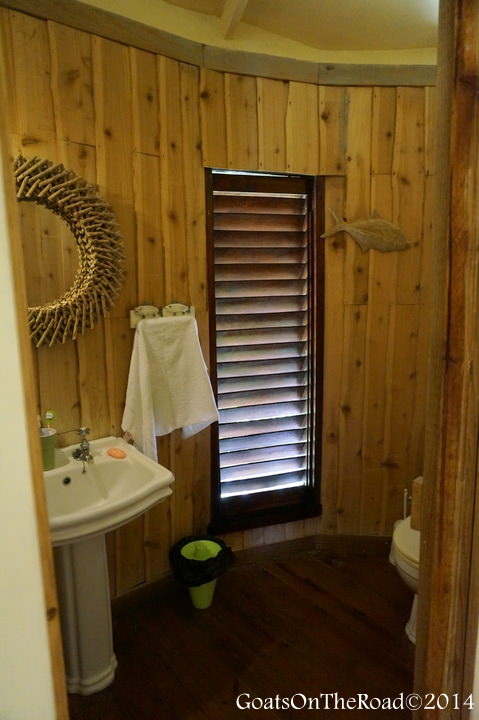 The front veranda is a lovely place to sit and enjoy a drink or a meal. The area is fly screened (which is a godsend when the mosquitoes are out) and has a table for two and a small couch. Spare's food bowls and bed also occupy our front room!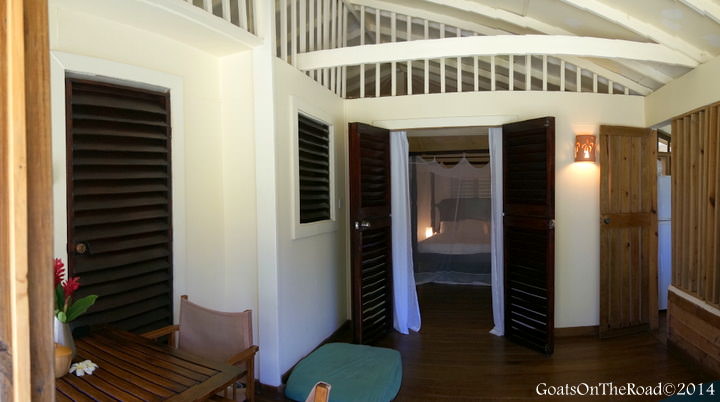 The kitchen is rustic, fly screened and has wood panels that we can turn open to let the breeze waft through, or close if it's raining. We have a 4 burner gas stove, fridge, microwave, sink and all of the dishes and utensils we could need.
Having a fly screened, open-air veranda and kitchen really makes it feel like we're outside, even though we're inside…which we love! In the mornings we watch little lizards scurry about on the outside of the screens and in the evenings we can hear nothing but crickets, frogs and some other loud, high-pitched, unidentified bug!
Local fishermen bring their daily catch up to the shores, which so far has included fresh parrot fish, conch and lobster. We're waiting for some snapper, baraccuda or grouper before we buy any!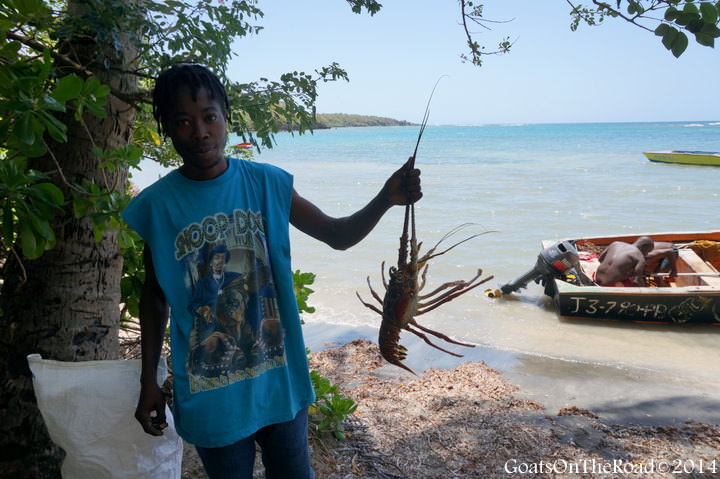 The area is quiet and peaceful. The bay is calm and totally safe for swimming. There's a small island just offshore (which we can swim to) that is actually a bird sanctuary! Surrounding the bay are mangroves, lush vegetation and rocky shores.
The grounds that the villas sit on are a total paradise. There's an onsite restaurant with treetop dining and ocean side tables and chairs as well, the perfect place for a morning coffee or evening beer!
Sweet smelling flowers, tropical fruit trees and herbs line the property. Right now we're able to enjoy fresh almonds, lemongrass, star fruit, coconuts and basil. Soon the mangoes, guava and bananas will ripen, we can't wait!
Not only are the plants, trees, flowers and fruit bright and colourful, but we're able to enjoy some wildlife as well – some of which I'd rather not see (like centipedes, cockroaches and mosquitoes!), but the others are a joy to watch.
High speed hummingbirds flutter their wings outside our door as we sip our morning coffees. We spot little lizards everywhere and if we're lucky, a gecko or iguana from time to time. Colourful caterpillars slowly crawl up the tree branches and although detrimental to the trees, they're beautiful. Throughout the day, sing-song birds serenade us from the treetops and larger birds (egrets and herons to name a couple) stand in the shallows searching for fish.
Our main job is to look after Spare, our playful pooch. He's able to run free around the property and even though he's a beach dog at heart, he's very well-behaved. He sleeps in our house every night and loves to hangout with us while we blog on the upstairs veranda. He rarely barks but he always keeps the property safe for us (he's a perfect guard dog). The only problem we have with Spare is that one day we know we have to say goodbye to him. Seriously… how cute is he?!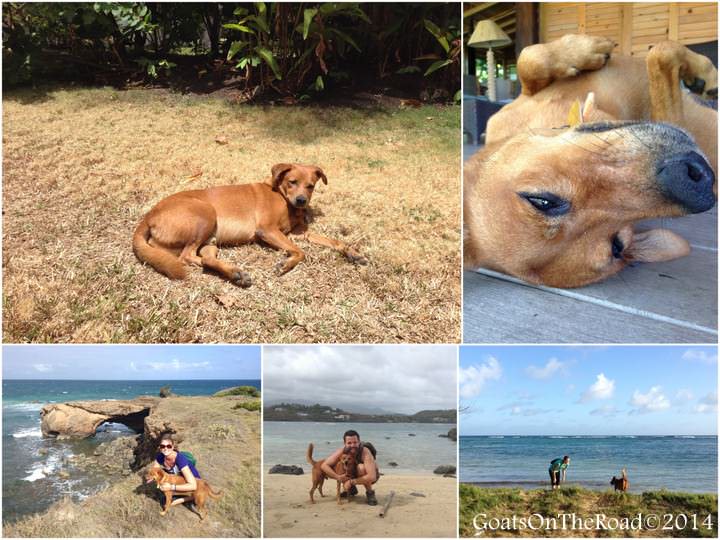 Needless to say, we love being surrounded by all of this natural beauty.
We're thrilled to call Grenada home for the next 7 months. We have about 7 weeks off in between our pet-sitting duties and we may stay here enjoying this fantastic country, or we might take off and go island-hopping through the Grenadines! We'll see…
Stay tuned for more about living in Grenada.
We've made a quick video of our temporary home…have a look!
Do you think house sitting / pet sitting is something you may be interested in? What do you think of our temporary home? Share with us below!
Like it? Pin it! 🙂