Lisbon is arguably one of the best places in Europe to live as a digital nomad. The city is rich in culture and history and has a lot to offer to both tourists and remote workers.
I've spent several months living in Lisbon as a digital nomad on two separate occasions, and it was an incredible experience both times.
Lisbon is fantastic for nightlife, and there is a lot to see and do. It's also a relatively affordable place to live compared to other capitals around Europe.
Since Portugal is so small, Lisbon is the perfect home base for road trips around the country and weekend adventures to places like Porto, Nazare, or the beautiful Algarve.
If Lisbon isn't already at the top of your digital nomad bucket list, then it absolutely needs to be! This is one of the best cities for remote workers. Don't forget to check out the best coworking spaces in this city.
Here's my guide to living in Lisbon as a digital nomad.
About Lisbon
Lisbon is Portugal's capital city and is located in a bay along the Tajo River not too far from the Atlantic Ocean. Its unique location with both the ocean and a large river nearby makes Lisbon a fantastic place for digital nomads looking for beaches and city life.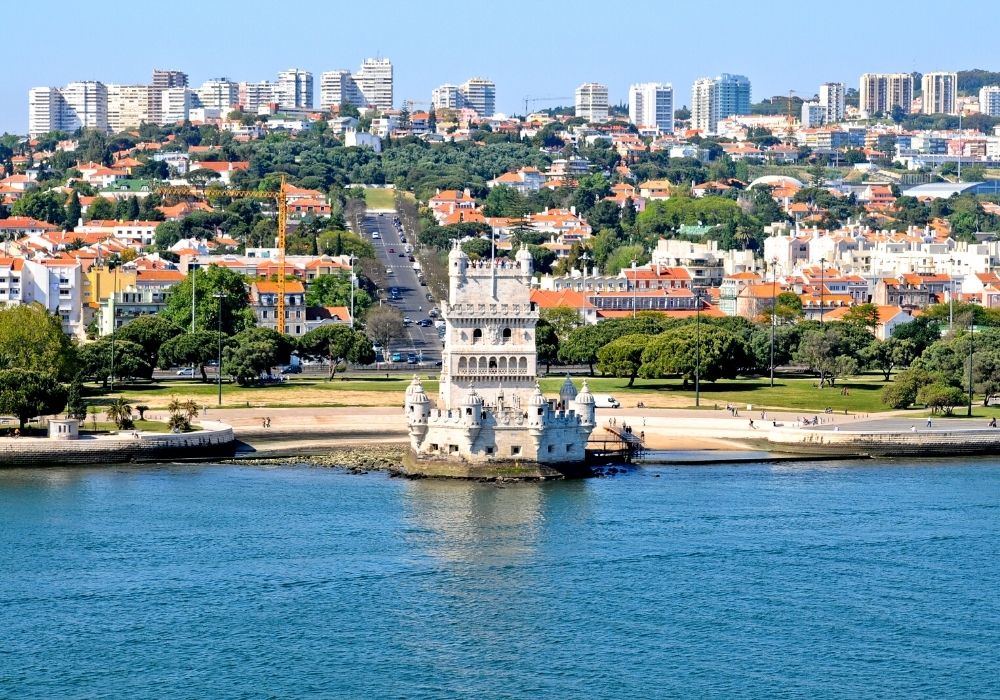 With only around 550,000 inhabitants, Lisbon is actually much smaller than you might expect, although the surrounding metropolitan area has approximately 2.8 million people.
Lisbon is built on rolling hills, so the city is known for its steep streets and many scenic lookout points. Exploring the city on foot can be exhausting, although the panoramic views are more than worth it.
Luckily the iconic elevadors and slanted trams help transport visitors up and down the hills, which is very convenient, especially on hot summer days in the city.
Lisbon for Digital Nomads
In the past years, Lisbon has become a hotspot for digital nomads in southern Europe. The city has many perks for remote workers, including a very inclusive community, lots of opportunities for coworking, and affordable prices.
While Lisbon might not be as budget-friendly as smaller towns across Portugal, living here won't break the bank as a digital nomad. This makes it a very beginner-friendly city and an excellent choice for remote workers who are just starting out working and traveling.
Lisbon has incredible historic architecture and numerous landmarks you absolutely need to visit while you are there. The majority of sightseeing hotspots and tourist attractions are located close to the city center, and everything is very easy to reach.
This makes Lisbon the perfect city to explore after a long day of work, and you'll find yourself out and about rather than being stuck at a desk all day.
If you're looking for the perfect mix of adventure and culture, Lisbon is a fantastic city for digital nomads.
Is Lisbon Safe?
In 2020 Lisbon was ranked in the top 25 safest cities in Europe. The city is a great place to go for solo travelers or female digital nomads looking for a safe and welcoming destination.
As with anywhere, there are a few things to consider when it comes to safety in Lisbon.
Keep an eye out for pickpockets
Lisbon is considered a safe city with low crime rates. However, like in any large European capital, you'll most likely encounter pickpockets or scam artists in popular tourist areas.
Just keep your belongings close and avoid open purses or putting your phone in your back pocket. If you use your common sense, you'll be absolutely fine.
Portugal's drug policies
Portugal has more or less decriminalized the consumption of drugs which is a very unusual policy.
Because of this, you might encounter people trying to sell you all types of substances in the streets, even in broad daylight, which can feel strange and out of place at first.
It goes without saying that you should never buy anything in such instances. Just keep walking. These situations are not necessarily dangerous, it's just good to be prepared so you'll know how to react if this does happen.
What are the Best Areas to Live in Lisbon?
Lisbon is not as large and spread out as you might think. Most digital nomads tend to stay somewhere close to the city center and not too far from the riverfront.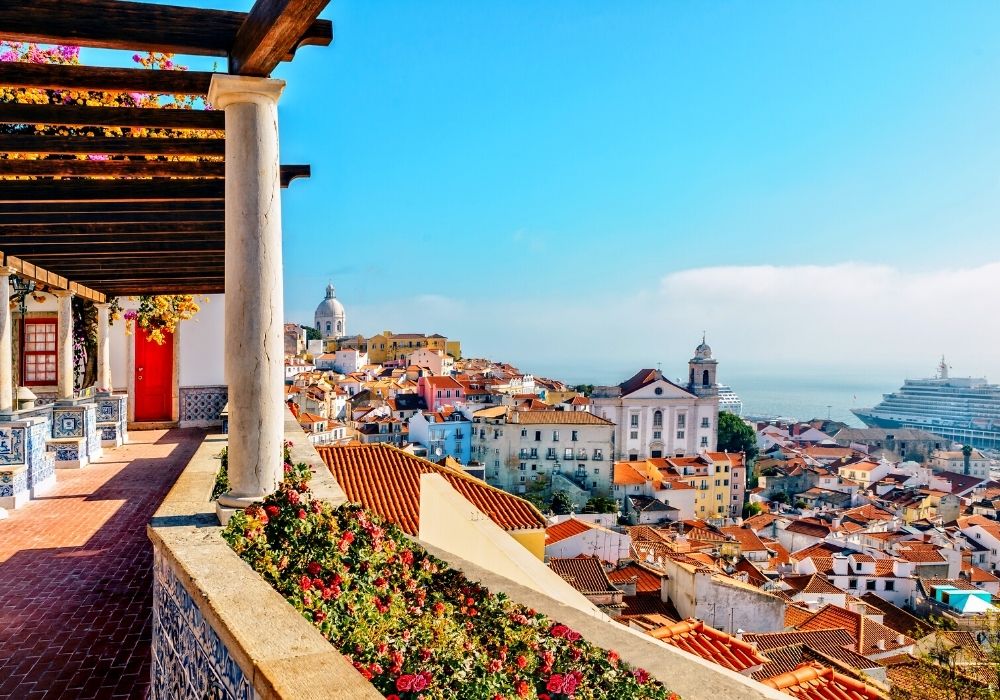 Here are some of the best neighborhoods for living in Lisbon as an expat or digital nomad.
Alfama
Alfama is Lisbon's most photogenic neighborhood. This is where a lot of tourists like to stay so it can be slightly more expensive than you might expect.
Alfama is known for its narrow streets, little bars and restaurants, and beautiful art that is sold in local shops. Stay here for the ultimate Lisbon experience and if you want to be close to all the most important attractions.
Bairro Alto and Cais do Sodre
These two neighborhoods are very central and home to most of Lisbon's nightlife. Only stay here if you plan on going out a lot and if you don't mind a bit of noise.
While Bairro Alto and Cais do Sodre might not be the quietest areas of the city, you'll be close to everything you might possibly need and will be able to walk to the most important places in the city.
Principe Real
Principe Real is slightly calmer than Bairro Alto but still close to the city center.
This is where you'll find nicer restaurants and more expensive bars. Principe Real is great for digital nomads wanting to experience Lisbon but still get a good night's sleep without having to worry about noisy streets.
This area sits on a hill, so be prepared to do a lot of uphill walking. The views are worth it, though!
Santos
The neighborhoods Alfama, Bairro Alto, and Principe Real are all great choices for digital nomads living in Lisbon. Just be aware that you might have to pay slightly more for apartments in popular neighborhoods like this.
If you're looking for more budget-friendly options, consider the neighborhood of Santos.
It might take some time to get into the city, but it's a fantastic choice if you're looking for a quiet place to stay on a budget.
How To Find Apartments in Lisbon?
Since Lisbon is such a large tourist destination, the selection of short-term rentals is huge. However, prices can be high for apartments with a central location. The longer you stay, the more affordable rent will be.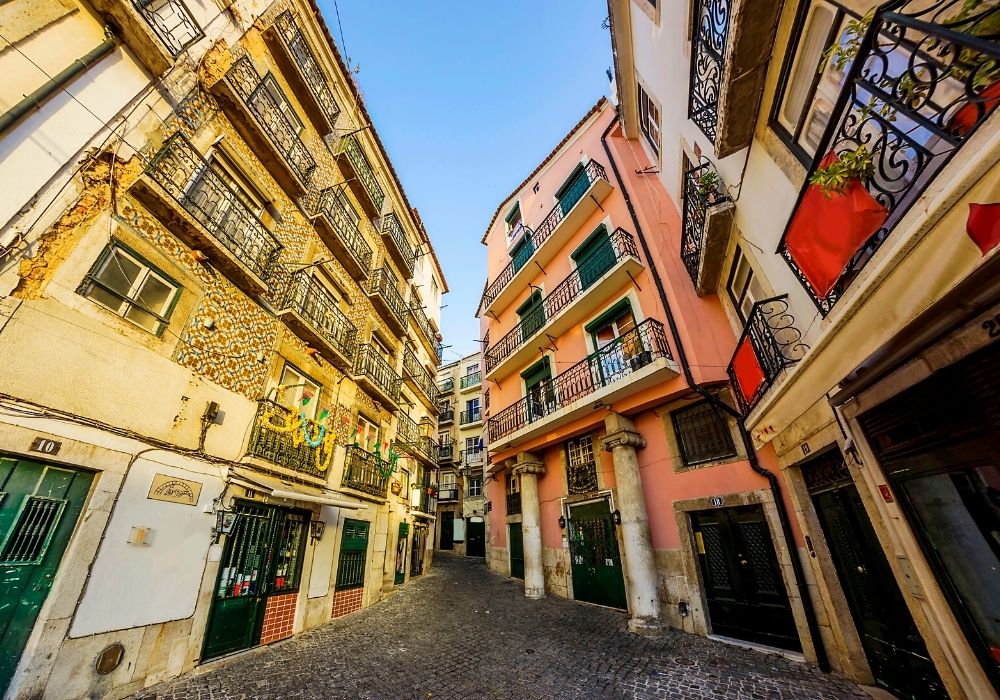 Airbnb
Airbnb is always the answer for digital nomads looking for a place to stay in a new city. Lisbon is no exception, and you'll be guaranteed to find a suitable apartment for you on the platform.
Of course, short-term rentals won't be the most affordable option in the city, so be prepared to pay slightly more if you're looking for a place to stay on Airbnb. Try to look for places that give monthly discounts to find more budget-friendly options.
Search for places to stay in Lisbon on Airbnb, here.
Facebook Groups
Every large city tends to have a digital nomad Facebook group, which is fantastic for finding budget accommodation and rentals. Join as many groups as you can find and keep an eye out for listings that tend to pop up.
You can also post in some groups that you're looking for an apartment, and you might get helpful responses. Just be careful when meeting up with people you meet online and try to avoid going alone.
Have a look at the Lisbon Digital Nomads & Expats group.
Idealista
Idealista is a website for long-term apartment rentals in Portugal and other countries such as Spain. While most landlords are looking for contracts of 6 months or more, you might be able to find short-term rentals as well.
Rather than having a place stay empty, some landlords might be open to renting to you for a shorter period of time.
Wifi Speed and Coworking Spaces in Lisbon
Since Lisbon is a large city and the capital of Portugal, wifi speeds are decently fast in most cases. The city has a great selection of little cafes and coffee shops where you can sit and work.
If you're looking for a more professional environment, here are some of the best coworking spaces for digital nomads in Lisbon.
Avila Spaces
This coworking space has a convenient, central location, so it's easy to reach via public transport.
The layout is open, and the entire space is very modern and welcoming. There are regular networking events at the Avila Spaces, so this coworking space is a great choice for digital nomads who are new to living in Lisbon.
With fast internet speeds and free coffee all day long, this space truly has everything you might need.
Lisbon WorkHub
Lisbon WorkHub is one of the most popular coworking spaces in Lisbon.
Even though it's located a little bit outside of the city, this modern and aesthetically pleasing office space is a great place for being productive and getting work done. There are buses that will take you directly to the space from the city center.
The Lisbon WorkHub also has a reputation for being very sociable, so you won't have trouble networking and making new friends here.
WOOD (Work is good)
WOOD Lisbon has recently become one of the most trendy and popular coworking spaces among young digital nomads living in Lisbon.
This space is very instagrammable and attracts a lot of remote workers who are visiting the city temporarily.
It's not the most affordable, so if you're looking for a budget-friendly option for coworking in the city, maybe skip this one. WOOD is all about luxury and even has a designated wellness section in their coworking space.
Cost of Living in Lisbon
Life in Lisbon as a digital nomad is not as expensive as other large capital cities in Europe, such as London, Paris, or Berlin.
What you spend per month in Lisbon will depend a lot on your own style of living. The cost of living in Lisbon is generally very reasonable, though, and life in Lisbon as an expat won't break the bank.
If you're budget-conscious and avoid eating out, and don't mind working at home, you can probably get away with spending around $700$ to $800. This would include renting a room in a shared house somewhere a little bit outside of the city, which you should be able to find for around $300 per month.
If you're planning on joining a coworking space and eating out a lot, expect to spend at least $1000 to $1500 per month, if not more.
According to Numbeo, the average cost of a private apartment with a central location in Lisbon can easily cost $1,000 or more per month, so definitely factor that into the cost of living in Lisbon.
To save money try to walk as much as possible and avoid taking expensive taxis.
Public transport is reasonably affordable but will still cost around $100 per month if you use it daily. These little things can really help lower your cost of living and how much life in Lisbon as an expat will cost.
Luckily, wine, beer and groceries are quite affordable.
Weather in Lisbon
Lisbon has hot and sunny summers and wet, cool winters.
While it usually doesn't snow this far south in Europe, temperatures may drop close to freezing at night so pack warm clothes if you're planning on living in Portugal in the winter months.
From November to February, it gets very windy in Lisbon with lots of rain and clouds.
The warm and sunny summers more than make up for it, though.
Most tourists will visit Lisbon from June to August when temperatures go above 30°C, and the sun will be out almost every single day. The city can get very crowded during this time, and prices will be at an all-time high, so keep that in mind.
The shoulder season from September to October or April and May might be a good choice to live in Lisbon. Prices will be much lower, and the weather still has high chances of being nice.
Activities and Things To Do in Lisbon
Lisbon is all about culture and history. A lot of activities in the city will include sightseeing, museums or admiring the incredible architecture. Here are some of the best things to add to your Lisbon itinerary.
Time Out Market
The famous Time Out Market is located right by the river and is an absolute favorite among tourists, locals, and expats living in Lisbon. This large food hall is a must-see for anyone interested in local specialties and gourmet snacks. Stop here for a quick lunch and make sure you're hungry.
Praça do Comércio
The Praça do Comércio is one of Lisbon's most photographed places and should be at the top of your list of things to see in the city. This impressive square is surrounded by beautiful historic buildings and lots of small restaurants where you can grab a quick bite to eat. Don't forget to pack your camera when you come here.
St George's Castle
This 6th-century castle overlooks Lisbon and is one of the best viewpoints in the city. The 10€ entrance fee is definitely worth it. Located in the famous Alfama neighborhood, visiting the castle is the perfect excuse to explore the little side streets and do some shopping while you are there.
Tram 28
The historic Tram 28 passes by some of the city's most famous attractions and is a great way to get introduced to Lisbon. Make sure to take this tram early in the morning, though. It's one of the most popular tourist attractions in Lisbon and will get very crowded during the day.
Belem Tower
The Belem Tower is located around 30 minutes from the city center and is a notorious Instagram spot in Lisbon. For a small fee, you can enter the tower or just take some photos of the outside for free.
It sits right on the riverfront, so go for a walk in the area and enjoy the fresh sea breeze.
Pros and Cons of Living in Lisbon as a Digital Nomad
Here are some things to consider if you're not sure if living in Lisbon as a digital nomad is the right choice for you.
Pros of living in Lisbon
The cost of living in Lisbon is relatively affordable for a large city
Large digital nomad community
Lots of things to see and do
Delicious Portuguese food
Vibrant and affordable nightlife
Welcoming culture and friendly people
Cons of living in Lisbon
A lot of tourists, especially during the summer
Steep roads so walking around can be exhausting
Winters can be rainy
What is The Visa Situation?
Whether you need a visa to begin your life in Lisbon will depend on your own nationality and which passport you hold.
European citizens
If you're a European citizen, you, of course, don't need a visa to visit Portugal. Within the Schengen area, you can simply move from country to country and stay as long as you like.
If you're planning on living in Lisbon for more than three months, you will have to register as a resident, but most of the time, this is only necessary if you plan to live in Portugal permanently.
International visitors
If you're an American citizen or from many other countries outside of Europe, you will receive 90 days on arrival in Portugal.
The process for this will vary depending on which passport you hold, and you should make sure to plan to apply for a visa (if necessary) at least two weeks before you plan on going, ideally more to be safe.
Conclusion
Life as a digital nomad in Lisbon is exciting and will leave you wanting to explore the rest of Portugal. The city is welcoming and open and with so many fascinating things to see and do you'll never get bored here.
I truly fell in love with Lisbon and its beauty and ended up staying much longer than I had originally planned. There is something special about this city and the local Portuguese culture that will make you want to live here for a long time.
See this incredible place for yourself and enjoy all the perks of being able to work remotely while living in the world's most exciting destinations.
Like This Article? Pin it!