Are you a digital nomad looking for a new place to call home? Or are you thinking of taking the leap and looking for a good place to try out your new remote lifestyle? Consider living in Mexico City.
Mexico City – or Ciudad de México/CDMX in Spanish – is a huge, vibrant metropolis full of culture, history, beautiful neighbourhoods, excellent food, coffee, and (crucially) top-notch co-working spaces.
In this guide to being a digital nomad in Mexico City, you'll learn about the best places to stay and work, how to find great, cheap food, how to get around the city, and the key pros and cons of living here.
I spent a month living in Mexico City earlier this year. I'm not usually a "big city" person, but this is a big city unlike anywhere I've ever been. I quickly fell in love with this incredible place and would definitely move back here in the future.
Mexico City is one of the top places in Mexico for digital nomads. Learn more about living here in this detailed guide. If you're looking for other digital nomad cities in Mexico, have a look at living in Puerto Vallarta, Playa del Carmen and Oaxaca.
Living in Mexico City As a Digital Nomad
Mexico City is the giant, sprawling, high-altitude capital of Mexico. It's the largest city in North America by population, the second largest in the Americas, (after São Paulo, Brazil), and the largest Spanish-speaking city in the world.
Located in the central Valley of Mexico, at 2,240 metres above sea level, Mexico City is one of the world's most important cultural, political and financial centres.
It's an amazing place to learn about Mexican culture and history, and is home to many of the country's best museums, restaurants, bars, and countless other attractions.
Mexico City is made up of many different neighbourhoods, each with its own unique vibe and style. Some are gritty and urban, others leafy and idyllic.
From arty galleries and hipster cafes, to world-class museums and fine dining restaurants, Mexico City has it all and more. You could spend years living here and still not see everything that CDMX has to offer.
The sheer volume of exciting things to see and do makes this a fantastic place to live as an expat, or a digital nomad. Plus, if you want to get out of the city for awhile, there are many day trips from Mexico City to choose from.
Combine this with fast internet speeds, a thriving expat scene, excellent food, world-class bars, and some of the best cafes in North America, and you have a truly epic city to live in and work from.
Despite its enormous size, Mexico City is a surprisingly liveable place. Many of its varied neighbourhoods – even some of the most central ones – are surprisingly green and calm.
I rented an apartment in La Condesa and couldn't get over how chilled out and peaceful the area was, despite being close to the centre of a megacity home to over 22 million people!
Mexico City has something for everybody. Whatever your interests and preferences, this is a very exciting and vibrant place.
Is Mexico City Safe?
On the whole, Mexico City is a reasonably safe place for digital nomads to live, with a few caveats. Here are some tips to help you stay safe.
Overall
Mexico City does have a reputation as a fairly dangerous city. However, as long as you take some basic precautions, the chances are you'll be fine living and working as a digital nomad in Mexico City.
That said, crime rates do vary drastically depending on where you are in the city.
Many areas are just as safe as the nicer parts of New York or London, and the chances of you being a victim of crime in these neighbourhoods are low. But there are parts of the city that you definitely should avoid, especially at night.
Safest Districts and Places to Avoid
The safest districts in Mexico City include La Condesa, Roma, Polanco, Reforma, Santa Maria La Ribera, Coyoacán, and the Centro Histórico – though be on your guard for pickpockets here.
Places to avoid include the Ciudad Neza, Iztapalapa, Doctores and Tepito districts. Some areas – including the area around Plaza Garibaldi, (one of the best places to see an authentic Mariachi performance), are generally fine during the day. But after dark, they can become quite sketchy and should be avoided.
Taxis
Before the days of Uber, it was common for tourists to be scammed by taxi drivers, who would regularly overcharge visitors, citing inflated fares, giving the wrong change and/or taking people on ludicrously circuitous routes to their destination.
Now, Uber is one of the most common ways of getting around the city and so most of these issues have gone away.
How to Stay Safe
The best way to stay safe is to know your surroundings and be aware of what's going on around you.
Avoid walking alone at night in unfamiliar or dangerous areas, don't carry obviously expensive-looking items, (cameras, jewellery, etc.), don't leave your drinks unattended in bars, don't walk down the street with your phone in your hand, (especially if wearing noise-cancelling headphones), and be cautious when taking taxis.
It's also a good idea to keep your belongings secure – leave valuables in the safe at your accommodation, and carry only what you need with you when you go out.
Mexico City has a fantastic public transport system, (see below), which is generally very safe to use during the daytime. However, it's normally wise to take Ubers to get around the city after dark. Crime on the Metro is thankfully fairly rare, although you are more likely to experience it at night than during the day.
These are all sensible precautions to take, wherever you are in the world. Mexico City isn't a particularly dangerous place overall, but a bit of common sense goes a long way!
Best Areas to Live in Mexico City
With a city as large and diverse as Mexico City, it's impossible to include all of the areas that would be good to live in.
As with any city, the best place to live in Mexico City will depend on your budget, lifestyle, and preferences. But there are definitely some great neighbourhoods that stand out as being particularly well-suited for digital nomads and expats.
Whether you're looking for a lively expat community, great public transport links, or just a nice place to live, you're sure to find what you're looking for in one of these neighbourhoods. Don't miss our list of the best Airbnbs in Mexico City for digital nomads.
La Condesa
La Condesa is my favourite neighbourhood in Mexico City. I rented an Airbnb in Condesa for a month and really loved living here.
As a place to base yourself, Condesa strikes a perfect balance between peaceful and serene, but also has lots of excellent places to eat, drink, shop, work, and party.
The architecture is attractive, and the whole area feels safe day and night. I would regularly walk home after an evening out, (sometimes quite late), and didn't witness any crime whatsoever.
The streets are lined with trees, and there are plenty of parks and green spaces to enjoy. Condesa's restaurants and bars are some of the best in the city, and the nightlife is vibrant and exciting.
Roma
Roma is another popular choice for digital nomads in Mexico City. It's a bit more laid-back than La Condesa, but still has plenty to offer in terms of restaurants, bars, and nightlife.
Roma is one of the most artsy areas in the city, with loads of beautiful street art, murals and public sculptures. Here you'll also find no end of trendy bars, hipster cafes, and excellent places to eat, ranging from casual hole-in-the-wall takeaway stands, to fancy high-end restaurants.
The area is well-connected, with excellent public transport links to the rest of the city.
Polanco
Polanco is a wealthy neighbourhood that's home to many of the city's best hotels, restaurants, and bars. It's a great place to live if you're looking for a luxurious lifestyle, but it's also one of the most expensive areas in the city.
Personally, I found Polanco to be a little lacking in atmosphere, especially compared with the other places listed in this guide. But if you're looking for somewhere quiet, comfortable and exclusive, Polanco would be a good bet.
Reforma
Reforma is a stylish neighbourhood that's popular with affluent Mexicans and expats alike. It's a great place to stay if you want to be close to all the action.
With a distinctly cosmopolitan vibe, Reforma is known for its many excellent restaurants and bars. The neighbourhood is home to some of the city's best museums and art galleries, and it's within easy walking distance of some of Mexico City's most popular attractions, including the Chapultepec Park and the National Museum of Anthropology.
Santa Maria La Ribera
Santa Maria La Ribera is a popular choice for digital nomads who want to live in a more traditional Mexican neighbourhood. It's home to some great authentic Mexican restaurants and has a friendly, easy-going vibe.
Rents are overall a bit cheaper here and there's a real sense of community. If you live here for more than a couple of weeks, chances are you will quickly start to recognise people out and about, who will likely greet you with a friendly smile or a nod as you walk by.
The main downside to living in Santa Maria is that it can be quite noisy and busy, especially during rush hour. But overall, Santa Maria La Ribera is a great place to live if you wish to experience Mexico City without the expats.
Coyoacán
Another amazing district for experiencing a taste of true Mexican culture, the vibrant Coyoacán neighbourhood is home to a variety of traditional shops, restaurants, and markets, as well as some of Mexico City's most famous historical landmarks.
The most famous of these, of course, is La Casa Azul, (the Blue House), which contains the Frida Kahlo Museum where the legendary artist spent most of her life.
Of course, no visit to the district would be complete without trying some of the delicious local cuisine! Local favourites include Tostadas Coyoacán, Tortas don Coyote, and the Antojitos Mexicanos Market.
Centro Histórico
The Centro Histórico is the historical centre of Mexico City, and is one of the most popular tourist destinations in the city. The area is home to a number of important landmarks and attractions, including the Palacio Nacional, the Metropolitan Cathedral, and the Templo Mayor.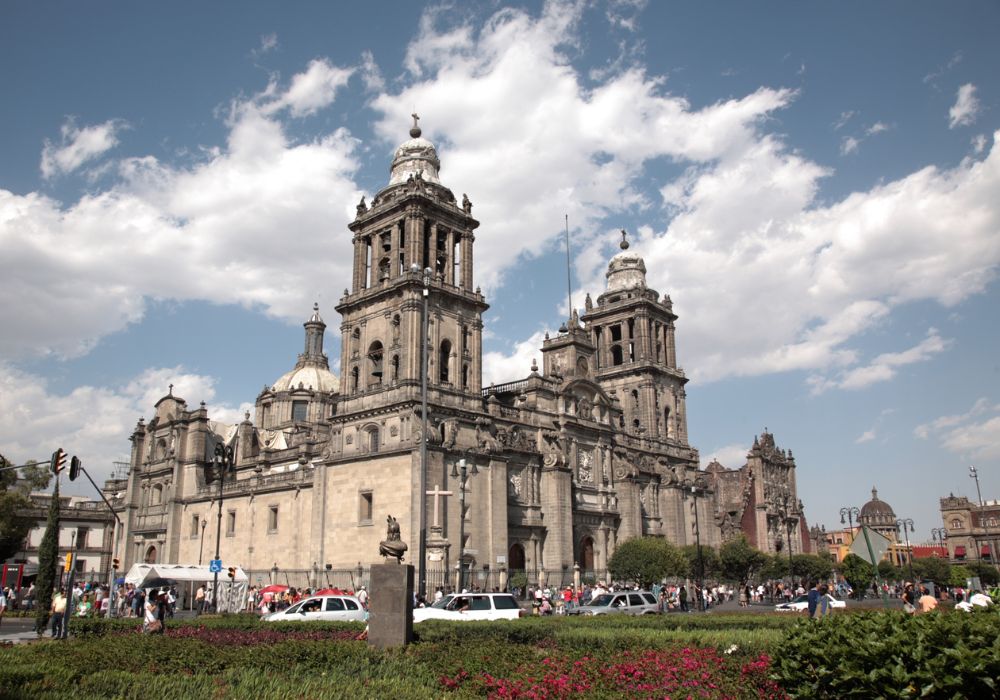 The district is also known for its lively atmosphere, and has excellent public transport links to the rest of the city.
Centro Histórico is a very urban part of the city, so probably not the best option for people who prefer peace and quiet. But if you like being in the thick of it, Centro Histórico might be a good place to consider staying.
There are also loads of budget accommodation options here, and cheap places to eat and drink.
How to Find Accommodation in Mexico City
When it comes to finding accommodation in Mexico City, there are several different options available. You'll also want to make sure you choose your neighbourhood wisely. Have a look at our guide to the best areas to stay in Mexico City (including areas to avoid).
Airbnb is a popular choice and offers a wide range of properties to choose from. I usually filter by "Superhost", and carefully read the ratings of previous guests before committing to a place.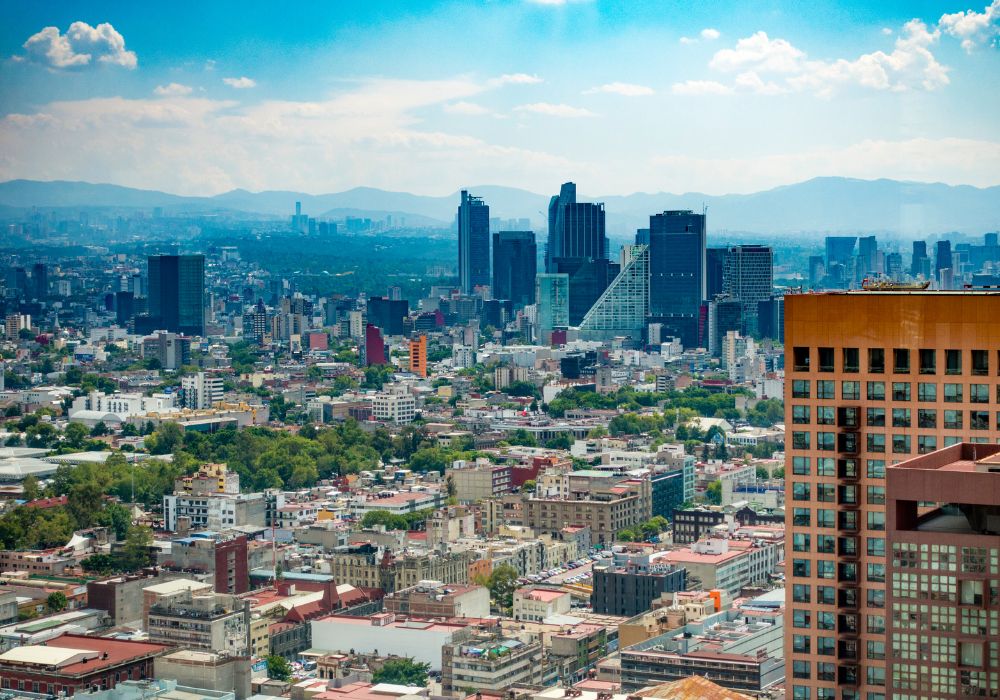 If you'll be spending more than a few weeks in one place, it can often work out cheaper to negotiate directly with the host, once you've got their contact details.
Another option is to look for accommodation on Facebook Groups. Mexico City is a popular destination for expats and digital nomads, and there are many groups dedicated to helping people find somewhere to stay here.
Check out Mexico City Digital Nomads, Foreigners in Mexico City, and Foreigners & Expats in Mexico City (CDMX) for starters.
It's also worth checking on Booking.com to see whether any apartments are listed, or any hotels are offering discounted rates for any of their rooms (which means you'd have access to the gym and pool, if any).
This usually only tends to work out cheaper than Airbnb if you're staying in a place for a short-ish time, but I always check here too just in case.
Whichever option you choose, be sure to do your research ahead of time to ensure that you find a comfortable, safe and convenient place to stay during your time in the city.
Cost of Living in Mexico City
Mexico City is one of the more expensive places to live in Mexico. But it's still far cheaper to live here than most other places in North America or Europe. For example, see this comparison of the cost of living in Mexico City versus New York City.
Overall, it's fairly easy to have a good quality of life in Mexico City on a limited budget.
Of course, accommodation prices will vary depending on the area you're staying in, and the type of property you're looking for. But you can expect to pay around $500-700 USD per month for a one-bedroom apartment in a decent neighbourhood.
Utilities, (including electricity, water, and internet), will cost you around $100 USD per month.
With an enormous range of restaurants, from cheap informal eateries, to opulent fine dining establishments to choose from, eating out in Mexico City can be as expensive or as cheap as you want to make it.
Overall though, it's a fairly affordable place to find excellent food. For example, a mid-range three-course meal for two people in a restaurant here will only set you back around $30 USD.
If you're cooking most of your meals at home – and eating at street food stands – you can get by on a food budget of around $15 USD per day.
When it comes to transportation, the Mexico City metro system is one of the cheapest and most efficient in the world. A single ride will only set you back a few cents.
Best Coworking Spaces in Mexico City
With a large and thriving expat and digital nomad community, there are plenty of excellent co-working spaces in Mexico City. Many of the best are located in the districts noted above that are popular with expats; Condesa, Roma, Reforma, Polanco, etc.
A couple of my favourites are as follows.
Impact Hub
Impact Hub runs a network of co-working spaces all over the world. I'm a big fan of their brand and their Mexico City space located on Av. Álvaro Obregón, in Roma Norte. It's great.
They offer excellent facilities, with high-speed internet, private and shared office spaces, meeting rooms, and break-out areas. There's free coffee, and it's overall a great place to network with fellow digital nomads and online entrepreneurs.
In terms of pricing, this is a little more expensive than many other co-working spaces in Mexico City. But I think it's worth the extra money.
They offer a one-day trial, after which you'll need to purchase a membership package. There are several pricing options to choose from, depending on how many hours/days you want to spend here. On average, each day typically costs around $14 USD.
WeWork Varsovia
If you have a WeWork membership, (or are considering trying one out), WeWork Varsovia is another fantastic coworking space. Located in the heart of the stylish Juárez district, this snazzy new coworking space has been expertly designed, and beautifully decorated.
The facilities here are second-to-none, with excellent internet speeds, hot desks, private offices, conference rooms, phone booths, well-stocked kitchens, an awesome roof terrace, and dedicated IT support.
The Juárez neighbourhood is located just north of Roma Norte. If you are renting an apartment in Roma or Condesa, you could easily walk to this place. Being able to commute to work on foot is a big plus for me.
Memberships start from around $185 USD per month.
WiFi Speeds in Mexico City
WiFi is generally pretty fast and reliable in Mexico City. Of course, to an extent this depends on the area you are in. But overall, you can expect to get a decent connection in most areas.
The WiFi in my apartment in Condesa was perfectly adequate for me, clocking in at over 60 Mb/s for downloads and 35 Mb/s for uploads. In the popular co-working spaces, it tends to be faster.
For most digital nomads, getting strong enough WiFi in Mexico City won't be an issue.
Best Things To Do in Mexico City
There is no shortage of things to do in Mexico City. From world-famous landmarks and museums, to trendy neighbourhoods and markets, the city has something for everyone.
Here are some of the best things to do in Mexico City:
1. Visit the Plaza de la Constitución (also known as the Zócalo)
The Plaza de la Constitución is the main square in Mexico City and one of the most popular tourist attractions in the city.
The area surrounding the square is home to the Palacio Nacional, the Metropolitan Cathedral, and a number of other important historical buildings. It's definitely worth checking out the Templo Mayor – the ruins of the main temple of the Mexica (i.e. "Aztec") people, whose capital of Tenochtitlan Mexico City was built upon.
2. Explore Chapultepec Park
Chapultepec Park is one of the largest urban parks in the world and is a great place to escape the hustle and bustle of the city. The park is home to a number of museums and other interesting sights, including the fantastic Museo Nacional de Antropología, and Chapultepec Castle.
3. Learn About the Fascinating History of Pre-Columbian Mexico at the Museo Nacional de Antropología
The Museo Nacional de Antropología is one of the most visited museums in Mexico, and for good reason. It's home to an incredible collection of artefacts from a variety of different pre-Columbian cultures, as well as a number of interactive exhibits.
This is one of my favourite things to do in Mexico City. It really is an outstanding museum, don't miss it!
4. Marvel at the Ruins of Teotihuacan
Teotihuacan is an ancient Mesoamerican city that is home to some of the most impressive pyramids in the world. The site is a UNESCO World Heritage Site and one of the most popular tourist attractions in Mexico.
There's a lot to see and do at Teotihuacan, so it's worth spending a half day or more here. You can explore the many temples, learn about the history of this fascinating city, and marvel at the sheer scale of the place. It's really incredible.
5. Visit the Frida Kahlo Museum
The Frida Kahlo museum is dedicated to the life and work of one of Mexico's most famous artists. The museum is located in the house where Kahlo lived, and features a number of her personal belongings, as well as a collection of her art.
Weather in Mexico City
Mexico City is located in the tropics, and the weather is generally warm and humid throughout the year. However, the city's high altitude means that it's never as hot here as other, lower locations at similar latitudes.
There are two main seasons: the wet season, (May to October), and the dry season, (November to April).
The wet season is characterised by heavy rains and thunderstorms. The storms usually come in the late afternoon and can last for a few hours. Flooding is not uncommon during this time of year.
The dry season is the most pleasant time to visit Mexico City; when the weather is sunny and dry. However, it is worth noting that December and January can get quite cool, especially at night, so pack accordingly!
Overall, I would say that the best time to visit Mexico City is in the spring, (March-April), or fall, (October-November). The weather is pleasant and there are usually fewer crowds than during peak tourism season which runs from December to February.
Transportation in Mexico City
Most neighbourhoods in Mexico City are fairly self-contained in the sense that most things that you are likely to need on a daily basis are located fairly close together. During the time I spent living in La Condesa, I was able to easily walk to most places I wanted to visit.
For longer journeys, the Mexico City public transport network is incredibly cheap, and one of the most efficient ways of getting around the city.
The Metro system alone has over 190 stations. Whilst it doesn't quite go to every part of the city, it does connect most of the places that you're likely to want to visit.
Pick up a rechargeable Mexico City Metro Card, (commonly called the "Integrated Mobility Card"), from any Metro station. This can be used to pay for rides on the Metro, Metrobús, Trolleybus, Light Rail, and the Cablebús.
If you're planning on doing a lot of sightseeing, it's also worth considering a Turibus pass, which gives you unlimited travel on the city's hop-on hop-off bus service.
Uber is another popular way of getting around Mexico City. It's more expensive than using the public transport network, but still a fraction of the price of Uber in cities like New York or London.
Mexico City does have a municipal bike hire scheme. However, the roads are pretty congested and the city is very sprawling, so I wouldn't really recommend using this for anything other than short, local journeys. And, even then, I'd personally walk – but the choice is yours.
Have a look at this article which lists the best ways to get from the airport to the center of Mexico City.
Food and Dining Out in Mexico City
When it comes to food and dining out, very few cities in the world come close to matching Mexico City in terms of the variety of places to choose from. You'll find different kinds of food from all over the world here, including, (of course), a huge range of excellent Mexican food.
The options are practically endless. From street food stalls to fine dining restaurants, there's no shortage of delicious food, with something to suit every taste and budget.
If you're on a budget, street food is the way to go. You can find tacos, quesadillas, tamales, and all sorts of other snacks from street vendors, and you can eat very well for a couple of dollars. Just be sure to use common sense when it comes to hygiene – only eat from vendors whose stalls look clean and well-organized.
For something a little more substantial, there are plenty of casual eateries called fondas serving traditional Mexican dishes such as mole poblano, and chiles en nogada. These are usually very reasonably priced with mains for under $5 USD, and are great places to try some of the country's most iconic dishes.
One of my favourite cheap places to eat in the Condesa area is Las Costillas De La Condesa.
Here you can eat your fill of delicious costilla, (t-bone), tacos and other Mexico City specialities, including the fiendishly more-ish tacos al pastor. Prices here are very reasonable, and you can sample a range of their dishes without breaking the bank.
If you're looking for a more upscale dining experience, Mexico City has no shortage of options. There are plenty of fine dining restaurants to choose from, with corresponding price tags.
Pujol – a high-end Mexican restaurant in Polanco – is considered by many to be the best restaurant in Mexico City, and one of the best in all of Latin America. Make sure you make a reservation if you plan to visit on a weekend.
Pros and Cons of Living in Mexico City
As with anywhere in the world, there are both pros and cons to living in Mexico City.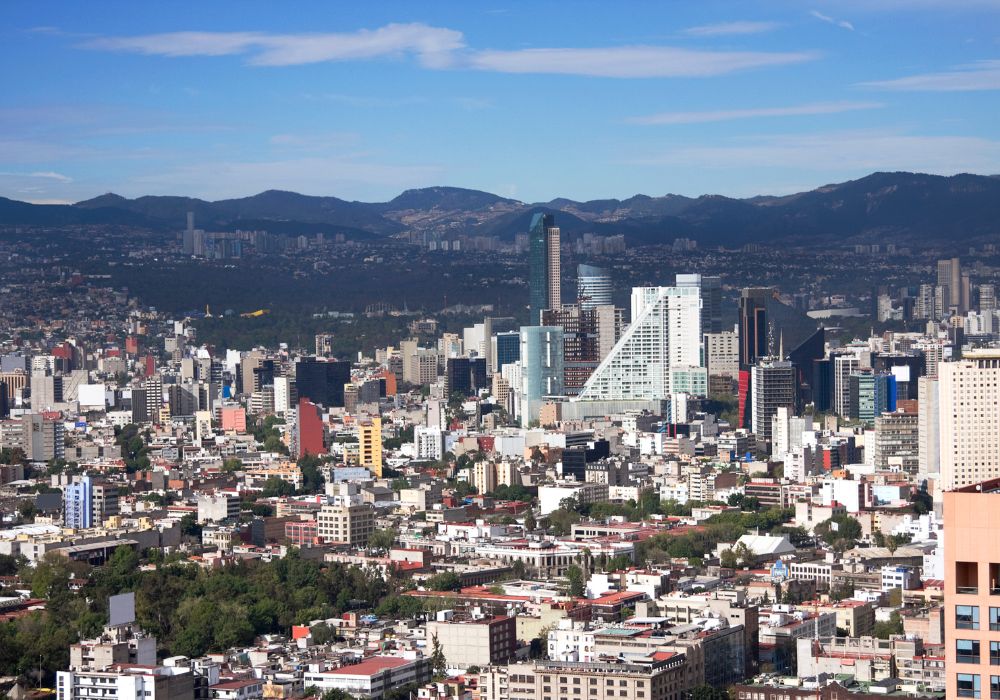 Pros of Living in Mexico City
The cost of living in Mexico City is relatively low, especially when compared to other major cities around the world.
There's a huge range of things to do, and places to see in Mexico City. Whether you're into art, history, theatre, live music, food, sport, or nightlife, there's something for everyone.
The public transport system in Mexico City is very good. It's cheap, efficient, and covers most of the city.
There's a huge range of food and dining options in Mexico City, from street food to fine dining.
Mexico City is a very diverse and cosmopolitan city, with people from all over the world living and working here. You're bound to make friends with people from a wide range of countries and backgrounds.
Cons of Living in Mexico City
Mexico City is a very large and sprawling city – it can be easy to feel overwhelmed by the size and scale of it.
The air pollution in Mexico City is pretty bad, and it's not uncommon for residents to wear face masks when outside.
Crime can also be a problem in Mexico City, in some neighbourhoods more than others. You need to be aware of your surroundings and take sensible precautions, especially at night.
☞ SEE ALSO: 15 Pros and Cons of Living in Mexico
What is the Visa Situation?
Foreigners from a large number of countries – including the U.S., Canada, the UK, Australia, New Zealand, and most European countries – are able to stay in Mexico for up to 180 days without a visa.
People wanting to stay in Mexico for more than 180 days must apply for a visa from a Mexican consulate before travelling. There's actually a digital nomad visa for Mexico that remote workers can look into.
Conclusion
Mexico City is a great place to live as a digital nomad, with plenty of things to do and a relatively low cost of living.
There are some downsides – the air pollution and sheer size of the city can be overwhelming at times. But overall, the pros vastly outweigh the cons and I was very happy living there.
If you're considering making the move to Mexico City, I'd say go for it! You won't regret it.
I hope you found this digital nomad guide to living in Mexico City useful and informative. If so, please share it.
Like This Article? Pin it!