Stuttgart has always been a considerable destination for nomads. However, many people often get confused about how to plan their stay as a digital nomad in Stuttgart.
After all, there are so many cities in Europe and Germany as well where you can work as a digital nomad. So, why should you opt for Stuttgart? I understand it can get extremely confusing!
Stuttgart is very safe and has a great expat community. It also has some good co-working spaces available for nomads to work at. The quality of life for remote workers is premium.
But, note that, if you're thinking about being a digital nomad in Stuttgart, you'll need a lot of planning beforehand. I've spent eight years living in Stuttgart and have lots of information to share.
I've made a full guide to help you out, so read on to learn more!
About Stuttgart, Germany
Stuttgart is the capital of the German state of Baden-Württemberg. It's a city with a lot of green spaces, parks, and botanical gardens.
The city was conquered by the Romans, who turned it into a massive regional center. It has been growing and developing since then to become one of the greatest powerhouses in Europe.
Stuttgart is now called "The Cradle of the Automobile" because it hosts some of the most massive car companies in the world. It's the home of Porsche and Mercedes-Benz, which are highly regarded automobile manufacturers.
Besides its high industrial value, it's a hilly city with nature that surrounds you from everywhere. It has some beautiful natural scenes, landscapes, vineyards, and valleys.
Stuttgart for Digital Nomads
Stuttgart is a good city for digital nomads as it has almost everything you need. It's very safe with a lot of fun activities to do.
For instance, you can visit the museums of Mercedes-Benz and Porsche, take a tour in the botanical garden, visit the masterpiece of Kunstmuseum Stuttgart, and more.
Most people speak English fluently. Also, Stuttgart is quite very female-friendly.
Being a digital nomad requires you to have a good internet connection all the time. I didn't face any real problems with the internet there. The connection is fast and reliable, with an average speed of 95 Mbps, so you don't have to worry!
☞ SEE ALSO: Digital Nomad Guide to Living in Munich, Germany
The city also has a lot of co-working spaces, in case you want to socialize and meet locals and other digital nomads. I'll talk about some of the best co-working spaces later on in the article.
Is Stuttgart Safe?
Yes, life in Stuttgart is very safe. Racial tolerance is great. Moreover, no hate crimes have ever been reported against any race or person of religion.
In fact, Stuttgart is one of the safest cities in Germany. You can walk at night very safely and enjoy the breeze and not worry about anything. Freedom of speech is also great, so you can always express your opinion freely.
However, traffic safety isn't the best in Stuttgart. You'll see some people speeding in high-end cars, so you'll need to be careful.
Where Are the Best Areas to Live in Stuttgart?
Have you been wondering about the best areas to live in Stuttgart as a nomad? I've listed the best places to live below.
Degerloch
If you're a digital nomad that wants a great option, Dagerloch is the right neighborhood to go for. You can reach the central city with a very short metro ride and be able to access all the services, co-working spaces, and anything else you might need.
I loved this area a lot while living in Stuttgart. It helps you escape from the hustle and bustle of the city, but it isn't far away. Furthermore, the neighborhood is peaceful, and it's cycling-friendly, in case you love cycling in nature.
If you're moving to Stuttgart with your family or children, Degerloch should be on your list. The area is very family-friendly and very safe for kids to play and enjoy their time.
Stuttgart-Mitte
Stuttgart-Mitte is the heart of Stuttgart. If you want to get the full experience of Stuttgart while living there, that's the neighborhood for you. It hosts a lot of fun activities and has many important landmarks to visit.
For shopping lovers, Stuttgart-Mitte is home to Königstrasse Avenue. It's one of the longest shopping streets in Europe, and it will meet all your needs.
Some of the landmarks that you can visit are the palace of Württemberg Dukes and the Friedrichsbau Theater.
Bad Cannstatt
If tourist attractions are your main interest, then Bad Cannstatt is the area you should live in. It contains most of the attractions in Stuttgart, and it's very lively and fun to live in.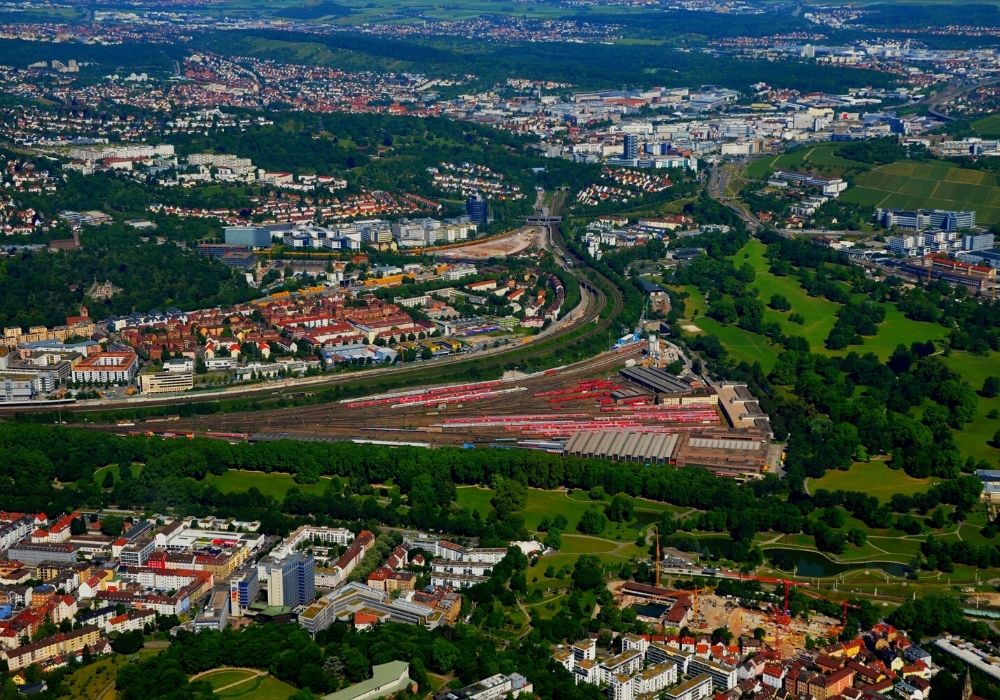 For car enthusiasts, Bad Cannstatt is home to a car manufacturing giant, Mercedes-Benz. The company also has museums for tourists to visit where they can learn about its fascinating history.
It also has the MineralBad springs, which is a famous mineral natural spa. So, it's a major tourist attraction, as it offers a lot of health benefits, relaxes your entire body, and boosts your energy.
Stuttgart-West
Stuttgart-West is the second-liveliest area after Stuttgart-Mitte. It has a lot to offer any digital nomad in Stuttgart and gives you access to so many services. It also has fascinating places to visit and excellent restaurants.
Moreover, this neighborhood offers the best opportunities for studying and working. It has many co-working spaces and an excellent public transportation system that can take you wherever you want. This part of the city is one of my favorites.
How to Find Apartments in Stuttgart
If you're planning on living in Stuttgart, Germany, it can be very challenging to find an apartment to rent. This is because the demand is very high, and the supply there is relatively low.
So, for every listing, the landlord will get a lot of applications to choose from. This makes your chances of getting picked very low.
Moreover, most landlords prefer long-term leases to short-term ones. It gives them peace of mind when it's a long-term commitment, and it's also a more practical option.
So, what can you do to find an apartment in Stuttgart? I made a step-by-step guide for you.
Try Airbnb
If you're looking for a short-term lease, you can try Airbnb. There are a lot of apartments listed on Airbnb in every neighborhood that I mentioned above. Find a good apartment with good ratings and make sure it's close to everything you need.
Make sure you book the apartment or room you'll stay in well in advance of your stay. Apartments are frequently booked due to the high demand. So, it's wise to book the one you want a month or two before you travel.
Airbnb will also allow you to meet friendly locals who might show you around. It's a great advantage since they know the city very well, and they know the best places to go.
Prepare for an Interview
If you want a long-term affordable lease, you'll need to look for an apartment in the city. Since landlords get many applicants for their apartments, some of them require an interview with you to make their decision.
So, always be prepared for an interview. I highly recommend presenting yourself as professionally as you can. This gives the landlord a good first impression of you and makes them comfortable dealing with you.
Make a Bio Data Page
Although this might seem like a lot, preparing a bio data page of yourself can give you a much higher chance. It doesn't have to be large or fancy at all. You can keep it small, simple, and straight to the point.
You can write a brief introduction of yourself and mention what you do and what your interests are. Make sure you include a lovely photograph of yourself as well. If you're traveling with your family, add them in the bio and talk about their interests.
Print it and give it to the landlord when you meet for an interview. They might appreciate the extra effort that you put into this and pick you for the apartment.
Keep Looking Daily
Considering that the supply is very low, I recommend looking for apartments daily to apply as soon as possible. Doing this will give you an advantage over everyone else, and you might even find a very good deal.
You can try searching the internet, advertisers, and daily newspapers. You can even try flat-sharing agencies, such as HC24 Stuttgart, which is a great option if you want an affordable apartment. Flat-sharing is also perfect for those who want to make new friends with people from different cultures.
WiFi Speed and Co-Working Spaces in Stuttgart
Living in Stuttgart as an expat or digital nomad requires you to have a good internet connection. It's essential for doing your work and communicating with your family members. Fortunately, the internet connection in Stuttgart is fast and reliable.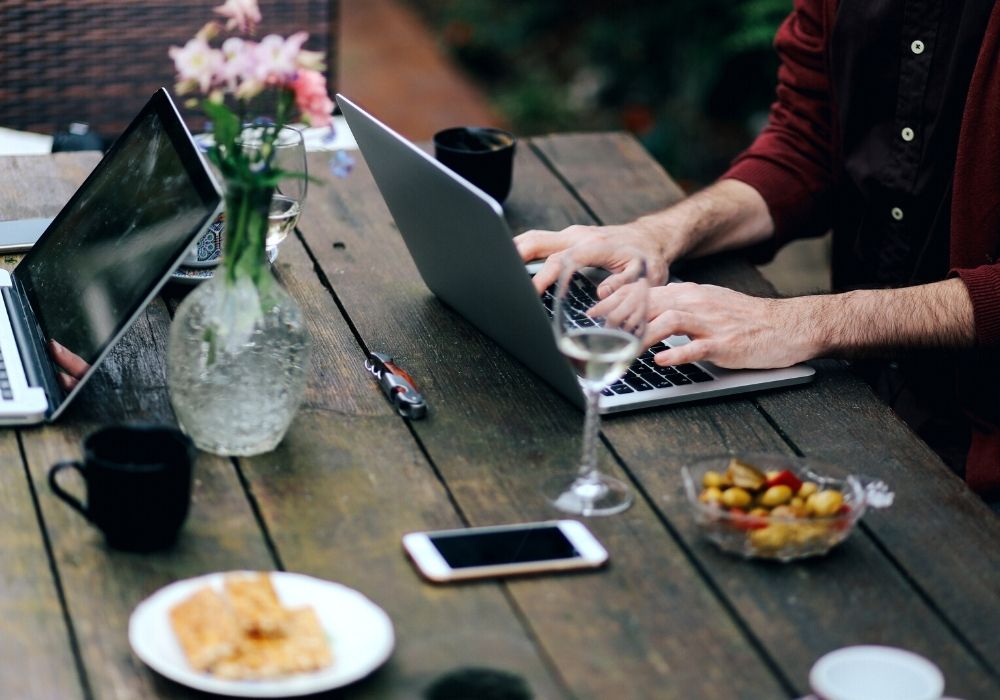 The city has an average WiFi speed of 95 Mbps, which is very fast. You can also find free and fast WiFi in some places around the city.
For co-working spaces, Stuttgart has plenty of them to offer. There are co-working spaces for students, tourists, nomads, freelancers, entrepreneurs, and more. The best co-working space in Stuttgart, according to people's reviews, is CoWorking 711.
You can also opt for other co-working spaces including:
Wizemann.Space
Workrepublic Stuttgart Gerber
Regus Stuttgart City Plaza
Coworking Café 101
If you want to check more details regarding the best co-working spaces in Stuttgart, you can find them out here.
Cost of Living in Stuttgart
The average monthly cost of living in Stuttgart is around $2,700 – $3,100, depending on where you live. I wrote down a list of the average cost of different services in the city:
Monthly rent for a one-bedroom apartment: $973
Meal at a restaurant: $13
Monthly fiber internet: $32
One kilometer in a taxi: $2.22
Co-working space: $283
Coffee: $2.96
Weather in Stuttgart
The temperature in Stuttgart ranges between a minimum of -5.05°C and a maximum of 27°C throughout the year. The average daily precipitation is 2.33 mm. It's dry most of the year except when it rains in June, July, and August.
The best weather comes in September, when there's a maximum wind speed of 4.62 m/s. It occasionally rains but is mostly dry.
Activities and Things to Do in Stuttgart
Stuttgart offers nomads a lot of fun activities to do throughout the year. Here are the top things I enjoyed the most:
Visit Mercedes-Benz Museum and learn about its history
Visit Porsche Museum and take the factory tour
Take a tour in the modern art section in Staatsgalerie
Visit the Stuttgart Public Library and enjoy the view of the city from the top floor
Go shopping at Königstrasse Avenue, the largest shopping street in Europe
Visit Fernsehturm Stuttgart, which is the first television tower in the world
Pros and Cons of Living in Stuttgart as a Digital Nomad
Life in Stuttgart is great for digital nomads who want to explore and visit new places. However, just like any other city, it has some downsides as well. Here are the pros and cons of the city.
Pros of Living in Stuttgart:
Beautiful landscapes and vast green areas
Very safe
Fast internet connection
Women-friendly
Cons of Living in Stuttgart:
Life there can get expensive
Locals are lovely, but it's hard to make friends with them
The city is not spacious and there's too much traffic
Accommodation is hard to find due to the high demand
What Is the Visa Situation?
Germany allows citizens of 107 countries to enter the country with no visa, such as Brazil, Argentina, Chile, and Bulgaria. It also doesn't have travel restrictions for any country.
The country issues a visa on arrival to citizens of 13 countries, including Nepal and Jordan. Citizens of another 32 countries can enter the country with an e-visa that's issued online. Some of these countries are Pakistan, Kuwait, and Laos.
However, citizens of another 24 countries must apply for a visa from the German embassy in their country before arrival. Some of these countries are Egypt, the Central African Republic, and Chad.
You can check the visa situation for your country here.
Conclusion
Being a digital nomad in Stuttgart is a fun adventure that some people may be afraid to take. It requires a lot of planning and spending a lot of money. However, the return is definitely worth it. If Stuttgart is the next city on your bucket list as a digital nomad, I hope my guide helps you plan your stay.
Like This Article? Pin it!