Sometimes you get to a restaurant and instantly you can tell you're going to love it. Lofos Restaurant in Zakynthos Greece was just that kind of place for us. A warm welcome as we walked in the front patio area and of course, those spectacular views over the rugged interior and rolling hills of Zakynthos.
Where is Lofos Restaurant?
📍Unnamed Rd,, Meso Gerakari 291 00, Greece
Lofos Restaurant is located atop one of the highest hills in Meso Gerakari in the center of Zakynthos. To get here you'll pass through some very narrow roads and meander your way to the top of the hill where you have the fantastic panorama of nearly all of Zante Island.
The restaurant is about a 19-minute drive from Zante Town, 24 minutes from Laganas and about 20 minutes from Tsilivi, which, if you're trying to figure out where to stay in Zakynthos, are 3 of the main areas.
Basically you'll need a car to get to the restaurant, but having a car in Zakynthos (around €16 / day) is definitely worth it anyways.
Must-Try Meals at Lofos Restaurant
We returned to Lofos Restaurant, Zakynthos quite a few times and we had a few different meals on the menu. The roast lamb and the beef stew were both incredibly tasty and they also serve pizza, salads, steak and many other dishes.
Every time we went there we were too full for dessert, but that didn't stop the waiter from coming out and giving us one for free anyways. Basically, everything on the menu is great, but even if you just come for a couple of drinks while the sun sets, this is a fantastic restaurant and it definitely is one of the best restaurants in Zakynthos.
The Service
Every time we went to Lofos Restaurant Zakynthos we had excellent service. The place feels like a typical small, family-run restaurant and when you're there, you feel a bit like family too. Especially when you return a couple of times and they get to know you!
It's a small restaurant with only about a dozen tables, so the service is intimate and efficient. The staff is attentive and friendly and we had good service every time we came here.
The Ambiance
The ambiance at this place, particularly at sunset is fantastic. There's sometimes some Greek music playing, the sun is setting over the hills, the church is glowing on the hill behind you and the restaurant is buzzing with people having fantastic food, drinks and of course, taking photos of the view.
The View
What can I say? The view from Lofos Restaurant is spectacular. You can see the farmland below as well as some dramatic cliffs. The deck faces the west so in the late afternoon the warm Mediterranean sun pours onto the patio.
In the summer it can be a bit hot just before the sun goes down, so it's best to come in the final hour or so before sunset if you don't want to be roasting while you're enjoying your drink.
To the right of the parking lot for Lofos Restaurant is the beautiful Agios Nikolaos Greek Orthodox Church which sits atop a slightly taller hill. At sunset, the church is the only thing in the area that's lit up as the shadows creep over the restaurant and the valleys below.
The Cost
The price is actually very good at Lofos Restaurant in Zakynthos Greece especially considering the location. Usually, a place with a fantastic view like this would charge up to twice the price of a regular restaurant, but Lofos is around the same price as an average restaurant in Zakynthos.
The roast lamb that I ordered was €9 and came with veggies and potatoes, while the beef stew was €8 and very filling. Both are delicious. Beers are around €2.5 and appetizers are just €4 each.
If you come here as a couple and have a half litre of wine, an appetizer, a couple of mains and a dessert you won't likely pay more than €30, which is great for Zante Island.
How To Reserve
When we were last in Zakynthos it was March, in the shoulder-season (the best time to visit Greece) so there weren't too many tourists here and we didn't have to reserve in advance, but if you're here in the high season you may want to give them a call to see if there will be tables available.
Every table on the deck has a great view so you don't have to worry about not getting a nice seat as long as you're outside. They also have a Facebook Page that you can contact them on.
Our Opinion
At the end of our stay in Zakynthos this was definitely one of our favourite restaurants and in fact, heading to this place at sunset was one of the best things to do in Zakynthos.
We found the staff to be kind and courteous and made us feel like family (even though they fed us too much). The food always came out quickly, the ambiance was nice, the portions were generous and the food was delicious.
If you're looking for a restaurant in Zakynthos where you can enjoy a spectacular view of the island and the Ionian Sea, while having great food at an affordable price, then Lofos is a great option.
I guess the only downside would be the location. It's a bit far from everything, but sometimes you have to drive a bit to get to a beautiful spot like this.
We highly recommend having a rental car, at least for part of the time on Zakynthos so you can explore the island, and this is a perfect lunch or dinner stop on any road trip itinerary around the island. If you're staying down south, you can stop at Lofos on your way to Navagio Beach, or on your way back after viewing the beach from the viewing platform.
Overall, we found that Zakynthos was one of the best places to visit in Greece and Lofos Restaurant was one of the best restaurants (certainly with the best view) that we visited while on the island.
Like This Article? Pin it!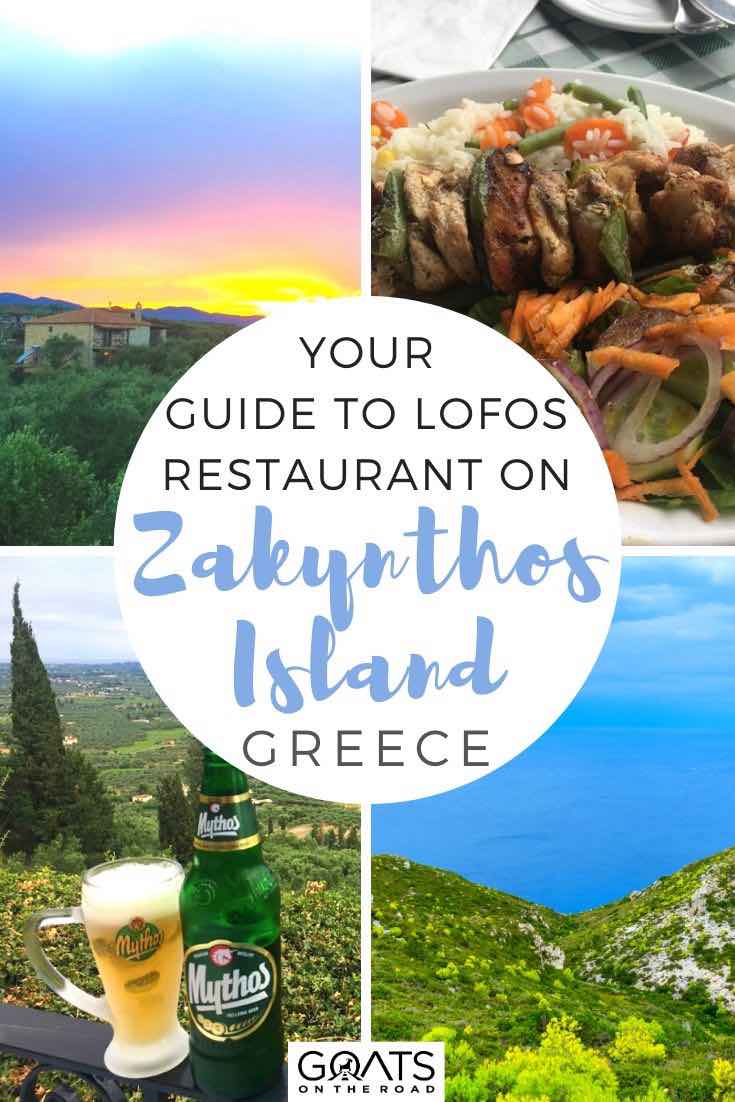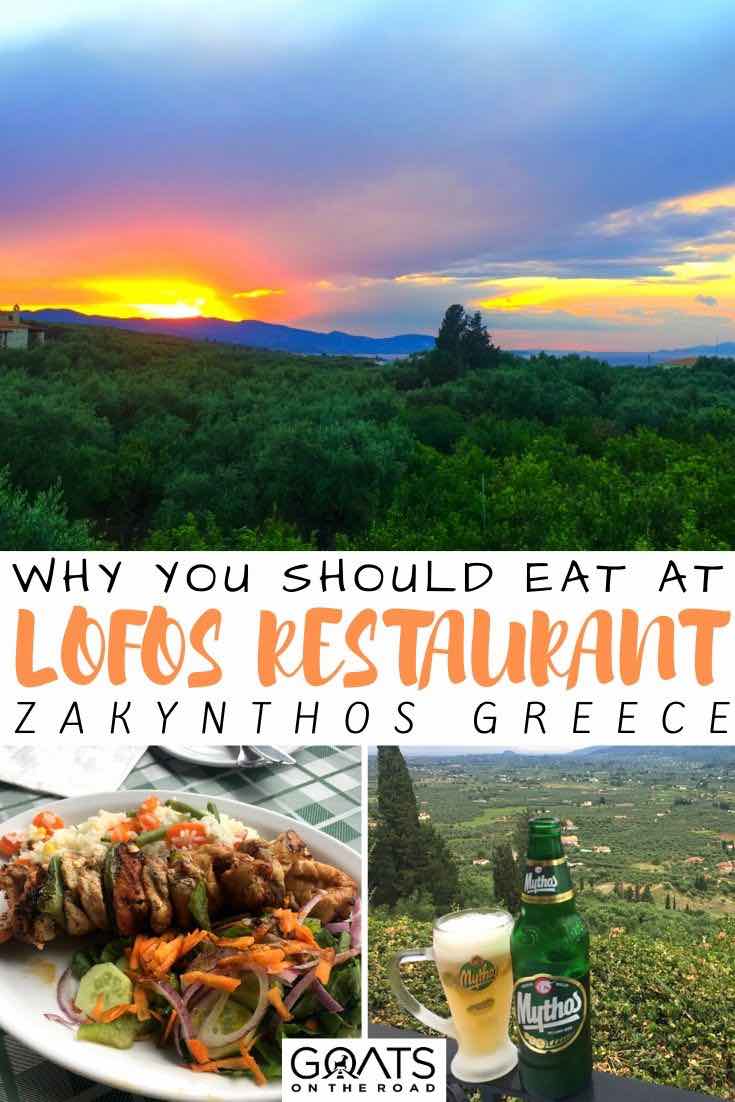 Disclaimer: Goats On The Road is an Amazon Associate and also an affiliate for some other retailers. This means we earn commissions if you click links on our blog and purchase from those retailers.