I realize that 2020 is a year that many people don't want to talk about or remember, let alone, write an article about. But, Nick and I always enjoy sharing our round-up of the year with you — it's a matter of tradition!
Each year has a vibe or a feeling.
This year can be described using all sorts of words — challenging, disappointing, heartbreaking, eye-opening (the list goes on), but I think the all-encompassing phrase is "a year we won't forget".
And while it truly has been the most life-altering year our generation has seen, from our point of view, it wasn't all doom and gloom.
This roundup article is where I share what we got up to this year, how our businesses have progressed (or remained stagnant), and where I list some goals and ideas for 2021.
See these reflection posts from previous years:
Our Predictions From 2019
At the end of each year, I list some things we want to accomplish and what I hope the year will be like. Funny enough, at the end of 2019, I didn't list any specific goals or plans that we wanted to achieve.
Here's what I predicted for 2020:
Currently, for us, there are no plans — which I think is great! No work commitments, no flights booked, and nowhere we have to be.
We're thinking of 2020 as a blank slate. It's a fresh, pure year waiting for us to colour in the time slots as, and when, we want.
For me, 2020 means "vision" and "clarity". And while everything looks a little bit blurry at the moment due to the stress of the past weeks, once we move into the new year I'm certain some definition will start to appear.
I have a feeling there are some epic changes on the horizon and we're excited to see where we go, and what we end up doing!
…well, my predictions weren't far off actually.
We didn't have any work commitments, or anywhere we had to be — just places we chose to be. There were definitely some epic changes on the horizon, they just weren't the changes we were expecting.
I'm glad we didn't have our year all planned out, and to be honest, 2020 really was a year of "clarity" for us.
It started out really great actually, doing exactly what we wanted…
Our Europe Travels
There was nothing we wanted more than to hit the road in January 2020, with Europe as our destination of choice. We wanted the opposite of where we lived in Grenada, so we flew from a quiet Caribbean island to a bustling European city.
Eating Our Way Through Paris, France
Landing in Paris was incredible. After travelling for more than 10 years, we still hadn't seen many of the major tourist destinations. Paris was a first for us, and it didn't disappoint.
Spending 5 days in Paris, we soaked up as much of the city as we could — while devouring croissants, escargot, duck confit, and beef bourguignon along the way. Plus, all the cheese, bread, and wine we could get our hands on.
The sites and architecture were as beautiful as they were grand. It felt great to be back in Europe.
☞ See Also: How to Spend a Weekend in Paris and the Best Things To Do in Paris
Bar Hopping and Late Nights in Barcelona, Spain
Barcelona. A city we'd heard about for years, but hadn't visited. The city wowed us with its fun neighbourhoods, endless tapas and wine bars, funky street art, and epic nightlife.
Doing as the locals do, going out for dinner at 10:30 pm became the norm during our week in Barcelona, as did sleeping in until noon the following morning.
With an old town, seaside promenade, gorgeous viewpoints and numerous things to see and do, Barcelona really impressed us, and a week wasn't nearly enough time spent there.
Living Like Locals in Rome and Day Tripping to Naples & Vatican City
I've said it before and I'll say it again: There's no place like Rome!
Having spent some time in the Italian capital a few years before, our second visit to Rome wasn't all about visiting the historical sites, it was more about wandering around and seeing where the day took us. (Hint: usually it brought us to a wine bar or a cute restaurant with handmade pasta).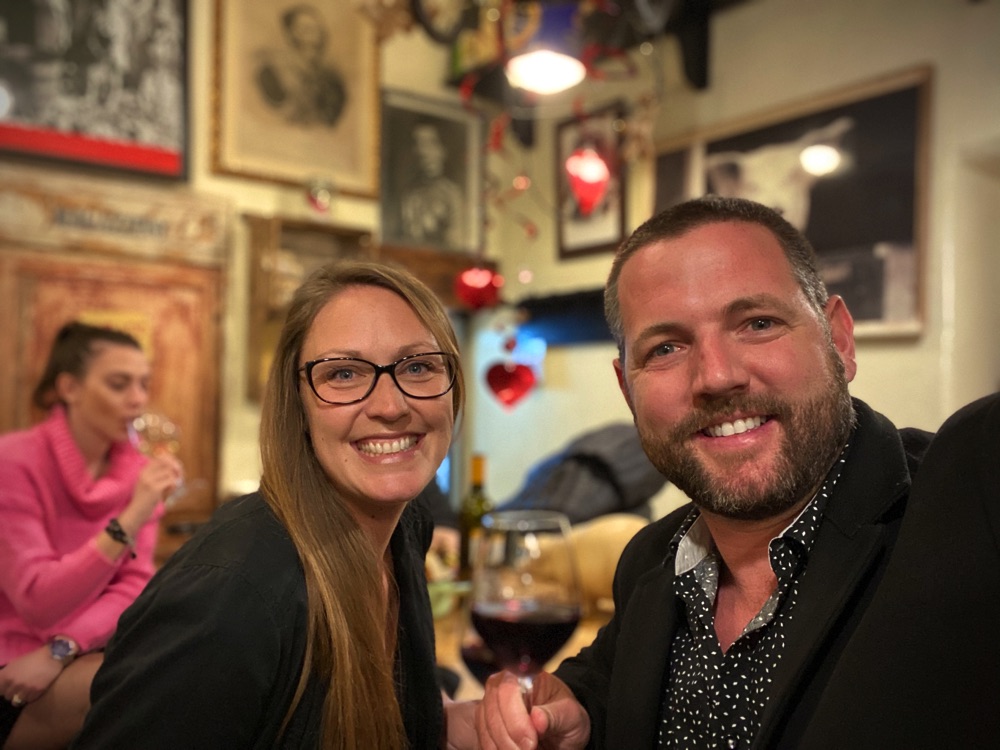 This time around, we spent 3 weeks in an apartment in the trendy, bohemian neighbourhood of Trastevere — a traditional, lively area of Rome.
From Rome, we day-tripped by train to Naples to devour margarita pizza at L'Antica Pizzeria d's Michele, the same restaurant Julia Roberts did in the movie Eat, Pray, Love.
We walked all over that city and ended the day with a second pizza at the famous Pizzeria Da Attilio restaurant from the Netflix series, Ugly Delicious.
Finally, we made it to the smallest Independent City State in the world, Vatican City. Ruled by the Pope and surrounded by the city of Rome, this is a must-see place.
After 3 weeks in Italy, it was time to move on.
Falling In Love With Lisbon, Portugal
We flew from Rome to Lisbon and were excited to add our 68th country to the list!
As soon as we landed in Lisbon, we hit the streets and explored the city. Lisbon was aesthetically pleasing (to say the least), with its cute trollies gliding up the hills, and colourful architecture from numerous time periods.
We had 3 weeks in Portugal before flying to Ireland, and with no real plan, we set off to see what we could see.
We visited hole-in-the-wall restaurants, sipped on vinho verde, walked all over the city, and enjoyed the overall vibe. With an open-minded attitude and a multitude of cultures and people living here, we fell in love with Lisbon right away.
…which was a good thing.
Everything Changed…Including Our Plans
It was about halfway through our time in Lisbon when the news really started reporting on COVID. Before that, it was "just in China", so we didn't really think much about it and didn't hear much about it either.
But, once it reared its ugly head in Italy, Europe was on alert.
On the day before we were meant to fly to Dublin, we had a decision to make: Do we stay put in Portugal, or make a move to Ireland?
With countries calling their citizens home, and borders closing, we decided everything was too uncertain. While the world was spinning, we decided to stay still.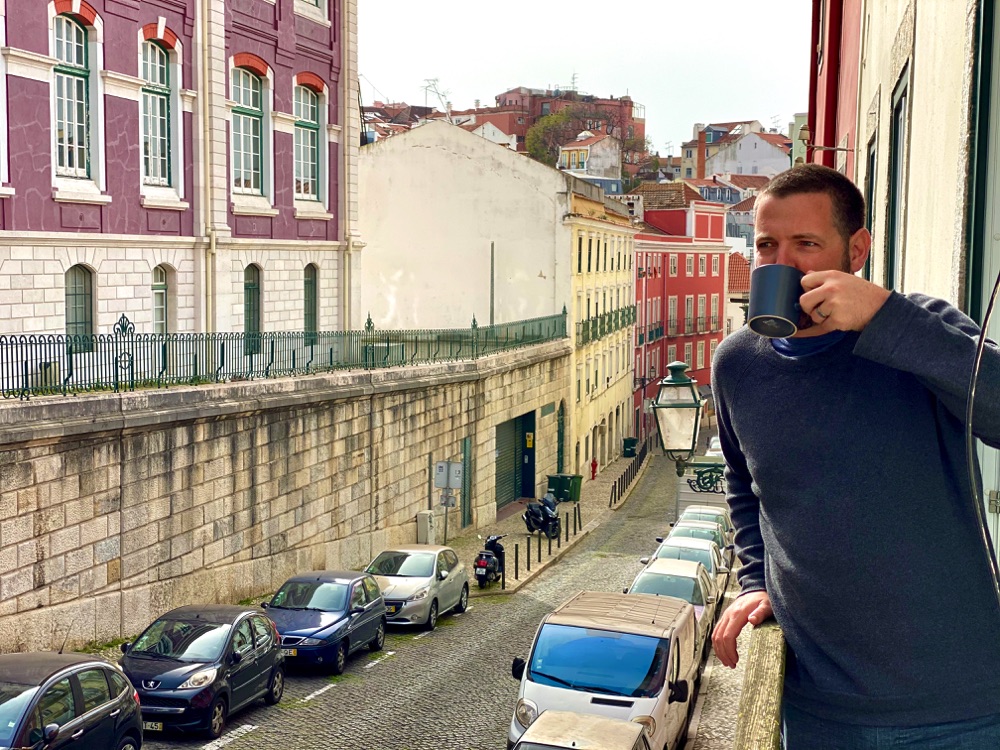 Luckily, none of our travels were for work, so we simply cancelled the rest of our Europe adventure and settled into Lisbon.
Portugal Became Our Haven
We're so grateful for our time spent in Portugal.
That sentence may sound strange as we were "stuck" there for 7 months. But, in truth, there's no place we would've rather been during the initial madness that the world was experiencing.
Since we work for ourselves and have no permanent home, we made a choice to stay, and it was the best decision we could have made.
The country handled the pandemic as best it could, without long, debilitating lockdowns.
The people were warm and welcoming. Shopping at the grocery stores was a calm experience. Delivery services were in place, and (most importantly?) bottles of wine were just €3-6 for a nice red.
We had always wanted to live in Portugal, and this year we were able to.
☞ See Also: Life During Coronavirus – An Update From Self-Isolation in Portugal and One Month in Lockdown – An Update
Living in Lisbon
As we settled into our gorgeous apartment (which would be home for 4 months), we were grateful that we had decided to rent a large place, but wished we had the foresight to find one with a proper balcony, or rooftop!
Regardless, our little sanctuary was large and comfortable.
We had space to workout in the living room, a fully stocked kitchen for cooking meals, a big fridge and freezer to hold our food and booze, fast and reliable wifi, and we even had a spare room that we used as a YouTube studio.
During our stay in Lisbon, we were always permitted to go outside for exercise, so with a city park nearby, botanical gardens, and a riverside promenade, we walked a lot.
As soon as restaurants and cafes opened again, we went out right away — trying to help the small businesses as best we could.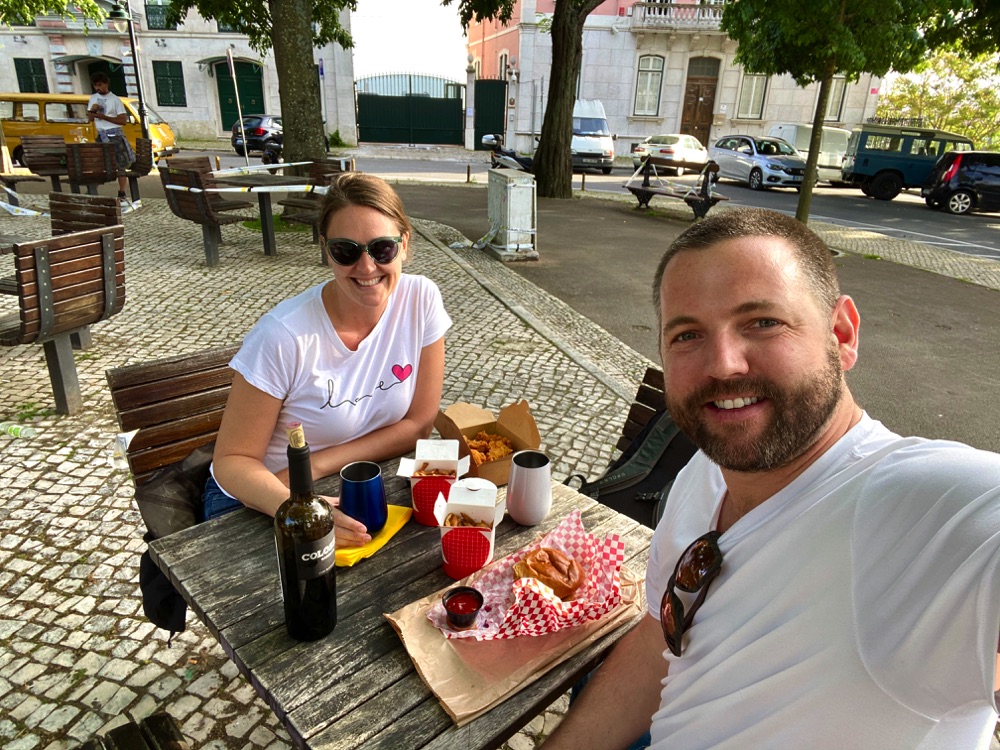 Renting a Campervan
As things opened up more and more, and we were able to cross municipalities again, we received a partnership offer from Indie Campers. We had always wanted to see what it would be like to travel in a campervan and jumped at the opportunity.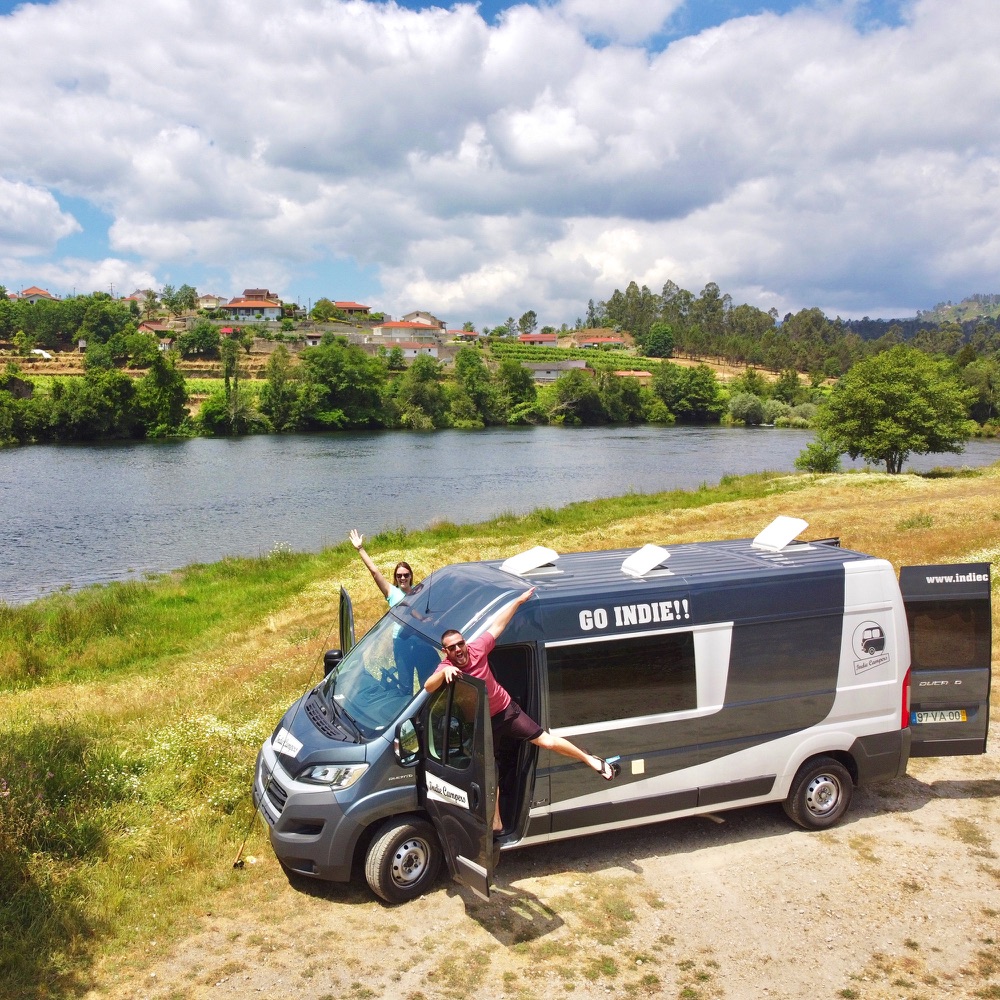 Having our own wheels, which dubbed as our accommodation, restaurant, and bathroom, was the perfect way to travel during a pandemic.
Since we'd been in Lisbon for close to four months by this point, the last thing we wanted to do was to visit cities. So, we headed to central and northern Portugal to see what that part of the country had to offer — turns out, quite a lot.
We enjoyed hiking, fishing, and driving through the stunning Peneda-Gerês National Park. We wild camped alongside rivers, wandered around quiet towns, jumped into swimming holes, and enjoyed cooking and hanging out in our van.
The campervan trip in Portugal was 10 days long, and while we really did enjoy it, we also realized that we could never live "van life" — we need more space!
Road Tripping The Algarve
The south of Portugal is a hotspot for European holidaymakers (many from the UK) who come to laze on the gorgeous beaches and marvel at the rocky coves and outcrops.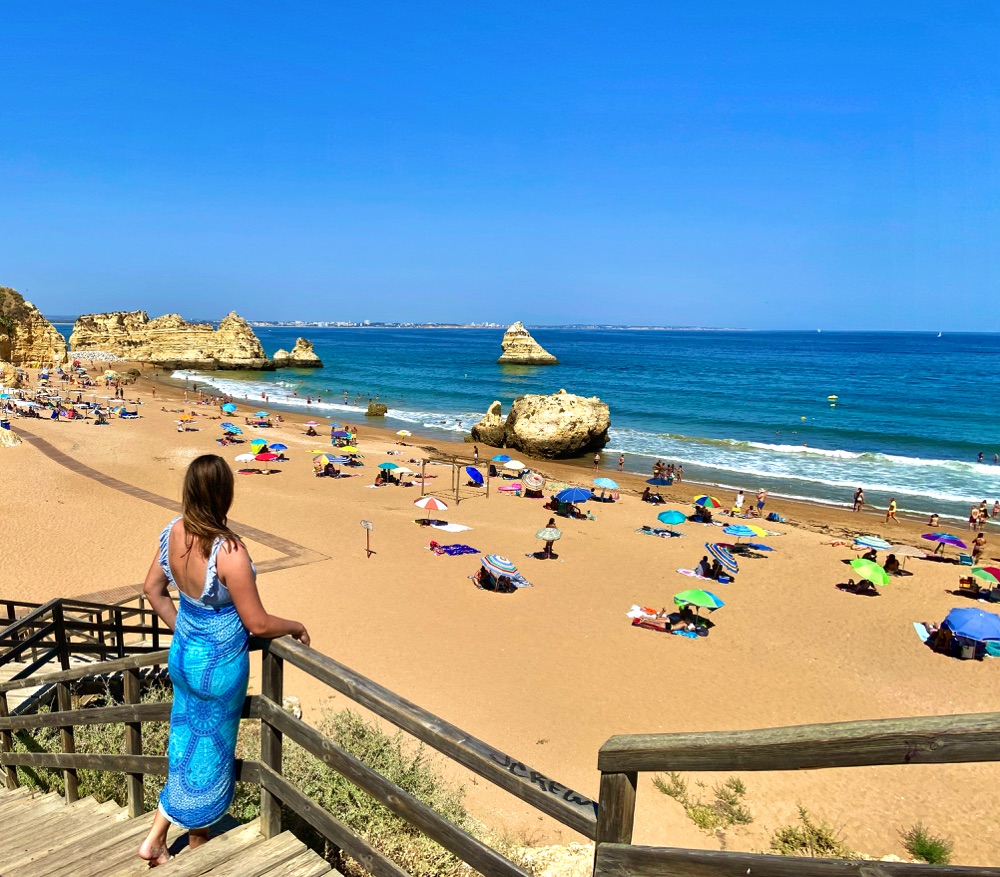 Since we were in Portugal during the summer months, during an unprecedented year, we decided to head to the south of Portugal to see what all the hype was about.
Being in a popular tourist destination, without the tourists, was unique in itself. Apart from domestic travellers and some Spanish, we pretty much had the place to ourselves.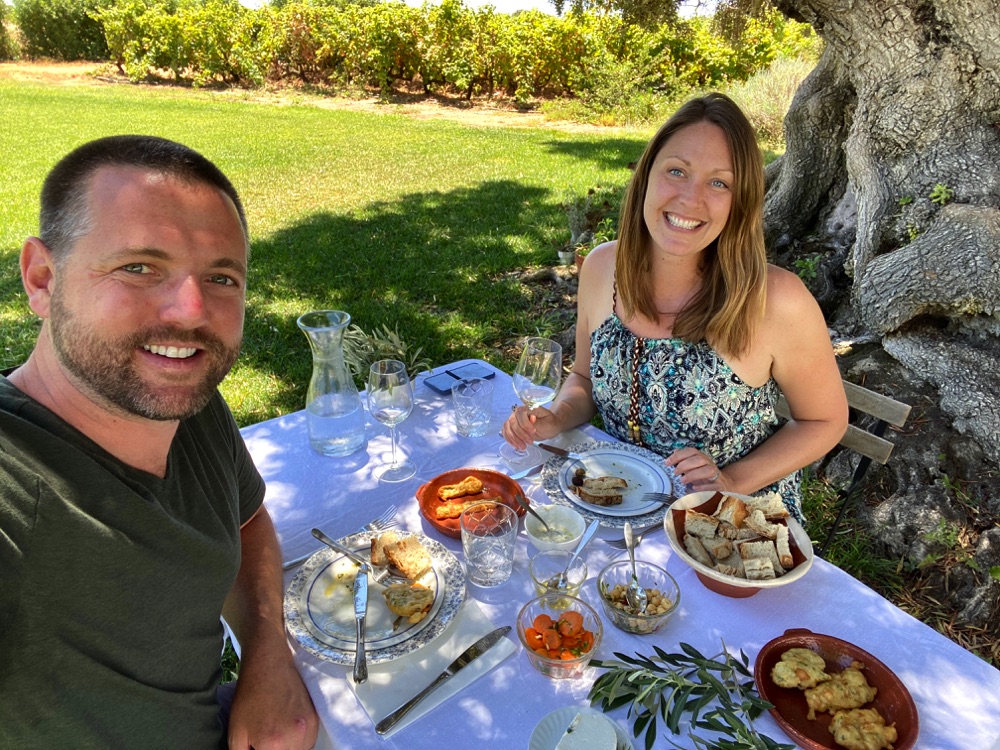 This southern region of Portugal lived up to the hype and we enjoyed exploring it by rental car for two and a half months.
There were many highlights of the Algarve, but visiting the islands off the coast of Olhão, sleeping in a dome in Alte, walking the boardwalk in Alvor, visiting wineries, and all of Lagos really stood out for us. Of course, the stretches of sand were pretty incredible as well.
Thank You, Portugal
I figured we would enjoy our stay in Lisbon, which is why we had initially planned on 3 weeks there.
But, I didn't know just how much we would love it.
While the sights, landscape, food, wine, and people were all wonderful, for us, our stay was much more than that.
Portugal was our safe space during all the commotion in the world. It was our sanctuary, our home. It had everything we wanted and needed, and there's nowhere else we would have rather been.
Lisbon and the country as a whole really got under our skin. So much so, that after 7 months there we really didn't want to leave, and are already talking about returning.
Decisions, Decisions
As people who work remotely, and who don't have a permanent home, trying to figure out where to go was the biggest challenge for us this year.
If you know about the Schengen Zone, you'll know that Portugal is a part of that area of free movement. Luckily, immigration in Portugal granted an extension to our stay, but it was very unclear how long they would continue to do so.
I mean, we had been in the country for 7 months already, and were technically only allowed 3 months.
As the expiry of our extended stay grew closer, we had to decide what to do and where to go and it was incredibly stressful trying to make the right decision. A million thoughts and questions ran through our minds.
Which countries are open to travellers right now? Which countries could we go to without a visa? Do we need to take any tests to be granted entry? What about layovers, do we need any documents? What if the flight gets cancelled? What sort of restrictions are in place in the destination? Are we making the right choice?!
After much back and forth with each other, and friends in similar predicaments as us, we decided on Mexico — a country we know quite well, and one that's on the same side of the world as our friends and family.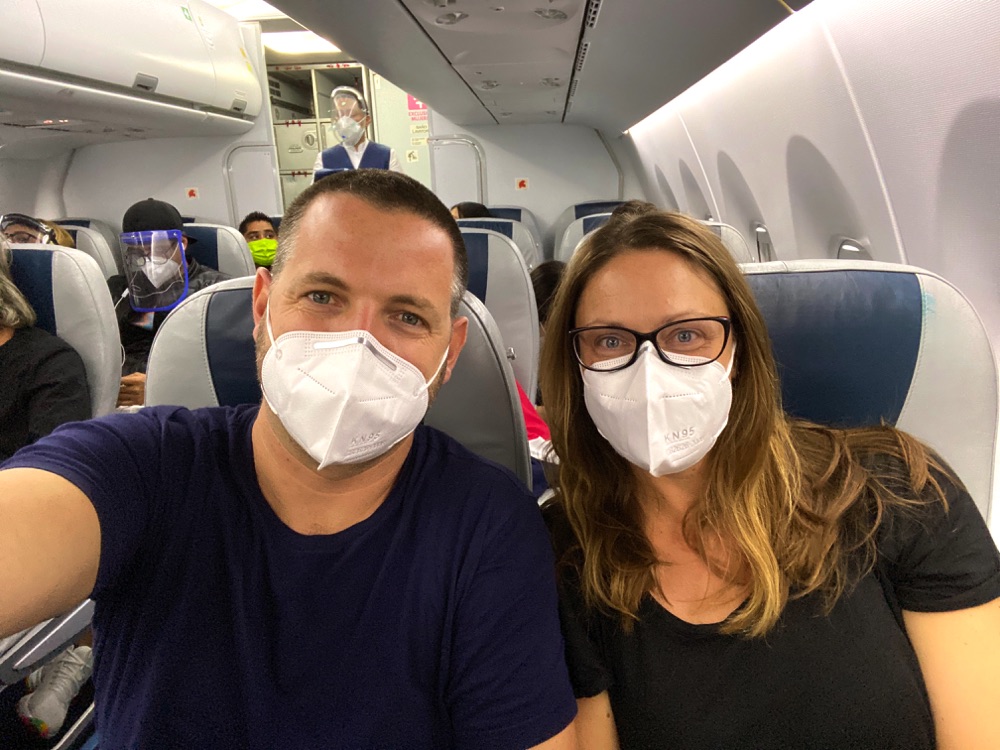 We travelled for around 24 hours door to door, and eventually arrived at our new (temporary) home.
As of the time of writing, we've actually been here in Playa del Carmen for 4 months already. Time has flown by.
With friends as neighbours, all the amenities that a digital nomad could need, and beaches and walks at our doorstep, we're incredibly happy with our decision to come here. (Minus the 2 hurricanes and tropical storm we endured!)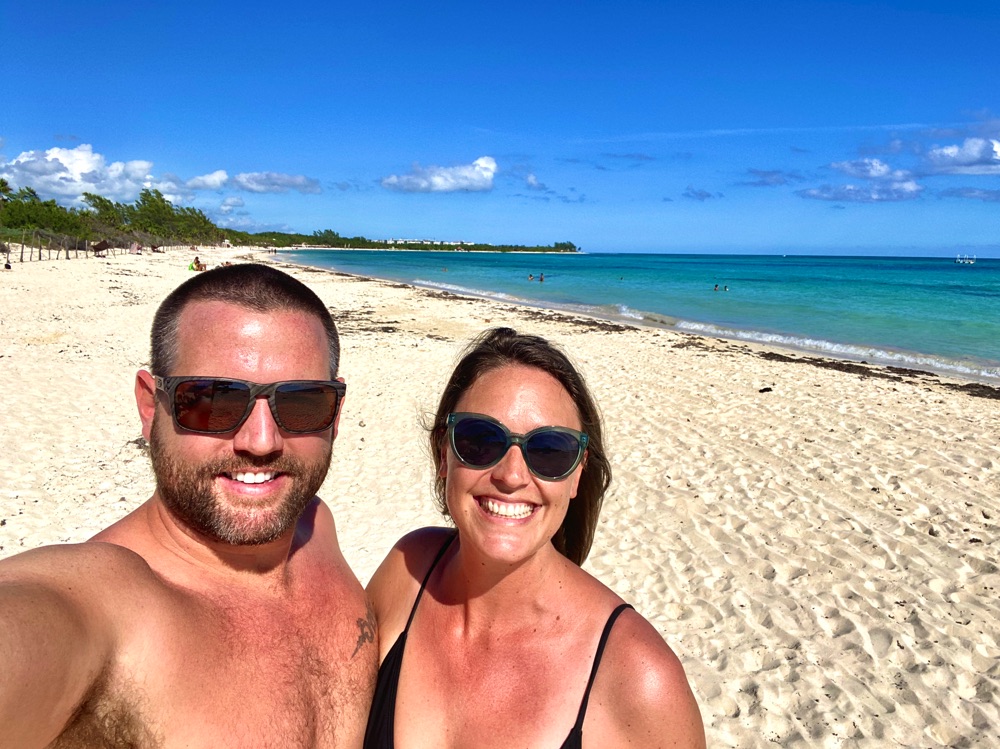 We're not here to travel, we're here to live. And, we're better prepared this time for any potential lockdowns — we rented a place with a rooftop 😉
How Was Business For Us in 2020?
If you asked us that back in March/April, we would've laughed and said it was pretty much abysmal.
For a couple of months, we were down 60% of our monthly income, and our top-performing posts on Goats On The Road were ones that were written ages ago — one of which was about goats. Seriously.
Naturally, people weren't searching for places to go, or how to quit their jobs to travel.
Some of our affiliate partners slashed our commissions or cancelled their programs altogether.
I think, like most of us, at the beginning of this whole pandemic we were all panicking and we all sort of flailed. This was unchartered territory and everyone (both businesses and individuals) were worried about income and their livelihood.
But, thankfully, we saw an uptick after a few months — in visitors to this website, in our monthly income, and in partnerships.
These days, our website traffic is pretty much back to where it was and even though we lost some affiliate partners in 2020, we were able to gain new (more lucrative) ones.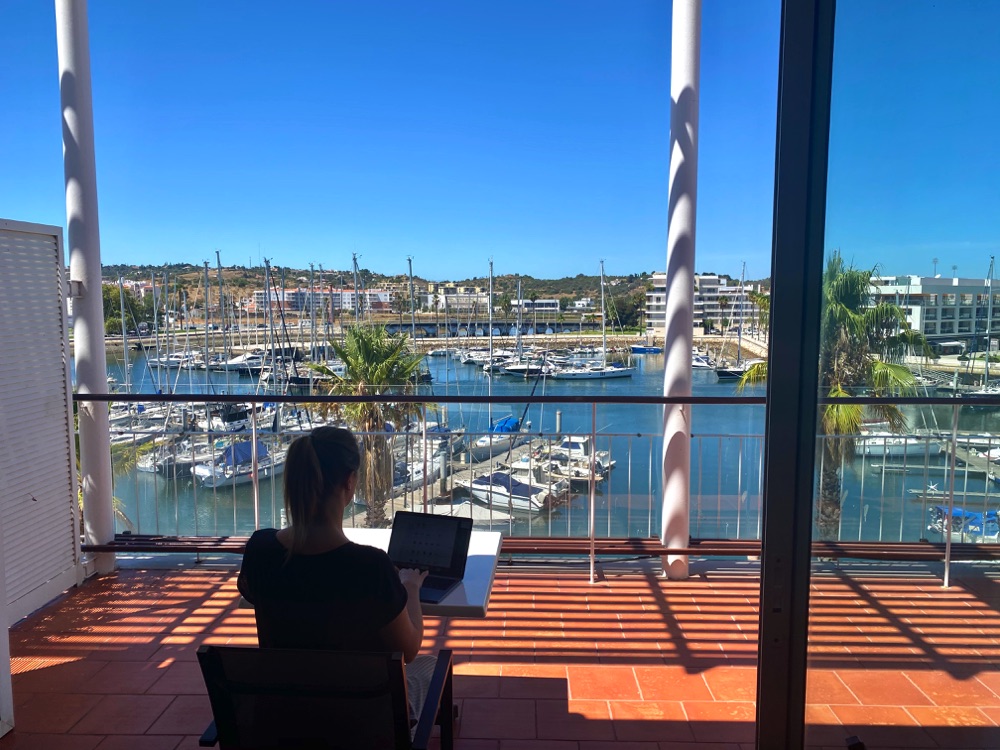 We Bought Another Website
In 2020, about one month before everything went pear-shaped, we had already made some changes and decisions. We purchased a destination based website that was already online and was earning some money.
We saw potential for the site, and immediately redesigned it, hired a team of writers, and planned the content out. Articles started to rank in Google, and income from tours and hotel stays were starting to come in.
That lasted about a month. Then lockdowns hit and now no one is travelling around there, not even domestically.
It was a "fail", but we still own that website property and are hoping tourism returns.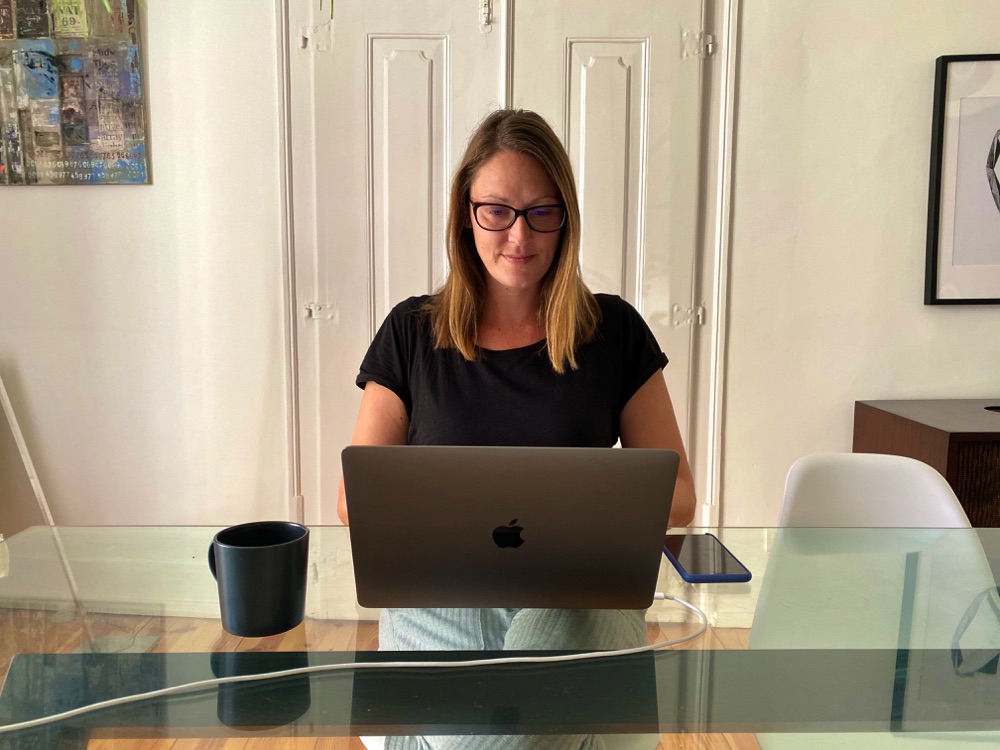 Nick Started a Third Website From Scratch
While in Lisbon, we did a bunch of "clean-up" to Goats On The Road (backend, techy stuff that we had been neglecting to do), and worked on some YouTube videos.
After about a month of that, Nick decided it was time to build something new while I did my best to keep Goats afloat.
We teach others how to create a website, get it up and running, and start earning an income. So, it was time to practice what we preach and use this new website as sort of a case study for our blogging course students.
Nick built a new website from scratch while we were in Lisbon. He hired a team of experts on the topic and published his first article on it in April.
I'm so proud to say that after just 9 months, Nick's website is earning almost $5,000 per month and is growing rapidly.
Not only that, but he's already enjoyed a press trip in Portugal, and is currently working on some big sponsorships as well.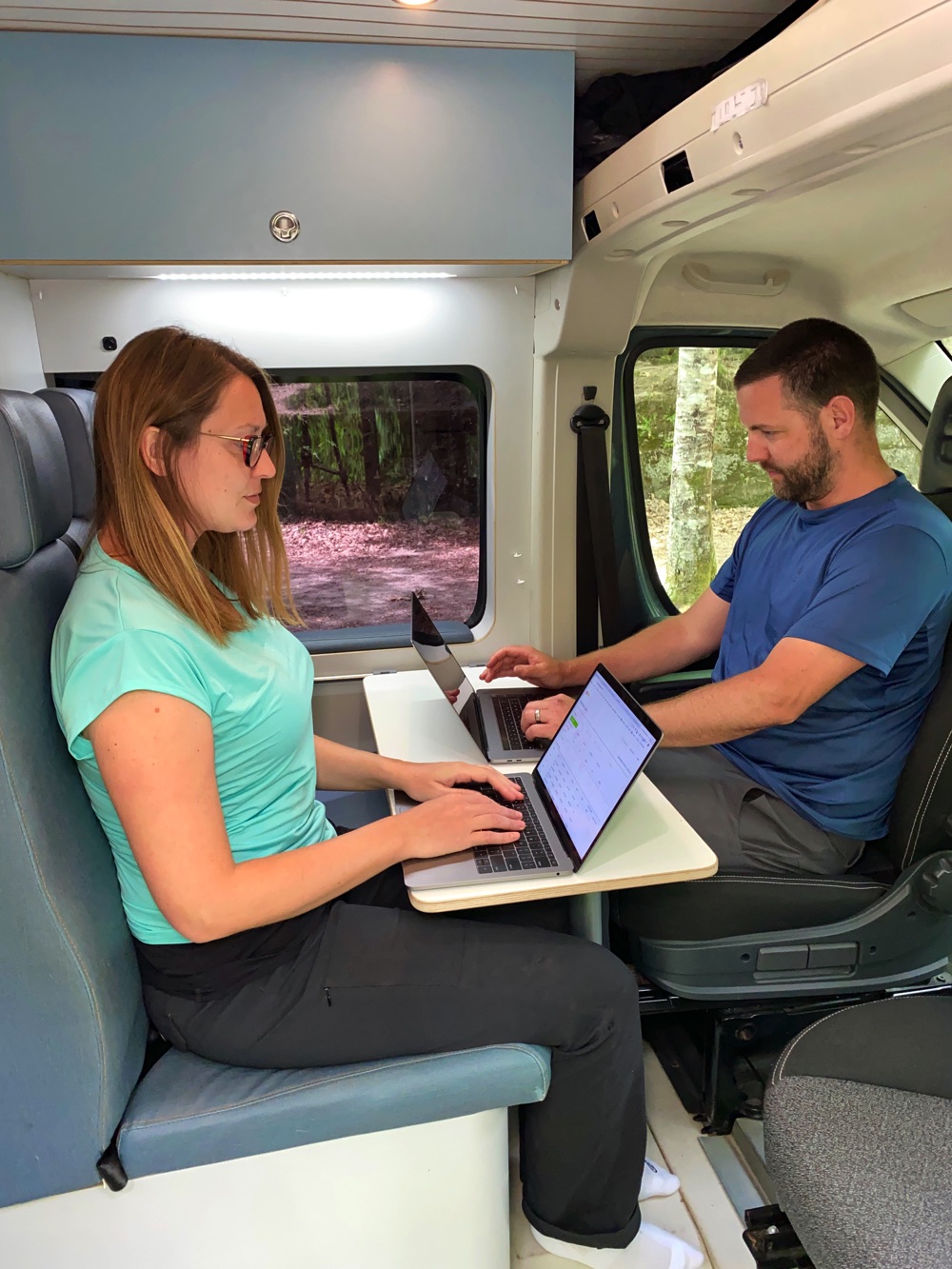 But, there's more! The website traffic to the new site has skyrocketed to 30,000 users a month — to give you some perspective, it took Goats On The Road two years to get to that number.
The website is still nowhere near Goats' current traffic or earnings, but it's exciting to see it growing so organically.
Want to take your website to the next level? Learn how by signing up for our free 1-hour training seminar.
We Create a Fourth Website Together
With the success of Nick's site and with Goats On The Road pretty much back at where it was, why should we start up anything else?
Since March, Nick has been pretty much focused on his new site, and dealing with the technical stuff on all of our websites (something that goes right over my head).
Goats On The Road and the other blog that we purchased have been kind of "mine" this year.
So, we wanted to start another project — one that we could work on together.
That new website is in its infancy, but it has lots of potential and we're looking forward to continuing to build it up.
2020 To Us – A Year Of Clarity
For us, 2020 truly was an eye-opening year all around. We're fortunate that we didn't lose any loved ones to the virus, but we did lose (or put on pause) a lot of things that are important to us.
Travelling is our main passion in life, and our business, and it was quickly snatched from us. Our financial security was questioned this year. Our freedom to see whomever, do whatever and go wherever were taken away as well.
But, with this gave us the opportunity to grow, pivot and realize some things. And, to be honest, we're better for it.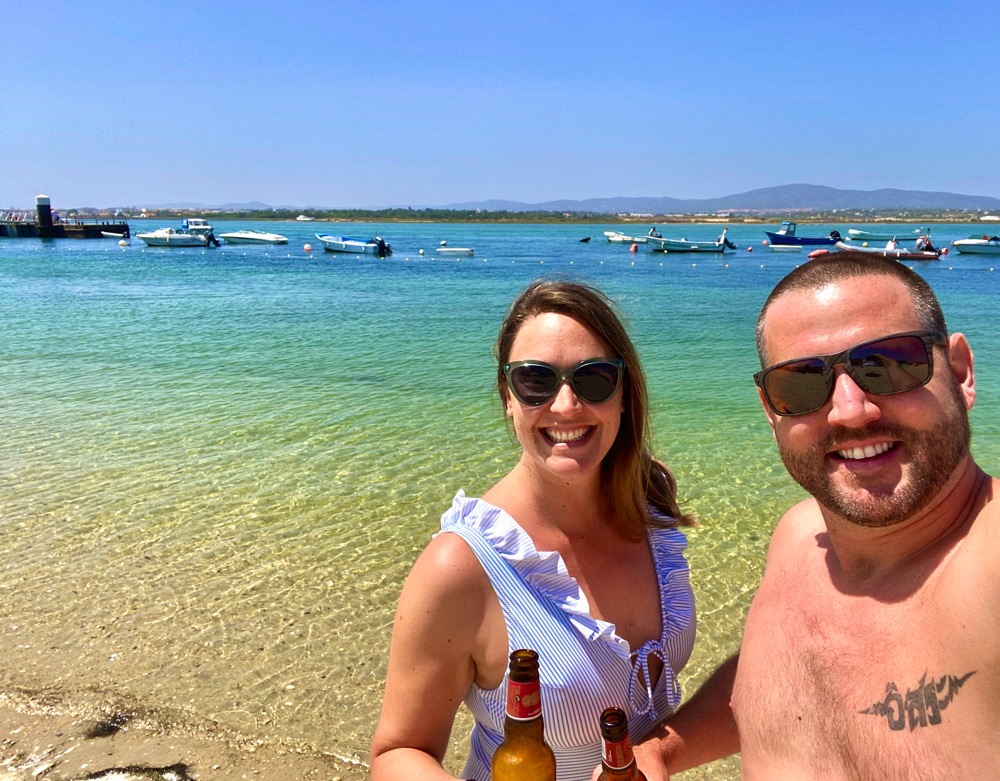 We Can't Have All Our Eggs in One (Blogging) Basket
The fact that we only had one website since 2012 is mindboggling. Why hadn't we built new businesses? Why were we focusing on just one platform to bring us money? Why hadn't we hired more people to help us grow?
Goats On The Road was doing so well in terms of income and visitors that we sort of felt like "Well, we're set. We don't need anything else".
This year has shown us the importance of pivoting and expansion — within this flagship website, and growing and building other businesses as well. It was the push we needed.
We Can't Take Travel and Freedom of Movement For Granted
This is something I never thought I'd have to think about.
There's nothing Nick and I love to do more than travel. Not the actual act of flying, or dealing with logistics, but meeting new people, learning about different cultures, trying new cuisines, and going on random adventures.
We're fortunate to have done quite a bit of travelling in the past 12 years (including 2020), but during those years, we moved around at a snail's pace.
This is why we worked hard to build up new businesses in 2020, so that when the world opens up, we can hit the road and not have to be online very much.
We want to experience, see and do it all.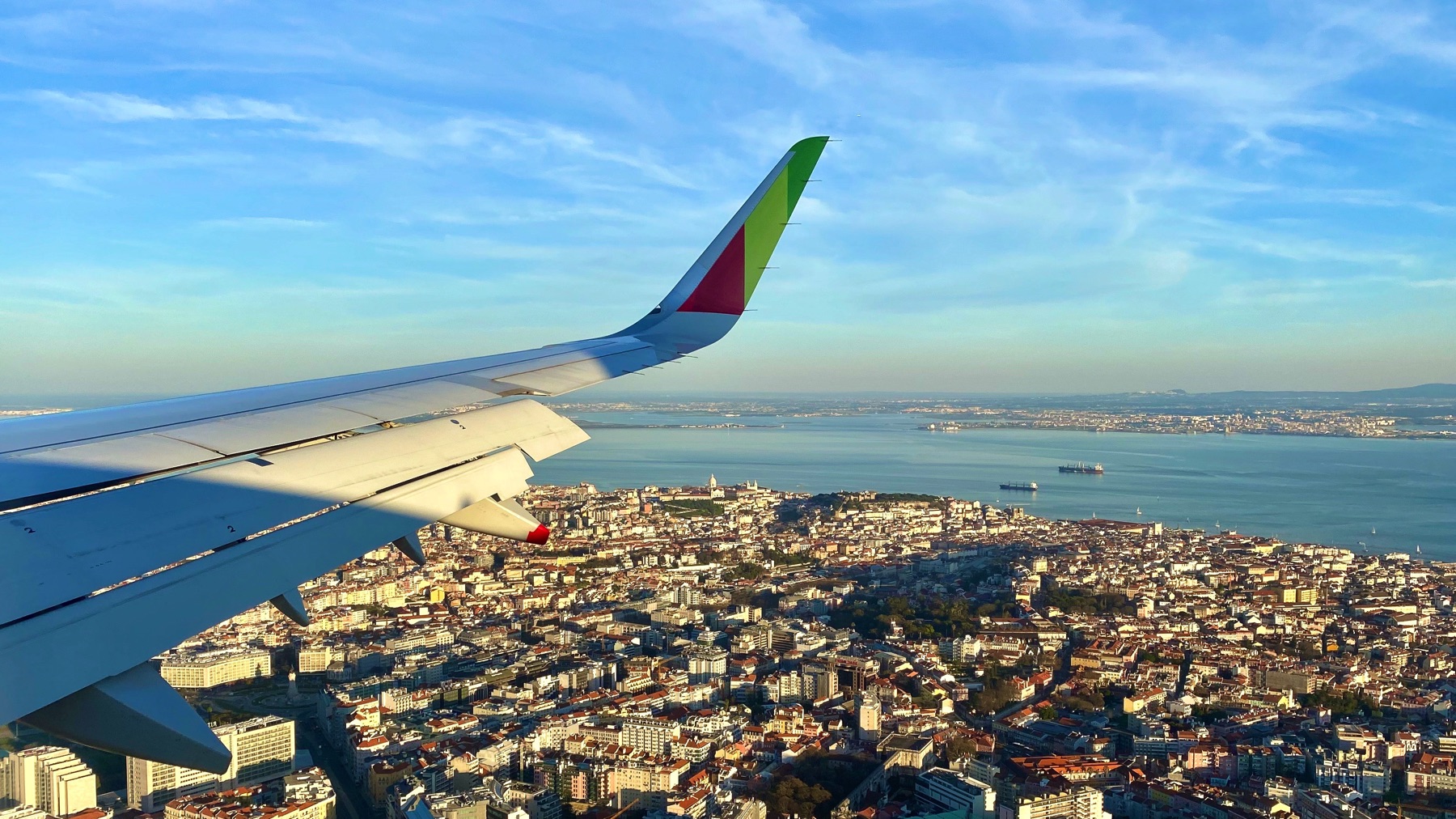 In 2021, if borders are open and it's safe to travel, we're not planning on settling down or having a base anywhere. We want to get out there and explore more of our beautiful world while we're still able to do so.
What Brings Us Joy?
Of all the things we thought about, discussed, and learned this year, this is one that stood out the most.
We should do more of what we love. Time is precious, and things can change in an instant.
If we didn't need to be on our computers during the day, what would we want to do with our time? What would our days look like, and what about it would bring us joy?
Maybe we would learn how to cook or bake. Maybe we'd pick up new hobbies or start playing group sports. Perhaps we'd volunteer more, or simply read a book.
Happiness is what we focused on this year, and we'll continue to do so.
Health is Important
I'm pretty sure I've said this in previous round-up posts, but during 2020 more than ever, we've focused on our health. It may not show, but this was the first time in a long time that we properly worked out.
Thanks to our fitness friends Sarah and Nathan who set up an online group workout, we've been able to do 30-minute classes, 4 times a week since March! We don't make every class, but we try our best.
We're so grateful for the virtual workouts — especially considering all of the wine and lack of movement this year.
Even though we were able to walk and hike all around Portugal, and we walk the beaches and neighbourhoods here in Playa del Carmen, we're not getting in nearly as many steps as we would when we're travelling.
Regardless, we're thankful for the fresh air and ability to get out and move our bodies.
It Wasn't All Bad
I realize that 2020 was dire. The year that we don't want to talk about took people's lives, jobs, freedoms, and zest for life. And while that's all horrible, there were some positives from the year and I want to leave you with these thoughts.
Remote Work is The Norm
As "digital nomads" who work online from anywhere in the world, we were always the odd ones out. This year, working from home really took off!
With that came the opportunity to work more efficiently, have more free time, and see family (furry or human) more often. Parents spent more time with their kids, there was no need to waste hours on a commute to work, and wearing pants for conference calls was optional.
There are so many upsides to working remotely, and I hope it continues going forward.
Mother Nature Healed
According to Statista, in 2019 there were 38.9 million flights taken. In 2020, there were 16.4 million flights. This year saw a decrease in global greenhouse gas emissions by 7%, giving the atmosphere a bit of a break.
In populated cities like Delhi and Los Angeles, smog was lifted and you could actually see the blue sky! The Himalaya Mountains were also visible from the state of Punjab for the first time in around 30 years.
For marine life, scientists in Canada have been researching the effects of noise pollution on whales. When the whale's acoustics are hindered, they struggle to protect themselves, communicate with other whales, and find food as well.
With less boat traffic (due to lack of cargo ships and movement), the noise pollution in the ocean has been down roughly 50% this year.
Speaking of boat traffic, the lack of cruise ships has meant more marine life in places like Cozumel, Mexico — with 2020 being the best nesting year for Hawksbill turtles that the island has seen.
Finally, animals have been free to roam! Without humans in the way, there have been reports of wolves, lions, penguins, deer and other animals walking around cities.
In Mexico, they even reported crocodiles and jaguars at empty resorts, and turtles coming to nest on beaches which are usually filled with tourists.
While there have been some downsides and a negative impact on animals in some cases, it's interesting to see what can happen when humans aren't around.
Hopefully, these positive stories will continue and we'll try harder to protect and heal the earth while travelling and exploring in a more sustainable way.
People Got Creative
If there's one thing that 2020 gave us, it was the gift of hilarity.
The TikTok challenges and videos and all of the memes were on point! With so much time on our hands, people really got creative and the result was lots of laughter, and (virtual) connections with others around the world.
Laughter and dance are great for mental health and by creating these global challenges, it really made it feel like we were all in it together.
People Made Connections
Even though physically being together wasn't possible most of the year, people seemed to really make an effort to stay in touch with loved ones — more so than usual.
Zoom calls, group chats, and online Experiences really took off. As did quiz nights, and playing games online.
Again, with more time to spare, there was more time to contact people and make an effort to check-in on parents, siblings, and friends.
We Got Back to Basics and Slowed Down
With the hustle and bustle of our everyday lives, it's easy to forget to slow down and enjoy the simple things.
This year, that's one thing that was in surplus: Time.
Suddenly, there was time to go for a jog in the morning, to learn how to cook and to eat meals with family. People became more self-sufficient by learning how to grow a garden, create meals out of "nothing", or raise their own livestock.
There was a chance to learn how to play an instrument, take an online course that there "was never time" for, and to simply sit and watch some TV.
Not to mention, there was lots of time for introspection.
Granted, it's unfortunate that it took a global pandemic to make us realize this, but it's true. Most of us are so busy that we don't have time to stop, relax and revel in the little things.
And while I hope the world returns to some sort of normality this coming year, I do hope we remember this feeling of simplicity and time abundance.
Life Is What You Make Of It
At first, our (my?) emotions were all over the place — fear, panic, stress, frustration, and then eventually, calm. This has been a rollercoaster year, but at the end of the day, every experience in life is what you make of it.
Personally, rather than focus on the negatives and what we can't do, we've tried our best to be positive, grateful and happy for what we have!
Sure, this hasn't been our ideal year, but it definitely has been a productive one, filled with lots of love and laughter.
Our Plan for 2021
We're big on visualizing our future and always have been. Numerous times on this blog we've talked about following our Personal Legends, going with the flow, and being the architects of our own reality.
We've constantly been guided in the right direction and when we choose the path of least resistance, everything falls into place — simply and easily.
Over the past few months especially, we've been really thinking about what we want the upcoming year to look like.
First, we want to go to Canada and Grenada to see our friends and family, and to get some overdue "adulting" completed. After that, here's what we're hoping to accomplish.
Because we've been productive workwise in 2020, we want to live off the fruits of our labor in 2021 and move around as much as possible — while working as little as possible. Don't worry, there will be more content than ever published on this blog! We are just going to boost our productivity and hire a larger team to help out. 😉
Ideally, we would buy a vehicle in Europe and spend the year there, moving around from place to place. Our European adventure was cut short this year and we still have so much of the continent to see.
Keeping health at the forefront. In terms of working out, walking lots, and eating well, we need to continue to focus on our health — we're not getting any younger! Hopefully, there will be a lot more nature, mountains and hiking in 2021.
Doing the things we enjoy. This is a big one. We've talked a lot about this over the past year and plan to keep that in our minds going into 2021. Whether on the business side of things or in our personal lives. If there's something we aren't resonating with anymore, it's time to move on.
Continuing to support local businesses. This year has been devastating for small businesses, with many of them closing their doors. We've done our best to help out where we can, and are going to make even more of an effort to spread our money around, and support locally in 2021.
Since the future is so uncertain, we aren't making any sort of real travel plans just yet. In the immediate future, we'll still be here in Mexico.
We'll just have to let the path unfold before us and see where we end up.
Thank you!
As always, but especially this year, we want to sincerely thank you for following our journey. Having your support means the world to us.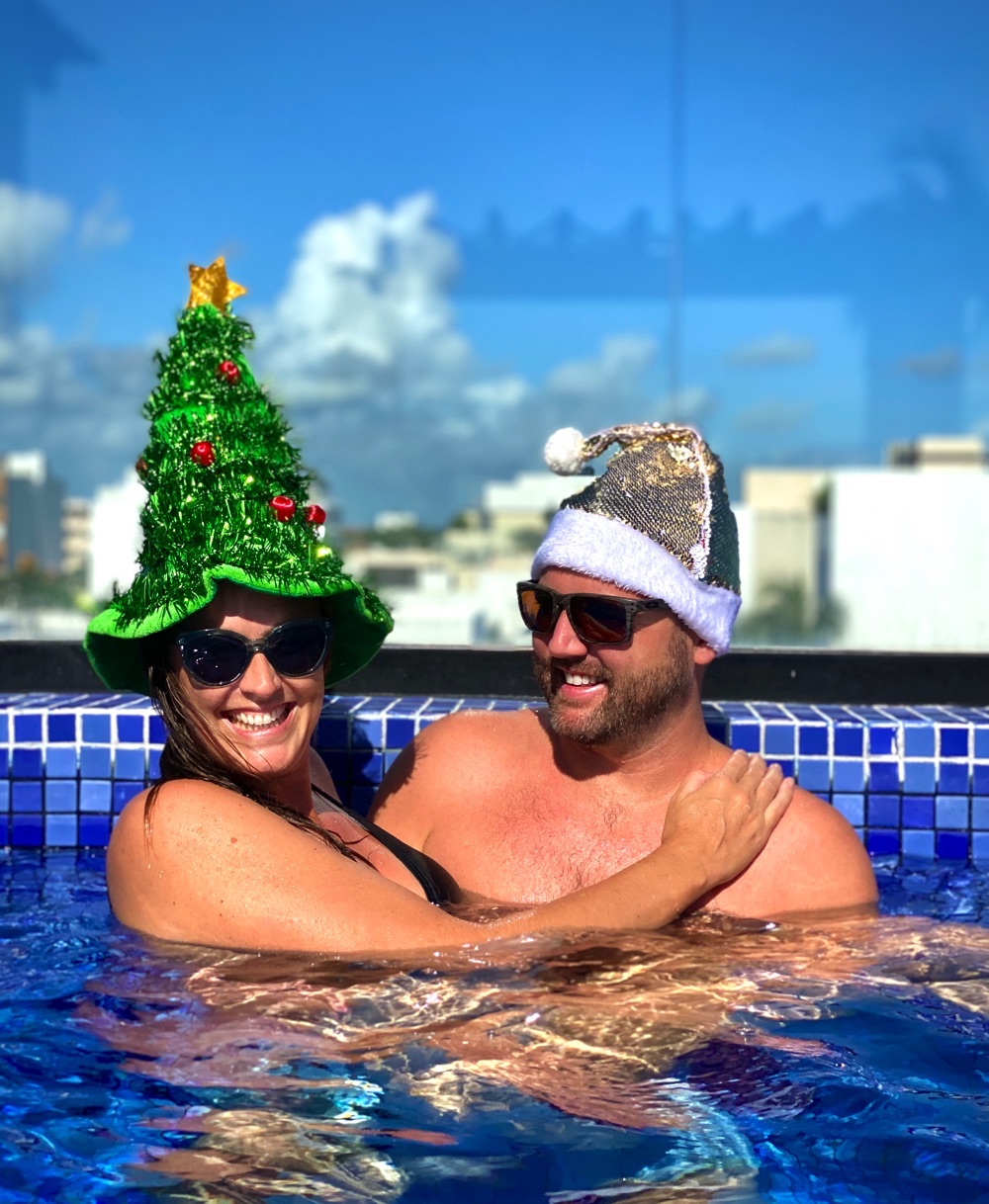 If you have any questions about travel, working remotely, or living abroad, please feel free to send us an email. We'd love to hear from you.
Wishing you a safe, happy and healthy 2021.
Dariece and Nick
Like This Article? Pin it!