In this post, I'm going to share with you the best equipment for vlogging. This is the gear we personally use or plan to upgrade to.
We've been vlogging and travelling for nearly 10 years, since cameras were barely over 5 megapixels, the smartphone was barely invented and you'd be hard-pressed to find a backpack to carry all of it.
We've purchased numerous drones, cameras, action cameras, and carrying cases over the years, and in this post, we're going to break down the best equipment for vlogging while travelling.
We've already covered how to travel with a drone in previous articles and videos, but we actually carry a lot more kit than just a flying camera. A lot of people have been asking us on Our Youtube Channel about what cameras we're using, how the videos are stabilized, what editing software we use and how we get aerial footage.
In this article I'm opening up my electronics bag and showing you guys exactly what's inside so that if you're planning to become a YouTuber, a Vlogger or you just want to make cool travel videos, you can get an idea of the gear involved.
UPDATED 2021:  This post was updated in August 2021 to include new technology, storage, and software.
Disclaimer: GoatsOnTheRoad.com is a participant in the Amazon Services LLC Associates Program, as an Amazon Associate we earn from qualifying purchases. Please see our Privacy Page for more information.
The Bag
Weight: 1.76kg (3.9lbs) Empty
Size: 28 liter
This is the ideal bag to keep your vlogging equipment like your drone and camera gear dry and safe no matter how crazy your travels get.
This bag seals up completely air-tight which means if you're wading waist-deep in the Amazon Rainforest or just caught in a massive rainstorm, your gear will remain dry and safe.
The bag itself isn't padded (and don't mistake it for a cooler), but these days most drones and cameras come with their own padded bags anyways. This bag is there to keep things dry and it's one sturdy backpack.
At around $300, it ain't cheap, but when you see the build quality you'll know it's worth it. I just had mine arrive in the mail last week and I can tell already that it'll survive anything I throw at it. I'll update this post once I get some heavier use out of it!
The Gimbal
Weight: 458g (1.01 lbs)
Size: 3.62 x 4.21 x 10.55 inches
In my previous list of the best equipment for vlogging, I recommended a third-party gimbal made by a company called Feiyu-Tech, but these days it's best to just go with the gimbal that's actually made by GoPro, for your GoPro.
If you want to stabilize your point-and-shoot camera or DSLR, I'd go with the DJI RS2 or the DJI Ronin SC.
For mobile phones, I recommend the DJI Osmo 3 Gimbal which is the newest model as of August 2021.

The Cameras
Weight: 60 grams
Size: 9.08 x 5.42 x 3.25 inches (no case)
In my opinion, this is the best action camera for vlogging on the market. I also have the HERO7 Black, but the 9 Black is a killer thanks to the front facing selfie screen and additional shooting capabilities.
This thing can shoot 5K video and take beautiful 20mp photos. Plus the image stabilization on it is so good that you basically don't need a gimbal anymore. You really can't go wrong with any newer GoPro, but as of 2021 when this post was written, the Hero9 Black is the cream of the crop.
Weight: 10.7 oz (302 g)
Size: 4″ x 2.29″ x 1.68″
I have this camera and I use it all the time in my videos. I've gone through the Canon G7X line of cameras as well as the Sony Nex line and I finally fell on this camera which I absolutely love.
If you want to shoot in crisp 4K and always have your subject in focus, even adding that sexy blurred background, then this camera is for you. This is currently the top-of-the-line point-and-shoot 1-inch sensor camera in the Sony lineup and it's a beast.
The biggest upgrade over previous models? The super handy audio-in jack for mics.
It's incredible that you can get near-cinema quality video and decent (not the greatest) photos in the palm of your hand.
The Mic
Weight: 22.6 grams
Size: 4mm Mic Jack
Costing just around $25 and sounding incredibly clear for the price, this is a great mic for travel vloggers on a budget. You can get an extended cord and use it as a lapel mic, or you can just plug it into your RX100 VII or another camera that has a mic jack.
If you're looking for professional audio, then you'll definitely want to go with a Rhode Wireless Lapel Mic, but for the budget video creator, the Saramonic Mic will do fine.
The Drone
Weight: 249g (8.8 ounces)
Size: 7.44 x 5.2 x 9.92 inches
It blows me away how far drones have come since I purchased my first Phantom 2 nearly 8 years ago. My latest purchase was the Mavic Mini and since I bought that one, they came out with the Mavic Mini 2 which blows the first Mini out of the water.
Somehow DJI has managed to pack a 4K camera and some incredible photo shooting capabilities into a 249g package, meaning it's below the FAA restrictions so you can fly it without a license or permit in pretty much any country around the world (though you still can't fly in national parks, etc.).
If you want an incredibly powerful drone that takes near-cinema quality video and beyond-Instagram-worthy photos, then this is the drone for you.
Note: Drone laws are becoming increasingly strict. In some places, you're simply not allowed to fly the drone, while others require a licence. However, the only place we have had an issue so far is in Italy (Rome). On April 1st, 2016, the FAA laid down some new (and warranted) laws against flying in airplanes with LiPo batteries.
You should always carry these flammable batteries on the plane with you to avoid having them explode in the luggage compartment.
Put them in a LiPo Battery container and make sure they're not charged or connected to your drone while flying in an airplane. This will ensure a smooth ride through the security at the airport.
UPDATE 2021: In most countries, you are now required to have a license and permit if you're flying any drone over 250 grams. This is the only 4K drone that I know of that falls below this limit.
The Tablet(s)
To use the drone, you'll need a smartphone or tablet. I wouldn't go any smaller than the 5.5″ screen size of the iPhone 6 Plus because you need to see detail in the photos and videos that you're shooting from the sky.
The iPad Mini is the perfect size, but the Mini 2 and below is actually too slow to properly process the video feed from the drone. I recommend getting the Mini 3 ($298) or Mini 4 ($337) because in my experience, the Mini 2 is just too choppy and pixellated.
The iPhone 6s Plus has a fast enough processor that easily runs the DJI software and streams the video smoothly, but it's still a bit small. If you have an iPad Mini, I think it's the perfect screen size. Otherwise, the iPhone 12 Pro Max is the current perfect phone for the setup.
The Laptop
Weight: 2.06 kg (4.5lb)
Size: 0.95 inch (2.41 cm) x 12.78 inches (32.5 cm) x 8.94 inches (22.7 cm)
The new standard in processing power is the Apple M-Chip. Currently only the 13-inch 2021 Macbook Pros have this, but I'm pretty sure there will soon be a release of a 15″ model which will be my next upgrade.
I currently have a 2019 15″ Macbook Pro with the older Intel Chips in it and with 16GB of RAM it's good enough for editing 1080p video without any buffering time at all. When I upgrade, I'm hoping I can get the new 15″ M-Chip Macbook Pro with 32GB+ of RAM.
The Cords
GoPro – USB-C & Wall Plug (Universal USB)
RX100 – MicroUSB (Universal USB)
Gimbal – MiniUSB & Wall Plug (Universal USB)
Drone – USB-C 100-240V Wall Plug (400g)
iPad Mini 5 – Lightening (Universal USB)
iPhone 12 Pro Max – Lightening
Macbook Pro (USB-C + 100-240V Wall Plug)
One of the most annoying things about carrying around so much gear is the tangled mess of charging cords that goes along with it. I picked up a couple of universal USBs on Amazon for $8 each to help with the clutter, but I'm still waiting for Zap-Tips to come available to really help the problem.
All together the cords weight around 500 grams and take up about 100 cm² of space in my bag.
The Software
For editing, you really can't go wrong with Final Cut Pro. I also use Adobe After Effects and Motion 5 from time-to-time, but my go-to editing software is Final Cut. I've been using this program since I was 14 years old and I know it pretty well. The interface is easy-to-use for beginners and pros alike and I love it.
Although there are many issues with Apple products failing, like so many other Apple users, I'm so used to the products that I have no choice but to stick with them.
Either way, I wouldn't trade in my Macbook, iPhone and Final Cut programs for anything else because they're easy-to-use and indispensable.
If you're serious about photo editing, you'll probably want PhotoShop or at least Lightroom. If you're an Adobe fan overall you'll probably also edit your videos with their products like Premier Pro and After Effects (I prefer and recommend FCPX above).
I have just recently subscribed for 6 months to Pond 5 and they have a ton of great footage and images. I've not had a chance to dive too deep into it so far, but I found some clips of some pretty rural places that I didn't think there would be footage for.
You do have to pay to license the footage and you have to buy a membership. I'll report back and let you know if it's worth it.
This is the most useful tool online and is well worth the upgrade to the Pro Version for the extra features and the incredible selection of royalty-free images and video clips.
If you want to make YouTube Thumbnails, Pinterest share images, or just edit up some beautiful graphics or logos, you should definitely have Canva.
Tutorials
Even though I've been editing and producing videos for nearly 20 years on and off, I am still learning so much every day. This isn't really "in my bag", but it definitely plays a part in my video creation. Some of my favourite online video creation tutorials and YouTube Channels include:
Total Package, Weight & Size
Weight: 4.8kg
Size: 27x34x52cm
All in you can have the Panga Bag with all of these things inside and still be under the carry-on limit for weight and size on most airlines. This weight has gone down more than half since I first wrote this post and was carrying a Phantom 2 drone, a Nex-6 Camera and basically everything else I owned was heavy.
The best equipment for vlogging these days is about 50% lighter than it was just 8 or 9 years ago. This is an absolute game-changer for travel vloggers or those who move around a lot with their videography gear.
There You Have it!
That's literally everything in my electronics bag. It fits in pretty snug without being crammed in any way, and other than my Nex-6, I love every bit of it.
If you're planning to make some epic travel videos, you obviously don't need all of this gear, but it gives you a good idea of what we have and hopefully gives you a few ideas for what you want to travel with on your next trip.
This is of course my job, so there's a pretty substantial amount of kit here, but anyone can start making great videos with a GoPro, a gimbal and a mic.
Like it? Pin it! 🙂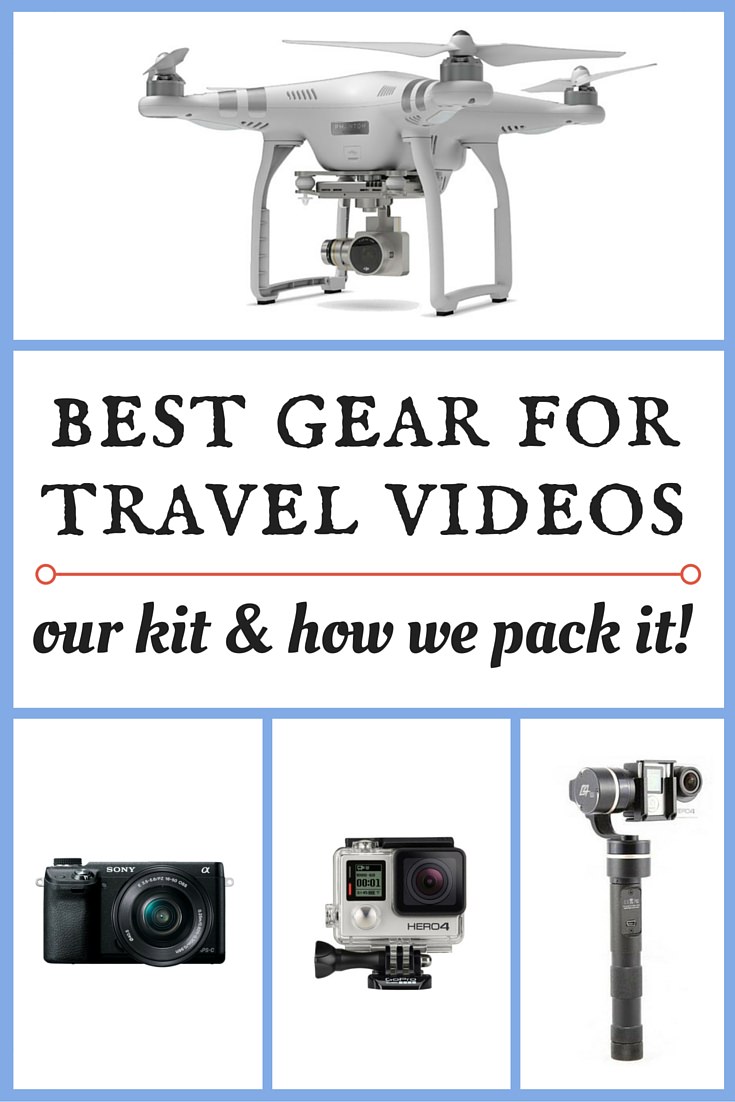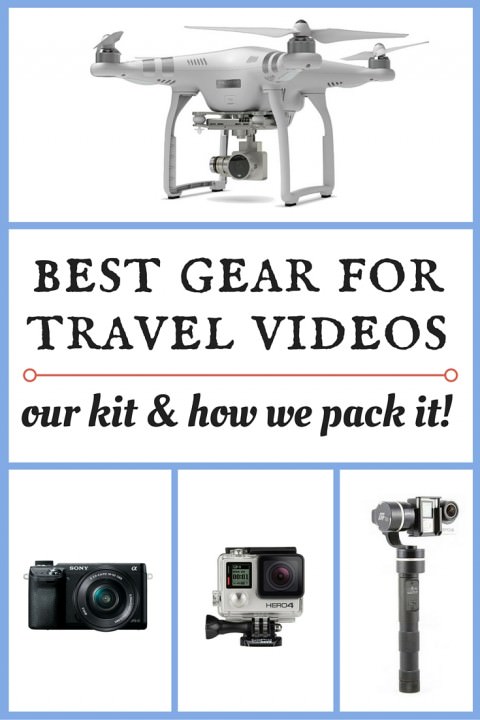 What's your favourite travel video gadget, backpack or software? Please share with us in the comments below.
Disclaimer: Some links in this article are affiliate links, meaning the Goats get a small commission if you end up buying something from the links on this page. It doesn't cost you anything extra and we really appreciate the support!