On this page, you'll find all of our posts about traveling in Malaysia as well as some useful travel tips for the best time to visit, where to go, things to do, and more. If you're planning on traveling to Malaysia, you've come to the right place.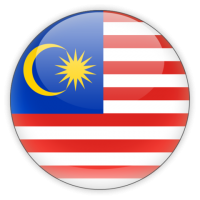 Malaysia was one country that surprised us during our travels in Southeast Asia. We've spent more than two years in the area in total and every time we returned to Malaysia, we're reminded of just how unique this country is.
It's a place of contrast; where you can hear the mosque's call to prayer in the morning and sip cocktails at a fancy nightclub in the evening. Where you can trek through the jungle one day and sit on a beach the next. You'll learn the conservative nature of the local people, and yet when you meet them personally they seem to be quite progressive.
Malaysia is one of the most visually striking countries in Southeast Asia. It has a bustling capital (Kuala Lumpur), thick clouded forests of the Central Highlands, and fantastic islands bobbing in crystal clear waters off of pretty much every coastline in the country. Top this with fantastic diving, and Malaysia is dressed to impress visitors.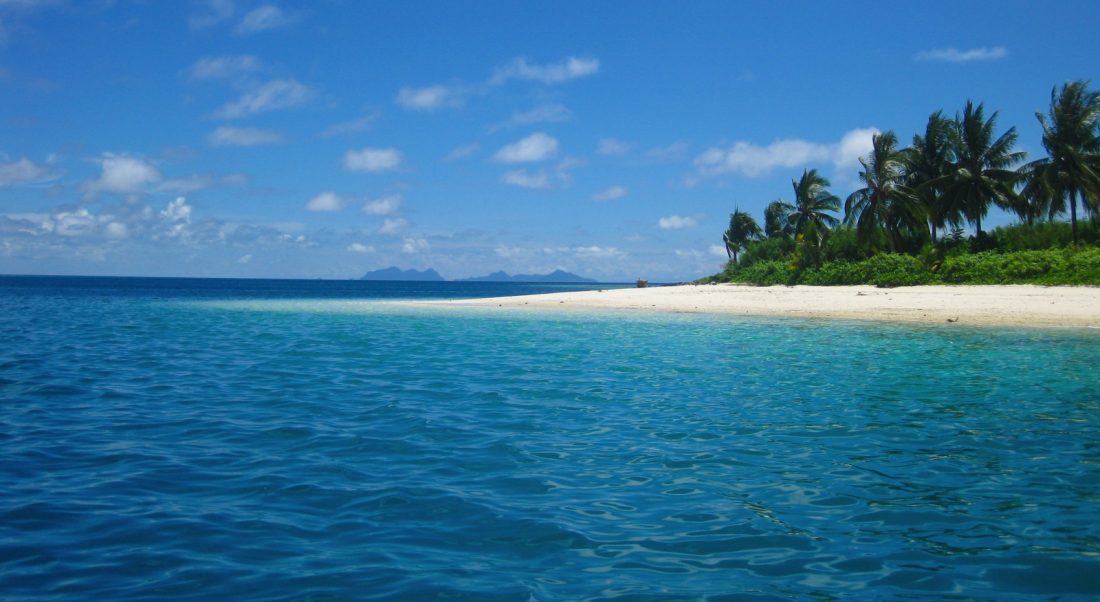 Malaysia is roughly split into two sections. Peninsular Malaysia, which only shares one land border with Thailand, but coastal borders with Singapore, Vietnam, and Indonesia, and East Malaysia (Borneo).
Its geographic position lends to a variety of wildlife with many populations of endemic species dotted around the country. Malaysia has so many animals that are unique within its borders, that it's actually been listed as one of just 17 Megadiverse countries in the world.
Needless to say, whether you're in Malaysian Borneo, in the Central Highlands of Peninsular Malaysia, or diving in Sipadan, there are few places in the world that offer better wildlife wonders.
Latest Malaysia Blog Posts
Below, you'll find all of our latest Malaysia travel blog posts which include not only our personal travel stories and experiences from traveling Malaysia for more than 2 months, but some useful travel information to help you plan your own trip to the region too.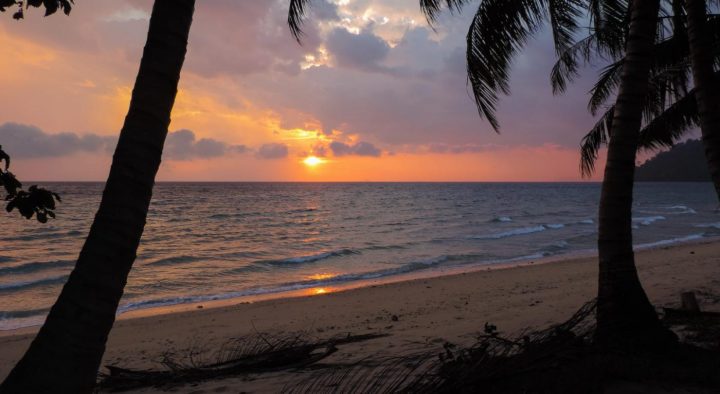 Malaysia is well known for its iconic Petronas Towers and glitzy capital city, but there's a lot more to the ...
Plan Your Trip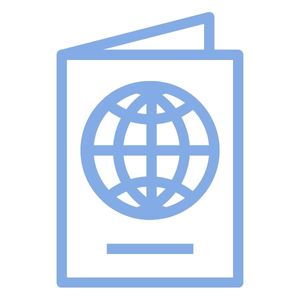 Visa Requirements
What you need to enter the country and travel for the duration of your intended trip.
Places To Visit in Malaysia
Malaysia is a Southeast Asian country that's best known for its diverse culture, cuisine, and natural beauty. There are many amazing places to visit in Malaysia, but here are five of the must-see spots: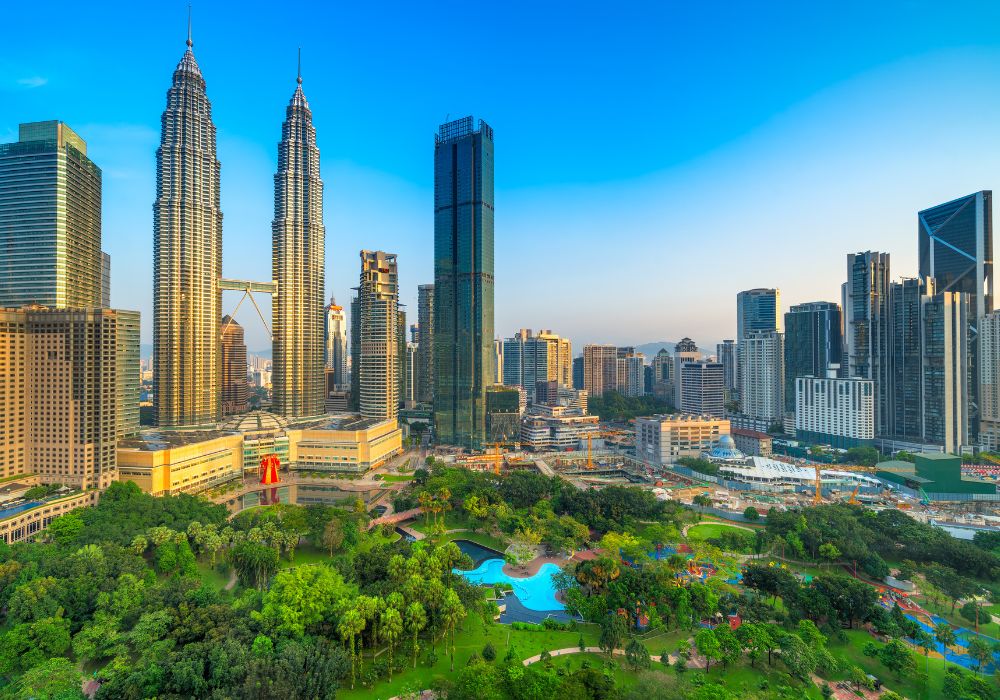 Kuala Lumpur: The capital of Malaysia is a bustling metropolis with a mixture of old and new-world charm. We loved the variety of food in the capital and the overall buzz. There are plenty of things to see and do in Kuala Lumpur, from exploring ancient temples to shopping in trendy boutiques.
Penang: This island off the coast of Malaysia is renowned for its foodie culture and stunning beaches. Penang is also home to some beautiful colonial-era architecture.
Cameron Highlands: If you're looking for some cool mountain air and lush landscapes, then head to the Cameron Highlands. This area is home to tea plantations, waterfalls, and endless hikes.
Langkawi: Langkawi is an archipelago of islands located off the northwest coast of Malaysia. It's famed for its white sand beaches, crystal clear waters, and jungle trails…it's also a duty-free area, which means that alcohol costs much less than on the mainland.
Sarawak: Borneo's largest state offers visitors everything from rainforests to towering peaks and pristine coral reefs. If you're certified, scuba diving in Sipadan is a must. It's some of the best diving I've ever done.
Things To Do in Malaysia
From the mountains to the beaches, there are limitless activities and attractions to enjoy in Malaysia. Here are 5 of the best things to do in Malaysia:
Hike Mount Kinabalu: At 4,095 meters, Mount Kinabalu is the tallest mountain in Southeast Asia. The hike to the summit is challenging, but the views are most definitely worth it.
Explore Kuala Lumpur: This vibrant city is home to some of the best food and shopping in Malaysia. Be sure to visit Petronas Twin Towers and Merdeka Square while you're there.
Relax on a Beach: Malaysia has some of the best beaches in the world. Whether you're looking for a quiet beach to relax on or a party beach with nightlife, you'll find it in Malaysia. We loved Kapas Island, Perhentian Islands and Langkawi.
Visit a Temple: Malaysia is home to many beautiful temples, including the Thean Hou Buddhist Temple in Kuala Lumpur and the Batu Caves near Kuala Lumpur. These temples are a must-see for anyone visiting Malaysia.
Go Shopping: Malaysia is known for its amazing shopping, especially when it comes to bargains. Be sure to visit some of the popular shopping districts such as Bukit Bintang and Chinatown while you're in Malaysia.
Cost of Travel in Malaysia
The cost of travel in Malaysia varies depending on your budget.
Some of the cheapest and most popular ways to travel around Malaysia are by bus and train. A bus ticket from Kuala Lumpur to Penang, for example, costs around RM60 (US$13) and a train ticket costs around RM100-120 (US$22-26). Taxis are also relatively affordable, with fares starting at around RM15 (US$3.30) for short trips.
Accommodation is also affordable in Malaysia, with budget hostels costing as little as RM26 – RM62 (US$6-14) per night and midrange hotels coming in at around US$50 per night. However, you can expect to pay quite a bit more for top-end hotels, with rates starting at around RM375 (US$85) per night.
Food is also very affordable and of excellent value in Malaysia, with a meal at a cheap restaurant costing around RM10-15 (US$2.20-3.30) and a meal at a midrange restaurant costing around RM30-40 (US$6.60-8.80).
However, some of the best food in Malaysia can be quite expensive, with a meal at a top-end restaurant costing as much as RM200 (US$44).
Overall, the cost of travel in Malaysia is relatively affordable, especially if you stick to budget options. However, if you're looking for something a little more luxurious, there are some expensive options available if funds allow.
Budget ($25-$55/day): For budget travelers, Malaysia can be a relatively affordable country to travel in. There are many cheap accommodation options available, as well as a large variety of street food that can be enjoyed for relatively little money.
In terms of transport, buses are the cheapest way to get around, with fares often starting at just a few Ringgit. Budget travelers should, however, be aware that some destinations in Malaysia can be quite expensive, such as the popular island of Langkawi.
Midrange ($55-$100/day): Midrange travelers will find that Malaysia offers a good balance of affordability and luxury. Accommodation and food options are both varied and affordable, with midrange travelers able to enjoy some luxurious experiences if they wish. Transport is also relatively affordable, although it should be noted that renting a car can be more expensive than taking buses or trains.
Top-End: ($200+/day): For top-end travelers, Malaysia is a dream destination. Luxurious accommodation and dining options are available throughout the country, and transport can be arranged via private car or helicopter for those who desire it. Top-end travelers will find that they have access to some of the best experiences Malaysia has to offer.
Where To Stay in Malaysia
When planning your trip to Malaysia, you'll be spoiled for choice when it comes to accommodation options. From luxurious hotels to budget-friendly hostels, Malaysia has something for everyone.
Luxury Hotels: If you're looking for a luxurious experience, there are plenty of luxury hotels to choose from in Malaysia. The Ritz-Carlton, Kuala Lumpur is a five-star hotel located in the heart of the city. It offers stunning views of the Petronas Twin Towers and features luxurious accommodations and amenities. Another top choice is the St. Regis Kuala Lumpur, which offers guests exquisite rooms and suites, world-class dining, and excellent service.
Boutique Hotels: If you're looking for something a little more intimate, boutique hotels might be a better option for you. These smaller hotels offer unique character and charm, as well as high-quality amenities and services. Some of the best boutique hotels in Malaysia include The Majestic Hotel Kuala Lumpur, The Orient Express Hotel Penang, and The Andaman Langkawi Resort.
Apartments: If you're on a budget or want more flexibility when it comes to where you stay, apartments might be a good option for you. An apartment allows you to rent from locals, often at a fraction of the cost of traditional hotels. There are many Apartment listings in Malaysia, so you're sure to find something that fits your needs and budget.
Beach Huts and Bungalows: If you're planning on visiting the islands in Malaysia (and you should!), opt for a funky beachside bungalow with a hammock.
Hostel Rooms: Hostels are another great option for budget-conscious travelers. Hostels often offer private rooms with shared bathrooms and common areas. They're a great way to meet other travelers and save money on your trip. Some of the best hostels in Malaysia include The Backpacker KL Hostel in Kuala Lumpur and Flora Hostel in George Town.
Dorm Beds: Finally, if you don't mind sleeping in a shared room or don't mind roughing it a bit, dorm beds can be a great way to save money on your trip. Dorm beds are available at most hostels and guesthouses in Malaysia and can be an excellent way to meet other like-minded travelers.
Food & Drink in Malaysia
Malaysian cuisine is as diverse as the population of the country itself. A melting pot of Malay, Chinese, Indian, and indigenous flavors, Malaysian food is a vibrant mix of sweet, sour, salty, and spicy flavors.
One of the most commonly used ingredients in Malaysian cooking is coconut milk. This gives many dishes a rich and creamy texture. Asam (tamarind) paste is also frequently used, lending dishes a sour tanginess. Chili peppers are liberally used in Malaysian cooking, adding heat and flavor to curries, stews, and stir-fries.
Some must-try traditional Malaysian dishes include: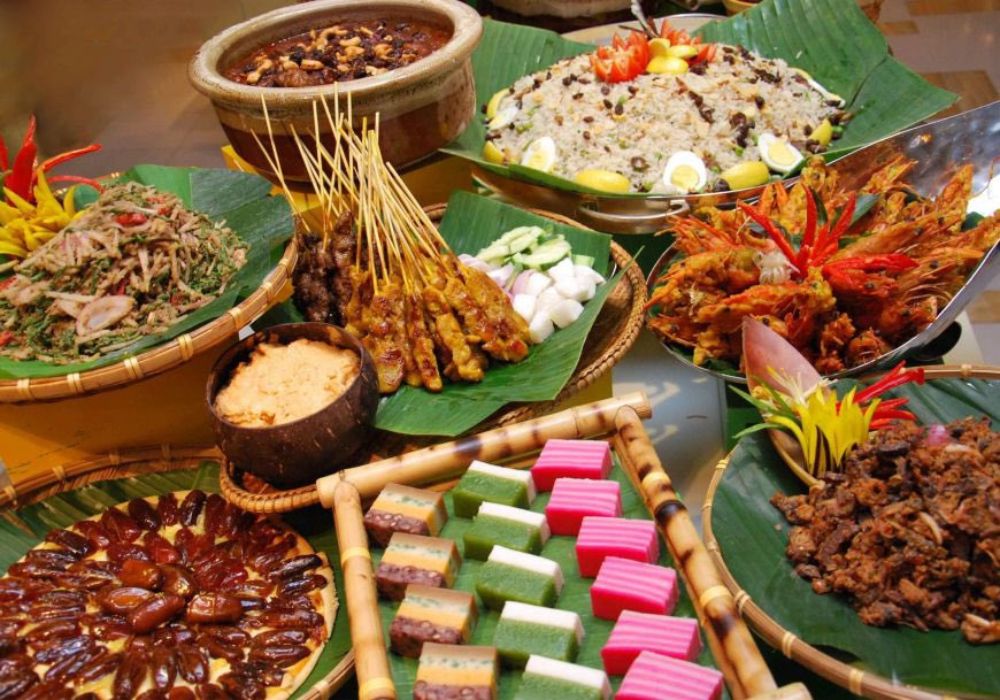 Nasi lemak: Steamed rice cooked with pandan leaves and served with anchovies, peanuts, cucumber, sambal (chili sauce), egg omelet, and curried chicken or beef.
Rendang: Beef or lamb cooked in a thick curry paste made from chili peppers, herbs, and spices.
Satay: These skewers of chicken, beef, or lamb are marinated in peanut sauce and grilled.
Laksa: A spicy noodle soup made with shrimp, chicken, and coconut milk.
Curry laksa: A slightly different version of the traditional laksa soup, that's made with curried chicken and potatoes.
Roti canai: A flatbread that's often eaten as a breakfast dish. It's typically served with a curry or dhal sauce. This was our go-to quick meal in Malaysia, it's so simple, yet so delicious.
Malaysia Travel Tips
Malaysia is a beautiful country with diverse culture and delicious food. If you're planning to visit Malaysia, here are some tips to make your trip more enjoyable:
Plan your trip ahead of time. This will help you avoid last-minute rushing and ensure that you have everything covered.
Learn a little bit of Bahasa Malaysia. Although English is widely spoken in Malaysia, it's always good to be able to greet locals in their native language and engage in some small talk. The language isn't tonal, so as English speakers, it's not overly difficult to learn a few words.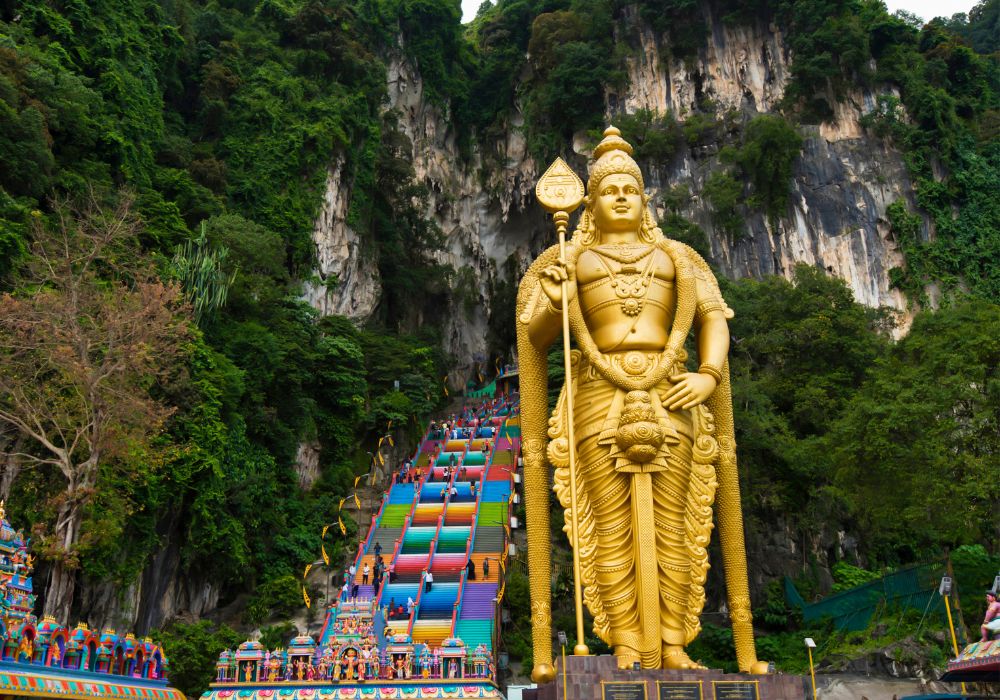 Know the customs. Make sure you're aware of the culture before visiting religious sites. Be respectful when visiting temples and mosques, and dress appropriately.
Eat your heart out. Try as many Malaysian dishes as possible! With influence from all around Asia, the food is a treat for travelers. From Nasi lemak to roti canai, Malaysian cuisine is sure to please your taste buds.
Be mindful of the heat. Drink lots of water and stay hydrated, especially during the hot summer months. Malaysia can be quite humid, so drink plenty of fluids to keep cool and avoid getting sick. With humidity also comes mosquitos and other insects, so don't forget to protect yourself with sunscreen and bug spray in equal measure.
These are just a few tips to help make your trip to Malaysia more enjoyable. With a bit of planning and preparation, you're sure to have an amazing time.
When To Travel To Malaysia
The Best Time To Visit: March -June
High Season: December – February
Low Season: March – June
March – May (spring), June – August (summer), September – October (fall), November – March (winter)
Malaysia has a lot of different elements that affect its weather. From the South China Sea on the east coast, and the Malacca Strait on the west, to the mountainous highlands, and the rain forests of Borneo, Malaysia sees a mix of weather depending on where you are in the country.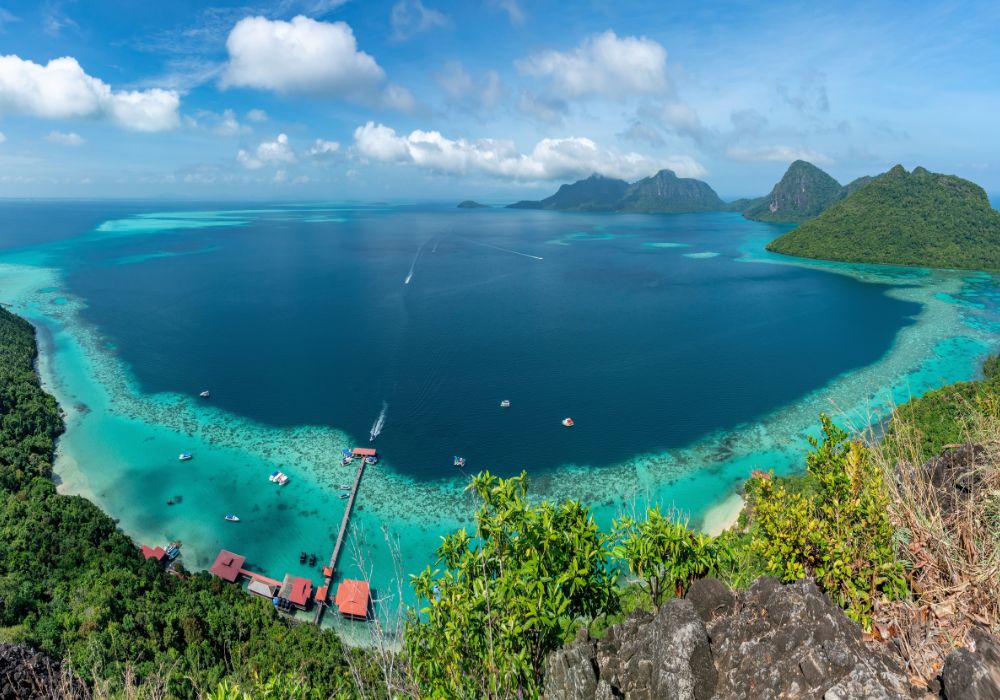 It's certainly a place well worth planning your trip around the weather.
The absolute best time to travel to Malaysia is between March and June, but that's not the only time to visit. High humidity and lots of rain in the wet season means that there are some times of the year that are worth avoiding.
Most of the crowds visit Malaysia between December and February which coincides with the closing of local schools and businesses as well. This season is a sunny time of year and is a great time to visit, but it will definitely be more crowded than the rest of the year.
Quick Weather Facts (According to Holiday-Weather.com)
Hottest Month: March (28°C / 82°F) Coldest Month: January (27°C / 81°F) Sunniest Month: September (8 hours) Wettest Month: November (290mm of rainfall)
We always love visiting Malaysia during the shoulder season between July and November; when the weather is usually sunny and dry (although there are still frequent, but short showers).
Getting Around Malaysia
When it comes to getting around Malaysia, there are plenty of transportation options available. Planes, trains, buses, and taxis are the most popular, but there are also ride-shares, rental cars, and private drivers available. Let's explore each option in more detail.
By Air: Plane is the quickest way to get around Malaysia, with flights between major cities taking just a few hours. However, it can be expensive, especially if you're flying between smaller towns or villages.
By Bus: This is probably the most popular way to get around. Buses in Malaysia are efficient, affordable and cover most of the country. When you're in Borneo, taking buses is popular as well. This is how we chose to get around Malaysia and never had any issues.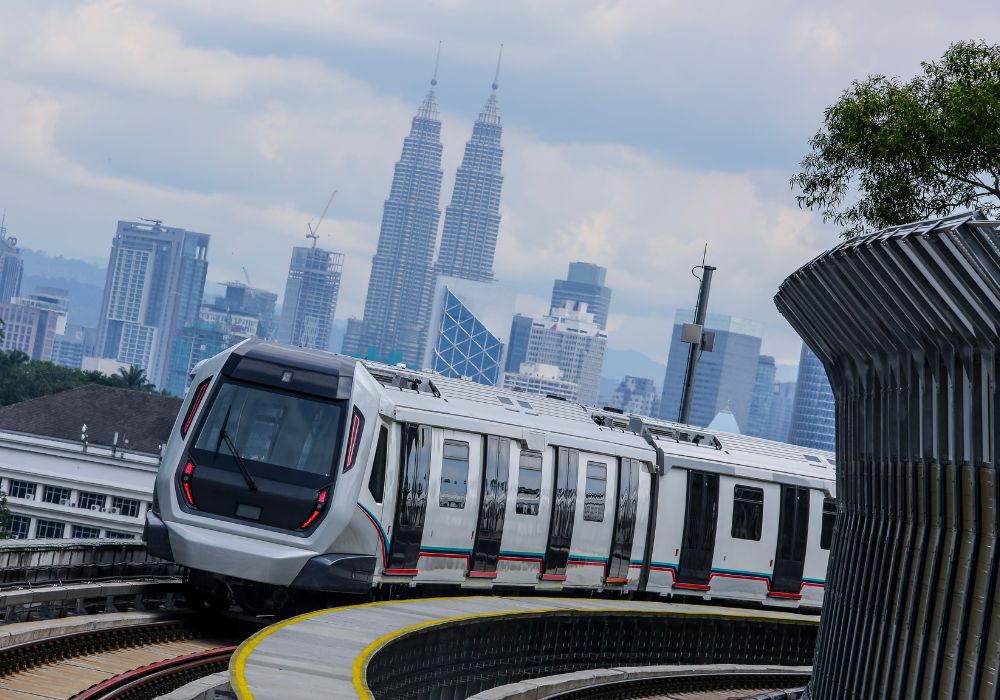 By Rail: Trains are a cheaper option and can be a great way to see the countryside, but journeys take longer than those by plane. Buses are the cheapest way to get around Malaysia, but they can be quite slow and often crowded.
By Taxi: Taxis are convenient for shorter trips within cities, and ride shares like Uber and Grab are becoming increasingly popular for longer trips.
By Rental Car: If you're looking for a rental car, there are a number of well-known companies available in Malaysia, including Avis, Budget, and Hertz. Most of the larger airports have rental car desks, but it's also possible to rent cars from some of the larger train stations and bus terminals.
By Private Driver: Drivers can be hired privately for shorter trips or for longer journeys across the country. Just be sure to negotiate and agree a price before starting your journey.
So, what's the best way to get around Malaysia? It really depends on your budget and your travel plans. If you're short on time and want to see as much of the country as possible, then flying is the best option.
If you're on a tight budget or have more time to explore, then the train or bus might be a better choice. And if you need flexibility or want to avoid long drives, then renting a car or hiring a driver may be the best option for you.
Malaysia Entry Requirements
All visitors to Malaysia must have a passport valid for at least six months. Tourists from some countries will need to obtain a visa before arrival, but most visitors are granted visa-free entry for 90, 30, or 14 days respectively. These countries are broken down with their respective times below:
90 Days:
European Union All EU citizens
Albania
Algeria
Argentina
Australia
Bahrain
Bosnia and Herzegovina
Brazil
Canada
Cuba
Egypt
Iceland
Japan
Jordan
Kuwait
Kyrgyzstan
Lebanon
Liechtenstein
Maldives
Morocco
New Zealand
Norway
Oman
Peru
Qatar
San Marino
Saudi Arabia
South Africa
South Korea
Sudan
Syria
Switzerland
Tunisia
Turkey
Turkmenistan
United Arab Emirates
United Kingdom1
United States
Uruguay
Yemen
30 Days:
14 days
Iran
Libya
More Posts About Malaysia
Travel Resources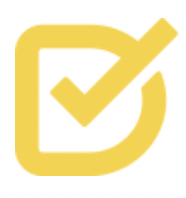 DiscoverCars
Discover Cars searches across all the main car rental sites and finds the best deal. Opt for full insurance coverage for more peace of mind and enjoy the freedom of a car.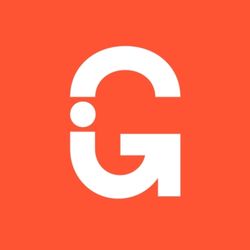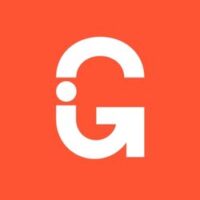 Get-Your-Guide
Our go-to website for booking tours around the world. Get-Your-Guide has a massive library of cool local experiences in almost every country.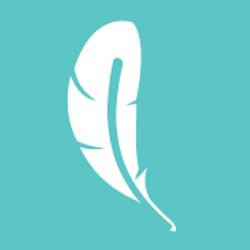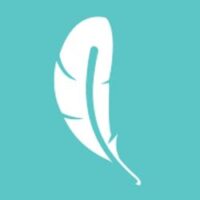 SafetyWing
The best travel insurance for full-time nomads by far. Get awesome rates, and excellent coverage, and sleep easy knowing you're insured against COVID.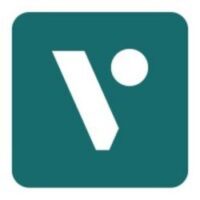 Viator
Another excellent tour booking engine that's better for available tours in the US. Viator also has great local experiences around the world.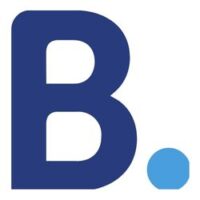 Booking.com
Our top choice for booking hotels and hostels, Booking.com is the easiest-to-use accommodation booking engine and often has the best prices on hotels.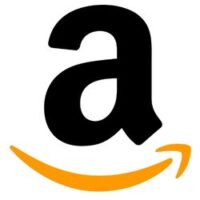 Amazon Gear
Anything from backpacks and luggage, to AirTags and guidebooks, you'll find everything you need for travel on the Amazon store.