We've travelled and lived in Mexico on numerous occasions, visiting everywhere from Guanajuato and Mexico City, to Valladolid and San Cristobal de las Casas – and many places in between. We love how no trip to Mexico is identical, and how each state offers unique and wonderful regional specialties, cuisine and culture.
Mexico is without a doubt, one of our favourite countries in the world. We have many friends here and find ourselves returning time and time again. It feels like our second home.
This was our first time in the State of Colima and as I sit here in our apartment in Manzanillo, we have just 6 days left in this Pacific coast city, a place we've called "home" for the past 6 weeks, I'm finding it difficult to sum up our time here, as our entrance into the city was a mess (24 hour journey from Japan, lost luggage for 6 days, etc.) and during our stay here there was a lot of uncertainty regarding…well, everything.
Although Manzanillo isn't known for being one of the best places to visit in Mexico, in this article, I'll share our personal experiences living and travelling in Manzanillo including how we felt, where we ate, what we did, and where we stayed. Read on to learn if Manzanillo Colima is right for you.
Manzanillo & The State of Colima
Colima State is one of the smallest in Mexico, and has the lowest population. Known for its mountains, rivers, beaches, lagoons and 2 volcanos (Volcán de Fuego, which is active and the Nevado de Colima, which is inactive), Colima State is a place that hasn't really been discovered by tourists.
It's not built up whatsoever and you'll find that outside of major holidays, you have the place pretty much to yourself.
Manzanillo is the main beach city, and is probably the only place that tourists know about in this state! It is spread out along 2 main bays: Santiago and Manzanillo, plus "centro", which is mostly the harbour area.
☞ SEE ALSO: Things To Do in La Paz, Mexico – A List of The Top 21
Bahía de Santiago
This is the most northern area of Manzanillo Colima, and is the place you'll want to spend most (all?) of your time. This bay is pristine with hard-packed, blackish sand perfect for long, relaxing beach strolls.
During our 6 week stay in December – January the ocean itself has been calm except for 3 days when there were a few crashing waves. Swimming here is easy and it's a great place for all ages.
Near the center of the bay, you'll find Playa Miramar, which during the high season (winter months) has many tables with chairs and umbrellas. The little restaurants here serve up typical beach fare – ceviche, seafood, tacos, nachos, beers, etc. This area is where you'll find many Mexican tourists and Manzanillo locals as well.
Further north up the bay is Club Santiago. This is a lovely gated community (we usually don't enjoy these), with cobblestone streets, Mexican styled homes and condos, and the highlight – Oasis Beach Club. This is a great place to spend the day.
We've spent a considerable amount of our time in Manzanillo Colima at this beach club. Why? The food is consistently fresh and delicious (lunch from 130 pesos, snacks from 50 pesos, dinner from 180 pesos) and the setting is stunning.
It's a bit of an older crowd here with many gringos showing up for happy hour and 2 for 1 days, but there are also some Mexican families and couples at the club as well. Umbrellas, tables and chairs are available right on the sand, and the service here is amazing. You can also rent paddleboards (which is one of the best things to do in Cancun as well), get a massage or come by for happy hour on Tuesdays and Fridays.
Further north along the sand, about a 5-10 minute walk from Oasis, you'll see Playa la Boquita which has more tables, chairs and umbrellas. This is where more locals will hangout, complete with soccer (football) games, loud music and large groups. It's also where you can rent jet skis and book boat trips around the bay.
I highly recommend Santiago Bay. The beach is amazing and outside of the Christmas / New Year holiday time, it's practically empty. This is probably the best beach we've seen in Mexico.
⇒ See Also: Things To Do in Mazatlan – A Guide For Travellers
Bahia de Manzanillo
Manzanillo Bay is the central beach that we are staying on in our Airbnb. It's also the bay which is home to the large Barcelo all-inclusive resort. The beach here has less compact sand, and is rougher that Santiago – but, it makes for great exfoliation while walking! The sunsets here are spectacular and you can see them actually hit the ocean (in December and January anyways).
Oftentimes there will be large cargo ships parked out in the bay, and if you're lucky, you may see a humpback whale or two. In fact, whale watching is a popular activity in other parts of Mexico and if you find yourself in the Baja, this is one of the top things to do in Cabo San Lucas.
Along the beach you'll see some condos for rent and some restaurants as well. There's no shade on this beach, and there are no beach bars, restaurants or vendors on the sand. The swimming here is considered dangerous due to strong tides and it's more of an "open" bay than Santiago is.
I recommend heading to this beach for sunset, or eating a meal at La Huerta restaurant while the sun dips into the ocean.
Centro (The Harbour)
This is the industrial port area of Manzanillo. There are cruise ships, cargo ships and sailboats that all dock here. However, unlike most Mexican cities which have a beautiful plaza / meeting area in the central part of the city, and often a lovely church, this centro area isn't picturesque.
There is no real plaza, no Spanish colonial architecture, hardly any nice streets to walk along and the sidewalks and streets are congested and somewhat dirty.
Except for the boat and motorcross show that we were there to watch, we didn't feel like there was anything else to do here.
Because of this, and the fact that there's a lot of drug trade and trafficking around the port, I personally wouldn't recommend hanging around this area of Manzanillo too much – not to mention, there aren't any good restaurants.
Colima State Day Trips
We ended up doing a day trip to check out the city of Colima and the nearby attractions. While we weren't blown away by the actual city of Colima, we did enjoy the La Campana ruins which date back to 1500 BCE. They aren't as impressive as the ruins in the Yucatan, so make sure you visit Chichen Itza, which is one of the most popular things to do in Playa del Carmen.
The plaza in the city of Colima is very pretty, and you could also visit the nearby Colima volcano and the town of Comala.
If you haven't seen other cities of Mexico (Guadalajara, Mexico City, Guanajuato, San Miguel de Allende, Merida etc.), then you will probably enjoy the architecture of Colima. But for us, we've seen some incredible Mexican villages and cities and felt underwhelmed by Colima City.
*Note, many people use and recommend Danitours as a great way of seeing the recommended sites in the state of Colima. With a proper guide, you're likely to find more hidden gems of the region than we did independently.
Things To Do in Manzanillo
The first thing you should know is that there aren't a lot of things to actually do in Manzanillo. Unlike many other Mexican cities which have walking tours, food tours, numerous churches and plazas, historical sites, lots of bars, beach activities, etc., Manzanillo is more of a chill out on the beach sort of place…and that's all.
If you're into going to the beach every day, you'll be happy. But if you prefer to mix it up with tours and activities, you may be disappointed. (there are numerous things to do in Puerto Vallarta, which is nearby, check out our post here.)
Here's our list of things to do in Manzanillo Colima:
1. Visit Santiago Bay: This is the best beach in the area in my opinion! As I noted above, the food at Oasis Beach Club is great, but if you just want a drink, any of the small restaurants will do. During the high season you'll also find some small craft markets here and in Santiago Town, there's a Saturday market as well that you'll see when driving out to the beach.
Swimming here is safe especially near Oasis as it's more protected. Keep your eye out for riptides in the center of the bay and watch the flags on the beach – red meaning it's more dangerous for swimming. We swam for 2 months out front of Oasis and it was great, apart from one crocodile sighting…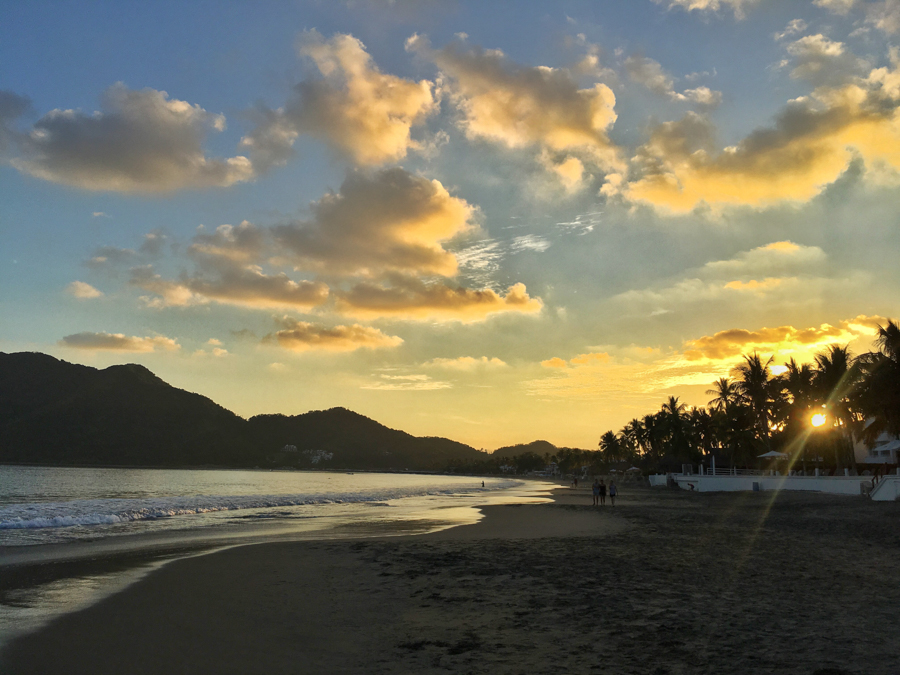 2. Watch Sunset: Each evening, I recommend heading down to Manzanillo Bay with a blanket (or chairs) and watch the sun dip into the water. We would always go down with our camp chairs that we bought at Walmart ($12 USD), a cooler ($5 USD) with some wine and food, and enjoy the view.
3. Day Trip to Barra de Navidad: Just about 1 hour or so north of Manzanillo Bay is the small town of Barra de Navidad. It's actually located in the Jalisco State which means you'll have to cross through a military checkpoint – no problem though, just tell them where you came from and where you're going. In the town you'll find colourful little buildings, lots of restaurants, a pretty beach, and a lagoon. Lots of snowbirds from North America stay here and although it's touristy, in hindsight we probably would have chosen this town to spend our time.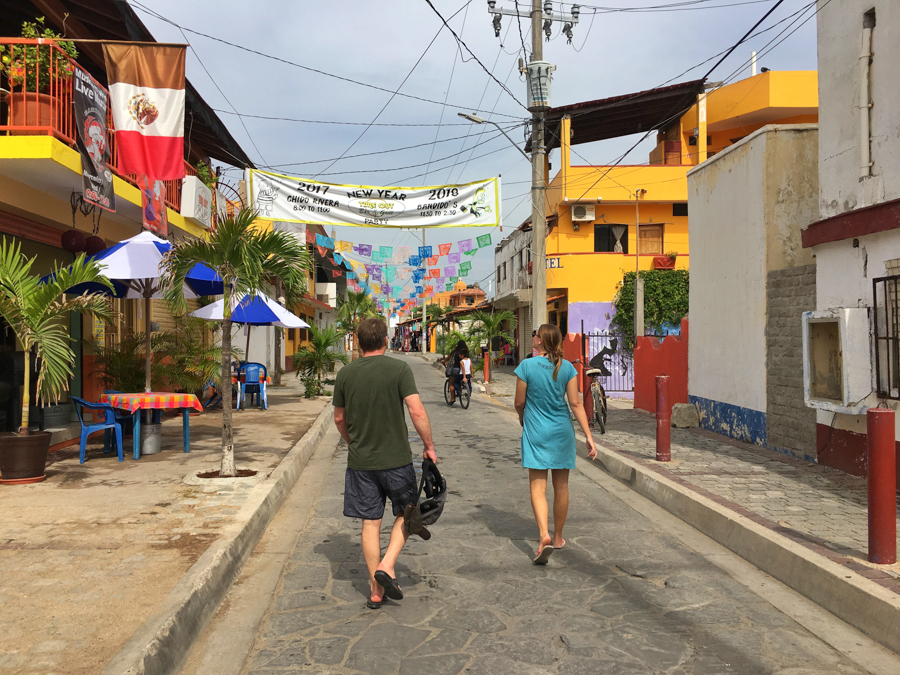 4. Melaque: After you visit Barra, continue north along the coast until you come to Melaque, which is on the same bay as Barra. This is another cobblestone town with lots of beachside restaurants and bars. Again, lots of Snowbirds live here in the winter. We prefer swimming at the beach here as it's a bit more protected and the water is calmer than in Barra.
5. Go Golfing: There are 2 golf courses in Manzanillo. One is Las Hadas Golf Club ($90 USD in the morning and $50 after 3:00pm), which is located just next to Barcelo Resort, and the other is El Corazon Golf Club further outside of Manzanillo.
6. Go to An Event: During the high season, Oasis Beach Club will often have some events on – a special Christmas dinner, a mariachi party night, a cowboy night, bocce ball game for charity, etc. As I mentioned earlier, the beach club is an older expat & tourist crowd and this is especially true of the "fiestas", but they're still a lot of fun.
The events will be listed at the entrance to the club. When we were here at the beginning of December, there was some Motocross and Champboat racing going on at the harbour. Check online or ask your hotel / host.
7. Try Surfing: The waves at Santiago Bay aren't huge, but they are good for those who want to learn. There's paddleboarding at Oasis, and further south near Playa de Oro Hotel, you'll see a surfing school with boards for rent.
8. Go Fishing: Manzanillo is famous for bill fishing and is home to an amazing billfish tournament that is entering its 65th anniversary in 2018. Even if you're not here for the tournament, there are plenty of tours, guides and boats that can take you out. Just make sure you go with a reputable guide who has high ratings and good reviews. This is also one of the top things to do in La Paz in the Baja.
9. Snorkelling / Diving: The diving and snorkelling around Manzanillo isn't going to compare to the amazing sea and coral life of the mesoamerican reef off the Riviera Maya, but there are some decent snorkel spots off the shore on Santiago Bay and further north. If you want to get to the best spots, it's best to hire a boat and head out. Boats can be hired from tour offices in town or there are sometimes men on the beach offering services. Also, the wait staff at Oasis Beach Club can help you organize trips through their own contacts.
For diving, Aquatic Sports and Adventures is the highest rated and most recommended dive shop in the area. I never went diving in Manzanillo, but if you choose to you might want to check them out first.
10. Go to a Movie: Ok, so we're reaching a bit here! Normally going to a movie wouldn't be on our list of things to do overseas, but as I said, there aren't many things to do in Manzanillo Colima, so the movies it is. There are 2 Cinepolis theatres here and you'll just have to check online or at the theatre to see which ones are in English. Some movies are dubbed in Spanish, while others will have Spanish subtitles (which is what you will likely want to look for).
Where to Eat in Manzanillo
As self proclaimed foodies, we struggled with the food here. Many restaurants served up sub-par meals, and if the food was good one time, it usually wasn't the second time. However, there are a few places that we found to have consistently good food. Check out these restaurants in Manzanillo:
Oasis Beach Club: Can you tell that Oasis is our favourite / most recommended place?! The breakfast, lunch and dinner menus here are affordable and flavourful. There's a proper chef in the kitchen, the food is fresh, well-seasoned, perfectly executed and most importantly, delicious. Every meal we've had here we enjoyed. Try the tuna "sushi" curricanes, shrimp tacos, caesar salad, roasted chicken, fresh fish fillet, breakfast burrito…it's all good. Menu is in English and Spanish.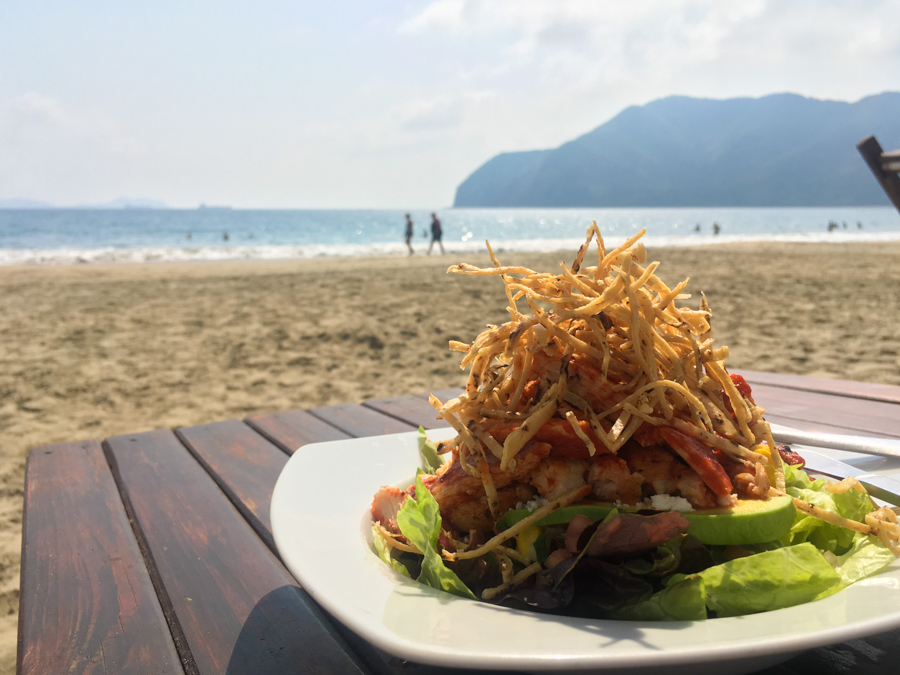 El Vaquero: This is a steakhouse with fun Mexican decor and tasty meat. If you're looking for steak or fajitas, this is the place to come. Most of the menu is beef (which they grill to perfection), but they also have chicken if you ask for it. You'll also find salads and a couple of fish dishes on the menu. The menu is in Spanish only. Click here for directions.
La Huerta: Our favourite restaurant / bar outside of Oasis, we visited this oceanside restaurant two times and both times the food was tasty and the service was excellent. Plus, with views over the water, you really can't beat the location. We had the fish fillet, sopes, ceviche and quesadilla and all were great. The menu is in Spanish. Click here for directions. Note: the restaurant has been renovated since the photos on TripAdvisor and Google – the decor is beautiful!
Taco Loco: If you're' looking for meat tacos, this is the place to come. Here you'll find amazing al pastor tacos, plus other "unusual" kinds such as brain, stomach, eyeball and more. This restaurant is very clean, the service is great and the tacos are cheap (around $0.50 each). the menu here is in Spanish. Click here for directions.
Mahalo: Another restaurant on the water. This Tiki style place has cool decor and good service. The food here is a bit hit and miss, but the garlic shrimps with rice and salad have never disappointed us. The menu is in Spanish. Click here for directions.
Cafe Bean: The location here isn't special, but the coffee is great! They have a large breakfast menu and I've seen people working from their laptops here. It's a busy place with friendly staff and good prices. The menu is in English and Spanish. Click here for directions.
Food Truck: Just next to Walmart you'll see a red pickup truck serving Mexican food. Tacos, quesadillas and tortas are what they mostly offer with your choice of meats. There's a selection of sauces and veggies to add to your tacos as well. The women running it are very nice and the food is so good! Tacos are around 11 pesos each.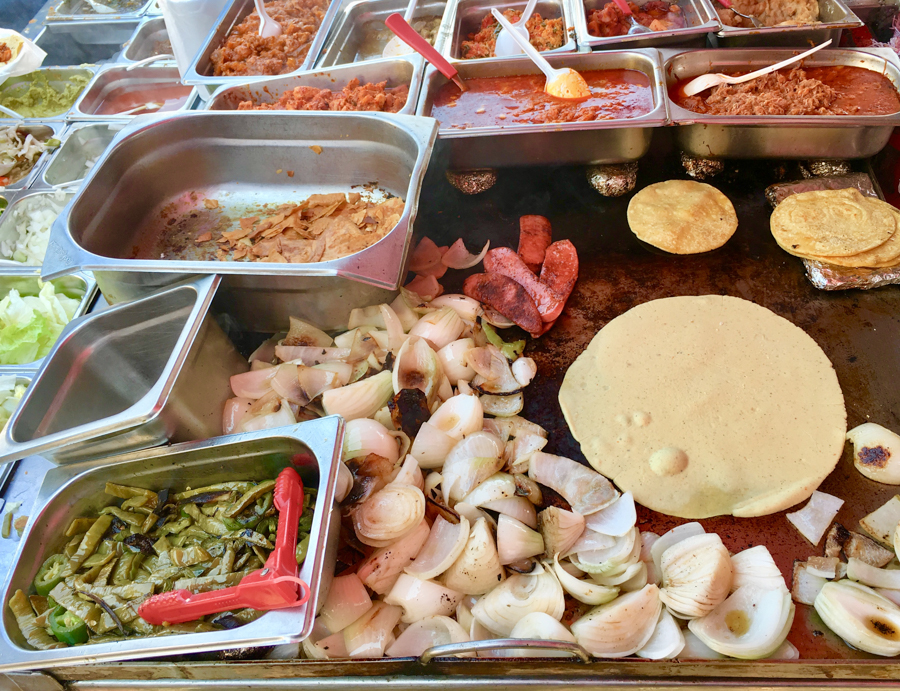 Taqueria Don Julio: Another good spot for typical Mexican fare – ceviche, tacos, quesadillas, tortas and more. Menu is in Spanish. Click here for directions.
Other Options: La Pergola Restaurant – some of our meals were good, others weren't. Toscana – Nice setting on the water, but so-so food. The spaghetti bolognese was pretty good, but nothing else was. Monster Burger – we didn't eat here, but the online reviews are good. Restaurante Juanitos – again, we didn't eat here, it's American owned and the reviews are good.
You'll also find some typical American chains such as Starbucks (a good place to work on your laptop), Carl's Jr., Pizza Hut, Burger King, Dominos and KFC.
Where to Stay in Manzanillo
We are staying on Manzanillo Bay in an apartment. It's worth noting that almost all of the buildings in this city are run down and aren't well maintained. The outside of our building and the neighbouring apartments look condemned, but thankfully the inside of our place is nice and bright.
Manzanillo Bay offers restaurants, grocery stores (Walmart, Sam's Club, Soriana & La Comer), a couple of gyms, the American chains I noted above and the movie theatres. You will also see sunset from this bay. However, this area is loud as it's right along the highway, and isn't the most secure area of Manzanillo Colima (more on that below).
If we were to return to this city, we would probably stay out in Santiago area and in particular at a condo or house in Club Santiago. It's so peaceful, beautiful, well-located and most importantly, secure. The only downside is you would have to drive into town to get your groceries when you needed them, and if you wanted to eat anywhere else from Oasis, you'd have to drive about 15 minutes.
We're all for living like the locals and have always done that during our travels. Meeting people is what it's all about, but here in Manzanillo Colima, I'd recommend staying at the Las Hadas peninsula or further out at Santiago.
Click here to sign up for Airbnb and receive $34 off of your first stay!
When searching on Airbnb, make sure to search for "Club Santiago" if that's the area you want to be in or look on the map to ensure you're near the Las Hadas Area. If you search for "Manzanillo", Club Santiago won't come up in the search results.
Shopping & Amenities in Manzanillo
If you're looking for a large shopping mall, you won't find one here. There are a few strip malls which offer some clothing and other items for sale. Check out Plaza Punto Bahia and the Marina shop for clothing and other household items.
Soriana, Walmart and Sam's Club have lots of household items, toiletries and clothing for sale…as well as food. And of course, there are lots of restaurants to eat at as well.
For wine lovers, there's a wine shop called Vinos America which offers some good wines from around the world – a much better selection than the grocery stores. Click here for directions.
If you need to get some laundry done, check out Lavandaria ON vip. The service is fast and it costs 15 pesos per kilo. Click here for directions.
For fitness, check out Capital Fitness Plus in the Punto Bahia mall. The equipment here is in good shape and the facilities are clean (according to reviews). Click here for directions and information.
Working Online in Manzanillo
For those wanting to work online while here, I recommend heading to Starbucks and Cafe Bean. The wifi isn't very fast, but it's free if you buy something. You could also work at the restaurant tables at Oasis and you really couldn't ask for a better office. There aren't a lot of plugins there however.
The best option is to purchase a SIM card and a data plan for your phone and tether your computer. Head to the TelCel shop to get this done. It's 200 pesos for 1GB of data, 1GB of social media and unlimited calling to Canada, the USA and Mexico. There are many packages available. Click here for directions to TelCel.
☞ SEE ALSO: Things To Do in Cabo San Lucas – A List of the Top 21
Transportation
Unfortunately in Mexico, if you want to rent a car, they will tack on a $15 – $20 (depending on your bargaining skills) per day insurance fee. No matter what it says on any rental site online, a further charge of $15 – $20 per day will be added to your fee.
We bargained with many of the rental companies on the phone before choosing one and ended up paying $21 / day including insurance with Thrifty. The car was rented over a period of 2 months, which is part of the reason we got such a good deal.
You can choose to take the bus around the city, which run up and down the main highway. It's around 5 pesos for each journey. The buses aren't in great condition and are normally packed with people, but it's a cheap and easy way to get around.
Taxis are another option in Manzanillo. It'll cost about 400 – 500 pesos to the airport and about 50 pesos from Manzanillo bay to Santiago Bay. It's best to flag one down on the street to get the best price.
Is Manzanillo Safe?
Before coming to Manzanillo, we couldn't find really any information from travellers on what it was like here. There was 1 article which was written years ago, another article from a blogger listing a few things to see and do, and some TripAdvisor reviews.
On top of that, most of the biggest travel publications like Lonely Planet didn't have a lot of nice things to say about the city:
Having now been here for almost 2 months, we've learned a lot from speaking with the locals – and from our own personal experiences and we've formed our own personal opinion about Manzanillo.
One of our Mexican friends who has lived in Manzanillo for 15 years said this of the city:
"I love other cities in Mexico, but Manzanillo isn't very beautiful. It looks like a highway truck stop and there isn't much to do here".
Another Mexican man told me that ever since he was caught in the middle of a cartel-related shootout three years ago, he hasn't felt safe in the city.
The past 3 years have seen a huge increase in Cartel activity in the Colima area, which is due to Manzanillo having the busiest port in Mexico. Not surprisingly, if you're a drug group, you're going to want control of this port. Just 5 days ago, the US Government travel website listed the States of Colima, Guerrero, Michoacan, Sinaloa and Tamaulipas as Level 4 – Do Not Travel (the highest level of warning).
We're not ones to "obey" what the government websites say, and if you've been following us for a while, you'll know that we've travelled to many destinations that the government travel websites have deemed "dangerous" in the past – such as Iran, Lebanon, Colombia, Egypt, Kenya, etc.
We always form our own opinions, do our own research, and gauge the situation before travelling. And each time, we've been perfectly safe.
During our 6 week stay here in Manzanillo, we heard sirens a few times so I checked the local Twitter page. What I found wasn't good news. There were 4 different shootouts (with deaths), a double homicide drive-by, 65 kilos of cocaine confiscated at the port, and instances of mutilated body parts found in car trunks with threatening letters just a few hundred meters from our doorstep.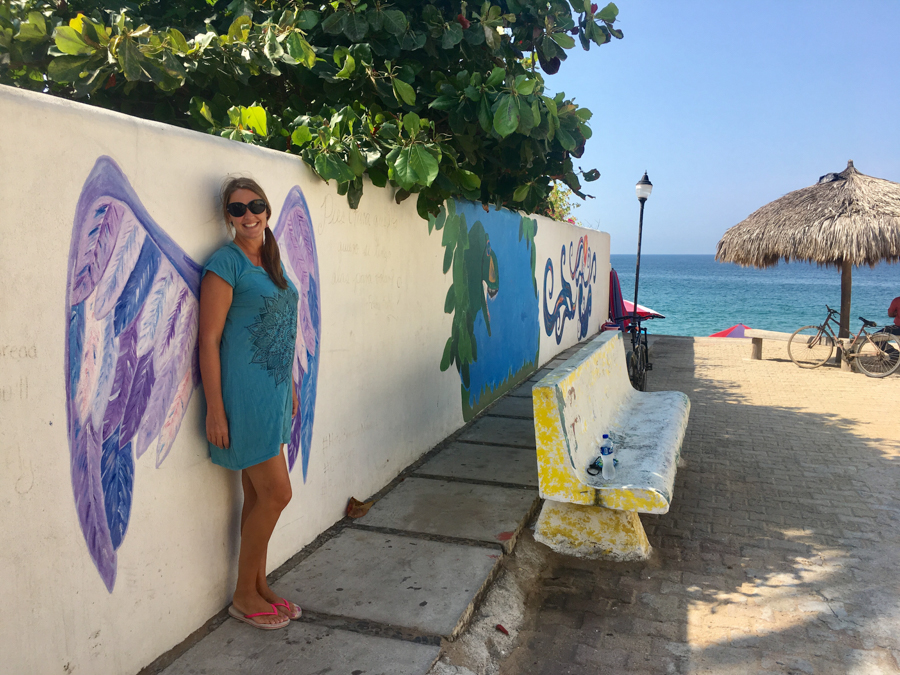 It wasn't like these horrible crimes were happening at night when we wouldn't be out, and it wasn't just nightclub activity, sometimes it was in broad daylight on the street. These drug-related things happened a little bit too close to our apartment, which made us feel uneasy during our stay here.
It's possible that this has been going on in other places that we have stayed in Mexico (or other countries) and we just didn't know about it, but the fact that we knew about these events wasn't a great feeling.
Despite all of this, there are lots of "Snowbirds" staying out in Santiago and Las Hadas and they're all enjoying the warm weather and beautiful beach. If you're a tourist staying at the resorts in the city, or if you're staying out at Santiago Club or Las Hadas, you'll likely not encounter any issues.
And, the drug cartels aren't after tourists, they're fighting with the other cartels for control of certain areas. The problem is, you don't want to get caught in the crossfire of their wars, or be witness to anything gruesome.
Why did we choose to come here and stay here?
Well, a family member is retiring here in Manzanillo due to great prices on condos right on the beach, and a nice (retired) expat community. We chose to make this our base because of this and had numerous family members coming down to see us.
All flights were booked and paid for, and all accommodation as well. We didn't know anything about the crime issues before we came, or the lack of activities available and we were excited to explore somewhere new.
So, we stayed in Manzanillo and we all made the most of it. And, apart from one aggressive man at a gas station, we didn't have any personal problems and made some wonderful local friends.
Even though there wasn't a lot to do, we had a great time at the Santiago beach, Barra Navidad, in centro during the events and enjoyed family and friends' company at our condos.
Would We Travel to Manzanillo Again?
If we had to do this trip all over again, sorry Manzanillo, but we would have stayed farther north in Barra de Navidad, Melaque or Puerto Vallarta. For the sake of our friends and family here, I truly hope that the crime rates decrease and something is done to help improve the security of the innocent locals.
I almost feel as though Santiago and Manzanillo, although very close to each other, are entirely different places. Had we chosen to stay out in Club Santiago or somewhere along Santiago Bay or Las Hadas, we would have likely had a much different experience.
Overall I would say that Manzanillo, or rather, Santiago, is a great place for a beach holiday or for retirees looking to escape the winters of Canada, but for digital nomads and longer-term travellers who are looking for culture, architecture, good food and lots to do, Manzanillo town itself probably isn't the best place.
If you're planning to stay longer than 2 weeks, I would have to say that Puerto Vallarta, Puerto Escondido or somewhere in the Yucatan Peninsula may be a better place. Plus they are all currently much safer than Colima State.
If you do plan to come to Manzanillo, try to find a place in Club Santiago or somewhere along Santiago Bay or Las Hadas. Rent a car for the duration of your stay and only head into Manzanillo city for groceries and the occasional night out at one of the restaurants in town.
Santiago Bay is one of the most beautiful beaches we've seen on the Pacific side of Mexico and many Mexicans from nearby Guadalajara (and further afield Mexico City) choose this place for their holidays — and rightly so. It's one of their closest coastal towns and there's a lovely beach at Santiago Bay, making it a good place for a 1 – 2 week beach holiday.
Of course everyone's opinion of travel destinations and digital nomad hubs are different, but we feel it's important that we're fully honest with you about how we felt in Manzanillo. We hope that no matter where you plan to spend your time in Colima, this guide will help you out.
Like This Article? Pin it!