The Meteora monasteries are unlike anywhere. During my last visit, I was blown away by the incredible beauty I found here. Learn the history, how to visit Meteora, and more in this article.
Nature is like an artist working on landscapes; using small brush strokes on a canvas, taking millions of years to paint, and yet the masterpiece is never completed.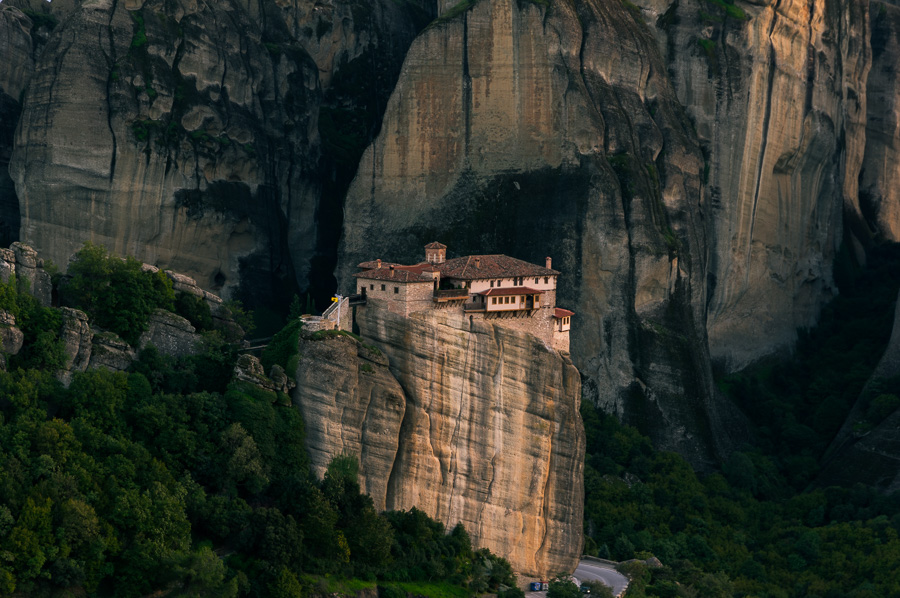 In the case of the Meteora monasteries, it seems that the painter went a bit more abstract than usual by abandoning the typically mild, harmonious lines and replacing them with powerful vertical strokes. Breaking the usual form and creating something that looks more alien than earthly.
The outcome is a place scattered with monumental boulders — many of them column-shaped and rising vertically to the sky, consisting of sandstone and conglomerate that once was part of a delta seabed.
Travel Guide to Visiting Meteora, Greece
Some of the Meteora monasteries are so tightly built on these pillar tops, that it seems as though they're integrated into the rock.
To make things look even more extreme, a handful of monks climbed several of these columns at the beginning of the 14th century and built more than 20 monasteries at the top of their jagged peaks!
Meteora is one of the best places to visit in Greece for all types of travelers. Make sure it's firmly placed on your Greece travel itinerary.
How to Get to Meteora (Kalambaka)
There are trains and buses leaving from Athens and Thessaloniki for Kalambaka (the main town to visit Meteora from) on a daily basis. Or if you'd rather join a tour and have it all easily planned out for you, check out the various tours on offer below.
From Athens to Meteora
Here are some of the best ways to get to the town of Kalambaka, at the foot of Meteora, from Athens.
Athens to Meteora by Train: There is an express train (number 884) every morning going direct from the central station in Athens (Larissa Station) to Kalambaka at 7:20 in the morning. It costs €20 – €40 depending on the class you book and it takes around 4 hours.
There are many other choices with a middle stop throughout the day but cost a bit more. Find out more about the train here. An easier way to get to Meteora by train is by joining a day trip.
This highly rated trip includes the train journies, visiting the 8 monasteries, and going inside the hermit caves. A guide, train tickets, pick-up and drop-off, and water are included in this fun day trip. Find out more and reserve your spot, here.
Athens to Meteora by Bus: Five buses leave every day from Athens (Liossion Bus Station) to Kalambaka, via Lamia and Trikala, and the fare costs €29, return cost is €49. The duration is around 5 hours. See the bus timetable here.
Tour from Athens to Meteora: An easy way to visit the incredible Meteora Monasteries and not have to worry about the logistics of transportation is to join a day trip. This highly rated trip includes visiting the monasteries, the train tickets, pick-up from your accommodation, a guide and more. Find out details, read reviews, and reserve your spot, here.
From Thessaloniki to Meteora (Kalambaka)
Here are some of the ways you can travel from Thessaloniki to Kalambaka, which is the town located at the foot of Meteora.
Thessaloniki to Meteora by Train: There are multiple choices every day, all with a middle stop. Make your way to New Railway station (Neos Sidirodromikos Stathmos) in the center of Thessaloniki and catch the train there. It can take from 2.5 to 3 hours to get from Thessaloniki to Kalambaka and the fare is between €15 and €25.
Thessaloniki to Meteora by Bus: There are no direct buses, but you can switch at Trikala. There are four buses a day going to Kalambaka from Thessaloniki via Trikala. In total, it takes around 3.5 hours and the ticket costs €22.
Tours from Thessaloniki to Meteora: An easy way to visit the monasteries from Thessaloniki is by tour. This way, you won't have to worry about the logistics of getting there, and you'll be with a guide so you can learn more about the history of the area.
On this tour, you'll get to Meteora by train, with tickets, a guide, free time, visits to the monasteries, and water included in the price. Find out more here.
Where to Stay in Meteora
Basically, there are two choices near Meteora: the towns of Kalambaka and Kastraki.
Kalambaka Town
This small town has a variety of accommodations for every budget starting from €35 and going all the way to €100. The fact that it has a train and a bus station makes it very convenient.
There are lots of restaurants and cafes (check out the highly rated Restaurant Meteora) plus it has a very nice natural history and mushroom museum if you have the time. Click here to find the museum on the map. Meteora is around ten minutes from the city center either by taxi or public bus.
For accommodation in Kalambaka, you can't beat the views of Meteora at Hotel Doupiani House! This highly-rated accommodation is just steps from the Monastery of Agios Nikolaos Anapafsas. Click here to learn more and book your stay. Or, click here to compare costs and read reviews of the best guesthouses, hotels and accommodations in Kalambaka.
Kastraki Village
This scenic village is located on the foot of two monumental rocks. It has an ideal location if you want to hike Meteora since most of the trails start just outside the village. With a population of just 1,500 people, this is a peaceful place to stay.
Kastraki Village has several options for sleeping and restaurants to choose from. The cost for a twin room fluctuates between €40 and €100.
Last time I visited Meteora, I stayed in Pyrgos Adrachti – a small hotel next to Adrachti Boulder with a breathtaking view from the north side.
As for food, you can't go wrong with most of the local taverns. The cuisine is amazing and the ingredients are as fresh as in the rest of Greece. Prices are fair considering the proximity to such a hot touristic site.
Click here to compare costs and read reviews of the best guesthouses, hotels and accommodations in Kastraki Village.
How to Get Around the Meteora Monasteries
Let me say in advance that it's difficult to visit all monasteries in a single day. If you really want to explore Meteora, you have to spend at least two days there.
Other than hiking solo or in groups organized by the local guides, you can tour around the monasteries in a rental car, a taxi, or the public bus that starts every two hours from Kalambaka.
As well as the classic monastery tours, there are some guides providing sunset tours to great viewpoints as well as more extreme hiking and rock climbing tours with a via cordata (a rope that you are attached to with a harness).
Have a look at this sunset trip out of Kalambaka, or this fun morning hiking trip. For a highly-rated, affordable, half-day sightseeing tour (with a pick-up from either Kalambaka or Kastraki), click here.
The Six Meteora Monasteries
At the peak of the 16th century, there were 24 monasteries, today only six monasteries are open, while the rest are in ruins. Each of these monasteries has a €3 entrance fee. Kids under 12 are free. Opening times can change so always check online before visiting.
When you are visiting the Meteora monasteries bear in mind that there are rules about clothing, mostly for women who have to wear long skirts in order to get in. In any case, there are special clothes at the gates that they give you to put on top of your current clothing, in case your skirt or dress is on the "short" side.
Inside, you're only allowed to visit certain sections of the monasteries and the monks are isolated in quarters where entrance is not allowed.
1. Great Meteoron Monastery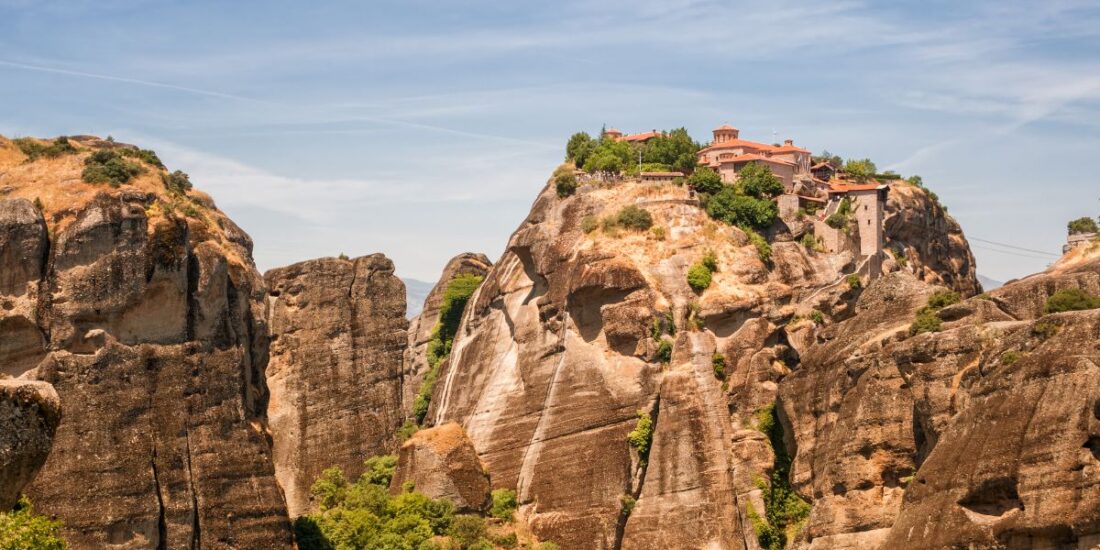 The monastery that gave its name to the whole area is also known as the Holy Monastery of the Transfiguration of Christ. It's the biggest and the most important in Meteora.
Its construction in the 14th century is considered a turning point and initiated a new era of monasticism in the area.
It sits on top of a huge rock called "Platis lithos" which means broad rock in Greek. Its library is one of the greatest of its kind and has the most extensive collection of codices and old books in Meteora.
The Great Meteoron Monastery also has a museum dedicated to the modern history and struggles of Greece from the revolution of 1821 against the Ottoman Empire until WWII. The original fully equipped kitchen and the cellar with the 12.000-litre wine barrel are of great interest.
Opening Hours:
Summer (April 1 – October 31): 9:00 to 17:00. The monastery is closed on Tuesdays.
Winter (November 1 – March 31): 9:30 to 14:00. The monastery is closed on Tuesdays, Wednesdays and Thursdays.
Contact Number: +30 24320 22278
2. Varlaam Monastery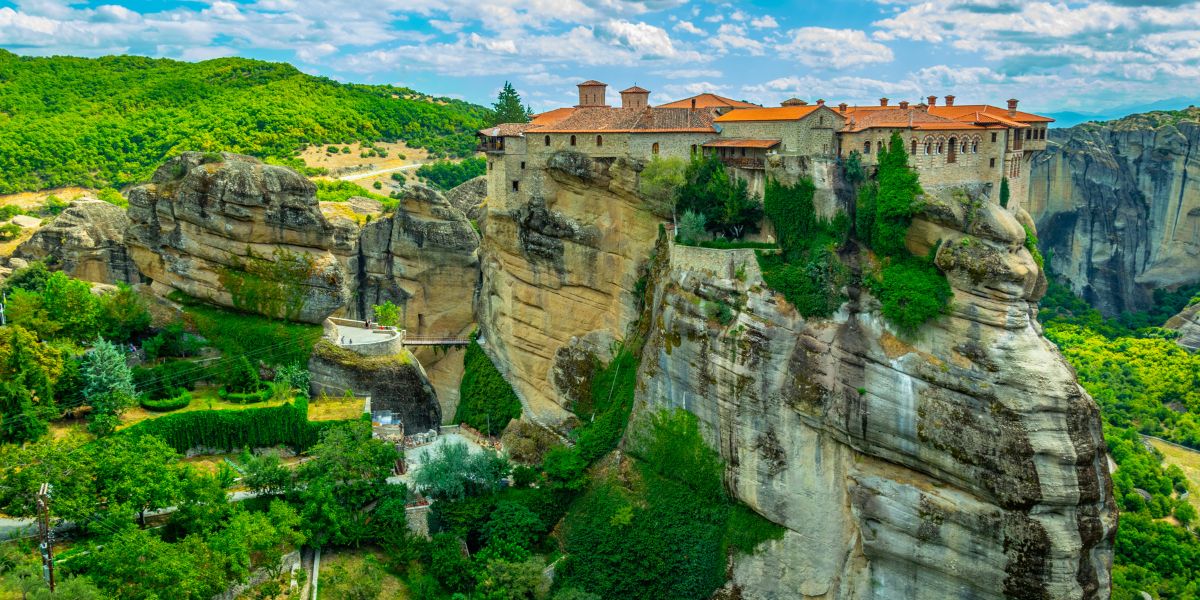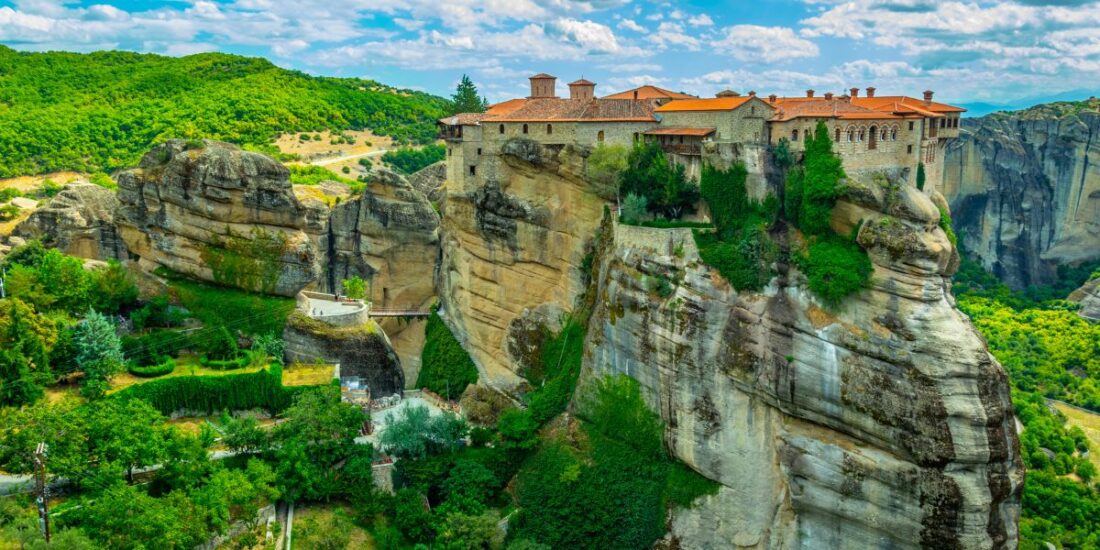 This monastery has taken its name from hermit Varlaam who climbed its mighty pillar back in 1350. There, he built a small cell to sleep along with three chapels.
After his death, the place remained deserted for almost two hundred years until two brothers from the city of Ioannina renovated the chapels and started building the monastery back in 1518.
Access to the top was notoriously difficult as the wooden ladders that led there were quite dangerous. Later on, they were replaced by a net which was pulled to the top with a rope. Eventually, stairs were carved into the rock which allowed easy and safe access.
Don't miss the 16th-century oak barrel which was used for water storage and the museum with religious paintings.
Opening Hours:
Summer (April 1 – October 31): 9:00 to 16:00. The monastery is closed on Fridays.
Winter (November 1 – March 31): 9:00 to 15:00. The monastery is closed on Thursdays and Fridays.
Contact Number – +30 24320 22277
3. Saint Stephen's Nunnery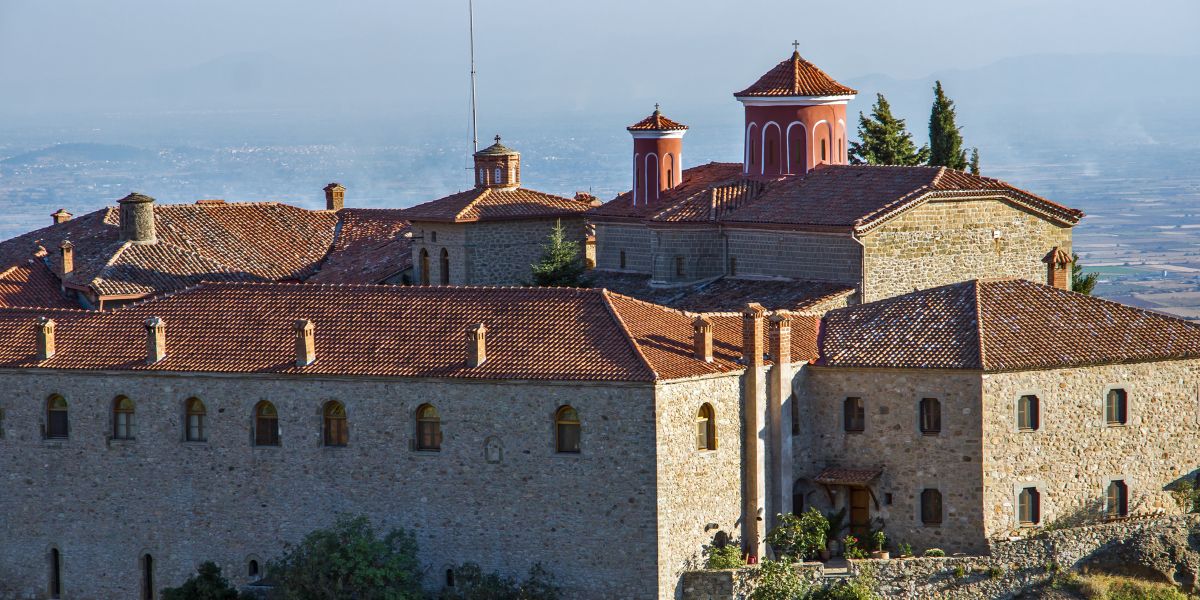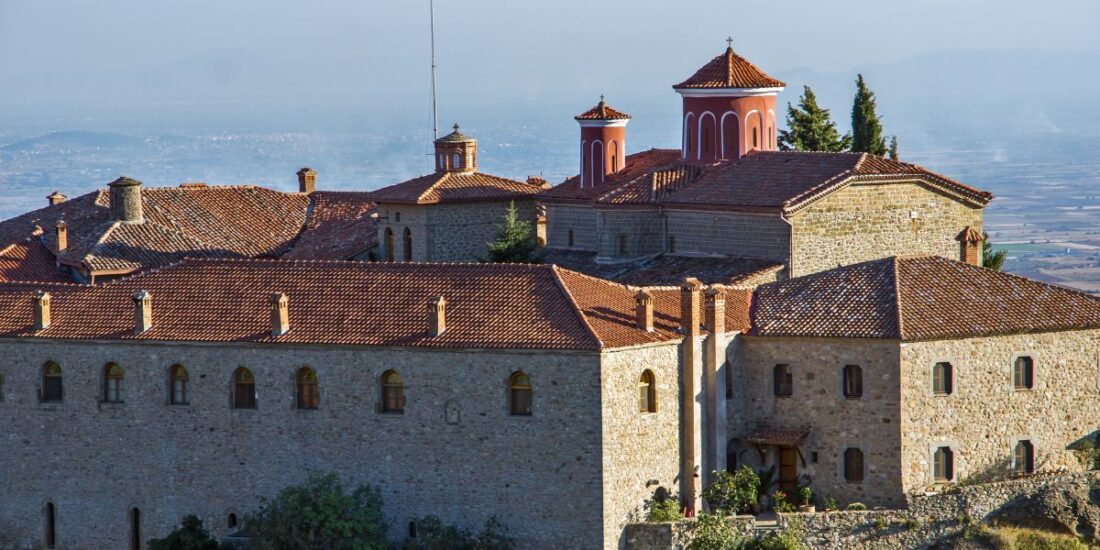 This nunnery has distinctive tiled roofs and crimson-colored domes that make a strong contrast against the Greek blue sky. It features a rich collection of codices and is easily accessible by crossing a small bridge, rather than hiking up rock-cut steps.
It's also the closest monastery to the city of Kalambaka as the crow flies. This convent offers incredible views of the city, the valley of Thessaly, and the Pindos mountain range.
Opening Hours:
Summer (April 1 – October 31): 9:00 – 13:30 and 15:30 – 17:30. Closed on Mondays.
Winter (November 1 – March 31): 9:30 – 13:00 and 15:00 – 17:00. Closed on Mondays.
4. Holy Trinity Monastery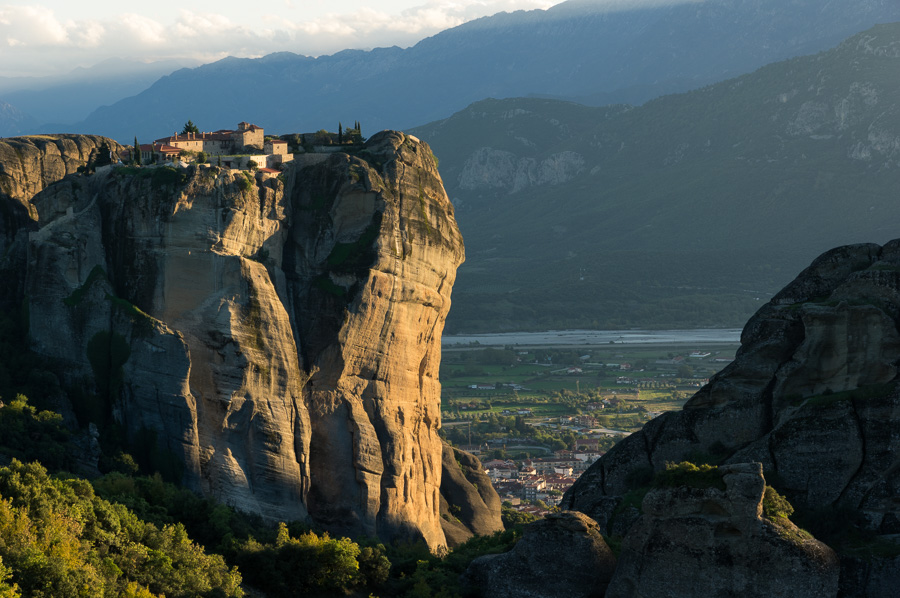 From the easiest Meteora monastery to reach to the most difficult.
The Holy Trinity Monastery sits on a very steep boulder and has the most difficult access, but if you make the effort to reach the top, you'll be rewarded with amazing panoramic views. You'll get some incredible photos here.
Visitors must climb 140 steps in order to get to its door at the top. No wonder it took monks almost 70 years to complete its construction.
Opening Hours:
Summer (April 1 – October 31): 10:00 – 16:00. Closed on Thursdays.
Winter (November 1 – March 31): 10:00 – 16:00. Closed on Thursdays.
5. Saint Nikolaos Anapafsas Monastery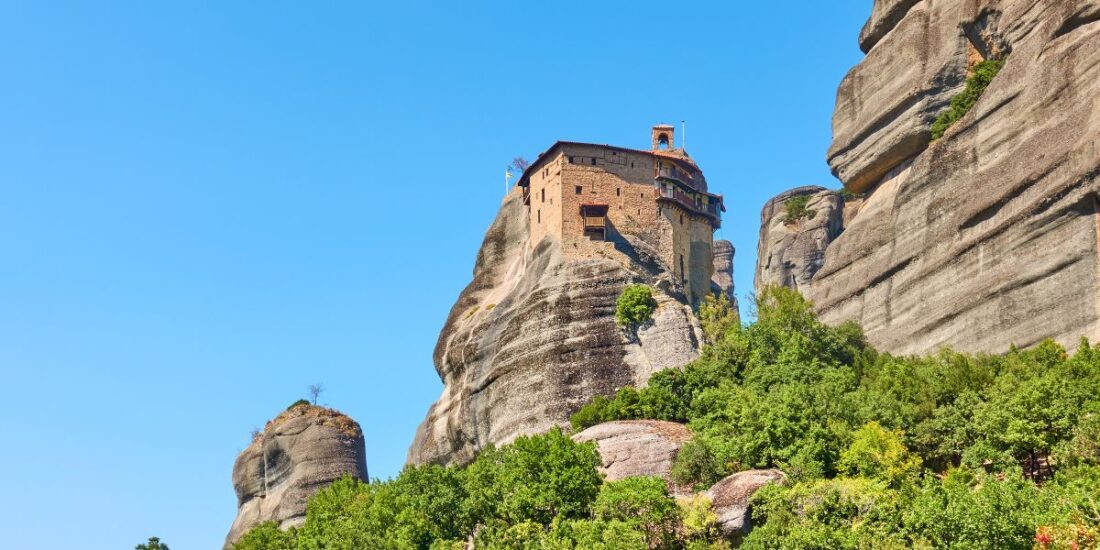 This multilevel monastery is the first one you'll see after Kastraki on the way to Meteora. It's very small and doesn't have a yard but what it has is the most amazing frescoes of all the monasteries in Meteora.
They were painted by the hand of the Cretan artist Theophanes Bathas Strelitzas who was a prominent painter of the Cretan school to which Domenikos Theotokopoulos (known as El Greko) also belonged.
Opening Hours:
Summer (April 1 – October 31): 9:00 – 17:00
Winter (November 1 – March 31): 9:00 – 16:00 Monday – Saturday. 9:30 – 16:00 on Sundays.
6. Roussanou Monastery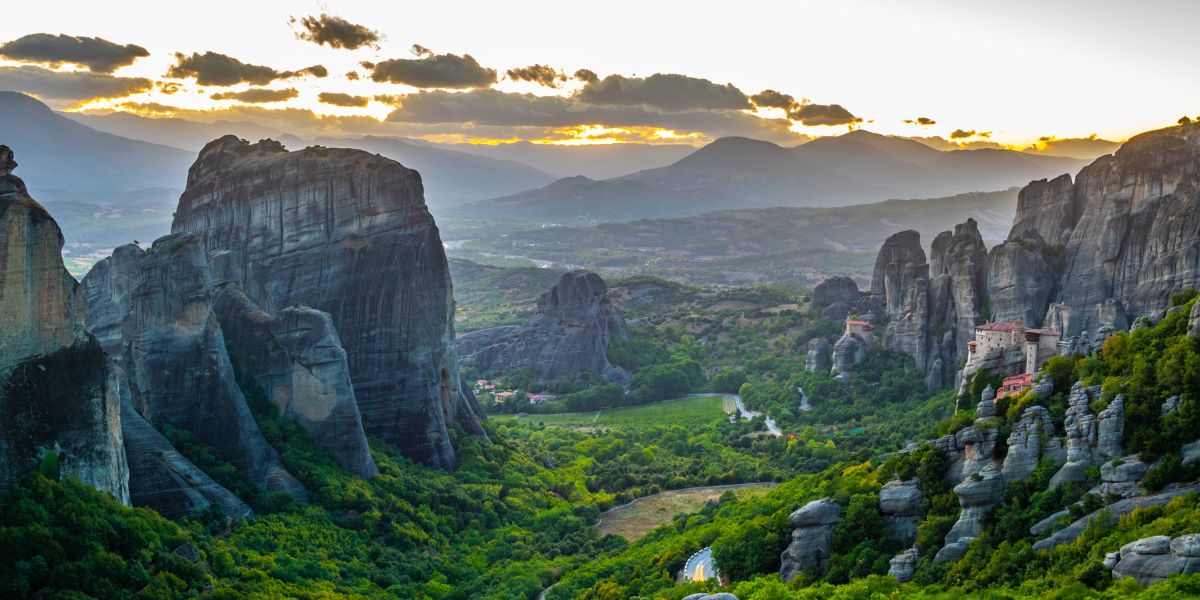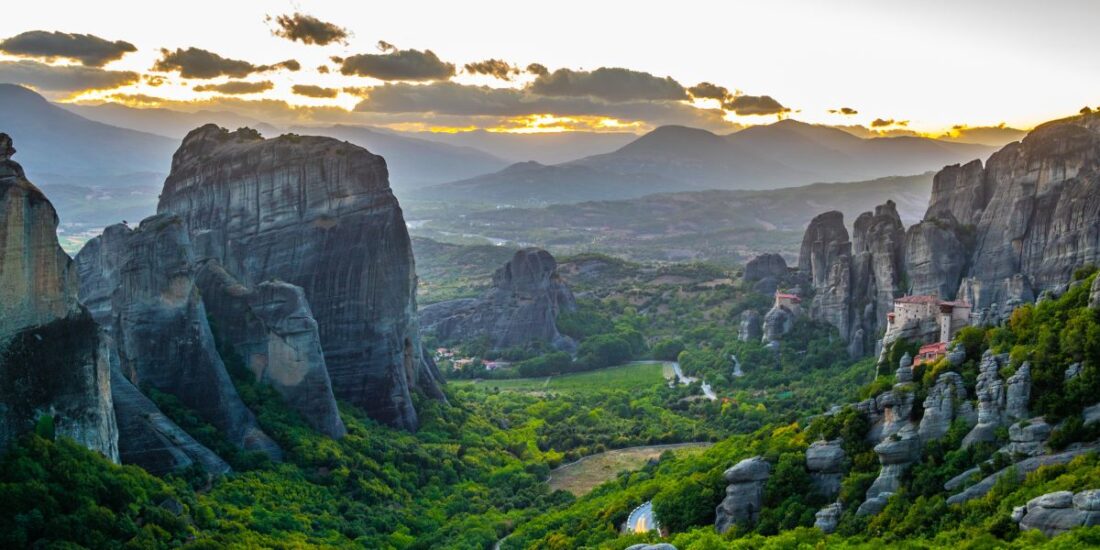 The second monastery you will encounter coming from Kastraki sits on the most impressive pillar of all. Surrounded by many other boulders of this "stone forest", it's the centerpiece of this dreamy landscape.
Although at a fairly low elevation, it was still difficult for Monks to make the trek to the top. Eventually, a net was installed which still took 30 minutes to get them up there.
In my opinion, the Roussanou Monastery is one of the most beautiful monasteries to photograph during sunset. There's also a pathway leading from the monastery, check it out!
Opening Hours:
Summer (April 1 – October 31): 9:00 – 16:30. Closed on Wednesdays.
Winter (November 1 – March 31): 9:30 – 14:00. Closed on Wednesdays.
Other Meteora Monasteries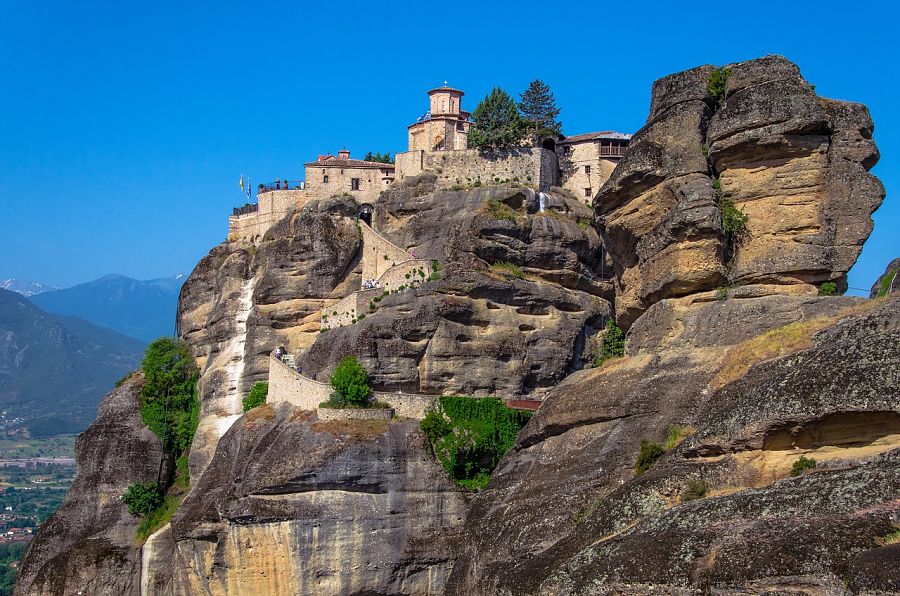 Saint Antonios, Saint Nikolaos Pantovas, and Ipapanti are three impressive monasteries hidden inside huge rock cavities. They don't have monks anymore and are more difficult to access but if you want to see something exceptional even by Meteora standards, they are amazing.
There are also a number of sketes which you can see here and they're in cavities on the rock faces. These are easily recognizable from the narrow wooden balconies and ladders that are perched there.
History of the Meteora Monasteries
The first hermits arrived in Meteora at the end of the 10th century and created the first sketes (small monastic communities). These people wanted to live in complete isolation and the inaccessibility of the area provided just that.
They lived and slept in caverns and rock fissures and their only occupation was praying for the salvation of themselves and the world.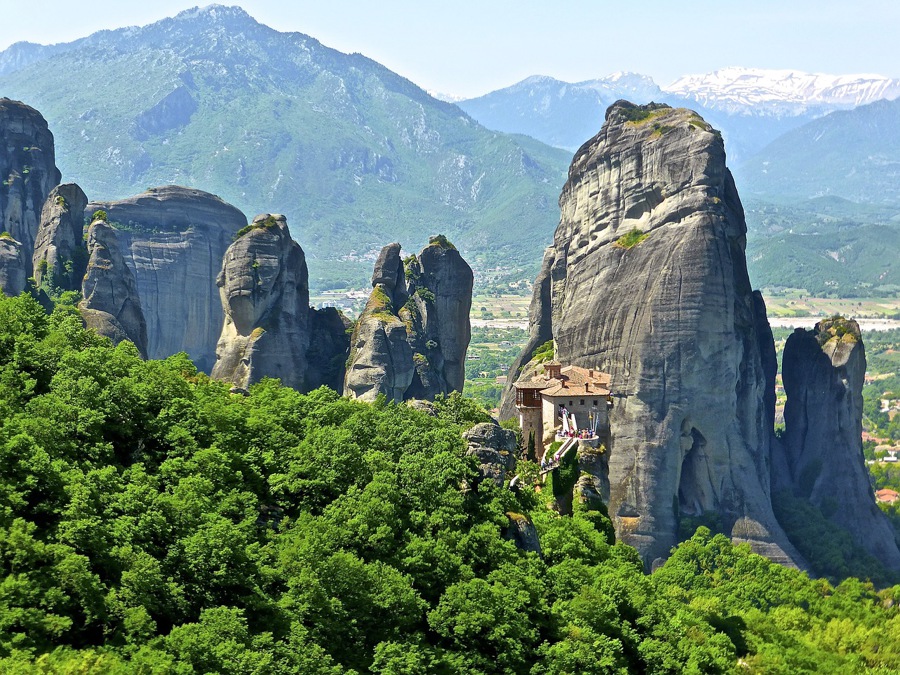 The only time the hermits left their sketes was once a week. Every Sunday, they'd hike to the small temple they had built on the south side of Doupiani Rock to have a mass together and speak about the problems of the community. That was also the only time in the week that they had a properly cooked meal.
This routine went on for more than 3 centuries until a monk named Athanasios built the first monastery on top of a boulder called the "Broad Rock" and named it Great Meteoro.
More Meteora monasteries were built after that and eventually, they reached a total of 24 when monasticism (monkhood) in Meteora was at its peak during the 16th century.
The logistics needed for all of this construction were a nightmare, but if the monks had something in abundance, it was time.
Carrying materials and building up on the rocky pillars was a treacherous business but they managed to overcome many difficulties by wedging beams on the rock walls and constructing scaffolds.
Much later, they replaced the scaffolding with nets and baskets that they pulled to the top with a rope. A much better solution, but still not entirely safe.
At the beginning of the 20th century, many monasteries here had stairs carved in the rock which made the access much easier. It was this that opened Meteora monasteries to the outside world and allowed the first visitors to arrive.
Among them, the famous Swiss traveler and photographer Frederic Boissonnas visited Meteora in 1930 and made its existence known to the rest of the world with his iconic shots.
Later in 1981, the James Bond movie "For Your Eyes Only" with Roger Moore would feature the Holy Trinity monastery as a shooting location and bring Meteora into the spotlight with some impressive action scenes.
☞ Planning to travel to other areas of Greece? Make sure to check out our articles for some travel inspiration: Things To Do in Ios, Best Beaches in Greece, Things To Do in Corfu, a Travel Guide to Lesvos Greece, a Travel Guide to Chios Greece, a Travel Guide to Kefalonia Greece, Weather in Greece (when is the best time to visit?) and Things To Do in Zakynthos.
Meteora Monasteries Today
People from all over the world gather in this relatively small area of the Thessaly Plain to visit Meteora monasteries and admire the breathtaking landscapes around them.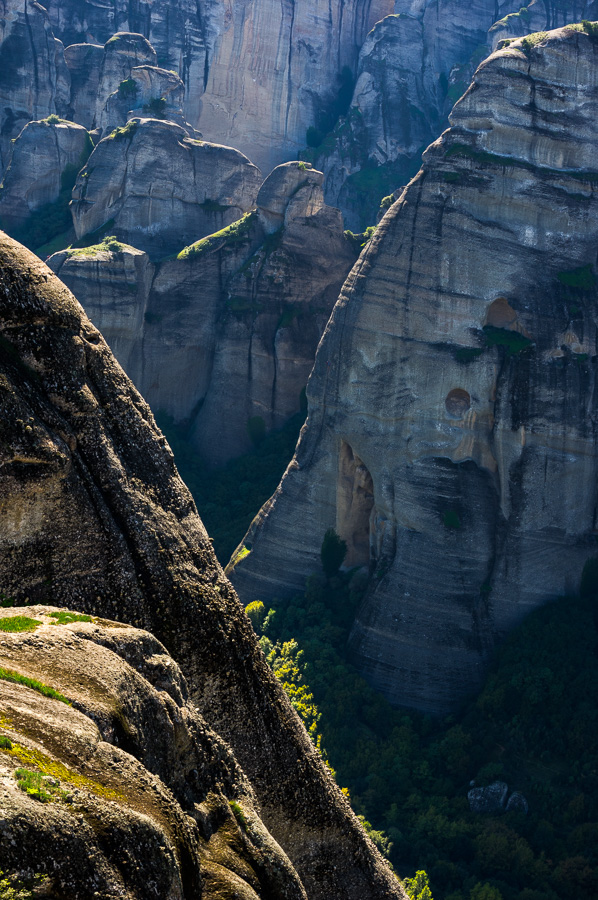 Meteora is one of the most visited places in Greece but fortunately, it's remained relatively untouched by the tourism growth. On the other hand, the nearby towns of Kalambaka and Kastraki village have grown significantly in the last century since they serve as a base for the majority of visitors to the Meteora monasteries.
Meteora is also a famous rock climbing site in Greece and one of the most recognized in Europe. Climbing any of the 6 monastery boulders is not allowed but there are a hundred more in the vicinity. The local climbers offer tours suitable for everyone, from first-timers to experts. Click here for a highly rated rock climbing tour.
Another activity that thrives here is photography. Needless to say that the terrain offers endless angles on the striking landscapes. With monasteries teetering at the top of massive limestone rocks, your images are sure to be impressive.
Phones can do a pretty good job of taking photos nowadays, but a proper camera on a tripod can really shine out there – or better yet, a drone.
During my last visit, I shot some of my most popular photographs (you can have a look here). My only advice is that you should wait for the sunset when the last light hits the monasteries giving the rocks a golden glow and helping their texture to be highlighted. The same goes for sunrise if you don't mind the early wake-up.
The snow in winter and early morning mists can make the same shot look entirely different. Because of this, most photographers go back, again and again, to shoot the Meteora monasteries throughout the year.
Don't Miss Meteora
Meteora monasteries are living relics that have remained untouched by time for more than 500 years. Unlike museums and other historical sites, in Meteora, you have the opportunity to fully immerse yourself in the history of a place that has managed to keep modern life outside its boundaries.
Meteora has protected the monastic way of life that these people have chosen to follow for more than a thousand years.
Inside the Great Meteoron Monastery is a bone chamber filled with the skulls of all monks that lived and died there. When you see them, you realize how these people were (and still are) an inseparable piece of this stone forest, a place that provided them security and allowed them to live their silent lives having found God in this desolate, beautiful place.
Like This Article? Pin it!