Sandwiched between the western slopes of the Andes mountains and the Choco-Andean forest, Mindo Ecuador is a stunning tropical cloud forest with enough to keep you busy for a few days. Here you'll find opportunities for adventure, birdwatching and relaxation.
There are many things to see and do in Mindo, some great restaurants to eat at, and some awesome accommodations as well. After spending 3 nights, we wish we had planned to stay longer! Out of the places we visited in Ecuador, little Mindo was definitely one of my favourites.
Here is my guide to travelling in Mindo Ecuador.
(Don't miss the video at the end of this post!)
Jump To: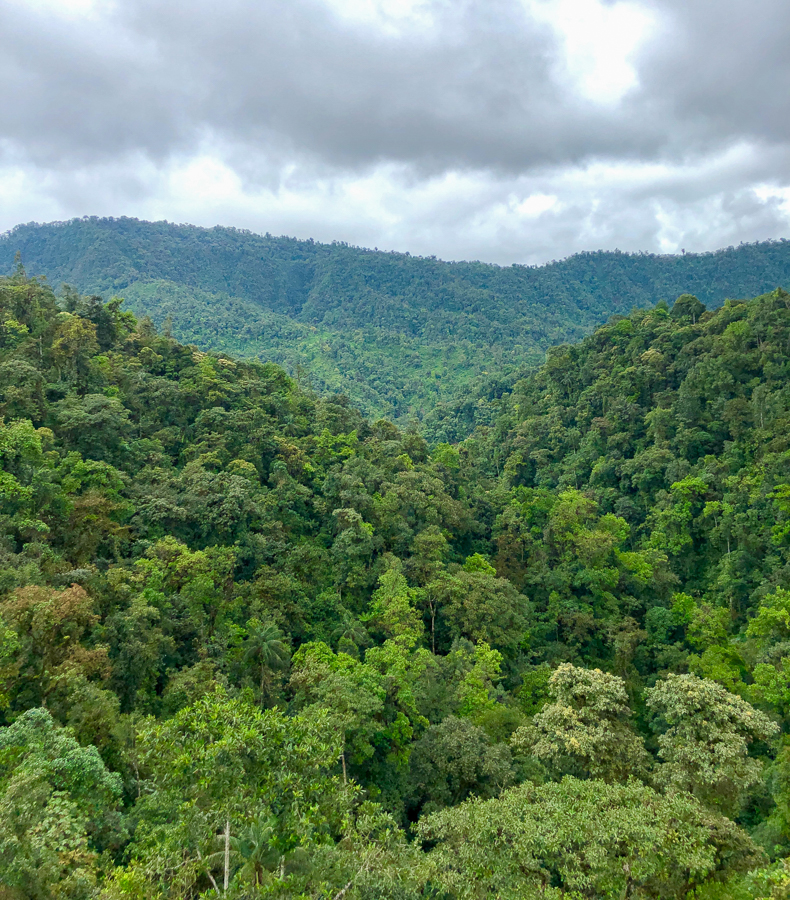 Things To Do in Mindo
With around 3 nights in Mindo, you'll be able to see quite a bit. The pueblo isn't all that big, and getting around is easy.
Walk Through The Cloud Forest
This has to be number one on my list. Many people opt to take taxis from the center of Mindo, to the outlying natural sites. But, I recommend walking so you can fully experience the natural beauty of the area.
From the center to the Mindo Garden restaurant (on the Mariposario dirt road), it'll take you about 30-45 minutes to walk, depending on your speed, and whether or not it's raining.
We were staying near Mindo Garden Lodge and did this walk once or twice a day. Each time we saw something new — including a family of monkeys in the trees!
☞ SEE ALSO: Hiking the Quilotoa Loop – A How-To Guide for Travellers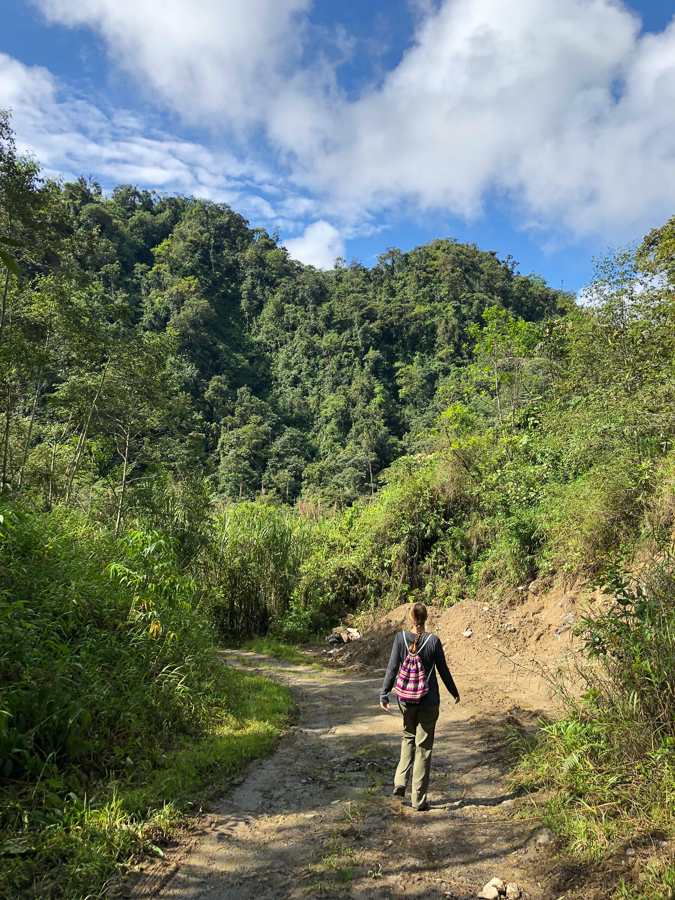 Ride The Tarabita Cable Car
You'll find this unique ride in all guides to Mindo Ecuador. Even if you're afraid of heights (as I am), it's something you don't want to miss. Powered by a small 2002 Nissan motor, with a director controlling the speed, you whiz across the dense cloud forest canopy for around half a kilometer, 152m above the ground.
The view from the cable car is spectacular, and once you reach the Bosque Protector Mindo-Nambillo, you'll see a map with options for hiking, and various waterfalls you can visit. Keep your eyes peeled for bird life, we spotted a toucan!
A taxi from town is $6 to the cable car. Make sure to pack your bathing suit (depending on water levels, you can go for a dip), drinking water and sturdy shoes.
Go Bird Watching
Even if you don't consider yourself a "birder", the 500+ species of tropical birds in Mindo are worth spending the effort to see.
We personally didn't join any birdwatching tours, or get up at 5:00am to spot certain species, but rather, we just enjoyed the ones we saw while sipping on a coffee at our Airbnb, while wandering from town to the forest, and when eating lunch at the butterfly sanctuary.
If you are keen to spend a few hours properly searching for birds, then I suggest hiking the trails at Casa Amarilla (early in the morning). The entrance here is $6, which includes a map and access to 5 different trails. This is a great way to spend a few hours in Mindo.
Other birdwatching opportunities can be had at one of the private reserves located a couple of hours from Mindo Ecuador.
Join A Night Walk
Kind of creepy, but very unique and informative. If you have a free evening available, join a night walk with a knowledgable guide. This cool tour is ideal if you're interested in spotting nocturnal animals in their natural habitat. Expect to see frogs, snakes, spiders, kinkajous, opossums, armadillos and more.
The tour provides you with rain boots for those muddy nights, as well as flashlights. All you need to bring is your camera. The cost of this 1.5 hour tour is $15, including gear, a guide, park fees, and transportation from within Mindo. Click here to learn more.
Visit The Butterfly Garden
Mindo Ecuador isn't known solely for its variety of birds — there are numerous butterflies here as well. Enjoy a couple of hours spent at the Mariposario surrounded by hundreds of fluttering, colourful butterflies. Visit the butterfly house and learn about their life cycle, followed by a trip outside to see the many hummingbirds.
We had a nice lunch here (sandwiches and salad) while enjoying an up-close view of the many birds flying from tree to tree. At $8.50, it's not the cheapest excursion, but still a nice experience.
☞ SEE ALSO: Galapagos Islands – A Guide to Visiting Independently
Ride The Minjoy Park Chairlift
If you'd like to enjoy the Mindo cloud forest, without flying across the canopy on a (somewhat) sketchy cable car, then you should check out the chairlift at Minjoy Park. Unlike the Tarabita, this is a slow, enjoyable journey that is around 20 minutes long.
You'll savor the scenery from a comfortable, open chair (similar to a chair lift at a ski hill), at a more normal speed! Apart from the chair lift, Minjoy is more of a family oriented place with zorbing, a playground, and some nature trails.
The entrance to the Minjoy Park is located just before the Butterfly Gardens. For more information, check out their Facebook page here.
Join A Yoga Class
The host of the Airbnb we were staying at frequently runs yoga retreats. And, when she's not hosting a retreat, she holds classes in her yoga pavillion. This stunning spot is surrounded by dense, untouched cloud forest, beautiful flowers and numerous birds.
Wendy has been a yoga instructor for many years and has called Mindo Ecuador her home since 2011. You can contact Wendy here to arrange for a yoga class.
If you can, I highly recommend staying here as well. These little rustic cabins are so cool. There's a pool on site and lots of hiking and nature all around..
The property, although out in the middle of the jungle, has useful ammeneties like laundry service, room service and a delicious continental breakfast.
Other recommended things to do in Mindo: canopy tours, mountain biking, river tubing and chocolate tours (check out Yumbo's and El Quetzal).
Best Restaurants in Mindo Ecuador
Mindo is a small town, but thankfully there are some good restaurants here. However, when we visited, many places seemed to be closed, or they would close early (5:00pm) on certain nights. Make sure to find out when the restaurants are closing so you don't miss out.
Here are some top spots to eat in Mindo:
Arepera
If you're a fan of arepas, or if you're travelling on a budget, you won't want to miss the Arepera. This Venezuelan owned place serves up authentic arepas, and these corn pockets do not disappoint. Choose between meat and beans, and then add your choice of veggies and sauces. I recommend the black bean and avocado!
Mishqui Quinde
This vegan Ecuadorian restaurant focuses on wholesome food, with quinoa featuring prominently on the menu. There are only 5 main dishes here, a soup, drinks and sorbets. The quinoa burger is a hit, and I really enjoyed the vegan soup. When we visited, the little place was packed, so make sure to arrive early enough to get a seat.
Mindo Garden Lodge
If you can, come here for breakfast and enjoy dining outside, right next to the river. With views of the cloud forest, butterflies and birds, you can't go wrong. The location is excellent! For dinner, we dined on fresh trout with patacones, and pork chops with Andean potatoes and vegetables. The service here is friendly and the prices are fair.
El Quetzal
Regardless of whether or not you want to join the chocolate tour here, I recommend coming to sample some of their chocolate inspired treats. The brownie is amazing, and so is the hot chocolate. For something a little more substantial, they also serve breakfast, lunch and dinner.
This is the largest restaurant in Mindo, and therefore can be busy with tour groups. Try to visit on a quiet day so you can enjoy the serenity of the area. Some evenings they offer live music as well.
Although we didn't eat here, The Food Studio is a highly rated option, as is Restaurante Pizzeria El Tigrillo.
Where to Stay in Mindo
When it comes to choosing your accommodations in Mindo Ecuador, my recommendation is to go for a place that is surrounded by nature — after all, that's most likely the reason you chose to visit Mindo. There are some budget accommodations in town, but if you can afford to spend a bit more, try to stay away from the center.
As I said, I highly recommend Terrabambu Lodge. It's incredibly peaceful and the location in the heart of the UNESCO protected biosphere was incredible. The staff is wonderful, and of course, those hiking trails are awesome!
There are numerous properties available on Airbnb in Mindo, however, ranging from $10 a night to $120. Click here to have a look at the cabins and other beautiful accommodations. (Don't forget to grab your Airbnb coupon!)
☞ SEE ALSO: Hiking El Cajas National Park – A Guide for Travellers
If you'd rather stay in a guesthouse, hostel or hotel, here are some highly rated options on Booking.com:
Cinnamon House
Rated 9.2/10 on Booking.com. Click here for details.
Cabanas Armonia y Jardin de Orquideas
Reated 9/10 on Booking.com. Click here for details.
Coffee Lodge Spa
Rated 9.6/10 on Booking.com. Click here for details.

Las Terrazas de Dana Boutique Lodge
Rated 9.7/10 on Booking.com. Click here for details.
Tips For Travelling to Mindo Ecuador
Here are some things to know when travelling to Mindo.
It Will Rain
No matter the time of year you plan to visit, expect that you will get rained on. This is a tropical cloud forest, with the wet season running from October to May. During this time, you can expect showers from late afternoon into the night.
June to September are considered the drier months (there are no "dry" months in Mindo!), with 115mm of rain in June and 60mm in August. The average annual rainfall in Mindo is 2,525mm, so make sure to pack an umbrella. As for the temperature, it's always around 20 ° celcius on average.
What To Pack
Since you're coming to a wetter part of Ecuador, you'll want to make sure you have an umbrella, a rain jacket, waterproof hiking / walking shoes and (natural) bug spray. If you plan on doing some rafting or swimming in waterfalls, water shoes may be a good idea.
You'll want lightweight, long-sleeved shirts and pants for the evenings when the bugs are out — especially if you're going on a night walk! Bring a book for those rainy days when you want to chill out in a hammock.
Take Cash
There are 2 ATMs in Mindo, but your card may not work with the machine, or it might be out of cash. Many places don't take credit card. Make sure you have cash with you to last the duration of your time. Also, have smaller bills as well, as taxis often don't have change.
Brush Up On Your Spanish
This is a tip for Ecuador as a whole. Not much English language is spoken (based on our experience), and Mindo is no different. Have a translation app on your phone, bring a phrasebook and practice your Spanish speaking abilities.
Purchase Travel Insurance
Mindo is a safe place to visit in terms of theft, however, there are a lot of adventurous activities here, and some poisonous snakes and spiders. The closest hospital is in Quito — 1.5 hours away by taxi.
You never know what could happen (bus accident, natural disaster, broken leg, etc.), so rather than risk it, purchase international travel insurance and enjoy your trip to Mindo. Click here for a free quote with Safety Wing, and click here for a free quote with World Nomads Insurance.
Go Slow
There's no rush in Mindo! You'll notice that everyone is pretty chilled out here, and you should be too. Expect tour offices to be closed when you want to learn about excursions on offer. Restaurants will randomly close early for no apparent reason. Your driver will probably show up late. And, there's a brewery in Mindo that was closed when we were there, but was expected to open "soon"…I have a feeling the sign has been there for a while.
How To Get To Mindo Ecuador
There are a few ways to travel to Mindo, here are the most popular:
Quito to Mindo by Bus
From the La Ofelia Station, north of Quito, you'll find Flor Del Valle buses leaving for Mindo every day of the week. The cost is $3.10 and it takes roughly 2.5 hours depending on traffic.
The bus is comfortable, but the road to Mindo is windy. Due to the fact that I get car sick, we opted to sit at the front of the bus — which had a nice, direct view out the front window — but, as soon as we took off, the driver closed the door between the front of the bus and the passengers in the back.
Oh no!
If you suffer from motion sickness, like I do, you'll want to make sure you have some anti nausea pills on hand, and try to sit near a window that is able to open. With some fresh air, you should be fine.
Here is the schedule:
Monday – Friday: 8:00, 9:00, 11:00, 13:00, 16:00
Saturday: 7:40, 8:20, 9:20, 11:00, 13:00, 14:00, 16:00
Sunday: 7:40, 8:20, 9:20, 11:00, 13:00, 14:00, 17:00
Mindo to Quito by Bus
If you decide to return to Quito after your trip to Mindo, here is the schedule:
Monday – Friday: 6:30, 11:00, 13:45, 15:30, 17:00
Saturday: 6:30, 11:00, 13:00, 14:00, 15:00, 16:00, 17:00
Sunday: 6:30, 11:00, 13:00, 14:00, 15:00, 16:00, 17:00
Quito to Mindo by Taxi
If you'd prefer to take a taxi to Mindo (or back to Quito), the price you'll pay really depends on your bargaining skills. I suggest asking your hotel, your Airbnb host, or tour guide for their recommended taxi driver.
We paid $43 for a taxi from Mindo to Quito, with quotes as high as $70. It took 1.5 hours to arrive at the Terminal Carcelan (about 10 minutes away from Terminal Ofelia), which is where you catch a bus to Otavalo.
Mindo to Otavalo by Bus / Taxi
If you want to travel from Mindo to Otavalo, you have two options:
Take the bus from Mindo to Quito ($3.10). This bus arrives at the La Ofelia Terminal, and from there you'll need to take a taxi or an Uber to the nearby Terminal Carcelan. It's about a 10 minute drive away. This terminal has numerous buses going to Otavalo throughout the day.
2. Take a taxi from Mindo directly to Terminal Carcelan. This is what we did and we paid $43 for this taxi ride.
Once you arrive at Terminal Carcelan, it can be a bit confusing to choose a bus company. There are a couple that go to Otavalo, so just make sure you find one that is going direct.
We went with Espejo company, which has buses every 15 minutes or so. The cost is $2.50 and you're dropped off just at the entrance to the town of Otavalo. A shared truck into the center is $0.50.
☞ SEE ALSO: Otavalo Ecuador – The Complete Travel Guide
Pack Your Bags For Mindo!
With all of the natural beauty and epic adventures available in the country of Ecuador, many people often overlook little Mindo. And in fact, during our 6 week trip to Ecuador, many people suggested we take a day trip to see what Mindo has to offer, and then return to Quito.
Thankfully, we ignored this advice and spent 3 nights surrounded by the pristine landscapes and unique wildlife of the cloud forest! I hope this travel guide to Mindo helped you better understand what this little town has to offer, and persuaded you to chill out and stay awhile.
You might also like to read about our personal experience and highlights from a two month trip around Ecuador and Peru.
Check out our video round-up of 2 months in Ecuador and Peru (including Mindo!)
*Lead image courtesy of Shutterstock.
Like This Article? Pin it!