England, the birthplace of The Queen, Downton Abbey and the Beatles. It's a tiny country with a huge legacy. You might be picturing grand castles, quaint villages and country pubs and though you'll find these in abundance, England also has super modern cities, swathes of green countryside and picturesque coastlines.
This mini guide will give you an insight into the best places to visit, what time of year to go, how to get around and what to get up to when you're there.
Where to Visit
Many visits to England don't get much further than the bright lights and fast pace of its capital, London. And though it's undoubtedly a captivating and exciting city, when you explore beyond its borders you'll discover a country that might just confound the stereotypes. Here are 5 places not to miss:
The Lake District: in England's largest National Park you'll find giant green mountains reflected in the vast lakes they surround. It's a joy for nature lovers and little wonder it's been the inspiration for many of England's most famous literary heroes.
The North York Moors: rolling hills covered in purple heather make up the landscape of this diverse region. Stretching from far inland up to the coast in the North East, The Moors boast beautiful villages like Pickering and Malton and celebrated bays such as Ravenscar and Whitby.
London: packed with iconic buildings, famous landmarks and exciting culture, London should make up part of every visitor's itinerary in England. It's a contrast of the ultra modern with the historic and you won't get a moment's rest whilst you're here thanks to its frenetic pace.
See Also: London Calling: Our 48 Hour Layover in the Famous City
Manchester: with its rich music tradition and buzzing indie vibe, this is a seriously cool city. There's a great restaurant scene and excellent shopping areas here. It's also football mad and boasts the richest soccer club in the world, Manchester United if you're up for catching a game.
Devon: a coastline littered with some of England's most famous sandy beaches, quaint English villages and rugged moors, no wonder it's known as "The English Riviera". Situated in the Southwest, it's one of the most picturesque regions in England.
Accommodation
This can be expensive in England, but using a rentals search engine will save you up to 40% on costs. It will also take the stress out of finding that perfect place by searching hundreds of options from both large providers and small independents.
So whether you're after a swanky apartment in London or a cosy cottage in Yorkshire you're sure to find a great deal. Try to book early as accommodation does tend to get booked up very quickly, particularly in the more popular summer months.
When to Visit
England has a largely deserved reputation for having quickly changeable, temperamental weather. No matter what time of year you visit, a good rule of thumb is to always carry an umbrella! That said, there is no time of year that can't be enjoyable.
Many people think of it as being grey and rainy for much of the year, when in actual fact, there are four distinct seasons. Spring (March – May) and Autumn (September – November) are typically mild with spells of rain, Summer (June – August) has warm, sunny days with occasional thunderstorms and in winter (December – February) temperatures can reach below freezing but snow tends to be quite rare.
If you're into the outdoor life then Spring and Summer are probably the best times to visit, but beware you'll pay higher prices for many things due to high demand. If you can tolerate the cold weather then December is a fun time to go as the country goes Christmas mad. You'll find fairs and markets, decorative lights and trees and an overwhelming festive atmosphere. Autumn is great to spend in the countryside as trees begin to shed their leaves and England turns shades of gold and brown.
How to get Around
Thanks to its relatively small size, England is extremely easy to get around by road and rail. There's an excellent network of both trains and coaches which will enable you to move quickly from place to place at very reasonable prices, but if you're strapped for time you can also catch flights between major cities.
What to Eat & Drink
England may not have the best culinary reputation throughout the world but there are lots of interesting national and regional dishes that are must-tries:
Chicken Tikka Masala: England's second national dish is actually an adaptation of an Indian curry. It's chunks of mildly spiced chicken in a rich, creamy sauce. Enjoy it with rice, poppadum, naan bread and a pint of lager.
Fish & Chips: you'll find at least one Fish and Chip shop in every town and city, it's a national favourite of deep fried potatoes and battered deep fried white fish. Cover it in salt & vinegar and accompany it with a cup of English tea.
Roast Dinner: a roast dinner is traditionally a family meal eaten on a Sunday. It's essentially a joint of roasted meat accompanied by various vegetables and a Yorkshire Pudding, all served with a rich gravy.
Full English: alternatively called a "fry up", it's typically eaten at breakfast. The full English is a combination of various fried meats, fried egg and vegetables. The main components are bacon, sausages, black pudding, fried eggs, baked beans, fried tomato and hash brown. Not one for the feint hearted.
We've given you a taster of some of the amazing things to see and do in England, now it's time to go explore for yourself!
If you are looking for more precise destinations to visit in England, HomeToGo and GoEuro created a cool ranking of the 100 best European cities to visit this year, which includes 6 English cities.
Like it? Pin it! 🙂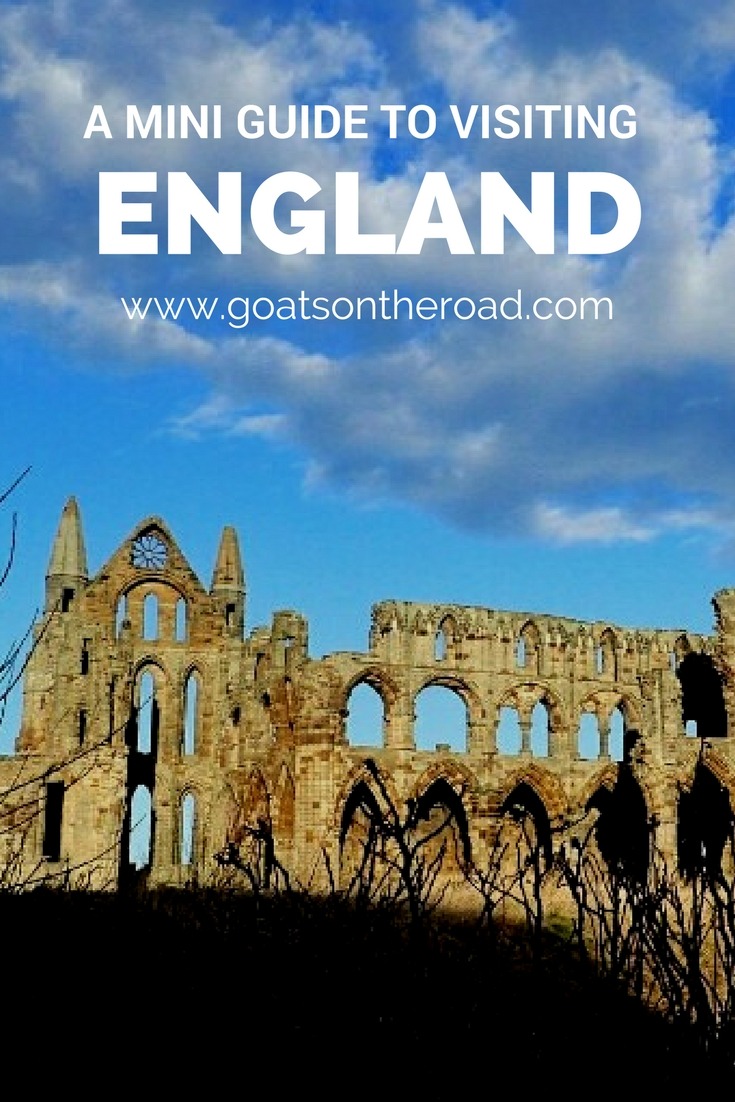 Disclaimer: Some links in this article are affiliate links, which means that if you purchase through them, we receive a small commission. This will never cost you extra and in many cases you receive a special discount. We appreciate your support!