This is a guest post from the inspiring, 21 year old Millie from the website Millie Goes. Check out her best money saving tips for SE Asia and learn more about Millie down below in the Author's Bio.
Travelling through the beautiful countries of Southeast Asia is a sure way to explore at the right price! One of the cheapest regions in the world for backpackers, it provides us with an insight into the fascinating cultures and traditions in the area, not to mention the cheap beer! But, no matter where you are, travelling on a smart budget always helps.
I've outlined a few things you can do to ensure you get the best value for money while sojourning through jungles & islands!
Accommodation
So your average backpacker accommodation will cost you anywhere between $2-$10/night and it both depends on the level of cleanliness you can live with and where you are (ie. it's going to be more expensive in central Bangkok than a middle of nowhere town).
You'll also find that there are a lot of guesthouses too, which is essentially a very basic hotel/B&B mixed into one. I've found that the family often still lives in the house and they book out their other rooms as bedrooms. This is perfect if you're a couple as it means it's just as cheap for your own room as a hostel bed each!
Tips for your Budget
Look around – You can sometimes get guesthouses/hostels to match prices to and get a better deal
Air-con – is always worth an extra $1 or two here… Always
Cockroaches – will show up in a room that is $2 or $500; it's Southeast Asia so don't pay more because they say they're not there, they are lying to you.
Price – you will always find somewhere for $2 if you need to
Couchsurfing – you can do couch surfing in Asia too!
Food
Now, it's not all teriyaki dreaming in Asia unfortunately. However, for the most part the cuisine is absolutely delicious! Once again, you're always going to be able to find a bargain here depending on your palate and your cheapest option is to go local. The local dishes are always going to be kinder to your budget wherever you travel, especially here with the street food option available.
Street food is essentially local people with a cart who cook in the street (wow the clue really is in the name huh). You can grab a meal for less than a $1 and a lot of the stalls even have some plastic seating so you don't have to eat on the go!
Just be careful if you have any food allergies, you can still eat the local food just be very clear with the chef about what you can /can't eat. The local beer can also cost as little as 10 cents, so have fun with that.
Tips for your Budget
Street Food – eat it whenever you can, it's cheap, delicious and generally fresher than in some restaurants
Local Dishes – even in a restaurant, you can have a local dish from around $1.50
If in Doubt – spring rolls are normally a safe bet & cheap
Activities
As a tourist, you are fair game to anyone! A lot of the locals will see you as a meal ticket and will do anything they can to get a piece of the cash. So here you need to take recommendations from fellow travellers you meet on the road, or from a trustworthy hostel/guesthouse owner.
To rent a bike in the same town can cost you $5 for a day or $25, and the principle is the same with any activity, from white water rafting to zip lining and jungle hikes.
It's always cheaper in Southeast Asia (there's a theme running here right), but you can always get an even better deal if you're savvy!
Tips for your Budget
Trust – If you get to know the locals / hostel / guesthouse owners, they'll always tell you where to get the best deal & the best activity
Rule of 3 – Always check out 3 places before deciding to ensure you get the best value for money
Listen – Chat to your fellow backpackers on the road, they'll know the best deal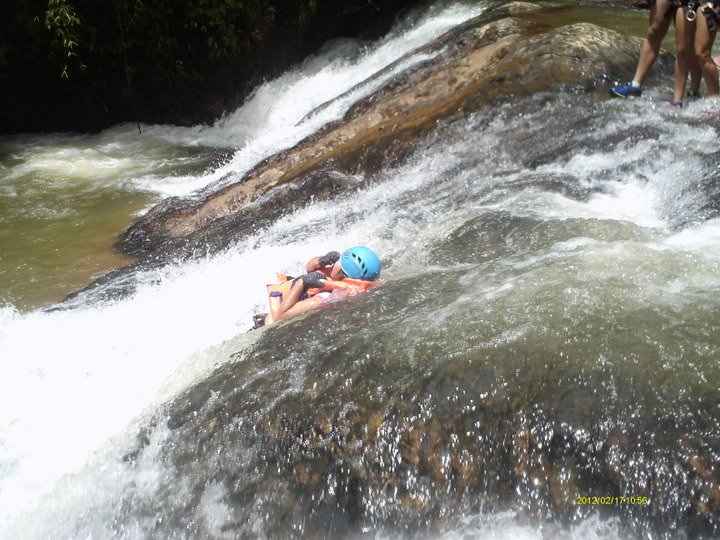 Travel
So when your average two-hour train journey to London in the UK regularly costs upwards of $100, you cannot believe the feeling when you find out that you can travel to different countries for $20 in SE Asia!
If you can handle it, your cheapest long distance travel will be a bus and it's again worth paying the extra $1 for an air-conditioned journey. Buses aren't the most comfortable, but an overnight bed on a train will cost you a little more!
For short city travel the tuk-tuk is your best friend. You can hire one and a driver for an entire day at $5-$15 (city depending). You always have to haggle to get the best price but they will show you a good time and know the best sites in the city.
Tips for your budget
Booking – book your travel from your accommodation, they will get you the best deal on booking rather than the booking agents in town
Bus – taking a bus for long distance is cheaper but not the most comfortable, you can pay more for a VIP bus though!
Haggle – always barter for a tuk-tuk for the best price, they expect it!
Shopping
Since I've mentioned haggling above, I will warn you that everything you buy in the markets and even a number of shops will be done via haggling. You cannot be shy when doing this as these guys are experts at what they do and know all the tricks at getting you to part with your money.
Go between stalls and find out the average price for the items you want, and know that if you're shopping on a big market night you will most likely get a better deal as each stall will be competing against each other for your sale.
Most of all, enjoy it though! You can get your harem pants for $5 and a notebook for $1, don't even get me started on the jewellery deals you can grab too! Remember to buy in bulk as you will ALWAYS get a better deal – trust me, try to buy with a friend so you both get your goods on the cheap.
Tips for your budget
Haggle – Do it with confidence and know the price you're willing to pay before starting the conversation
Shop around – Everything you see you will find at another stall so don't worry if the price isn't right in one place as it will be elsewhere
Night Markets – Always head to the night markets, for bargains and good fun!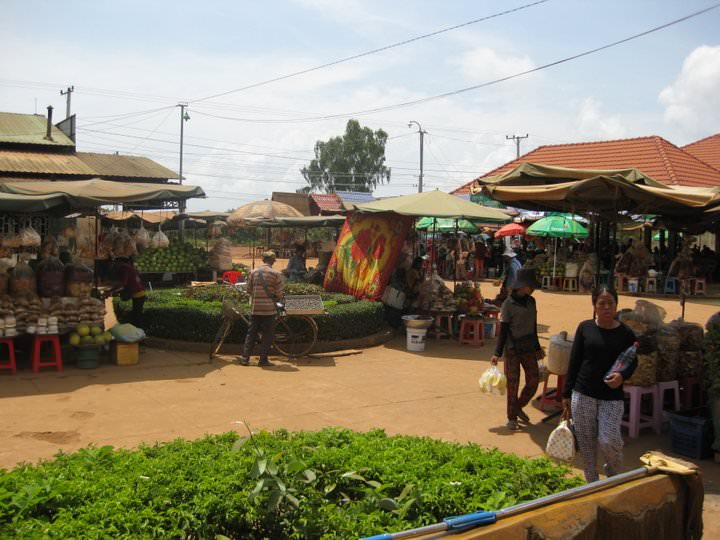 So, hopefully these tips give you a good idea on how to save some money in Southeast Asia! You can blow through your money very fast, or last for months on a budget you could never survive at home on – it just depends on how good you are at striking a bargain and how happy you are living like a local. As always – feel free to get in touch with me for any extra tips or advice as I'm always happy to help!
About The Author:

I have skydived, surfed, trekked, swum with massive crocodiles, kissed a komodo dragon, been shot at, tackled tumbling falls and raging rivers, camel raced and sipped cocktails in over a dozen countries. When it comes to stepping out of your comfort zone; I know my stuff. It doesn't matter how you do it; in a 5* resort or camping on a beach. Trust me, trust yourself, hit the road, it will change your life.
Follow Millie at Millie Goes, Facebook, Twitter and Instagram