I'm so excited to share this article with you! In Part #1 and Part #2 we listed some of our favourite must-try meals from around the globe, but in this post we've reached out to some awesome travellers to share their recommended, authentic dishes from some very cool countries!
I'm so hungry from putting this article together….I'm off to eat, enjoy the pictures and delectable descriptions.  
Saji in Pakistan:
In a nation of delicious meat-based dishes, Saji is perhaps my favourite Pakistani meal. From the far-flung province of Balochistan, Saji is served up roadside in many parts of the country. A whole chicken is stuffed with rice, spices, a bit of salt and a bit of oil. Then it is roasted – barbecued on an open flame – while the rice inside cooks, swells up and flavours the chicken, which is also basted in a tangy, spicy marinate. Once ready, the chicken is split, the rice tumbles out, and the whole thing is served with garnishes of semi-dried limes, zesty sumac-infused masala, and minty yogurt. The result is a salty-spicy-tangy comfort food which is in many ways representative of Pakistan's identity, in the cultural-collision zone between India, Persia and Arabia.
– Tim of Urban Duniya
Bandeja Paisa in Colombia:
Unless you are a vegetarian, Bandeja Paisa is one of the most representative dishes you can try in Colombia. If you like rustic, bold, meaty flavors, this is definitely the type of food you will enjoy!
This platter, typical from the inland areas, is loaded and fulfilling. It includes red bean stew served with rice (there is a little mountain of white rice under the fried eggs in this photo, but it is also often served with coconut infused rice), ground meat, fried eggs, fried plantains (locally known as patacones and extremely common as a side for daily meals), chorizo, chicharron (or pork crackling in English, which is basically a cute way of saying "fried chunk of pork fat"), fried arepa (the local flat bread made with maize), salad and a generous portion of avocado.
If you are ever in Colombia, don't miss out! Order Bandeja Paisa and give in to the simple yet comforting flavors of the Andes. And remember: one serving is plenty for (at least) two people!

– Zara of Backpack ME
Kroketten in Holland:
Traditional Dutch food you can't miss in Holland.
My first impression of Amsterdam was amazing as I immediately fell in love with the local cuisine. One of the most delicious Dutch treats I found in Amsterdam at that time were croquettes, called in Dutch, Kroketten. They are usually made of meat ragout covered in breadcrumbs, and deep-fried until golden and crispy, served with béchamel or brown sauce and soaked white bread, egg, onion, spices and herbs, wine, milk or beer. Extremely yummy, in my opinion.
You can get Kroketten from fast food bars as well as you can order them in any Dutch restaurant. Optionally, some people purchase frozen croquettes at supermarkets and pop them into the deep fat fryer at home. Although it takes some time to find places and shops that make excellent croquettes, once you try them, you will certainly appreciate its crispy taste and soft texture. Therefore, once you get to Holland, make sure you dig into a big plate of croquettes before you start your sightseeing!
– Agness of eTramping
Chilcano in Peru:
I'm loving the food in Peru, which is flavourful and creative. One of my favourite dishes is called Chilcano, which is based on ceviche (also a must-try in Peru, especially in Lima). Ceviche, by the way, is available through much of Central and South America, but is particularly good in Peru, due to the kinds of local peppers and seasonings they use. Away from the coast and in the Peruvian Andes, you'll get ceviche made with local lake trout, which is also delicious.
Anyway: chilcano. It's a soup (with a slightly unappetizing looking but delicious citrusy broth), with a scoop of ceviche, sometimes some rice, fresh thinly sliced onions, and topped with toasted maize (a delicious local snack in and of itself). Seasonings include cilantro, and all together it makes for a feast of the mouth. If you get it at a local market, you'll pay about 3 soles ($1) for a bowl, and it's customary for them to give you another half portion for free if you wish.
– Nora of The Professional Hobo. Check out her ebooks: How to Get Free Accommodation Around the World and  Tales of Trains: Where the Journey is the Destination.
Japchae in South Korea:
During my year teaching ESL in South Korea, I got to try a lot of new dishes and one of my personal favourites was japchae (잡채). The meal consists of sweet potato noodles which are stir-fried in sesame oil with a mixture of vegetables including carrots, spring onions, and bean sprouts. Top that off with sesame seeds and a bit of hot chilli, and you are good to go! What I liked about this dish is that it always found its way over to the table in some shape or form; sometimes it would be served as a main dish, other times it would come in a smaller plate as a side dish, during the summer months the noodles would be served cold, and then during the winter months it would be served hot. Versatile and delicious! If you ever find yourself in South Korea, this is a dish worth trying!
– Audrey of ThatBackpacker.com
Schnitzel in Germany: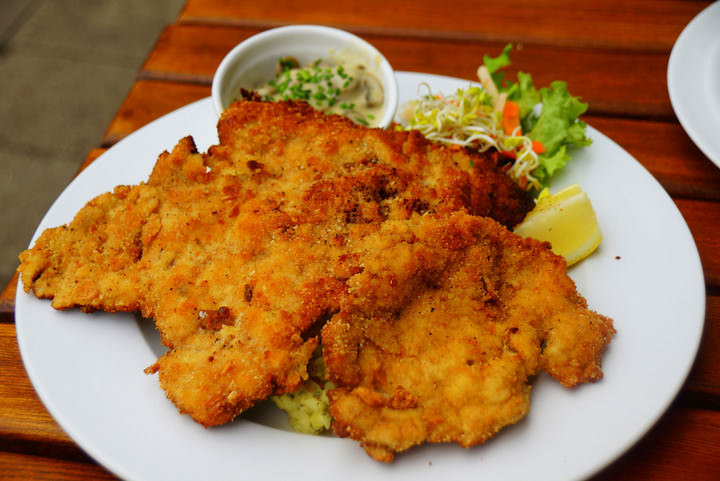 Wiener Schnitzel is technically a Viennese specialty, but that doesn't mean it is any less popular in Germany. The truth is schnitzel has become so popular around the world that you'll find it in various countries going by different names – in Argentina it's milanesa, in Japan it's tonkatsu, in Portugal it's bife panados – but the recipe is essentially the same. The dish consists of a thin strip of boneless meat (usually pork) that has been tenderized, and then coated in flour, eggs, and bread crumbs before being fried. This is definitely a hearty meal! While travelling around Germany I found myself ordering this dish time and time again, and the schnitzel was often larger than the plate itself. Be prepared to share.
– Samuel of NomadicSamuel.com
Banh Chao in Cambodia:
The delectable Khmer pancake! Similar to Banh Xeo in Vietnam, this traditional Cambodian dish is popular as a breakfast food, particularly on special occasions.
Containing both pork and prawns, this flavourful crepe is cooked with a fresh flour mix on a sizzling hot plate. Throw some fish sauce and garlic into the equation, plus a solid amount of bean sprouts, spring onions and mushrooms and you're just about on your way to taste bud heaven. Fold everything up inside the pancake and serve it up with a side of peanut sauce and more fresh onions, cucumber, mint and basil leaves. Accompanied with a steaming pot of tea, there is no better way to start your day in Cambodia!
– Jazza & Lesh of NOMADasaurus
Niu Ruo Mian in Taiwan:
Taiwan might not be known for its foodie scene, but the small island certainly knows how to serve up some decadent dishes and adventurous street eats. If you can only try one Taiwanese dish, it should without a doubt be Niu Ruo Mian (Beef Noodles) – Taiwan's national dish. A pile of noodles, chunks of fatty beef and a simple beef broth constitute the basics of the sensational but simple dish. Each restaurant and family has its own unique flavor and recipe; we recommend experimenting until you find your favorite! There is even an annual beef noodle competition where chefs compete to create the most scrumptious beef noodle variation. Our personal favorite includes slightly chewy chunks of noodles that have been 'scooped' off a large block of noodles straight into the steaming broth.
– Dan & Casey of A Cruising Couple
Chankonabe in Japan:
After watching wrestler's practice at Hakkaku Sumo Stable in Tokyo, I was hungry. Seeing them huff, puff and sweat actually made my stomach growl and what better thing to eat for lunch than Chankonabe, the nutritious stew that the wrestlers dine on as part of their strict diet.
Chankonabe is a hearty dish that is relatively healthy, low in fat, high in protein and filled with tons of veggies.
There are many Chankonabe restaurants in Tokyo, conveniently located close to the sumo stables where the wrestlers practice and live. I chose Yoshiba to indulge in my bowl, mostly because this establishment was a former stable and features a ring right in the middle of the dining room.
A burner was placed on the table and a large silver pot on top the that, inside was the uncooked Chankonabe. The miso broth base, heated by the flame, was used to cook the hodgepodge of ingredients. There was a little of everything in there: salmon, chicken, enoki, fried tofu, prawns, scallops, vegetables and even small meatballs. After about ten minutes of cooking, lunch was served. We ladled enough of the stew to fill four large bowls and still barely made a dent in the pot.
The mild flavor of the broth allowed for each ingredient to shine and the lack of complex flavors gave me the feeling of fresh, simple and healthy eating. I went in for a second bowl.
– Annette White of Bucket List Journey
Hákarl in Iceland:
If you're travelling for local cuisine, you can't visit Iceland without tasting fermented shark. Yes, rotten shark is an Icelandic staple which dates back to the Viking times, and the traditional dish is still very much a part of their culture today (though admittedly also used as an amusing tourist attraction).
While the concept of rotten shark may disgust you, fresh shark in many instances is actually unhealthy due to the acid in the flesh. And it doesn't actually taste that horrible! We won't ruin your first experience with spoilers, though I do recommend pinching your nose, as the smell is worse than the taste!
– Megan of Mapping Megan
Crêpe au Caramel au Beurre Salé in Paris:
Paris is less than 2 hours away from London, so we visit the gorgeous city quite a few times every year. Over the years, we've had our fair share of burnt and soggy crepes or ones that have been doused in maple syrup.
But earlier this year we were tipped by a Paris friend and we discovered crepe heaven. Rue de Montparnasse is a tiny street close to the Montparnasse Tower. It's lined with loads of authentic French creperies. The post popular creperie is La Petit Josselin but we found it's offerings a tad too buttery. Our favourite one is a tiny creperie close to La Petit Josselin.
La Creperie Bretonne is famous amongst locals for its buckwheat galettes and crepes and they are scrumptious indeed. But the pièce de résistance is the crêpe au caramel au beurre salé (salted butter caramel crepe). The velvety smooth texture of the filling complements the crispiness of the crepe and the subtle saltiness of the caramel sauce is balanced by the sweetness of the accompanying ice cream. It makes the tongue want to dance – we challenge you not to go back for seconds. More delicious and beautiful things to eat and do in Paris can be found here.
– Savi & Vid of Bruised Passports
Sopa da Pedra in Portugal: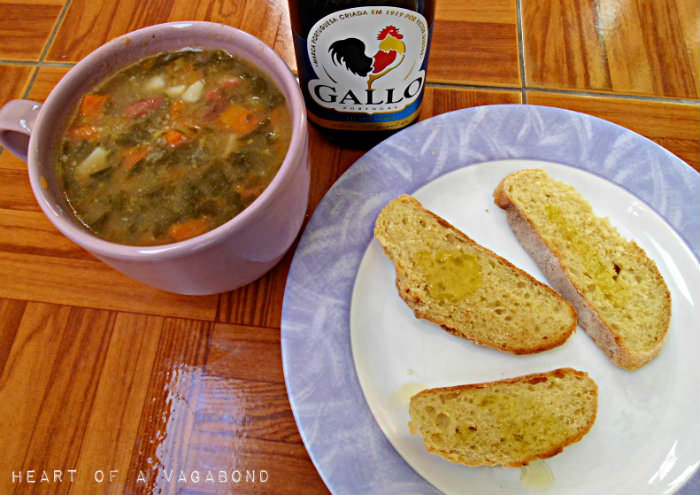 Sopa da Pedra is one of the most traditional Portuguese foods and part of our typical Mediterranean diet. And let me tell you something: we love our soups here in Portugal. Once considered the soup of "the poor", Sopa da pedra (literally means stone soup) can now be found in every Portuguese home and restaurant, from north to south. It is cooked with a lot of random ingredients and a stone. The legend of the Stone Soup says this was a scam a Benedict monk played on people of the village of Almeirin in order to get free meals from the locals.  Although meat is usually used to give flavor to the soup, it can be found in a vegetarian version as well. This filling soup can be a full meal, with corn bread dipped in olive oil. During winter time, it will keep you warm all day.
– Yara Coelho of Heart Of A Vagabond
Feeling hungry yet?! Which meal looked the best to you? Have you tried any of them? Share with us below 🙂
Disclaimer:Goats On The Road is an Amazon Associate and also an affiliate for some other retailers. This means we earn commissions if you click links on our blog and purchase from those retailers.