In this MyTEFL review article, you'll learn from a MyTEFL certified teacher what it's like to take a course and get a certification through this company.
Many people assume that because MyTEFL is affordable and popular that it must be a scam or that it's not legit — which definitely isn't the case!
In this article, we're chatting with Kacie who is an English teacher living abroad in China, while working both in the classroom, and as an online English teacher as well.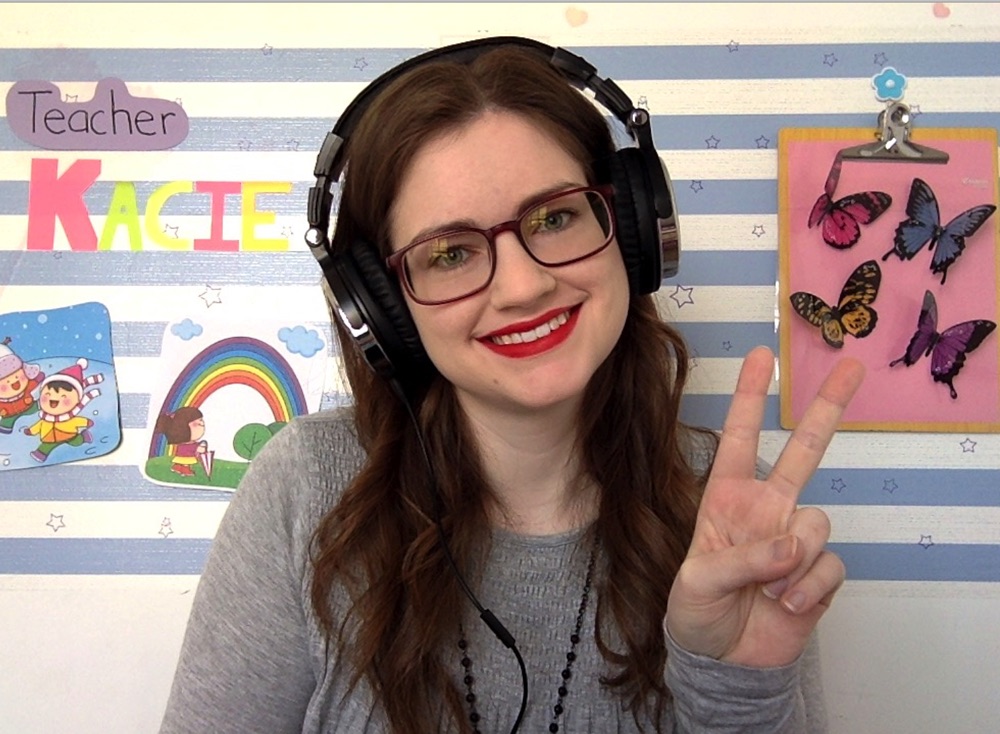 In order to get these 3 teaching positions, she needed to get TEFL certified. Learn more about her experience with MyTEFL in this in-depth, honest review.
What made you decide to get your TEFL Certification?
Teaching English abroad is a great opportunity to work and travel at the same time!
However, the laws in China (one of the highest paying countries for ESL teachers) have recently changed to require that foreign teachers now have some sort of ESL certification.
Many other countries are also following their lead to include this requirement.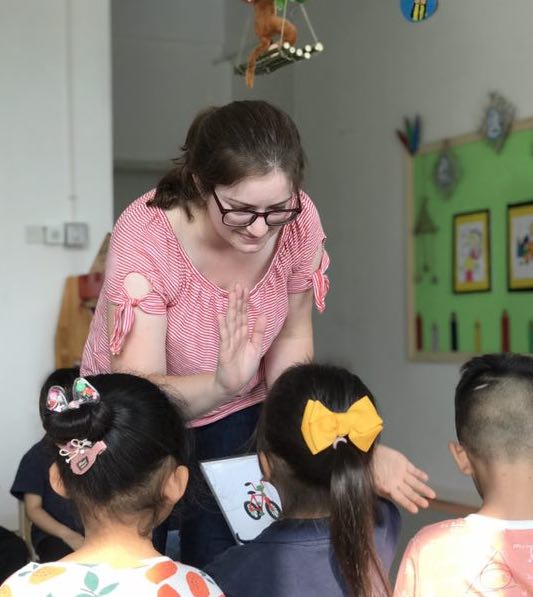 Some schools will help you get this once you have been hired, but as it's becoming the norm now, having it on your resume already will really give you a leg up over other applicants!
There are a lot of different ESL certification companies to choose from, but the good news is there's something out there that's perfect for your needs, and it doesn't have to be expensive.
There are a few different types of ESL certification:
TEFL (Teaching English as a Foreign Language), TESOL (Teaching English to Speakers of Other Languages), and CELTA (Certificate in English Language Teaching to Adults) are by far the most common ones.
Depending on which country you want to work in or what type of student you want to teach, one may be a better fit than another, but the vast majority of teachers I've met have a TEFL.
It seems to be the most common choice, and it's the one I chose when I decided to get certified last spring. Less than two months after I earned my certificate with MyTEFL I was hired for a teaching position in China!
About MyTEFL
I chose to do an online TEFL certification program through MyTEFL. This company really strives to provide the most up to date information based on researched methods to best prepare you for a job as an ESL teacher.
The course is very thorough. It covers what you can expect working in many different countries around the world. Plus, basic grammar review, teaching techniques, as well as specific guides on teaching reading, writing, speaking, and listening skills.
They also cover tips on lesson planning, age-appropriate activities, and creating tests to gauge how well your students are learning.
It's a great, well-rounded introduction to the world of ESL and what you can expect as an ESL teacher.
MyTEFL is also a member of the International Association of Teachers of English as a Foreign Language (IATEFL), and is accredited by OTTSA, so it's nice to know that this certificate will be recognized all over the world.
What I really liked about MyTEFL was the extra perks they offer.
They have tutors who can help guide you through the program if you have any questions going through the course.

But the best part is that they have a job placement program! The company has connections with schools around the world, and they will help you find a job once you complete the program.
For every teacher who signs up for one of their courses, they will also make a donation to one of a few different international charities. This doesn't cost any extra, it's just another step they take to make a positive impact on the world.
Why did you decide on MyTEFL instead of another company?
I chose MyTEFL because it really is affordable! I was looking for the best quality I could find in my price range.
The course is relatively cheap to begin with, but you can often find a MyTEFL discount code to make it even more so — such as using promo code GOAT35 to receive a further 35% off.
They also have a matching program where they will not only meet the price of another course, but they will beat it by 10%. How can you beat a deal like that?
They do offer a variety of courses both onsite and online.
The price will vary depending on which option you decide on, but make sure you at least go for the 120-hour course. Most employers won't recognize the certificate if it is less than 120 hours.
I can't speak personally about the onsite courses, but it seems to me like it would be a great way to see another part of the world, if it's in your budget.
You'll also have built in experience when it comes time to apply for a job.
What was your personal experience like with MyTEFL?
I took the 120-hour online certification course with MyTEFL.
I was able to complete it in just a couple of weeks, working on it about 4 hours a day, a few days a week.
The course is entirely text-based, where you will read through the material in each chapter and then take a short quiz about what you have learned.
I liked this because it broke the information down into easily digestible sections.
Some of the quiz questions were directly from the text, but others were more about how you would apply the content in the classroom, which I loved! Very practical!
If you're a fast reader, you'll probably get through it a lot quicker than I did. It's nice that you can go at your own pace, as long as you finish it within three months.
If you don't learn well through reading, then this course is not for you. I wish they also had an audio component or videos for each of the sections to include different types of learners, but as far as I know, for now the online courses are only available via text.
I didn't end up needing the tutoring service, but they did reach out to me a couple of different times to offer the service.
Did you feel that your MyTEFL certification was worth the money and was sufficient for finding work?
This TEFL program gave me a solid knowledge base about the ESL world.
MyTEFL provided me with a whole toolbox of ESL concepts to bring to my new job as a teacher. Somehow they manage to provide just enough specifics to set you up for success, but not so much that you won't be able to still learn and grow in your new school.
It's a fine line, but for me they gave me just enough knowledge to get started and let my school train me on the specifics at their company.
Once I had my certificate in hand (well, in my inbox. They will send it digitally unless you request otherwise), I was able to secure the job of my choice in China in less than two months!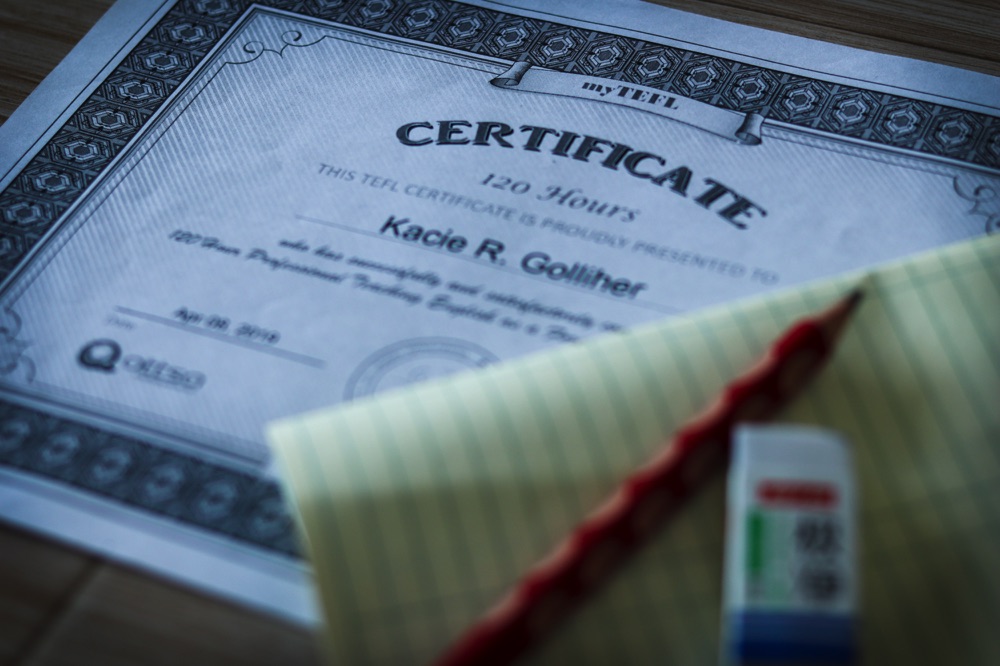 Since then I have used the same certification to get hired at two different online English teaching companies. It was definitely worth the investment for me.
Online TEFL Certification vs. In-Person Certification
MyTEFL does offer both online and onsite courses. As I mentioned, be sure you go for that 120-hour course if you decide on one of the online courses.
They have shorter courses, but it's important that you get this one since it's generally considered the minimum requirement for an accepted TEFL certificate.
It's a great course because it is a fraction of the cost of in-person training, and you can work on it anytime, anywhere. It's maximum flexibility at its finest!
The onsite courses are currently available in Thailand, Argentina, and Spain.
Here you will learn in a physical learning environment and be able to hone your skills by practicing them in the classroom.
These programs are also 120 hours long, but the one in Spain lasts four weeks. They cost quite a bit more, but if you are serious about making this a permanent career change, it could be worth it.
If you just want to earn experience while you get certified, or just see what working in one of these countries is like, this may be the best way to go. It just depends on your unique situation and goals for your teaching career.
I opted for the online course because I was traveling around the western United States with my husband while completing my course. I was able to work on it at house sits and Airbnb's at my own convenience. It was perfect for me!
What do the courses cost?
I paid $194.35, after using a coupon, for the 120-hour online course.
That gave me access to the full course, which you have up to three months to complete.
It includes free tutoring, if necessary, and connections to the job placement team at MyTEFL.
Once I passed all of the modules in the course, my certificate and a letter of recommendation were emailed to me in just a few business days.
sign up with mytefl using code goat35 and get 35% off!
What were some of the pros and cons of taking the MyTEFL course?
MyTEFL provided a convenient, fast, affordable, and easy option to get my TEFL certificate.
They are a reliable company and the certification has been readily accepted every time I've needed to use it — for the school in China, and for 2 online teaching companies. No questions asked!
My only real complaint about the course is that it is not available to all learning styles.
It was a little bit tedious for me to read through each module. There are some graphics to help explain the content, but I wish they had videos or audio tracks to accompany the text as well.
The job placement program is really great, and the team is very kind and quick, but they weren't able to offer me a lot of advice about teaching abroad with my husband, who does not teach.
I needed information about finding a school to sponsor a visa for him as well, even though he would not be working abroad.
They gave me some recommendations to start researching, but I think their area of expertise primarily lies in helping single teachers get placed in jobs (unless your spouse will also be teaching).
Who can take a MyTEFL course?
Anyone, 18 years or older, is eligible to take courses with MyTEFL.
You do not need to be a native English speaker or have a four-year university degree!
I am both a native English speaker from the USA, and I do have a university degree, so I can't speak to what that experience might be like in finding a job.
However, there are still quite a few online teaching opportunities for those with a TEFL, but without a degree.
I would also recommend reaching out to MyTEFL in order to get an idea of what sort of job placement opportunities they might be able to offer you. I'm sure they can help you find some great options, I just can't speak to this personally.
How do people sign up for a course?
Signing up for the online courses at MyTEFL is as easy as it gets.
You will just have to select the course you want, register your name, email, birthdate, address, and enter a credit or debit card to complete your registration.
If you have ever shopped online, this will be a walk in the park. Once the payment goes through, you're all set to start earning that certification!
You will want to make sure all of this information in the system matches your passport information exactly.
The certificate may be rejected during the hiring process if it doesn't match 100%. Then you will have to request and pay for a reissued certificate with the correction.
Thanks for the MyTEFL Review!
I hope this interview with Kacie helped you gain a better understanding of what MyTEFL has to offer. If you're interested in learning more, click here. And, don't forget to use promo code: goat35 to receive 35% off your MyTEFL certification.
To learn more about Kacie, check out her awesome travel and lifestyle website: Go Beyond The Borders.
Like This Article? Pin it!