After a very eventful five days in the Masai Mara, we packed up our gear and were on our way back to Nairobi. We spent one more day in the country's capital before making our way back to Tanzania. We had read online and in our guidebook that the bus from Nairobi, Kenya to Moshi, Tanzania was supposed to cost us $35 each! That was an outrageous amount in our minds compared the cost of every other ride we've taken in Kenya.
However, with our fabulous bargaining skills, we were able to get the tickets for $20 each, not bad. We arrived at the border crossing the following day, stamped out of Kenya and stamped into Tanzania. This crossing was different though. They had a fingerprint scanner and also required everyone to show proof of a Yellow Fever vaccination.
We both had these shots before leaving Canada. However, Nick lost his vaccination certificate sometime around Egypt. We were silently praying they wouldn't ask us for it…and thankfully they didn't. We saw an unfortunate South African man being taken away to the "vaccination room". I would rather stay in Kenya forever than have a shot injected into my body at a border crossing.
Relieved, we boarded the bus once again and continued to make our way into Tanzania. We passed some picturesque landscapes of pineapple and coffee plantations and rolling hills in the distance. We were in Moshi to see one of Tanzania's most popular tourist sites: Mount Kilimanjaro, Africa's tallest mountain.
We had a great view of the stunning mountain from the rooftop of our backpackers. As beautiful as the snow capped peak looked, we weren't there to climb it…we were saving that for Nepal. After a couple of days spent enjoying locally grown coffee and tea, we said goodbye to Moshi and boarded yet another bus to Dar Es Salaam.
This was our second time in Dar so we knew the area pretty well. We settled into our same hotel as before (Safari Inn), enjoyed some delicious Indian food and went to the port to book our boat ticket over to the famous and beautiful island of Zanzibar. We had heard so much about this island and were really looking forward to exploring it.
Stepping off the ferry boat in Stone Town was like stepping back in time. It felt a little like Lamu Island in Kenya, but with vehicles. Between the 12th and 15th centuries, Zanzibar became a powerful island and trades with Arabia and the Persian Gulf flourished. Zanzibar would supply slaves, wood, ivory and gold to places like India and Asia.
Because of this trading, Islam and Arabic architecture made its way to the island. This stunning design of architecture and Islam influence can be found all over the island; from the mosques to the styles of the people's homes, to the traditional Islamic dress worn by the men and women.
We absolutely loved Stone Town. We walked and walked all over that place. There was a beautiful oceanside promenade and at night, food vendors would set up shop selling pancakes, pizzas and fruit juice. The beach area of Stone Town isn't ideal for swimming but it sure was ideal for people watching. All the locals would come there at sunset and it was so much fun watching them enjoying themselves. Teenagers came for an early evening dip in the ocean, older guys and men had full on soccer matches and couples strolled hand in hand.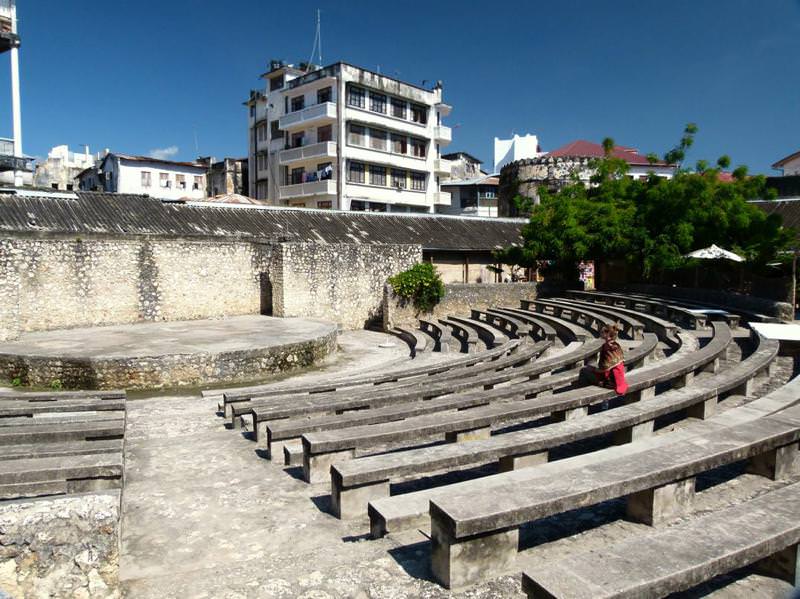 We found a perfect local joint for eating all our meals at. It was busy, affordable and packed with local people enjoying traditional Zanzibari food. We felt totally safe in Stone Town and were even comfortable enough to walk around with our camera in the evening!
The interior of town was our favourite area. Crumbling buildings, narrow alleyways, unique architecture and surprises around every corner. The most famous feature of Zanzibari architecture are the wooden doors, which were built as a symbol of the status and wealth of a household. There are apparently 500 of these doors left in Stone Town.
Many have carvings of passages from the Quaran and different items of symbolic meaning. However, the most interesting of all the doors were the ones with massive brass spikes protruding from them. We later learned that they were built this way in order to protect the house from elephants barging in!
Nick went diving on our second day in Stone Town. Since the dive site was on the Northern part of the island at Mnemba and because the boat they went out on was small, I wasn't able to come along. In fact, I haven't been able to come on a dive since Thailand 2 years ago!
He had two great dives that day with perfect visibility. He saw a black tip reef shark, octopus, turtles, sting rays and of course, many fish. The highlight of that dive happened above water though. The boat spotted a pod of dolphins coming right for them and, of course, Nick asked if he could jump in with them. Overboard he went to swim with dolphins for about 5 memorable minutes!! I couldn't believe it when he came back and told me all about it, I was beyond envious but very happy for him.
After 3 perfect days in Stone Town, we figured we had seen enough historic buildings and decided we were ready for the beach. We chose Paje Beach as our destination and it sure didn't disappoint. We couldn't find anywhere affordable or funky to stay and were getting pretty bummed out about it.
We then remembered we had met a girl in Malawi who told us about Teddy's Place. We called them up and they had a beach bungalow available! It was perfect. Our hut was spacious and even had a sand floor, there was a chillout area with music, a bar and a treehouse overlooking the ocean, complete with hammocks. The beach was stunning. Blindingly white sand as far as the eye could see and the water was a perfect shade of turquoise.
We spent 3 nights on this glorious beach and one of those days just happened to be Halloween. There was even a couple of costume parties going on as well. We dug deep into our backpacks and the outfits we came up with were: African Mama for me and an African Warrior for Nick. It was either that or go as a North Face rep! We had many cocktails, beers and enjoyed live music by a massive bonfire. It was the first Halloween we've celebrated in years and it was awesome.
Zanzibar is a small island that packs a lot of punch. The atmosphere, the rich flavours of the cuisine, the friendly locals and the beautiful beaches makes this one of our favourite islands. On the ferry back to busy Dar Es Salaam, we already longed to be back amongst the swaying palm trees.
Like this Post? Pin it!