When we got off the bus in Besi Sahar, the starting point for the Annapurna Circuit, we were completely unaware of what lay ahead. Sure, we had done ample research and planning but in the end, you can't be prepared for a journey so epic. We checked in to a nice little hotel, planned our route for the next day and went to sleep.
When we awoke the next morning at 6:30am and officially began the trek, the sky was hazy, the thermometer read 15 degrees celsius, butterflies danced in our peripheral and the sub-tropical climate sustained all sorts of jungle flora and fauna around us. This was all to change dramatically as we gained altitude over the course of the next 13 days. We screwed together our hiking poles, strapped on our small backpacks, tied up our shoes and headed off into the great unknown.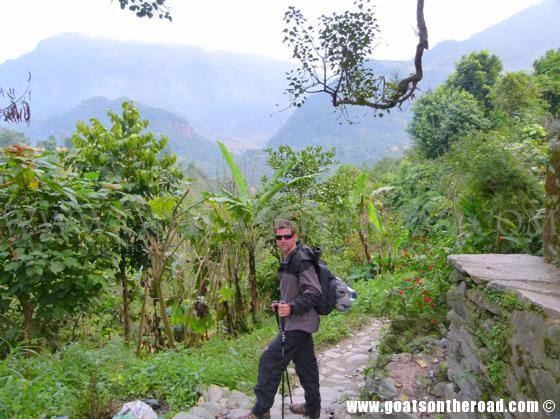 Although we mostly followed a "road" for the first three days, it was more like a dirt path with the odd jeep on it and actually boasted some beautiful views. Many people skip the first couple days of the trek and take a jeep right up to the village of Bhulbule, but we were glad we didn't. The slow, meandering path followed the river at the bottom of the ­­­­valley and foreshadowed the beauty of what lay ahead.
Every once in a while we would get a glimpse of the massive 8000 meter plus peaks of the Himalayas jutting out above the jungle clad hilltops. It didn't take long for us to realise that this was going to end up on our list of all time best travel experiences. The low lying valleys were like a shangri-la of mountain scenery. The fog made it hard to see the distant Himalayas, but everywhere we looked there were mesmerizing waterfalls cascading off of cliffs hundreds of meters above us. Tiny mountain villages, cut off from the outside world until recent road construction, clung to the hillsides like hornets nests.
We transversed some extremely rickety bridges that spanned 50 meters high over the rushing river below; a powerful gush which cut its way through the landscape forming watery capillaries through an otherwise impenetrable fortress of rocky cliffs and dense jungle overgrowth. At one point we came over a hill to see a gigantic make-shift bamboo swing at the foot of a massive waterfall. We stopped for a snack and a few swings before carrying on to our first village of Ngadi. Ngadi was a peaceful place, green and lush with a nice warm year round climate. Our first room was as basic as they come but after hiking for 6 hours we were happy to just relax and enjoy a dal bhat (typical Nepali all-you-can-eat lentil dish).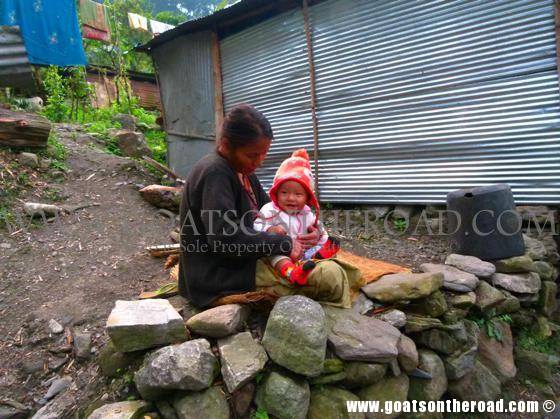 For the first few days a thick fog enveloped the valley but no amount of moisture in the air could take away from the spectacular scenery. Our bodies showed some signs of shock and fatigue, punishing us with sore legs and minor blisters on our feet. But our feet carried us forward. We walked through so many different terrains: dirt paths, jungle, rivers, rocks, bridges and dirt roads. Eventually we entered some of the most picturesque villages we've seen, each one fringed by a jaw dropping amphitheatre of rice terraces that stretched for kilometers in every direction. Farmers harvested their grain, stopping the arduous work only to offer us a joyful smile and a friendly "Namaste" as we walked by (peaceful Nepali greeting).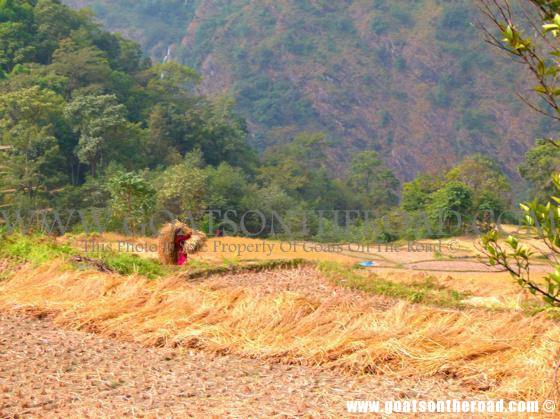 The third day was my birthday and the great God Surya (Hindu Sun God) wished me a happy one with clear blue skies and views of the distant snow-capped peaks. It was also a very difficult day, our first really hard day of the trek. We climbed 600 meters upward passing by some of the most impressive waterfalls we've ever seen. We finally left the drivable road behind and any jeeps we may have seen on the first 2 days were replaced by donkeys, who sauntered up and down the paths carrying anything from building supplies to weary (and lazy) trekkers.
We were huffing and puffing up the final stretch of rock cut stairs, really feeling the burn in our legs, when 6 Nepali porters passed us carrying a cell phone tower weighing nearly 500 lbs! They had the massive machine strapped to bamboo and strung over their shoulders. Only 4 could carry it at the same time so the other 2 were on a break carrying the cables.
Most of them were shoeless, yet they climbed down the treacherously steep cliffside with the agility of mountain goats. Our sighs and complaints relinquished themselves as the group of 5 foot tall smiling men passed us by. We were to see hundreds of these porters on the trek. These men, with the hardest job in the world, transverse Nepal's most treacherous landscapes to deliver precious goods to a world otherwise cut off from the outside world. Most porters we saw were carrying an astonishing number of backpacks or boxes, but none were carrying such a heavy load as these 6 men.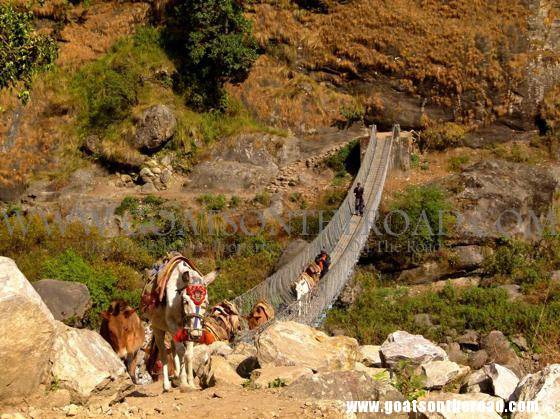 When we finally made it to the top of the steep hill, the sight of Tal Village made it all worthwhile. The tiny collection of Tibetan style homes and guesthouses occupies a huge plain at the foot of some of the highest mountains on Earth. Such a vast, flat, wide open space almost seemed out of place amongst the formidable behemoths of the Annapurna range that towered above us. The mountains of Manaslu, Annapurna 2 and Lamjung Himal imposed themselves aggressively on the backdrop of an impossibly blue sky. Our guesthouse here was at the foot of one of the hundreds of waterfalls that we had seen thus far and we fell asleep to the sound of water crashing into the rocks at the foot of our beds.
Over the next few days we really started noticing a change in temperature and landscapes. The nights became chillier, the food was less flavourful, the mountain views were more amazing, and the vegetation slowly thinned out. We passed many wild marijuana plants, their subtle aromas filled the air with the scent of my highschool memories.
Right in the villages the plants grew like… well… weeds, sticking straight out of the path at some points. We had no choice but to indulge in the Himalayan happy plant and surprisingly it wasn't bad! Or maybe it seemed good because it has been so long since I tried it. Anyway, as we climbed higher, the views of snowcapped peaks slowly opened up and around day 5 they completely dominated the sky.
We climbed up rocky switchbacks, past herds of sheep, over our 7th suspension bridge and into the village of Chame at 2710 meters above sea level. We met up with a couple more Canadians, Jordan & Susie, and two English girls, and were all forced to purchase warmer clothing as the mercury plummeted to 5 below zero before the sun even set. We stocked up on some yak wool gloves and new fleeces before setting off again the following morning.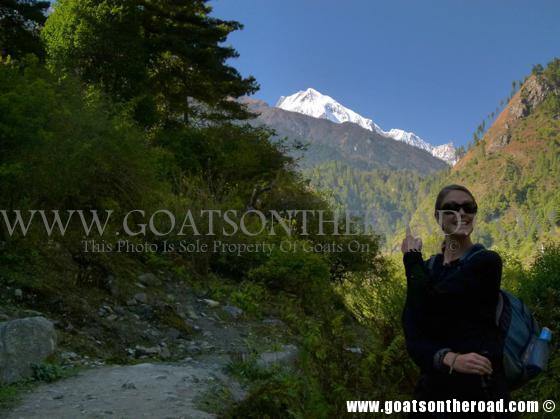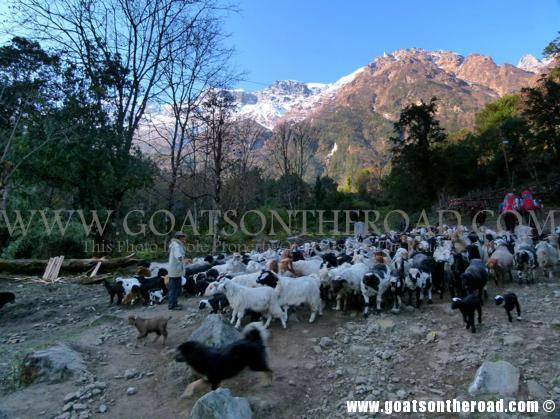 It was day 6 that we first started feeling the effects of the altitude. The thin dry air chapped my throat and gave me a minor cough, but Dariece found herself becoming dizzy and slightly out of it. We were at about 3000 meters, just before crossing yet another picture perfect suspension bridge when Dariece needed to rest. She was acting strange and very short on breath so we both started our Diamox pills.
Diamox is an altitude medication, in pill form, that helps to rid the body of harmful carbon, or base, that the body stores in the blood as you gain altitude. It does this by causing you to pee out the toxins. So although we felt much better after starting our daily dosage, we also had to stop a lot to relieve ourselves, which isn't so bad when you have such spectacular views.
We came over one hill and were rewarded with one of the best sights of the entire trek. It was basically just a giant, 1500 meter high smooth rock face that stretched for kilometers. The locals call it "Sacred Rock" and claim that the spirits of the deceased have to ascend its slippery slope before entering into the afterlife. It's no wonder this rock was the basis for such myths; it's sheer size and beauty could inspire one's mind to conjure all sorts of stories. As we walked along the path we found it hard to keep our eyes off it, even tripping on stones and tree roots in our distraction.
We tirelessly carried on further and with Sacred Rock behind us, we reached a fork in the road. We knew from our maps that one way was an easy route to Lower Pisang, and one a more challenging and more scenic path to Upper Pisang. Recharged, we opted for Upper Pisang and as we approached the tiny mountain village we knew we made the right choice.
The small mud brick homes clung to the side of the cliff, proudly looking down at the valley below. Fences made from tree branches kept the villagers livestock close to their charming little homes, each one with its wood-fire chimney billowing a small puff of smoke into the sky. Children laughed and played, waving as we passed them on our way to the top of the village where the guesthouses were. The room was very basic with a mattress as thin as chapatti, but it boasted some astounding views of the mountains.
A combination of altitude and exhaustion left me immobile in bed for a couple hours. Dariece decided to go check out a monastery at the top of the hill and found herself at a nightime ceremony. Dozens of monks chanted prayers while circling the stunning temple high in mountains, just as they have done for thousands or years. Dariece sat with them and drank warm tea while I was just getting out of bed in our guest house, unaware of the great experiences she was having above me. When she came back, we sipped more tea and warmed up by the fire. Dariece told me and some other trekkers about her experiences at the monastery as we watched the sun set over the snow blanketed Annapurna 2, turning its powdered peaks from white, to yellow, to orange, to blue.
The next day we woke up at 6:30am and had a hard time leaving the relative warmth of our sleeping bags, to enter the -5 degree weather on the trail. We passed a serene turquoise glacier lake which appeared nestled on the valley floor some 200 meters below us. The valley itself had a Marioland feel reminiscent of Turkey's Cappadoccia.
We barely had time to warm up when a set of Tibetan prayer wheels welcomed us at the foot of a massive hill. Rocky switchbacks carved their way up the sheer cliff face to over 300 meters above us. We spun the wheels, said our prayers and started the exhausting hike upwards. Surprisingly our legs held out fine, apparently conditioned from a week of straight trekking. We made it to the top where we were greeted by a massive Gompa (Tibetan temple) which proudly looked down on the path we had just conquered.
The views here were the best yet, the Himalayas appeared pinned to the skies in each direction, so high they seemed to be otherworldly. To put it in perspective for North Americans, the highest of the Rocky Mountains, at 4300 meters, would be absolutely dwarfed by the 8400 meter high Goliaths of Nepal. Their presence commands the sky with such power that even the sun cowers behind their jagged peaks by 4:00 in the afternoon.
Sometimes you can see massive snowstorms break out near their summits, sending streaks of bitter cold ice and snow high into the atmosphere. At this point in the trek we had reached 3500 meters, the air had become drier and thinner with each meter gained in elevation. In the shade it felt like the dead of winter, but being so close to the sun, its intensity burned the skin as we climbed higher.
Feeling your face scorching while your feet go numb was a strange sensation. At night we could see our breath in our heatless rooms as the temperature bottomed out at -10 degrees Celsius. It sounds like a cakewalk for people from countries with climates like Canada, but with no h
eating and bitter winds, the cold can quickly become an endurance test to be added to the weight of climbing at altitude. During the day it was a pleasant 10 degrees above, but at night it became hard to believe that we were sleeping at the same latitude as Miami, except we were 3.5 kilometres above sea level.
"A climbers day always starts at the crux: getting out of bed"
Day 8 began with the familiar aching throat and stuffy head that comes with the common cold. Adding to the challenge of climbing mountains at altitude, the inevitability of the sickness became apparent as we climbed higher and higher. Every person on the trail contracted, at a minimum a cough, and at worst altitude sickness which forced some to return to Besi Sahar.
Leaving the warmth and comfort of our sleeping bags became a true test of will each morning, but as soon as we were on the trail and the sun peeked over the golden mountain tops we were charged with an indescribable energy. The thick jungle that we had passed through on the first few days, had given way to pine forests and now little evidence was left of such life on the trail. Tiny shrubs dotted the rocky hillside, barely clinging to any sustenance this barren land could offer.
We were in yak territory now. The giant, woolly beasts roamed the steep ravines with shocking finesse. The lack of trees meant there was little relief from the searing rays of the sun which appeared closer with each laboured step. The sky, completely devoid of all clouds and moisture, took on an incredible, mystique blue. A clarity of the color that one can only witness above 3500 meters.
We crossed a bridge and followed the tiny, crystal clear creek to a small group of trees barely worthy of the word forest. They provided us with enough shade to rest our tired, wheezing bodies and enjoy a picnic beneath the stage of the tremendous cliffs overhead. We continued on to Braga Village where we enjoyed our first glass of Seabuckthorn Juice. A delicious fruit that only grows high in the mountains. The locals harvest and concentrate this delicious, vitamin rich juice and serve it as a healthy, revitalizing drink for weary trekkers passing by. We loved it and had many more throughout the rest of the trek.
This day ended on our arrival to Manang, the mirage-like village that seemed impossible to reach just a few days before. We had heard of Manang at the start of the trek, famous for its yak burgers, baked goods, movie theater and heated eating areas, we felt like we were arriving in "the big city". Although it really only consisted of a few homes, guesthouses and a clinic, it seemed like civilization. We settled into a nice room and enjoyed our first yak burgers in one of the restaurants. They were delicious and tasted just like beef without the taboo of eating a Hindu God. The views around Manang were breathtaking.
No other village seemed so delicately set amongst the awe-inspiring peaks of the Himalayas. With full views of Gangapurna, and Annapurnas 1, 2 & 3, it truly was like a scene from Jon Krakauer's Into Thin Air, which we watched in the movie theater with our friends that night.
After attending an informative lecture on the dangers of altitude, put on by Craig, an American doctor at the clinic, we agreed to take an "acclimatization day" in Manang. We desperately needed to allow our bodies to adjust to the altitude before climbing an additional 2000 meters to the Thorang La Pass (The Summit). Although Dariece and I had a positive reading on our Pulse-Ox test at the clinic, it was made clear to us the importance of slowing our ascent and hanging back for a day.
Many people have died at this altitude and Craig had plenty of recent stories involving critically ill trekkers and locals alike. But don't think that after trekking for 10 days straight we really got to rest. We were urged by the doctors to climb up at least 400 meters to aid the body's acclimatization. So, the next day we headed up to the beautiful Chongar Viewpoint with our friends, Jordan and Susie. The viewpoint looked down over a postcard photograph of the Chongar Glacier Lake, its reflection perfectly mirroring the ominous, snow painted face of Annapurna 2.
It was a beautiful, sunny day when we climbed up to the lookout, but the altitude and dry air wreaked havoc on my wheezing throat. Every once in a while I had to stop for a coughing fit before continuing; but continuing is always so easy when you are rewarded so generously with the views of Nepal. That night we both had extra seabuckthorn juice to try to combat our stubborn colds and decided to spend an extra day to try to get better in Manang.
We slept in on day 10, as planned, but when we woke up and felt better we decided to press on. The day consisted of a pretty steady incline, but nothing too steep. It felt however, like we were climbing Everest itself. The thin air made it hard to put one foot in front of the other, and we had passed the last permanently inhabited village, meaning that even locals don't like to sleep this high up. After 6 hours of hiking we stopped in the Village of Yak Karka and bedded down in a cosy, but cold, pink cabin on the edge of a cliff.
The next day was our trek to Low Camp, or Base Camp as we called it for dramatic effect. The sun hadn't yet penetrated the mountain ridges as we set out on the frozen trail. We slipped and slid over frozen rivers that once snaked down the valley. At over 4000 meters we really felt like we were sneaking onto the front yard of the sky scraping, powder white legends above us. We had to stop every few hundred meters to catch our fleeting breath and relax our oxygen deprived bodies. Each step was laboured and each breath stung our throats, but the tantalizing sight of the finish line amongst those jagged, snowy gods pushed us forward as they lured us in with their beauty.
At one point we passed a sign that read "No Stopping, Rock Slide Zone" and I thought "are you kidding me?!" No stopping seemed insane. We pushed past the danger zone to the beat or our heart thumping in our chest and the sound of our hastened breath. At 4500 meters there is nothing "LOW" about Low Camp. The snow line is just above the valley that the hotel sits in and the hotel itself is the only thing there. Simply a cluster of 100 or so rooms, built there to make the final pass possible for trekkers. We relaxed in the heated eating area and played cards with our friends Jordan & Suzie. The next day was to be an epic one.
Day 12, the big day… the final ascent. We woke up at 5:00am, had a quick breakfast and hit the trail a half hour later. The path was nearly pitch black so we used our headlamps to guide the way. Luckily it hadn't snowed at this altitude yet, but the familiar white glow was never far from the path. This day was to be, by far, the most gruelling day of the trek, and subsequently our lives.
We were to climb a staggering 1040 meters over the pass and then back down for a knee jarring 1620 meter descent. For the first hour up to High Camp we thought this task to be impossible. The climb was straight up through switchbacks that nearly required us to crawl on all fours in places. All the days of lazing around on beaches, sampling wine in vineyards and blissfully sailing the sea were suddenly being made up for in one exhausting, ice-cold ascent.
We stopped at High Camp, another assortment of rooms for trekkers, for a hot tea and hard-boiled egg, before continuing the rest of the way to the illusive Thorung La Pass. Knowing that the steepest part was over, we figured the hardest part was behind us as well, but it turns out the hardest part was the seemingly endless line of false summits. Every time we reached the crest of a hill we thought we were there.
The wind picked up and angrily whispered words of caution directly from the Himalayas as we neared their summits. Our bodies ignored their haunting warnings and eventually just entered a meditative, machine-like state and each step, although laboured, became strangely easier. It was like we were kicked into overdrive. We took each step with a purposeful stability. When finally the prayer flags of the finish line were in sight, we were given one last charge of energy and we slowly made our way to the top.
Dariece was the first to touch the cluster of flags that marked the end of the most amazing journey of our lives. Our yells echoed down the valley, taunting the path that lay behind us. We laughed and gave each other a congratulatory hug and kiss before retreating into the tiny tea house to enjoy chai and chocolate with our friends. We relaxed for a few minutes before bracing ourselves for the steep climb down.
Compared to the ascent, the descent was a cake walk, although it definitely did a number on my knees. It took us nearly 6 hours of near sprint speed with a few stops to reach the bottom. But on the entire way down, the Annapurna region was not to disappoint us after completing her prize pass. The valley below us was fringed with dozens of massive snow-capped peaks, rewarding us with some of the best views of the entire trek.
When we finally arrived in Muktinath, at the foot of the pass, Dariece, Jordan, Susie and I rewarded ourselves with a delicious meal and a cold beer. We stayed in Muktinath an extra day to do some laundry and relax our aching muscles. The following day we headed to Jomsom and although the views were good, the fact that we followed a slightly busy dirt road the whole way took away from the appeal.
We did pass through another gorgeous village where we stopped for lunch. We walked around the charming, narrow cobblestone alleyways past some interesting shops and restaurants including a "7-11" and a "Yakdonalds"! When the four of us finally reached Jomsom, the sun was setting so we found a room quickly. Jomsom was not a very noteworthy town, but our rooms had a private bathroom and HOT SHOWER!
We all had showers (the 3rd in 13 days) and met in the restaurant completely refreshed. We met two other travellers, Matt and Clare, from England, who were on a remarkably similar world trip. In good company, we all had a great sense of achievement as we sat around the fire and told our stories from the past 2 weeks of trekking in the greatest mountain range on earth.
Fast Facts:
Total Days of Trekking – 14
Total Kilometers Trekked – 145 km
Maximum Altitude Reached – 5416 m (17764 ft) – Thorong La Pass
Height of Everest Base Camp (Nepal) – 5364 m (17598)
Longest Day (Over The Pass) – 9.5 hours, 17 km, 1040m up, 1620 m down!
Like this Post? Pin it!
Disclaimer: Some links in this article are affiliate links, which means that if you purchase through them, we receive a small commission. This will never cost you extra and in many cases you receive a special discount. We appreciate your support!