Over the next few days we really started noticing a change in temperature and landscapes. The nights became chillier, the food was less flavourful, the mountain views were more amazing, and the vegetation slowly thinned out. We passed many wild marijuana plants, their subtle aromas filled the air with the scent of my highschool memories.
Right in the villages the plants grew like… well… weeds, sticking straight out of the path at some points. We had no choice but to indulge in the Himalayan happy plant and surprisingly it wasn't bad! Or maybe it seemed good because it has been so long since I tried it. Anyway, as we climbed higher, the views of snowcapped peaks slowly opened up and around day 5 they completely dominated the sky.
We climbed up rocky switchbacks, past herds of sheep, over our 7th suspension bridge and into the village of Chame at 2710 meters above sea level. We met up with a couple more Canadians, Jordan & Susie, and two English girls, and were all forced to purchase warmer clothing as the mercury plummeted to 5 below zero before the sun even set. We stocked up on some yak wool gloves and new fleeces before setting off again the following morning.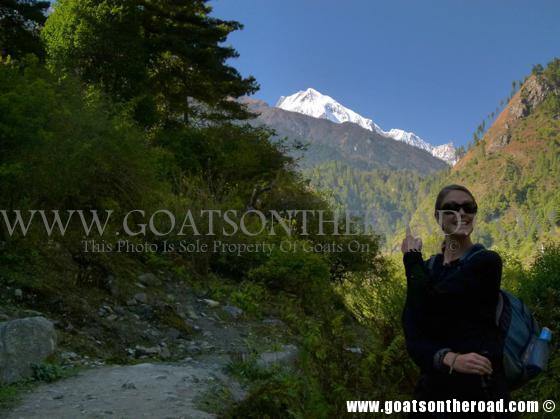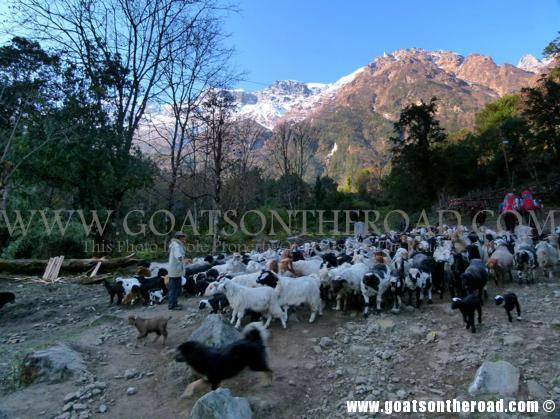 It was day 6 that we first started feeling the effects of the altitude. The thin dry air chapped my throat and gave me a minor cough, but Dariece found herself becoming dizzy and slightly out of it. We were at about 3000 meters, just before crossing yet another picture perfect suspension bridge when Dariece needed to rest. She was acting strange and very short on breath so we both started our Diamox pills.
Diamox is an altitude medication, in pill form, that helps to rid the body of harmful carbon, or base, that the body stores in the blood as you gain altitude. It does this by causing you to pee out the toxins. So although we felt much better after starting our daily dosage, we also had to stop a lot to relieve ourselves, which isn't so bad when you have such spectacular views.
We came over one hill and were rewarded with one of the best sights of the entire trek. It was basically just a giant, 1500 meter high smooth rock face that stretched for kilometers. The locals call it "Sacred Rock" and claim that the spirits of the deceased have to ascend its slippery slope before entering into the afterlife. It's no wonder this rock was the basis for such myths; it's sheer size and beauty could inspire one's mind to conjure all sorts of stories. As we walked along the path we found it hard to keep our eyes off it, even tripping on stones and tree roots in our distraction.
We tirelessly carried on further and with Sacred Rock behind us, we reached a fork in the road. We knew from our maps that one way was an easy route to Lower Pisang, and one a more challenging and more scenic path to Upper Pisang. Recharged, we opted for Upper Pisang and as we approached the tiny mountain village we knew we made the right choice.
The small mud brick homes clung to the side of the cliff, proudly looking down at the valley below. Fences made from tree branches kept the villagers livestock close to their charming little homes, each one with its wood-fire chimney billowing a small puff of smoke into the sky. Children laughed and played, waving as we passed them on our way to the top of the village where the guesthouses were. The room was very basic with a mattress as thin as chapatti, but it boasted some astounding views of the mountains.
A combination of altitude and exhaustion left me immobile in bed for a couple hours. Dariece decided to go check out a monastery at the top of the hill and found herself at a nightime ceremony. Dozens of monks chanted prayers while circling the stunning temple high in mountains, just as they have done for thousands or years. Dariece sat with them and drank warm tea while I was just getting out of bed in our guest house, unaware of the great experiences she was having above me. When she came back, we sipped more tea and warmed up by the fire. Dariece told me and some other trekkers about her experiences at the monastery as we watched the sun set over the snow blanketed Annapurna 2, turning its powdered peaks from white, to yellow, to orange, to blue.
The next day we woke up at 6:30am and had a hard time leaving the relative warmth of our sleeping bags, to enter the -5 degree weather on the trail. We passed a serene turquoise glacier lake which appeared nestled on the valley floor some 200 meters below us. The valley itself had a Marioland feel reminiscent of Turkey's Cappadoccia.
We barely had time to warm up when a set of Tibetan prayer wheels welcomed us at the foot of a massive hill. Rocky switchbacks carved their way up the sheer cliff face to over 300 meters above us. We spun the wheels, said our prayers and started the exhausting hike upwards. Surprisingly our legs held out fine, apparently conditioned from a week of straight trekking. We made it to the top where we were greeted by a massive Gompa (Tibetan temple) which proudly looked down on the path we had just conquered.
The views here were the best yet, the Himalayas appeared pinned to the skies in each direction, so high they seemed to be otherworldly. To put it in perspective for North Americans, the highest of the Rocky Mountains, at 4300 meters, would be absolutely dwarfed by the 8400 meter high Goliaths of Nepal. Their presence commands the sky with such power that even the sun cowers behind their jagged peaks by 4:00 in the afternoon.
Sometimes you can see massive snowstorms break out near their summits, sending streaks of bitter cold ice and snow high into the atmosphere. At this point in the trek we had reached 3500 meters, the air had become drier and thinner with each meter gained in elevation. In the shade it felt like the dead of winter, but being so close to the sun, its intensity burned the skin as we climbed higher.
Feeling your face scorching while your feet go numb was a strange sensation. At night we could see our breath in our heatless rooms as the temperature bottomed out at -10 degrees Celsius. It sounds like a cakewalk for people from countries with climates like Canada, but with no h
eating and bitter winds, the cold can quickly become an endurance test to be added to the weight of climbing at altitude. During the day it was a pleasant 10 degrees above, but at night it became hard to believe that we were sleeping at the same latitude as Miami, except we were 3.5 kilometres above sea level.
 Like this Post? Pin it!