There are plenty of awesome cities in the United States, each offering something unique to visitors. It's hard to pick a favorite, but if I have to then I'm going with New Orleans.
While the Crescent City is most well-known for its massive Mardi Gras celebrations and other epic New Orleans festivals, this is also a foodie's paradise. New Orleans food is incredibly diverse and is some of the best in the country.
You could honestly plan your entire trip to New Orleans around where and what you're eating.
There are so many mouth-watering dishes to try and an abundance of excellent restaurants to visit. You can make several trips to the city and try something new every time, and you'll still only barely scratch the surface.
I've traveled all over my home country and I can say without a shadow of a doubt that New Orleans is my favorite city for food.
I love a good slice of New York pizza and I'm always happy to crush a Chicago hot dog, but you just can't beat the variety in New Orleans. American food may be accused of being somewhat bland, but that's definitely not the case here!
If you're planning a trip to New Orleans and are wondering what to eat, this guide is for you.
Read on for a look at the best food in New Orleans, featuring recommendations for some of the top places to try each dish.
Ready to get into the best New Orleans dishes? Click here to jump down the page.
What is New Orleans Food?
So, what exactly is New Orleans food? The cuisine of the Big Easy is a real melting pot. It's influenced by both Cajun and Creole cuisine as well as soul food. You may be wondering what the difference between Cajun and Creole is. Time for a little history lesson!
Creole Cuisine
Before Louisiana was part of the USA, it was a colony of France and then Spain. Creole refers to the American-born descendants of those European settlers.
French settlers used this word to distinguish between those who were born in Louisiana and those born back in France. This term was also used to describe the descendants of African slaves and Native Americans that were born in the area.
Much like the people, Creole cuisine is a fusion of French, Spanish, African, and Native American influences. Over the years, it was also influenced by German and Italian immigrants as well as the cuisine found in other parts of the southern US.
Cajun Cuisine
Now onto the Cajuns, who are also known as Acadians.
They are the descendants of French colonists who were expelled from the area in Canada known as Acadia when the British took over.
Many of them moved to Louisiana, as it was a French colony at the time. They intermarried with other groups, so many Cajuns today have ancestors from places like Ireland and Germany.
As you might guess, Cajun cuisine has a strong French influence. It's considered a "rustic" cuisine, meaning it relies heavily on local ingredients and is relatively simple to prepare.
It's not necessarily spicy, but it does employ a wide variety of seasonings. We'll take a look at some of the best Cajun food in New Orleans in just a minute.
Wondering where to stay in New Orleans during your trip? Check out our in-depth guide to the best hotels on Bourbon street, including loads of information about the French Quarter.
Soul Food and Seafood
Finally, soul food refers to the cuisine created by African-American descendants of slaves.
With limited rations and long, demanding workdays, they came up with hearty, filling dishes using what little they had. Soul food staples like cornbread, fried catfish, and collard greens with pork came about as a result and are still very popular today.
Thanks to its location, seafood features very prominently in the Big Easy.
It's here that the Mississippi River flows into the Gulf of Mexico, so people have easy access to both fresh and saltwater fish and shellfish. Shrimp, crawfish, oysters, and crab are all common ingredients in New Orleans food.
Now that you know about the various styles of food, let's take a look at some New Orleans famous food and must-try dishes in the city.

Best New Orleans Food: 10 Must-Try Dishes
As a result of the mix of people and cultures in New Orleans, there are numerous tasty, must-try meals.
Some of the dishes are more well-known than others, and while there are way more than 10 foods you should try, here are some famous New Orleans dishes you don't want to miss.
Jambalaya
When it comes to New Orleans food, one dish that always comes to mind is jambalaya. This is a spicy one-pot dish with rice and a mixture of andouille sausage, chicken, and shrimp.
As is typically the case with New Orleans food, there's an interesting backstory behind this dish.
Back when the Spanish settled here, they had a hard time recreating their beloved paella due to high taxes on saffron. Instead, they turned to local ingredients such as juicy tomatoes.
There's both a Cajun and a Creole-style of jambalaya, which is dependant on the use of tomatoes.
You'll typically find Creole jambalaya in New Orleans, which uses tomatoes. But if you were to travel to other areas in Louisiana, you'll find Cajun-style jambalaya — which doesn't incorporate tomatoes in the recipe.
Both styles use the "holy trinity" of onion, celery, and bell peppers (typically green). Garlic is also used in jambalaya, as are a wide range of seasonings such as cayenne pepper, oregano, paprika, and more.
The best thing about jambalaya is that there are so many different ways to cook it. You could try it every day of your trip and not have the same experience twice!
This just might be the quintessential New Orleans dish as it's found all over the city. Some of the best places to eat jambalaya in the city include Mother's and the New Orleans Creole Cookery.
Po' Boys
Po' Boys are a New Orleans classic. If you're wondering where the interesting name of these tasty sandwiches comes from, there's another historical lesson behind it.
Back in1929, the streetcar workers in New Orleans were on strike. A pair of restaurant owners, former streetcar conductors themselves, came up with a cheap sandwich to feed the hungry, unpaid workers.
They referred to the striking workers as "poor boys," and the name stuck for the style of sandwich.
The French influence on New Orleans food is clear once again, as po' boys are served on a baguette-style loaf of bread. Roast beef has always been a popular filling, including a "sloppy" style that's covered in gravy.
These days, fried seafood options like shrimp and oysters are also all the rage.
Whichever filling you choose, get ready for a delicious sandwich and a prime example of New Orleans famous food. When ordering a po' boy, ask for it "dressed" if want lettuce, tomatoes, pickles, and mayo.
Some of the best places for a po' boy include Domilise's, Parkway Bakery & Tavern, and Liuzza's by the Track.
Looking to wash your po'boy down with a drink?! Don't miss our list of the top 10 best New Orleans Bars.
Crawfish
Crawfish – or "mud bugs" as they're known in Louisiana – are freshwater crustaceans that kind of look like small lobsters. They're kind of a big deal here, so much so that there's even a whole festival dedicated to them!
Spring is crawfish season in the Big Easy. Going to a crawfish boil is a must-do if you're visiting this time of year. The boiled crawfish are typically served alongside corn and potatoes, making for a very filling and satisfying meal.
There are countless options for boiled crawfish in New Orleans. Some places cook it up every day, while others do boils just once a week.
A few places that come recommended include Bevi Seafood Co., Cajun Seafood, and Frankie & Johnny's.
One dish that always comes up on lists of the best food in New Orleans is crawfish étouffée, which comes from the French word meaning "to smother." The mudbugs are indeed smothered in a roux (a mix of butter and flour) along with spices.
As with many other popular NOLA dishes, crawfish étouffée comes in both Cajun and Creole styles. Bon Ton Cafe (Update 2021: this restaurant is temporarily closed, check back), Felix's, and Chartres House (Update 2021: this restaurant is temporarily closed, check back), are all good spots to try this popular New Orleans food.
Don't miss a trip out to the New Orleans swamp! Check out this list of the top 7 swamp tours and head out on a trip after you're done eating your way through the city.
Beignets
We've already covered some of the best food in New Orleans for a hearty, filling meal. Let's take a quick break from all the seafood and spice to satisfy your sweet tooth with a classic NOLA treat — beignets.
These delectable pastries were introduced by the French hundreds of years ago, and they're definitely high atop the list of New Orleans famous food. Square-shaped pastries made of fried dough, beignets are known as a doughnut without the hole.
Once they're hot and ready, beignets are dusted with powdered sugar. They're best eaten hot and fresh, especially paired with a cup of cafe au lait.
The most famous place to get your beignet fix is definitely Cafe du Monde (if you've seen the movie Chef, this is where they sampled beignets!).
There's always a line here, but it moves quickly and it's worth it to cross this NOLA staple off your list. Another great choice is the 24-hour Morning Call located inside City Park.
Red Beans & Rice
No list of New Orleans food would be complete without red beans & rice.
Simple, filling, and delicious, this is a local favorite. It's basically the bacon & eggs of the Big Easy. Legendary musician Louis Armstrong loved it so much that he would sign letters "Red Beans & Ricely Yours."
Red beans & rice was traditionally made on Mondays using leftover pork bones from dinner the night before. This made for an easy dinner to prepare while tending to household duties like cleaning and laundry.
These days, you can enjoy red beans & rice any day of the week.
It's cooked slowly in a pot along with the holy trinity and a mixture of spices, then served over rice.
As with many classic New Orleans dishes, most locals will tell you that the best version comes from their mom's kitchen. If you're just traveling here, some popular places to munch on red beans & rice include Joey K's, Mother's, and Coop's (which is 21 and over only).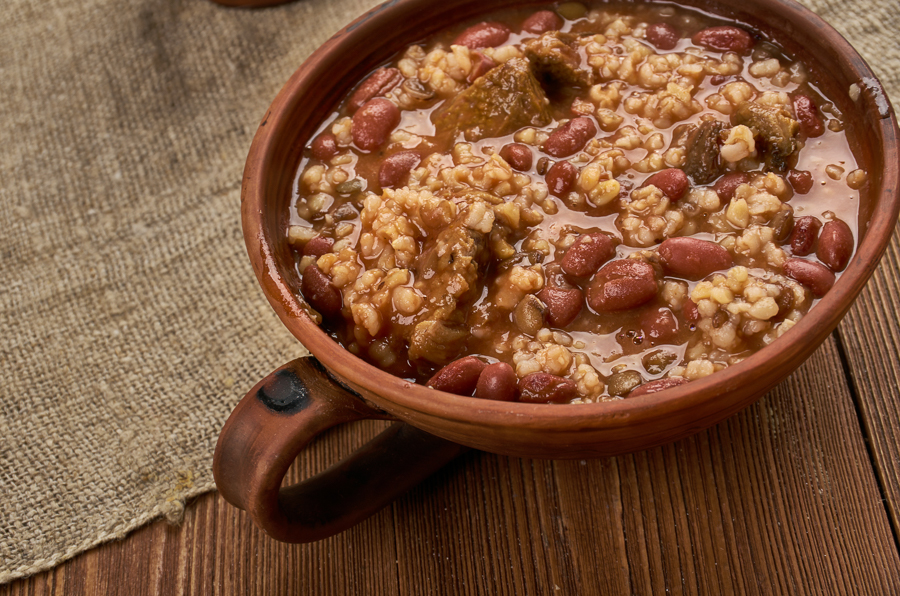 Gumbo
One of the most classic Creole dishes being cooked up in NOLA is gumbo. It's so popular down here that it's actually the state dish of Louisiana! Of course, there's also a Cajun spin on this New Orleans famous food.
No two pots of gumbo are alike, as the options are endless when it comes to making this hearty stew. Just about any type of meat or shellfish can be used in gumbo.
A thickener such as roux, okra or filé powder is also used along with the holy trinity of vegetables and a variety of seasonings.
Once again, New Orleans food showcases a melting pot of influences with gumbo. You've got roux from France, okra from West Africa, sassafras from Native Americans, and sausage from Germany.
Many outsiders confuse gumbo and jambalaya, as the dishes are a bit similar.
The main difference is that gumbo is served on rice, while the rice is actually cooked in with jambalaya. Both of them have so many different choices for ingredients that the options really are endless.
Gumbo is on the menu all over the Big Easy, but some of the best places to try it are the Gumbo Shop, Mr. B's Bistro, and Dooky Chase's.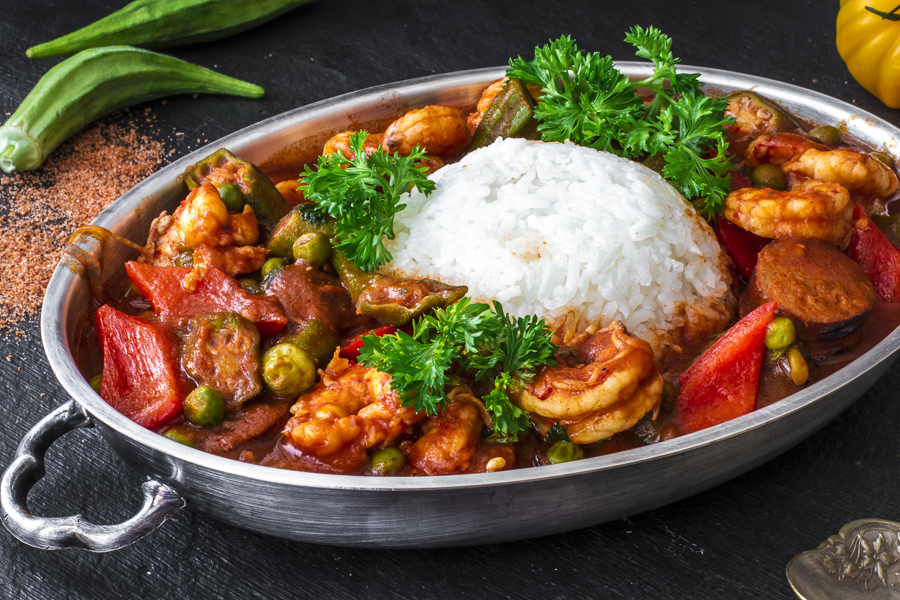 Bananas Foster
When you need to satisfy your sweet tooth in New Orleans, be sure to give Bananas Foster a try.
This classic dessert was created right here in NOLA in the 1950s at Brennan's Restaurant — which is also one of the most popular places to try famous cocktails in New Orleans.
At that time, New Orleans was a major hub for bananas that entered the US from Central and South America.
Chef Paul Blange created a dish consisting of bananas with a sauce made of butter, rum, and brown sugar. He named it after Richard Foster, a local business leader and friend of the owner.
Once they're soaked in the sauce, the bananas are set aflame in a technique known as flambé. The fire actually burns off the alcohol but leaves the smokey taste of the rum. It's typically prepared at your table and served with vanilla ice cream.
Of course, Brennan's remains the go-to place to try this famous New Orleans food. Over at Hansen's, you can try another classic New Orleans dessert called a sno-ball and get it with a Bananas Foster topping.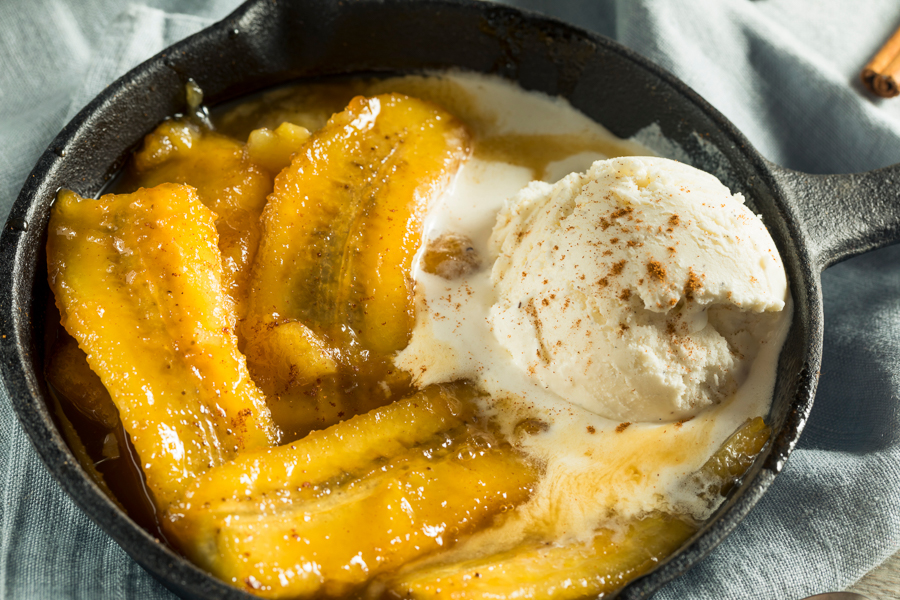 Muffuletta
There's been a lot of French and Spanish influences so far in this post, but we have Italians to thank for this next one. The muffuletta is a giant sandwich made on a sesame seed roll. It's stuffed with several different deli meats, cheese, and olive dressing.
Typical fillings for a muffuletta include ham, salami, mortadella (a type of Italian sausage), and either Swiss or provolone cheese (or both!).
The olive dressing is composed of chopped green and black olives along with onions in olive oil and spices. A muffuletta is typically served cold, but many places will toast it for you if you want the cheese melted.
The name for the sandwich comes from the bread, which originates from Sicily. Central Grocery was the first place to serve muffulettas in the city, and they remain the best spot to try this New Orleans famous food.
As the story goes, the owner noticed people would stop in his store to buy bread, meat, cheese, and olives, and try to eat them all together on the street.
Of course, this made for quite a messy dining experience. He decided to make their lives easier by assembling all the ingredients in one sandwich!
Other popular spots for this filling sandwich include Cochon Butcher and R&O's. A whole muffuletta is pretty massive, so you may want to just grab a half or split it with a friend.
Pralines
The next item on our list of New Orleans food is one of the city's most iconic sweets — pralines. These candies are traditionally made with almonds and caramelized sugar and were brought to Louisiana by the French settlers.
Due to their abundance in the region, pecans came to replace almonds in the recipe for pralines. Cooks added milk or cream to thicken the confection. The result is a soft and creamy sweet that's basically a nutty version of fudge.
You can find pralines all over the Big Easy, as they're one of the most famous sweets in the city.
One place that comes highly recommended is Tee-Eva's. This family-run bakery whips up creamy pralines and pies from recipes that have been passed down from generation to generation.
Southern Candymakers is another great spot to try this famous New Orleans food. They make the original as well as several other varieties of pralines, including rum, chocolate, peanut butter, or coconut.
Oysters
When talking about the best food in New Orleans, oysters are always involved in the discussion. Because of the warm waters in the Gulf, oysters can be harvested year-round here.
People in NOLA enjoy oysters in many different ways — raw, fried, chargrilled, broiled, or just stuffed into a po' boy.
For raw oysters, some of the best places to go include Pascal's Manale and Bourbon House. The latter even has $1 oysters during their Happy Hour from 4-6 Monday-Friday!
The most iconic cooked version is Oysters Rockefeller, which was invented right here in New Orleans at Antoine's back in 1899.
If you're wondering where the name comes from, these oysters were named after John D. Rockefeller – who was the richest man in the country at the time – for their extreme richness.
It consists of oysters on the half shell topped with a green sauce and bread crumbs. They are then either baked or broiled and served with lemon wedges for a garnish. Their exact recipe remains a secret to this day!
Another classic dish is Oysters Bienville, which is made by topping baked oysters with a mix of shrimp, mushrooms, bell peppers, breadcrumbs, parsley, and cheese. The best place to go for this mouth-watering oyster dish is Arnaud's where it was created.
King Cake
Last but not least on our list of the best New Orleans food is the famous King Cake. The name refers to the three kings in the Bible, who came bearing gifts for baby Jesus on the 12th night.
King Cake is typically served between King's Day (January 6th) and Ash Wednesday. It's a staple of Carnival season in NOLA and can be found all over the city.
This famous cake is typically made with brioche dough and a wide array of fillings, such as cinnamon, fruit, chocolate, and cream cheese. The icing on the cake is always gold, purple, and green – the royal colors of Mardi Gras.
One of the most interesting things about King Cake is that there's always a tiny plastic baby hidden in the cake. Whoever finds the baby in the cake has to throw the next party or buy the next cake.
This continues the fun throughout the whole Mardi Gras season when hundreds of thousands of King Cakes are consumed in New Orleans.
Manny Randazzo's is one of the top places to pick up a King Cake, and you can expect to find a line around the block here. If you're not in New Orleans during the Carnival season, you can still get a King Cake from Adrian's Bakery as they make them year-round.
Now You Know The Best New Orleans Cuisine
I'm sure by now your tummy is rumbling and your mouth is watering, and you're ready to book that flight to the Big Easy to start sampling some of the best New Orleans food. These 10 must-try dishes will certainly get you started on exploring the culinary scene of NOLA.
Of course, there are plenty of other amazing things to eat in New Orleans. Some other dishes you'll want to add to your list include blackened redfish, dirty rice, yaka mein soup, bread pudding, sno-balls, and so much more.
Whether grabbing a quick po' boy from a hole-in-the-wall deli or sitting down to a 3-course meal in a fancy restaurant, you're going to love eating your way across New Orleans.
Have you been to the Big Easy and have some great recommendations on what and where to eat? Leave a comment below and let us know.
Images in this article are courtesy of Shutterstock.com.
Like This Article? Pin it!