First of all, I know I'm going to get a lot of people commenting that they don't agree with what I'm about to say, but travel is a very personal thing, and this is just how we felt about our time in Oaxaca City:
It was disappointing.
Known for its indigenous culture, cheese, mole sauces, chocolate and coffee (among other things), travellers and locals had all raved about this mountain town, describing it as incredibly romantic, enchanting and picturesque. Although we agree that it was beautiful, and definitely worth the visit if you're in the area, we felt a little bit let down.
In our opinion, the UNESCO city of Guanajuato and the high altitude town of San Cristobal were both much more aesthetically pleasing and were more enjoyable for wandering around in.
Of course, it's unfair to compare three completely different cities, in three different regions of Mexico. However, when we were in Guanajuato, other travellers and locals were constantly comparing these romantic, colonial towns, making statements like "If you like Guanajuato, you'll love Oaxaca City."
After visiting all three, we felt like Oaxaca City simply didn't live up to the hype.
Apart from a couple of small pedestrian streets, the roads in Oaxaca were filled with loud vehicles giving off loads of pollution as they whipped past. The main square (Zocalo) was covered with tented market stalls selling anything and everything you could imagine, not to mention there were a bunch of protesters camping out in the square.
☞ SEE ALSO: Things To Do in Puerto Vallarta – Don't Miss These Top 20 Things!
The makeshift market and public demonstrations really took away from the views of the cathedral, and robbed the plaza of any space that was left for peaceful relaxation and people watching.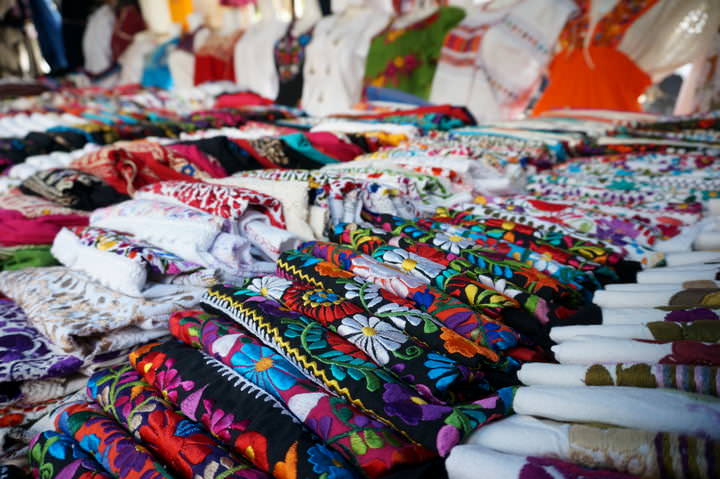 The food was good, but we had better mole sauces during our time in Guadalajara and Puerto Escondido. The cuisine in Oaxaca is meant to be incredible, and although we loved the hot chocolates and the tlayuda (flat pizzas), we were a touch disappointed by what we consumed. The street foods were pretty good, but we much preferred all of the delights on the bustling streets of Mexico City.
Perhaps we just didn't eat at the right restaurants, or sample enough food.
Although we as foodies were a bit let down, we did really enjoy the carnivore food stalls at the Mercado 20 de Noviembre! That place was hectic, loud and confusing, but once we figured it out, the result was a delicious plate of meat and sides for lunch.
We also found a little hole-in-the-wall place in the suburb of San Felipe del Agua. Run by a local family, this Italian/Mexican restaurant served yummy homemade meals, but even if the food wasn't good, I think we would've still gone back just to spend time with the family.
We know that many of the amazing sites of Oaxaca City can be found in the surrounding villages and valleys, but we only managed to visit the Monte Alban Ruins, which were outstanding.
We spent our Valentine's Day wandering around this vast site, gazing in awe at the ancient structures, tombs and carvings. When the sun was at its most intense, we sought shelter under one of the few trees with awesome vistas over the valley below. This was a definite highlight of our two weeks in the State of Oaxaca.
In the end, we didn't feel as though Oaxaca City was worth the flight from Mexico DF. It just didn't have the same vibe as other cities in Mexico and was lacking in quiet plazas and squares. The busy traffic really took away from the old buildings and anything that was happening on the sidewalks and streets.
There were a couple of nice pedestrian-only walkways, but even they were broken up by rows of intersecting traffic. We saw many women dressed in beautiful, authentic clothing and numerous indigenous people, and I'm sure if we had more time and went to the valleys, we would have had a more local experience.
The food and coffee were good, but we've had some incredible meals and cups of coffee in other parts of the country. The buildings and cathedrals were nice, but we much preferred the vibrant coloured homes and colonial architecture in Guanajuato, Guadalajara, San Cristobal and Mexico City.
We wouldn't say give Oaxaca City a miss, but if you had to choose between the five cities listed in this article, perhaps consider giving the others priority.
Sorry Oaxaca, we felt the romance, but we've definitely had better.
Ok, let's hear it! Have you been to Oaxaca City? What were your thoughts on it?
Like it? Pin it!