Towering volcanos, pristine lakes, unique culture, fabulous waterfalls and welcoming locals — these are just a few of the many reasons to visit Otavalo Ecuador.
Located just a 2 hour drive north of Quito, a visit to Otavalo is an easy day trip away. However, if you want to truly experience all that the small city has to offer, make sure you plan to stay a while.
During our stay in Otavalo, we kept wishing we had more time — and we spent 4 nights. If you have the option, I recommend spending a week in Otavalo and its surrounding area!
In this guide, I'll share the best things to do in Otavalo Ecuador, where to stay, where to eat, and how to get there.
Jump To: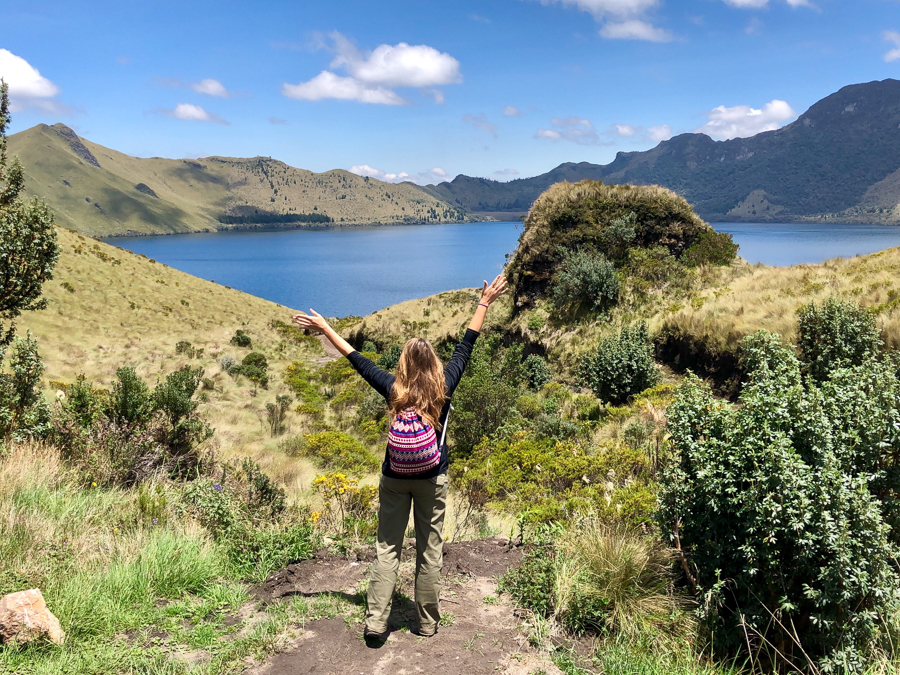 Overview of Otavalo
First impressions of Otavalo can be a bit mixed.
If you arrive by bus, you'll be dropped off on the side of a dusty road with lories and busses whizzing by. From there, you'll need to hop in the back of a shared truck to reach the center of the city. The bus station area is hectic, you won't find a lot of colonial plazas and squares, and overall, the center of Otavalo isn't the most picturesque place in Ecuador.
We were standing on the side of the road totally confused, backpacks in tow, and waiting for a ride to take us into Otavalo. It was at this point that we wondered if we made a mistake in coming here, or if 4 nights would be too long.
But, it got better — much better.
Spend some time in the city center enjoying the markets, seeing the beautifully embroidered clothing of the Otavaleño people (who make up around 50% of the city's population), and drink some of the best coffee anywhere in the country. The people are welcoming and there are a few interesting sights to see here.
After that, head into the surrounding areas of Otavalo and experience the incredible nature and adventures on offer.
Towering above the city are three peaks: Imbabura (inactive stratovolcano at 4,630m), Cotacachi (dormant volcano at 4,995m), and Mojanda (inactive stratovolcano at 4,263m). Plus, you'll find numerous lakes, farmland, waterfalls, villages and hiking trails.
It's impossible to not be in awe of the landscapes surrounding Otavalo. Stay outside of the city center, and you may find that Otavalo steals your heart, and leaves you wanting more.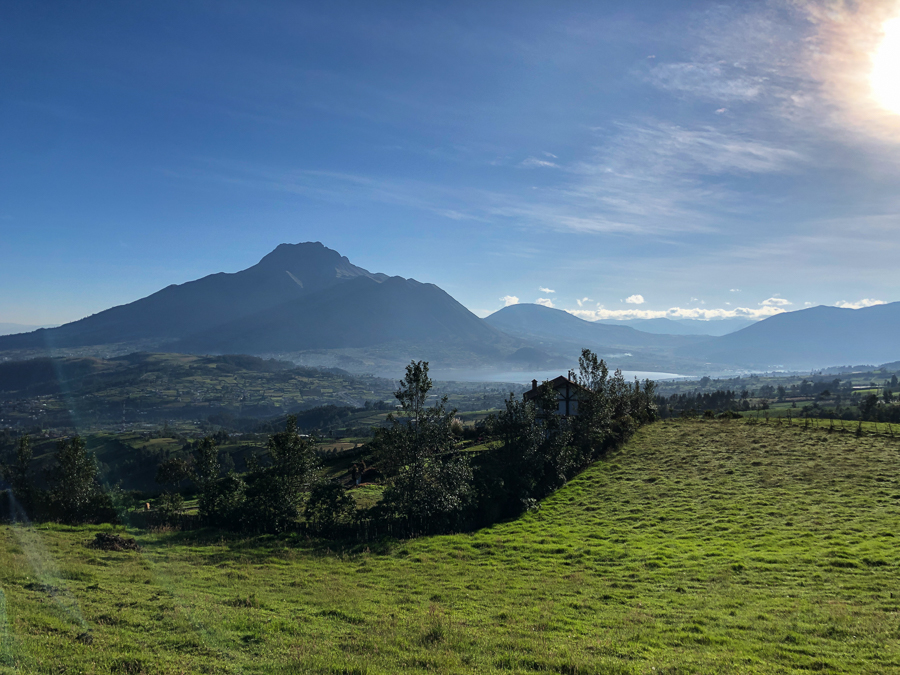 Things To Do in Otavalo
Every publication suggests visiting the Otavalo Market — which is definitely worth seeing, but there are so many more things to do, see, eat, and experience in Otavalo!
Here are some of my top recommendations:
Wander Through Farmland
Southwest of the main Plaza de Ponchos, on your way to Lagunas de Mojanda, you'll find quiet dirt and cobbled roads, and numerous plots of farmland. One of my favourite things to do in Otavalo was simply walking through this area, while chatting with the locals and watching them tend to their land.
The view of San Pablo Lake and Imbabura Volcano are epic from this vantage point. Plus, you'll spot lots of strawberry patches, fields of corn, and livestock as well — cows, horses, dogs, chickens, and donkeys. This truly is a peaceful area to stay, and wander through.
Visit Lagunas de Mojanda
While you're in the area, you may as well continue on to check out the 3 lakes — Laguna Grande, Laguna de Chiquita, and Laguna Negra.
The walks in this area range from easy to difficult, and you can opt to hike up the extinct Fuya Fuya volcano (4,263m, 2 hours), climb to the top of Cerro Tourichupa (3,950m, 1 hour), or simply hike around Laguna Grande on a fairly flat path to reach Laguna Chiquita (Chiriacu).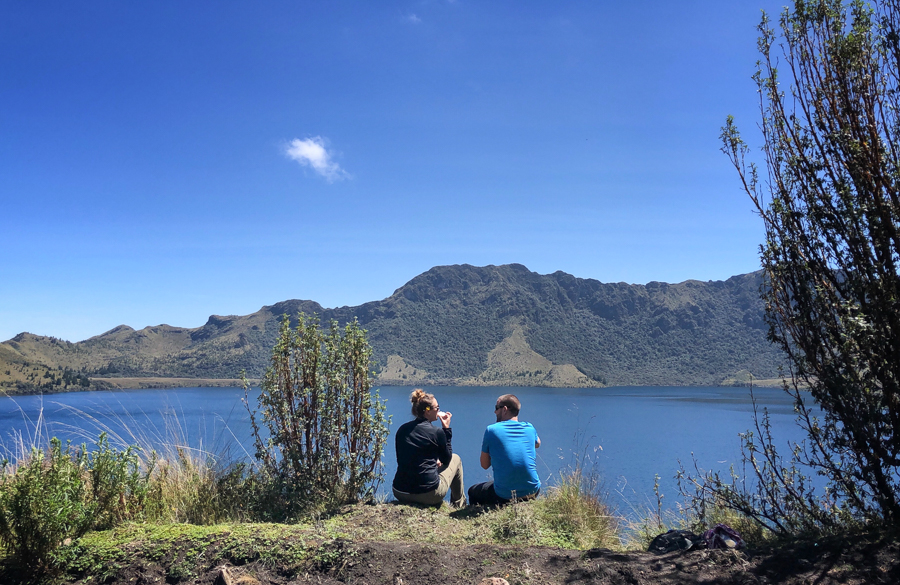 This is a gorgeous place. We brought a picnic and sat on the shore of the lake. It was silent and we only saw 4 other people the whole day — a great way to spend the afternoon.
You'll need to sort out transportation to bring you from the center of Otavalo to Lagunas de Mojanda, as there is nothing here. This will be around $12 each way for a taxi and they should wait about 90 minutes for you. After that, they will charge per hour.
We paid $15 each way and our driver was reliable, and waited for us to complete our hike. Always arrange a price before setting off. There's no food or water available for purchase at Lagunas de Mojanda, so bring everything you will need. Click here to find it on the map.
Enjoy The Peguche Waterfalls
About a 10 minute drive from the center of Otavalo, you'll arrive in the village of Peguche. Although known for its weaving, Peguche seems to be mostly visited for its stunning waterfalls of the same name. These sacred waterfalls are actually the ceremonial bath location of the Inti Raymi celebration.
Walk along a cobbled pathway before reaching a bridge across the river. Here you'll find a nice view of the 18m high waterfall. You can walk up pretty close to the falls, but you'll definitely get wet! Climb up the sides as well for a closer look.
The 40 acres of protected forest is a peaceful place to spend a couple of hours. You'll see locals camping here, and people having picnics as well. Entrance is by donation. Click here to find the falls on the map.
Note: it was recommended to us that we walk from town to the Peguche Waterfalls. After about 10 minutes, we realized it wasn't a great idea — the walk wasn't enjoyable and it felt a bit sketchy. So, we caught a taxi which was a better idea. It cost us $5 for a return trip, and the taxi waited for us while we were at the falls.
Visit The Taxopamba Waterfall
For a more off the beaten path waterfall in Otavalo, check out the Taxompamba falls located in the community of Mojandita. The 45m falls here are taller than the ones at Peguche, and it's a much more enjoyable walk to reach them!
If you're staying on the road to Lagunas de Majanda (like we were), then the falls are close by — 1.5 kms, around 30-40 minutes. The countryside that you wander through is lovely, and it's a quiet place to spend some time. If you're coming from the center of Otavalo, you can get dropped off in Mojandita at the signposted trailhead.
Always arrange a price before getting into a taxi, and if you're staying in town, you'll want to make sure that the driver waits for you. Click here to find Taxopamba Waterfall on the map.
Have a Drink at Cosecha Coffee
This coffee shop and bakery seems totally out-of-place here in Otavalo! This is the kind of shop you'd expect to find in Canggu Bali, or somewhere in the States or Europe. And, after having a disappointing amount of "so-so" coffee in Ecuador, we were delighted when we found Cosecha, a coffee shop that sources its beans from the nearby Intag region.
The coffee here is strong and smooth, the homemade sandwiches and bagels are soft and stuffed with tasty fillings, and the wifi is good here as well. We actually saw a few people working on their laptops (new Digital Nomad hot-spot perhaps?…)
Click here to find Cosecha on the map.
Saturday Otavalo Market
Ok, I had to put this on the list! As I said in the beginning of this post, many tourists choose to day trip to Otavalo from Quito specifically for the large Saturday Market. If you plan to spend some time in Otavalo, it's worth making sure it overlaps with a Saturday.
The main Plaza de Ponchos and surrounding streets are all closed off to traffic, and in place of cars, you'll find stall after stall of goods for sale. Handmade clothing, hats, jewellery, artwork, trinkets, shoes, house products, and lots of food. There's actually a whole section set as a food stall area, plus numerous streets with locals selling their produce.
The best part about this market is that it's not just geared towards tourists and you'll see many residents, and people from nearby villages here to purchase their goods for the week. It's true, you can't miss the Otavalo market.
Many Other Things To Do in Otavalo
There are so many other things you can experience in and around Otavalo. We had 4 days in this amazing place, but we easily could have spent a week.
Our Airbnb was so incredible, it was hard to peel ourselves away. Each day we'd go and do something new, followed by gorgeous sunset views from our deck, with a glass of wine in hand.
Here are a few other recommended things to do in Otavalo:
Join a homestay and Spanish language program
Spend an afternoon at San Pablo lake (complete with paddle boats, horseback riding and restaurants)
Visit the Cuicocha Lake
Day trip to Cotacachi — which is known for its leather goods, North American retirees, and easygoing feel
Check out El Lechero, which is a large tree that's said to have magic healing powers
Chill out in Plaza Bolivar
Where To Eat in Otavalo
While we didn't see a lot of highly reviewed places, or notice many appealing spots when we were walking around Otavalo, we did find a few stand-outs. Here are a couple of our favourites:
La Luna
Not only is this a guesthouse with fabulous views, but it's also a restaurant with great food. We were staying near here and enjoyed 4 meals at this little spot. The cozy restaurant has a fireplace for those chilly evenings, and games to keep you occupied! Plus, there are a few cute resident dogs. They're open for lunch and dinner.
The menu consists of Ecuadorian dishes, soup, salad, pasta, pizza, chili, hamburgers, sandwiches, and of course, drinks. The locro de papa (potato soup with cheese and avocado), chili with rice, and pizza are all really tasty. Mains are around $7, soups are $3, and big beers are $2.5. Click here to find La Luna on the map.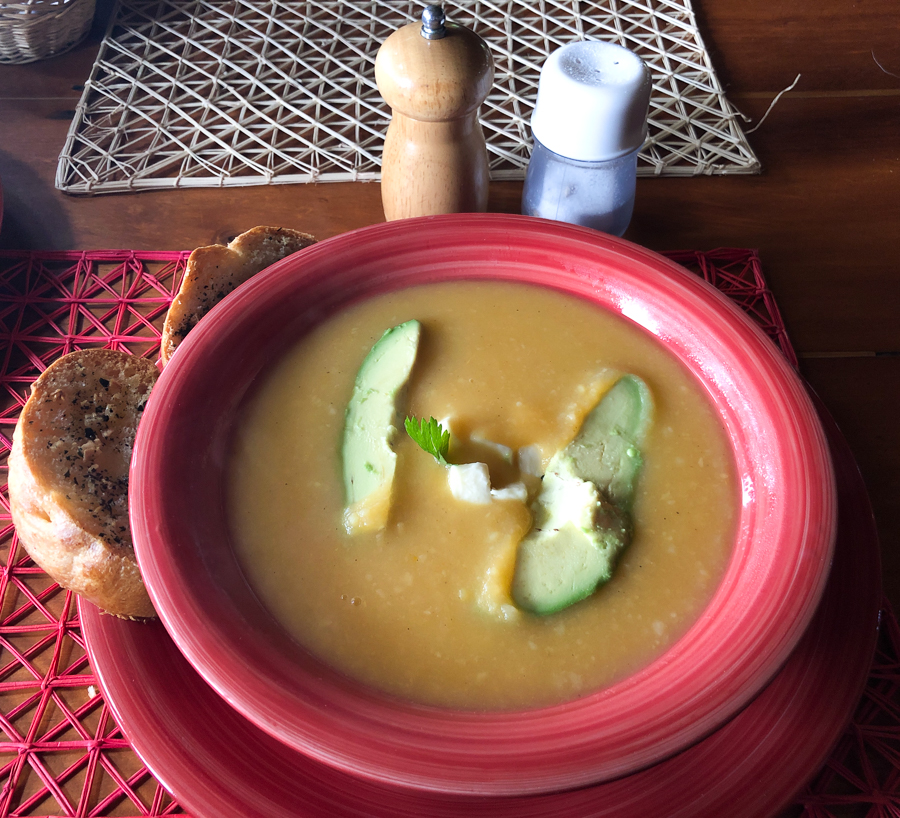 Saturday Market
If you're here for the Otavalo Market, you'll want to arrive hungry! There are so many stalls serving up traditional dishes — some more adventurous than others. You'll find fully roasted pigs, grilled chicken, numerous soups, fresh juice, and much more. Meals are around $2. The food stalls are located in Plaza de Ponchos, click here for the map.
Cava Caran
This brewpub is located right next to the Cosecha Coffee Shop, in the main Plaza de Ponchos. Serving up artisanal craft beers, and pub food, this is a good spot for dinner. The setting is chilled out, with cool wood furniture, and there's often live music here as well. Click here to find it on the map.
While we weren't able to have a beer in the restaurant itself, we purchased Caran IPAs from the next door coffee shop for takeaway — the IPA is on point.
*Note, when we visited Cava Caran, it was closed! But, there are recent reviews on Google, so maybe call before you go to make sure it's open for business.
Cosecha Coffee Shop
This place offers so much more than just coffee. But, the coffee (made with local beans) is excellent. While the owner is American, all of the staff are Ecuadorian, the products used are all locally sourced, and everything is made in-house.
They also promote the sale of local beers (Caran is excellent), chocolate, textiles and coffee for takeaway.
The homemade focaccia bread sandwiches start from $4, bagels start from $1.50, and a cappuccino is $2.50. Don't miss this yummy spot. Click here to find Cosecha on the map.

Where To Stay in Otavalo
There are so many incredible properties located on the outskirts of Otavalo! While you can stay in town at a hotel or guesthouse, I recommend staying outside of the center of the city — either in an Airbnb, or a lodge. Here are some of the top recommendations, plus, where we stayed.
Our Airbnb
To date, this is our favourite Airbnb — the one in Mindo was exceptional as well, but this one is extra special. The stone and brick farm-house is surprisingly modern, with stunning artwork, floor to ceiling windows, and a little fireplace.
The expansive view across the San Pablo Lake and Imbabura Volcano is spectacular…plus, you can also see Cotacachi Volcano on a clear day.
Needless to say, it was hard to peel ourselves away from here.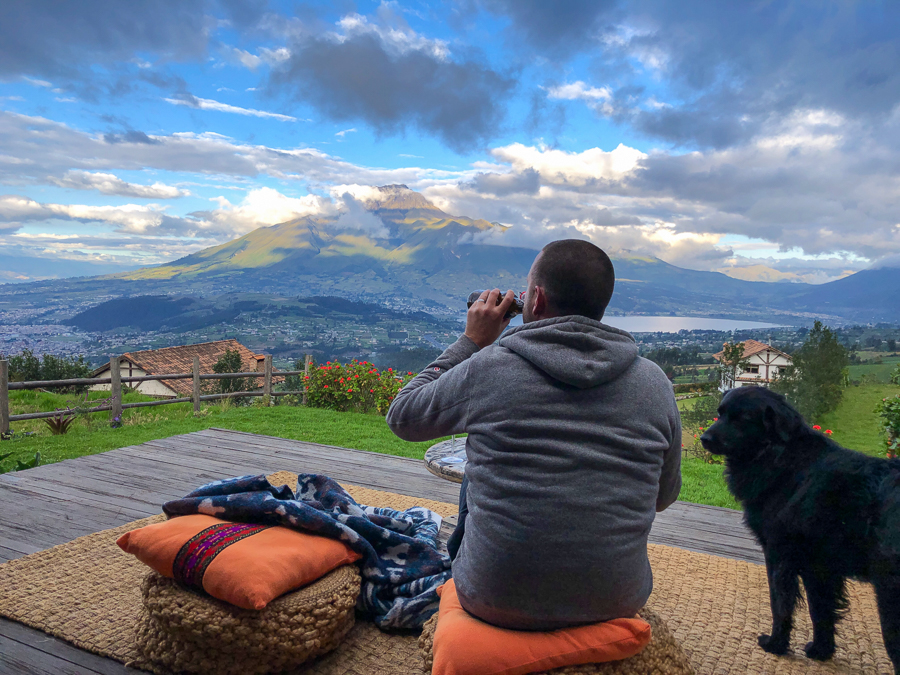 The owner and management are Ecuadorian, and the managers live next door and are available to answer any questions, or provide any items, as needed. The place comes with a (paid) driver, and we were happy to have Juan available for our entire stay — otherwise, we would have had to taxi everywhere.
Plus, we were able to practice our Spanish with Juan (thankfully he was patient with us!). As a bonus, Coco and Oso are two sweet dogs that live onsite with the manager, and being greeted by them each day made staying there worthwhile in itself.
If you stay here, you'll be close to La Luna restaurant (10 minute walk away), the Taxopamba waterfall, and this is the road to the Mojanda Lakes.
Here is a link to the Airbnb in Otavalo that we stayed at. Note, the pictures don't do it justice! Don't forget your $55 Airbnb discount code.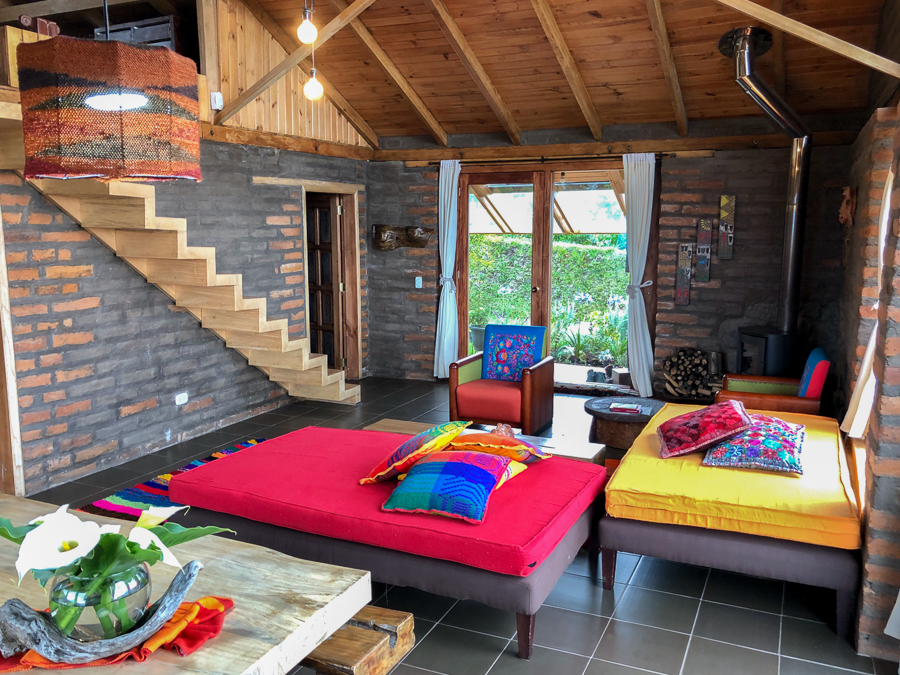 La Luna
La Luna is an excellent place to stay for those who are on a budget, but still want to be situated in the countryside surrounding Otavalo. The view faces a different way from our Airbnb, but is still lovely. Two of the basic double rooms here have private bathrooms, while the others are shared.
There's an onsite restaurant, hammocks for chilling out in, hiking surrounding the guesthouse, and nothing but peace and quiet. La Luna also has some really good maps for hiking.
Depending on the time of year you plan to travel, private double rooms with bathroom attached are around $25, while dorm beds go for around $14. You can also camp here. Click the image below to see the latest prices and reviews on Booking.com.

Hotel Medina Del Lago
For something a little more upscale, yet outside of the center of Otavalo, Hotel Medina Del Lago is a good bet. You can't go wrong with the amazing view of San Pablo Lake from your private patio. Plus, this property offers a fitness center, indoor pool, garden, and an onsite restaurant. Rooms here are more expensive, but this is by far a more luxurious stay than other places in Otavalo.
Click the image below to see the latest prices and reviews on Booking.com.

Casa Mojanda
Another lovely property on the road out to Lagunas de Mojanda, but with a more midrange price tag. The rooms here have beautiful views from their private balconies, and there's a (shared) outdoor hot tub! Rooms are comfy with electric heaters for those chilly nights, and hot water showers. There's also a shared lounge, games room and garden.
Click the image below to see the latest prices and reviews on Booking.com.

Hostal La Rosa Otavalo
For a good option in the center of Otavalo, check out Hostal La Rosa. There's a shared lounge area, sun terrace, 24 hour front desk service and the staff here are friendly. The bright rooms here are clean and very affordable. If you're looking to stay closer to the city, this is a great option.
Click the image below to see the latest prices and reviews on Booking.com.
How To Get To Otavalo
If you're planning to travel from Quito to Otavalo, you have a few options:
Quito to Otavalo by Bus
This is what we chose to do. The buses from Quito to Otavalo leave from a different station than those going to Mindo. You'll need to get to Terminal Carcelan and catch a bus to take you to Otavalo. Buses leave every 15 minutes or so — you'll never wait long.
There are numerous companies to choose from and you'll have bus companies vying for your attention when you arrive. Make sure you choose one that goes direct to Otavalo, without needing to switch buses in another town.
We went with Espejo company and the bus was fine. The cost was $2.50.
The only thing is that (as I said above), the bus will drop you off on the side of the road leading into Otavalo. So, don't be alarmed if / when this happens. Just wait for a white truck to come by and hop in. It's about a 5 km drive into town and costs $0.50.
Quito to Otavalo by Tour
This is a popular way for tourists to get from Quito to Otavalo on a day trip. You see some sights along the way, before arriving in Otavalo to visit the large Saturday market and see some of the stunning surrounding area. If you're looking for a day trip to Otavalo, here are some tours you can consider:

CLICK HERE LEARN MORE


CLICK HERE LEARN MORE
Quito to Otavalo by Car
Another way to get from Quito to Otavalo is by your own two wheels. Many people rent vehicles here in Ecuador, or they are travelling a larger portion of South America and have crossed into the country with their own ride. If you don't feel comfortable driving yourself, you can always hire a private driver.
Consult your Airbnb host, hotel reception, guide book, etc. to find a reputable driver.
Mindo to Otavalo
If you're planning to visit Mindo first, and going to Otavalo afterwards, here are two options for getting from Mindo to Otavalo:
Take the Flor del Valle bus from Mindo to Quito ($3.10), which arrives at the La Ofelia Terminal. From there you'll need to take a taxi or an Uber to Terminal Carcelan, which is 10 minutes away. As I said above, you'll find lots of buses going from Terminal Carcelan to Otavalo throughout the day. We chose Espejo, and the journey cost $2.50.
Another option is to take a private taxi from Mindo directly to Terminal Carcelan. We opted for this route and paid $43 for the 1.5 hour taxi ride. Once you arrive in Terminal Carcelan, just do the same as above — search for a direct bus to take you to Otavalo.
Otavalo to Latacunga
This is a bit confusing. Luckily, we had our Airbnb driver (Juan) for this part of our trip. Finding any sort of information was pretty difficult, but he knew that if we waited near the roundabout heading out of town, there would be a bus passing through which originated in Ibarra.
And he was right. It cost us $5 each to get from Otavalo to Latacunga (well, to the side of the road outside of Latacunga), and took 4 hours. The bus company was Cita.

Tips For Travelling to Otavalo
Travel to Otavalo is pretty straightforward, but here are some of my top tips to make your trip more enjoyable.
Brush Up On Your Spanish Speaking Abilities
This is true for the whole country of Ecuador, but in Otavalo, there was little or no Spanish spoken. When we went into the tourist information office to try and figure out the time of a bus departure, no one in there spoke English. The management at our Airbnb spoke Quechua and Spanish, and so did our driver.
We came across one person who spoke English at La Luna hostel, and a couple of the staff members at Cosecha Coffee Shop. To make your trip to Otavalo easier, and more immersive, I recommend taking some Spanish classes (in Otavalo, or before arriving), or at the very least, having a translation app on your phone. A phrasebook might come in handy as well.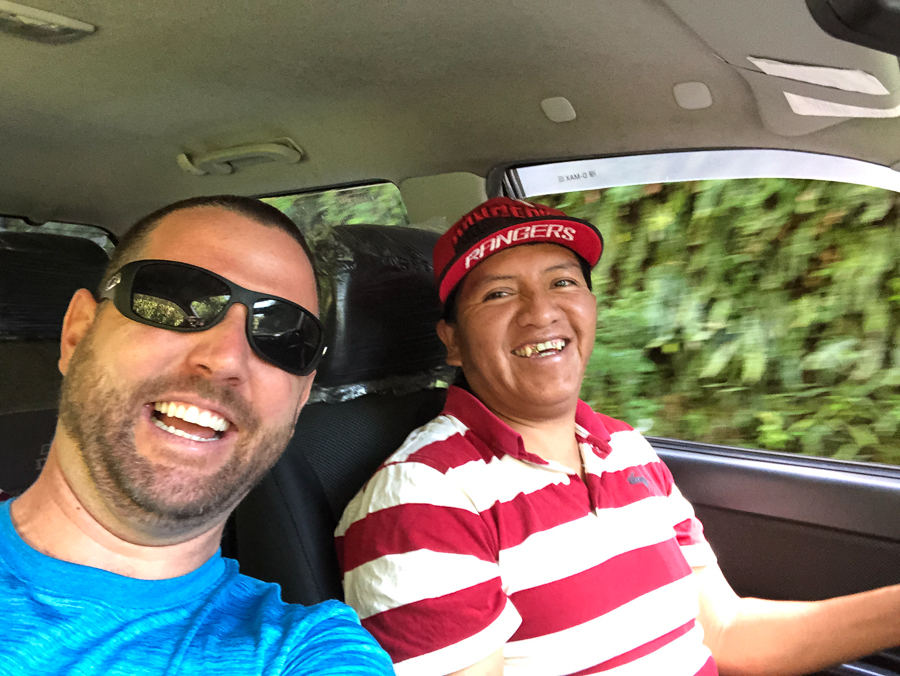 Stay Outside of the Center
I'll say it again — Otavalo is all about the surrounding areas. To get the most out of your trip, I suggest basing yourself outside of the center, and visiting once or twice during your stay. If your accommodation is southwest of Otavalo – on the road to Lagunas de Mojanda – then you're already part way to the stunning lake area, plus the Taxopamba waterfall and farmland are right at your doorstep.
If you choose to stay near San Pablo Lake, you're close to the Condor Park, Peguche waterfalls, and of course, you can enjoy the beautiful view of the lake.
If you have the money to spend on transport to and from your accommodation (or if you have your own vehicle) and if you enjoy being surrounded by nature, staying just outside of Otavalo is what you'll want to do.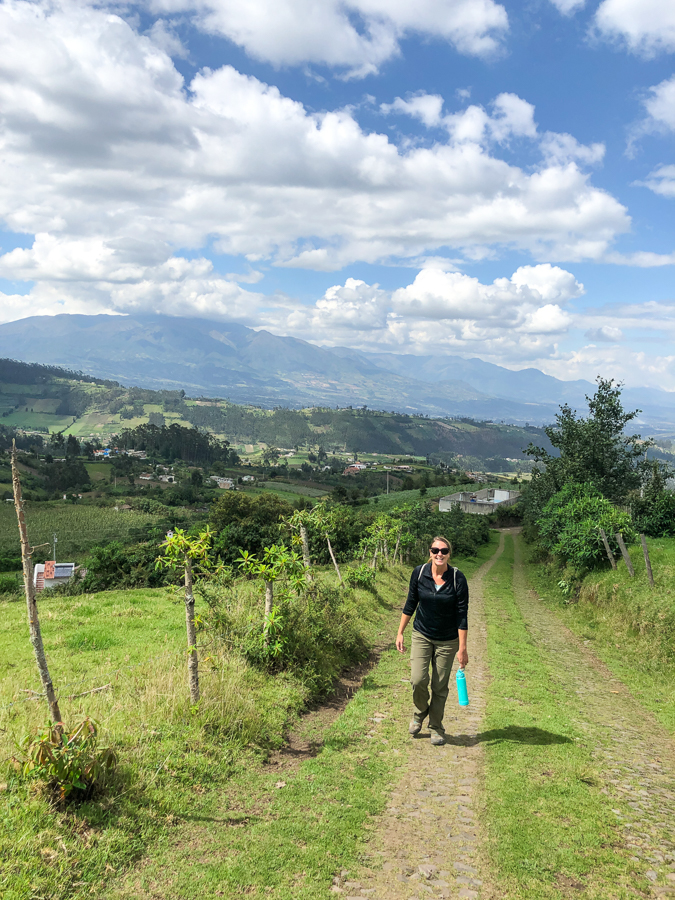 Bargain, But Not Too Hard
There's a small daily market at the Plaza de Ponchos, an animal market just outside of town, and of course, the huge Saturday market. While bargaining for goods is a part of daily life here, it's important that you make sure both parties are happy with the outcome. Keep in mind that many of the goods you see for purchase have been handmade, and take a long time to complete.
Purchase Travel Insurance
You should always have travel insurance when on the road, and especially when you'll be partaking in adventurous activities such as hiking and horseback riding. Even if you're not planning on being all that adventurous, accidents can happen, and there's nothing worse than not being covered. Click here to compare travel insurance companies and find one that works best for you.
Ready For Otavalo?
We found it incredibly difficult to say goodbye to the stunning view from our Airbnb, "our" loving dogs, and our new friend, Juan. The city and its surroundings surprised and delighted us at every turn. This is one place we can definitey see ourselves returning to. I hope this guide helped you plan your trip to Otavalo. Buen Viaje!
Here's a round-up video we put together of 2 months in Ecuador and Peru!
Like This Article? Pin it!