…continued from Good Times In The Gobi Desert, Part #1
Day 4:
The day started with some rock-hard, stale bread that actually had mould on it. Which wasn't exactly the way we all wanted to start our 7.5 hour driving day! Once again, we hopped in the van and continued on from the rolling hills back to the flat, dusty desert landscape. Out of nowhere there appeared a sum which had a supermarket stocked with cold beer! This was the coldest beer we'd seen in ages and man was it perfect timing. We downed our beer in the desert and continued on.
We arrived at the ger camp and decided that we all stunk after 4 days of not showering, so we did the next best thing – laundry. Our socks and shirts soaked in a bucket of soapy water while we all sat around chatting, playing cards and enjoying some coffee and the views of the desert. We ate a couple of bowls of homemade laksa soup (noodles with beef and vegetables in a nice broth) before going to bed.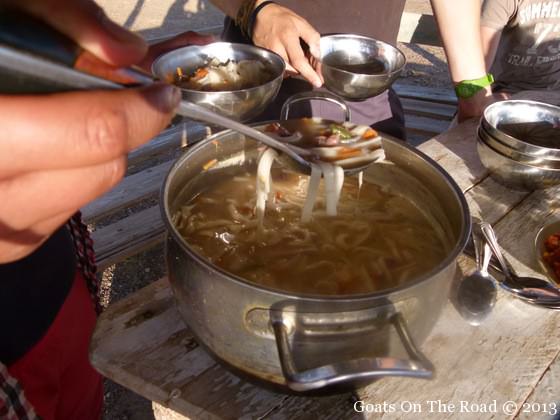 Day 5:
This was probably our favourite day of the trip. It was only a 6 hour drive and we saw so many things along the way. We saw a local family of about 10 people pulling something behind their jeep. It turned out they were rolling sheep wool to make it stiff, like felt, for the lining of their ger. Nick and I jumped at the chance to hop out of the van and learn about what they were doing, as well as to play with the inquisitive children.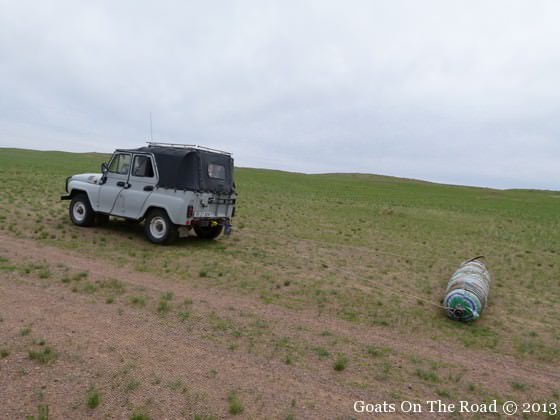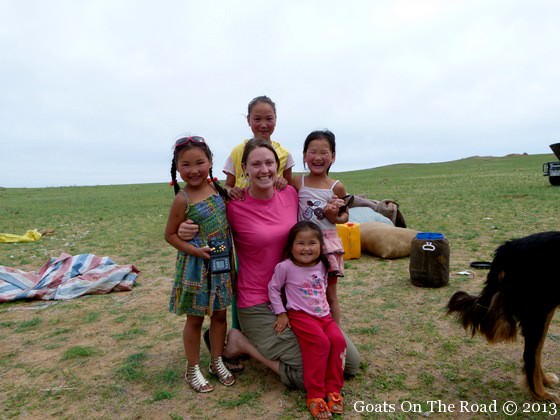 After that, we went to a rock temple with caves which is where the monks hid back in the 1930's when the Mongolian Soviet Government was killing off all of them. It was a very peaceful area. As we were coming down from the mountain, we ran into a local man. We all sat in a circle and he pulled out his "snuff" bottle. This is a bottle full of tobacco, which is usually scented. Everyone from women to Buddhist Monks snort this tobacco and it's meant to be offered as a greeting. So, we joined in with the traditions of Mongolia and snorted some tobacco from a random man in the middle of the desert! It was honestly one of the worst things ever. My nose smelled like old lady perfume and my throat burned for about an hour afterwards.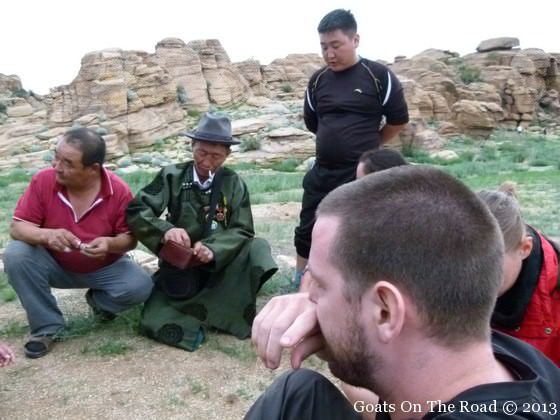 From there we carried on and saw another family actually putting together a ger! We arrived just in time and were even able to help them out. It was such an interesting process and we're so glad we were able to see the home being built from the ground up.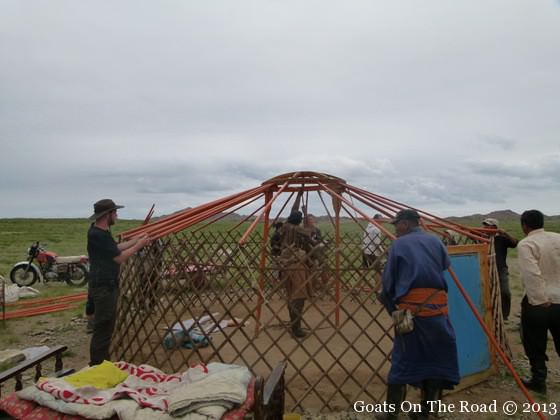 We arrived at our ger camp and were greeted by the grandma and grandpa of the family. This was the most traditional of families that we had stayed with and they are truly nomadic. We were invited into the family home for goat milk and bread before checking out our ger.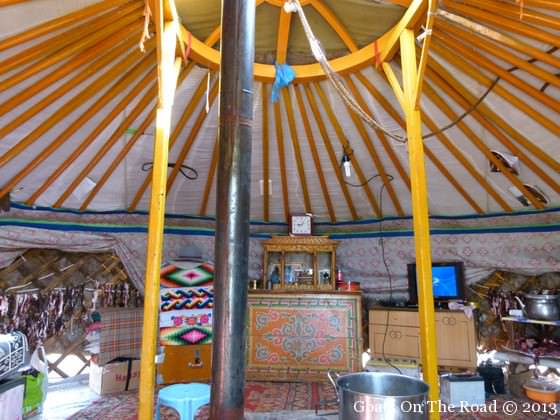 For dinner, all 6 of us and our guide and driver got together in the kitchen ger and made a traditional meal called khuushuur, a flat fried pancake stuffed with meat. All of us helped out and enjoyed a bottle of vodka before playing cards and going to bed. It was an awesome day in the Gobi.
Day 6:
Our last day out in this vast expanse was also great. We all wanted to try horse arak, the more common of the fermented milks. So, we stopped at a local family that had horses outside and our guide went in to ask if they had some. Luckily they did…in fact, they had 2 full barrels of it. The mother poured out 2 massive bowls for us to drink but we all could only handle a small, pathetic amount. The taste was really salty and sour so we passed our bowl over to our guide who polished them off for us, and ended up stumbling out of the ger! Not only were the adults drinking the arak, but the 2-year-old boy and the 6-year-old girl were also slamming back the boozy milk, we couldn't believe it!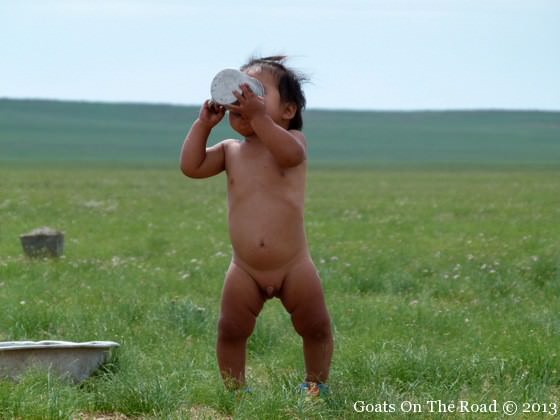 The local family was also in the middle of skinning a sheep they had killed, and gutting a goat as well. It was Naadam Festival time so the family was getting prepared for visitors and celebrations. It was such a great local experience and we're so glad we stopped in to say hello to the family.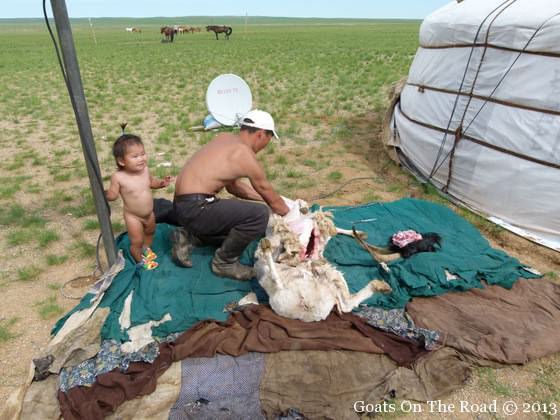 We continued our drive and found ourselves back in Ulan Bator in the early evening. We thanked our driver and guide and the 6 of us dragged our dusty, dirty, sweaty bodies up the flight of stairs to our hostel.
A trip to Mongolia wouldn't be complete without venturing out into the Gobi Desert. The landscape is so diverse and the sights are outstanding. We're so glad we had 6 days out in the desert and had all of the unreal experiences that we did. We're especially grateful that our time was spent with some really awesome people, who we now consider to be our friends.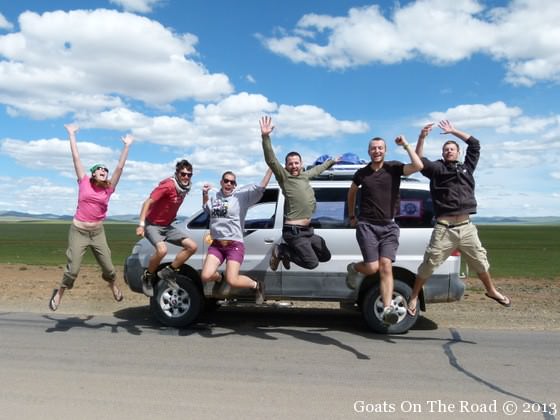 Check Out Our Gobi Desert Tour Pt.2 Video!
To see part one of this post and video click here!
Gobi Desert, check! Next up…Naadam Festival in Tsetserleg and trekking and camping along the Chuluut River.
Like it? Pin it! 🙂