Packing for a trekking and camping trip in Torres del Paine National Park in Chile, means being prepared for all seasons. That's right, even in the summer months, you can expect to see some snow. If you're properly prepared, trekking the Circuit ("O") or the "W" trail is an incredible, memorable experience.
In this article I'm going to list what you should pack for a camping and trekking trip in this famous National Park, based on our recent experience there.
We decided to do the O trek independently and we had a great time, but many people opt for an organized tour to help navigate the complexities of planning and for convenience. There are plenty of operators available in Patagonia, so it can be hard to choose. I've recently been introduced to Pygmy Elephant who offer a 5 day / 4 night self-guided tour of the W-Trek. Check them out for more info.
If you're staying at refugios and eating the food there, just ignore the accommodation and food portion of this list. But, the clothing and other items will be the same.
Here's my list of what to pack for a trekking and camping trip to Torres del Paine.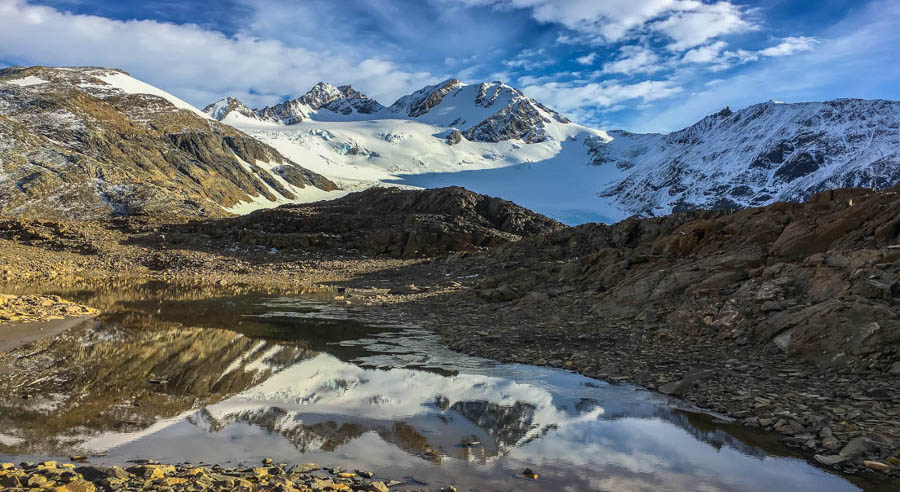 Clothing for Torres del Paine
This list applies for any time of year that you visit. You never know what the weather is going to do in Patagonia. For all of the clothing listed below, opt for lightweight, quick-drying material. I've linked to the items that we wore so you can get an idea of what you're looking to buy / pack.
When trekking, the rule of "wet and dry" applies: one set of clothing is for sweating in and getting wet during the day, while the second set is for keeping dry and wearing at night.
You only need 2 sets of clothes when hiking, plus fresh socks and underwear.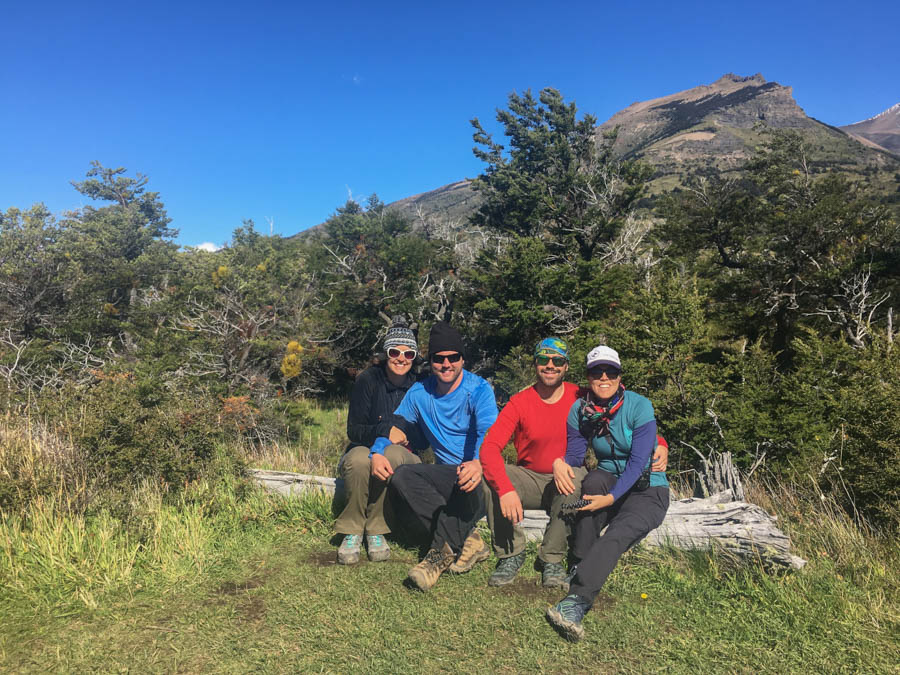 2 Shirts: short-sleeved or long-sleeved. You'll wear one when you're trekking during the day, and one at night. If you choose a t-shirt, keep in mind that you'll need to put sunscreen on your arms. A thin, lightweight, long-sleeved shirt might be a better choice. Nick wore one similar to this, while I just wore a basic t-shirt with a thermal top.
Thermal: long-sleeved, base layer top. You'll want to wear this when hiking if it's cool outside, or if you're too warm on the trail, keep it dry and clean for the evenings. I wore mine during the day, while Nick wore his at night. Click here for women's thermal tops, and click here for mens.
Lightweight fleece: keep this dry in your backpack and wear it in the evenings, either when you're outside, or when you're sleeping. We both wear Misty Mountain fleeces, but have worn and owned North Face ones in the past.
Down Jacket: this will be your best friend on the trek. Make sure it stays dry. Wear it at night when it's cold outside, or if you are really cold during the day, toss it on. Just make sure it doesn't get rained on. We both had synthetic down jackets, and were warm enough. Click here to check out down jackets and compare prices.
Windproof / Waterproof Jacket: wear it when hiking if it's raining or very windy, but you'll probably be too warm to wear it while working up a sweat. In the evenings, it's a good wind breaker for extra warmth. We both wear North Face windproof / waterproof jackets, which are just shells, no added fleece or layers. Click here to check out waterproof jackets and compare prices.
Thermal Leggings: some sort of fleece lined, thermal base layer pants will be needed. If it's extra cold, wear them during the day, but we found that they were the most useful at night for sleeping in. Both men and women will want a pair! Click here to compare prices.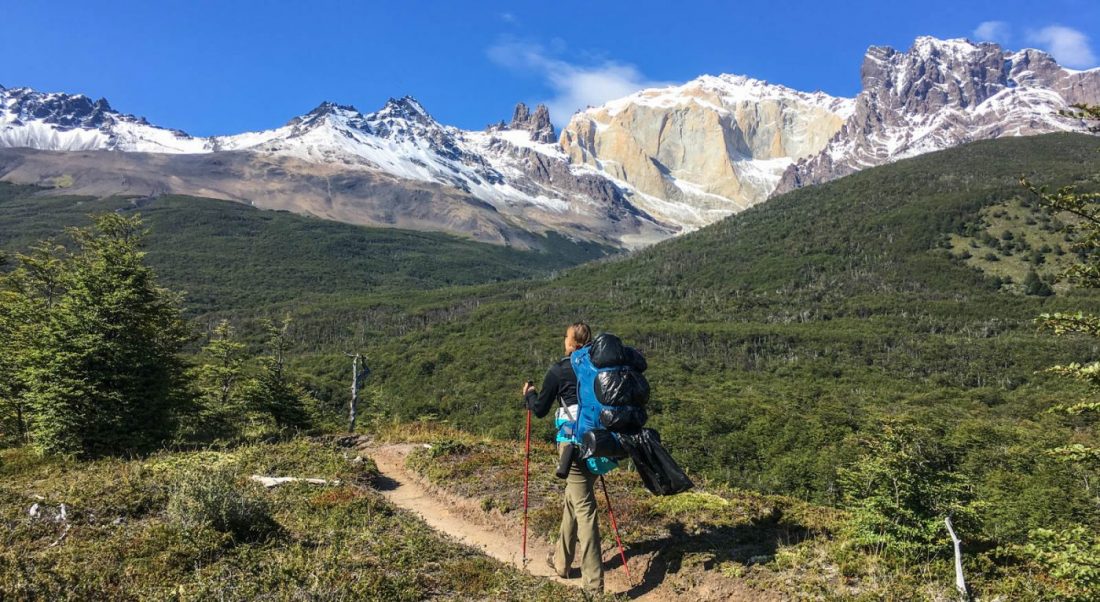 Windproof / Waterproof Pants: when the wind is whipping, or the rain is coming down, you'll want to have a pair of these pants to keep you warm and dry. Try to keep them only for the wind so that they are dry for you to wear at night if you need. However, if it's pouring rain and you're freezing, put them on. Get a pair that are large enough that you can just pull them over your hiking pants, they shouldn't be tight and "fitted". If they have zippers on the side to let in air, or to make them easier to put on, that's a bonus. Click here to check out some affordable rain pants.
Socks: I suggest wearing a thin pair of socks, with a warmer pair of thermal socks on top. This will help with reducing the risk of blisters, and will keep your feet warm. Have a new pair of thin socks for every day, 1 pair of warm socks for on top, and a clean pair of warm socks for at night. Click here to see some styles and compare prices.
Underwear: for men, make sure to have quick-drying, lightweight underwear so that they don't take up too much space or weight in your pack. For women, your underwear will be small enough, so buy whichever is the most comfortable. Nick recommends these boxer briefs.
Hiking boots: I used to always hike in regular cross trainers, but in the terrain of Torres del Paine, I'm so glad that I purchased a new pair of proper hiking shoes, with high ankle support. I have Merrells, and Nick has Keens and both shoes were perfect for this trek. You'll want to make sure that your boots are waterproof, there's nothing worse than cold, wet feet.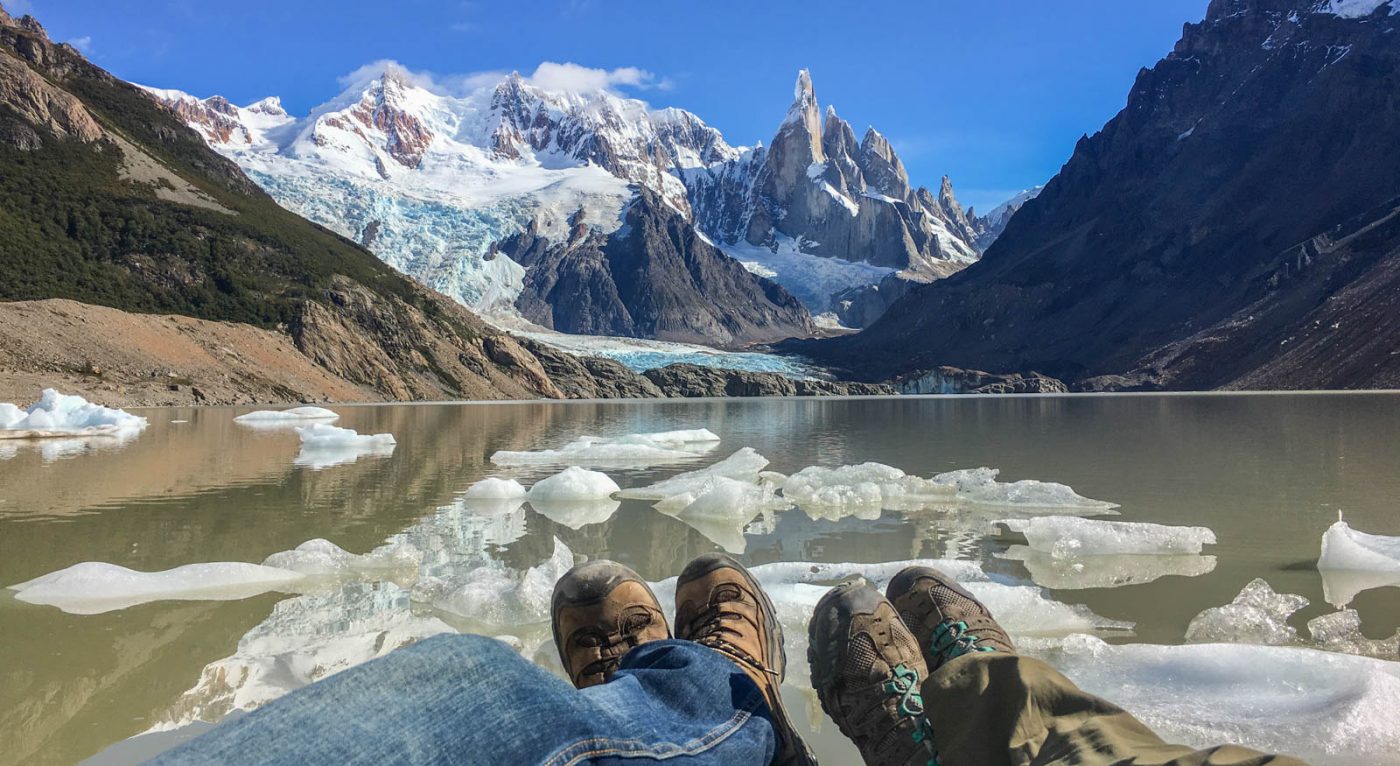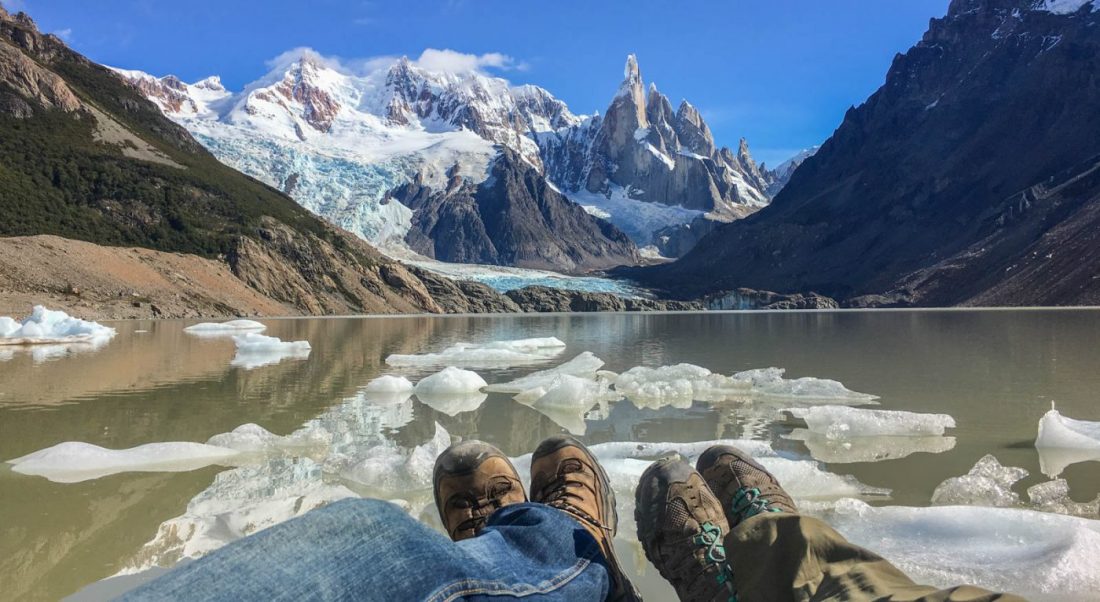 Neck Warmer / Scarf: I brought a scarf with me but only used it once. Nick had a neck warmer which could act as a face warmer and a toque, but he also didn't use it. We were lucky with the weather being quite warm when we trekked, but I would suggest having something just in case. Click here to browse neck warmers and compare prices.
Gloves: when the wind, rain and snow picks up and you're holding on to your trekking poles, your hands will be freezing! If you can find thin gloves that are very warm, that's best. But if not, then regular ski gloves will do as well. Click here to browse gloves and compare costs.
Sunglasses: the sun is intense in Chile – there is no ozone layer! Bring sunglasses.
Ball Cap / Fishing Hat: we didn't wear a hat, but many trekkers did in order to help shade their faces and necks from the sun.
The main thing to remember when choosing which clothing and outerwear to pack is that it's all about layering when you're trekking, especially in Patagonia. You'll wake up early in the morning and be freezing, so you'll put on your jacket, windproof pants, toque, etc. But, once you're trekking and moving around, your heart rate will quickly go up and within minutes you'll be warm and sweating.
Having a wide variety of layers (t-shirt, thermal top, fleece, down jacket, windproof / rainproof jacket), means that you'll be comfortable no matter the situation.
*Insider tip: when packing your backpack, line your bag with a large, black garbage bag (or a proper waterproof bag liner). It doesn't matter if your pack gets wet, but you don't want the contents inside to be soaked. As an additional precaution, have your clothing and sleeping bag in their own individual waterproof bags.
Trekking Gear
Now that the clothing is all sorted, I'll list all of the gear that you'll need to embark on this epic trek. If you don't have your own gear, it is possible to rent or buy from various shops around Puerto Natales. Check with hostels for rental gear, and at Erratic Rock (Base Camp) as well. If you want to buy your own kit, there are numerous shops with fair prices.
Backpack: let's start with the most important thing. You'll be wearing this pack on your back every day for 8 days (if you're doing the Circuit trail). Your load will be heavy and you'll be tired. If your backpack doesn't fit you correctly, it's going to be a long week. Get a proper backpacking pack if you can, one that is top loading and meant for trekking / camping, with thick padding on the harness. However, if you plan to use the pack for regular travels and you don't like that particular style, it's possible to do the trek with another bag. We trekked Torres del Paine with our Osprey Farpoint packs and although we wished we had more padding on our shoulders and hips, they still did the job. Click here to browse through trekking backpacks.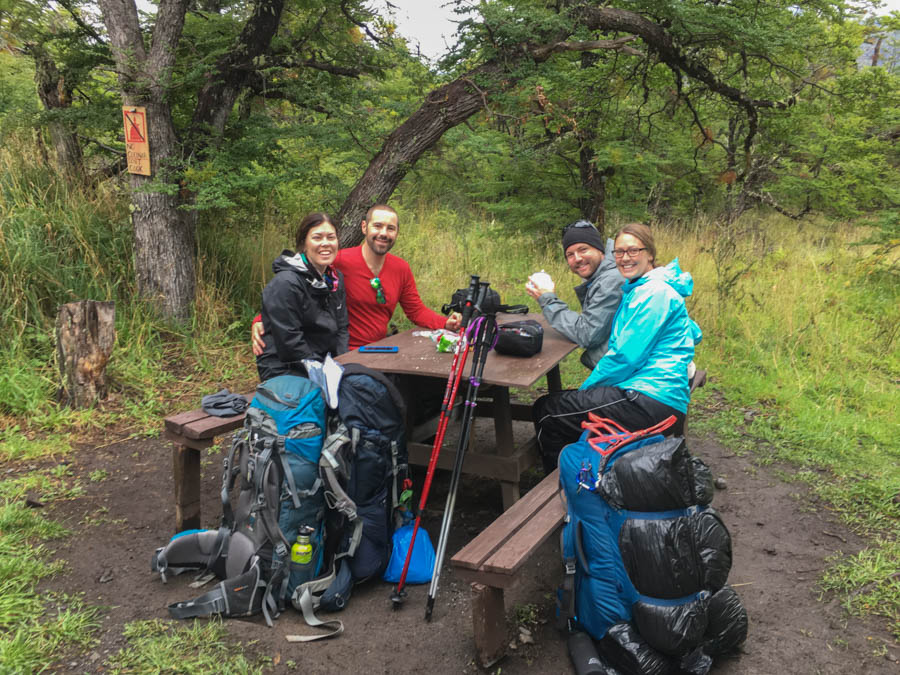 Sleeping Bag: this is the most important thing that you will pack for your trek. If you're freezing cold at night and can't sleep, you will be miserable. Make sure to have a sleeping bag that is as lightweight as possible and is the proper temperature level. I rented a -6 ° celcius comfort level bag from Erratic Rock in Puerto Natales, and Nick's comfort level was +2 ° celcius with his Alpine sleeping bag. He is a hot sleeper though. For most people, -6 ° is the warmest comfort level you'll want. Also, make sure the sleeping bag is in a compression sac to keep it as compact as possible. Click here to check out sleeping bags and compare costs.
Sleeping Mat: you'll definitely want one of these. Not only do they help to keep you comfortable (you'll be lying on rocks, roots, etc.), but because it keeps you off of the ground, you'll be warmer. We just had a basic foam mat, but there are many different types. Click here to have a look.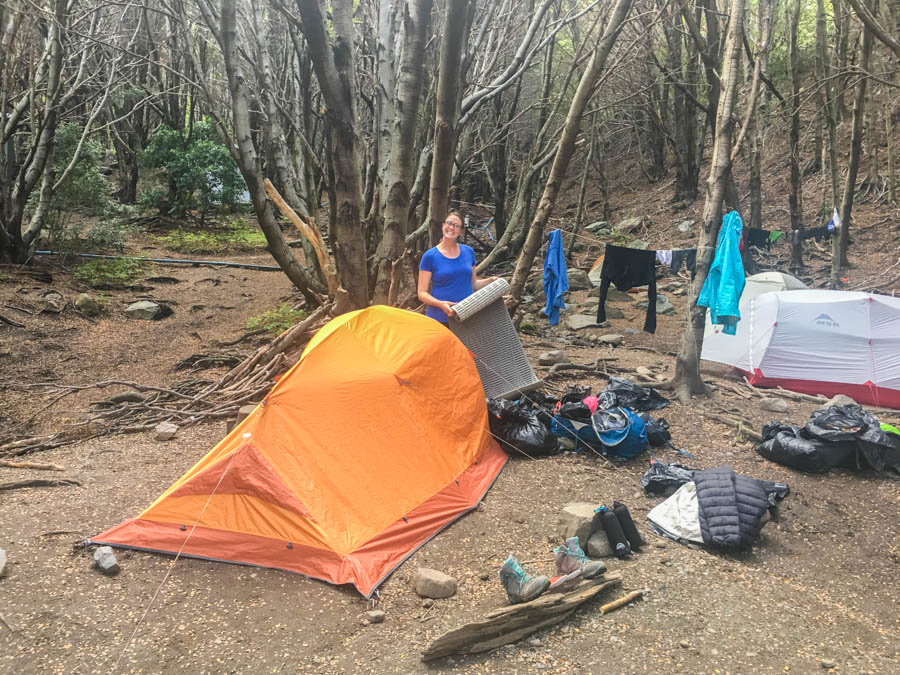 Pillow: some people may not want one, but we were happy to have a pillow at the end of the day. Get a blow up one so that it doesn't take up too much room, but if you can't get one, a small cotton pillow will do (think airplane pillow size). Click here to check out some comfy travel pillows.
Ground Mat: basically, it's just a thin tarp-like mat that you put on the ground to help keep the moisture away from the bottom of your tent. We had one during our previous treks in Mongolia and Kyrgyzstan, but not for this trip, and we were fine. If you have one however, it's a bonus. Click here to take a look at some ground mats.
Trekking Poles: you may think that hiking poles are useless, but in the intense winds of Patagonia, you'll want to have a pair to keep you sturdy on the mountain. Plus, they help to relieve some of the jarring on your knees, and assist in crossing rivers. Poles are available for rent in Puerto Natales, but we bought ours at a shop there. Click here to check out trekking poles and see the prices.
Portable Stove: if you're going to be cooking for yourself, you'll need a portable stove. Get a pocket stove that twists on to a gas canister. We've used the pocket rocket by MSR and one by Doite, which are small and easy to pack. You can purchase gas canisters in Puerto Natales. You'll use about 2 canisters for a couple on an 8 day trek, cooking once / day.
Headlamp: many of the camps don't have any electricity so you'll need this when the sun goes down. Plus, when you need to get up in the middle of the night for a bathroom break, or for those early morning starts before the sunrise! Click here to compare brands and prices.
Water bottle: bring a stainless steel / aluminum bottle with you. The water is clean and fresh enough to drink straight from the rivers (it's so pure!). If you have a metal bottle with a foam sleeve on it, you can fill it with hot water at night and use it as a hot water bottle in your sleeping bag for extra warmth. For more information, check out the best water bottles for travel, or click here to search for bottles and compare prices on Amazon.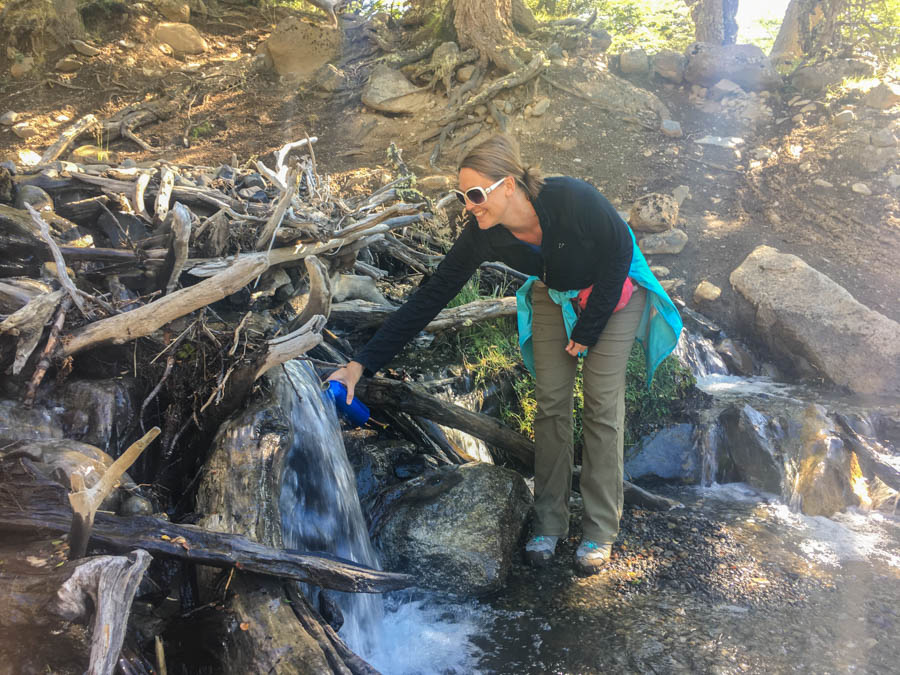 Carabiners: great for clipping your water bottle onto your pack, clipping wet clothing to the outside of your bag, etc.
Camera: you'll obviously want to bring your camera to capture the incredible nature! Bring extra batteries, but note that you can charge your electronics at a few of the camps. Make sure to have a waterproof bag or at least a Zip-loc bag for your electronics. An external, solar charger is also useful.
The gear that each person decides to trek with is a personal choice. But, these items were what we had with us, and each piece of gear served its purpose.
Toiletries & First-Aid
Small and lightweight is the name of the game. If you're trekking with another person, consider sharing deodorant (or not wearing any!), sharing a toothpaste, etc.
Sunscreen: this is so important. Even if it's an overcast day, because there is no ozone layer here, the UV rays are intense. Put sunscreen on your face each day. Get a small bottle, or put some into a Ziploc bag.
Bandaids / Plasters: for blisters on your feet or any other scrapes, you'll want to make sure you have some good quality plasters in your first aid kit.
Antibiotic Ointment: for any cuts or scrapes, it's important to clean the area and then put on some antibiotic ointment to ensure the area doesn't get infected.
Anti-inflamatory / Painkillers: for sore muscles, headaches and fevers, make sure to have some ibuprofen in your pack.
Bismuth / Stomach Pills: we use Pepto-Bismol tablets for upset stomachs, diarrhea, nausea and heartburn.
Tensor Bandage: for sore joints or any sprains, packing a tensor bandage is a good idea. Surprisingly, we couldn't find one for sale at any of the camps.
Toothbrush & Toothpaste: share the toothpaste with someone if you can, or just bring a very small tube.
Shampoo & Soap: there are a couple of camps that have hot water showers. Bring a small bar of soap, and get some of the individual packets of shampoo – don't bring a bottle.
Wet Naps / Baby Wipes: these are a lifesaver! For those days when you can't shower, or you don't want to because it's cold water only, just give yourself a bath with wet wipes. They're also good for cleaning off any dishes or dirty areas.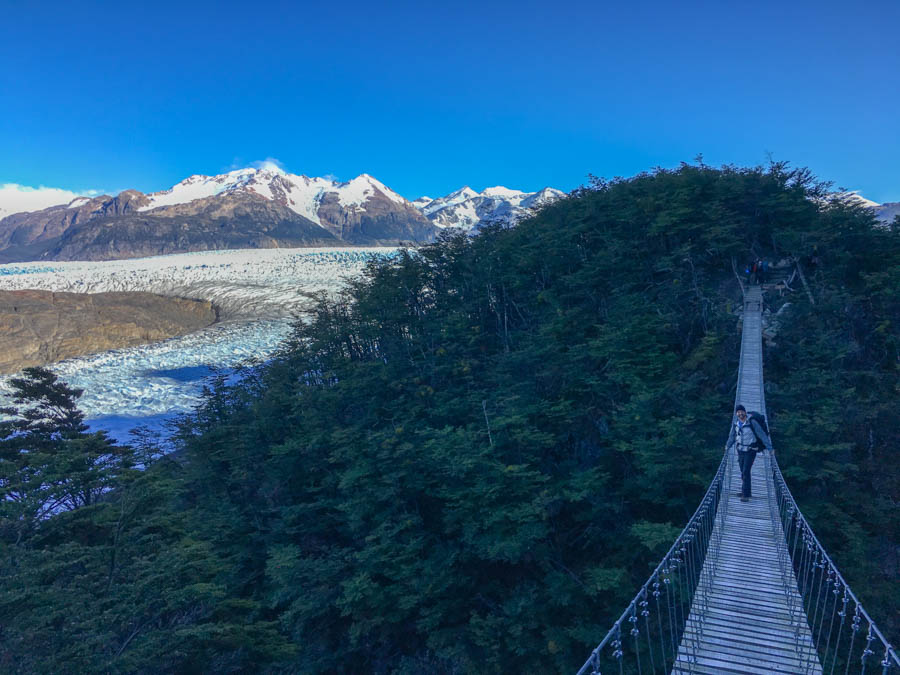 Food and Drink
When thinking about what you want to pack food-wise, remember that you want to make sure you have enough protein in your diet and some variety. Whichever types of food you choose, make sure that they are as lightweight as possible and easy to cook.
Ideally, you only cook with your stove once / day in order to save on fuel. We suggest having a cook-free breakfast and lunch, and make a hot meal and drink in the evening.
You can drink the water straight from the rivers and streams on the trek, so don't pack any extra.
Here's a list of suggestions for food to pack for a trek in Torres del Paine.
*Note: When we went shopping in Puerto Natales, the trekking shops were closed on Sunday. So, we were stuck with just the main grocery store, which didn't offer dehydrated meals. If you can, purchase dehydrated meals (before you arrive) even though they are more expensive. They're easy to make, and most importantly, they're lightweight! During our trek in Mongolia and Kyrgyzstan, we had the Mountain House meals, and they were delicious.
Dehydrated Meals: as I said above, you just add hot water to these protein packed, flavourful meals and you're ready to eat. They're more expensive, but worth it for how light they are, and easy to make.
Vacuum Sealed Stews: we found these at Wild Hostel and although they weighed a bit more than we would have liked, they were flavourful and added variety to our dinners.
Rice: you can find individual packets of rice with seasoning / dried veg in them at the supermarkets. Go for ones that don't take any longer than 15-20 minutes to cook.
Instant Mashed Potatoes: a great choice! These are so easy to make and they are incredibly light weight. Add some sausage, or cheese for more flavour and protein.
Salami: not ideal weight-wise, but in terms of flavour, protein and the fact that it doesn't need to be refrigerated, it makes it a good bet.
Babybel Cheese: little circles of protein that don't need to be in a fridge. Babybels are a bit heavy, but make a great snack.
Happy Cow Cheese: again, doesn't need to be in the fridge, is fairly lightweight and makes a good snack. Keep the cheese triangles in the container, or they will get squished in your pack.
Oats / Muesli: this is a great breakfast idea. Just add milk (powdered) and you're good to go.
Oatmeal: this is easy as you only need to add hot water. The only thing is that you may not want to cook in the morning as you'll want to get on the trail, or you might not want to use up your fuel.
Trail Mix: this is a great source of energy. If you can find some that are premade, great, but if not, then purchase some Ziploc bags and add your own dried fruits, nuts and M&M's.
Snickers Bars: these chocolate bars are a great source of protein and a good snack when you're hiking.
Granola Bars / Protein Bars: granola bars are a good quick snack, or as part of your breakfast. If you can find protein bars, those are even better.
Powdered Milk: an easy source of protein, just add water and voila! Milk. Use it to drink by itself, or add it to muesli to make cereal.
Tea / Hot Chocolate: you'll want something to drink other than water after a long day of trekking, especially when the weather is less than desirable. If you must have coffee, then do so, but it's dehydrating so it's best avoided.
Booze: I don't mean having cocktails each day, but having a little shot of either rum, whiskey or pisco either in your tea, or on its own, is a great way to stay warm at night. Have a drink before bed. Add the alcohol to a plastic water bottle so that it's not so heavy to carry.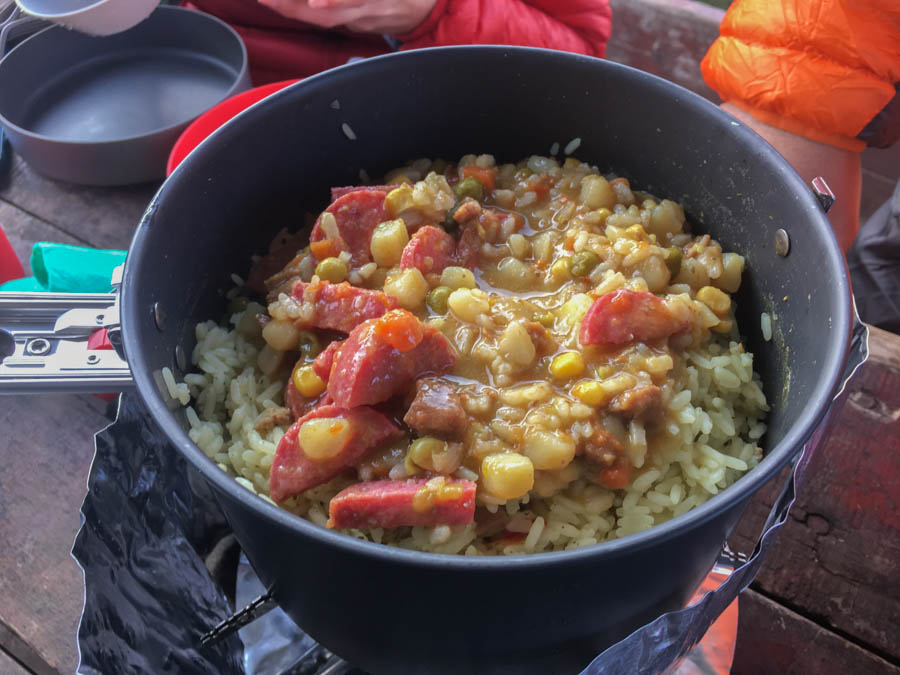 There you go, that's our list of food ideas for trekking. You'll have to portion everything out and make sure you have enough meals for the amount of days you plan to be on the trail. Plus, two extra meals as a back-up.
Also, make sure to remove any heavy packaging if possible and portion the food out into daily meals in Ziploc bags (ie: if you buy a box of instant mashed potatoes which is 4 portions, separate them into different bags).
Ready to Trek?
The most important thing to remember when packing for a trek in Torres del Paine, is that you want to be prepared for every situation. Make sure to have some extra food and enough warm clothing and you will be fine.
The trails are well-marked and it would be difficult to get lost, but on the backside of the mountain (the "O"), there are only 80 people allowed each day. You'll find yourself alone quite often, which is a good thing if you want peace and quiet, but not a great thing in the case of an emergency.
Make sure to have Travel Insurance before embarking on this trek. World Nomads is a good choice because they cover adventurous activities. Check out the box below to get a quick and free quote.
Get ready for the trek of a lifetime!
For more information on trekking in Torres del Paine National Park, check out our articles:
The Ultimate Guide to Trekking & Camping the "O" Circuit Trail in Torres del Paine
Our Experience on the Famous "O" Circuit Trek in Torres del Paine
Like it? Pin it! 🙂