Life is all about personal growth and evolution. If we remain stagnant for too long, both physically, and emotionally, how will we ever reach the highest potential of our life's purpose?
If we allow ourselves, we will be guided towards incredible opportunities and life-changing experiences, whether in our personal or professional lives…or both.
I call this one's Personal Legend, which is from the famous author Paulo Coelho's book, The Alchemist. Essentially, it says that when we're on the right path in life, and are following our "personal legend", everything will flow smoothly and easily.
Life isn't supposed to be filled with stress, pain and hardships! And it won't be if you're heading in the right direction, metaphorically (or literally) speaking.
---
Given the sad state of the real estate market in Calgary during 2008, we were becoming stressed out about my condominium not selling before our epic backpacking journey through SE Asia was to commence on November 19th. The condo had been on the market for around three months, with zero offers.
Our flight tickets were booked, yet the house hadn't sold. The earnings of this sale were to fund my portion of the trip.
Thankfully, just a couple of weeks before take-off, the offer came in and the deal was completed.
At that point, we knew we were on the right path and that this trip was meant to be.
While relaxing at our resort in Thailand and reflecting on the past 13 month journey through SE Asia and the subcontinent, we began to panic. What would it feel like to be back in Canada? How will we get a job and make enough money to live in a country with 50% higher costs of living?
Within a couple of days, Nick and I were both contacted by our previous employers, and we both had high-paying jobs waiting for us back in Calgary. The same positions at the same companies, plus an increased salary. This was in 2009, when the recession was well and truly affecting Canada.
This was a huge sign that we were meant to be returning home and that everything would work out. This was the first of many stepping-stones which have led us to this location independent lifestyle.
Having our jobs back meant that we were able to save large amounts of money each month to put toward our ultimate goal: full-time travel.
Coming back home to "reality", the western mentality and the routine of working a 9-5 job was extremely challenging, and wore heavily on my psyche. I wanted to be free, I needed to be on the road.
We had planned to stay in Canada until May, before taking off again, this time on a 16 month journey. But once December hit, I knew there was no way I was going to last another 5 months at home.
We laid out our world map, checked our savings account, and decided that we would depart on February 2, 2011 – three months earlier than we had initially planned.
That journey was eye-opening and life-altering.
We sampled a few countries in Europe, got a taste for the Middle East, discovered (and at times, endured) Africa, before finding ourselves back in the place where our travel dreams first began, Southeast Asia.
While visiting the town of Hsipaw in Myanmar, we were invited by some Taiwanese travellers to come to a nearby village and see the English school they had set up.
We thought it sounded interesting and agreed to meet them the following day.
Arriving in Naloy Village was something out of a traveller's dream. Surrounding the village were cascading waterfalls, neon-green rice paddies for as far as the eye could see, and livestock seeming to outnumber the humans.
The stilted homes in the small village were topped with grass-thatched roofs, and were ringed by banana trees and sugarcane crops. The setting around this village was surreal.
We watched the first English class take place from the sidelines. At 4:00pm, dozens of excited children with dirty clothing and painted faces ran into the front yard of the village elders' home. They took off their shoes and sat cross-legged on a tarp which was laid out on the dirt.
Chickens scurried through the sitting children, while pigs squealed with excitement in the background.
When we were asked to volunteer our time teaching English to these children, our eyes lit up. This was something we were very interested in doing.
Among other things, we taught vocabulary, played language games, set up scenarios of going to the market, drew images on the chalkboard to get our point across, and taught English songs.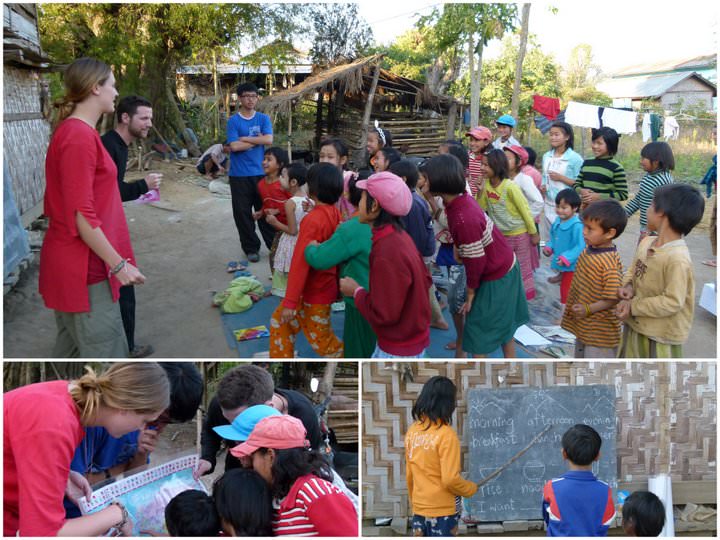 When the students were looking at us with blank stares, we spoke in English to the Taiwanese travellers, who spoke in Mandarin to one "assistant", who translated into Shan (the local language of this village) to the children.
This stepping stone in our lives proved to be one of the most monumental shifts in our lifestyle.
During one of my many meltdowns towards the end of that 16 month journey, I was crying my eyes out and sobbing to Nick about not being able to cope with having to go home. He (as always) was my rock, and after calming me down, he went online to find a way for us to get jobs as English teachers in China.
With our recent experience teaching to the sweet children in Myanmar, we both knew that we wanted to turn that volunteer work into a paying career.
Many resumes were sent, many phone calls were had, and many tears were shed as time was ticking down, and we weren't finding a job that suited us.
With just two weeks before our flight departed from Hong Kong to Vancouver, we received a job offer from Yangzhou, China. One that was perfect for us!
(Did I mention that we booked a return flight from Hong Kong without even having a job secured? We just knew it would work out… it had to.)
Teaching English in China gave us the experience of living and working abroad. It allowed us to earn an income while pursuing our true passion, creating this website, Goats On The Road.
During our time teaching for one year in Yangzhou, we were able to save enough money to travel for 5 months, keep some in the bank, and live well while we were there.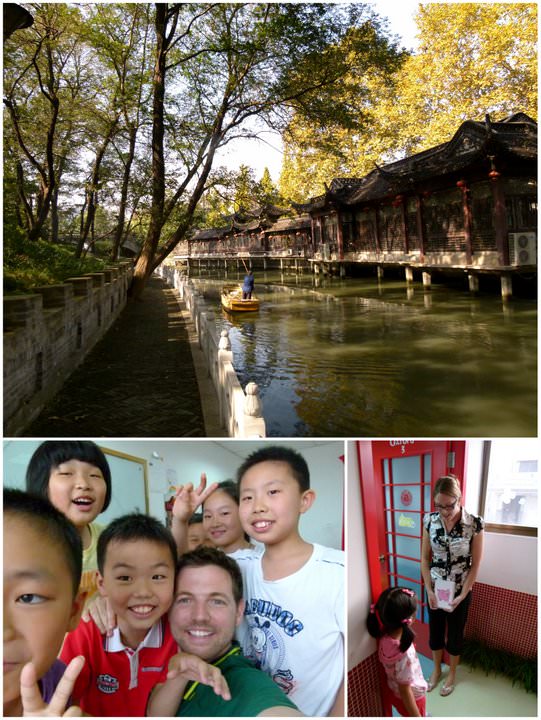 This truly was an epic year in our lives. 
Setting off into Mongolia, Russia and Central Asia, before finishing in Iran was the first trip we took while earning an income from our website. We weren't covering all of our travel costs, but the monthly earnings were a nice supplement.
During this trip, we also heard about something called House sitting from Nora of the Professional Hobo. We decided to open a profile, but didn't think much of it at the time.
Little did we know that this idea from Nora would become another substantial "stepping stone" for us.
While sipping on a delicious date milkshake in Shiraz, Iran, we received our very first house sitting / pet sitting offer. We had to do a triple-take at the screen when we realized that we actually received an offer to take care of an adorable dog in the south Caribbean, for 6 months.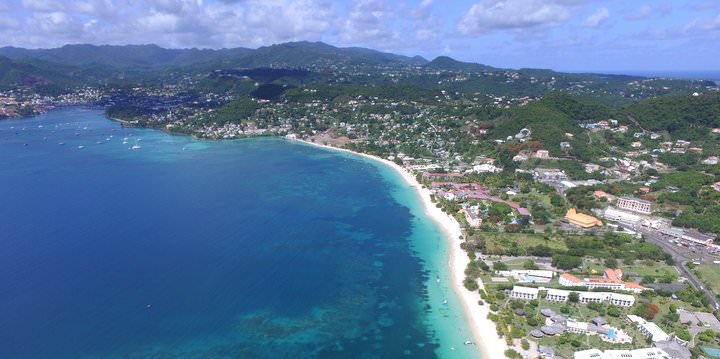 The thought of lazing on powdery Caribbean beaches, rather than wrapping myself up in a head scarf as I was doing in Iran at the time, sounded extremely appealing.
And so we accepted the job.
(Did I mention that after we started the job, we found out that it was the exact same house and dog that Nora looked after the year before?)
House sitting has allowed us to continue to build up our website, our brand and our company. In the beginning, if we weren't receiving free accommodation in exchange for pet care, we never would have been able to afford to travel & work abroad.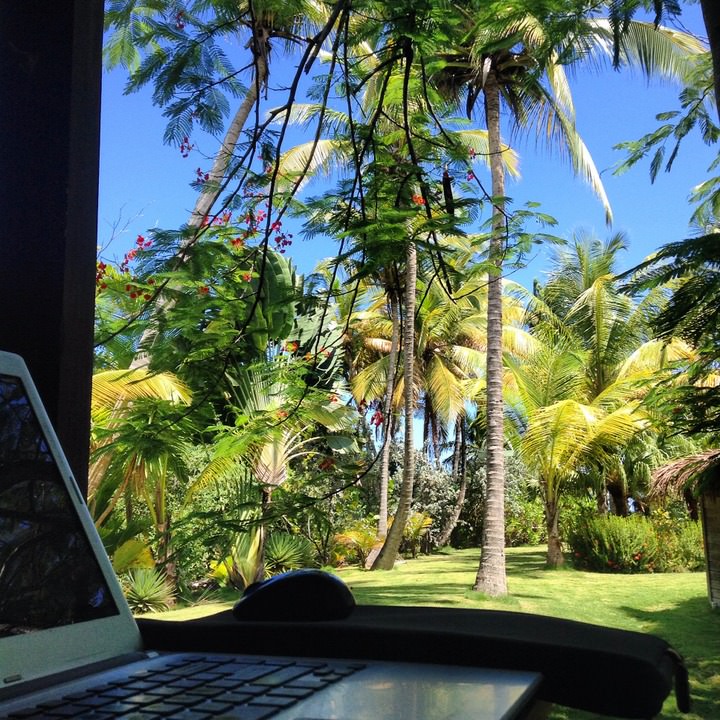 Not only has the free accommodation helped to keep us on the road and keep our dreams of full-time travel alive, but by being able to stay put for months on end, we've been able to grow our website and have enjoyed watching our "baby" flourish and mature.
It's now been more than seven years since we packed up our lives in Canada, quit our jobs and took off on our first trip abroad.
With all of the opportunities that have presented themselves along the way, and all of the stepping stones we've taken to get where we are, we know that we are following our Personal Legends and are doing exactly what we're meant to be doing.
Everything flows easily and simply.
This year was filled with spontaneity and incredible opportunities, and our upcoming plans for 2016 only reiterates what we already know:
We're on the right path.
We have always followed the signs of the universe and they have pointed us in the right direction. We believe that if everyone pays attention to the stepping stone opportunities in their own life, wonderful things will happen.
Stress will fade away, opportunities will arise and the world will conspire to make (and keep) you happy. Give it a try. Next time the you're given a sign, consider following it. Who knows where you may end up…
Does any part of this article resonate with you? If you're feeling "stuck" and like you need a change, maybe you're not following your Personal Legend! 🙂
Have a look at these articles below, I hope they inspire you to make a change in your life, if one is needed:
Like this article?  Pin it!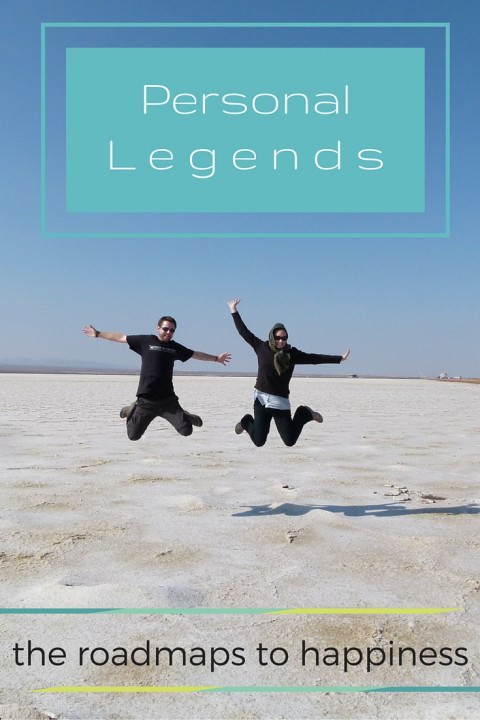 Inspiration
Taking The Leap into a Life Without Chores
How To Travel The World When You have Absolutely No Money
My Realization of the Law of Attraction and Power of Positive Thought
5 Easy Ways Travel Blogging Can Support Your Lifestyle
Our Digital Nomad Lifestyle: Answering Your Money Questions
From Hobby to Career: The Complete Evolution of our Blog
House Sitting
How We Saved $24,000 in Accommodation Costs
How To Find The Temporary Home of Your Dreams
Teaching English 
Teaching English in China: Getting Started FAQ's
How to Save $21,000 in One Year
Teaching English in China: Getting a Job is Easier Than You Think