Scenic drives, hiking opportunities, fresh seafood, and colourful fishing towns are just some of the many things you can expect to experience on your trip to Canada's second-smallest province.
With so many things to do and places to visit in Nova Scotia, if you're on time constraints, choosing the must-sees can be a bit of a challenge.
We spent 15 days on a Nova Scotia road trip exploring Halifax, Cape Breton Island, the South Shore, Yarmouth and Acadian Shores, Bay of Fundy, The Annapolis Valley, and Northumberland Shore.
Yet, there are so many more places to see and things to do in Nova Scotia that we missed! Nova Scotia may be small, but it has a lot to offer travellers.

Check out our video: Best Places to Visit in Nova Scotia
In this post, I'll list the top attractions, things to do, points of interest, and the best places in Nova Scotia to help you plan your trip.
1. Halifax
The capital city of Halifax is one of the best places to visit in Nova Scotia — it's also likely the first place you'll see when you arrive. It's a quick 30-minute drive from the Halifax Stanfield Airport to Downtown Halifax and the vibrant Waterfront area.
Halifax is small enough that you don't feel overwhelmed, yet has enough on offer to keep you busy for a few days.
There are lots of neighbourhoods here as well, so if you have time, get out of the downtown area and explore a bit further. Dartmouth, for example, is just a 5-minute ferry ride ($2.50 CAD) across the bay.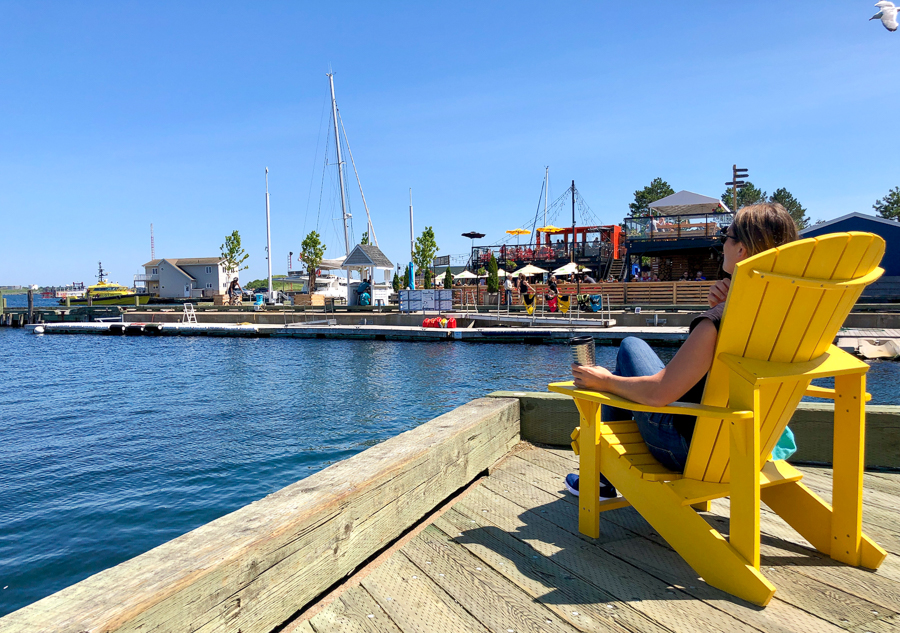 The city is home to green spaces, historical sites, pedestrian-only walkways, events and festivals, galleries and museums, and of course, tasty restaurants! There are numerous things to do in Halifax to keep you busy.
Where To Stay in Halifax
Halifax has so many areas you could stay in, but if you want to be near the waterfront, great restaurants, and many of the tourist sites, then you'll want to be around the Downtown area.
This is a busy part of the city, but it's an excellent location for some spending a few days in Halifax.
We stayed at the historic Westin Nova Scotian (in their newly renovated rooms) and enjoyed the view of the harbour. The staff are very friendly, there are lots of onsite amenities, parking is available, and the breakfast omelette and waffle station was a nice bonus. Click here to see the latest room rates and reviews.
During our second stay in Halifax, we chose an Airbnb in a historic home near the Waterfront. If you're interested in booking an Airbnb, don't forget your coupon.
Where To Eat in Halifax
With a mix of seafood, international cuisine, and vegan-friendly options, Halifax is one of the best places to visit in Nova Scotia for foodies. Here are a few great options: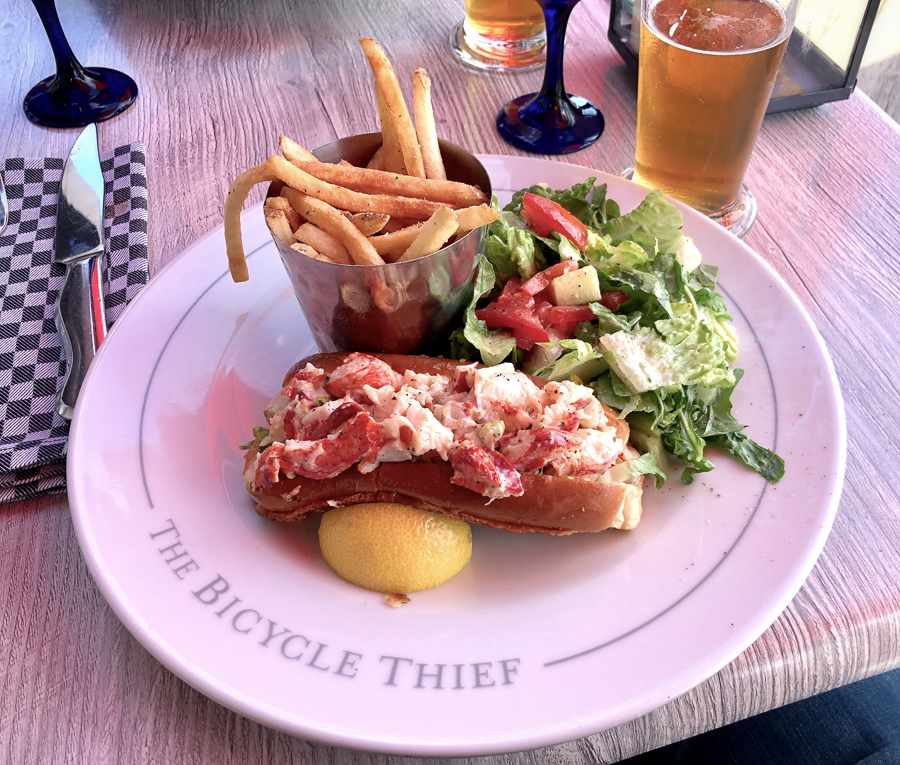 2. Peggy's Cove (and nearby coves)
One of the most popular places to visit in Nova Scotia is Peggy's Cove, but I had to put it on the list — it's a must-see for good reason!
It's about a 45-minute drive from Halifax along the Lighthouse Route to reach Peggy's Cove, making it an easy day-trip from the Capital, or a great stop if you're on a longer Nova Scotia road trip.
The community is set right on the ocean, with massive boulders offering viewing points of the Atlantic. The lone white and red lighthouse is one of the most photographed spots in the country.
Spend some time exploring the slow-paced community, including the inlets — look for jellyfish in the calm water.
There are so many nearby bays and coves that you could visit, either before or after Peggy's Cove. Have a look at the Polly Cove hiking trail, Shad Bay and the other little spots along Prospect Road.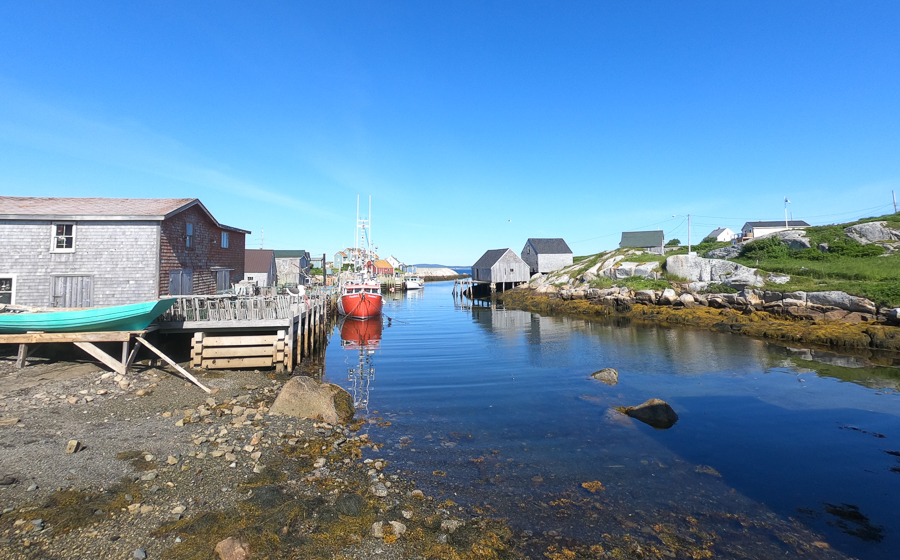 3. Mahone Bay
Continuing along the stunning Lighthouse Route, you'll arrive at Mahone Bay (if you have a chance, check out Chester on the way), which is known for its iconic 3 churches, relaxed atmosphere, and small-town hospitality.
Visit one of the many shops making textiles, jewelry, and art, or check out the mobile library bus!
The locally-sourced food at the restaurants is divine (we had coffee at the Barn Coffee and Social House, and lunch at Circa 1860), and if you're not driving, check out the Saltbox Brewery for some beers.
Mahone Bay is a great place to spend some time and is definitely one of the Nova Scotia attractions you don't want to miss.
If you're feeling more active, or have extra time, there's actually a trail that connects Mahone Bay with the town of Lunenburg (below). This 10-kilometer pathway is called the Bay To Bay Trail, and you can join it at various points, or just hike a portion of it, rather than the whole trail. Click here for details.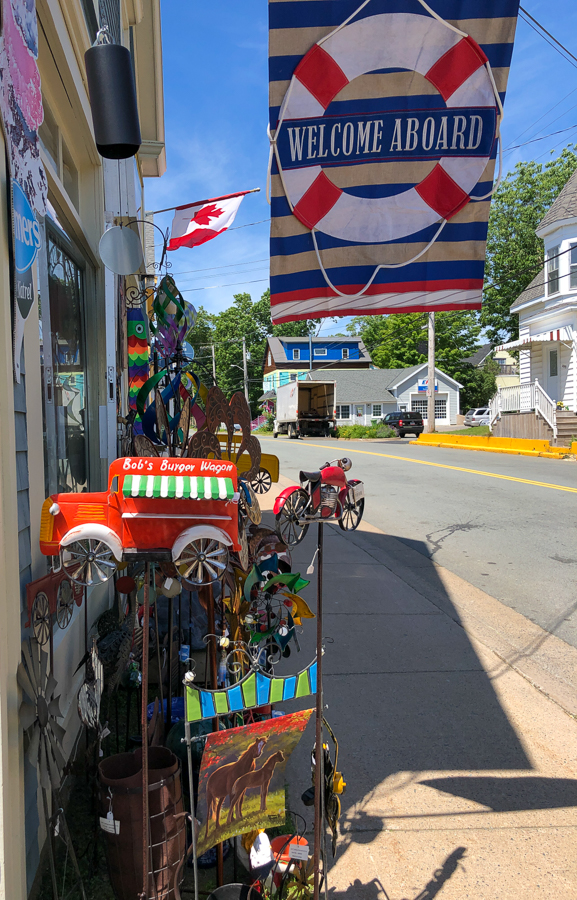 4. Lunenburg
The whole town of Lunenburg is a top Nova Scotia attraction! This fishing village, turned UNESCO listed town, is a picturesque place you won't want to miss.
Many people opt to do day trips here from Halifax, but I recommend spending the night to see the town when it's not so busy.
With its British colonial grid-style streets, Victorian and Colonial architecture, and harbour-side restaurants, wandering around by foot in Lunenburg is an enjoyable experience.
I recommend joining the 1.5 hour long walking tour to get a lay of the land and to learn about the interesting history of the city (and the unique homes that line the streets).
Also, don't miss the Ironworks Distillery tour ($15 including tastings and a gift). Even if you're not a booze drinker, the building its set in is worth a visit itself.
Built in 1893, it used to be a blacksmith's shop that made ironworks for the shipbuilding industry in Lunenburg.
Where To Stay in Lunenburg
There are lots of inns and hotels here in Lunenburg. We stayed at the Brigantine Inn, and enjoyed the harbour view from our room. The staff are friendly and the Grand Banker restaurant and bar is below (we had no issues with noise). Click here to see the latest prices and reviews.
Where To Eat in Lunenburg
The Savvy Sailor Cafe has tasty breakfasts and huge portions. The Grand Banker is highly rated for food and drinks, and so is the Salt Shaker.
5. Blue Rocks (one of the best places to visit in Nova Scotia for kayaking)
Located just a 10-minute drive from Lunenburg, you'll find the community of Blue Rocks. This aptly named place is another photographer's dream destination.
Small fishing shacks and boats are set next to blue shale rocks, with the thundering Atlantic Ocean on one side, and the calm inlets protected by small islands on the other.
Many people come here to wander around, take photos and simply enjoy the quiet of it all. However, this is also one of the best places to visit in Nova Scotia if you want to go kayaking!
Meet up with the guys at Pleasant Paddling for a day on the water. You'll kayak through calm channels and narrow passageways between islands while learning about the flora, fauna, and history of the area. If you're lucky, you'll spot some seals.
If you don't want to stay in Lunenburg and day-trip to Blue Rocks, you can stay in one of the guesthouses here. We spotted some yurts that we'd love to stay in next time.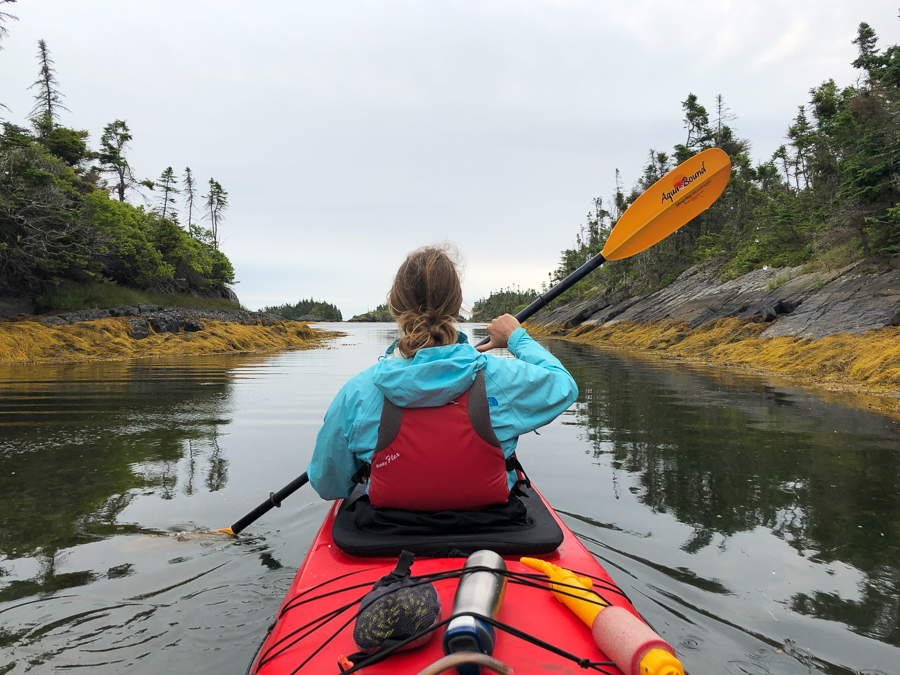 6. Shelburne
This oceanside town on the Lighthouse Route is where thousands of Loyalists fled the United States during the American Revolution. Still loyal to the British, they were enticed to move to Shelburne with a promise of land and provisions.
These days, Shelburne still has British flags flying, and there's even a UK flag painted on the street. Here you'll also find a shipbuilding facility, farmer's market, cafes and restaurants, and the Bowers Meadows Wilderness Area — which is a great place for fishing, canoeing, hiking, and camping.
We didn't actually eat here as we just visited on a day trip, but I do recommend continuing to Barrington and Captain Kat's Lobster Shack for a tasty lobster roll or fish n' chips.
7. Kejimkujik National Park
You're probably wondering how to pronounce this park name! It's "keji-ma-ku-jik"…just say it fast and you'll be fine.
This National Park is a beautiful place to do some hiking in Nova Scotia, geocaching, canoeing, mountain biking and camping. Plus, you can stay in one of the cool forest cabins (something we want to do next time we visit Nova Scotia).
There are 15 hiking/biking trails, plus 2 backcountry trails that you can embark on. We chose to hike the "Hemlocks and Hardwoods" trail which was an enjoyable 5km loop through the forest.
Some of the hemlocks here are around 400 years old! A portion of the hike is on a natural trail, while part of it is on a boardwalk to protect the tree roots.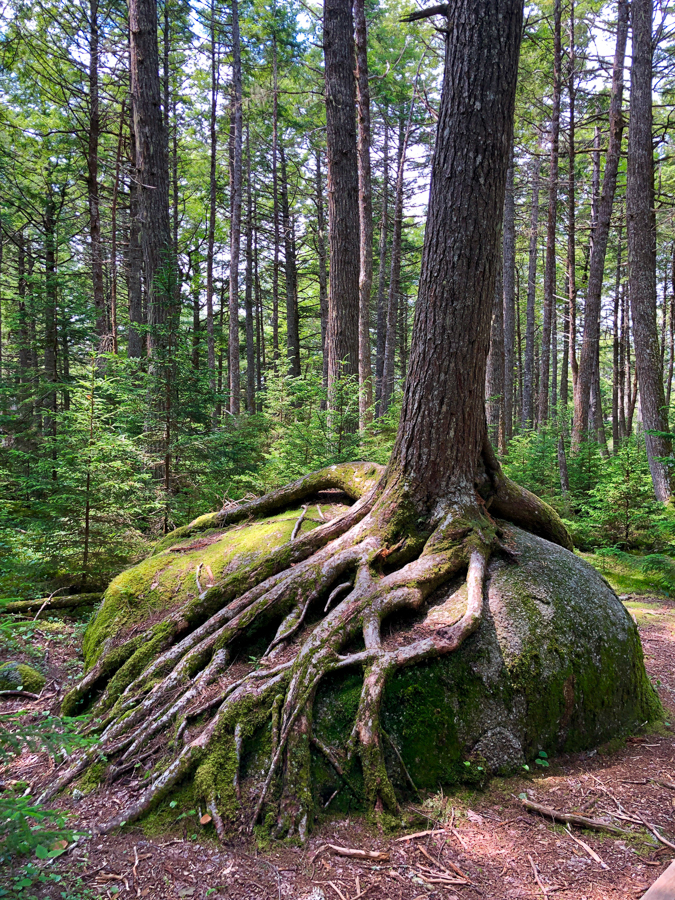 The funny thing about this NP is that it's actually split into two separate areas — inland Kejimkujik NP and the Kejimujik National Park Seaside, which is on the Atlantic.
The seaside park is just 25 minutes from the popular Whitepoint Beach Resort, which has been a Nova Scotia vacation staple since 1928.
We stayed at White Point for two nights and drove to the Acadian Coast and Liverpool as day trips. We then crossed the province north and made our way to Kejimkujik National Park (1 hour from White Point). Sadly, we didn't have a chance to visit the seaside national park.
With natural sites and towns less than an hour away, the White Point Beach Resort is a great place to base yourself. Plus, the resort itself has numerous activities and facilities on offer — walking paths, ocean swimming, pool, bonfires, SUP, kayaking, dining, live music…and more.
8. Digby Town and Digby Neck
Known for being the scallop capital of the world, Digby is a place seafood lovers won't want to miss. Pan-fried, deep-fried, sauteed, raw, bacon-wrapped, grilled, ceviche…the list of scallop preparations is endless!
After walking around the town of Digby (and looking for treasures at low tide), we sat down for a scallop-forward meal at the Shoreline Restaurant. Not only was the food tasty, but the setting was stunning — we even saw seals popping their heads up in the water.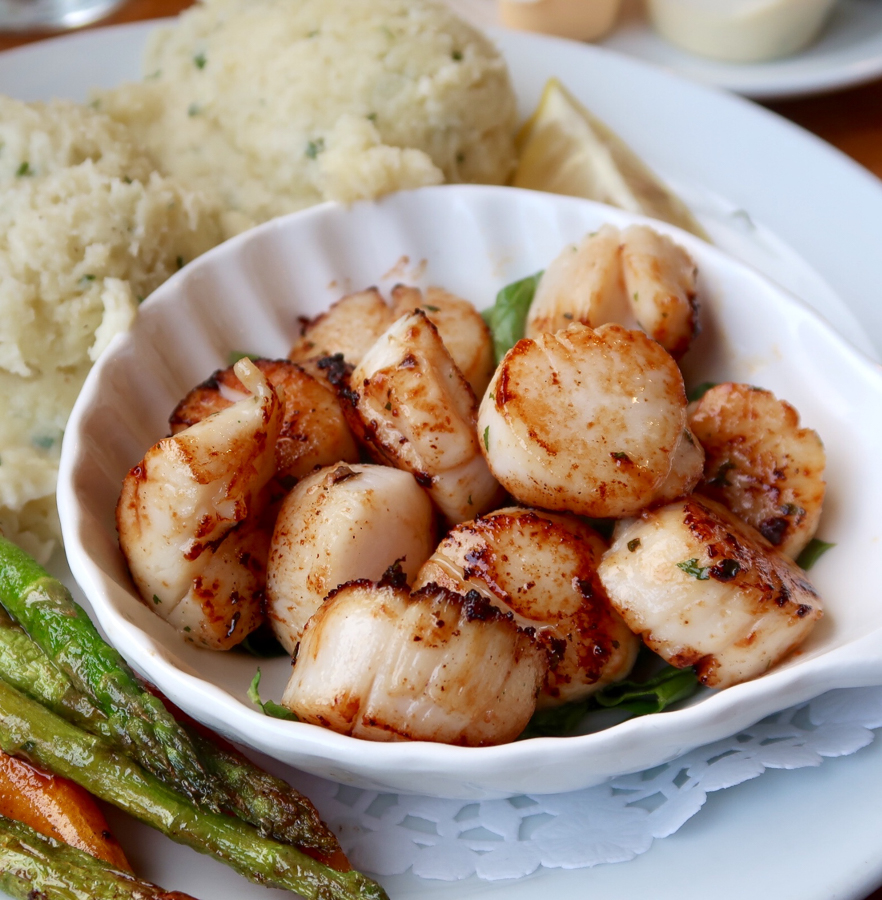 An evening stroll along the docks to see the fishing boats, and locals spin casting off the wharf before the sun goes down is a great way to end the day in Digby.
About 45 minutes from the town, is the Digby Neck. This peninsula is actually composed of the mainland, and two islands — Long Island and Brier Island. One side of the "neck" is the calm St. Mary's Bay, and on the other is the large Bay of Fundy. This is the spot to do some whale watching.
We joined the morning tour with Petit Passage Whale Watching (there are 2 per day) and were lucky to spot a humpback whale and 2 finback whales, which are the second largest in the world!
The boat was large enough that it was comfortable, not cramped, and the staff members were knowledgable about the ocean and the marine life.
There's something magical about seeing wildlife in its natural environment.
We stayed at Digby Pines Golf Resort and Spa, which is a member of the Historic Hotels Worldwide.
Set in a lovely old building with sweeping views across the Bay of Fundy, here you can golf 18 holes, spend a day at the spa, swim in the outdoor heated pool, or simply relax on the patio with a beer in hand. The hotel offers a complimentary shuttle to and from the town center, which is a nice touch.
9. The Annapolis Valley (the best place to visit for wine lovers)
This stunning valley is located between two mountain ranges on the shore of the Bay of Fundy. Home to agriculture, farming, towns, and vineyards, this is one of the most scenic places to visit in Nova Scotia.
From farmers markets and U-pick Fruit & Veg, to wineries and orchards, this valley has lots to discover. Plus, the Annapolis Valley is home to numerous communities, I recommend visiting Wolfville and Annapolis Royal — the latter is where you'll find Canada's oldest National Historic Site (Fort Anne), and one of the oldest streets in all of North America.
Wolfville is an excellent place to base yourself when touring the vineyards around the valley.
In the town itself, you'll find a great walking trail, boutique shops, a cidery (made with local apples), and lots of fun pubs and restaurants. Don't miss Church Brewing — built in a converted church, this is a very unique place to grab a craft beer.
Surrounding Wolfville is where you'll find the 11 established vineyards — which make some crisp white wines and some reds as well. Taking a winery bus tour with a designated driver is the best way to explore the vineyards.
We went with Grape Escapes, a tour that actually originated in Halifax but picked us up in Wolfville. We visited 3 vineyards – Benjamin Bridge, Luckett and Gaspereau – and enjoyed a fabulous lunch with our wine at Luckett Vineyards.
*Insider tip, try the Marquette red at Luckett, it was my favourite Nova Scotian wine.
Not only is the Annapolis Valley picturesque, but there's also a UNESCO Heritage Site here (the Grand Pre National Historic Site), fruit and herb gardens, and one of the best winery restaurants in the world, Le Caveau.
For those who love fresh and locally grown produce, and supporting small businesses, you'll definitely want to add the Annapolis Valley to your list of places to visit in Nova Scotia.
We stayed at the historic Blomidon Inn, which is a stunning hotel in an excellent location in Wolfville. The property is surrounded by pretty gardens, and there's an onsite restaurant and fitness center.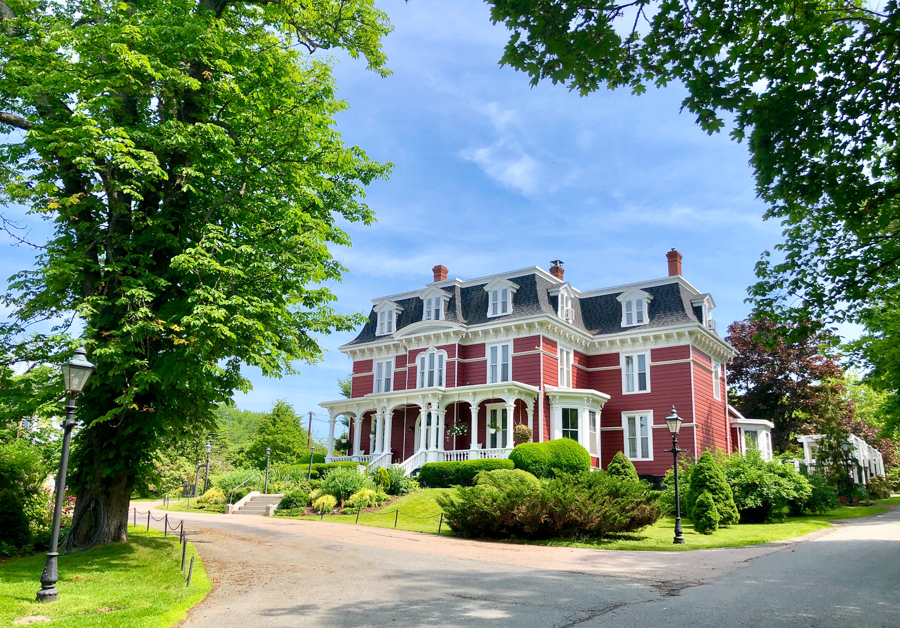 10. Pictou
Nova Scotia translates to "New Scotland" in Latin, and Pictou was the first place the Scottish settlers landed when they arrived in Nova Scotia. These days, you'll still see Scottish tartans on the light posts, and there's a replica of the ship (Hector) that they arrive on in 1773.
Colourful homes and shops line the water, and the overall feel of the town is pretty relaxed. We stayed at the nearby Pictou Lodge Beach Resort which is right on the Northumberland Strait, looking across to Pictou Island and Prince Edward Island beyond.
The wooden cottages here are cozy and comfortable and there are lots of activities on offer like kayaking, pedal boats, and SUP. The onsite restaurant serves up tasty food — don't miss the seafood linguini and the brie cheese starter.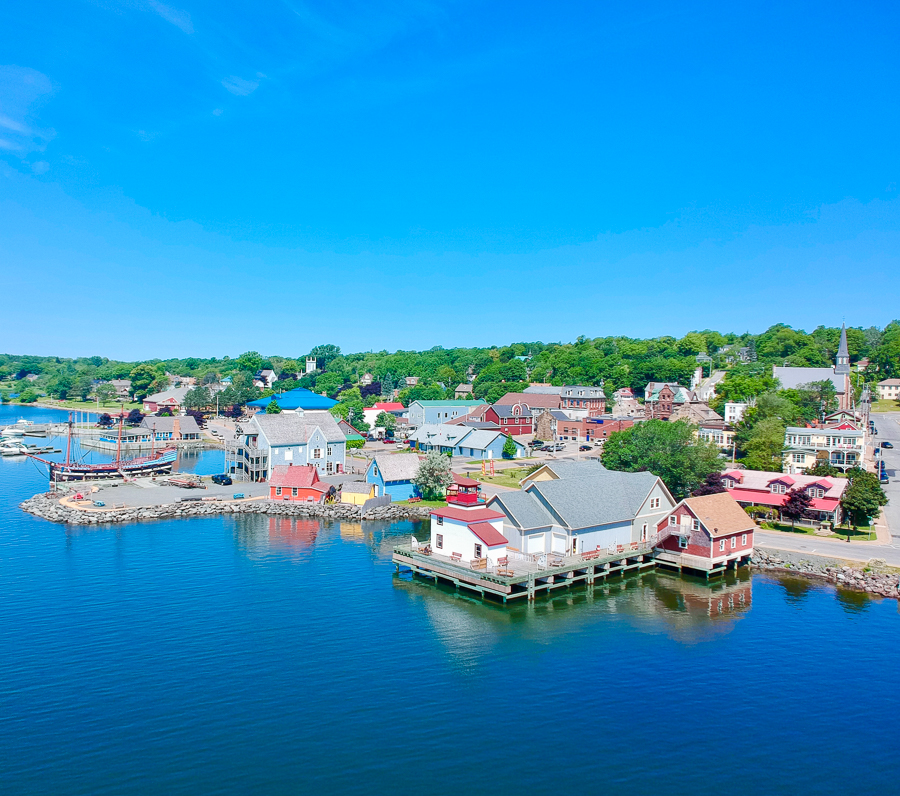 11. Inverness
Crossing the 2 kilometer Canso Causeway from the mainland of Nova Scotia, you'll arrive on Cape Breton Island. Likely, if you're taking the Ceilidh Trail clockwise, your first main stop on the island will be Inverness.
This town and the surrounding area is one of the best places to visit in Nova Scotia for golfers, fishermen, and those who want to do some camping.
The town itself is home to the oceanfront boardwalk, the Cabot Links golf course, Route 19 Brewing, some churches, and a campsite with nice views over the water. Do as the locals do and scour the beach for sea glass — which they call "mermaid tears".
A 10-minute drive from Inverness is the Glenora Inn and Distillery — the longest-running producer of single malt whiskey in North America.
In fact, there are only two on the continent! Take a tour of the distillery, sample the whiskey, eat a meal at the restaurant, listen to live music and spend the night in one of the rooms there. The grounds here are stunning and it's a great place to stay.
12. Margaree Forks
Just outside of Inverness is Margaree Forks, which is the best place in Nova Scotia to do some fly fishing where 40-pound salmon run the Margaree River.
Get a fishing license for around $62 and some flies and head out to the river. Check out the Tying Scotsman for a license and flies, and A Great Day Fishing for reputable guides.
There are lots of places to stay right along the river, Forks Pool Cottage, Cajun Cedar Log Cottages or Margaree Riverview Inn, to name a few. We chose to stay outside of Inverness in Lakeland cottages (in the chalet), but they have other options here.
13. The Cabot Trail
This isn't so much a "place" as it is a drive, but I had to add it to the list. At Margaree Forks, the 298 km (185 mile) Cabot Trail begins. You can choose to drive clockwise or counterclockwise (we did the former).
This route meanders along the coastline of Cape Breton Island, and high up into the plateaus of the aptly named Cape Breton Highlands National Park. Enjoy views of the wild, rocky coastline, the Gulf Of St. Lawrence, and the beautiful forest.
Take your time (and lots of photos) during this drive. The Cabot Trail is one of the most amazing places to visit in Nova Scotia, and one of the best drives in North America.
14. Cape Breton Highlands National Park
If you're driving the Cabot Trail, you'll cut through this National Park. After paying $7.80 (for adults), you're free to enjoy the natural beauty of this part of Cape Breton Island.
Lace-up your hiking boots and wander down one of the 26 trails in the park, find a hidden cove all to yourself and enjoy a snack, or do some camping, fishing, and kayaking! There are endless things to do here.
We hiked the Skyline Trail, which can be done as a return trip, or a loop. We opted for the 9.2 km (5.6 mile) loop walk through the forest.
At the end, the trail opens up and you're greeted by the vast Gulf of St. Lawrence, the Cabot Trail winding through the mountainside, and Cheticamp Island.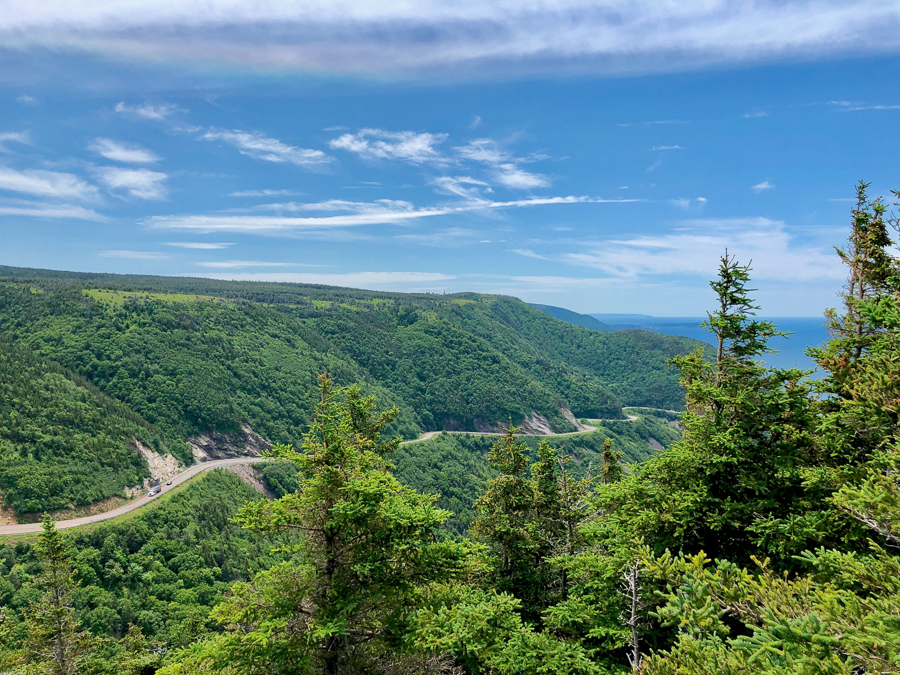 We enjoyed this walk, but it was quite popular — for good reason. Your best bet would be to get there early and enjoy the quieter trail — you may even spot a moose.
There are lots of pull-offs and points of interest, but I recommend Lakie's Head, which is a beautiful spot where you could potentially see whales.
Another quirky place is Groovy Goat, which is a family-run goat farm and soap company, and the Dancing Moose, which is a cafe that serves up tasty Dutch-style pancakes.
15. Ingonish (one of the best places in Nova Scotia for golfing, hiking and camping)
Of all the places to visit in Nova Scotia, this was one of our favourites for sure. Ingonish is actually an area of 6 different communities — Ingonish ferry, harbour, beach, centre, and North Ingonish.
This area offers hiking, camping, swimming, whale watching offshore, and more.
Depending on the tides, Ingonish Beach is either rocky or sandy and even though the water was chilly when we visited, Nick still went for a dip in the ocean!
There's a freshwater lake at Ingonish Beach and you can camp here as well. If you're not into camping, check out the Keltic Lodge At The Highlands which has the most picturesque surroundings of any accommodation we've had.
With sweeping views of the ocean and the craggy cliffs, even if you're not staying here, definitely come by for the view.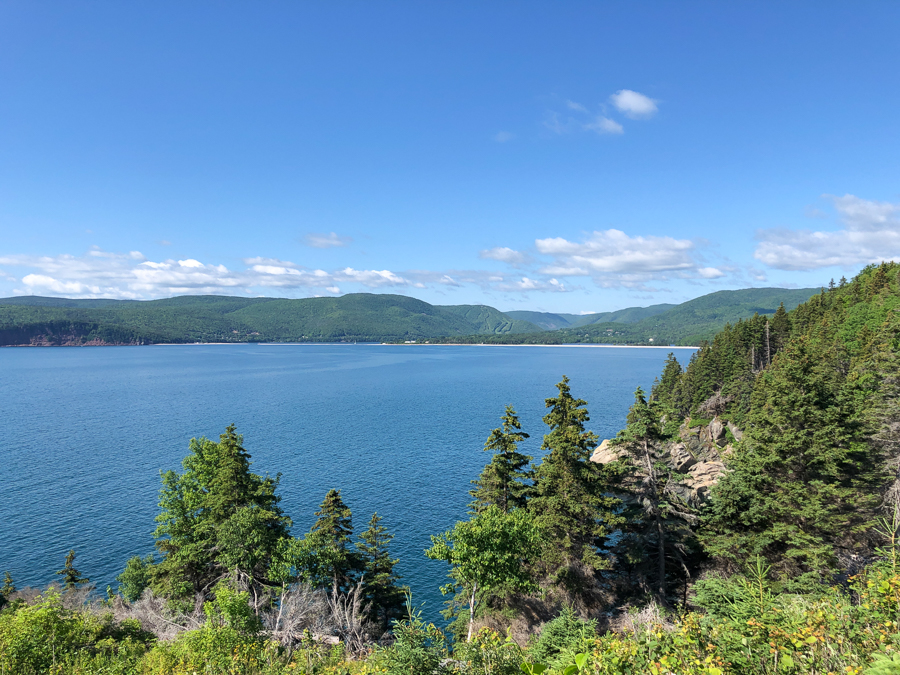 The Middle Head Trail starts here at the Keltic Lodge. It's an easy, 1.5-hour loop that takes you out to the end of the point for a fantastic view. This hike is short but sweet.
Another more challenging option is the nearby Franey Mountain trail, which takes around 3 hours and has a 300m ascent, but offers incredible views from the top.
16. Bonus! Baddeck
Last, but not least on my list of best places to visit in Nova Scotia is Baddeck. Set on the gorgeous Bras d'Or Lake (Alexander Graham Bell had a family estate home here), this town is a great place to chill out for a while.
Enjoy water sports (kayaking SUP, jet skis, etc.), go on a boat tour to see puffins, visit the Alexander Graham Bell museum, enjoy a leisurely coffee in town, or check out the nearby Usige Ban Waterfall.
The trail to reach the falls is around 3 kilometers long and should take about an hour to complete.
We stayed at the Inverary Resort which had the perfect setting right on the lake. Enjoy late afternoon paddleboarding, kayaking, jet-skiing, or boat riding here — or just relax with a beer in hand!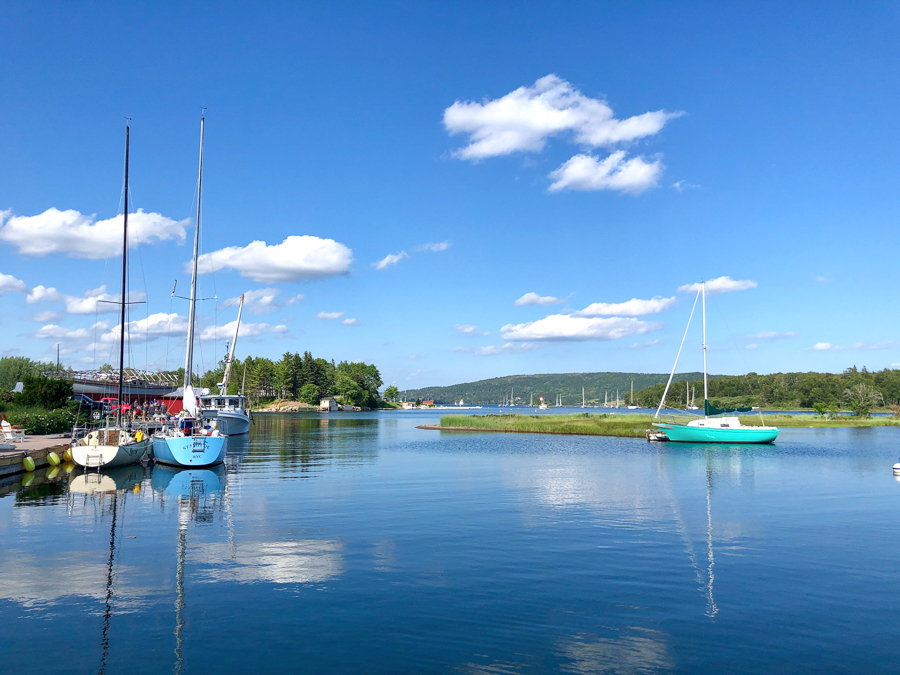 10 Things To Do in Nova Scotia
You now know the best towns and places to visit in Nova Scotia, but here are the top 10 activities and things to do in the province that you won't want to miss!

Here's our video of the 10 best things to see and do in Nova Scotia: