Miles of open road lie ahead of you. The cool air blows into your window and the thrill of adventure almost consumes you. This is the joy of planning a road trip, and in the UK, there are plenty of routes that you can take, sights you can see and experiences you can have while on the road. In this article, we're going to help you plan, prepare and perfect your next road trip in the UK.
The Route
There are literally hundreds of "scenic routes" you can take on a road trip in the UK, but there are 3 that are particularly breathtaking.
1. The Black Mountain Pass (Wales): This pass will only take you about three-quarters of an hour to complete, but it is one of the most stunning drives in all of the UK. You'll be taking the A4069 route across Black Mountain between Llandovery and Gwaun-Cae-Gurwen.
You'll climb to 495 meters at the highest point and you'll have spectacular views. There are literally dozens of hairpin corners so drive slowly for your safety and for your overall enjoyment of the drive.
2. The Abergwesyn Pass (Wales): If you're looking for the archetypical UK countryside drive, then this is probably your best bet. The 18 km road takes you over rolling hills, past rivers, through valleys, over bridges and eventually up to 479 meters where you'll have a beautiful view of the mountains and villages below.
3. Cheddar Gorge (England): For a dramatic landscape that looks like it will come crashing down at any moment, head to Cheddar Gorge. This limestone crack in the Earth's crust attracts about a half a million visitors every year, so you won't be alone, but as soon as you enter into the gorge, you'll see why so many people make the trip.
The Vehicle
Rent a Car: Usually you can rent a car in the UK for around £15 / day. Don't bother paying extra for the collision damage waiver if you charge the car on your credit card as most major credit card providers include this in their policy.
Buy a Camper Van: Without a doubt, the best way to enjoy a road trip in the UK, purchasing your own camper van or RV is an excellent experience. You can find caravans for sale online at AutoTrader.co.uk and then accessorize it with caravan accessories at LeisureShopDirect.com.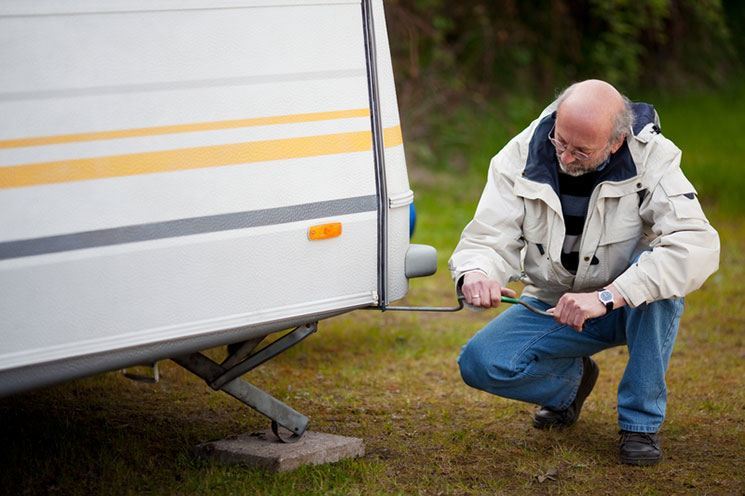 Hitch Hike: If you're travelling with very little or no money, you could try hitch hiking on some of the UK's best road trips, but you may find difficulty getting into cars that are taking the scenic routes and you could be waiting on the highway (cold) for a long time.
The Preparation
It's important that you're well prepared for any road trip. Luckily in the UK there are plenty of villages and gas stations along the way, so you won't need to stock up too much like if you were doing a road trip in Australia. A few things to remember:
A Good Map or GPS: Most of the routes we've listed above are actually very well signed and you probably won't have a problem finding your way, but just in case you decide to take a side trip or you somehow get lost, it's a good idea to have a good map. If you have a smart phone, save the maps on the Google Maps app and then follow your journey along the way. You don't need to use data to do this.
Healthy Snacks: Instead of stopping in for a greasy McDonald's lunch, consider packing some health bars and fresh juices for your trip. Trail mix is another excellent road snack.
Baby Wipes: We always like to travel with these handy little sanitation napkins. Instead of having to stop and wash your hands before eating, you can just quickly wipe them off and you're good to go. These can actually work to clean your whole body if you haven't been able to have a shower for a while!
Motion Sickness Pills: You never know who's going to end up getting car sick after long bouts of driving. Best to bring a few tummy pills just in case.
First Aid / Emergency Kit: You should always make sure that your car is stocked with a good first aid kit and an emergency kit with lots of extra water and food in case the worst happens on your road trip and you're left stranded.
A Cooler: When we were driving across South Africa for 5 weeks, we bought a cooler so that we could always have a fresh picnic whenever we decided to stop. A cooler will ensure that you can have more than just health bars and trail mix for snacks.
The Road Awaits…
Now we've covered where to go, what to drive and how to prepare. The rest is up to you! The UK is an excellent spot for a road trip. Even if you only have time for a couple of days, consider picking a shorter route and heading out on the open road. There's always time for a road trip!
Disclaimer: Some links in this article are affiliate links, which means that if you purchase through them, we receive a small commission. This will never cost you extra and in many cases you receive a special discount. We appreciate your support!