A Portugal campervan trip may not be first on a list of top adventures in Europe, but our experience says otherwise.
When you think of taking a holiday in the small European country of Portugal, what comes to mind? Most people envision the glistening turquoise waters of the Algarve, the epic surfing in Nazare, or the historical cities of Lisbon and Porto.
But, Portugal is much more than its coastline!
Van Life in Portugal: Our 10 Day Portugal Campervan Trip
We wanted to explore beyond the typical tourist trail during our unexpected stay in Portugal. So, we decided to try a new adventure and rent a campervan to explore the central and northern regions of the country.
Known for its stunning farmland, vineyards, gastronomy, and culture, plus rivers, lakes, and the towering mountains of the Peneda Gerês National Park, the central and northern regions are an underappreciated area of Portugal that travellers won't want to miss.
In this post, I'm going to break down our 10 day Portugal campervan itinerary, as well as some things that you'll want to know before renting your own campervan in Europe.
And, don't miss our video at the end of this article!
Here's our trip report from 10 days travelling from Lisbon to the central and northern regions of Portugal in a campervan.
The Campervan Rental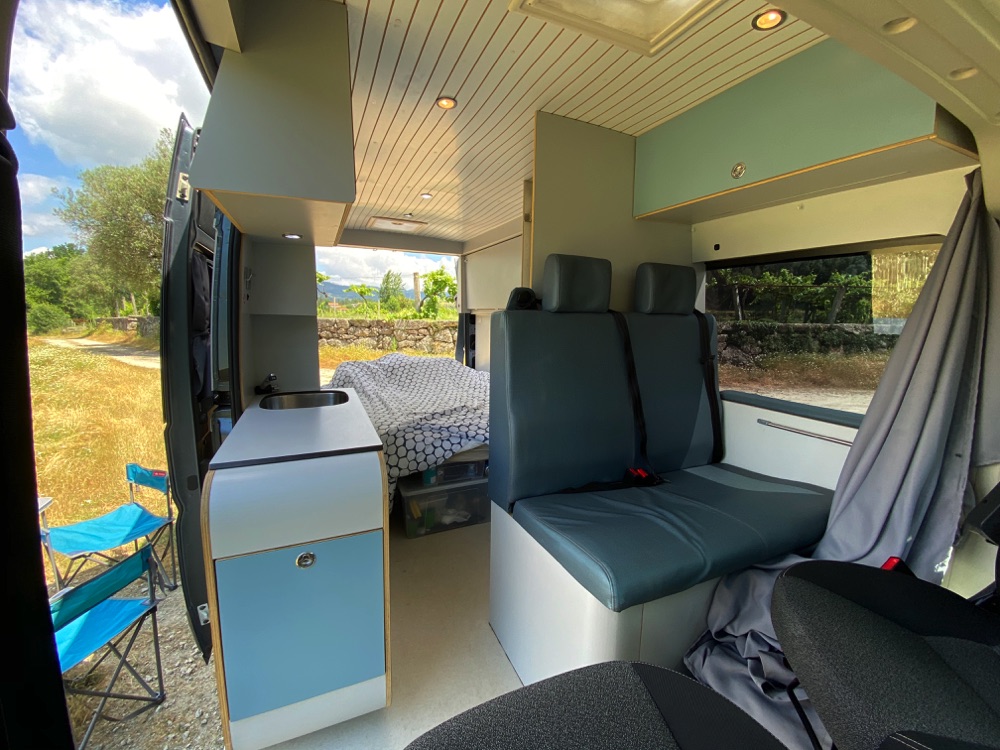 We were really craving mountains and Mother Nature at this point in our Portugal stay. Camping sounded like a great idea, and what better way than being fully self-contained?
With a campervan, you can move around at your own pace, while having a bathroom, kitchen, and bedroom with you at all times.
The Model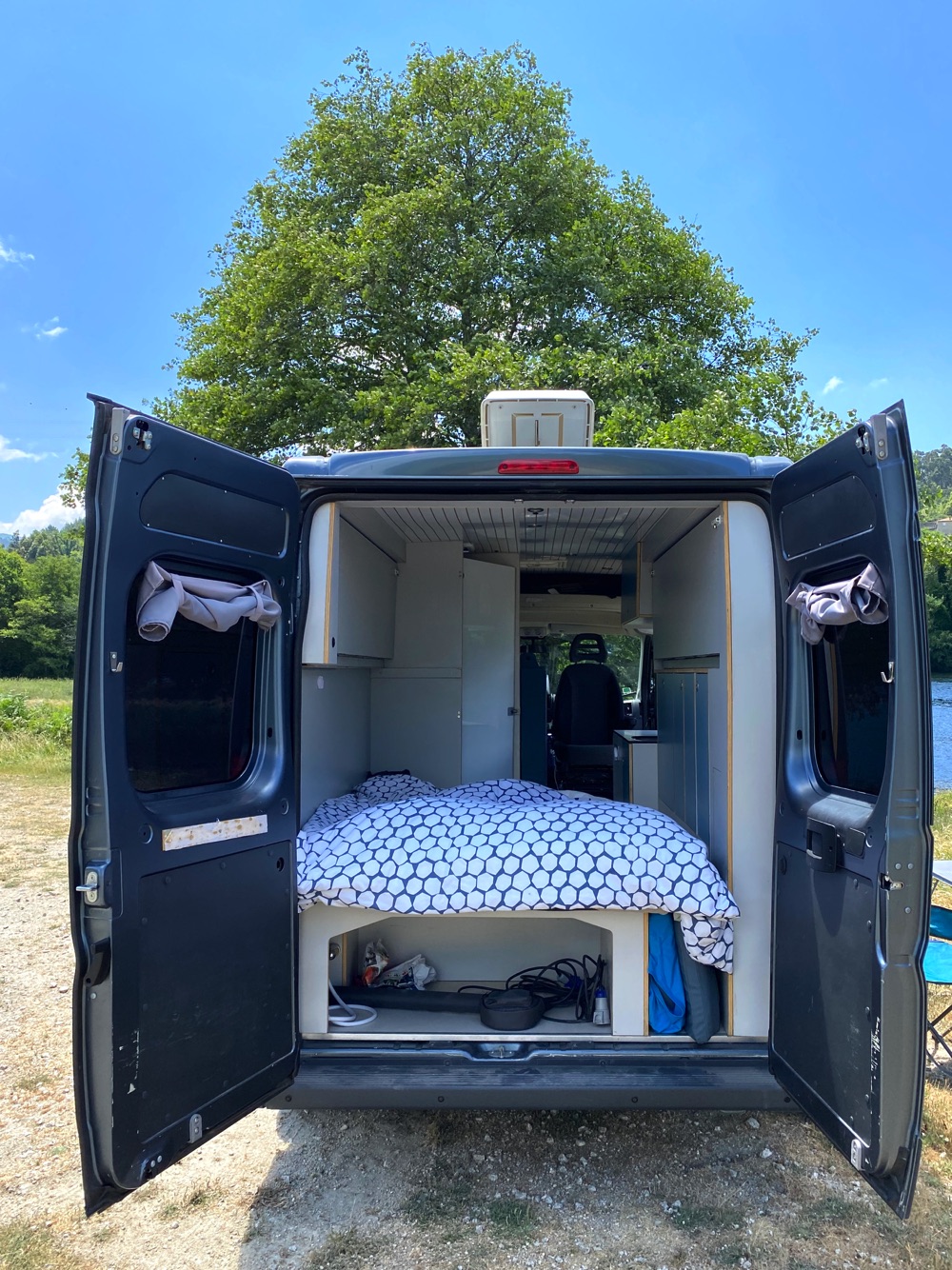 We opted for the Active Plus model with Indie Campers and it was a good fit for our 10-day trip.
Typically, the campervan is meant for 4 people, but since it was just the 2 of us, we asked Indie Campers to provide us with a van that didn't have fitted beds, but rather, a convertible bed.
Not having permanent stacked beds really opened up the van and made it feel much more spacious.
During the day, the area is the dining room with a table and benches with cushions for sitting and hanging out.
At night, the dining area transforms into the bedroom. The cushions that were used as the backrest when sitting down become the mattress for sleeping on, and the table collapses to create part of the bed platform.
To be honest, we were too lazy to switch from bed to bench and just left the bed out the entire trip. Plus, we had a table and chairs for the outside area and preferred to dine outside.
The Active Plus model campervan has a separate bathroom with a shower and a portable chemical toilet, an electric cooler box, a portable gas stove, and all the bedding and kitchen gear you would need.
The Specs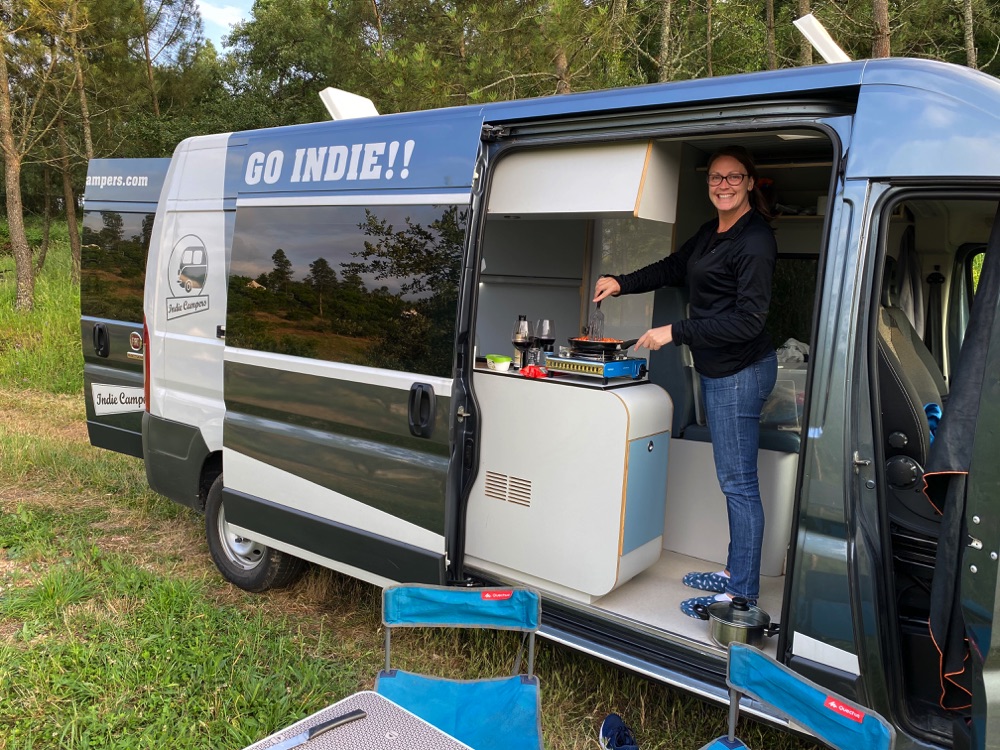 Nick and I knew we wanted to have a campervan with enough space to not feel cramped, but we also didn't want a really long van that would be difficult to maneuver through Portugal's narrow streets and around small mountain roads.
The dimensions of the van were perfect: 5,41m x 2,69m x 2,75m.
We were also hoping for a newer van and ended up with a manual 2018 Fiat Ducato diesel, which ran really well.
The campervan had a 50L tank for clean water and a 30L tank for grey water, which was sufficient for us. A 220V cable for plugging in and charging the backup battery was also included.
If we were going for any longer than 10 days, I think we'd prefer to rent the Nomad model as it has an integrated stove, a fixed toilet, a fridge, and larger water tanks.
Add-Ons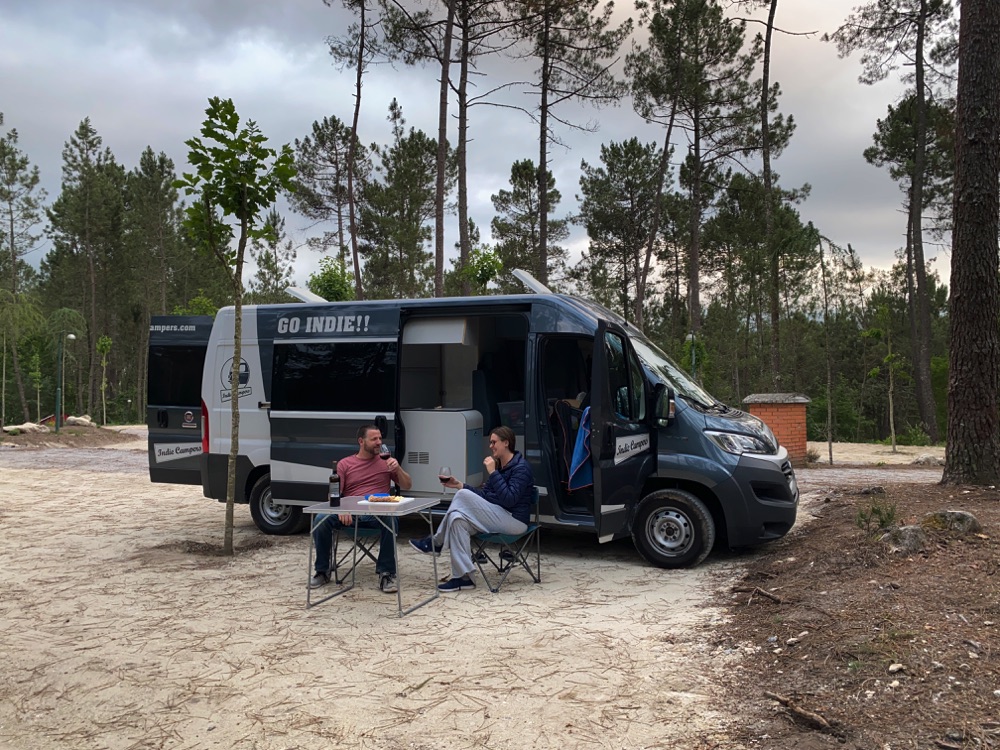 Indie Campers has some items that you can add on to your rental, such as surfboards, bicycles, wet suits, and more. We opted for a small coal BBQ, a WiFi hotspot, a heater, and an outdoor table and chairs.
We didn't end up using the BBQ due to it being a fire hazard at that time of year (June), and it was too warm for the heater! But, we did get a lot of use out of the WiFi hotspot while working online and we used the table and chairs every day.
There are 3 ceiling vents which help to cool the van and it's quite well insulated. But there are no fans for ventilation built-in, which was fine for us in June in the North, but if you were going to rent the van in the summer in the Algarve, I'd say a small fan would be a good purchase.
You can pick them up for about €8 at any FNAC or similar electronics store in Portugal. I'd love to see a fan included in future models of the van or optional as an add-on.

The Cost
The cost of the rental varies depending on which time of year you rent (high season vs. low season), how long you rent for, and what campervan model you rent.
The Active Plus model that we rented with Indie Campers cost €65 per day, plus add ons (the 4G, unlimited WiFi hotspot was €20, outdoor table and chairs were €20 as well — total, not a nightly rate.)
For 10 days of travelling, we spent €200 on gas for the van and €100 in tolls.
For the campsites, if you wild camp then it is free. We stayed in 3 different designated campgrounds and the costs in June were:
Uxa Paraiso – €6 per night per person. €2 per night for electricity. Total: €14 / night
Lima Escape – €6.50 per night for the campervan. €4.50/person/night. €3.50 per night for electricity. Total: €19 / night (Lima Escape and Indie Campers have a partnership, so we actually received a 10% discount off the total)
Vidoeiro Gerês Camping – €6.20 per night for the campervan. €4/person/night. €3.60 per night for electricity. Total: €17.80 / night.
Our 10-Day Portugal Campervan Trip Itinerary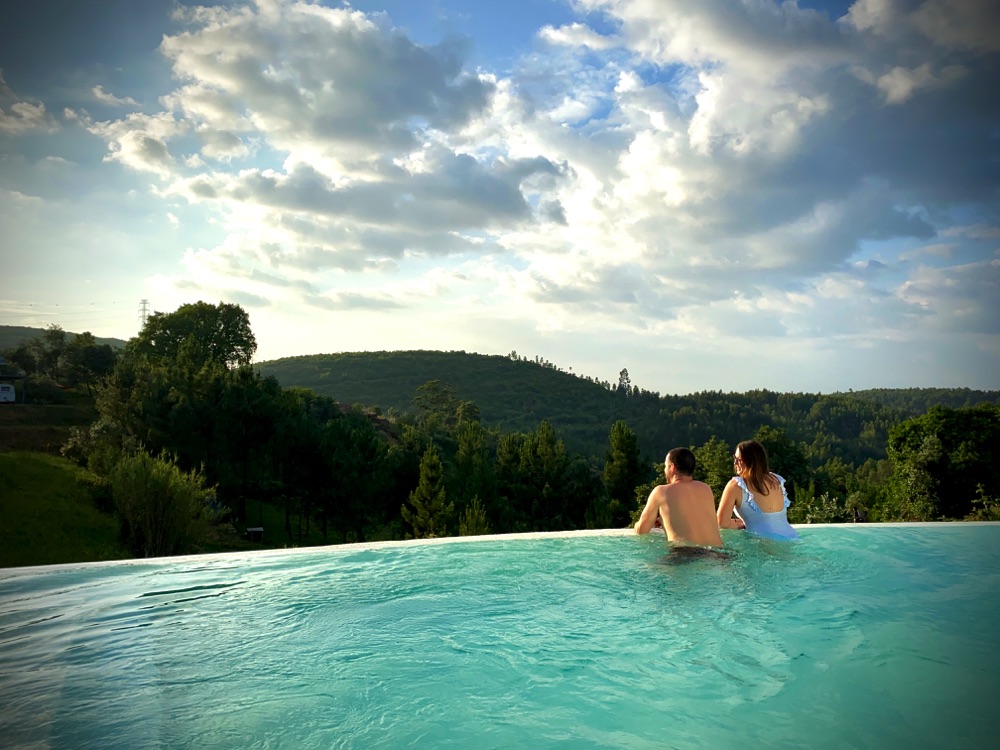 Having spent the majority of the last few years living on a Caribbean island, and the past 3 months in lockdown mode in the city of Lisbon, it was time to go to the mountains.
We came up with the road trip route based on the activities on offer, the natural beauty, and parts of the country that were away from urban areas. (We wanted to avoid cities with the campervan and avoid large crowds to help maintain social distancing.)
I spent quite a bit of time Googleing the northern part of Portugal and didn't come up with all that much information online.
So, I opened up Google Maps and zoomed in and out, while searching for Natural and National Parks, campsites, viewpoints, hikes, and scenic spots.
Finally, a rough itinerary was formed, and we filled in the details as we went.
Portugal is a bit confusing for travellers as the country is divided into regions, followed by districts, municipalities, parishes, and neighbourhoods. In this itinerary, I'm just going to list the main areas we were in!
Lisbon to Sintra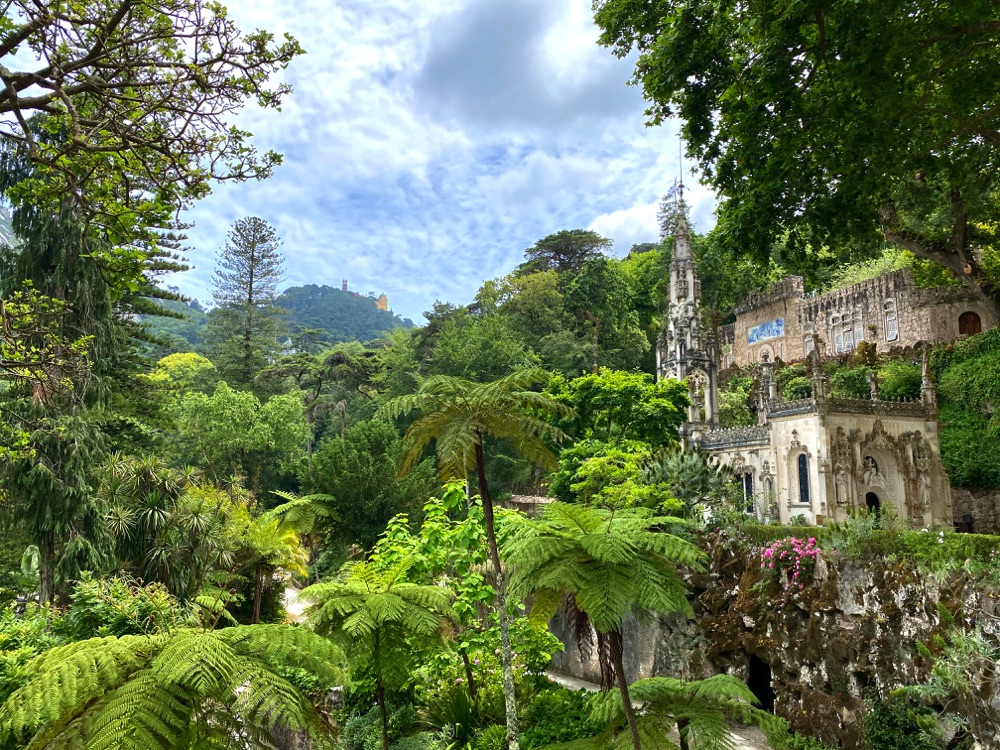 You may think we're crazy, but even though we were definitely trying to avoid small roads and areas that aren't suitable for a campervan, after leaving Lisbon, we did visit Sintra — a small village with narrow, winding roads.
This fairytale UNESCO town is just a quick 30-minute drive from the capital, yet feels worlds away.
After a lot of "How far am I to the edge?" and "Am I going to hit that car?!", we finally found a parking space that was long enough for the van and felt relieved that we'd be walking for the next few hours.
The mountainscape of Sintra was gorgeous and instantly, the air felt a bit cooler. Dominating the hills were colourful, Disney-looking palaces, and a fortified medieval Moorish castle.
The landscape was breathtaking and while we didn't see all of Sintra due to time constraints, we did visit the popular Quinta da Regaleira with its deep spiral well, palace, churches, and gardens.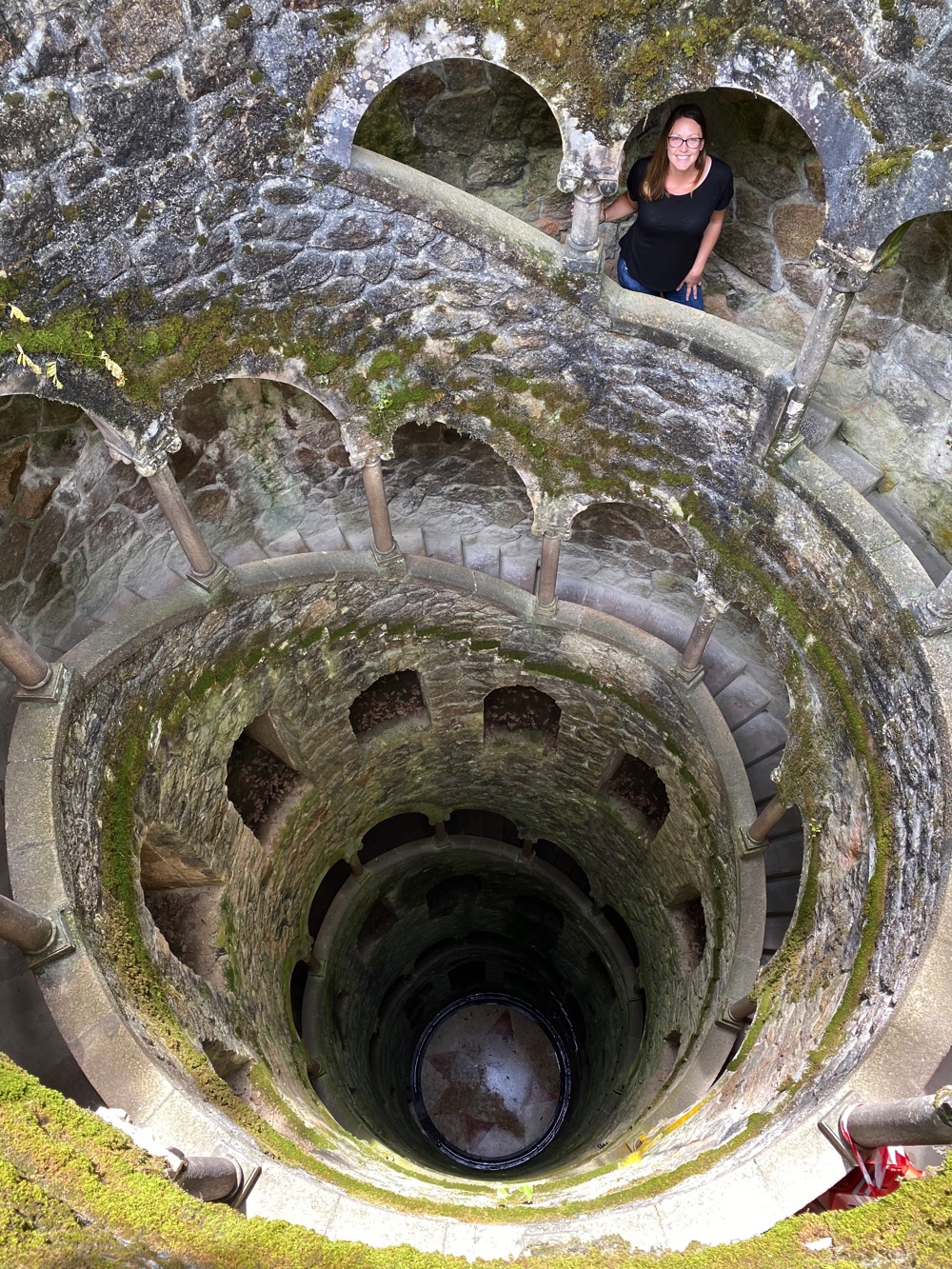 Except for 2 people who arrived as we were leaving, we were the only tourists there, which, based on the comments we received on our Instagram photos, is not how this place normally looks!
Sintra to Penela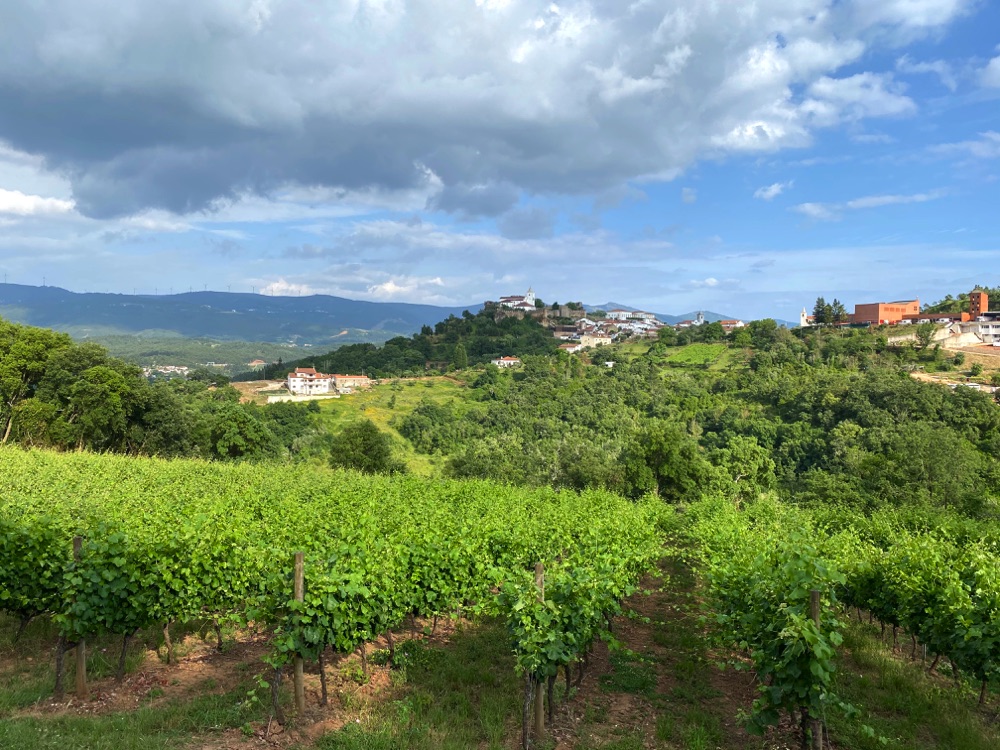 Located about a 2-hour drive north of Sintra (about 20 minutes south of the city of Coimbra) is the village of Penela.
While we did enjoy sleepy Penela with its castle towering over the village, we were there for the nearby campground and the surrounding mountains and river.
Passing by vineyards, and down a narrow, bumpy dirt road, we arrived at Uxa Paraiso, which was run by a well-travelled Frenchman named Julien. He showed us around and helped us find the perfect place to park on his 5-hectare property.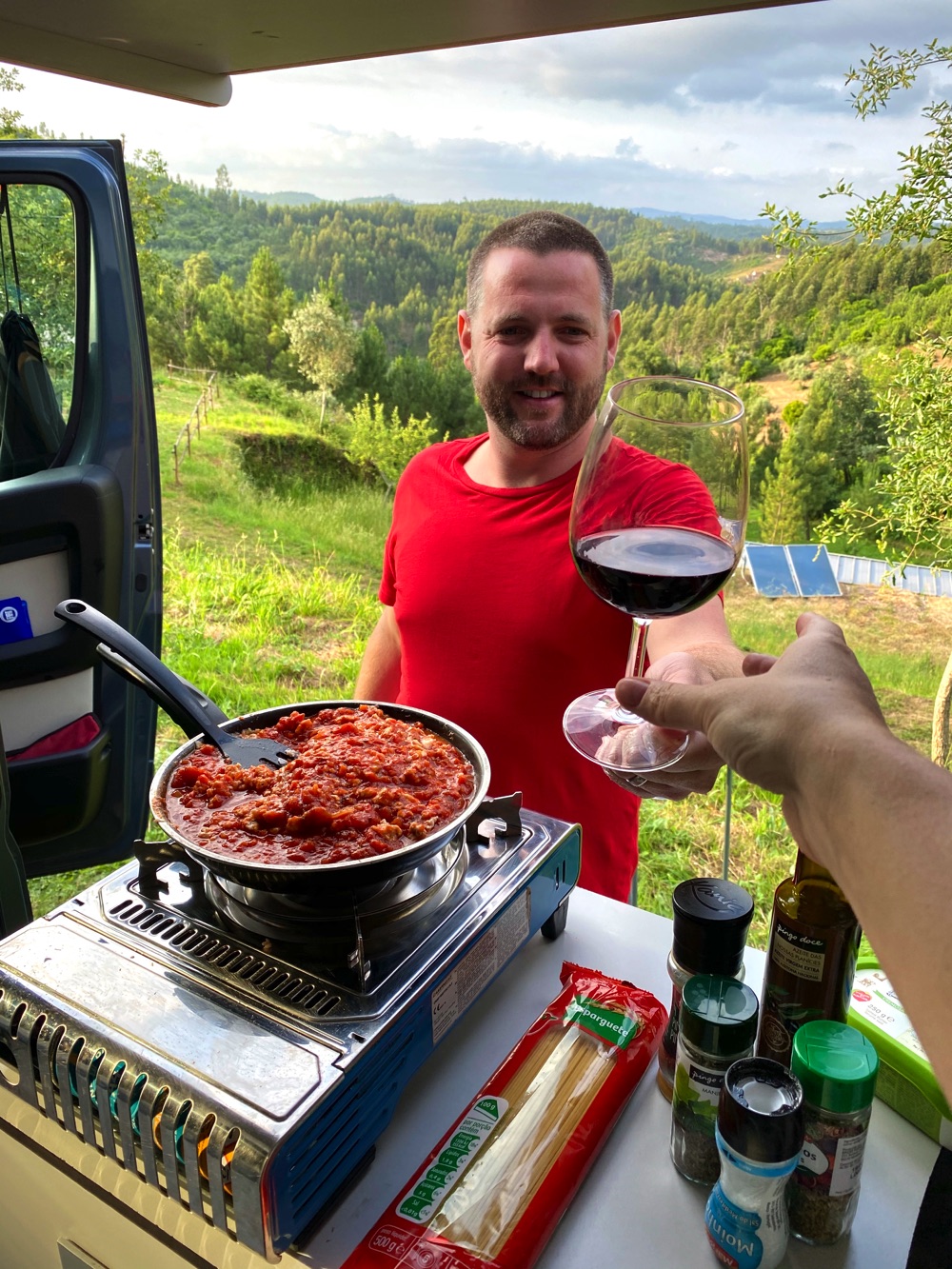 We were the only guests here for 2 nights and it was pure magic.
Wild mint was growing on the ground and every step we took released an aroma of spearmint gum (or, mojitos!). Apart from mint, the property had flowers and trees, plus 2 cats, goats, and sheep.
While the view from the campsite (and the pool) was enough to make us want to stay, we peeled ourselves away to explore the surrounding area of Fragas de São Simão.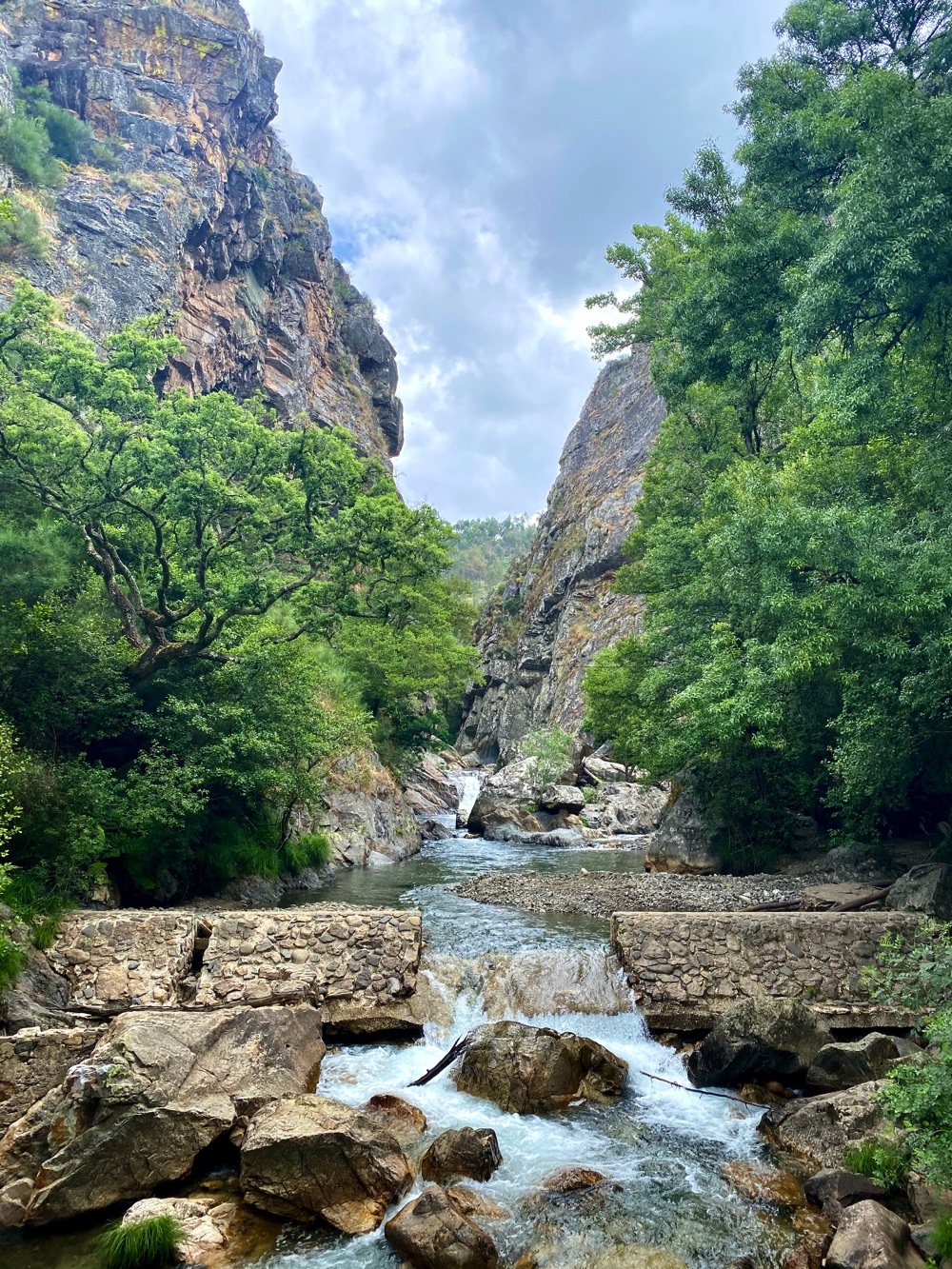 After hiking alongside the river and through the forest, the landscape opened up to reveal towering craggy cliffs with natural swimming holes at their base.
We enjoyed a very chilly swim before heading back to the camp to enjoy our final night near Penela.
Penela to Peneda-Gerês National Park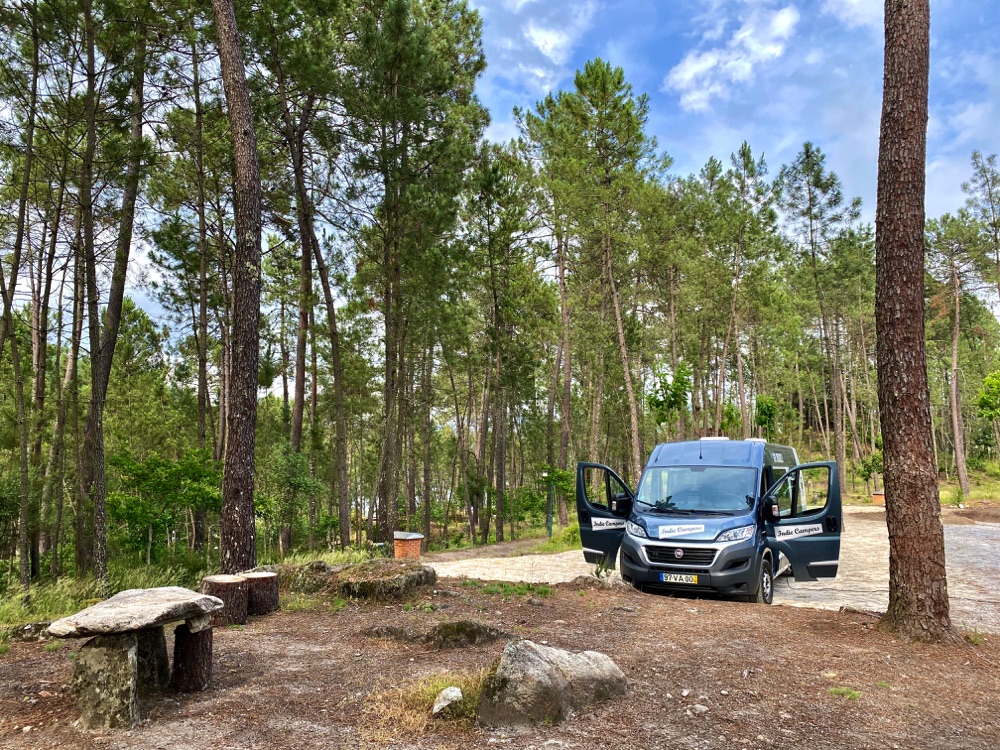 From Central Portugal, it was time to head north and experience the only national park in the country, Peneda-Gerês.
Known for its mountains, rivers, and small villages, this was a place we were very much looking forward to. As we arrived at our campsite (Lima Escape) on the outskirts of the park, we were immediately in awe.
We spent 2 nights here surrounded by pine trees and with a gorgeous view of the Lima River.
Nick did some fishing on the shoreline while I read a book. Evenings were spent cooking dinner in the campervan and enjoying a glass of wine at sundown.
We also took an amazing day trip to the small, traditional village of Soajo. It's only about a 20-minute drive from Lima Escape, but it's a very scenic route.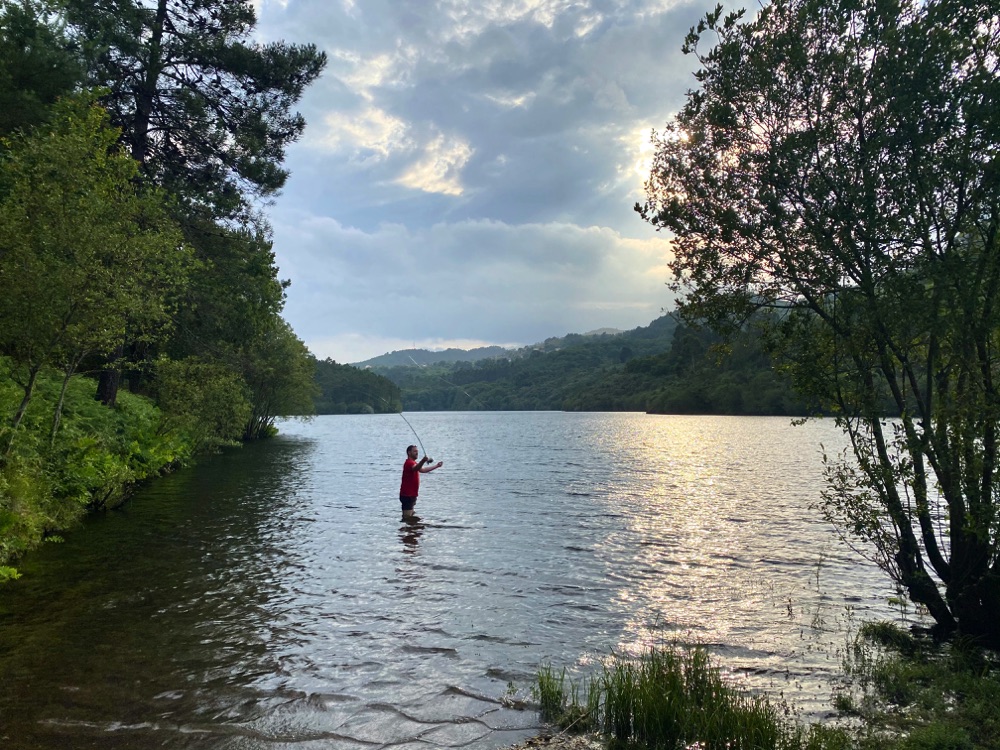 Once in Soajo, we wandered around on foot exploring the small roads that wind through houses and farmland, before checking out the 18th-century granite granaries which were used by the community to safely house the harvest of corn.
From there, we made our way to Poço Negro which is a gorgeous natural swimming hole just off the side of the road! This was a great place to sunbathe, jump off the rocks into the deep water below, and just relax.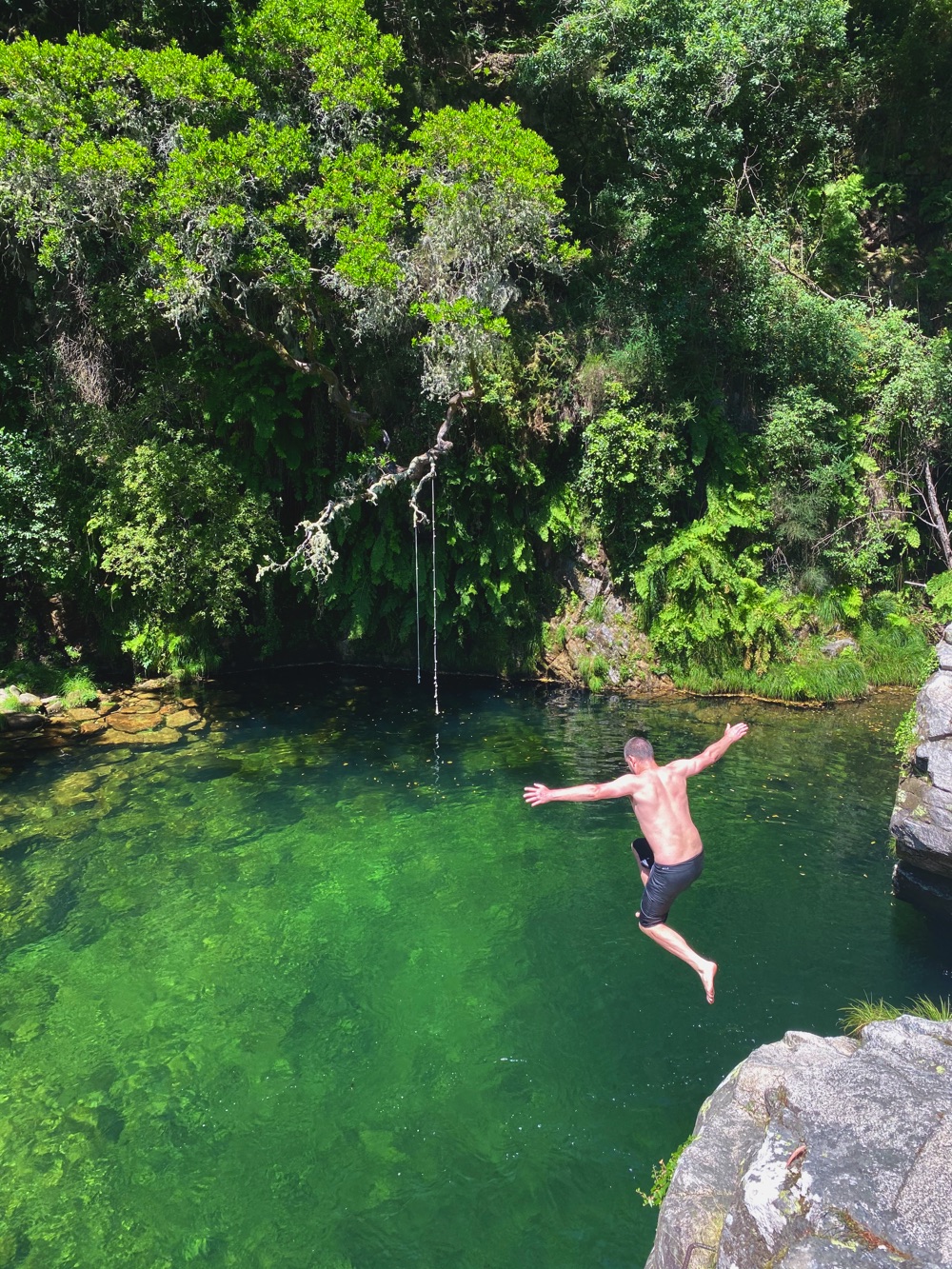 Soajo is a must-see little village, and while we didn't make it to nearby Lindoso (we were enjoying natural pools too much!), we've heard it's also a great place to see.
Peneda Gerês National Park to Ponte Da Barca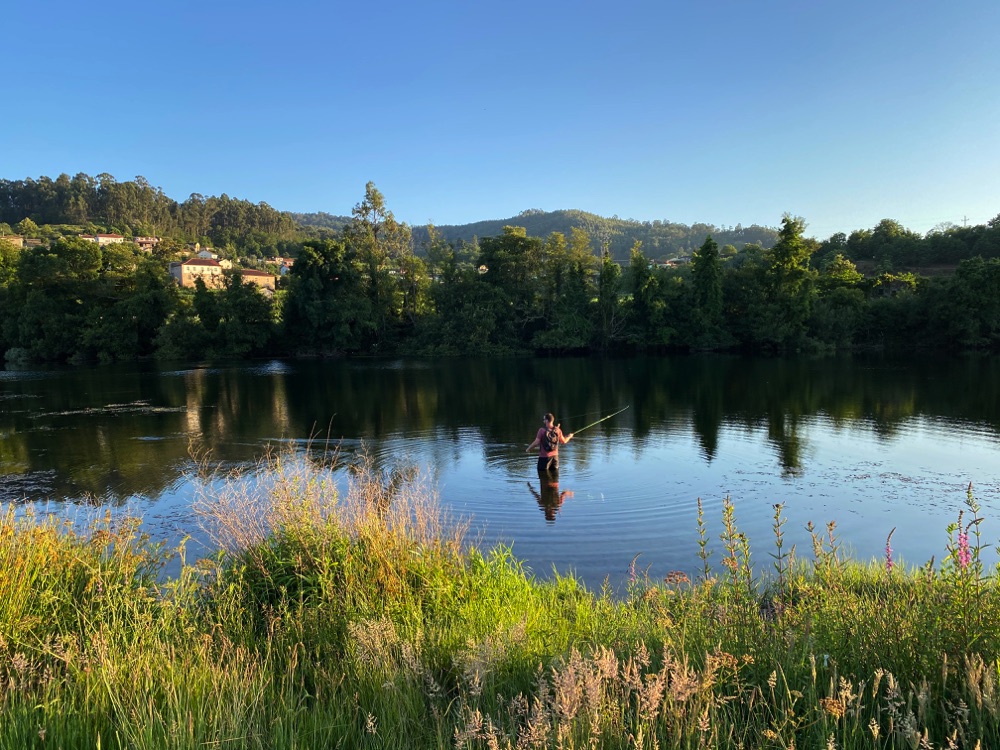 The campsites we had stayed in up until this point were great — and necessary in order to charge up the second battery, and use the services (filling up with water, emptying of grey water, etc.).
But what's so interesting about having a "home on wheels" is the ability to wild camp, or boondock. We were really looking forward to this style of camping.
Using the Park4Night app (more information below), we looked for somewhere to stay in a safe and quiet location that offered a river for fishing and potentially swimming.
We found just the place…although getting there was an unnecessary challenge.
We followed Google Maps going down a cobbled, residential road that was barely the width of our vehicle for quite some time. Why we had gone this far, I don't know.
We had committed to it and we were almost there, so turning back didn't make sense — and would've been incredibly difficult to do.
Eventually, we arrived at a gorgeous overhang of perfectly manicured flowers and vines. But, the van was far too tall to clear them!
The decision was made to reverse out of the narrow road until we found somewhere to turn around. I got out of the van and tried to direct Nick using hand motions and yelling: "Left!" "A little to the right!" "STOP!"
Followed by Nick's reply: "I can't see your hands at all when you're directly behind the van!!"
We must've been quite the sight for the locals who were most likely watching us and laughing from their windows. Miraculously, Nick was able to maneuver the van out of our predicament without scraping the sides.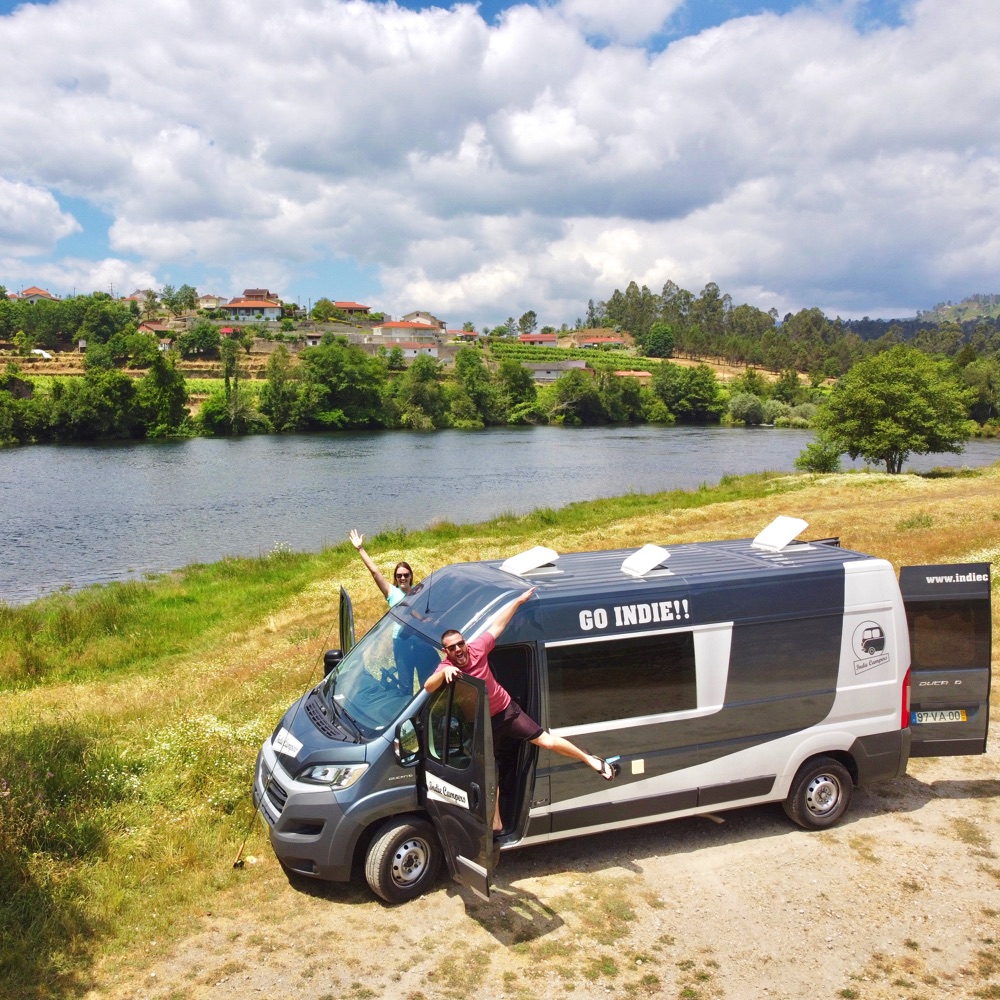 Finally, after taking the correct turn, on a wide 2-way road, we eventually arrived at our dream spot on the Lima River near Ponte Da Barca.
With nothing more than a field, a couple of picnic tables, and a small vineyard all set along the slow-moving river, this would be our spot for the night.
After fishing, reading, making dinner, and relaxing, we enjoyed wine under the full moon and fell asleep to the sound of crickets and frogs.
Ponte Da Barca to Montorros (via the Coura River)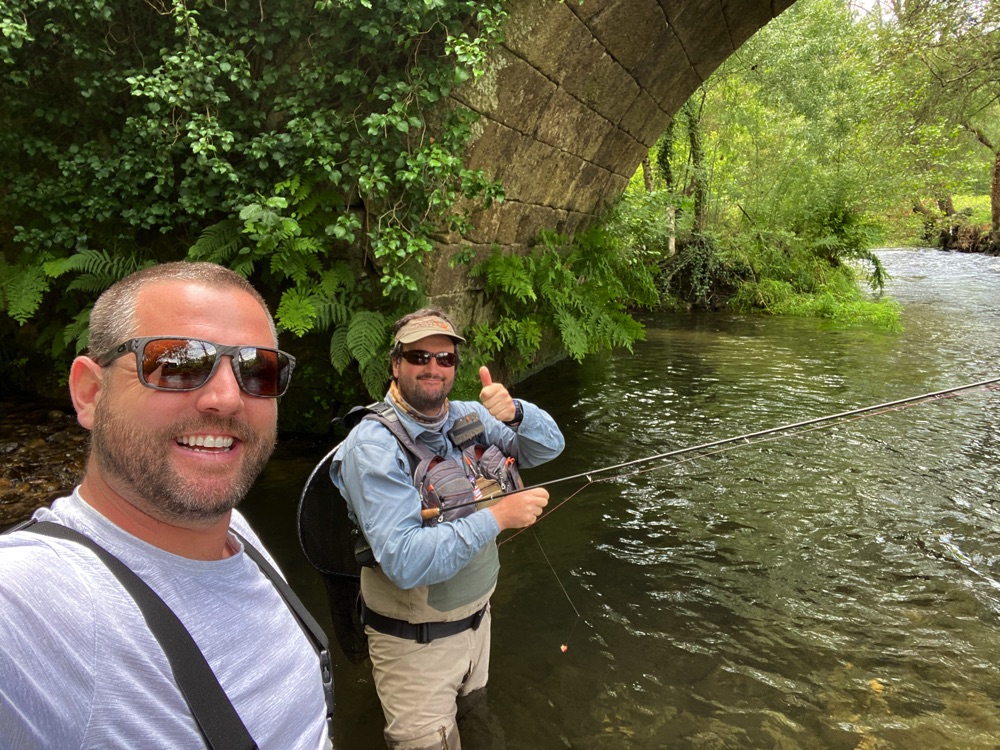 Today was the day Nick had been anticipating the most. After having no luck fly fishing the few days prior, he decided to hire a local professional guide to show him the best spots — and the best techniques for the area.
We met up with Antonio from Minho Fly Fishing and set off to the Coura River. There's no way we would've found ourselves in this quiet, pristine part of Portugal had we not joined this private tour.
Not only was the fishing great (Nick caught 7 rainbow and brown trout), but the scenery was stunning as well.
We were surrounded by lush forest the entire time while sitting and standing on boulders alongside the rushing river. Again, wild mint blanketed the ground.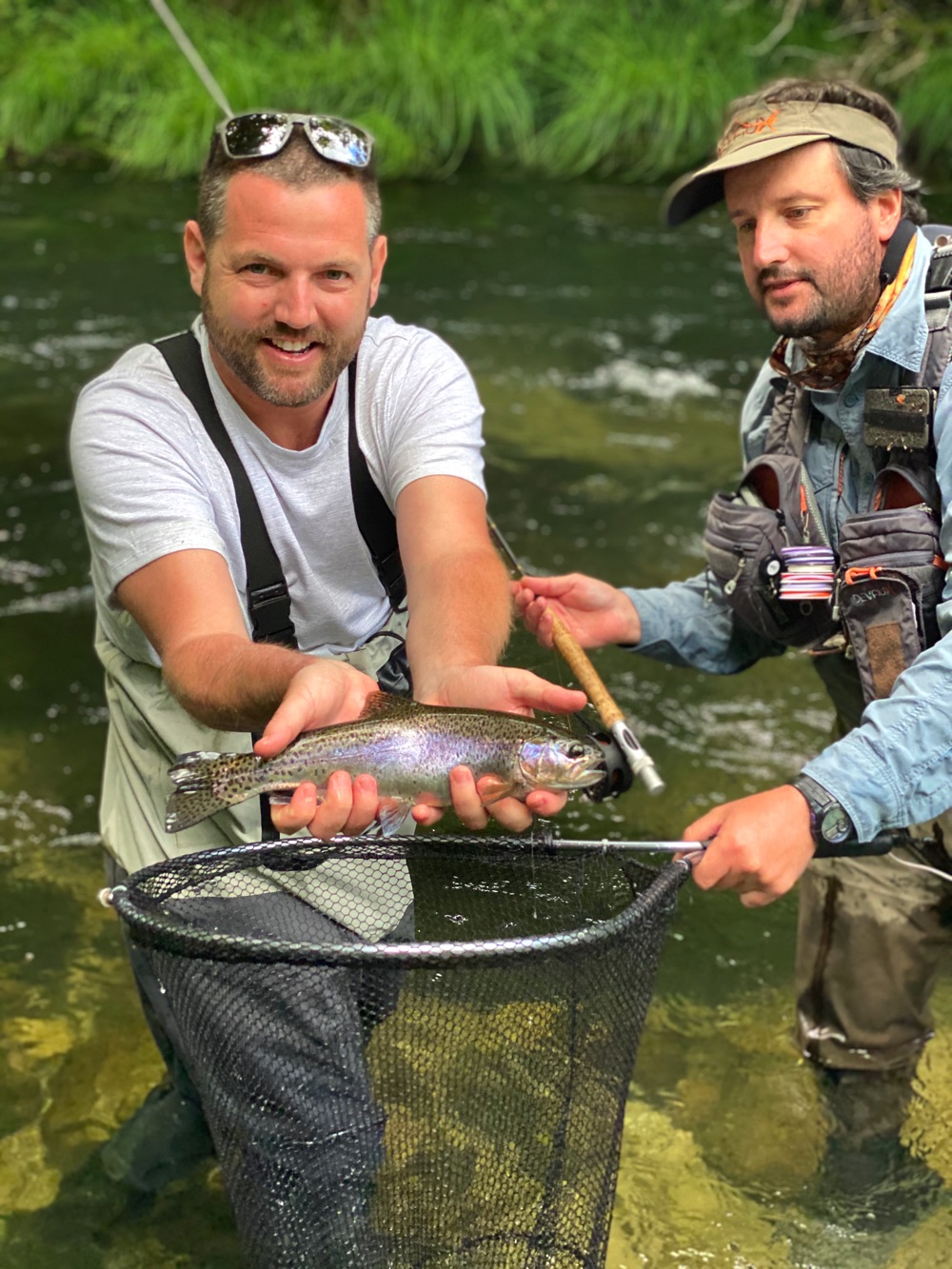 Seven hours was spent with Antonio learning about fishing and life in Portugal, and before we knew it, it was 8:30 pm.
When we eventually arrived at our second wild campsite along the Minho River (which acts as a natural border with Spain), we had about 20 minutes left until the sun fully set.
This was another gorgeous wild camp spot with a few picnic tables and no one else around. Aside from the croaking frogs and the late-night fishermen who arrived at 1:00 am, this was a very peaceful spot.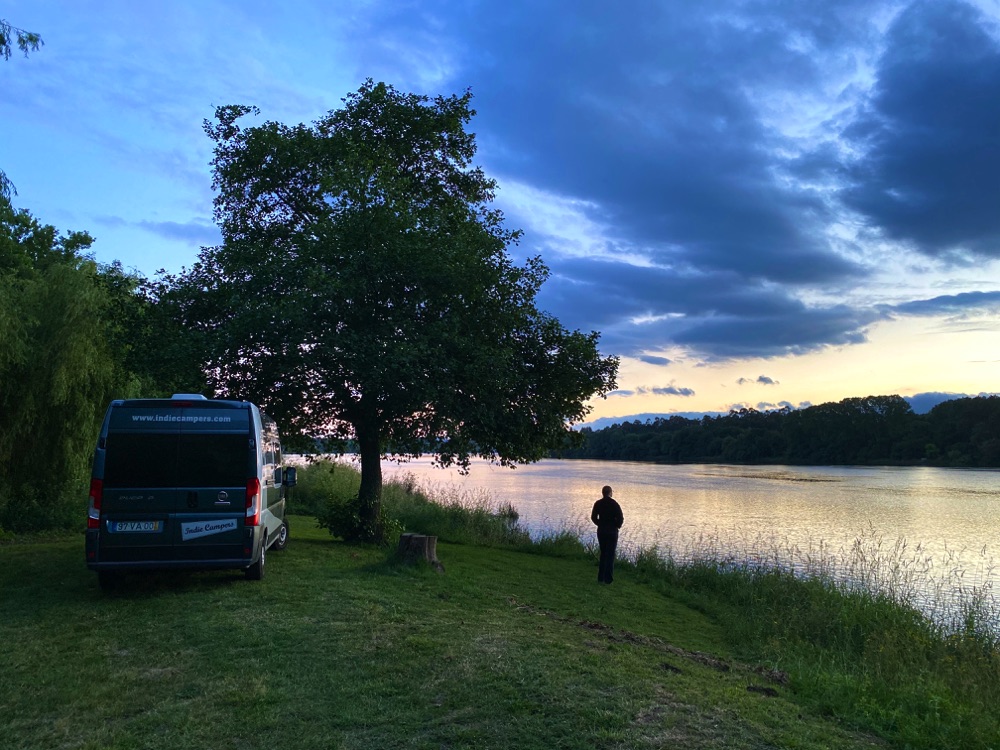 It's worth spending some time in the northwestern part of Portugal along the Minho River.
The town of Vila Nova de Cerveira is a picturesque place known for its artwork, craft shops, boat trips on the Minho River, and surrounding hikes in the mountains. We spent a couple of hours just wandering around and enjoying the quiet town.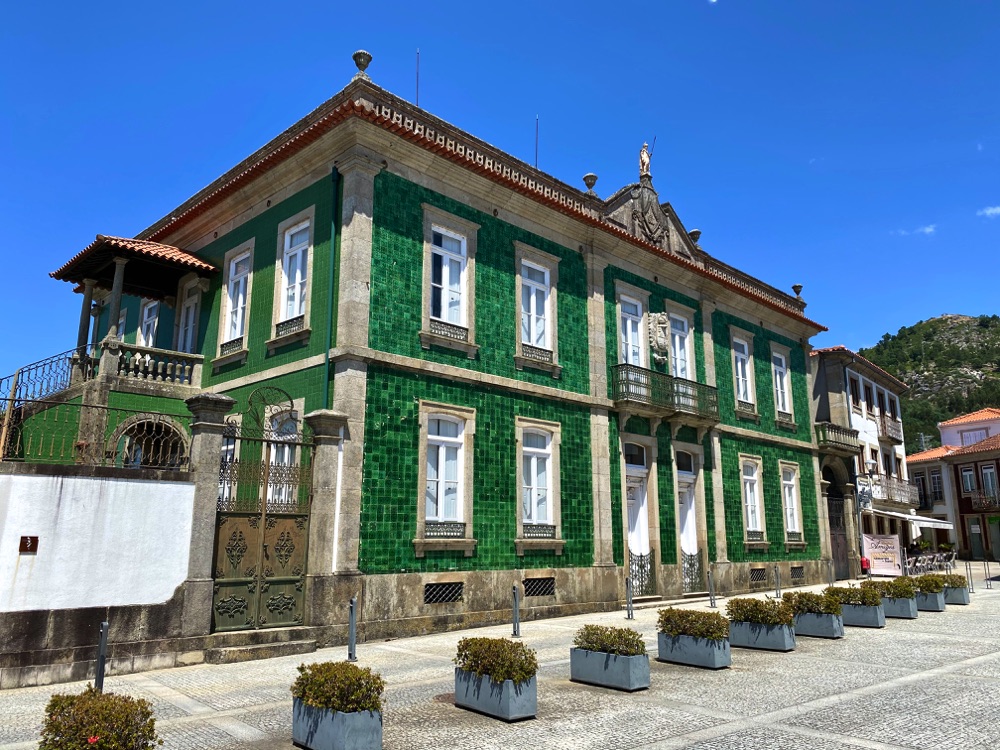 Going from Vila Nova de Cerveira to Valença is a well-maintained trail perfect for cycling, jogging, or walking.
Montorros to Lima Escape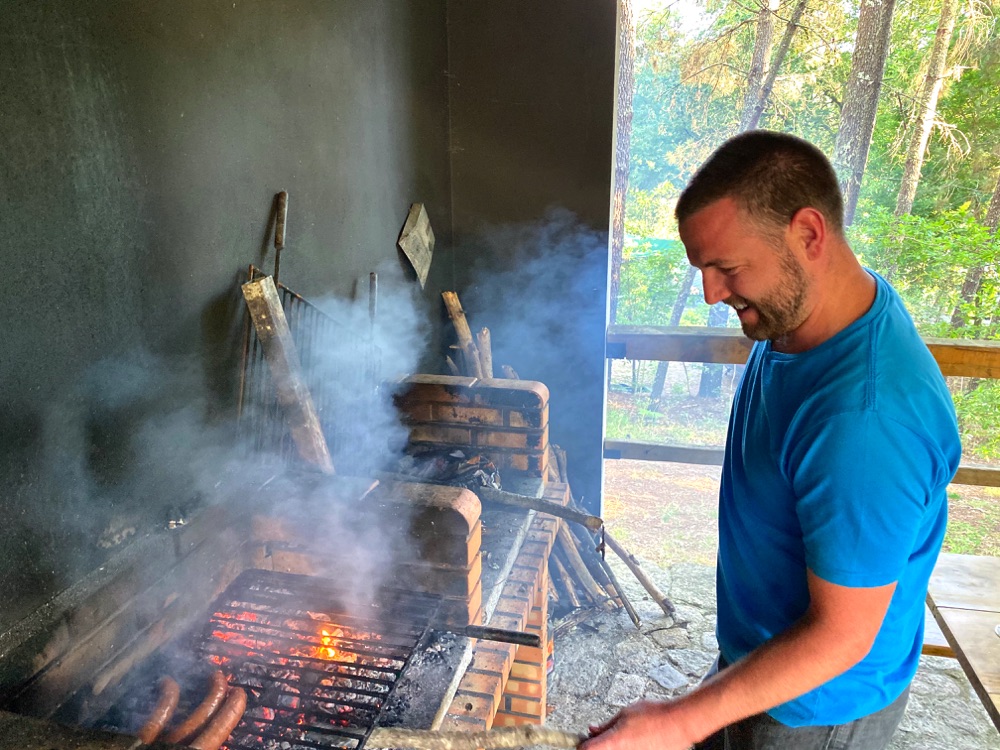 After 2 nights of wild camping, we were in need of some fuel for our gas stove, electricity for our second battery, and water for our shower and sink.
So, we headed back towards Peneda Gerês National Park in the late afternoon and enjoyed another night at Lima Escape campground which had all the amenities we needed, plus a BBQ.
Lima Escape to Gerês Town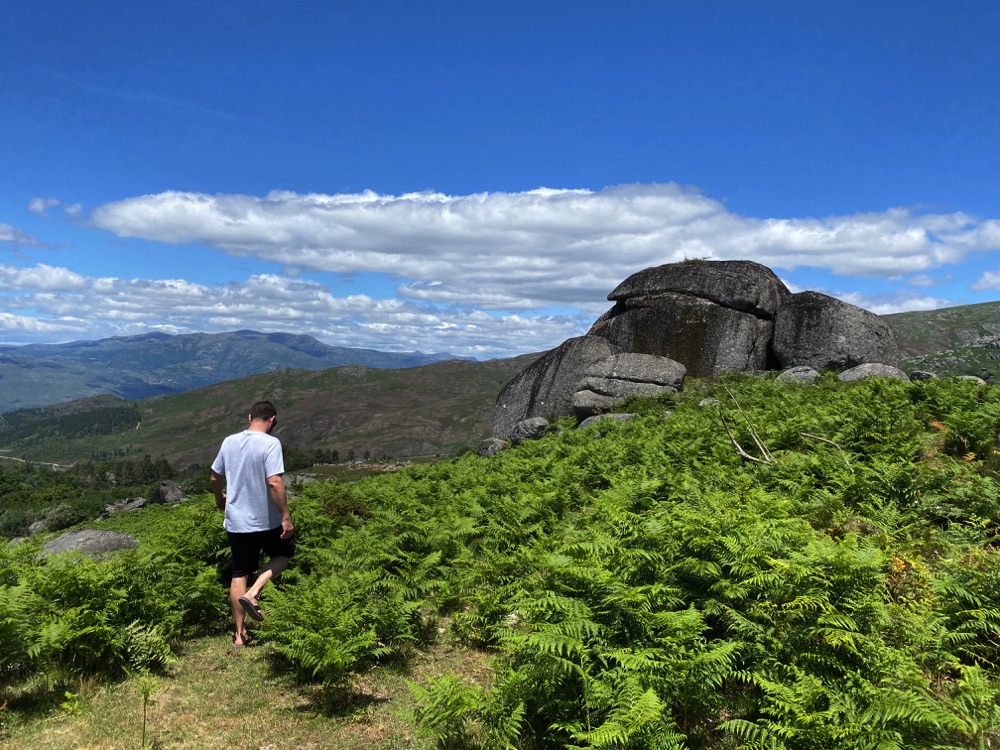 Staying in the national park boundaries, we drove to Gerês. We weren't expecting much from this day and were just looking forward to the rustic campground that we planned to stay at near the town of Gerês.
The drive turned out to be a highlight of our entire trip!
The road winded its way up the mountainside, passing small villages and Roman ruins, before opening up to reveal a plateau overlooking the valley below. Massive granite boulders dotted the terrain and wild Garrano horses roamed free.
These sorts of scenes continued until we reached Terras de Bouro area in Brufe where we decided would make a good pit spot.
With camp chairs and peanut butter and jam sandwiches in hand, we found the perfect spot and enjoyed lunch with a view.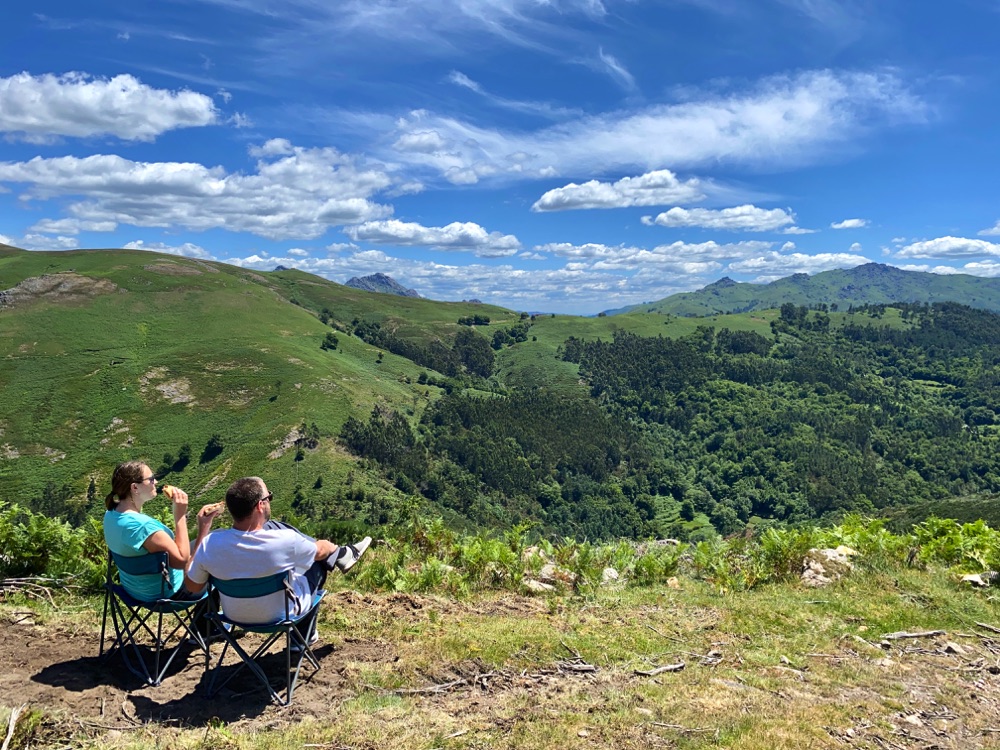 That's the great thing about having a campervan, we had all of our food with us, cutlery and dishes for making meals, and camp chairs for enjoying a comfortable picnic.
Continuing on, we passed a tribe of about 50 goats on the road and another epic viewpoint before finally arriving at our campsite where we'd be spending the next 2 nights — Vidoeiro Gerês Camping.
This rustic, natural campsite had parking spots right along the river, an outdoor BBQ area, showers, toilets and a natural swimming hole in the river.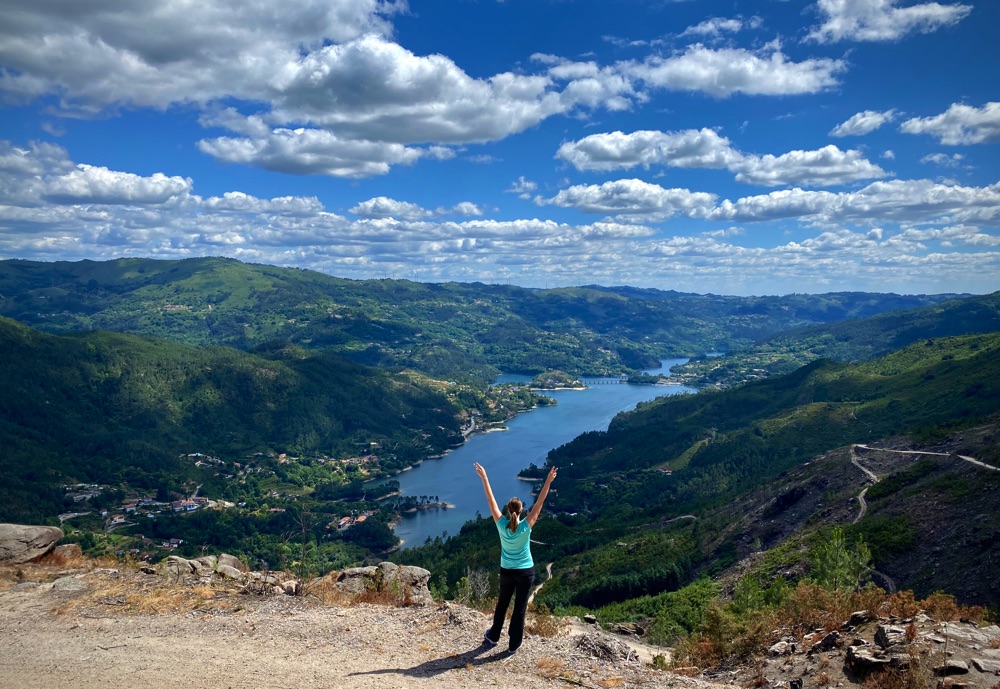 With numerous hiking trails, waterfalls, and viewpoints nearby, we gave ourselves 2 nights here — but could've spent much longer.
This was the last stop on our 10-day campervan road trip through Portugal and it was a great way to end the journey before returning the van in Lisbon.
Tips for Travelling Portugal by Campervan
After experiencing the trip, there are a few things that we wish we would've known beforehand. Here are a few tips:
1. Get a Via Verde Tag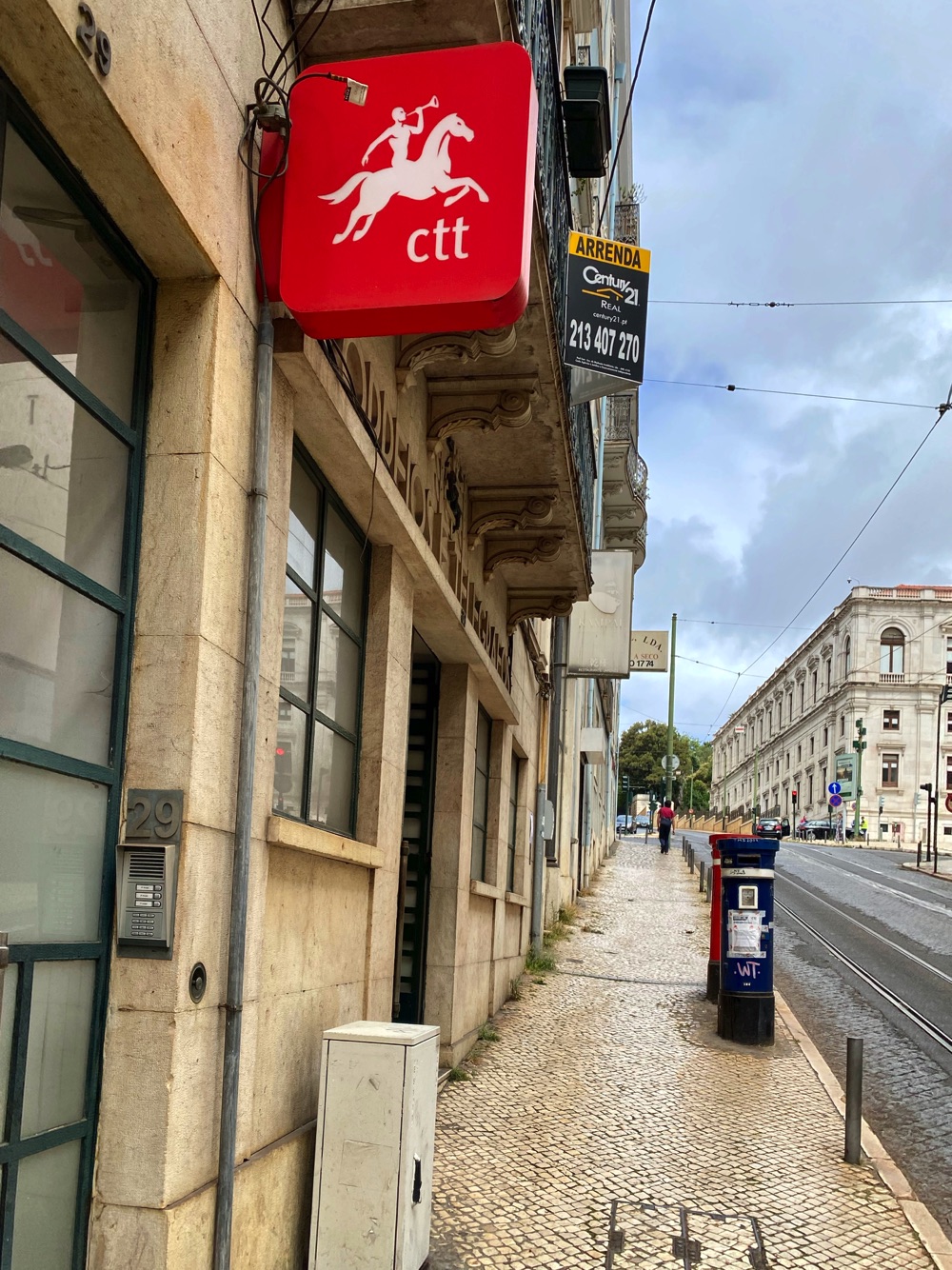 The toll roads in Portugal are relatively new, fairly expensive and quite confusing for foreigners.
If you have a Via Verde tag in your window and a Portuguese debit card, you simply drive through the toll booths and the toll cameras on the highway. The costs will be automatically added to your tag and automatically charged to your debit card.
Tags are either included in vehicles that you rent (for an extra fee), or can be rented at Via Verde stores and CTT Post Offices around the country. The cost is €6 the first week and €1.5 each week after, plus a refundable deposit.
I'm going to assume that the majority of you are like us, tourists without a local debit card.
In that case, you'll have to stop at the manual payment gates on the highway (they are clearly marked) and pay as you go with cash or credit card (foreign credit cards work at the gates).
If you don't have a tag, each time you pass under a large array of cameras suspended over the highway, your campervan's license plate will be marked.
Then, after a minimum of 2 business days (it takes that long for your charges to register) and a maximum of 5 business days after you've passed through those cameras, you'll need to go to a post office (CTT) in order to pay the tolls that have accumulated.
Having to constantly stop on the highway to make payments, and having to find a CTT office (and make sure to pay on time to avoid penalties) isn't something you'll want to deal with while on holiday.
To make things easier, ask your rental company if a Via Verde tag is included and if not, ask if you can rent one from them. Indie Campers didn't have the tag and we found it a bit of a challenge having to figure out the payment of tolls.
We spent approximately €100 on tolls during our 10-day road trip. Click here to learn more about toll roads in Portugal.
2. Avoid Cities
Of course, you won't be able to avoid all cities and there will probably be a few that you want to see. However, with such a large vehicle, finding parking and driving through narrow roads can be a bit difficult.
We had to go to Braga to get a fishing license and it took forever to find somewhere to park — we thought we found the perfect place, only to be told it was a bus stop!
Depending on the height of your van, you'll most likely be too tall for underground parking as well (ours was).
Basically, it's hectic and a bit stressful trying to drive a large vehicle in the cities. Stick to the countryside, highways, and small towns, or park on the outskirts and take the tram, metro or an Uber.
3. Stock Up
Before setting off, make sure you have everything you need — chemicals for the toilet, propane for the gas stove, coal for the BBQ, toilet paper, etc.
We assumed it would be easy to find camping equipment and we would simply purchase as we needed.
However, it was impossible to find more chemicals for the toilet (meaning we couldn't wild camp as much as we wanted to), and the only place we found propane gas canisters was at Lima Escape campsite.
Also, depending on the size of your fridge, I recommend grocery shopping either beforehand or on the first day. Since we were living in Lisbon, we were able to grocery shop and had our meals mostly planned out for the entire time.
The fridge in the Active Plus model was small, but was sufficient for stocking about 5 days of cold food including sausages, some fruit, cheeses, milk etc. The Nomad model has a larger fridge.
Having to spend some of your travel time in shops and supermarkets (while trying to find parking) isn't the best way to spend the holiday. Get everything at once and then you're all set!
4. Download the Park4Night App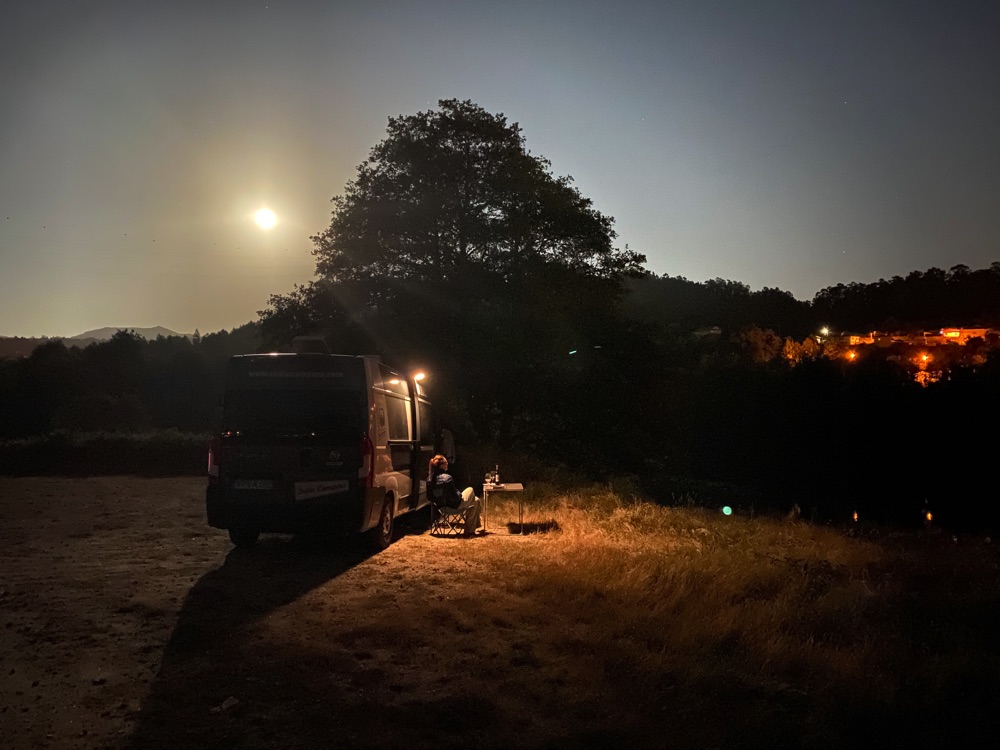 Park4Night is such a great app! The premise is simple.
If you stay somewhere awesome (either an actual campsite or a wild camp spot), then you can add a few photos, the coordinates of where it's located, what amenities are on offer, and the pros and cons.
Future campervan travellers will be able to stay there as well based on your recommendation.
When looking for a place to stay, you simply search around your current location to find nearby places that sound good to you. That's how we found the 2 wild camp spots that we stayed at.
As long as you respect the area, are quiet, and don't leave any garbage, then wild camping is usually not an issue. Of course, if you're asked to leave or are told you can't spend the night, then you'll have to obey.
5. Have a WiFi Hotspot or Data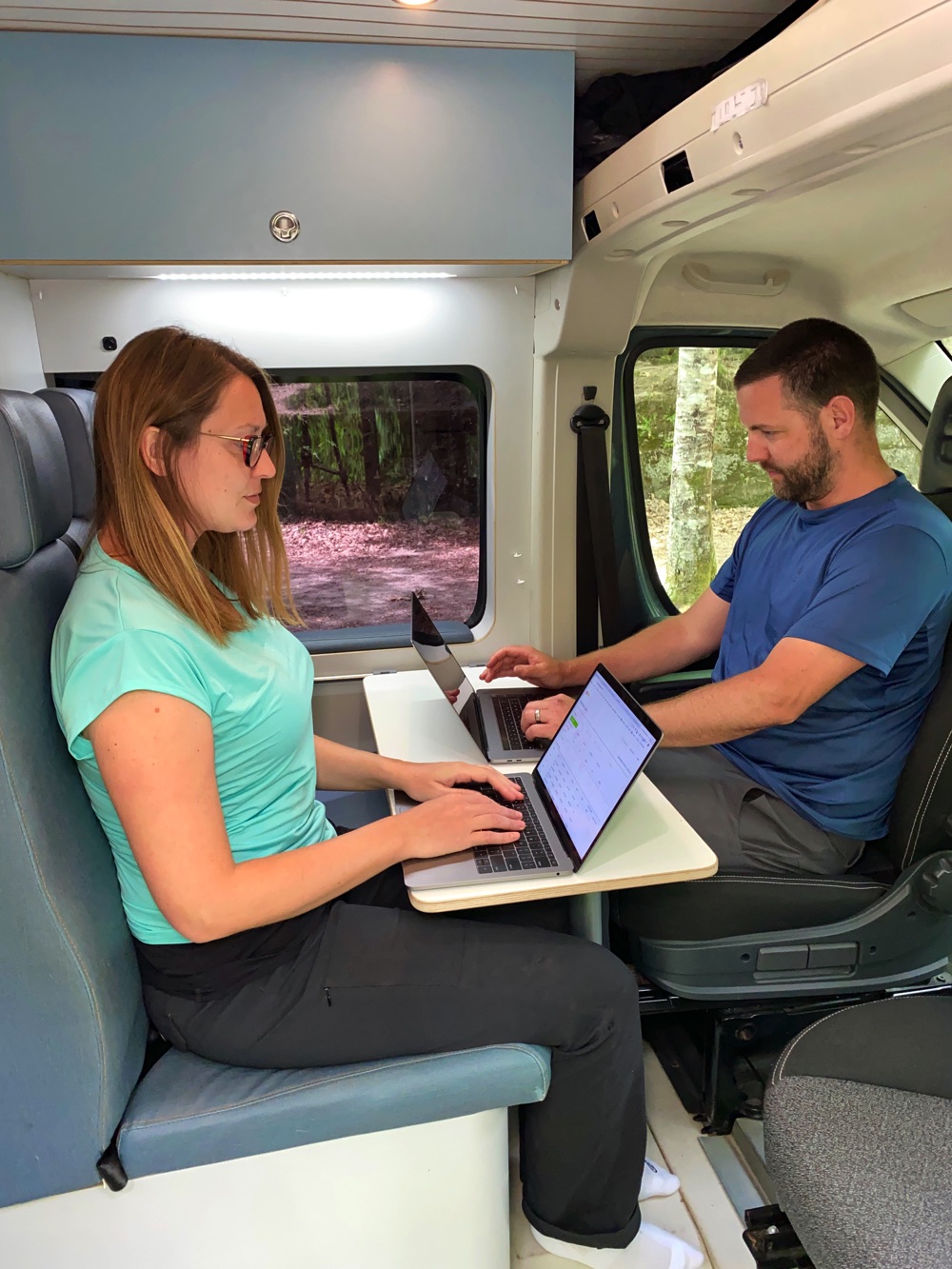 If like us, you work online then you'll definitely want to have access to a WiFi connection. Plus, for safety reasons and for navigation, you'll want to make sure you have a phone with service.
You'll definitely want to utilize Google Maps for your journey (or whichever map program you use), so having data on your smartphone, or a WiFi hotspot is a must.
Having a combination of both would be the best option as one might have better service than the other depending on where you are. If there are any emergencies, you'll want to be able to call for assistance as well.
Indie Campers offers a WiFi hotspot for just €20 for the entire trip and it is unlimited! We found the internet to be fast enough to work on, watch YouTube, Netflix etc.
6. Familiarize Yourself with the Functionality of the Van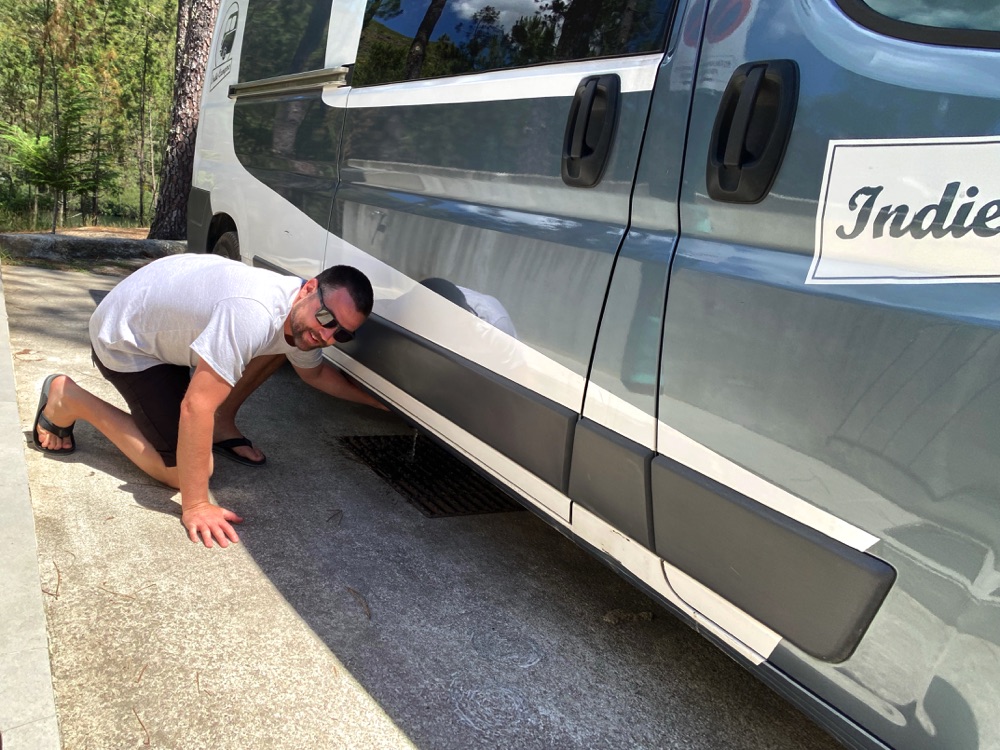 When we rented the campervan with Indie Campers, we were given a rundown of how everything works. But, we had also been researching on YouTube beforehand, which helped to get a visual.
You'll want to know how to charge the van, how to fill and empty the grey water tank, and how the toilet works.
Here are a few things to know for the Active Plus model:
The 220v cable cord plugs into electrical outlets at campsites and this charges your auxiliary battery — which is what the fridge, the USB plug-ins, and the inside lights run on.
The fridge will run, along with the USB plugs and the lights, for around 2-3 days (rough estimate) before the battery dies.
The 220v outlets in the van only work when you're plugged in, so when you're wild camping you won't be able to charge your computers or plug in large devices.
Fill up the grey water with regular tap water. There should be hoses at campsites that you can use.
You'll know the grey water is full if it starts to leak out! Make sure the valve is closed again after you empty it.
There are signs for "service stations" at campsites in Portugal. And, you can find those on the Park4Night app as well. Make sure you're dumping your toilet waste and your grey water in a designated area.
Pros and Cons of Campervan Life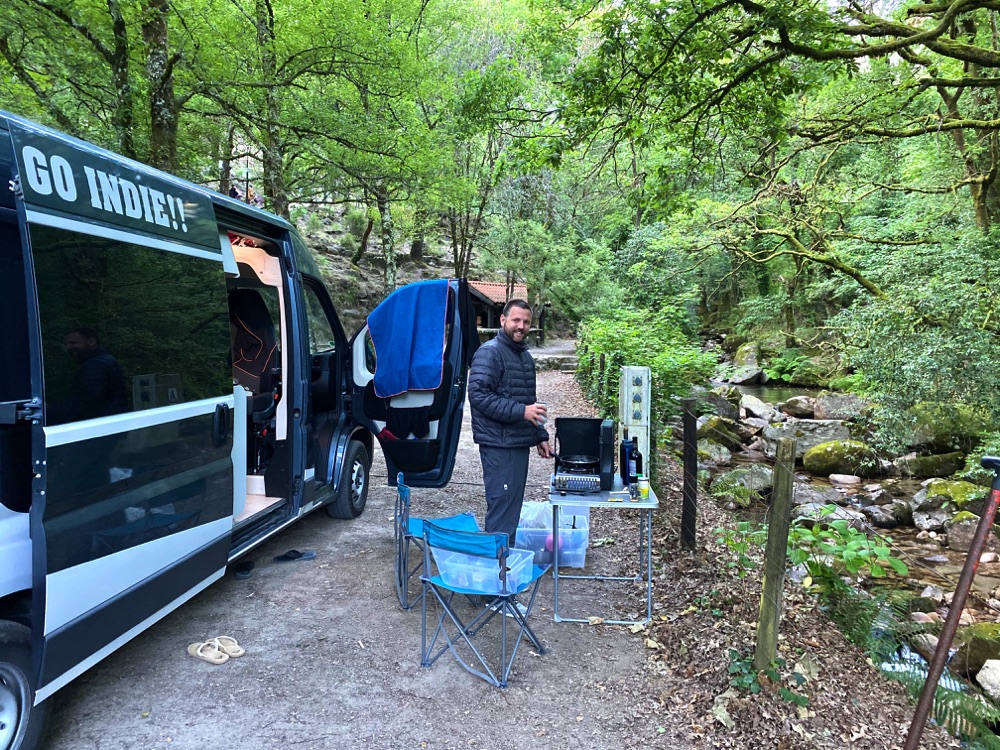 We really enjoyed our 10-day trip! But, as with anything, there are a couple of downsides to travelling by campervan.
The obvious "pros" to this sort of travel are the fact that you're fully self-contained and not reliant on anyone, anything, or anywhere.
You have your food and water with you, your bathroom facilities, your mode of transportation, and a place to sleep at night.
We had a lot of fun cooking our meals in the evening and making breakfast in the morning. We loved parking in remote destinations and falling asleep to the sound of nature.
Having a campervan allows for an exciting journey and a lot of freedom!
There were only a couple of downsides to travelling this way, and some things to be aware of.
First, when you get to a campsite that you really like, you don't have anything to leave behind to reserve the spot when you head out for the day.
If you were camping with a tent for example, you'd leave your tent set up and head out in the car for the day, coming back to your same campsite.
Second, the space can start to feel a bit cramped and you'll easily forget where you placed something if you aren't properly organized.
Make sure that everything has its place and that you put it away in the same spot each time. We spent more than an hour looking for the keys one day…
If you're properly prepared, I'm sure you'll enjoy yourself as much as we did. In fact, we're planning to travel by campervan to explore some other parts of Portugal in the near future!
FAQs About Travelling Portugal by Campervan
If you still have a question about Portugal campervan travel, check out the FAQs below. Many were covered in the article, but you can find some quick answers here.
Can you park a campervan anywhere in Portugal?
No, you must abide by the rules of the specific location. Many places, such as national parks and areas along the coast, have signs saying campervans aren't allowed.
Is Portugal camper friendly?
Yes, Portugal is a camper friendly country in general. If you'd like to park your campervan on private property, it's worth asking the owner, as you'll often be told its OK. There are also many campsites in Portugal that cater to campervans.
Can you sleep in a campervan in Portugal?
Provided you are in a spot where campervans are allowed, yes, you can sleep in a campervan in Portugal.
How much is a campervan in Portugal?
Expect to pay about €65 per day to rent a Portugal campervan, plus add ons (€20 for a 4G unlimited WiFi hotspot, €20 for an outdoor table and chairs, etc.). The price may be cheaper in the low season and higher in the summer high season.
Can I drive in Portugal as a tourist?
To drive in Portugal, tourists from the EU or the US can use their drivers license unless they stay more than six months. In that case, they'll need an international drivers license. People from other countries will also need an international drivers license.
Enjoy Exploring Portugal by Campervan
Portugal has so much to offer tourists and locals alike, and travelling by campervan is a great way to experience the beaches, mountains, and vineyards.
Park on a cliff overlooking the sea, next to a river, or surrounded by fruit trees — with a campervan, the choice is yours. 10 days is a good amount of time to get a taste of what Portugal is all about, and our trip with Indie Campers is one that we won't forget.
To learn more about renting a campervan in Portugal, click here. And, feel free to email us or comment below with any questions you might have!

Video: 10 Day Campervan Trip in Portugal
Special thanks to Indie Campers for making this trip possible. As always, all thoughts and opinions remain our own.
Like This Article? Pin It!