Are you planning to drop everything and travel the world for a month, a year or a decade? Surely you've been browsing the web, researching travel packing lists, visa situations, current events, history and more.
If you're like us, all of that browsing has got your head spinning and you just want to make sure you're not forgetting anything. This list will help. It's a good idea to make one final checklist before you set off to explore the planet. This travel list will cover everything you need to check off, check out and check into.
First things first!
Have you picked up your guide book yet? We recommend and use Lonely Planet and you can buy them for a discounted price on Amazon.com!
Flights
We suggest that you book your flight first. This will not only ensure a better rate on your ticket, but it will also help to solidify your plans and motivate you to get everything else done. Once the flight is booked, you're going. But there are a few things to make sure of before you check your bags and hop on that flight.
Do You Need An Exit Flight? This is a common requirement for entry into many countries. Some places don't want you to land at their airports unless they're sure you'll be leaving! Check the appropriate government websites or contact your airline to make sure you won't be turned back at the gates.
Carry-on / Checked or Overweight Baggage: Make sure you weigh your bags, measure them and figure out if they'll be on the plane, under the plane or charged extra for being overweight.
Travel Insurance
This is a big one. It's not wise to travel abroad without at least basic insurance coverage. You want to ensure that you are taken care of in case of an emergency, but not all insurance plans are created equal. We've used and recommend World Nomads, the best travel insurance for adventurous travellers!
Here are a few things to look out for when choosing insurance providers:
Emergency Flight Home: Any good insurance plan should include up to $500,000 coverage and an exit flight in case you are in an emergency situation. Heli-lifts and medivacs are important so make sure those are listed on the plan you choose.
Coverage That Covers You: Will you be sky diving, scuba diving, wind surfing, mountain climbing, flying, fighting, playing sports or sleeping near explosives? Make sure your plan covers everything you plan to do. World Nomads is one of the only insurance companies that covers you for adventurous activities. Click here to get a quick and easy quote.
Destination Limitations: Remember, there are places on the map that travel insurance won't cover. We had a hard time finding insurance for our one month trip to Iran and eventually gave up. Make sure you find a provider that will cover every country you visit.
Vaccinations
These are never fun, but there are places in the world that require you to have certain shots (jabs). If you're travelling to South America or Africa, you'll most likely need at least a Yellow Fever shot just to land! It would be pretty sad to be turned away at the border because you didn't get the right shots. Contact your local travel clinic or check out this list to find out which ones you need. Keep in mind that many need to be administered months prior to departure.
Packing
Make sure you've got everything you need for whatever type of trip you're going on. If your plan is sight-seeing, island hopping and general travel, check out our packing list for men and packing list for women. If you're going to be in cold climates, camping or trekking long distances, check out our camping & trekking packing list. Remember, there's more to pack than just clothes and sunscreen!
First-Aid Kit: This is a very valuable thing to travel with. You'll be surprised at how much you'll end up using it (unfortunately). Check out our first aid kit checklist for more details on what to pack.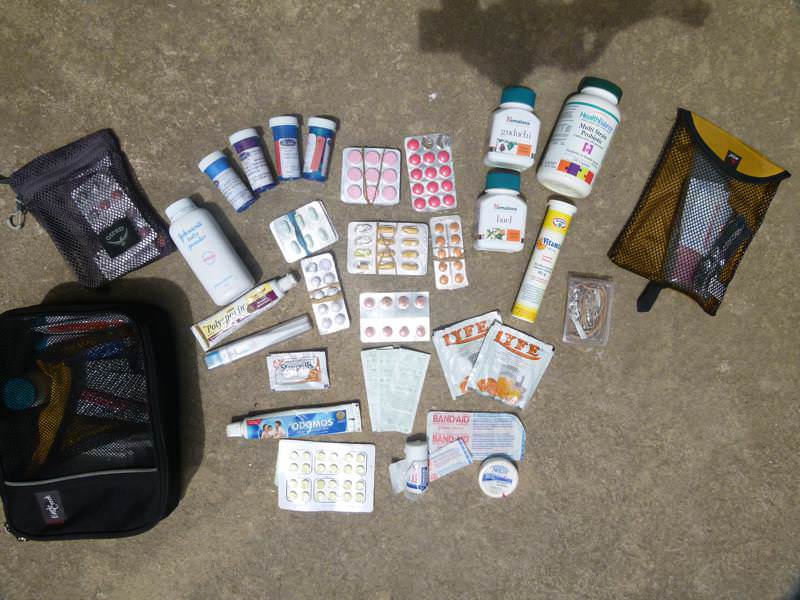 What Kind Of Traveller Are You? However you pack, you'll eventually find that less is more. If you're an ultra-lightweight traveller or looking to travel lighter, check out this list!
Where Do You Shop? Check out the outdoor stores, or consider shopping online for your travel gear. You can find great prices on gear, gadgets and electronics on Amazon.
Itinerary
We always recommend that travellers don't over plan their trips. In our experience, some of the best moments in travel are those that aren't planned. Having said that, it is a good idea to have a rough itinerary planned out before heading off.
Do You Know Where You're Going? Surely by now you have an idea where you're travelling to first, but have you decided where you'll go next? Will you be crossing by land or flying? It's wise to know which border, which country and which airport you're heading to next. Customs and immigration can be a nightmare if you don't know what to expect.
How Important Is Sunny Weather? One of the things you're likely to consider when planning your itinerary is the weather. What time of year is the dry season? Which months are the hurricane season? While Mother Nature is worth keeping in mind, she's wildly unpredictable and sometimes it's best to just wing it.
How Long Can You Stay In Each Country? Wherever you're going, there's a limit to your visit. Make sure you don't plan to overstay your visa or you might find some hefty fines along with your exit ticket. Worse yet, you may find yourself detained at the border and possibly sent to prison for the night until they figure out what to do with you!
Transport
By the very definition, travelling involves moving around. Do you know how you're going to travel? You certainly don't have to plan every bus ticket and flight for your entire trip, but there are a few things to keep in mind for your first few days.
Are You Planning On Visiting More Than One City? Have an idea of your exit strategy for the first city you're in, especially if you're only planning to stay a few days. It's nice to know where you're going next, how you're getting there, how many hours it will take and how much it will cost.
Are You Flying Into An Outer-City Airport? Most large, international airports are located way out of the city. Do some Google searches to find out how much it's going to cost you to take a taxi, bus or boat into town and make sure that the services are available at the time of your arrival. We NEVER land anywhere without knowing how we're getting into the city and how much it will cost. It saves us from getting ripped-off and / or flustered when we arrive.
Budget
How much is your trip going to cost? This is important. It would be very disappointing to have to cut your trip short because you didn't budget properly. We have always known the budget for every country we've visited before arriving, which has helped us to lengthen our trips and travel more economically. Check online to find out what each aspect of your travels may cost.
Food: What is the cost of the average meal in your chosen destination(s)?
Transport: Get an idea of bus, train, taxi, boat and plane transport costs.
Tours & Trips: Is there a particular excursion that you're planning to do? How much will that cost? Make sure to factor in some extra cash for tours and trips you hear about after you've arrived.
Visas & Entry Requirements
This is one of the most important bits of research you'll do before your trip. Some entry visas take up to 30 days to procure, so it's a good idea to plan ahead for this. Many visas can be obtained at the land and air borders, while some MUST be obtained beforehand. Check out our Goat Guides for visa information. **GOAT NOTE: Almost every country requires your passport to be valid for 6 months and have 2 blank pages upon arrival.
First Night's Stay
This isn't always necessary, but we like to have at least our first night's stay booked on any trip. Arriving in a new country and starting a life-changing trip is exhausting enough without having to search for a room for the night. Book your first night and have piece of mind when you land.
Check out search engines such as Booking.com, Hostelworld.com, HotelsCombined.com for discounted stays and awesome deals on hotels, hostels, guesthouses and apartments. Alternatively, you could contact the hotel directly.
Ready, Set, Go!
Now that you've ticked all of the boxes, you should be ready for your big trip. One piece of advice that we like to give is: don't over-plan. Even though we've listed quite a few points here, there's no need to get stressed out by the planning process.
Planning for a big trip should be fun, exciting and it should give you something to look forward to, not something to dread.
Anything that you forgot to pack or reserve can almost always be bought or dealt with once you're on the road. So relax and have fun when checking things off of your travel list. You're getting ready for the trip of a lifetime!
Are we forgetting something? Help us and our readers out by adding to this list in the comments below!
Like This Article? Pin it!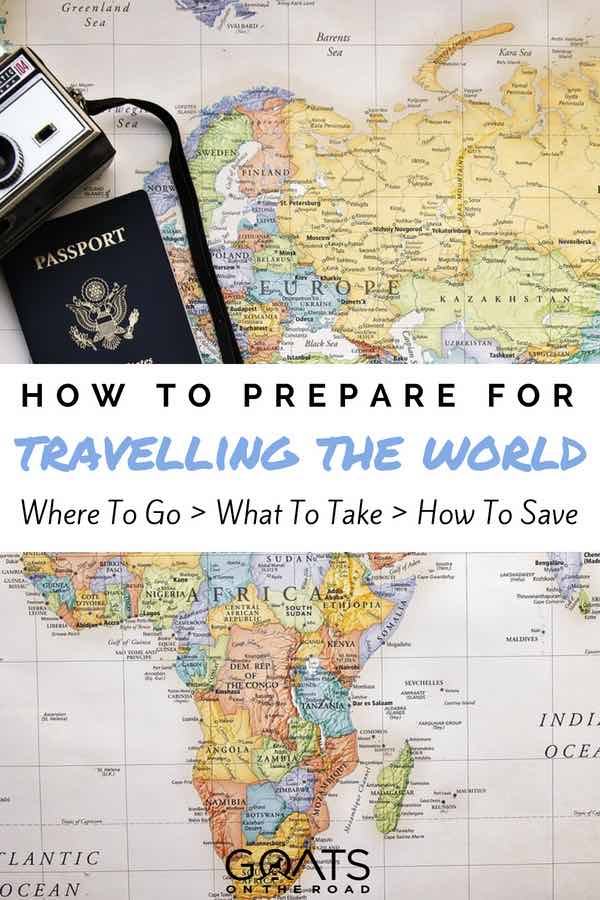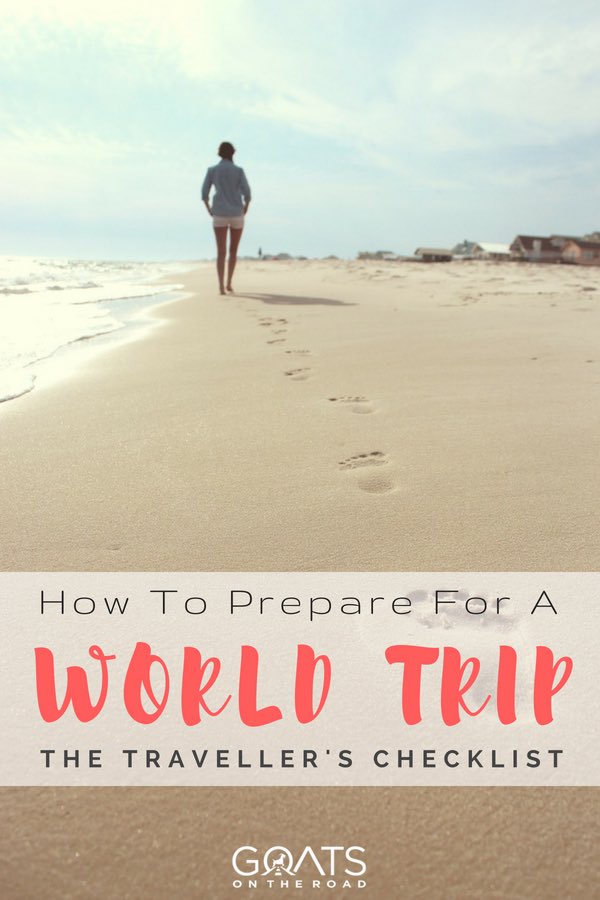 Disclaimer:Goats On The Road is an Amazon Associate and also an affiliate for some other retailers. This means we earn commissions if you click links on our blog and purchase from those retailers.