Teaching English online is an awesome remote job, but did you know that it's possible to teach other subjects online as well? With Preply, you can virtually teach English or a variety of other languages and topics.
For some people, teaching just English online might feel a bit limiting. You might have expertise in other areas or fluently speak another language. If you're looking for a way to share that knowledge with the world, Preply could be just the place for you.
And for those who want to teach English, don't worry. Online English lessons are also in high demand on the Preply platform. Preply also offers flexible scheduling and the teacher requirements aren't as strict as some other companies.
I'm an online English teacher with a Bachelor's Degree and a TEFL, but not everyone has those qualifications. That's one of the main selling points to Preply tutoring — you don't need a Bachelor's Degree, or a TEFL to teach online with Preply!
In this Preply review, we'll look at how it works and how you can become a Preply teacher.
About Preply
Preply is an online learning platform with students all over the world. People of all ages can use Preply, but most students are adults. The company has an "excellent" rating on Trust Pilot and has been featured in top websites such as Forbes.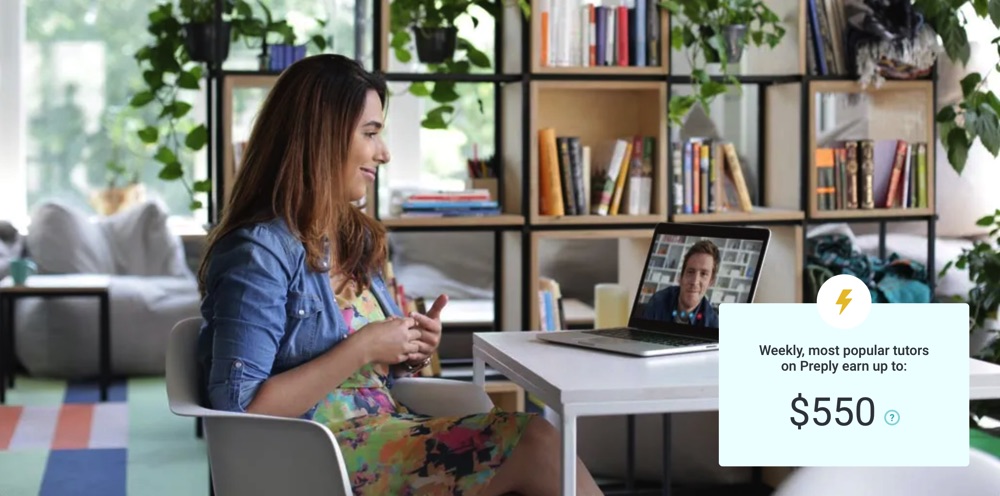 Preply is a popular way to teach English online, but one thing that sets Preply apart is that you can actually teach a variety of different subjects in addition to languages. There are over 100 subjects available!
Some Preply teachers offer classes about test prep, hobbies, art, and other academic subjects. There are also dozens of languages you can teach, making this a great platform for aspiring online teachers who want to explore subjects and languages other than English.
On Preply, tutors make profiles that list their classes, credentials, and availability.
Students can browse through tutor profiles and select a teacher that appeals to them. Then, the student and teacher will work together to decide what material will be covered.
The teacher prepares the lesson and the class is taught on the Preply platform. Read on for more details, or click here to learn more and apply to become a Preply teacher today.
Why Become A Preply Teacher
Preply is a great platform for people who want to teach languages other than English or subjects unrelated to languages. It's also a solid option for those who want to teach English online without certifications or traditional teaching experience.
Teachers on Preply are independent contractors. They are free to set their own hours with no minimum or maximum requirements and can set their own pay rates.
Teachers are also responsible for creating their own lesson plans and materials.
For these reasons, Preply is a better option for more independent teachers who are comfortable creating their own curriculum and marketing their lessons.
Preply Teacher Requirements
Compared to other online teaching platforms, the requirements for becoming a Preply teacher are very straightforward.
Teacher Qualifications
Because you can teach a variety of subjects on Preply, there isn't one set of requirements that teachers must meet. You don't need to be a native English speaker or have a degree to teach with Preply.
While you'll have a better chance of attracting students with teaching experience and certifications, these aren't required.
You just need to be knowledgable about your subject area and passionate about teaching. You also need to fill out your teacher profile completely and adhere to the guidelines set out by Preply.
Preply makes it clear that incomplete teacher profiles won't be approved, so make sure you follow their instructions carefully.
Technical Requirements
To teach with Preply, you'll need to have a reliable internet connection, a teaching device such as a laptop or desktop, and a headset with a microphone attachment.
Lessons are taught through the Preply video call software so you won't need to download Zoom or Skype.
How To Get Hired With Preply
To get hired as a Preply teacher, you'll need to make a free account on the tutor sign up page. On their home page, scroll down until you see the blue button that says "Become a Tutor."
You'll sign up with your email address and be prompted to complete your teacher profile. This includes adding an introduction video, uploading any certifications or degrees you might have, and setting your availability.
Preply gives specific instructions for how to complete your teacher profile and they recommend that teachers follow them exactly. Otherwise, they might not approve your account.
Once your account is approved, it will start showing up in the search results and new students can find and book you.
How Preply Lessons Work
Every teacher on Preply has a profile where they list their experience, teaching style, lesson offerings, and availability calendar. Students can use the Preply search feature to browse for tutors for a specific topic.
If a student likes your profile, they can book a class with you at a time you have available. Then the teacher and the student will communicate through the Preply platform to work out the details of the lesson.
Preply does not offer curriculum or lesson plans for teachers. It is the responsibility of the teacher to create lesson materials that suit their student.
Lessons are typically one hour long, but you can change the lesson length if you wish.
Preply Schedule And Bookings
The schedule and booking system with Preply is also straightforward and allows for spontaneity and freedom as a teacher.
Scheduling
Preply has students from all over the world and the platform is open 24/7. Teachers can open classes anytime and teach as much or as little as they want.
Teachers can also update their availability if needed. There's no need to ask for time off for vacations or personal days, just close your availability on the days you don't want to work and students won't be able to book you.
One thing to note: several Preply teacher reviews mentioned that tutors aren't asked to confirm a lesson if it's booked during an available time slot. Preply assumes that if you have the time slot open, it's fair game to be booked. Keep this in mind when planning your schedule.
Will I See The Same Students Every Class?
With Preply, you'll probably see a mix of new and repeat students. If a new student takes your lesson and enjoys it, they can purchase a package of lessons. This means you'll likely see them again.
If at any point you have enough regular students and don't want to take on any new clients, you can let Preply know. They will remove your teacher profile from student search results so that only existing students can book you in the future. You can undo this selection at any time.
Student No Shows And Cancellations
If a student is unable to attend their scheduled lesson, they are asked to alert their tutor within 4 hours of the scheduled start time. There is no fee for students to cancel or reschedule as long as it is 4 hours in advance.
Teacher No Shows And Cancellations
If you are unable to teach a lesson, Preply asks that you let the student know as soon as possible. You can cancel or reschedule lessons up to 4 hours before the lesson start time, which is one of the more flexible teacher cancellation policies I've seen among online teaching companies.
How Much Does Preply Pay?
The Preply salary is set by the tutors — you set your own pay rates. Preply will take 100% of the lesson fee for the first lesson with each new student. This is part of their commission for letting tutors use the platform for free.
After that, Preply will keep between 33% – 18% of the lesson fee for subsequent lessons. The exact percentage depends on how many lessons you've taught on the platform. The more you teach, the less Preply keeps.
When setting your own pay rate, remember to account for Preply keeping their percentage.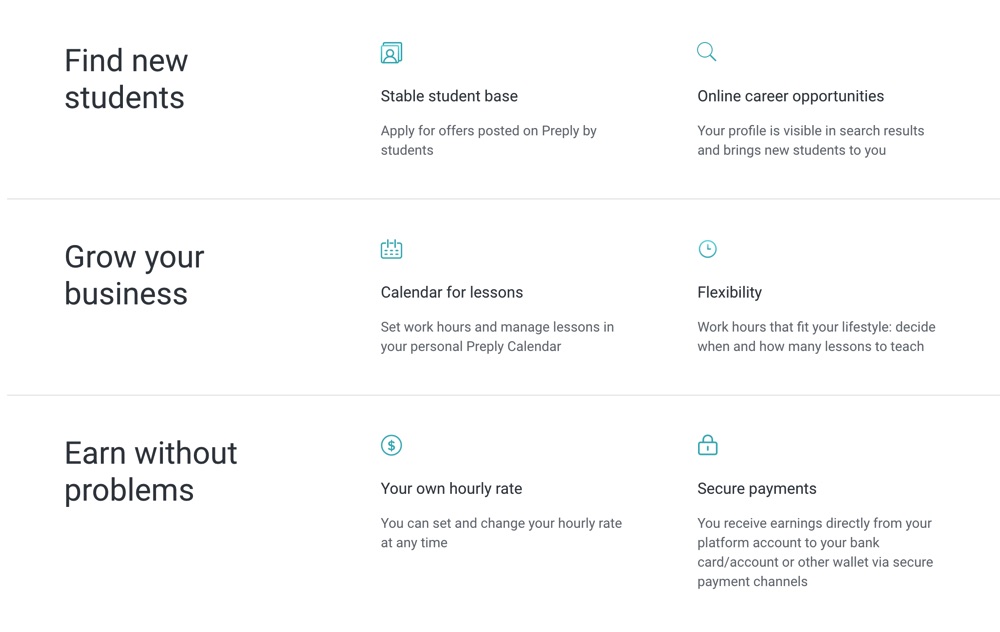 Because you're free to set your own hours and teach as much as you want, there is an opportunity to make a good Preply salary. According to their website, top Preply teachers make over $500 USD per week.
All payments are handled through the Preply platform and teachers can withdraw their money at any time. Payments are issued using Paypal, Payoneer, or Skrill.
Tips For Being A Successful Preply Teacher
Here are some top tips for being the best Preply teacher you can — which in turn, means more classes booked and money earned.
Make Sure Your Teacher Profile Is Complete
Having a completed teacher profile is critical to being successful with Preply. If your profile is incomplete or filled out incorrectly, Preply might not approve you to teach or might hide your profile from search results until it is up to their standard.
According to their website, you'll need to provide:
A professional profile photo
An introductory video where you talk about yourself and the lessons you offer in your typical classroom setting
A detailed headline that explains your specializations as a teacher
Your class rate (try not to change this too often to avoid confusing your students)
Respond To Student Messages Quickly
Prospective students can message Preply tutors with inquiries. Tutors should respond quickly and work with the student to create lesson packages that match their needs.
You'll have a better chance of getting booked if you respond to student messages in a timely manner.
Find Your Own Students On Preply
While most students will find you using the tutor search feature, teachers also have the option to find and pitch students. On the Preply website, there is a "Find Students" page. Here, students can list exactly what they're looking for in a tutor.
If you would make a great fit, Preply recommends sending the student a detailed message explaining how you can help them and suggesting a lesson package.
This can be a great way to proactively get more students.
Preply Reviews
Students can leave a public review for their teacher after completing a lesson.
Getting good reviews can help you attract more students because you'll show up higher in the Preply search rankings. It also shows prospective students that you are experienced and reliable.
Preply will automatically prompt students to leave a review shortly after the lesson is completed, but teachers are also encouraged to ask students for reviews themselves. This extra reminder can boost your ranking and mean more bookings in the future.
Preply Teacher Reviews
As with anything, there are pros and cons to Preply tutoring.
Pros of Teaching With Preply
One of the biggest perks of teaching with Preply is that you can teach a variety of subjects. This is awesome for teachers who want to teach a language other than English or who want to teach a different subject entirely.
Preply doesn't have strict teacher requirements so it's also good for tutors who don't have traditional teaching experience. Many online teaching companies require a university degree or a TEFL certification, but Preply doesn't.
Additionally, Preply has a worldwide student base. This means that not only will you be able to meet people from around the world, but Preply tutors can work more hours than teachers who have students in only one geographical region or time zone.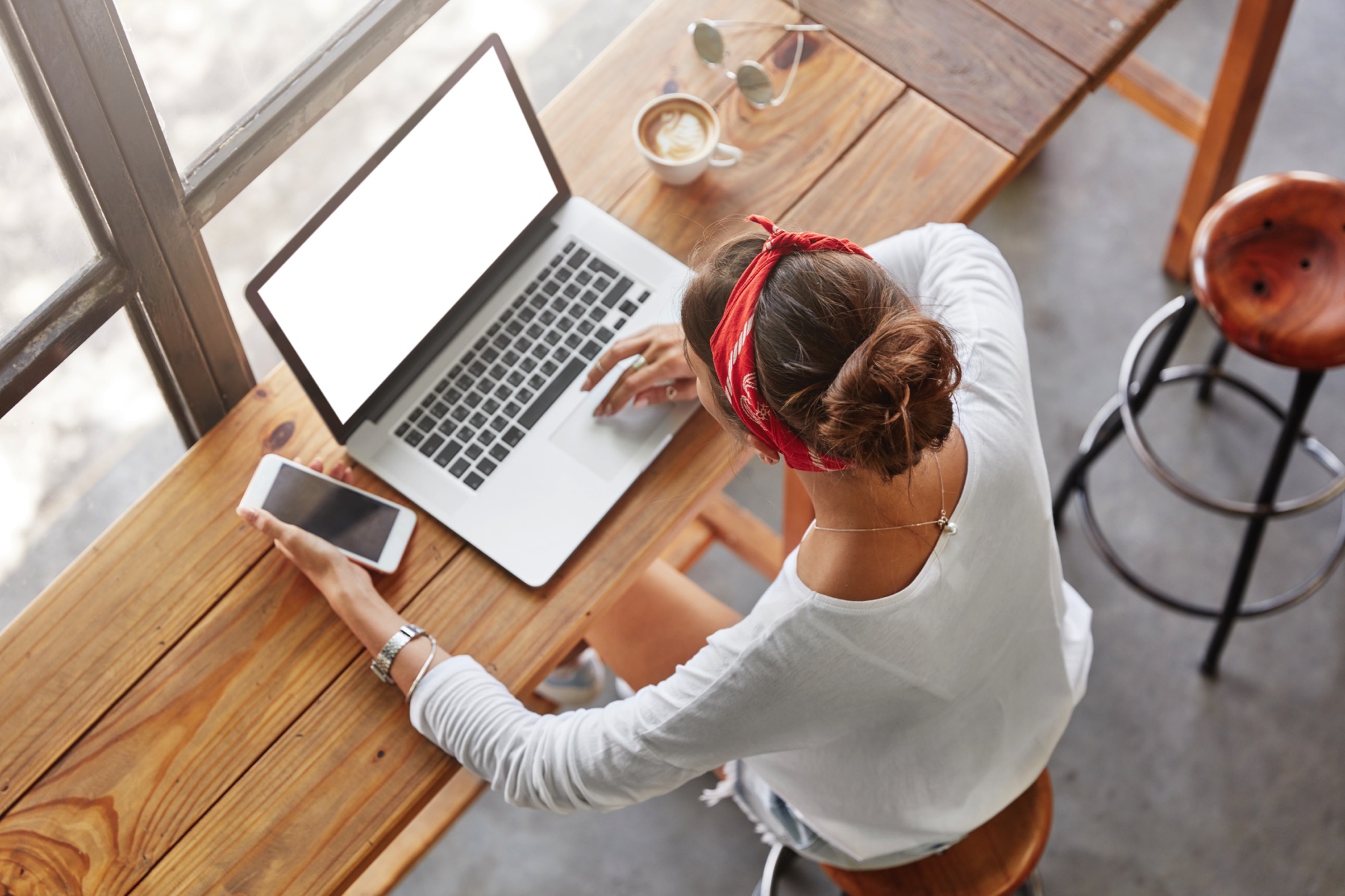 Cons of Teaching With Preply
The biggest downside of working with Preply is that they take 100% of the lesson fee for the first lesson with each new student, and an additional percentage of all subsequent lessons. For many teachers, this commission rate feels steep.
Having said that, there aren't a lot of companies out there that allow you to teach without a degree or a TEFL, so if you don't hold those qualifications, it may be worth it to pay a commission to Preply.
Teachers are also responsible for arranging lesson plans and activities for their students, which could mean more prep time outside of class.
Another con frequently mentioned in Preply teacher reviews is that the Preply platform occasionally experiences technical difficulties. It can be hard to get in touch with support. Some teachers report feeling frustrated with the inability to get IT issues solved in a timely manner.
Who is Preply Best For?
Whether you're interested in teaching English online or teaching another subject, Preply might be a great fit. Regardless of your professional background, you'll likely qualify to teach any language you're fluent in or teach another subject entirely.
Preply is ideal for teachers who want maximum independence in their lesson planning, course offerings, and schedule.
You'll have more outside responsibilities like lesson planning and communicating with students, but you'll also get to set your own pay rate and there aren't as many teacher requirements as some of the other platforms.
To teach on Preply, you should be prepared to put in some work marketing yourself upfront. You'll need to carefully craft your teacher profile to stand out and be diligent about attracting new students.
But this hard work can pay off in the long run and result in an online teaching job with flexible scheduling, high pay rates, and total lesson freedom.
click here to learn more and apply with preply
Images in this article are courtesy of Shutterstock.
Like This Article? Pin it!