The sandy cove of Psarou Beach Zakynthos was awarded the Blue Flag for cleanliness for 10 years until 2018, but still, it's not as developed as the more tourist drawcard southern beach towns of Laganas and the Vasilikos Peninsula.
About Psarou Beach
Psarou Beach (often thought of together with the nearby town of Ammoudi) is a quiet place to stay on Zakynthos Island, with a nice location that's walkable to the more popular town of Alykes.
Thanks to its former Blue Flag status, it does appear on most tourists lists of the must-visit beaches on Zakynthos, but it's definitely not a visually striking as Gerakas or Navagio and doesn't appear on many lists of the best beaches in Greece (including ours).
Unfortunately, Psarou Beach along with many other beaches in Zakynthos and Kefalonia lost their Blue Flag rating in 2018.
According to the Greek News: "The EEPF said that the unannounced inspections revealed that coastal managers had failed to maintain the required cleanliness of the beaches, protect the environment and provide the necessary information, services and safety measures to bathers."
That doesn't mean that the beach is now "dirty". The sand is still spotless and the water is crystal clear for swimming. Perhaps they'll regain their status soon.
The town itself has a population of approximately 191 people, but this number grows exponentially when tourists descend on the tiny island in the high-season summer months of July and August.
Other Popular Places in Zakynthos
Where is Psarou Beach?
Not to be confused with the more popular Psarou Beach in Mykonos, Psarou Beach Zakynthos is a quiet, undeveloped beach town on Zakynthos Island in the Ionian Sea of Greece.
The island of Zakynthos is just 405 kilometres² (156 miles²) and is located 20 kilometres west of the westernmost point of mainland Greece and 249 kilometres west of the capital of Athens. In our opinion, this is one of the best places to visit in Greece.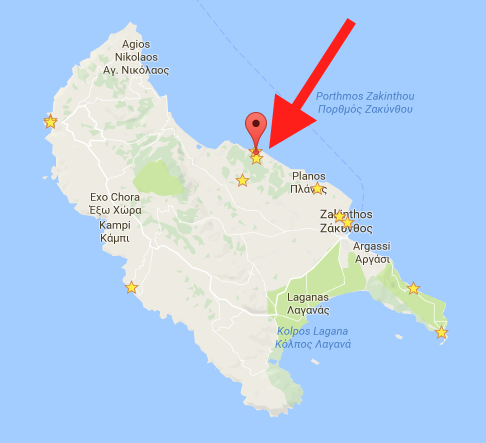 Psarou Beach itself is wedged between the more popular beach towns of Alykes and Tsilivi and about 12 kilometres north of the capital of the island, Zante Town.
How To Get To Psarou Beach
Because of its close proximity to Alykes Beach, some people choose to walk to and from the more popular town to visit Psarou Beach Zakynthos as part a day out.
The best way to get to the beach if you're staying on other parts of the island is to rent a car. Renting a car is the best way to see Zakynthos in general and because rental cars are quite affordable (prices start at around €15 / day), it's usually cheaper to rent a car and explore rather than joining a tour around the island.
You can also rent a boat in Zakynthos and if you rent it from Zante Town or another east coast destination, you can most likely drive the boat around the bay until you reach Psarou Beach.
There are also public buses that run to most destinations on the island. The best way to catch the bus is to head to nearby Alykes and catch the bus from the main road there. All public buses originate in Zante Town and run loops around the island including these destinations:
Argassi – Xirokastelo – Vassilikos – Porto Roma – Tsilivi – Planos – Tragaki – Kipseli – Alykanas – Alykes – Katastari – Orthonies – Anafonitria – Volimes – Exo Hora – Kambi – Agios Leon – Agios Nikolaos – Machairado – Galaro – Gyri – Keri – Agalas – Lithakia – Laganas.
Because public buses don't run all that often, you'll have to check with your hotel or apartment owner to ask when the bus will arrive in Psarou. Buses are often delayed and can be frustrating to catch, which is why we recommend renting a car.
Best Time To Visit Psarou Beach Zakynthos
The Best Time of Day To Visit Psarou Beach
If you're going to come to Psarou Beach as part of a day trip then I'd recommend coming in the middle of the day when the sun is directly overhead, giving the Ionian waters here an electric blue hue.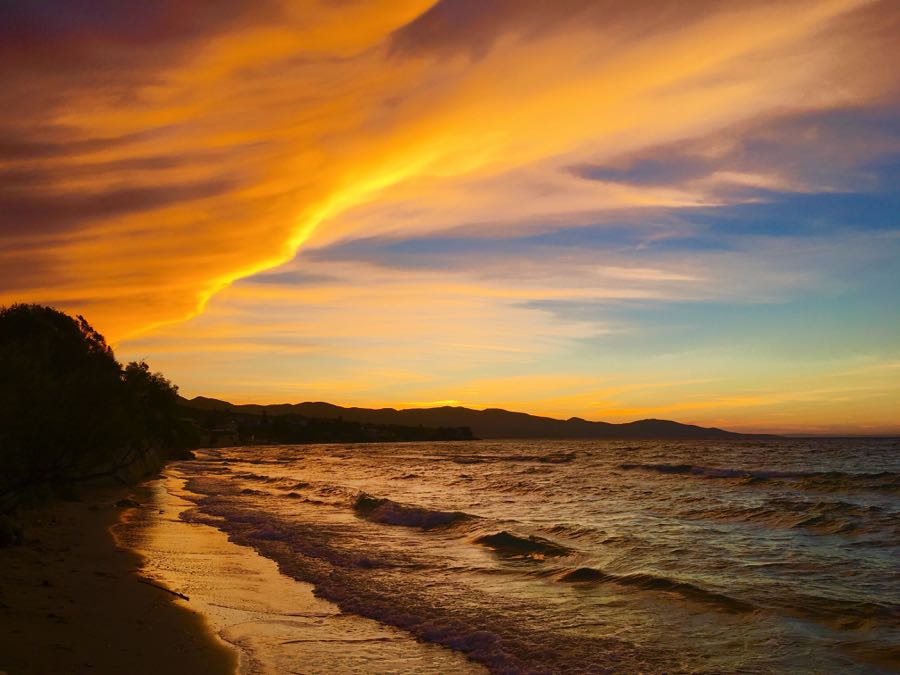 This is also a decent place to come for sunrise as at certain times of the year you can see the sun coming up over the headland. If you want to visit a place for sunset, then your best option will be from a restaurant on the Keri Cliffs in Keri Town on the west coast.
The Best Time Of Year to Visit Psarou Beach
The best time to visit Zakynthos and Psarou Beach is the same as the best time to visit Greece which is basically any time between March and Mid-November.
In March – April and October – November the sea can be a bit too chilly for a swim, which is why I recommend coming no earlier than April and no later than October if you want to have a beach holiday.
We've always visited Zakynthos and Greece in May and we find it to be the perfect time when the sea is warm, the skies are clear and there aren't too many crowds. One of the best things to do in Greece is enjoying the beaches, so you probably want to plan your trip accordingly.
The Type of Sand on Psarou Beach
The sand on Psarou Beach Zakynthos is sandy and soft, which can't always be said about beaches in the Ionian Sea. Many other beaches on Zakynthos Island (including the famous Navagio Beach) have pebbly sand that is uncomfortable to walk on with bare feet.
Not Psarou Beach. It's soft, white sand and you won't need to wear water shoes here.
Facilities on Psarou Beach
There are some beach chairs and umbrellas on Psarou Beach Zakynthos but those that you see when walking along the beach are reserved for guests of the apartments and resorts that line the sand.
Similarly, if you want to use the toilets you'll have to be a customer of one of the taverns or beach bars. There are also no watersports here.
Basically the facilities on Psarou Beach in Zakynthos are lacking quite a bit, but that's part of what makes this quiet cove so attractive for those looking for a quieter place to relax on the sand.
Where To Stay Near Psarou Beach
While there aren't as many options here as nearby Alykes or Tsilivi, you can still find some decent apartments and small guest houses for rent in the town of Psarou and Amoudi. Here are some of the top recommended places:
Katarina Rooms
📍 Méson Yerakaríon, Meson Yerakarion, 29100, Greece
★ 9.6/10 (100 Reviews)
💵 Rooms From €60/night
This is where we chose to stay in Psarou and we loved it. These super-modern looking little places offer great value for money. While I've quoted the average high-season price above, we were able to get these for nearly half of that in the shoulder-season (May) so look out for nice discounts when you're out of peak times.
The family that runs this place is so friendly and even though it doesn't state it in the listing, on many mornings the Greek owner brought us delicious breakfast. She was a sweetheart and really made us feel like part of the family.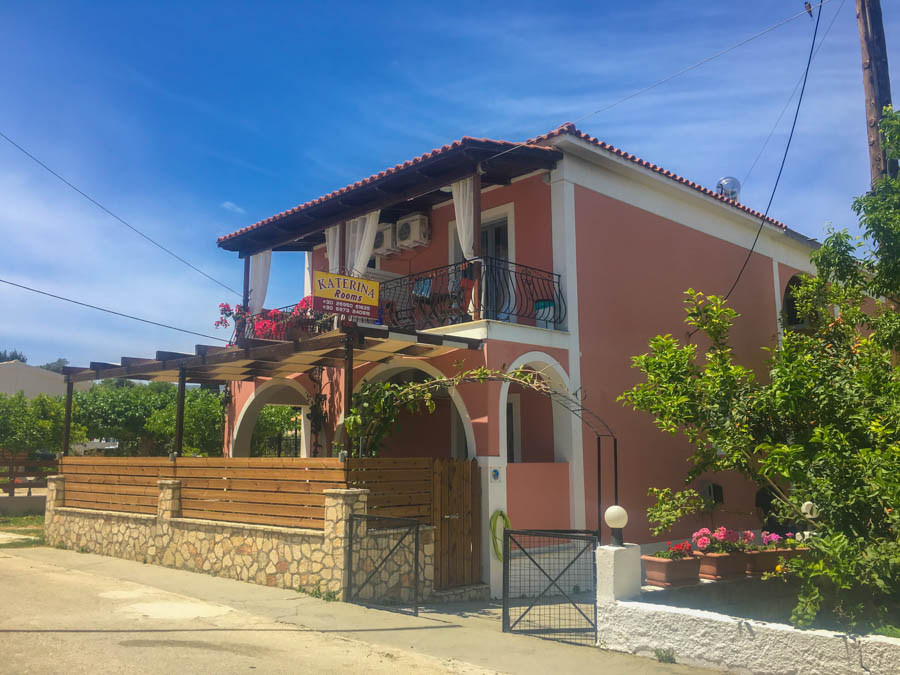 Click Here to see prices for Katarina Rooms on Booking.com
Paradisso Beach Villas
📍Katastari, Amoudi, 29100, Greece
★ 9.9/10 (19 Reviews)
💵 Rooms From €150/night
The villa complex here boasts three elegantly appointed villas which are all inspired by classic Ionian architecture and interior design. They have fantastic views out to the sea and are surrounded by lush gardens.
Click Here to see prices for Paradisso Beach Villas on Booking.com
Calypso Villas
📍Katastari, Amoudi, 29100, Greece
★ 9.4/10 (16 Reviews)
💵 Rooms From €150/night
These luxurious and stylish villas are set on the perfect location with free parking overlooking the gorgeous Ammoudi Beach. Each villa is individually designed with Ionian style in mind and is surrounded by lush gardens. They are all one-bedroom accommodations but thanks to extra beds and pullout couches, some of them can accommodate up to 6 guests.
Click Here to see prices for Calypso Villas on Booking.com
Psarou Studios
📍 Katastari, Amoudi, 29100, Greece
★ 9.3/10 (56 Reviews)
💵 Rooms From €45/night
This is a great place for families and couples with a lovely location overlooking the sea. This family-run hotel is set right on the beach and has a complex consisting of units with basic kitchens. There's a children's playground on-site and there's also a great Greek taverna.
Click Here to see prices for Psarou Studios on Booking.com
Best Restaurants Near Psarou Beach
Even though this isn't one of the most popular places for tourists, there are surprisingly some of the best restaurants and tavernas located within a 10 minute drive to Psarou Beach Zakynthos and one is set right on the sand. Here are our top choices for restaurants nearby:
Taverna Psarou
📍 Unnamed Road, Psarou 291 00, Greece
★ 4.4/5 (36 Reviews)
💵 Mains from €8
This place has friendly staff, incredible food and you really can't beat the location. There's nothing like watching the sunset over Zakaynthos while drinking a delicious glass of red wine and hearing the Ionian Sea lap the sand just a few meters away. This was one of the best restaurants in Zakynthos in our opinion and having sunset dinner here is one of the best things to do on the island as well.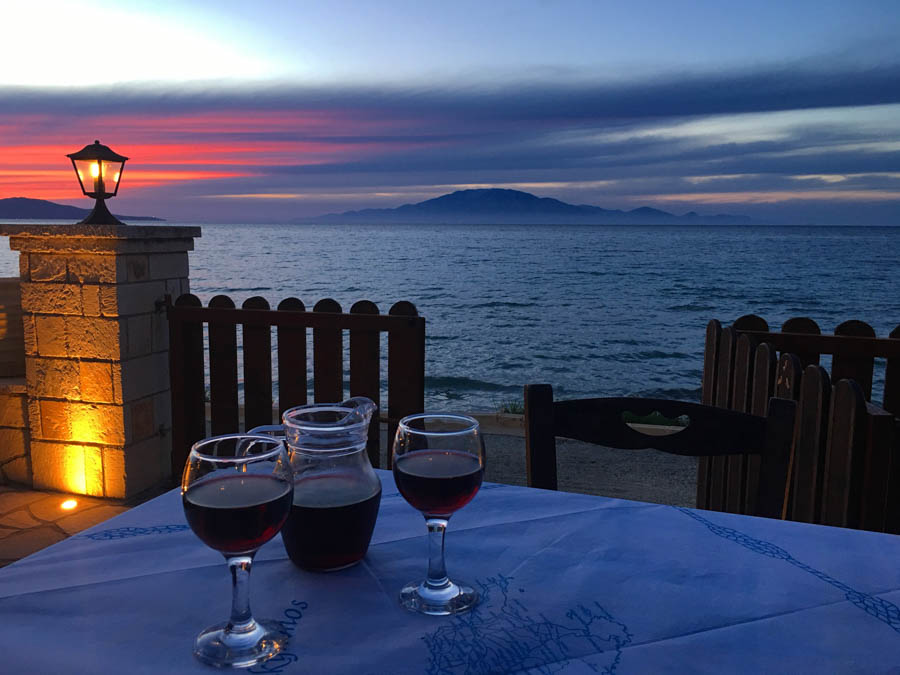 Lofos Restaurant
📍 Unnamed Rd, Meso Gerakari 291 00, Greece
★ 4.7/5 (313 Reviews)
💵 Mains from €7
This is without a doubt our favourite little taverna in Zakynthos. It was actually recommended to us from the friendly Greek family who own Katarina Rooms (the apartment where we stayed) and it didn't disappoint.
It's unique because unlike so many taverns we went to while on Zakynthos, Lofos Restaurant wasn't on the beach. Instead, it's set on a tall mountain about 3 kilometres (10-minute drive) from Psarou town. The views from the veranda here are amazing and the food and service are as well.
Amoudi Restaurant
📍 Αμμουδι/ανω γερακαρι, Ζακυνθος 291 00, Greece
★ 4.7/5 (90 Reviews)
💵 Mains from €9
This place is actually on Amoudi Beach about a 10-minute walk from Psarou Beach but it's definitely worth a visit. The prices here are quite a bit higher than Taverna Psarou, but it also has a more luxurious looking setting. Two people can still eat dinner here with a couple of non-alcoholic drinks for under €30, so it's still not expensive, but a good option if you've already been to Taverna Psarou.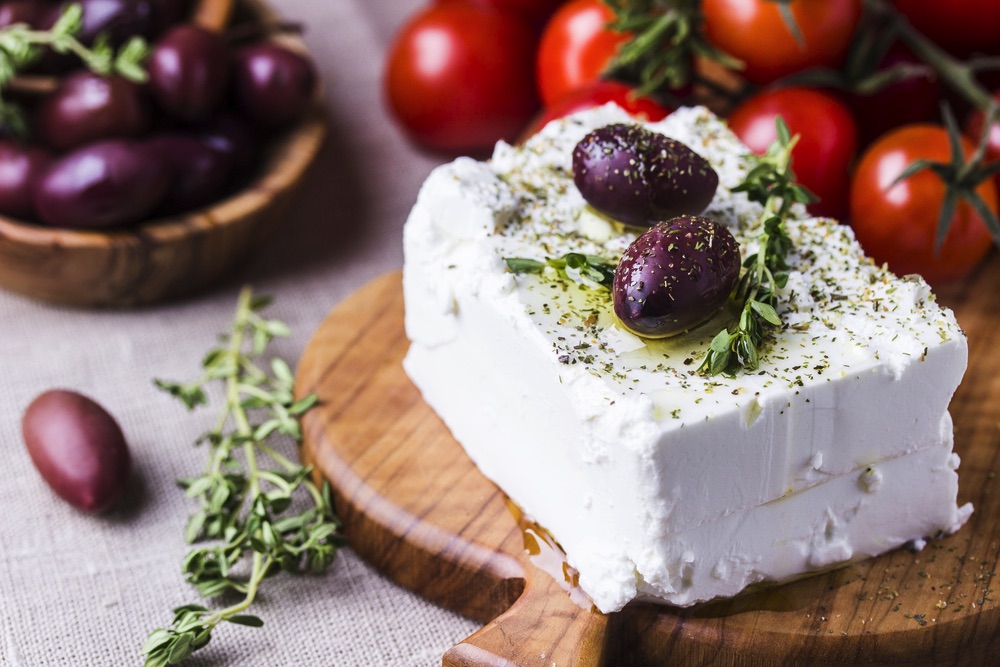 Kritamo
📍 Unnamed Road, Psarou 291 00, Greece
★ 4.3/5 (122 Reviews)
💵 Mains from €9
This is another place on Amoudi Beach (there are a few more options on this north side of Psarou) and offers up some decent traditional Greek fare. You can't miss this place as there are signs for it all over Amoudi and Psarou.
Should You Go To Psarou Beach?
Psarou Beach may not be a tourist hot spot like Laganas and Tsilivi, but if you're looking for a (much) quieter type of beach holiday, then this place could be for you.
The town doesn't have much going on so if you chose to stay here for multiple nights, you'll probably end up heading to Tsilivi or Alykes for some of your meals and for some easy nearby day trips, but overall it's still a great area to stay.
We chose to stay here because of it's off-track and traditional Greek feel and we weren't disappointed. We loved it most for the clear water and the delicious Taverna Psarou but would've probably stayed longer if the beach had some umbrellas and sunbeds for rent. Instead, we used it as a great base to visit the rest of the island.
Either way, it's definitely worth at least a visit on your itinerary in Zakynthos Island.
Like This Article? Pin it!