Located in the scenic Banderas Bay on the Pacific coast, Puerto Vallarta is one of the top vacation destinations in Mexico. That's mainly due to the many excellent Puerto Vallarta beaches and the various activities each stretch of sand has to offer. Whether you're into water sports or just prefer a sun lounger and a margarita, there's a beach for you in Puerto Vallarta!
In fact, there are so many choices here that figuring out which beaches to visit and how to get there can be a bit tricky. After calling the city home for the better part of the last two years, I've done the groundwork for you and am here to share the best beaches in Puerto Vallarta with you.
To be honest, I'm not a huge beach guy. I usually get bored after about half an hour unless I have a really good book or something fun to do in the water. That being said, I actually enjoy going to la playa here in Puerto Vallarta. Being able to float in the Pacific Ocean and gaze up at the Sierra Madre mountains is a pretty amazing sight that never gets old.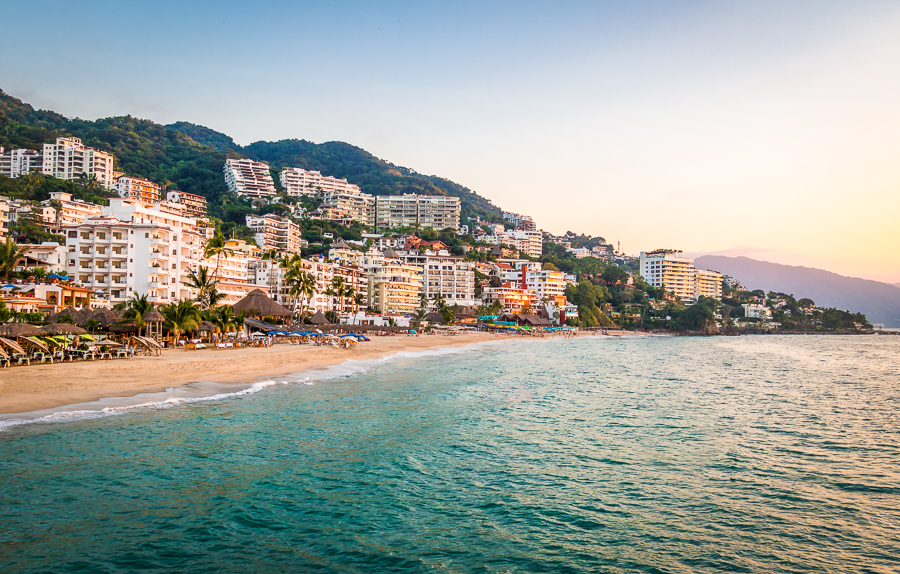 Oh yeah, and then there's all the mouth-watering seafood, ice-cold cervezas, and roaming mariachi bands that make it that much better. Set me down in a beach chair with a couple of Pacificos, some fish tacos, and a bowl of guacamole, and I'm a happy camper!
Here's my list of the top 10 best Puerto Vallarta beaches for every type of traveller, starting with the most famous one.
Los Muertos Beach (Playa Los Muertos)
The "Beach of the Dead" is located right in the heart of the city and is definitely the most well-known of the many Puerto Vallarta beaches. If you're wondering where the creepy name comes from, there's a story behind it…
When they started development along the beach here, people dug up ceramic pots that contained human bones. This was a burial custom of indigenous tribes in the area. As such, it was named Playa Los Muertos. There's also a Los Muertos Brewery not far from the beach if you're into craft beer and delicious pizza.
The highlight of Los Muertos Beach is the beautiful sail-shaped pier. It's especially lovely at night when you can watch the sunset and then see the colorful lights come on the pier. During the day, you can catch water taxis from here to some of the other beaches to the south of town, or just join the local kids and jump off straight into the water.
As the most central and most popular of the Puerto Vallarta beaches, it should come as no surprise that Los Muertos can get a bit packed. Come here on a Sunday or a holiday and it can be quite tough to find a speck of sand to yourself. If you're looking for a beach free of noise and crowds, then you probably won't like Los Muertos that much.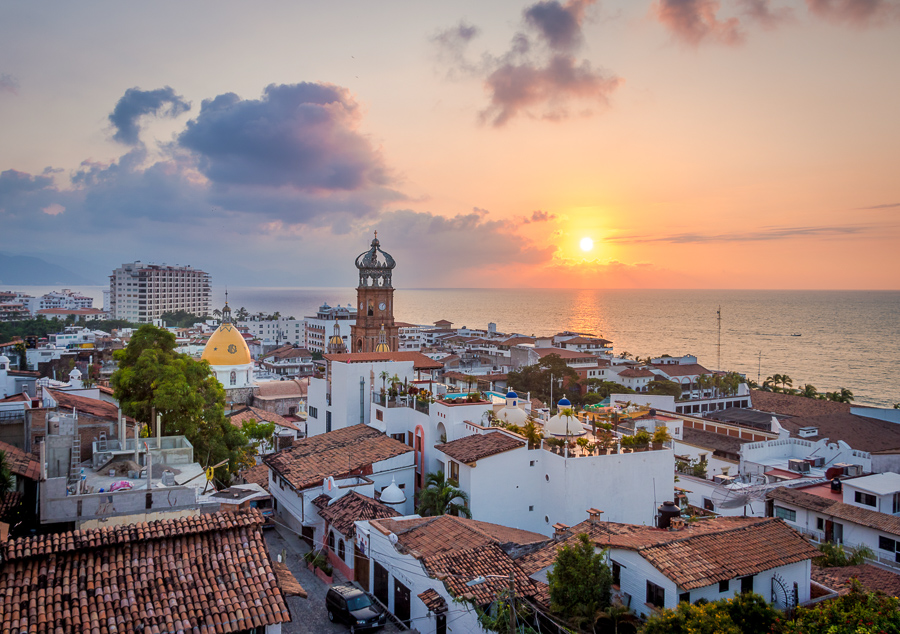 There are plenty of advantages to Los Muertos Beach, though. It's a great place for swimming and sunbathing, and there are plenty of shaded beach chairs available.
Some places only ask you to order off their menu, while others have a set fee for them or at least a minimum consumption. My local spot, Fidencio's, lets you use their chairs and umbrellas as long as you order something and they have some of the cheapest beers and snacks around.
If you need more excitement than a book, there's a lot to do on Los Muertos. You can go paragliding, rent a jet ski, take a trip on a banana boat, or sign up for a tour to go snorkeling or fishing. You'll also find some of the best PV restaurants along the beach, including La Palapa.
Despite the throngs of vendors and the crowds of tourists, Los Muertos still earns its spot on the list of the best Puerto Vallarta beaches. Now that we got it out of the way, though, it's time to move on to some more laid back and picturesque spots.
Don't miss these other Puerto Vallarta Articles on Goats On The Road:
Conchas Chinas
Thankfully, you really don't have to go all that far to escape the crowds on Puerto Vallarta beaches. Heading south from Los Muertos, our next stop is Conchas Chinas. Once again, there's an interesting story behind the name…
In Spanish, a concha is a shell and China usually refers to the country. However, this beach is not full of Chinese shells. Rather, the name china/chino also refers to a person with curly or wavy hair. So basically the name of the beach means something like Curvy Shells.
Thanks to all the shells and rocks on the beach here, you might want to bring some water shoes along with you. Pools often form in the rocks, which can make for some cool photo opportunities. It's also a good place to do a bit of snorkeling just offshore to spot some of the marine life that hangs out here.
While Conchas Chinas isn't exactly one of the hidden beaches in Puerto Vallarta, it can certainly feel like one. There aren't a ton of bars and restaurants along the beach here and there really aren't any water sports on offer, so most people never bother to make it over here.
One thing you may want to consider is that there isn't a whole lot of shade. You'll have to make your own or just retreat to one of the bars or restaurants when you want to get out of the sun.
You have many options for getting down to Conchas Chinas. You can simply hop in a cab or get an Uber for the quick ride over, or catch the orange bus that goes down to Boca de Tomatlan and ask them to let you off at Conchas Chinas. The bus leaves from an OXXO in the Romantic Zone, which you can find on the map
here
. It's also possible to walk here from the south end of Los Muertos, but you'll have to climb up some stairs and take a small hike to do so. You can view Conchas Chinas on the map and get directions
here
.
Playa Punta Negra/Playa Palmares
Conchas Chinas is pretty close to the Romantic Zone, but you'll have to put in a bit more effort to get to the next few spots on our list of Puerto Vallarta beaches. Heading further south, you'll eventually arrive at Playa Punta Negra.
It's located in front of condos with the same name, but it's very much a public beach. It's just a little tough to get to, as you'll have to climb down a steep and somewhat rickety staircase from the main road. Don't have too much tequila on the beach, either, as you'll have to climb back up!
This is one of the nicer, quieter Puerto Vallarta beaches. There's really not a lot of action going on here, so this is the kind of place where it's best to bring your own parasol and a good book. The sand is fine and the water is clear, so it's the perfect place for a leisurely afternoon of swimming and sunbathing.
You won't find bars and restaurants lining this beach, but you will find some vendors selling seafood and beers if you need a snack or a drink. Keep walking south, and once you pass the lifeguard post you're on Playa Palmares (Palm Grove Beach). It's actually just one long beach, but there are different names for both sides of it.
Since it really is the same beach, there's not much to differentiate Punta Negra and Palmares. It's pretty much the same vibe up and down this long stretch of beach. What you might want to do is start off at Punta Negra and then walk down to Palmares to see the whole thing, or vice versa.
To get to either of these beaches, you can either drive (there's plenty of parking), get a cab/Uber, or once again hop on that orange bus headed south. It would be a long, miserable walk to either, so best to get a ride there one way or another.
If you prefer a little peace and quiet on your vacation, you might want to consider staying down here along this beach. There are plenty of great condos and villas for rent here and it's a much more chilled out scene than it is in town. Click here for directions to Playa Punta Negra and click here for directions to Playa Palmares.
Playa Las Gemelas
We're still cruising south along Highway 200, and the next spot on our list of the best Puerto Vallarta beaches is Playa Las Gemelas. And what do you know — this is another beach with an interesting name!
In Spanish, las gemelas means "the twins," which is a fitting name for these two adjacent beaches. There are a few condos and resorts around here, so from the road it seems as if beach access is restricted. It's not, you just have to find the narrow and steep path that takes you down to the pristine sandy beach with clear, turquoise water.
It's not too hard to find shade here, so you don't really need to worry about dragging an umbrella along with you. One thing you should be aware of, though, is that there are no public bathrooms here. You'll have to go in to one of the restaurants attached to a condo here and buy something in order to use the toilets.
Las Gemelas is a great place to come and chill for a couple of hours if you're prepared with food and drinks. You can find Playa Las Gemelas on the map and get directions here.
(Note: This beach is a favourite of Nick and Dariece, founders of this website, Goats On The Road).
Playa Mismaloya
Believe it or not, there are still plenty of Puerto Vallarta beaches located south of town. The next one on our list is Playa Mismaloya, which is named after the small town it's located in.
Mismaloya Beach actually has a lot to do with the tourism boom in Puerto Vallarta. It was here that the 1964 film The Night of the Iguana brought movie stars Richard Burton and Elizabeth Taylor to the area. Back then, it was but a remote little Mexican fishing village unknown to most.
Burton was starring in the film and his new love interest at the time just so happened to be Elizabeth Taylor — one of the most famous actresses in the world. She decided to join Burton on his trip to Mexico, and naturally, the paparazzi tagged along as well. The couple eventually made Puerto Vallarta their second home, and neither they nor the town would ever be the same again.
Even if you haven't seen the movie, it's well worth making the trip down south to Mismaloya. The main draw for coming here is visiting the Los Arcos National Marine Park just off the coast. These rocky islands are teeming with marine life and are thus a fantastic location for snorkeling or diving.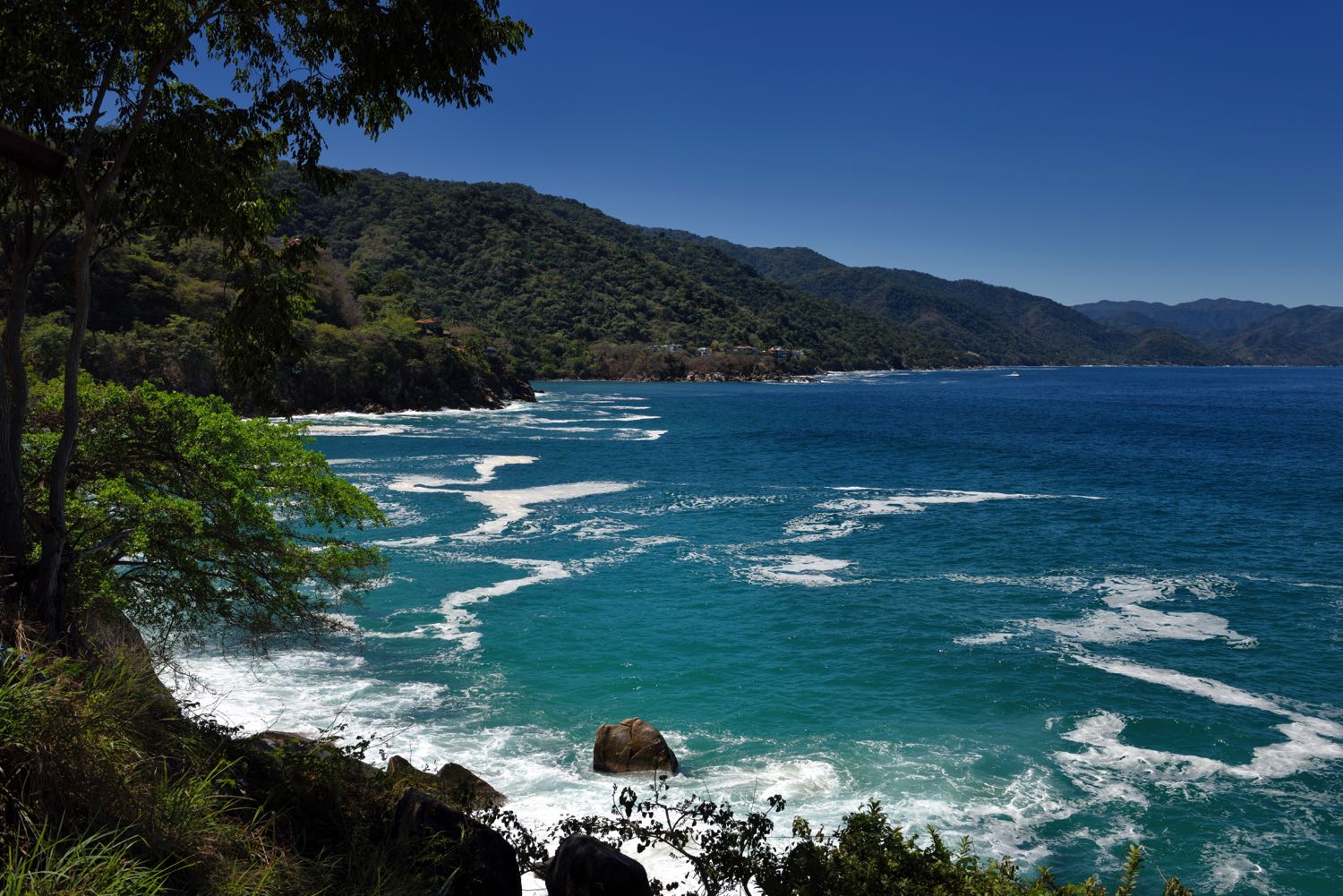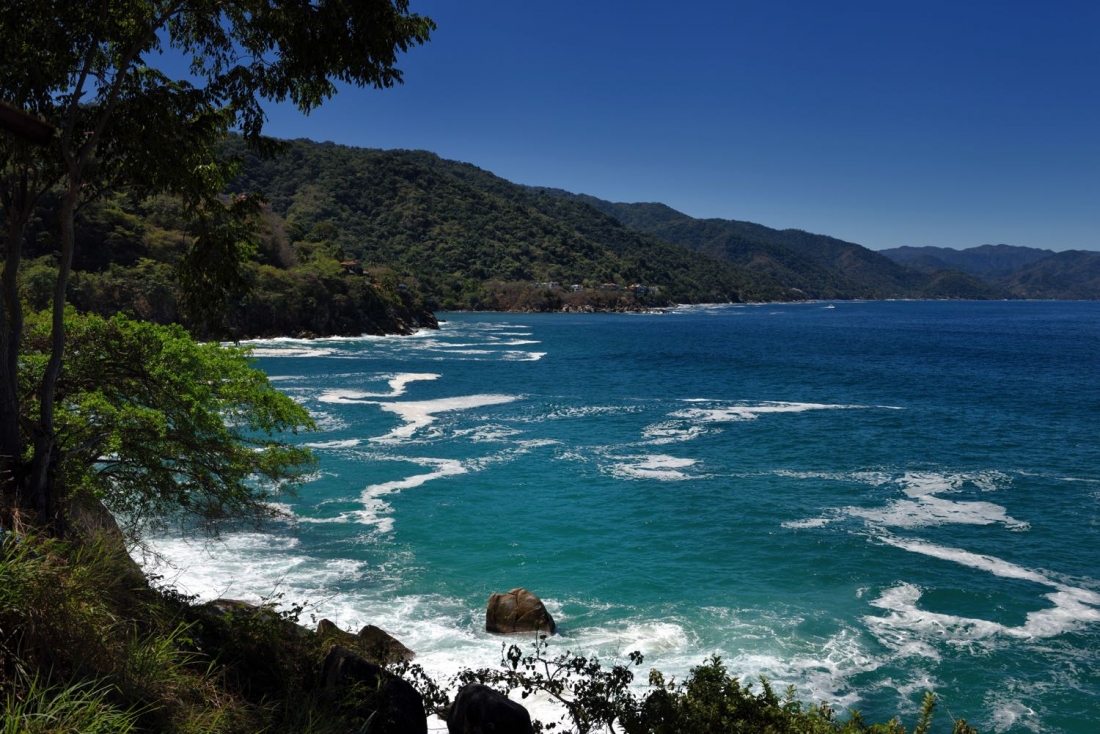 One of my favorite things to do in Puerto Vallarta is taking a SUP from Mismaloya Beach over to Los Arcos. You can get on a tour that includes both SUP and snorkel gear and go explore one of the most beautiful places in the area.
Back on land, there are a couple of beach-side restaurants where you can order up some fresh seafood and a tasty cocktail. These places usually all let you use their sun loungers as long as you order something.
Mismaloya is a bit far from the central part of town, but it's still a pretty reasonable price to get an Uber all the way there. Of course, you can also take the reliable orange bus from in front of the OXXO and get here for just 10 pesos ($0.50) each! There are also plenty of solid choices for accommodation in Mismaloya if you'd rather just base yourself here in a smaller, quieter town.
Click here
for directions.
☞ Wondering when to visit Mexico for beaches? Check out our latest post and start planning your trip!
Boca de Tomatlan
A few miles south of Mismaloya, you'll find the small town of Boca de Tomatlan. For those orange buses leaving Old Town that I've mentioned so many times, this is the final stop for most of them.
To be honest, the beach here is really nothing special. It's quite small and is mostly crowded with boats. That being said, it's worth it to venture down to Boca just to reach the other hidden Puerto Vallarta beaches that are nearby.
Also, if you're hoping to visit Yelapa during your trip to Puerto Vallarta, the water taxis from Boca are much cheaper than those departing from Los Muertos. Catch the bus here, grab some lunch at one of the beach-side restaurants, and then hop on a boat headed to Yelapa. It'll save you a lot of money and it's nice to break up the long trip.
You can catch water taxis headed out of Boca to any of the beaches along the way to Yelapa. Just let them know where you'd like to go and you'll get quoted a price and a wait time. It's best to ditch the "I'm in a hurry" attitude at the door, though. Sit down, grab a cold one, and just hang out until there's a boat for you.
Many people travel down to Boca de Tomatlan just to dine at the cliffside Ocean Grill. You'll need to make a reservation here in advance, as they send water taxis over to the pier to pick people up. Alternatively, you can just hoof it and hike along the coast. This is one of my absolute favorite things to do in town, as you get to visit some of the best beaches in Puerto Vallarta along the way. Click here for directions to Boca de Tomatlan.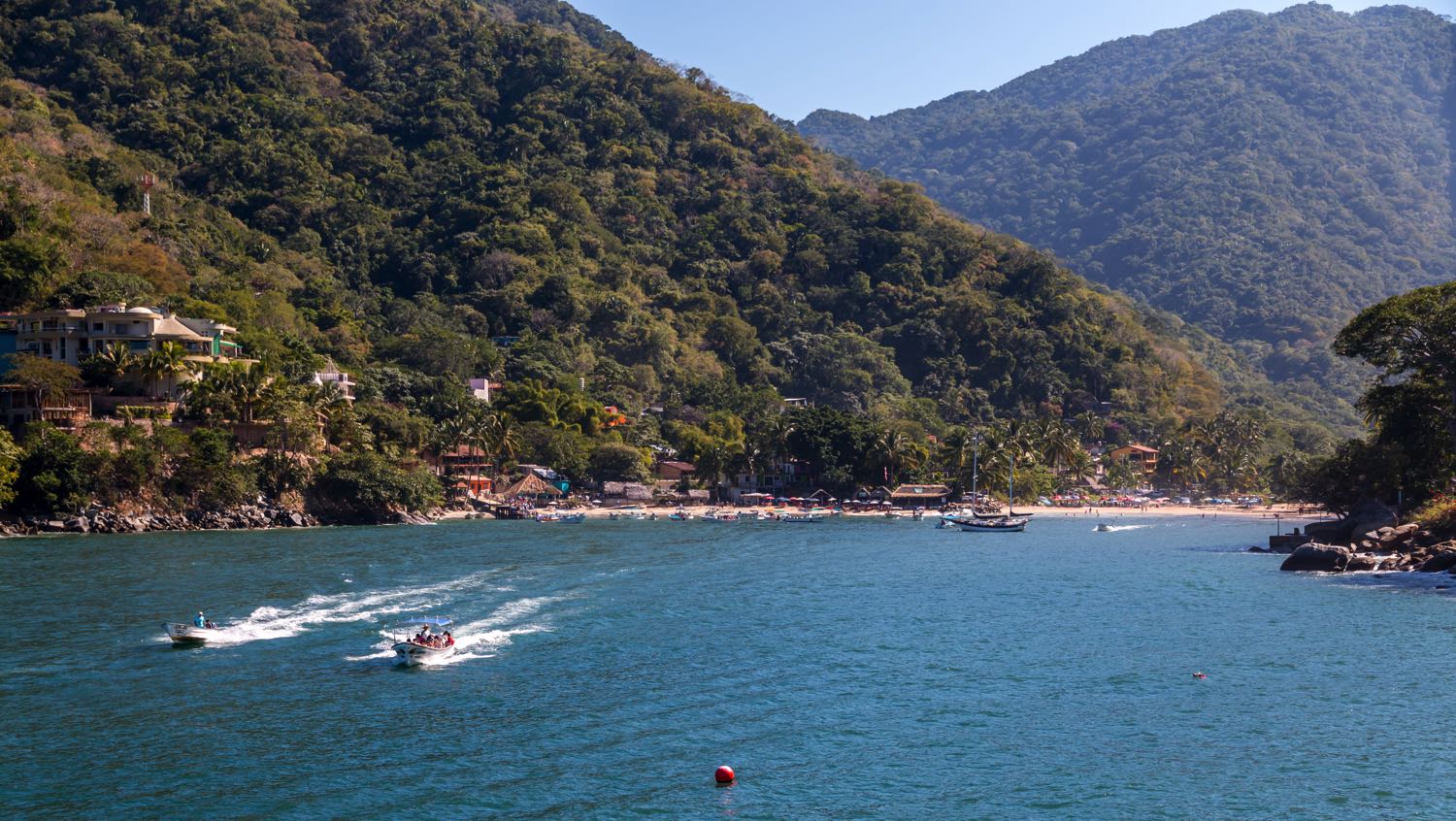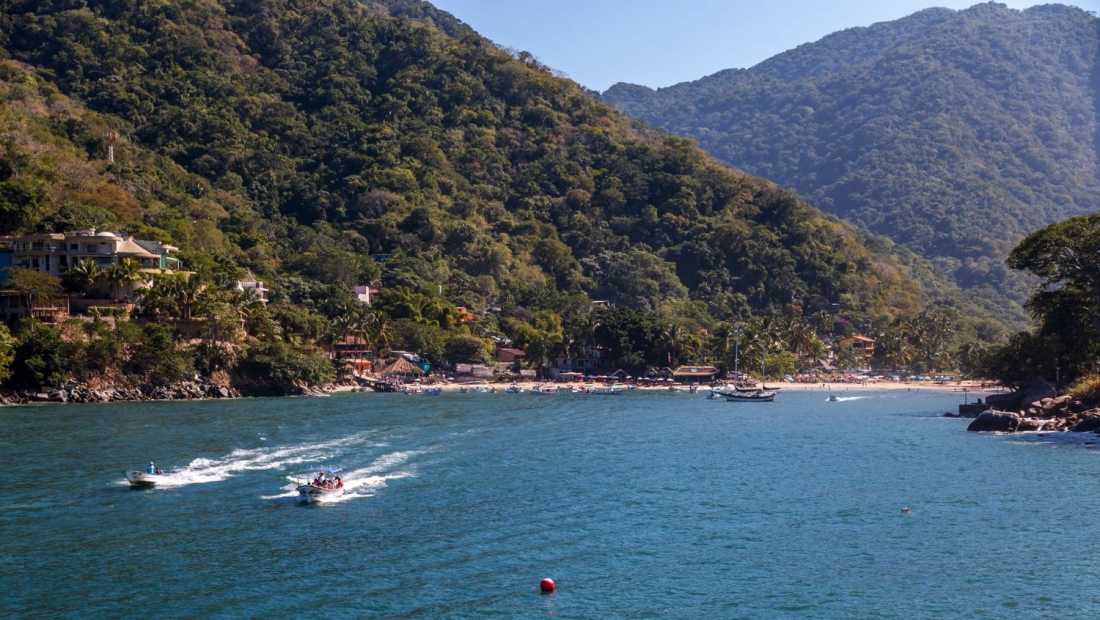 Playa Las Animas
Once you leave Boca, the next few beaches along the bay are pretty much totally empty. There are a few fancy resorts along the way, but for the most part it's just fine white sand and clear blue water.
This is why I highly recommend doing the hike from Boca all the way to Las Animas. Sure, you can just catch a boat from one to the other, but you miss many of the gorgeous, empty beaches along the way.
If you're going to do the hike, just be sure you have plenty of sunscreen, bug spray, and water. It's not a very intense hike, but it can often be sweltering hot in Puerto Vallarta. The best part about the hike is knowing that there's some ceviche and a mango margarita awaiting you at the end!
Eventually, you end up at Playa Las Animas. The sand is a bit course here and the water isn't the clearest thanks to all the water taxis, but it's a pleasant enough beach to hang out for a while. There are several restaurants on Las Animas that also provide sun loungers if you order something.
One thing to note about Las Animas is that boatloads full of day-trippers usually show up in the afternoon. If you try to time your visit around 4PM or so, they should be on their way out and you'll still have a few hours to enjoy the beach before the boats stop running.
Further South to Yelapa
At this point in our journey, it's hard to say that we're even in Puerto Vallarta anymore. Even getting to and from Las Animas will take up the better part of your day, regardless of how you choose to get there.
There are a few other beaches even further south that are often visited on day tours, such as Quimixto and Mahauitas. These tours usually include snorkeling along the way, some time on the beach, and a hike to a waterfall in Quimixto.
After those beaches, we finally arrive in Yelapa. This sleepy village is a popular escape for those who find Puerto Vallarta to be a bit too much. Many visit on a day trip, but if you ask me you might as well spend a night or two here if you're going to make the trek. It takes a couple of hours by boat each way just to get there and it's a beautiful place, so definitely stick around a while if you can.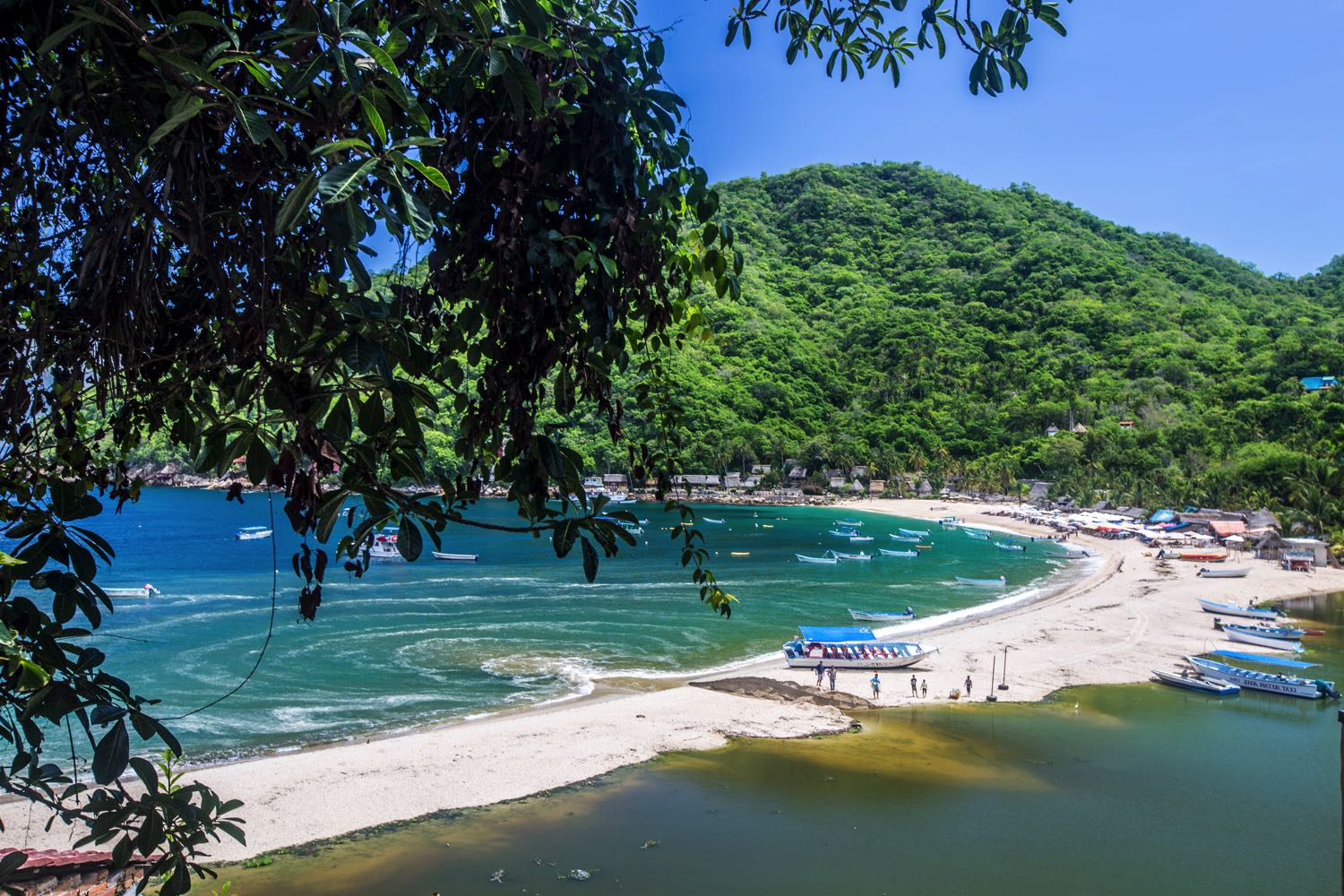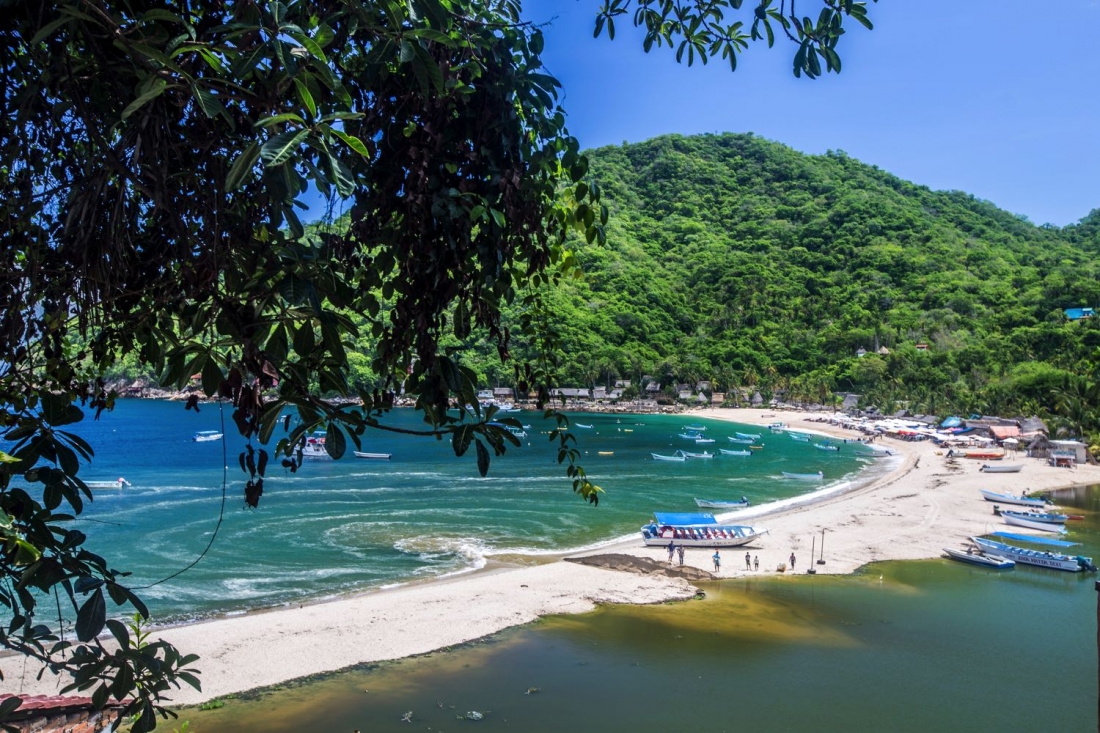 Playa Camarones
Finally, we go to a beach that's located to the north of Los Muertos! Playa Camarones (Shrimp Beach) is located in El Centro and stretches from the Malecon to the Villa Premiere resort (click here for directions).
Playa Camarones is a local favorite, so you'll often find it full of families having a picnic or friends throwing a little beach-side fiesta. Most bring their own chairs, umbrellas, and coolers to enjoy a day at the beach here. If you don't have all the proper gear, you can grab a sun lounger at a place like Mango's or my personal favorite, El Solar.
The beach can be a bit rocky here, so it's not exactly the best for swimming. It's a great place to do a bit of parasailing, jet skiing, or SUPing, especially if you can get out there in the morning before it's too choppy.
A great part about spending an afternoon on Playa Camarones is that you're near so many awesome taco vendors and local restaurants. After sitting in the sun and having a few beers, it's hard to beat some tacos al pastor or aguachile.
Beaches North Towards Sayulita
Once you get past Playa Camarones, you start to find stretches of beach in front of the all-inclusive resorts. While these are still public beaches, they don't exactly make them that easy to get to.
That being said, you can find a few signs off the main road that say "Acceso a la playa," which means "beach access." There's one path near the restaurant La Mandalena that takes you down to the beach.
Since this stretch of beach is dominated by resorts and condos, you won't find much in terms of amenities for non-guests. I usually just go to this beach if I want to go for a nice stroll around sunset. If you go during the day, be sure to bring your own shade, snacks, and drinks.
If you go even further north from here, you're not in Puerto Vallarta anymore. In fact, you actually cross the state line from Jalisco into Nayarit pretty much right after the airport. Headed north, you can also get to beaches in Nuevo Vallarta, Bucerias, La Cruz, Sayulita, and finally all the way to San Pancho.
Bonus! Hidden Beach
Hidden Beach isn't technically in Puerto Vallarta, but it is in the middle of the sea at the mouth of the Bandaras Bay! The Marietas Islands are located around 22 miles west by boat from PV, and are something out of a dream.
One of the volcanic islands has a gaping hole in the center, creating a secret beach and swimming area. You can't see the beach from the outside and must swim through a tunnel to get there — and it's totally worth it. Make sure to bring your GoPro for some cool photos. Click here to learn about how to get to Hidden Beach Puerto Vallarta, including what it costs and what you can expect.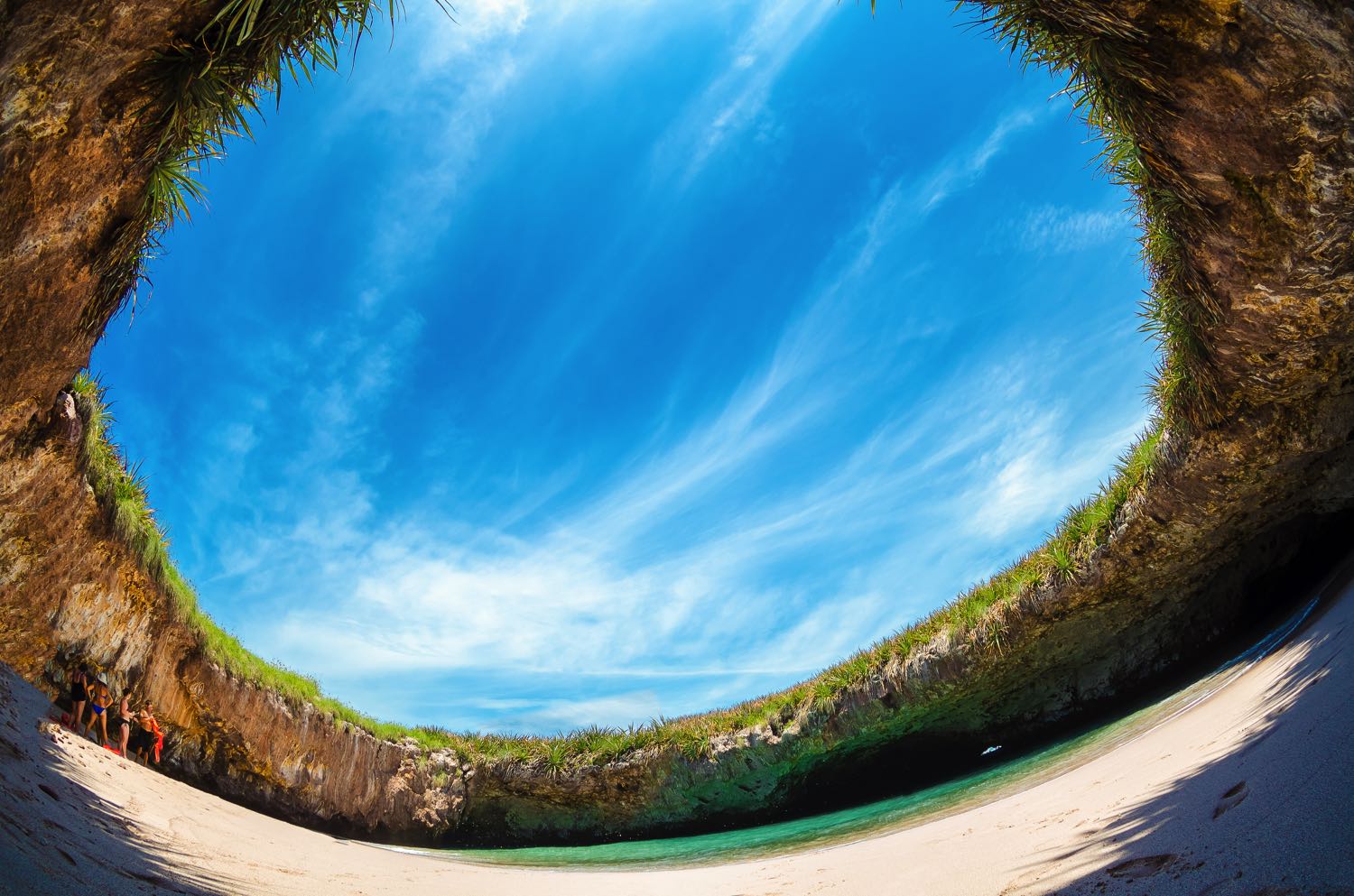 Ready for the Beaches of Puerto Vallarta?
As you can see, there are plenty of awesome Puerto Vallarta beaches to choose from. I recommend visiting a few of them to get a nice mix. Spend a day or two enjoying all the water sports, dining, and nightlife options of the central beaches like Los Muertos and Playa Camarones. Then head south of town to hike from Boca to Las Animas, or go on a SUP/snorkel tour from Mismaloya to Los Arcos.
Of course, there's a lot more to PV than just beaches. Check out our ultimate guide to travelling in PV, our article on the top excursions and activities, and our list of the 20 things to see and do. If you plan on spending an extended period of time in Puerto Vallarta, check out this article about the cost of living. If you have any recommendations of your own or any specific questions, please leave a comment below!
Images in this article are courtesy of Shutterstock.
Like This Article? Pin it!