For a relatively small town, Puerto Vallarta has a pretty amazing culinary scene. From humble taco vendors on the street to high-end restaurants, there's something tasty being cooked up around every corner here. In this Puerto Vallarta restaurant guide, we'll take a look at some of the best places to eat in the city.
I've called PV my home away from home for three years now, and one of the things I love most about living here (apart from the endless things to do) is the variety of cuisine. Of course, you can get delicious Mexican fare everywhere, but there are also great spots for brunch, pizza, sushi, vegan, and just about everything else you might be craving.
Eating is one of the top things to do in all of Mexico, and lucky for me, Puerto Vallarta has lots of tasty dishes on offer.
Despite eating out basically every day, I've found the cost of living in Puerto Vallarta to be quite reasonable. Most Puerto Vallarta restaurants are quite affordable, and even the really fancy ones usually run a special promotion during Restaurant Week between mid-May and mid-June.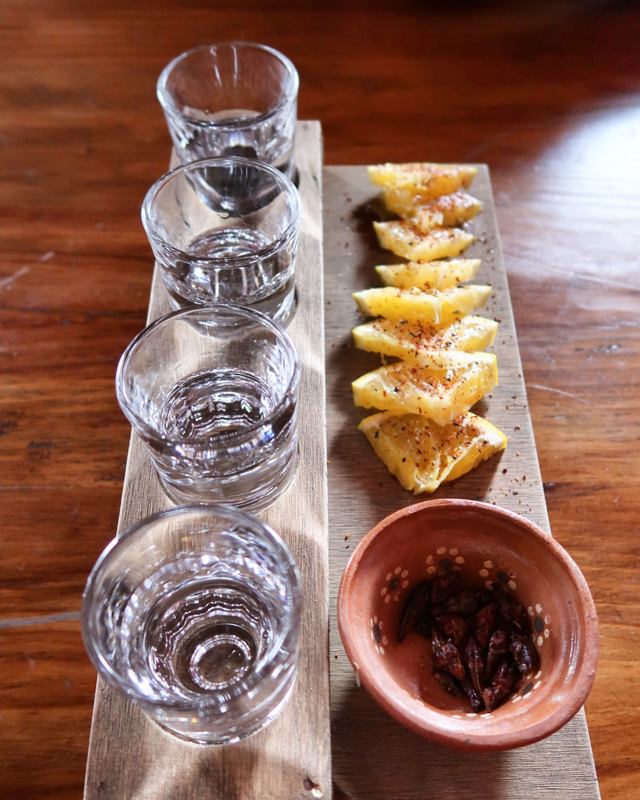 The restaurant and nightlife scene in PV has come a long way in recent years, especially when it comes to your options for a beverage. Long gone are the days when Corona was the only beer available. Puerto Vallarta is now home to a few excellent microbreweries and you can also find craft beers from other parts of Mexico. It's also not hard to find a nice glass of wine or a craft cocktail here these days.
Be prepared for your mouth to be watering by the end of this article, because we're about to dive into the best restaurants in Puerto Vallarta.
Best Puerto Vallarta Restaurants for Breakfast
Fredy's Tucan
Hours: Open 7 days a week from 8AM-2:45PM
Phone #: 01 322 223 0778
Location: Basilio Badillo 245, Romantic Zone (Click here for directions)
Rating on TripAdvisor: 4.5/5
I rarely go out for breakfast, as I much prefer leisurely sipping my coffee and eating at home in the mornings. When I do make it out for breakfast, it's almost always to Fredy's. It's always a good choice, especially on those lazy, hungover weekends.
This place is in just about every Puerto Vallarta restaurant guide you read and for good reason. The staff is super friendly, the menu is extensive, and the portions are huge for a very reasonable price.
Their most famous dish here is definitely the Campesino Breakfast – beef Arrachera with red chilaquiles, fried or scrambled eggs, and refried beans. I'm also a big fan of their vegan burrito and their Mexican omelette. Just be prepared to need a takeaway box, as they definitely do not skimp on the portions here!
Another reason Fredy's is one of the best restaurants in Puerto Vallarta is their extensive drink list. Here you can choose from a variety of coffees, smoothies, milkshakes, and even cocktails. Because we all know brunch without a mimosa is just a sad breakfast!
If you have a tour or an excursion to get to, just know that you might have to wait a bit for a table here. Also, make sure you have cash, as they don't take cards here.
Mango's Beach Club
Hours: Open 7 days a week from 10AM-9PM
Phone #: 01 322 222 0796
Location: Uruguay 109, 5 de Diciembre (Click here for directions)
Rating on TripAdvisor: 4/5
Seeing as you're in Puerto Vallarta, why not have breakfast en la playa? That's exactly what you can do at Mango's Beach Club, a classic Puerto Vallarta restaurant located near the Malecon.
While you can order off their large menu any day of the week, the best time to come here is for their Sunday brunch. It includes a welcome mimosa and a substantial buffet with lots of choices.
They've got freshly baked bread, tropical fruits, chilaquiles, and even the famous tortas ahogadas that are native to Jalisco. Be sure to come hungry, because you'll want to try a bit of everything!
Mango's is one of the best Puerto Vallarta restaurants because once you're done eating, you can just plop down in a lounge chair and relax. A nice big brunch followed by a few hours of sun, sand, and maybe a margarita or two is the perfect way to spend a Sunday afternoon in PV.
Best Restaurants in Puerto Vallarta for Lunch
Salud Super Food
Hours: Monday-Friday 9AM-5PM, Saturday 9AM-2PM
Phone #: 01 322 139 9398
Location: Olas Altas 534-A, Romantic Zone (Click here for directions)
Rating on TripAdvisor: 5/5
This health-conscious restaurant currently sits atop TripAdvisor as the best Puerto Vallarta restaurant. It may come as a surprise in a Mexican beach town that's more known for its shrimp tacos, massive plates of nachos, and bacon-wrapped hot dogs, but the people have spoken!
Honestly, Salud Super Food is good any time of day. I personally haven't made it there for breakfast just yet, but they have some solid options for you early birds. Their lunch options are excellent, highlighted by their Salud Super Bowls. You can't go wrong with one of these!
They also have a wide variety of sandwiches, wraps, and salads. I love tacos al pastor and all, but once in a while it's nice to eat something different like a chicken curry wrap. Their Pachamama veggie burger is also a very popular choice.
One reason this makes the list of the best restaurants in Puerto Vallarta is that it has very fair prices. Most breakfast items cost $3-4 and you can get lunch for $5-6. Add another $2-4 for a tasty coffee or smoothie and you've got a great meal for under $10.
Restaurante Dianita
Hours: Open 7 days a week from 8AM-6PM
Phone #: 01 322 107 7090
Location: Calle Francisco I. Madero 243, Romantic Zone (Click here for directions)
Rating on TripAdvisor: 4.5/5
So far, this is definitely the best truly local Puerto Vallarta restaurant on our list. Come here for lunch, and the place will be packed with locals who flock here for their excellent menu del dia (menu of the day).
The menu changes every day, but you always get to choose a soup, an entrée, and a large glass of agua fresca. They usually have meat, fish, and vegetarian options to satisfy everyone.
Not only is this one of the best places to eat in Puerto Vallarta for lunch, but it's also one of the most affordable. That satisfying, filling menu of the day will only set you back $3-4 depending on your choice. That saves you more money to go out and enjoy the nightlife later!
The people who work here are super nice and always very attentive to customers. This is probably my favorite spot to have lunch in Puerto Vallarta and I always love dining there.
Best Restaurants in Puerto Vallarta for Dinner
Café des Artistes (a top Puerto Vallarta restaurant for romance)
Hours: Open 7 days a week from 5:30-11PM
Phone #: 01 322 226 7200
Location: Calle Guadalupe Sánchez 740, El Centro
Rating on TripAdvisor: 4.5/5
When it comes to the top restaurants in Puerto Vallarta, this place always comes up. Defined as "French cuisine with Mexican innovation," it's headed up by the amazing Chef Thierry Blouet.
The menu is always changing here and it's really quite impressive. Most people opt for the chef's tasting menu, which is a 6-course feast and a real treat for your tastebuds! They always have a vegetarian option, as well as a lighter bistro menu with three courses.
To get an idea of what to expect there, here are a few dishes on the current menu: squash blossom stuffed with cheese, fresh tuna crusted with peanuts, tomato risotto with truffle, and habanero chili stuffed with passion fruit mousse. Drool.
While the food is the star of the show here, the ambiance is half the fun of dining out at Café de Artistes. Sitting down in their lush exterior garden really feels like you're in the jungle, and it's a gorgeous setting for a meal. If you're looking for a romantic night out on the town, this is the place to go! It's pricey, but worth every peso for this amazing culinary experience.
La Leche
Hours: Open 7 days a week from 6PM-1AM
Phone #: 01 322 293 0901
Location: Km 2.5, Blvd Francisco Medina Ascencio, Hotel Zone (Click here for directions)
Rating on TripAdvisor: 4.5/5
This is one of the most popular restaurants in Puerto Vallarta, and it currently comes in at #3 overall on TripAdvisor. It's located a bit far away from the action downtown, but is easily accessible with its location just off the main highway and is well worth the trip.
La Leche is set in a unique, minimalist space that is very eye-catching. It's run by chef Alfonso Cadena and the menu is always changing depending on what's available and what he's in the mood to cook. That's what keeps people coming back to this excellent Puerto Vallarta restaurant.
There's also a nice bar here on the 2nd floor where you can go enjoy a drink before or after dinner. Speaking of dinner, this is the kind of place where it doesn't hurt to make a reservation. Also, be sure to change out of your flip-flops and tank tops before coming into this swanky place!
If you can't be bothered to make a reservation and dress up (trust me, I understand), you can still try the food here. They have a food truck that's parked outside in the afternoon where they cook up some pretty fantastic tacos and burritos. It's been on my list for a while and after researching this guide I think I might just have to make the trip sooner than later!
La Palapa
Hours: Open 7 days a week from 8:30AM-11PM
Phone #: 01 322 222 5225
Location: Los Muertos Beach, Púlpito 105-3, Romantic Zone (Click here for directions)
Rating on TripAdvisor: 4.5/5
Many people want to find a Puerto Vallarta restaurant on the beach, and who can blame them? There's just something about dining with your toes in the sand and the sun going down that's hard to beat.
When it comes to the best Puerto Vallarta restaurants on the beach, La Palapa is the place to be. Their slogan is "Tropical elegance since 1959," and that's exactly what they're known for!
You can come here for any meal you desire, but my recommendation definitely goes to dinner. It's one of the best places to watch the sunset in Puerto Vallarta at a candle-lit table. If you're looking for a date-night spot in PV, you've found it!
Their menu is huge and is very seafood-oriented. Current appetizers include a lobster bisque soup and braised adobado octopus, while entrees range from a fillet of red snapper to beef medallions. You can expect to pay between $50-75 each for dinner plus a drink here.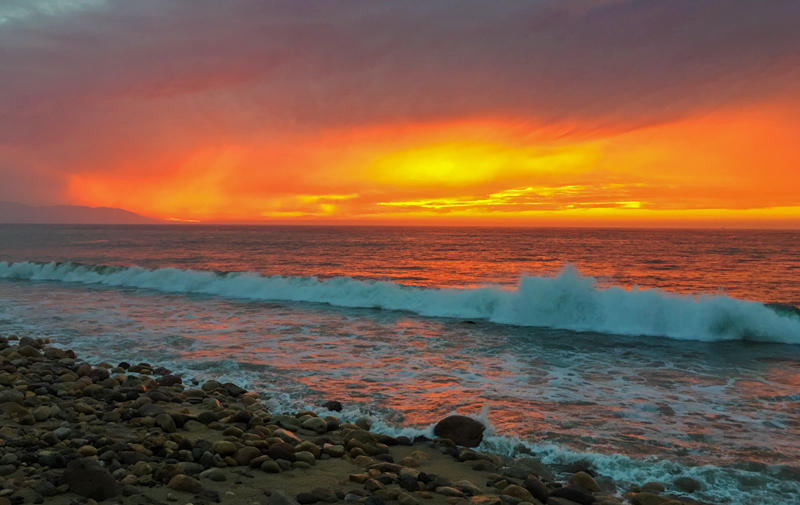 Best Places For Snacks and Drinks in Puerto Vallarta
Monzón
Hours: Open 7 days a week from 11AM-11PM
Phone #: 01 322 260 9718
Location: Venustiano Carranza 239, Romantic Zone (Click here to get directions)
Rating on TripAdvisor: 4.5/5
While Pacifico with lime is great and all, sometimes you just need a good IPA or a stout. Cue the fine folks at Monzón, who have been brewing up delicious craft beers in Puerto Vallarta for almost two years now.
They're always changing up their tap list at Monzón and brewing up some very creative beers. At the moment, they have a passionfruit wheat ale, a northwest red ale, and a toasted coconut imperial stout, among others. It's hard to choose just one here, so start with a flight to see what you like best.
Monzón is a great place to escape the midday heat or the heavy rains in Puerto Vallarta. From 3-5, they have an excellent Happy Hour with tapas plates for about $2. When it rains, they pour! They always offer up discounts on beers during rainstorms. I've been stuck there many a time and you won't hear me complain!
If you're into trivia nights, be sure to head here on Wednesday at 6:30. It's free to play and teams get 25% off pitchers – a great way to make friends and have a bit of fun.
1,000 Caguamas
Hours: Open Tuesday-Sunday from 2PM-12AM
Phone #: 01 322 222 8267
Location: Uruguay 162, 5 de Diciembre (Click here for directions)
Rating on TripAdvisor: 4.5/5
You know I just had to get my local watering hole on this list of the best restaurants in Puerto Vallarta! While it's definitely more of a snacks and beers kind of place than a full-service restaurant, it still deserves a spot on here.
First, allow me to explain the name. Caguamas are the large bottles of beer that you can buy in local convenience stores. They're typically about 32 ounces (940 mL) of beer; usually local lagers like Corona, Victoria, or Pacifico.
For a long time, caguamas were a popular item on bar menus. They're getting harder and harder to find these days, though. That's why I love this local hangout. It's a simple rooftop terrace one block from the ocean with plastic chairs and umbrellas for shade, and they just serve up ice cold caguamas along with some spicy snacks.
The main item on the menu here is aguachile – raw shrimp soaked in a sauce composed of lime juice, chili peppers, salt, and cilantro. It comes in varying flavors and levels of spice, and you can also get potato chips soaked in the sauce of your choice. It's the perfect place to grab a few cheap beers and a snack before going out for a night on the town.
Best Places for Tacos in Puerto Vallarta
We can't have a list of the best places to eat in Puerto Vallarta without dedicating an entire section to tacos! Honestly, you can find amazing tacos on just about every corner in this town. That being said, there are a few places that stand out among the crowd.
Pancho's Takos
Hours: Open Monday-Saturday from 6PM-2AM
Phone #: 01 322 222 1693
Location: Basilio Badillo 162, Romantic Zone (Click here for directions)
Rating on TripAdvisor: 4.5/5
Take a walk on the Malecon, visit the church, wait in line for Pancho's – these are some of the things one must do on a trip to Puerto Vallarta. There's always a crowd at this popular Puerto Vallarta restaurant, which specializes in tacos al pastor.
The delicious pork and pineapple tacos aren't the only thing on the menu here, though. You can also get a variety of other fillings for your tacos or upgrade to a quesadilla or a torta. Top them with different salsas and hot sauces to spice it up a bit and dig in!
Of course, they also have plenty of drinks for you to wash all those spicy tacos down with. I personally enjoy getting their margarita with a Corona tipped over in the glass – now that's a great way to start the party!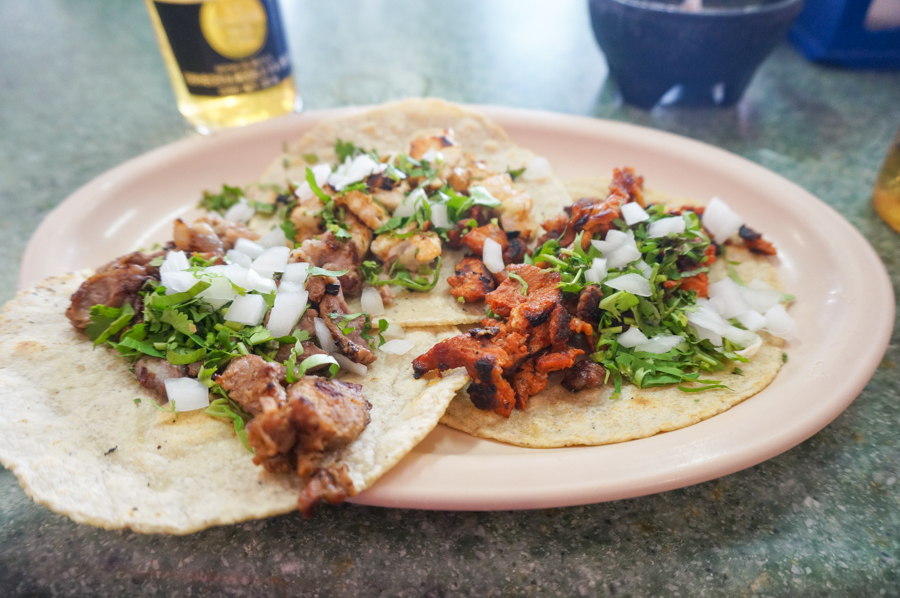 Pepe's Tacos
Hours: Open every day from 1PM-6AM
Phone #: 01 322 223 1703
Location: Calle Honduras 145C, 5 de Diciembre (Click here for directions)
Rating on TripAdvisor: 4.5.5
Over on my side of town, Pepe's is the place to go to get your taco fix. You won't have to wait in line here, but you'll still get some mouth-watering tacos al pastor.
My personal favorite item on their menu is the Vallarta. It's a quesadilla with shrimp and bacon and it's absolutely fantastic. I think I want one right now, as a matter of fact!
If you end up having a late night out partying at the clubs on the Malecon, Pepe's is your best friend. These guys stay open all the way until 6AM to make sure you get some good greasy food in your belly to soak up all that tequila!
Best Street Food Vendors in Puerto Vallarta
Taqueria Los Jarochos
Hours: Open every night but Tuesday from 6PM-late
Phone #: 044 322 169 6989
Location: Lázaro Cárdenas 386, Romantic Zone (Click here for directions)
Rating on TripAdvisor: 5/5
If you're out and about in Old Town and you need a quick bite to eat, this is always a solid choice. I can't tell you how many nights I've been out on the town and popped over here for a quick taco or torta. It's just so much easier and cheaper than sitting down in a restaurant.
This is actually only one of several street food vendors in this area. The Farmacia Guadalajara that it's located in front of is a stop on many bus lines, so there's a lot of street food for all the people coming and going from work.
I highly recommend going on a street food tour of Old Town. You can make your own by just sampling a taco from several different vendors, or you can sign up for a tour and go with a group and guide.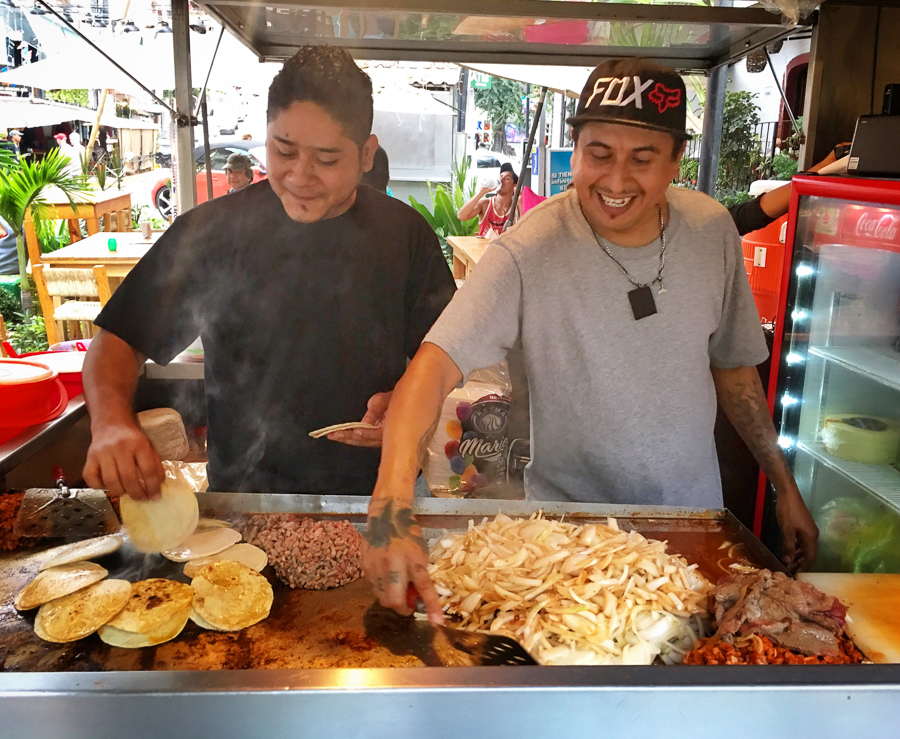 La Tia Mariscos
Hours: Open from 10:30AM-10:30PM every day but Wednesday
Phone #: 01 322 168 5331
Location: Calle Honduras 215, 5 de Diciembre (Click here for directions)
Rating on TripAdvisor: 4.5/5
Once again, I'm a little biased to a place in my neighborhood, but La Tia is just sooo good. In fact, this simple street food vendor and local restaurant is one reason why we chose to live in the area. Honestly, it's that amazing!
The name basically means "Auntie's Seafood," so don't come here expecting chorizo or arrachera. What you will get is some pretty incredible ceviche and my personal favorite – marlin tacos. Marlin – it's the bacon of the sea!
This place has a cart out in the street if you just want to grab a quick bite. You can also get a table inside if you're not too keen on eating in the street. La Tia is the perfect Puerto Vallarta restaurant to try some local seafood.
Ready To Enjoy The Best Puerto Vallarta Restaurants?
If you can't tell by now, I absolutely love going out to eat in this town. We've been all over Mexico and Latin America in general over the last couple of years, and we always find ourselves gravitating back to PV.
It's not just the ocean and mountain views that we love about this place — the amazing Puerto Vallarta restaurants always leave us hungry for more. There are just so many incredible options here and the fact that you can enjoy a nice meal on the beach without breaking the bank never gets old!
If you have another recommendation for an excellent Puerto Vallarta restaurant, please leave a comment below and let us know.
Like This Article? Pin it!