Many people know of Puerto Vallarta as a vacation destination. The first thing that comes to mind when you think of PV is likely sitting on a sun lounger with a frosty margarita in hand. While there are indeed plenty of great beaches here, there are also several excellent Puerto Vallarta tours to choose from.
Whether you're a foodie looking to sample the local cuisine, an adrenaline-junkie in search of an adventure, or are just chasing the sun and looking for a fun day out on the water, there are plenty of Puerto Vallarta excursions that are well worth leaving the pool for.
Puerto Vallarta has been my home away from home for the past few years, and I'm always in awe at the sheer amount of fun things to do here. The seemingly endless amount of Puerto Vallarta activities keeps me coming back, and I'm sure it will have the same effect on you.
Once you've booked your flight and figured out where to stay in PV, all that's left to do is sort out the tours and excursions you want to do.
If you're looking for some things to add to your PV itinerary, read on for some of the best Puerto Vallarta tours, excursions, adventures, and activities.
Don't miss our complete travel guide to Puerto Vallarta, which includes information on everything from whether or not it's safe to travel here, the top things to do, the beaches you don't want to miss, where to eat, and much more. And, make sure to check out our Mexico Travel Guide which lists everything you need to know about travelling in the country.
1. Puerto Vallarta Free Walking Tour
Kicking off our list of the best Puerto Vallarta tours is this excellent free walking tour. They run a few times a week and are led by a certified guide from the Municipal Tourism Office.
There's no better way to get to know a city than by exploring it on foot with a knowledgable local guide. It's even better when the tour is totally free! Of course, it's customary to tip the guide if you enjoy the tour, and I'm pretty sure you will.
These free walking tours typically last 2-3 hours and cover parts of El Centro and the Romantic Zone. They typically take a different route in the afternoon than they do in the morning, so you could even do both.
On both tours, you can expect to learn a lot about the history, culture, architecture, and more. They are a great intro to the city and one of the most popular Puerto Vallarta activities. Just be sure to bring comfortable shoes, water and sun protection, as you'll do quite a bit of walking out in the sun.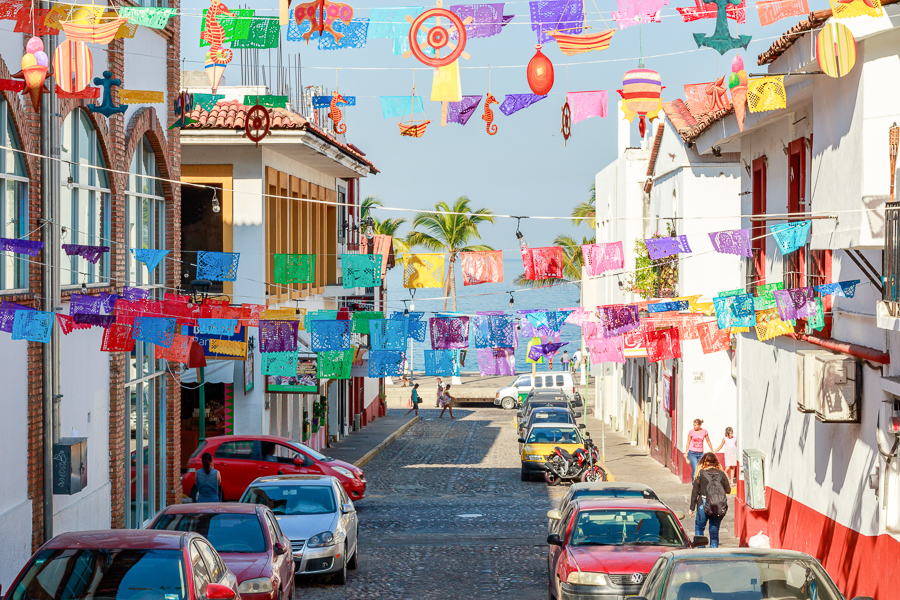 2. Los Veranos Canopy
One of the most popular Puerto Vallarta tours is the Los Veranos Canopy adventure. Adrenaline junkies will love this action-packed tour that features a wide range of activities.
The fun starts with a speed boat ride across the bay or a ride in a jungle truck if you choose to go overland. After the exhilarating ride there, it's time to soar above the jungle and river on their epic zipline course.
There are 15 different ziplines of varying length and height, and you're accompanied by expert bilingual guides all along the way. There's some moderate hiking in between the ziplines, but nothing too difficult.
People of all ages can enjoy this fun-filled canopy adventure, making it a great choice for the whole family. Children as young as 5 are allowed on the tour as long as they're at least 40 inches tall.
Once the zipline tour is over, you can swim in the river, go kayaking, visit the animal sanctuary, hit their restaurant & bar, and even do a traditional tequila tasting. With so many activities, it's no wonder this is one of the top Puerto Vallarta excursions!
To learn more and to book tickets for this fun adventure, click here, or click the image below.
3. Pirate Ship Cruise
Shiver me timbers and batten down the hatches, because we've got one of the coolest Puerto Vallarta tours up next. If you've ever wanted to channel your inner Captain Jack Sparrow and cruise around on a pirate ship, you're going to love this one.
Marigalante Puerto Vallarta has a few different options for pirate ship adventures. Their day tour starts out with breakfast on board before departing for an afternoon at sea. You then sail to the lovely Majahuitas beach, where you can enjoy kayaking, snorkeling, and banana boats.
Of course, there are plenty of fun pirate-related activities along the way, such as a treasure hunt. An open bar is also included in the tour cost, so you may be three sheets to the wind by the time you return to PV.
In the evening, they run a dinner cruise that's one of the most popular tours in Puerto Vallarta. This isn't some mediocre buffet, as you can feast on lobster tail and filet mignon. There's an open bar on this one, too, along with a hilarious drunken pirate contest. Top it all off with a pirate show and fireworks display, and you've got one awesome night.
Click here to learn more about this tour and to book tickets, or click the image below.
4. Puerto Vallarta Cycling Tours
When it comes to the best Puerto Vallarta adventures, it's hard to top some mountain biking and hiking. Getting out in the jungle trails of the Sierra Madre mountains is an experience you won't want to miss in PV.
The fine folks over at Ecoride have been running Puerto Vallarta tours since 2002. In addition to providing some pretty awesome adventure tours, they also do a lot to promote ecological awareness. This is a company you can definitely feel good about supporting.
As far as their tours go, you have plenty of excellent options. Their mountain biking tours are classified as either intermediate, advanced, or expert-only. These range in time from 3-9 hours and in length from 15-48km in length. Their Vallejo tour is the best option for less experienced riders, while the Enduro el Jorullo is for the pros.
For those who prefer a more relaxed pace, they also offer combination hiking and biking tours. You start out by cycling along the river and then hike up La Herradura until you reach the El Salto waterfall. It's the perfect combination and a great way to take in the beautiful landscapes around Puerto Vallarta.
If you'd rather ditch the bike entirely, you can just sign up for their hiking tour to Las Animas. The hike starts out in the town of Boca de Tomatlan and continues up the hill and along the coast, passing by several gorgeous secluded beaches. Whatever you choose, these guys definitely run some of the best tours in Puerto Vallarta.
☞ SEE ALSO: Where to Stay in Puerto Vallarta – the Ultimate Neighbourhood and Hotel Guide
5. Marietas Islands
One of the most incredible Puerto Vallarta excursions available is the trip to the Marietas Islands and their Hidden Beach. These two uninhabited islands are located off the north coast of Banderas Bay. This is where you'll find the best Puerto Vallarta beaches.
They're actually closest to the town of Punta de Mita, but this is still a very popular tour for people staying in Puerto Vallarta. It takes quite a bit of effort to reach them from PV, but it's well worth it.
The Marietas are known as the "Galagapos of Mexico," as they're home to many endangered bird species such as the blue-footed booby. In addition, there are several hundred species of fish and coral reef. You can plan on seeing dolphins year-round, while whale watching season is from December to March.
These remote islands also have a picturesque Hidden Beach that can't even be seen from the sea. You have to get there by boat and then swim underwater to access it. They've started to limit access to this beach to preserve it, which is definitely a good thing. Of course, this means you'll want to book your tour in advance if you want to guarantee a spot.
There are many operators touting tours to the Marietas, so make sure you do your research and choose a company that you're comfortable with. Also, you'll want to decide if you'd like to sail to the islands, or take a motorized boat. Tours include lunch, open bar, snorkelling equipment and SUP boards.
Click here to learn more about sailing to the Marietas, and click here for other boat tour options.
6. Vallarta Food Tours: Original Downtown Tour
There are so many amazing places to eat in Puerto Vallarta that it can be intimidating figuring out where to go. If you don't want to be stuck eating in Señor Frogs or some other overly touristy place, then be sure to book one of the amazing Vallarta Food Tours.
These guys have quite a few options, but a great place to start is their Original Downtown Tour. This 3.5-hour jaunt around town has nine – yes, nine! – different tastings along the way. Be sure to come hungry for this one.
You'll get to sample some mouth-watering birria tacos, fresh ceviche, homemade tortillas, a refreshing coconut drink, and of course a bit of tequila! The tour visits local restaurants and street food vendors that you likely wouldn't find on your own, so it's a great way to get off the tourist trail.
In addition to all the tasty food, you get to visit the only artisanal chocolate shop in town, where they also roast coffee and make hand-rolled cigars. All in all, it's a really fun tour that will leave you very, very full and satisfied. It's for sure one of the best Puerto Vallarta tours in town. Click here to learn more and to book tickets.
Goats On The Road joined this tour and highly recommend it. Read their review here.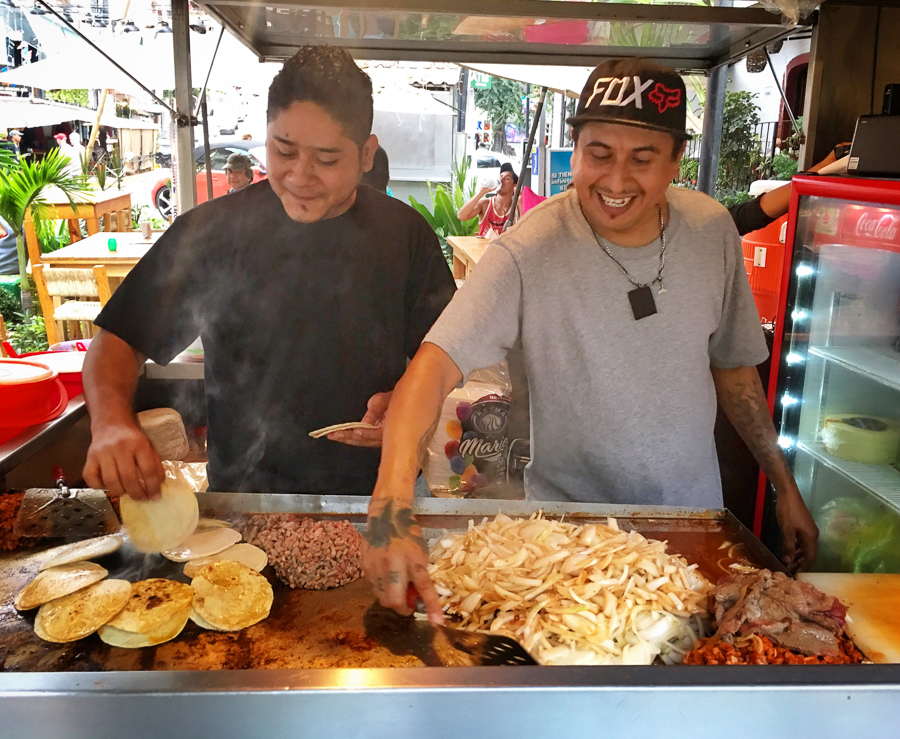 7. Vallarta Food Tours: Mex-ology
This tour is described as "tequila, tacos, and mas tequila," so you know it's a good one! If you're interested in sampling some of the best booze in town, this is definitely the tour for you.
The 4-hour Mex-ology tour includes stops at several different locations, from a local brewery to a craft cocktail bar. Along the way, you get to sample craft beers as well as tequila, mezcal, and racilla. If you don't know the difference between those last three, that's precisely what you'll learn.
Of course, you also get a few tacos and other snacks to soak up all that booze! This tour samples the famous fish tacos at Joe Jack's as well as stuffed jalapeño tacos at Cisneros.
With so many great drinks and tacos, this easily makes the cut for the best tours in Puerto Vallarta. It's a really fun way to experience some of the best spots for a drink in town while making some friends at the same time.
Click here to learn more about this tour and to book tickets.
Goats On The Road have personally joined this tour and recommend it. Read about it in their list of things to do in Puerto Vallarta post.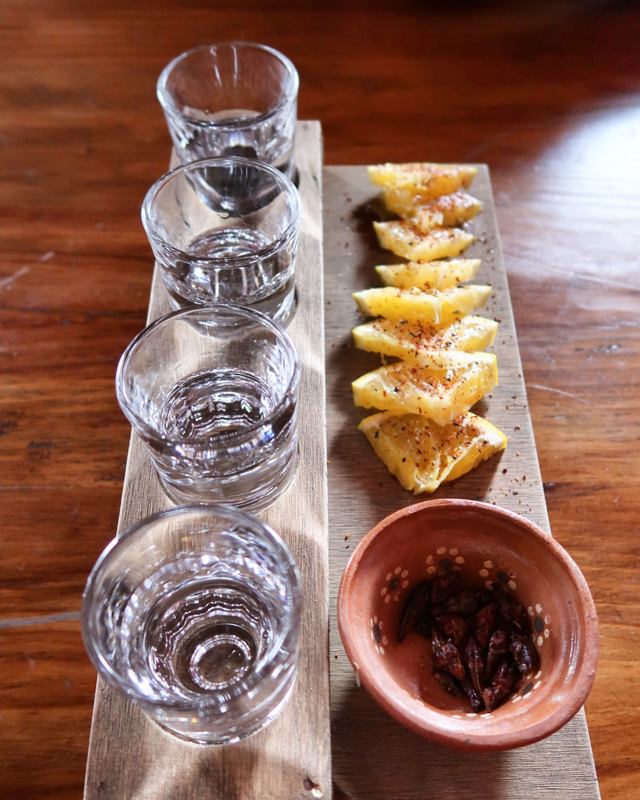 8. Rhythms of the Night – One of the Top Puerto Vallarta Tours!
This is one of the most popular Puerto Vallarta tours, and for good reason. Rhythms of the Night is a fantastic dinner show set in a tropical rainforest at the remote Las Caletas beach.
The show was written and directed by Gilles Ste Croix, who helped create Cirque du Soleil. If you're familiar with those shows, you have an idea of what to expect at Rhythms of the Night — acrobatics, dancing, and some incredible costumes.
The tour includes a sunset cruise, a candle-lit buffet dinner, a welcome cocktail, and unlimited non-alcoholic beverages. You have the option of adding on an open bar for just $10 per person if you're in the mood to party.
This just might be the coolest place ever to see a show. In addition to its secluded location, the stage is a torch-lit pyramid and it tells the Aztec creation story. Seriously, be sure to add this to your list of Puerto Vallarta excursions!
Goats On The Road also highly recommend seeing Rhythms of the Night!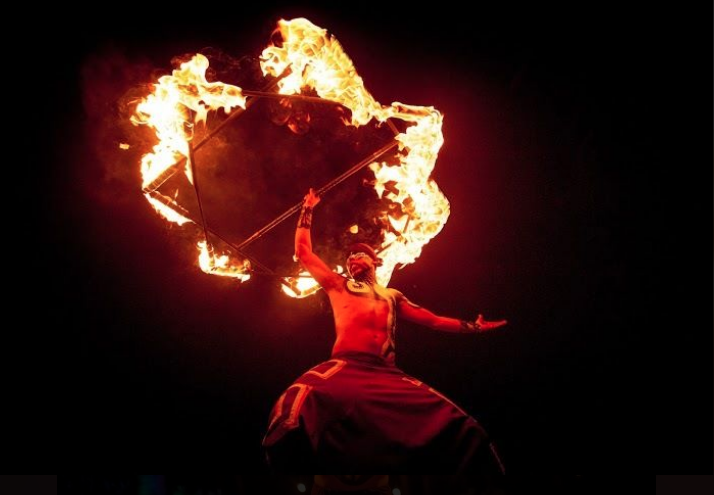 9. Jorullo Bridge Tour
Canopy River is an ecotourism destination a short drive away from the center of Puerto Vallarta. They have tons of options for adventure tours, including the incredible Jorullo Bridge.
Built over 18 months, this suspension bridge is 1550 feet long (470 meters) and is actually the longest such bridge in the world. It also hangs almost 500 feet (150 meters) above the Rio Cuale. It really is an amazing sight to behold!
Canopy Rivers run tours across the bridge in both ATV and RZR (Racer) vehicles. You can ride single or double in the ATVs and as two or four in the RZRs. Whichever vehicle you choose, you follow scenic trails through the Sierra Madre mountains until you reach the bridge.
They also do combination tours where you can tack on the zipline course in addition to an ATV or RZR ride. Once the adrenaline-fueled tour winds down, you're treated to a tequila tasting before heading back to town. This is definitely one of the most exciting tours in Puerto Vallarta and a great one to add to your itinerary.
Click here to learn more and to book a tour.
​
10. Skydive Vallarta
While there are lots of exciting Puerto Vallarta adventures to choose from, it's pretty hard to top jumping out of a plane. That's exactly what you'll do on a tour with the guys at Skydive Vallarta.
They've been running skydiving tours in PV for 18 years now and are fully USPA certified operation. All of their instructors are internationally certified as well, and they constantly upgrade their high-end equipment.
Still a bit freaked out by the thought of free-falling through the sky? I don't blame you. It's definitely a bit terrifying, but the views you'll get of the Bay of Banderas and the mountains are worth any anxiety you might experience.
Of course, they also have photo and video services so you can remember your time skydiving in Puerto Vallarta forever.
Ready for Some Awesome Puerto Vallarta Tours?
Now that you know about some of the best Puerto Vallarta tours available, I'm sure you're even more excited about visiting this little side of paradise in Banderas Bay. It's definitely one of the top places to visit in Mexico and one you're sure to fall in love with.
Just heed my warning that you might like Puerto Vallarta so much you end up moving there. I speak from experience because that's exactly what happened to me! Even though I keep traveling, there's something about PV that just lures me back in.
One reason I love Puerto Vallarta so much – and I'm sure many other expats and regular visitors agree – is that there's just so much to see and do here. From mountain biking and visiting waterfalls, to sailing towards pristine beaches and sampling amazing cuisine, there are some incredible tours in and around PV.
Add all these excursions and adventures to the already large list of things to do in PV, and you can see exactly why this has been one of the top tourist destinations in North America for many decades now. If you're planning on moving to PV, you might find this post useful.
Have you been to Puerto Vallarta? What are some of your favorite activities and excursions in the city? Drop a comment below and let us know!
Like This Article? Pin it!