Are you from Canada or the United States and are currently living there? If so, becoming an English teacher with Qkids is an excellent way for you to make money from the comfort of home, while teaching children from China.
One of the great perks of the internet is the at-home jobs that have been created, giving people an opportunity to work remotely, on their own terms.
Qkids was founded in 2015, and since then it has risen as one of the top companies to connect English-speaking North American teachers with Chinese children. English teachers are in high demand, and if you're Canadian or American, there's some good money to be made.
Through an interactive learning platform, you'll teach eager students (aged 4 – 12) using games, activities and interesting stories. Being an online English teacher is fun, easy and very rewarding.
In this article I'll answer your FAQ's about becoming a Qkids teacher, plus show you the steps to do so. Let's get started!
(Note: if you're from another native English-speaking country, don't worry, there are companies you can work for! Click here to teach English online with different company).
Teacher Requirements Cheat-Sheet
In order to work with Qkids, teachers must:
Be from, and be living in, the USA or Canada
Hold a University Degree (in any subject)
Be able to teach 6 hours each week
Have prior experience in teaching, mentoring, coaching, education or homeschooling
Have a TEFL Certificate (preferred, but not required). Learn more about online TEFL courses here.
Have a computer with a stable internet, mic and camera connection
Sound good? Click here to learn more and apply to work with Qkids!
Who Can Teach With Qkids?
As I mentioned above, only Canadian and American citizens are currently accepted on this platform. Not only do you need to be from those two countries, but you must be living there and are legally allowed to work.
If you're planning to travel around the world as an English teacher, a better option would be to become a VIPKID teacher – you still need to be from Canada or the USA, but you can be living anywhere in the world.
Working as an esl teacher with Qkids is great if you're looking for a more flexible job, or if you want to pick up a side hustle. Plus, if you're retired, a stay-at-home parent or a digital nomad, teaching online is a great way to make an income.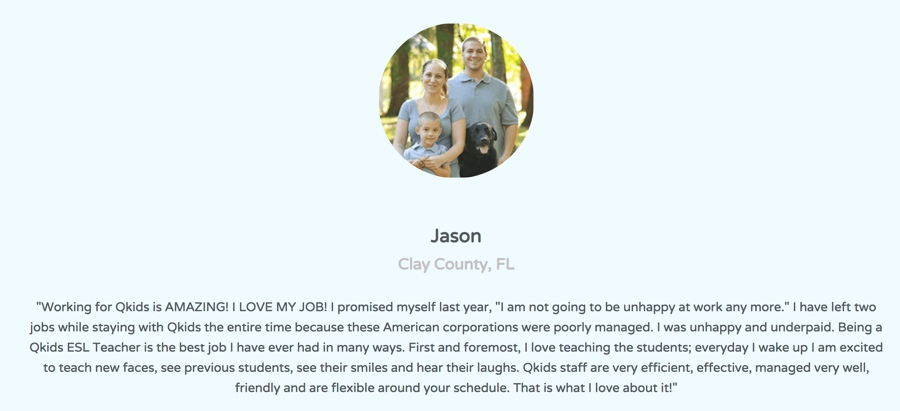 You must have a lively personality, enjoy working with children and have a positive attitude. Qkids uses games and other fun teaching methods, which is the best way to keep young students engaged.
I was a kindergarten teacher in China for a year and I quickly learned that if I wasn't upbeat and holding my student's attention, I'd lose them very quickly!
But, rather than singing loud songs and dancing around a classroom while being followed by 15 kindergarteners (like I was!), you'll be able to sit at your desk and use the online materials to interact with your students.
Is Qkids Legitimate?
Yes, Qkids is a real, safe, reliable company. They've received a 4.3/5 review on Glassdoor, and 4.5/5 on Indeed, with the vast majority of reviewers sharing their positive experience working for the company.
The interview and sign-up process is fairly straightforward, and once you've gone through the interview and demo classes, have signed the contract and taught your first class(es), you'll receive payment on the 15th of each month.
Funds are deposited by wire transfer directly to your bank account and Qkids covers the cost of the wire transfer fee, but you'll need to sort out payment of taxes depending on where you live.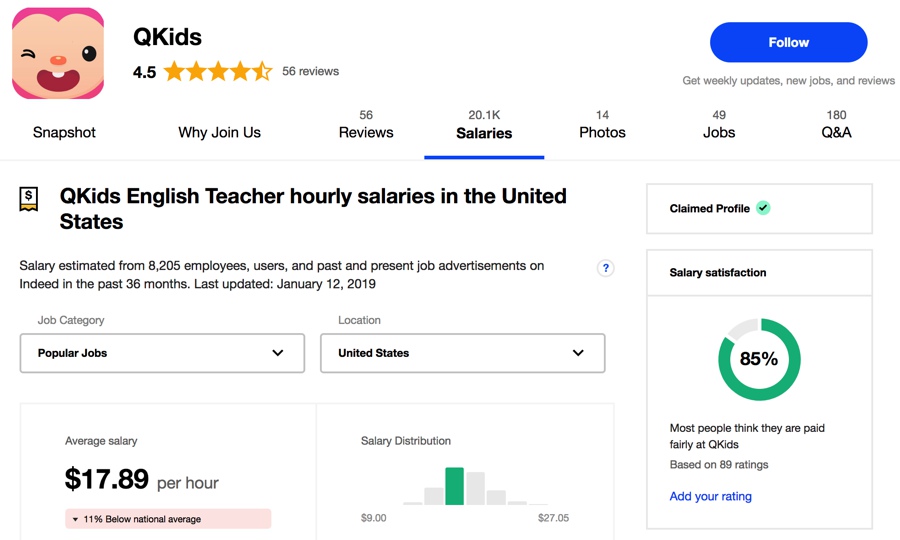 Does Qkids Require a Degree?
For whatever reason, most english teaching jobs require that applicants hold a university degree – in any subject. I understand why it would be important for teachers to have a degree in English, teaching or some other relevant genre, but I don't see how having a degree in engineering is going to make you a better teacher.
But, that's just the way it is.
Qkids requires their teachers have earned (at minimum) a Bachelor's Degree, in any subject.
How Much Do Teachers at Qkids Earn?
When it comes to teaching esl, Qkids is one of the better paying companies. You'll be paid $8 / lesson and each lesson is 30 minutes long. There's also the possibility of bonuses during each lesson – $1 for attendance and $1 for performance.
This means there's the potential to earn $10 per lesson, or $20 per hour.
As an added bonus, you'll also receive $100 for every successful Qkids teacher that signs up through your referral link.
What's The Teaching Schedule Like?
The teaching contracts with Qkids are for 6 month periods, with the possibility to extend. You'll need to commit to at least 12 lessons. Time off is possible, but you'll need to inform your appropriate contact at the company 2 weeks before.
Classes are 30 minutes each, 7 days a week and you'll receive your schedule on Sunday evenings.
The only issue with teaching students in China is the time difference. You'll have to get used to being a morning person!

What's the Hiring Process Like?
To work with Qkids, you'll need to submit a few key items, and go through a hiring process in order to become a teacher. This is what you can expect:
Submit required materials

Go through the initial screening

Do a demo interview 1

Do a second demo interview

Do trial classes

Get a background check

Sign a contract
It may seem like a lot of steps, but it's a great way to ensure that only serious, professional and qualified candidates are chosen. The background check is fairly new to Qkids, but is now mandatory. This is to provide proof of educational background, and check for criminal records. The fee and organizing of the background check is done by Qkids.
You'll need to submit a screenshot of your computer specs (minimum upload speed: 2Mbps. Minimum download speed: 4Mbps), your resume, and an introduction video of yourself (1-2 minutes long).
In the intro video, you'll need to state where you live, list your educational background, read a children's story and say why you want to be a teacher.
*Tip: be animated and enthusiastic when reading the children's story, that's what Qkids wants!
Here's an example of the 1-2 minute introduction video:
Once you've submitted all of the above required documents (including the introduction video), it's time to do the demos and trial classes. Here's a useful video to help you pass:
Pros of Teaching With Qkids
There are numerous reasons to teach with Qkids. Here are some of the pros:
Good paying job: earn up to $20 / hour.
$100 referral bonus (unlimited).
All materials and lessons are provided.
Training is included.
You can enjoy a flexible schedule.
You don't need to speak Mandarin or Cantonese.
Very engaged community on Facebook and on their website.
You don't interact with the parents, Qkids does that for you.
The teaching platform is easy to use.
The students are eager to learn!
Cons of Teaching With Qkids
As with any job, there are some cons to teaching with Qkids:
You must actually be living in Canada or the United States.
No holiday or seasonal pay (ie: no extra pay if you work during Easter / Christmas).
You must hold a University Degree – Bachelor's or higher.
Time change is difficult since you aren't living in China.
You must commit to a minimum of 6 hours per week.
4 students maximum per class (could be either a pro or a con depending on what you prefer).
Is Qkids Hiring?
Yes, they're hiring! If you meet all of the requirements and are looking to start your online teaching career, click here to sign up to become a Qkids teacher.
Ready To Teach?!
Teaching English is one of the best ways to make money online, from home. If you're a parent, you'll be able to spend more time with your children. If you need to save up some money for travel (or to pay down debt, or to purchase an expensive item), working with Qkids is a great way to earn cash on the side.
Having the flexibility to choose your own schedule is one of the great benefits of becoming an online English teacher. What are you waiting for? Click here to learn more and apply today.
Like This Article? Pin it!