With around 1,500 islands to explore, a unique West Papuan culture, and some of the most epic scuba diving and snorkelling on the planet, Raja Ampat in Indonesia is a must-visit destination.
Whether you're looking to do some snorkelling or diving in Raja Ampat, explore its jungles, or simply relax at your resort, there's something for everyone here.
The pristine archipelago is situated off the western coast of New Guinea island — an island that is shared by Indonesia and the country of Papua New Guinea. Translated to "Four Kings", Raja Ampat has four main islands (Batanta, Waigeo, Salawati and Misool), and numerous cays and shoals.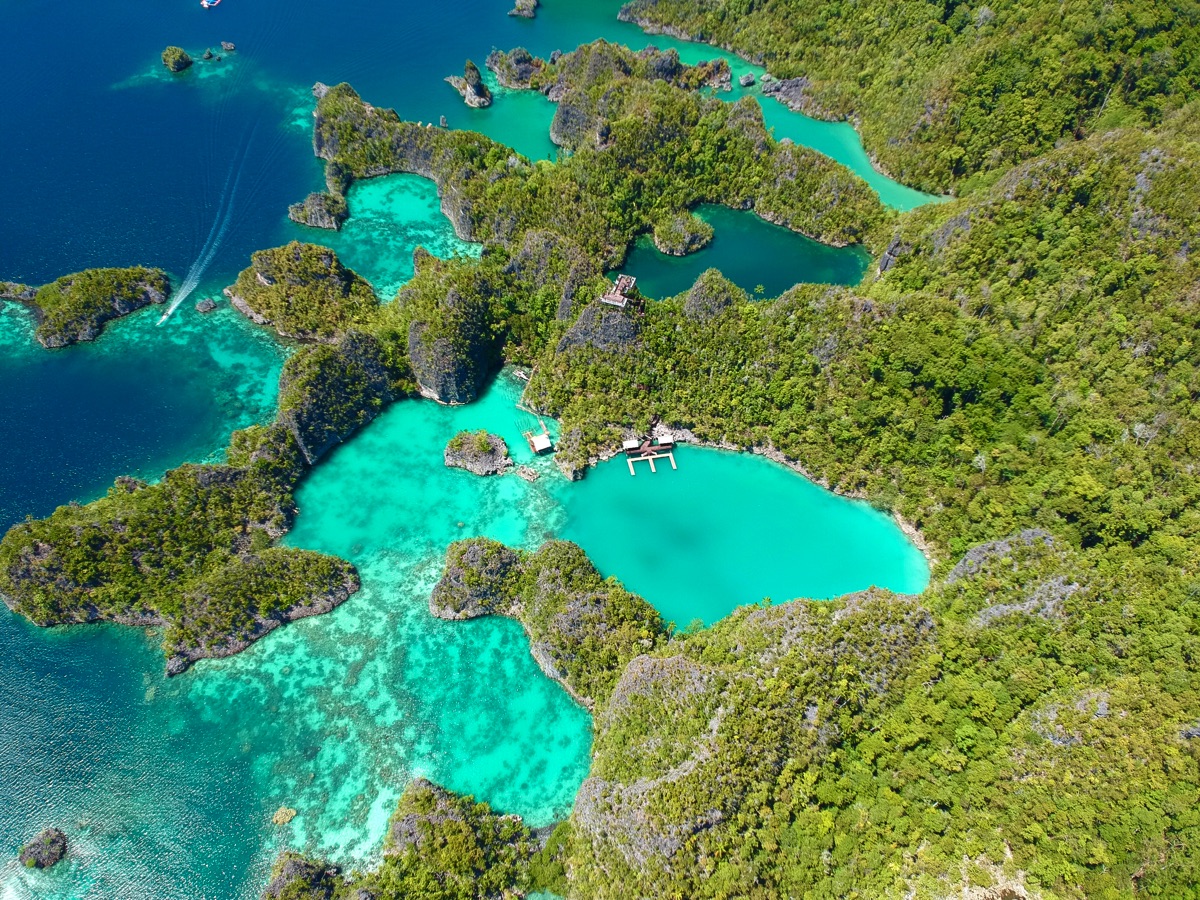 Nick and I recently spent 5 nights at the Papua Paradise Eco Resort on Birie Island (near the larger island of Batanta). This was Nick's second visit to the area, but it was the first time I would experience Raja Ampat and it definitely did not disappoint.
Based on Nick's previous trip reports, I had high expectations for this archipelago — is it really that amazing? Spoiler: Yes, it is.

Check out our video, and article below and plan your trip to Raja Ampat!
Read on to learn about diving and snorkelling in Raja Ampat, how to get there, where to stay and the memorable things to do.
Why Raja Ampat?
Indonesia is a fascinating country made up of around 17,000 islands spread over numerous seas and straits. Travellers who leave the popular hot-spots of Bali, Lombok, Gili and Java behind are rewarded with rich cultural experiences, empty beaches and off-track adventures.
Those who venture as far east as Raja Ampat will receive all that, and more.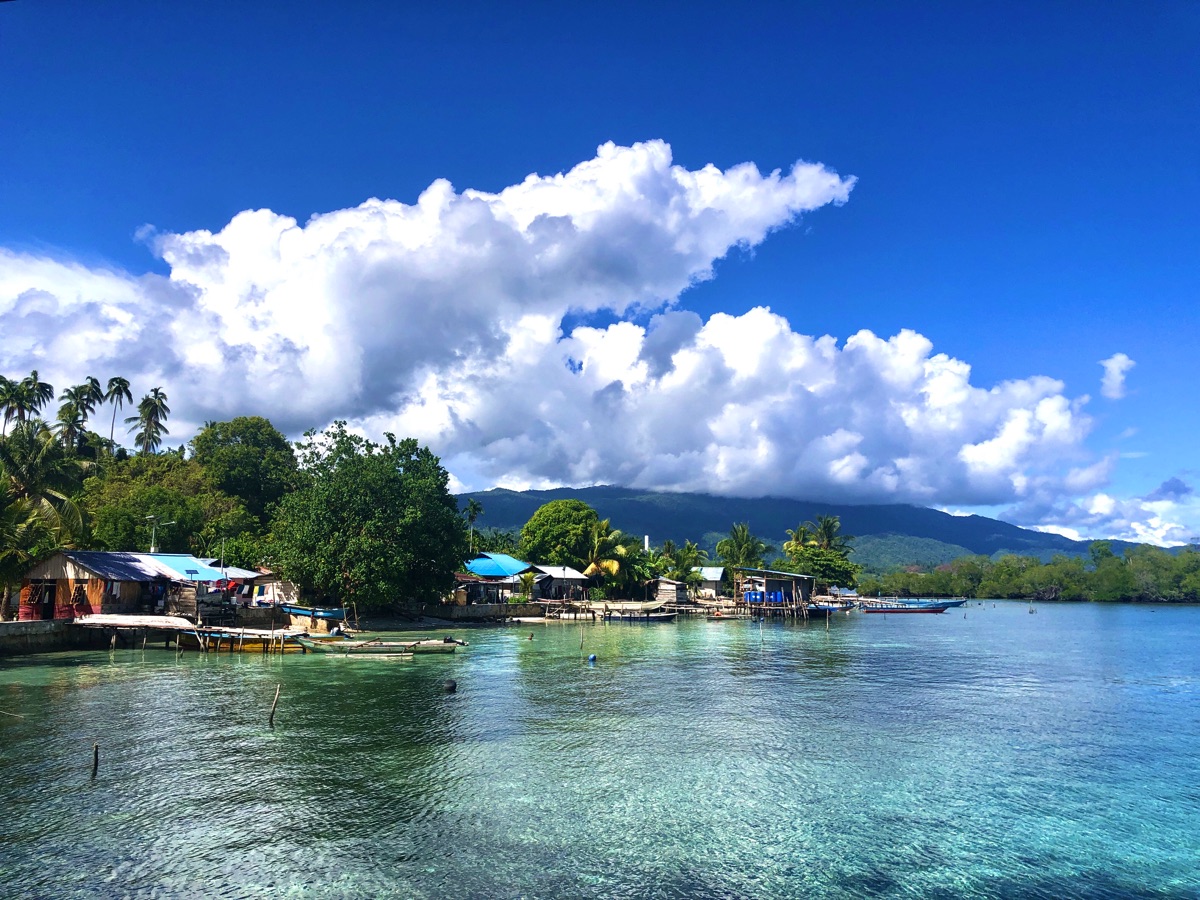 Leave the traffic-soaked streets of developed Indonesia behind and explore uninhabited islands, while swimming and diving in a sea filled with a vast array of marine life. Hike to viewpoints and waterfalls, visit small villages and immerse yourself in the welcoming hospitality of the West Papuan people.
Raja Ampat is a nature-lover's dream destination and the ultimate place to unwind and unplug. This is one of the few places in the world where marine life is actually on an upswing and it shows. Take a glimpse into a world before warming seas and overfishing. Meet Raja Ampat, the four kings of coral reefs, fish, sharks and wildlife.
Where to Stay in Raja Ampat
There are numerous options for accommodation in the area, and all sorts of different packages and options are available. Of course, since you're pretty off-grid here, you'll want to ensure that your accommodation is comfortable, has all the amenities you need, and that food is included (or at least, available).
Homestays, liveaboards, and bungalows are all on offer here as well — but keep in mind that quality varies greatly.
We spent 5 nights at the Papua Paradise Eco Resort and recommend this place for couples, solo travellers, scuba divers, and nature aficionados.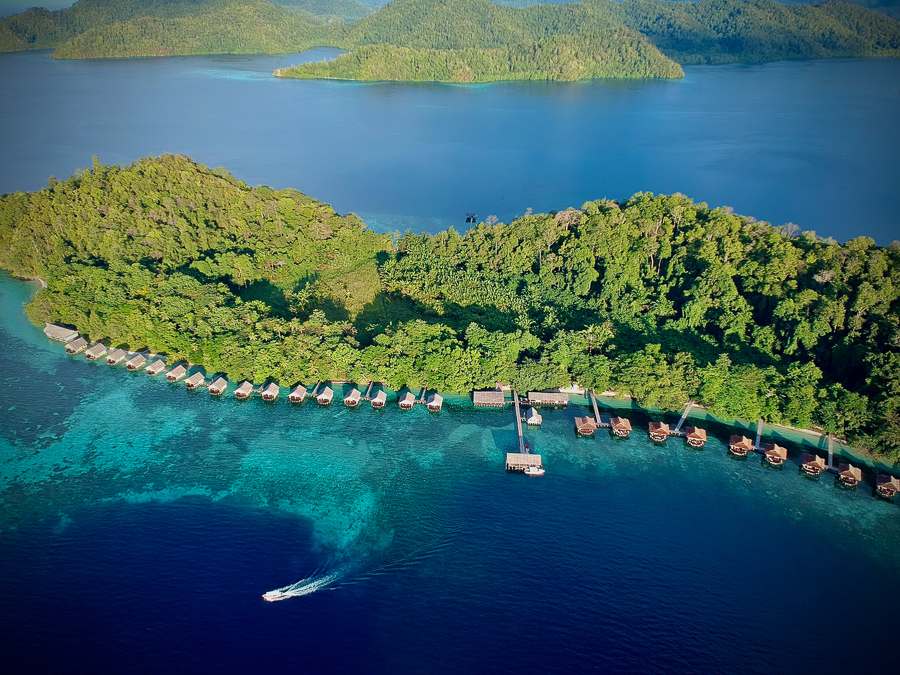 With 26 stilted overwater bungalows, a flourishing house reef, quick access to dive sites, a wonderful spa and an onsite 5 star PADI resort, this is a place you won't want to leave (we sure didn't).
---
As our boat rounded the final bend to Birie Island, upbeat singing and music echoed over the water. We assumed there was some sort of party going on, but soon realized that the managers and staff of Papua Paradise Eco Resort were on the jetty singing, dancing and playing traditional instruments to welcome us!
This was the best greeting we've ever received and it was definitely a nice touch.
Our luggage was whisked away and all that was left for us to do was walk down the dock while gawking at the crystal clear water beneath — the house reef here was very impressive. We received a welcome drink from Pedro, the manager, and enjoyed a quick tour of the property, which offers a spa, dining area, birdwatching post, and bar/common area.
Of course, we wanted to hear what the resort had to offer, but we could not stop thinking about our overwater bungalow that was waiting for us. This would be the first time we ever stayed in this style of accommodation, and it was something we'd dreamed of for many years.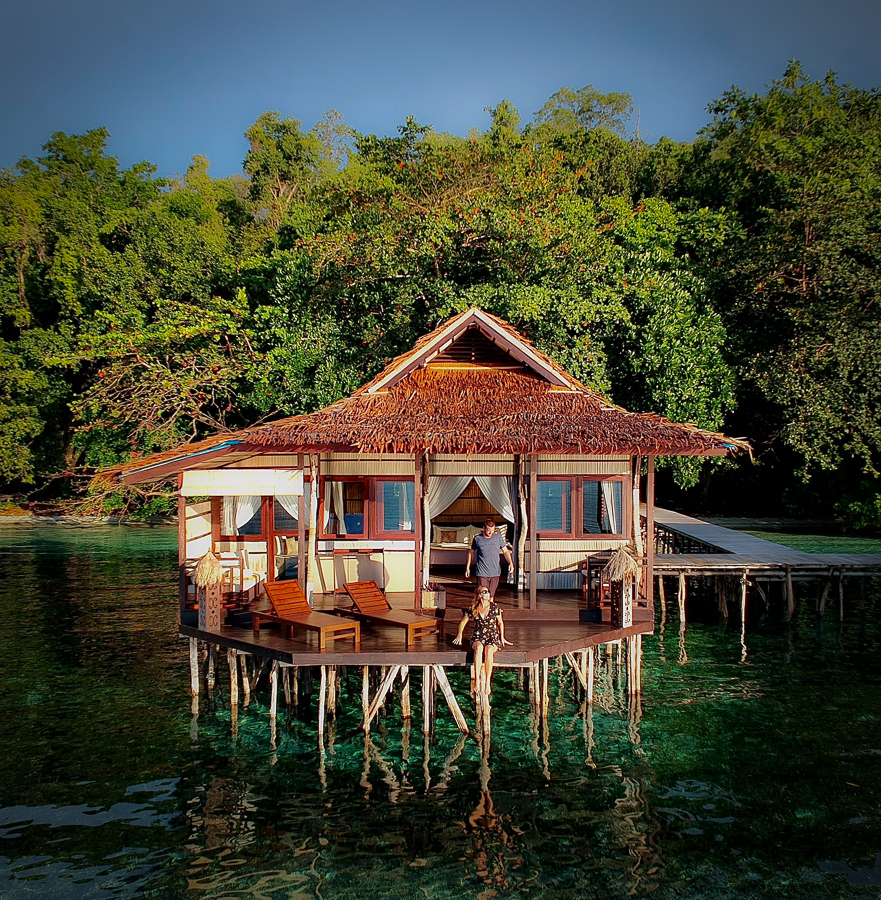 Together with Pedro, we walked down the natural pathway with the sea to our right and lush jungle to our left.
Tropical birds sang from the treetops as we arrived at our bungalow. We took our shoes off and made our way down the wooden dock. Our feet would remain bare for the duration of our stay (except for fins!), we preferred to wander around barefoot, feeling grounded and connected to this incredible landscape.
The stilted bungalows are crafted from locally sourced materials, and #109 would be our home for 5 nights. It was the most incredible place we've ever stayed in.
The spacious accommodation had a king-sized bed with four-poster mosquito net draped over, an inside reading nook, and an outside verandah with sun loungers. This was the ideal spot to watch the sun go down each evening. If we were lucky, we'd catch the resident dugongs swimming by — apparently their favourite spot was around our bungalow.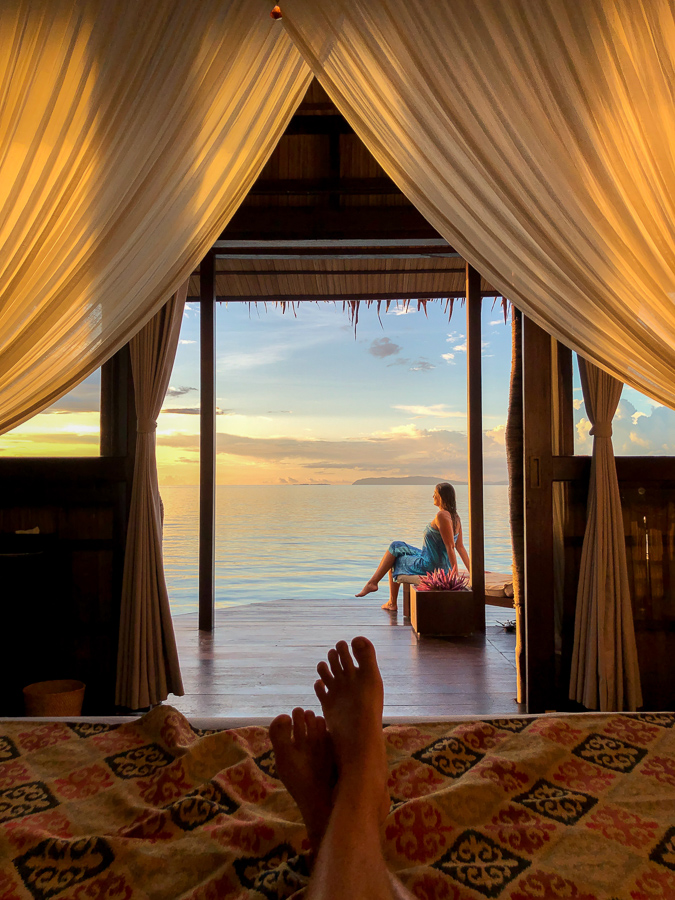 As an added bonus, the room had an outdoor bathroom! There's nothing more magical than showering under the stars, while listening to the exotic jungle sounds. We dubbed the tastefully decorated bungalow "jungle-chic" as it had all the amenities and comforts of a luxury stay, yet was intertwined with nature, with only the natural breeze as air conditioning.
This place was pure bliss and aligned perfectly with our style.
Before I go any further, I should say that we were invited by Lotus Hotels to experience their four hotels in Indonesia and Papua Paradise Eco Resort was one of them. They didn't pressure us to write anything positive and luckily, they didn't have to… particularly in Raja Ampat. This hotel is easily the best accommodation we've ever stayed and even if they don't invite us back as bloggers, we will be booking this place ourselves for our next special occasion trip.
Raja Ampat Diving and Snorkelling
The main reason travellers visit this part of Indonesia is for world-class scuba diving. If you can believe it, there are over 1,500 species of fish, more than 500 types of coral, and unique marine life such as the wobbegong, small blue-ringed octopus, dugong, and critically endangered hawksbill turtle.
Raja Ampat is definitely a diving mecca.
Scuba diving can be done year-round, and with the water temperature between 28°- 30°C / 82°-86°F, many people don't even wear a wetsuit (Nick included). Some dive sites have strong currents, while others have none. Sea conditions vary depending on the time of year, but when we visited in late September/early October, the sea was flat and clear.
Gangga Divers
Nick had 3 days of diving planned with Gangga Divers at Papua Paradise Eco Resort and after a briefing with Sophie (one of the dive shop managers), he set off to check out his gear. The equipment was in top shape and Nick was assigned an area in the dive center where his gear would live for the duration of our stay.
Everything in one spot, the same equipment each day. Easy.
Nick was paired with divemaster Yulens and was with him for 5 dives. The two of them would've been partnered together for all seven, but Nick booked a couple of last-minute dives and Yulens was already assigned to someone else.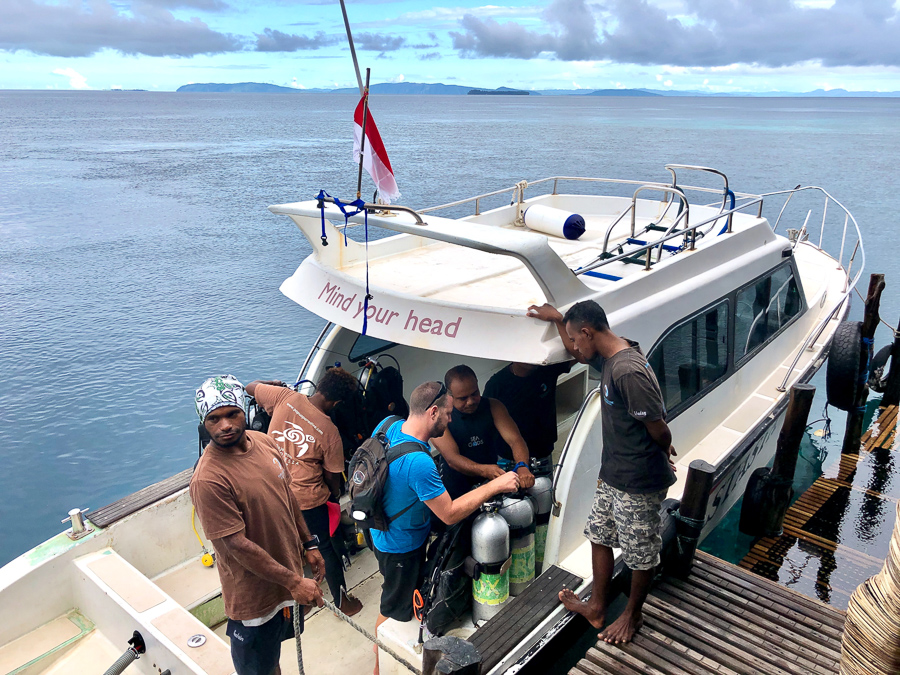 Being with the same divemaster was great as they got to know each other well and Yulens understood Nick's diving abilities, the sort of underwater shots he needed to get, and the creatures he was looking to find. Yulens was responsible and professional, yet personable and relaxed. The two of them got along well.
Gangga Divers is a 5 star PADI dive center with an emphasis on professionalism and safety. There's a max of 4 divers for every 1 divemaster, dive briefings are thorough and detailed, Nitrox checks are always completed, and there are radios, extra oxygen and first aid equipment on each boat.
While the dive shop is run by foreigners, all of the divemasters are Indonesian, and some are native Papuan. We always love to see locals being employed where possible and were happy that Papua Paradise Eco Resort's staff were predominantly local.
Dive and Snorkel Trips from Papua Paradise Eco Resort
Normally Nick goes diving while I wait on the beach with a book in hand. This time around, I was able to come to all of the dive sites and do some snorkelling!
My guide was Ruben and just like Nick, it was just the two of us for our entire stay. Just like Yulens, Ruben understood me after day one. He soon learned that I get cold (quickly), I don't like currents, and I only like to snorkel for about 20 minutes at a time.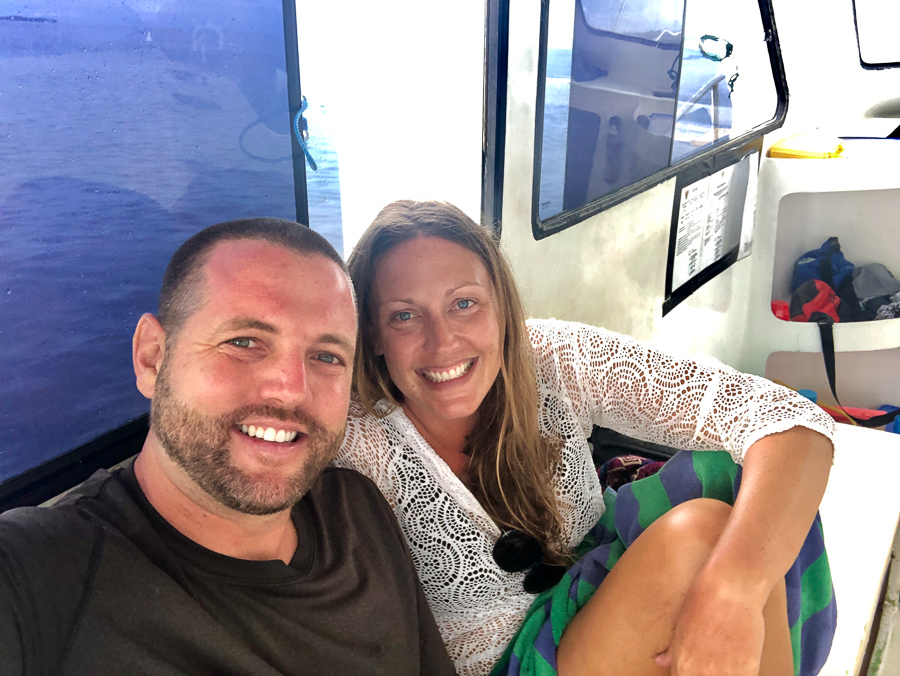 Thankfully, Ruben was chilled out, and he had the whistle ready to call the boat whenever I wanted. As someone who is a bit nervous around water, I felt comfortable the entire time and appreciated his patience.
Back to the first day of diving and snorkelling.
After a 5-minute boat ride, we arrived at our first snorkel/dive site. As the boat came to a halt, we looked over the edge and could already spot numerous mounds of coral in the water. Nick suited up, I put on my fins and we hopped in — he descended below me to explore the Yenkarom dive site, while Ruben and I checked it out from the surface.
Between us, we spotted turtles, sharks, blue-spotted stingrays, pygmy seahorse, bump head parrotfish and the most incredibly healthy coral I've ever seen. While scuba diving is the main attraction, the Raja Ampat snorkelling is also amazing. In fact, it's the best snorkelling I've ever done!
It was just me, Nick, our dive and snorkel guides and the boat captain.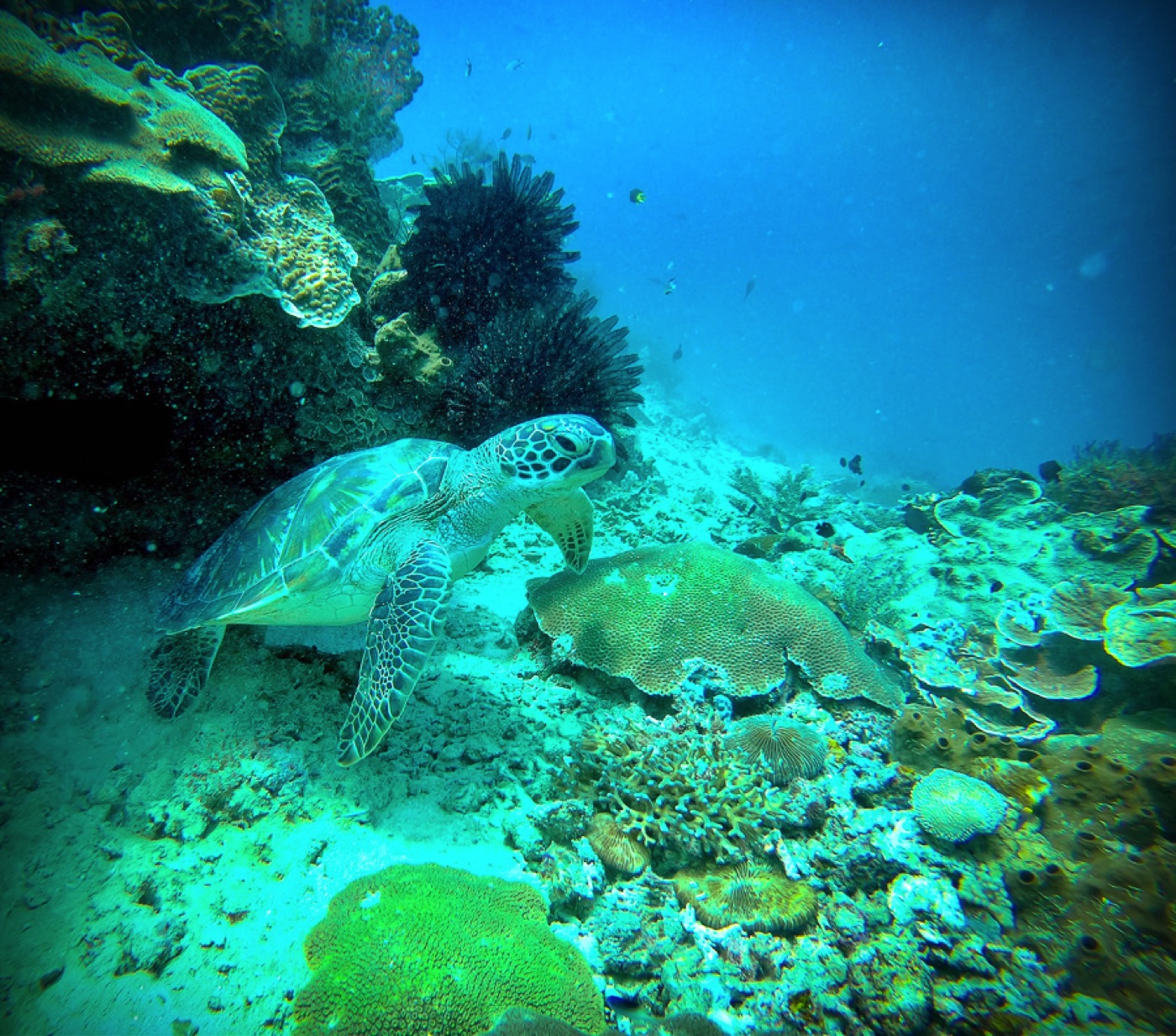 The local dive sites around the resort were incredible, but the highlight was definitely the full-day dive and snorkel excursion to the FAM Islands (Piaynemo).
Here, tiny islands bob in the sea, surrounded by blindingly white sand, healthy coral and an abundance of marine life. Three sites were planned for the day — Melissa's Garden, Batu Rufus, and the FAM Wall. Dive sites were uncrowded and pristine. This is what Raja Ampat diving is all about.
Apart from simply being in the gorgeous FAM islands chain, highlights included seeing my first octopus, a moray eel and sharks. Nick spotted a wobbegong (carpet shark), numerous reef sharks, turtles, mantis shrimp and fields of colourful crown coral.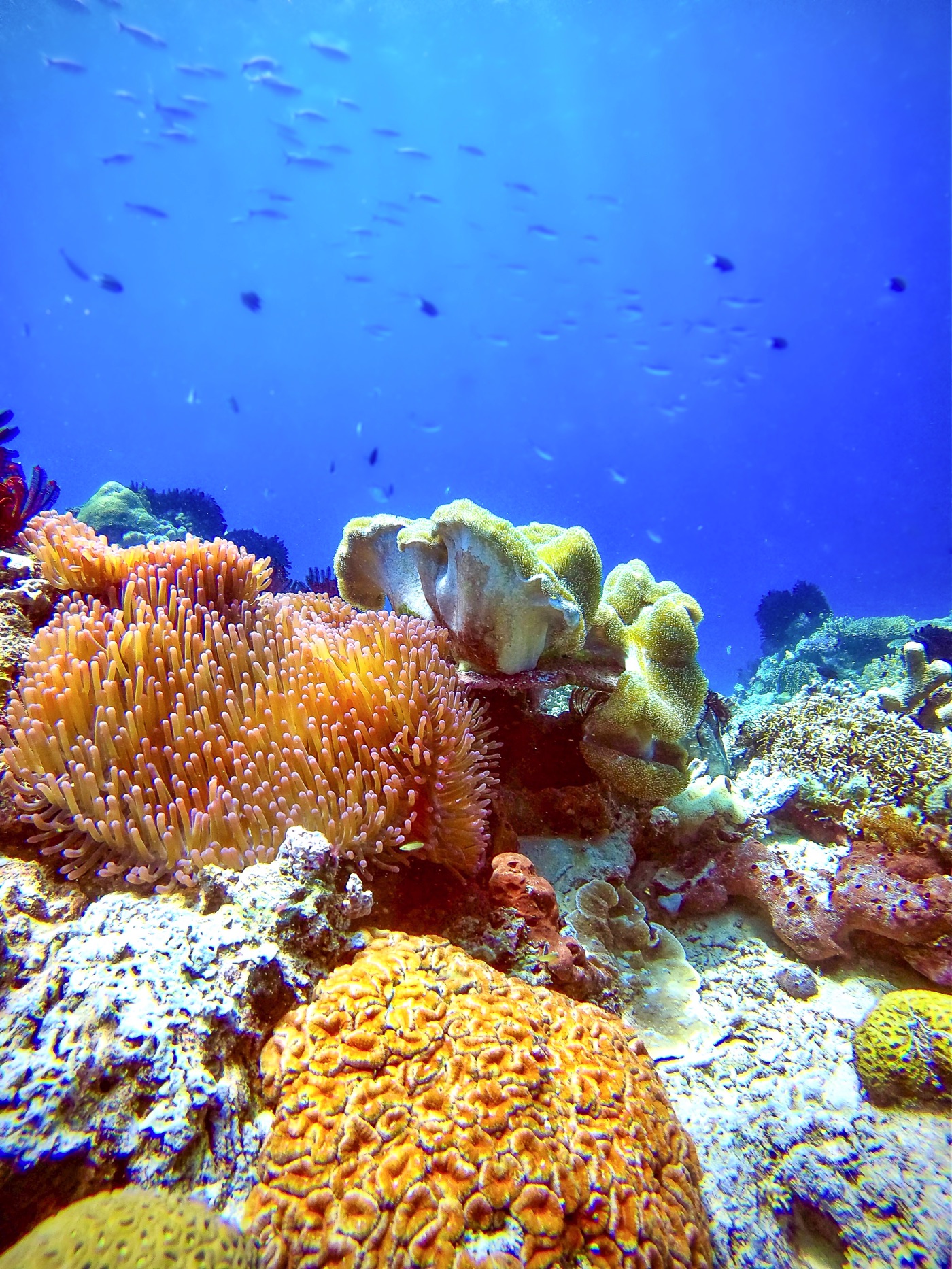 There are many more dive sites to explore in Raja Ampat, with the diving around Kri Island being another highlight. Nick dove there on his previous trip and therefore didn't plan it for this time around. However, Papua Paradise Eco Resort does run trips to Kri Island. Next time, we'll definitely book more dive days.
Diving Safety in Raja Ampat
There's no doubt that scuba diving is an exciting activity. However, it's important to choose a dive operator that focuses on safety and quality, especially in this part of the world. Raja Ampat is "out there" and if something were to go wrong, the nearest recompression chamber is in Manado on North Sulawesi (1.5 hour flight), while the closest hospital is in Sorong (1.5 hours by boat).
We can easily recommend Gangga Divers as they are a 5 star PADI dive resort with knowledgable and responsible divemasters and dive instructors. All divemasters are well-trained and experienced. Plus, when possible, the dive shop puts advanced divers together and beginners together, meaning everyone you dive with should be at your level (or close to).
Nitrox is available at Gangga Divers for free, and as always, ensure you check the cylinder for the blend percentage before jumping in the water. Yulens always tested Nick's tank for him and showed him the Nitrox reading.
It's important to have travel insurance anywhere in the world, but it's recommended to have specific scuba diving insurance when visiting Raja Ampat. DAN offers this, and many other travel insurance providers have coverage for scuba diving accidents. Just make sure to read the fine print as many won't cover you beyond a certain depth. Nick was insured by our normal travel insurance as well as DAN for this trip, just to be sure.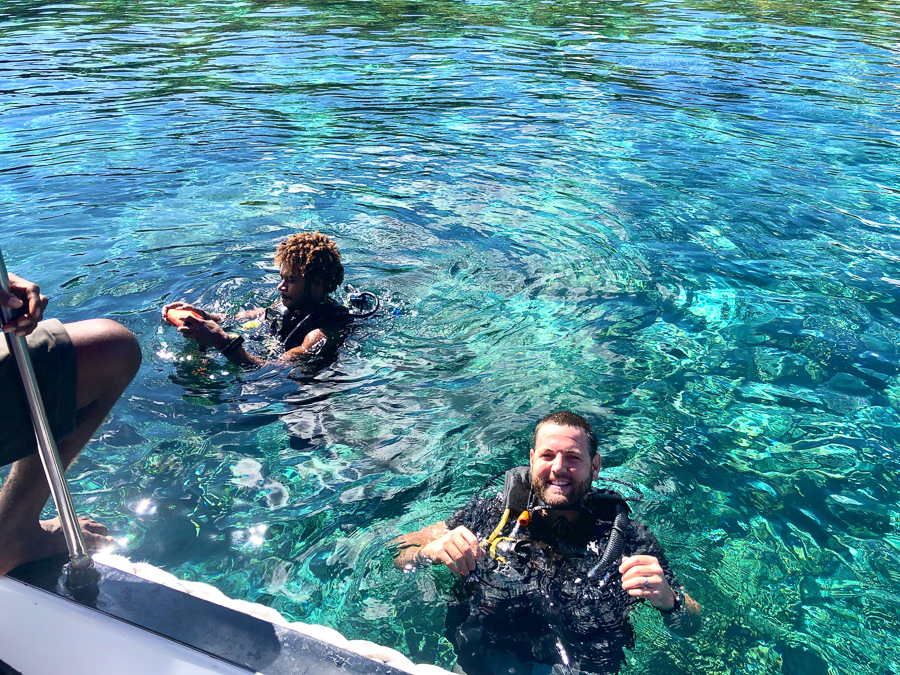 Things To Do in Raja Ampat (For Non-Divers)
Even though Raja Ampat is popular with diving fiends, as a non-diver, there are things to here that don't involve breathing compressed air.
Raja Ampat Snorkelling
The snorkelling in Raja Ampat is the best I've ever done. On scuba, you often get to see larger marine life and you're much closer to the critters, but in shallower waters (like those you see when snorkelling) the sunlight pierces the surface of the water and illuminates the coral and there's nothing quite like it.
What makes the snorkelling here so epic is the number of shallow reef systems teeming with life, as well as the clarity of the water.
The snorkels I did at Yenkarom, Ayof, Melissa's Garden, Batu Rufus and Fam Wall were all incredible, but surprisingly the house reef just in front of our bungalow at Papua Paradise Eco Resort offered a wide range of sea life as well (and we didn't have to travel to get there).
During one snorkel at the house reef, Nick and I spotted (among other things) blacktip reef sharks, turtles, batfish, and Carlos the (massive) resident barracuda that lives under the jetty.
After snorkelling in Raja Ampat, I wonder if anywhere else will compare?
Chasing Waterfalls
Located on the island of Batanta, you'll find the waterfall of the same name. Actually, there are two falls here — a lower level and a taller fall with a pool at its base for swimming (and, you can actually swim behind the fall).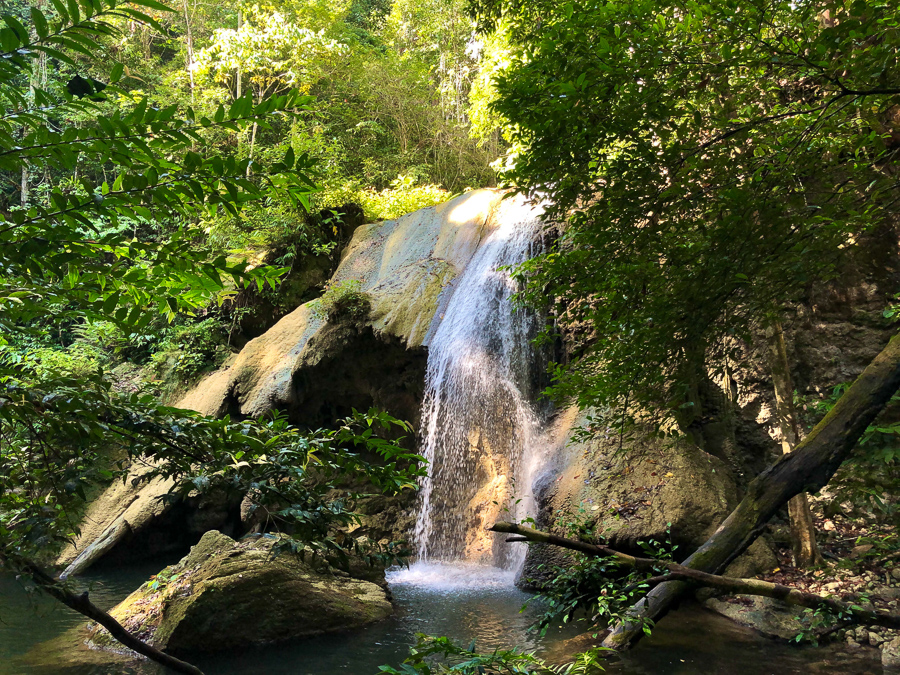 After a 25-minute boat ride from our resort, we arrived at a small opening in the mangroves. The captain expertly guided us through the channel, while dodging tangled roots, and loose tree stumps.
The jungle was steamy, lush and filled with life. We hiked for 40 minutes before arriving at the larger fall, and immediately jumped right in. It was so refreshing. This is a great day trip, and one of the top things to do above water on Batanta Island.
*Note: wear the free water shoes provided by Papua Paradise Eco Resort for this excursion.
Birdwatching Trips
There are more than 800 species of birds on New Guinea island, some of which we spotted while just relaxing at our bungalow.
While enjoying a cup of tea after a massage at the spa, a large group of raja shelducks flew by. While walking down the path from our bungalow to the open-air restaurant, we passed scrubfowl kicking up leaves. During our dive and snorkel briefing, kingfishers dove into the water looking for food.
We don't consider ourselves "birders", but the tropical, endemic birds found in Raja Ampat are worth searching for! After hearing the birds sing, chirp and squawk for a few days, we decided to try to get a little closer. We booked a boat trip at sunset to spot Blyth's hornbills returning to their home for the night.
With a Bintang beer in hand, we spotted 28 hornbills and a few palm cockatoos in the treetops.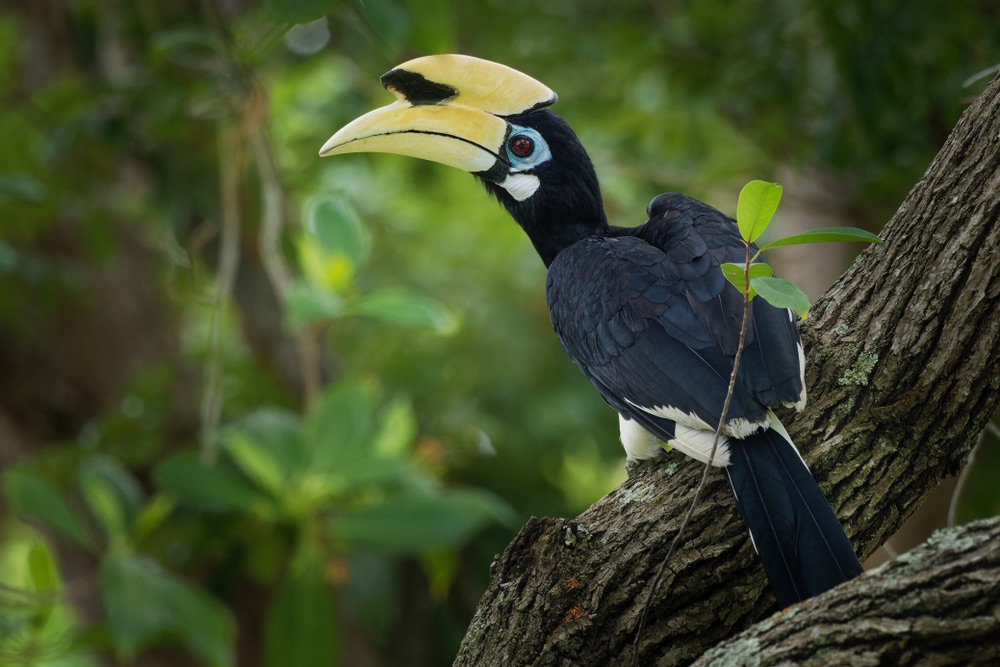 Joining a birdwatching trip is a must-do on the islands.
Visiting Villages
The West Papuan people are inviting and friendly and a visit to one of their villages is a wonderful experience. We had the opportunity to visit Arefi village which is on Batanta island and enjoyed wandering around, mingling with the residents and taking some photos.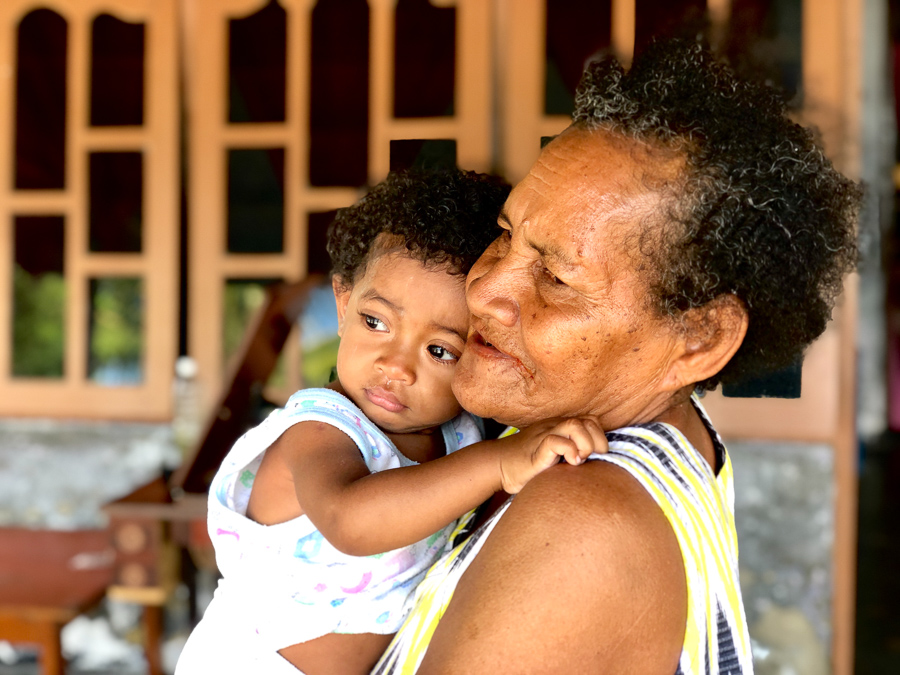 Children splashed around in the sea, while others wanted us to chase them around — while they squealed and giggled at the strange foreigners running after them. A man climbed a tall palm tree to retrieve beetle nut, little round fruits which, when chewed, would create a feeling similar to nicotine and stain the teeth red in the process.
There was one small church on the island (the people here are of Christian faith), and numerous stilted homes. Unsurprisingly, there's an amazing house reef here as well and we saw a man spearfishing, looking for the catch of the day. A visit to local villages is a highlight of any trip to Raja Ampat.
Get Pampered at the Spa
The spa at Papua Paradise Eco Resort had the most spectacular view of any spa I've ever been to. As with the bungalows, the Spa In Paradise was also stilted and sat over the water. The waiting area offered open-air panoramic views of the sea, with baby blacktip reef sharks swimming below, and tropical birds flying above.
The treatment rooms themselves had natural lighting and offered sounds from Mother Nature — no need for spa music here, just relax with chirping birds and lapping waves.
There are numerous treatments available from pedicures and manicures to full body massage and 4 hands ayurvedic treatments. All of the therapists are trained in Bali by the same teacher, and based on my experience, I recommend the full-body massage.
Whether you want to restore your muscles after diving, swimming or hiking, or you just want to have a relaxing day, book yourself a spa session. You won't regret it.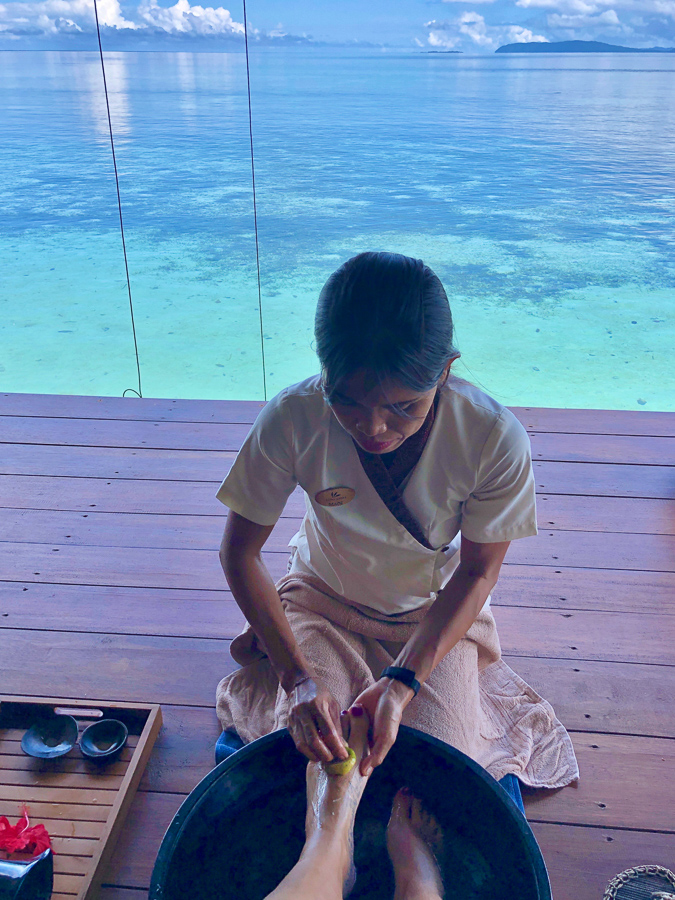 Visit Piaynemo Islands
These little limestone islands are the epitome of a picture-perfect postcard view! Piaynemo is a cluster of small islands located in the FAM Island chain that have become increasingly popular over the years, and for good reason.
As we climbed up the well-maintained wooden steps, we were greeted with a jaw-dropping sight. This was Nick's second visit to this amazing place yet he was still in awe. Each little karst looked like it was floating atop the aquamarine sea.
After a group of Indonesians finished with their selfies, we had the whole place to ourselves — magical.
Typically, most people visit Piaynemo as a surface interval during a day of scuba diving or snorkelling around FAM. But, for non-divers, you can still visit here on a day trip. It took us around 2 hours by boat to reach the island chain from Birie Island, and it's around the same distance from Waisai.
Note: on top of the cost of travelling to the FAM Islands, you'll have to pay 1M IDR ($75 USD) for the Raja Ampat Marine Park entry permit.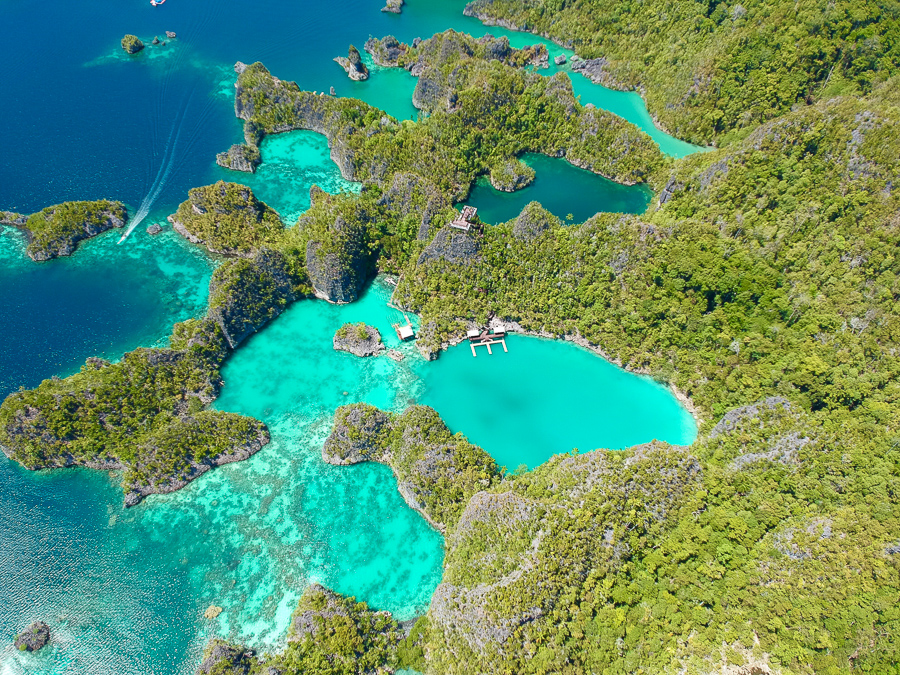 Things To Know About Raja Ampat
Our trip to Raja Ampat was incredible and it'll go down as one of our most memorable adventures. To make the most of your trip, there are some things you should know and be aware of when planning a trip here.
West Papuans Are Conservative
Even though you're right on the water, this isn't the place to walk around in your bathing suit. When you leave your bungalow wear (at minimum) shorts and a t-shirt. Ladies, leave the low-cut shirts at home.
Swimming in your bathing suit is fine, but when you arrive at a village or anywhere on land, make sure you cover up. Wearing rash guards is an easy way to enter and exit the water without making anyone uncomfortable. The locals won't say anything to you, but just know that you may risk offending them if you don't dress appropriately.
Avoid Mosquitoes
Raja Ampat is a tropical destination, and as with many (awesome) destinations like this, mosquitos are present. You should contact your local travel doctor to find out which vaccines, pills, etc. that you may need.
Malaria, dengue fever, and Japanese Encephalitis are all present in West Papua. We personally hardly noticed any mosquitos during our stay, but you want to make sure you stay somewhere that has a mosquito net, and take the necessary precautions against being bitten.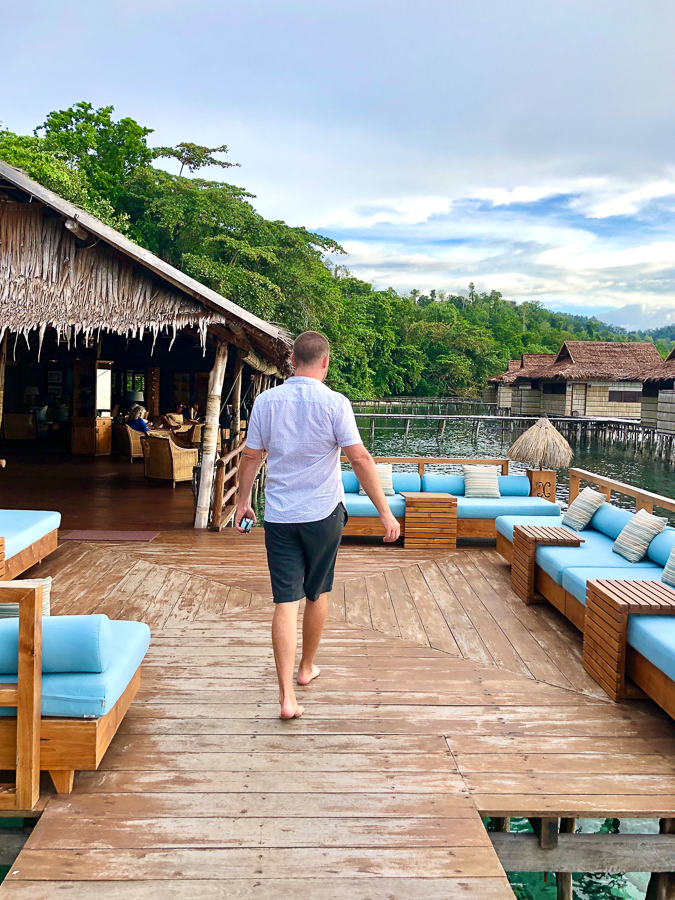 Wear long-sleeve shirts and pants at dusk and in the early morning, apply mosquito repellent (ideally, one with natural ingredients), and light mosquito coils to deter the mozzies.
At Papua Paradise Eco Resort, there was turn down service and when we returned to our room after a day of exploration, we found the mosquito net down, and coils burning in various spots around the bungalow. As I said, we didn't have any issues with mosquitos, and if you are diligent, you won't either.
The Sun is Intense
With 30+ degree days (86 ° F), and being on a boat or sundeck for the majority of your stay, you want to make sure you're taking care to not get dehydrated or sunburned.
Natural, reef-safe sunscreen is the only sunblock you should be applying. Better yet, wear an SPF rash guard and a hat to prevent burning.
Even if you're not being active, make sure you're drinking plenty of water and staying hydrated in this heat. When you have the option, opt for shade rather than direct sun, and never over-exert yourself.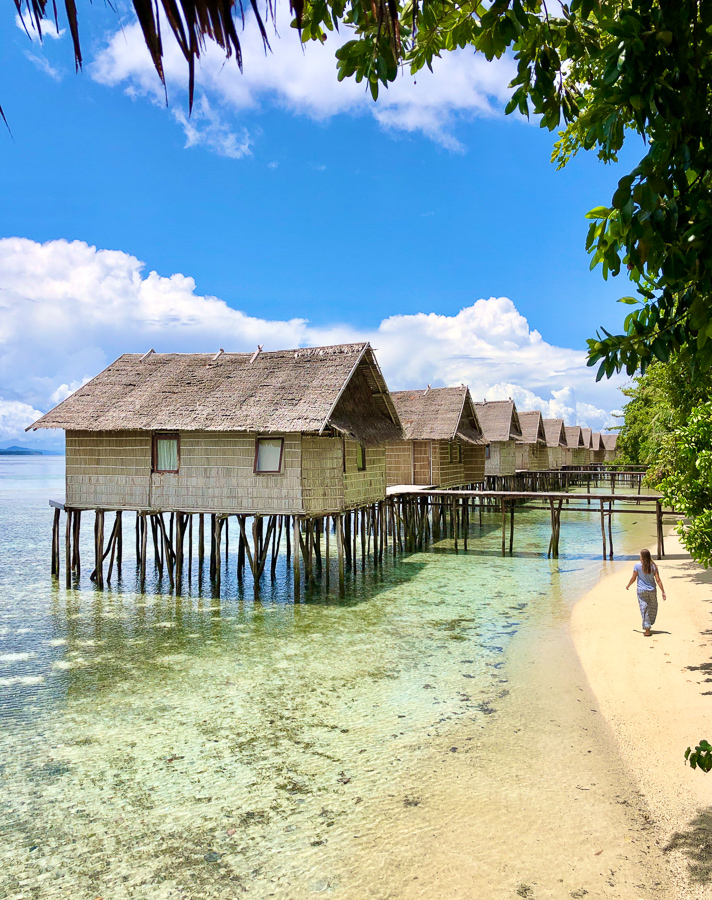 The Environment is Fragile
The Raja Ampat Marine Protected Area is a haven for dugongs, fish, turtles, whales and other marine species. Even though conservation efforts are in place, it's imperative that you do your best to be a responsible traveller and help protect this pristine area.
Plastic is a problem plaguing our planet. Say no to anything plastic — bags, straws, bottles, etc. Among other efforts, at Papua Paradise Eco Resort, every bungalow has an 18L jug of drinking water, which is refilled as needed. Metal straws were provided in drinks as are metal water bottles for the duration of your stay and no plastic bags were handed out.
Anything you bring in with you, carry out. If you bring chocolate bars, drinks or any other foods that are wrapped in plastic and other garbage, take it back to "mainland" Indonesia as it's difficult to dispose of garbage in Raja Ampat.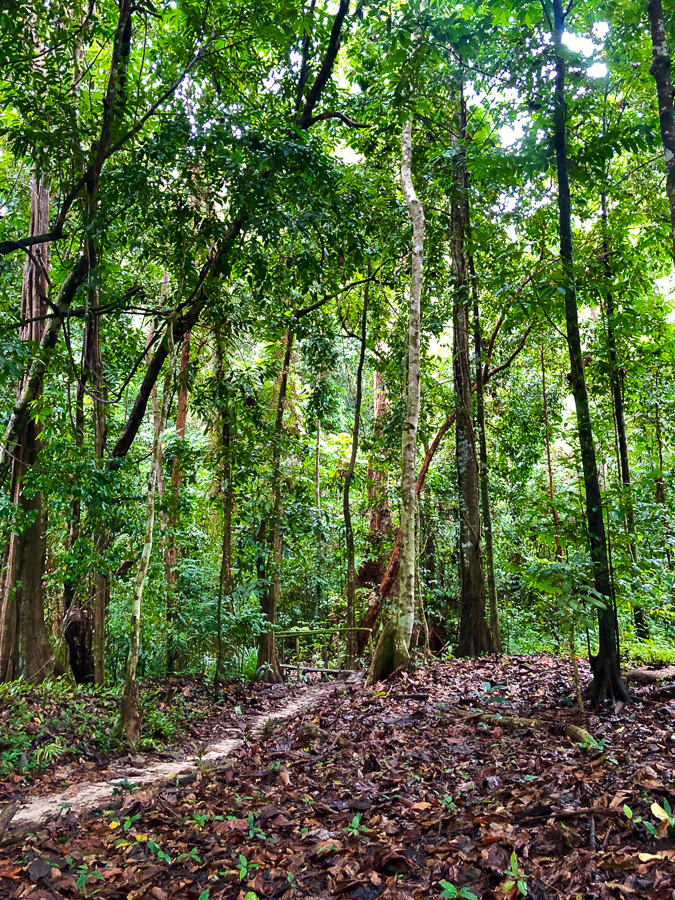 Raja Ampat: How To Get There
This exotic-sounding destination isn't as easy to reach as somewhere more mainstream in Indonesia, but the rewards far outweigh the effort.
First, you'll need to get to Sorong — the capital of West Papua, and the jumping-off point for the Raja Ampat islands. To get here, you have a few different options from within Indonesia.
Fly from Denpasar (Bali) to Sorong (via a layover in Makassar, the capital of South Sulawesi).
Fly from Jakarta (Java) direct to Sorong.
Fly from Surabaya (Java) direct to Sorong.
Fly from Manado (North Sulawesi) direct to Sorong.
Since we were staying on Gangga Island in North Sulawesi prior to arriving in Raja Ampat, we opted for #4 on the list.
Note: If you're flying from an international destination, Singapore is a great hub for flights to Indonesia. Check your go-to booking engine to find flights.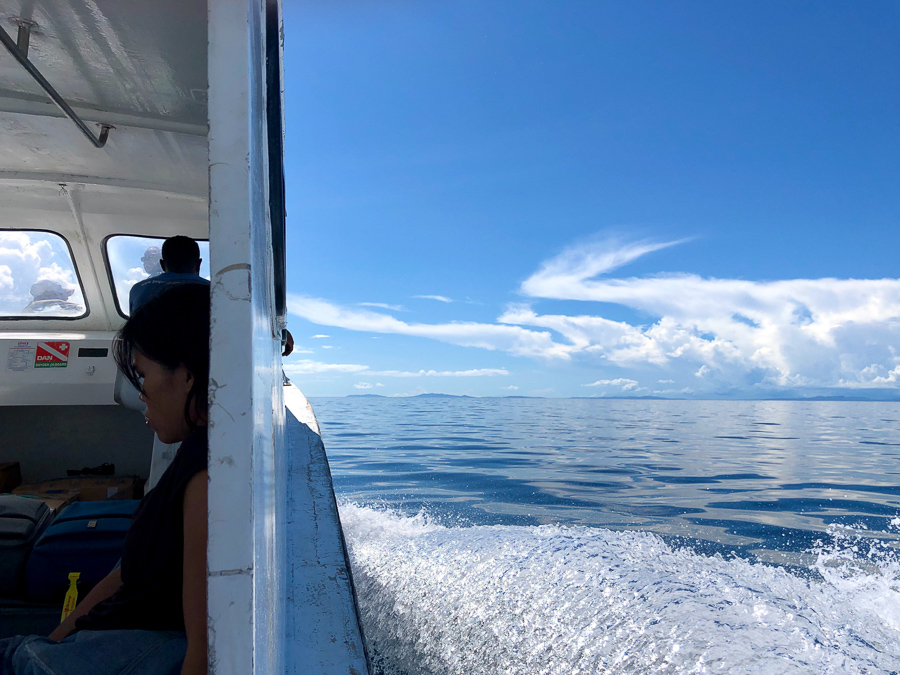 Once you get yourself to the city of Sorong, you'll then need to get to the Public Harbour from the airport (by taxi, 100K IDR or motorbike taxi, 20K IDR).
From there, take a ferry boat (9:00am and 2:00pm, 100K IDR) to the city of Waisai on the main island of Waigeo. Finally, hop on another boat to your desired island/accommodation.
Contact your accommodation ahead of time to arrange a boat pick-up from Waisai.
If you need somewhere to stay in Sorong, click here for recommended hotels.
Since we were staying at Papua Paradise Eco Resort on Birie Island, all of our transfers were sorted out for us, and everything ran like clockwork. We were picked up from the Sorong airport, brought to the Swiss-Belhotel for lunch, and relaxed there until it was time to head to the port.
The boats to the islands run on a schedule, and the boat for Papua Paradise leaves at 2:00pm. We were driven to the port and hopped in the resort boat for a direct trip to Birie Island (approximately 1 hour).
The public ferry boats can and do cancel for various reasons. It's not recommended to travel back to Sorong on the same day as your flight. It's better to go back a day before and spend the night in Sorong. If you have a private transfer as we did, then leaving the same day is fine.
Sundays are considered a day of rest on the islands, so if you can, it's best to avoid travelling on that day.
How to Book Papua Paradise Eco Resort
As you can probably gather from reading this article and watching the video, Nick and I loved our stay here and wish we had longer than 5 nights. I personally think that if you're planning to do some diving, staying for a minimum of 7 nights is the best option.
That way, you'll be able to do day trips to the dive sites that are a bit farther away, and enjoy some of the above water activities as well. Of course, you'll also want some downtime on the verandah of your bungalow!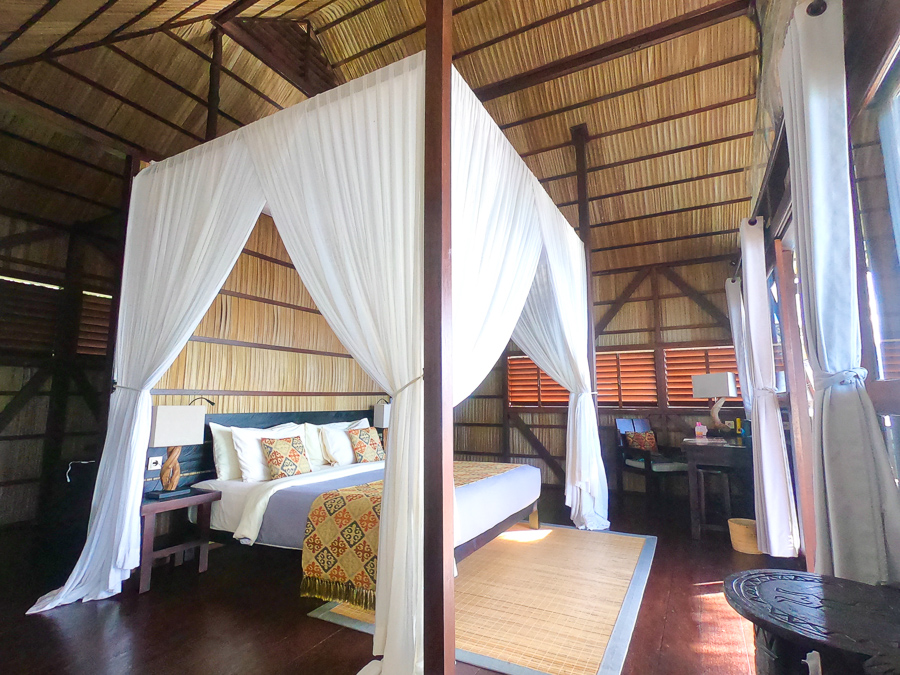 There are numerous packages to choose from. Whether you want to scuba dive or not, there's an accommodation package that will suit your needs. All room rates include meals and non-alcoholic drinks.
Click here to learn more about Papua Paradise Eco Resort.
Final Thoughts
Experiencing Raja Ampat with Nick was the trip of a lifetime. Initially, I was a bit nervous to be so off-grid, but once we arrived and were greeted by the lovely staff members, my mind was immediately put at ease.
This truly was a relaxing (working) holiday and we both want to return to Raja Ampat and Papua Paradise Eco Resort to explore more of the nearby islands. Being surrounded by Mother Nature is good for the soul, and so is being unplugged from laptops and smartphones. (There is wifi here, but it's quite slow and only for basic needs like checking emails.)
Spotting a dugong from our jetty on our last day was the icing on the cake.
Raja Ampat is a destination that is changing. More and more people are hearing of this beautiful place and want to experience it for themselves — and, I can't blame them! Visit this remote part of our planet, but give it the respect and love it deserves so that we can all enjoy it for years to come.
A special thank-you to Lotus Hotels for hosting our stay at Papua Paradise Eco Resort. As with all promotional campaigns on Goats On The Road, all thoughts and opinions remain our own, regardless of any complimentary services received.
Like This Article? Pin it!