Have you ever considered working remotely from home? Would you like to wake up when you feel like it, have a leisurely coffee and finish work when you've completed your tasks – rather than when the clock says to?
Remote work might be for you.
If you're interested in asking your boss for the option to work remotely, or you want to quit your current job and find a new, flexible career, then this article is for you.
JUMP TO:
In this post, I'll explain more about remote work and how you can find remote jobs to suit your lifestyle and skill set.
What is Remote Work?
Remote work (sometimes called "telecommuting") is a term that has become more mainstream over the last few years.
Basically, remote work means that you're seeing more flexibility from your job. You're either taking your current career on the road with you, or you're opting to work from home (part of the week, or the full week), rather than going into the office each day.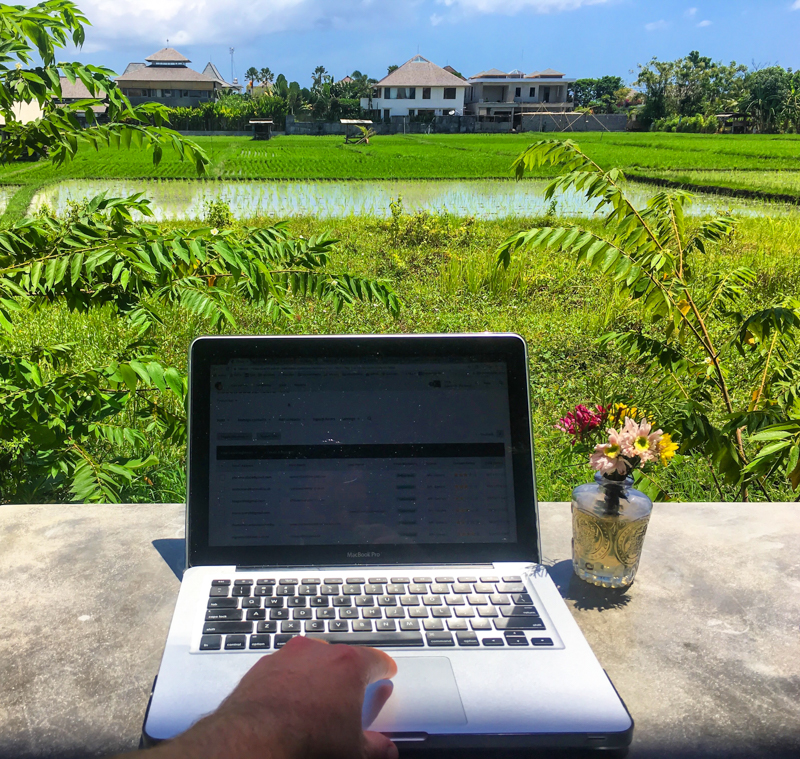 Remote work differs from someone who is working online as a freelancer, an entrepreneur, business owner, etc. In most cases, remote work means that you're working for a company as an employee, either full-time or part-time. But, freelance remote work is often available.
Clocking in at 9:00am – 5:00pm just for the sake of doing so is a thing of the past. The idea around remote work is to increase productivity, with the freedom to design a work schedule that benefits both yourself and your employer.
No more sitting in gridlock traffic and wasting time getting ready for work in the morning. With remote work, often you'll be able to set your own hours and work on a task completion basis – leaving extra time for yourself.
Remote work means you can make money from home, be more productive and enjoy a better work-life balance.
What Are The Benefits of Remote Work?
There are numerous benefits of remote work. Aside from the most obvious one (working from home), there are many other perks to working remotely.
Health and Wellbeing
It's no surprise that working on your own terms, without having to commute back and forth to the office, will increase your overall health and wellbeing.
When you're rushing out of the house to catch your bus, you're probably going to grab a doughnut, croissant, egg McMuffin or some other fast food for breakfast. For lunch, many people get the fastest (but not necessarily the healthiest) meal, before returning to their desk.
When work is finished, but there's still a 2 hour commute ahead, most people will just grab something (unhealthy) on the fly to hold them over until they get home for dinner.
Remote work gives you the option to eat more wholesome meals for breakfast, lunch and dinner. Having time to make poached eggs on grain toast, or a bowl of yogurt with fresh fruit and granola will really do wonders for your mind, and waistline.
Stress is also reduced (no road rage, or missed trains!), morale is boosted, and you'll probably get more sleep – which is always a good thing. Being able to take breaks to stretch, do some yoga, go surfing or go for a quick swim in your pool are some other great benefits of working remotely.
More Time With Family & Loved Ones
For new parents, this is a huge perk of working remotely. With remote work, rather than having to put your children into daycare, you can stay home with them and be there for all the little things.
If your kids are in school, you'll be able to wake them up and enjoy breakfast together, or pick them up after school. Plus, if there's an emergency or they are sick, they can stay home with you while you work.
Many parents feel guilty leaving their kids behind to go to the office. And oftentimes, work hours require you to leave before they're even awake, and return just as they are going to sleep for the night. With remote work, you can be a larger presence in your child's life.
And, as a bonus, if your significant other is working late, you can have a nice meal ready when they get home to enjoy together as a family.
Increased Productivity
With an office setting, there are distractions everywhere. Gossiping around the water cooler, attending mandatory meetings and colleagues stopping by your desk for a "chat". Say goodbye to office drama.
With remote work, you can really focus on getting your tasks done. And, in many cases, the faster you get your work done, the more free time you have to spend doing things you love.
There will be some distractions at home that you simply can't avoid – noises outside, people stopping by, the phone ringing, fridge runs, or TV shows. To drown out the sounds, put on your headphones and listen to some calming music, put your phone on silent, and hide the TV remote!
If you're distracted by computer programs, you can always download a few cool apps. Check out Freedom which you set to block certain apps (Facebook, Instagram, etc.), or Boomerang which pauses all emails for a set period of time, except the ones you whitelist. For Mac users, another good option is Self Control where you can block various sites on your computer during a set time period – sorry YouTube!
Saving Money
If you don't have to commute to work, the money you would spend on a transit pass, parking pass and petrol for your car will be saved. All of the money you spend on expensive Starbucks coffees and meals out throughout the day will be kept in your pocket. Making your own coffee and cooking your own meals is far more economical.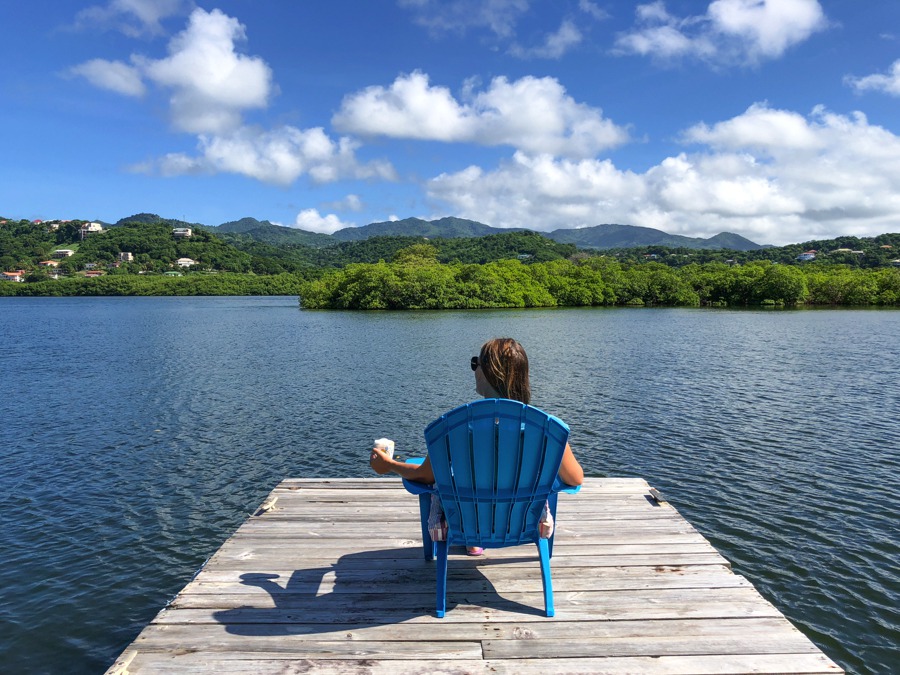 With remote work, your "office attire" is now whatever you want it to be. This means you don't have to pay dry cleaning bills, or purchase expensive suits and shoes that are considered acceptable professional wardrobe. Plus, there's the potential for tax deductions if you have a home office (speak to your tax accountant for details).
Supplemental Income
If you're not working remotely with your current company, you may still consider picking up some remote work on the side. There are lots of remote work opportunities to supplement your current income. Pick up a weekend job, or work a couple of hours after dinner from the comfort of home.
Teach english online, complete paid online surveys, be a health coach, social media manager, tech support, interpreter, content creator, travel consultant, etc.
Higher Salary
In general, those who are working remotely earn a higher salary. As an example, according to Stack Overflow, software developers who work outside of an office earn 40% more than those who don't work remotely.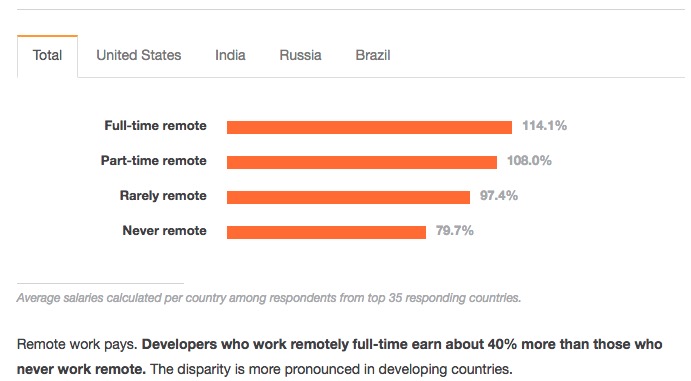 How To Work Remotely
When it comes to remote work, you have a few options for an office: at home, a coworking space, or a cafe.
Home Office
In order to work outside of the typical office environment, you're going to need to set up a home office. One of the great joys of this is being able to work in your pajamas. Pro tip: Need to have a Skype conference call? Just dress your top half!
Apart from being able to dress however you want, there are many other benefits of a home office. You'll be able to spend time with family, do chores in-between tasks, go to the fridge for healthy food and drinks, listen to music if you want, and of course, have the ability to start work when you feel like it.
Your home office should be a place where you can work efficiently and should include these items:
desk
computer chair
laptop (or desktop computer)
fast wi-fi,
adequate lighting
printer
headset and microphone
proper software installed on your computer
surge protector
multi-plug
stationary items, such as a notepad, pens, sticky notes, etc.
See Also: 15 Must-Haves For The Perfect Remote Office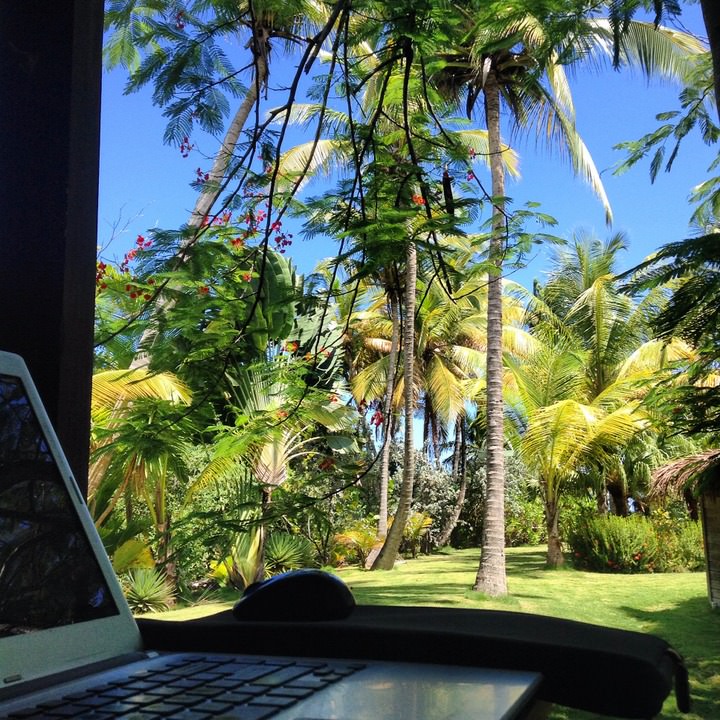 Coworking Space
Many people are used to having coworkers around and might find the transition to remote work a bit difficult. This is where coworking spaces come in handy. Not only are they a great way to keep motivated by working alongside other remote workers, digital nomads and freelancers, but typically the area will be set up properly for computer work.
You can expect comfortable chairs and tables, conference rooms for your use during calls, blazing fast wi-fi and beverages and snacks.
Another bonus of coworking spaces is that many are open 24 hours. Are you most productive after 5:00pm? Great, you can head into the "office". Or, if you're up early and feel like getting to work by 5:00am, the coworking space will be open.
Remote work is about having the flexibility to work when it's best for you (and your employer).
Whether you want to do some networking, you feel too distracted at home, or simply don't have the equipment to create a great home office, consider purchasing a membership at a coworking space near you.
Cafe
Working at a cafe can be great if you want tasty food and caffeine on hand at all times. In places where working remotely is commonplace (like Canggu Bali), you won't be kicked out for spending hours a day working at the tables, while using the wi-fi and power outlets.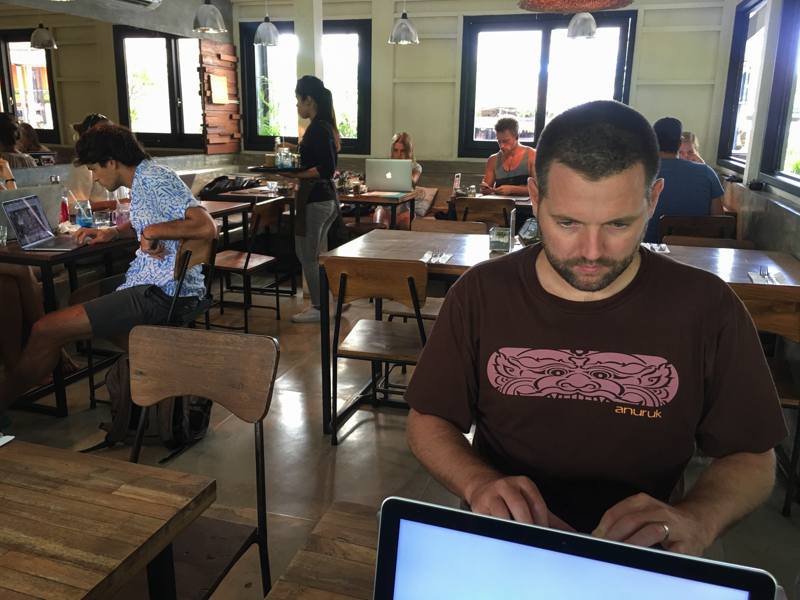 But, not all cafes are created equal and many won't be happy you're taking up tables for potential customers. Consider just spending a couple of hours at a cafe, and once your breakfast and coffee are finished, pack up and leave.
How To Pitch Your Boss the Remote Work Idea
If you'd like to continue working with your current company, and remote work seems like something that would fit your situation, consider pitching the idea to your boss. What's the worst that can happen? If they say "no", you simply agree and continue on working as you are, or you look for another job altogether – one that will allow you to work remotely.
Here are some tips for requesting remote work from your boss:
Focus on the value for your employer. How will they benefit from you working remotely (don't just focus on the fact that you can wear your pajamas all day). Calculate the amount of time you spend in your commute each day, and getting ready for work, and pitch those extra hours as time you could potentially spend completing work goals.
Explain how you'll be more efficient if you work from home since there are fewer distractions.
Express that you'll still be available via email and phone for anything that should arise, and if there are meetings that you must attend, that you will be able to do so. This is important, as many employers think that remote workers won't be reachable in a timely manner.
If your boss doesn't seem all that keen, suggest a trial run. Start with "x" number of days a week working from home, or "x" amount of hours per week (with the option to work from home full-time if it all goes well).
How To Find Remote Work Jobs
If you're considering quitting your current position (either they won't let you work remotely, or you just want a change), there are many websites where you can find remote work. Many of the jobs require you to be in a certain country (or time zone), while others say you can work from anywhere in the world.
However, you need to be aware and cautious of online scams when searching for remote work.
Something I've noticed is that all of the remote work websites seem to claim that they are the "most popular on the web", "the #1 resource for remote work" or that they "have the most traffic to their website". It's important to always do your research and due diligence before accepting a position.
Don't worry though, there are many reputable companies out there! Here are 6 of the best places to find legitimate remote work:
FlexJobs
This is one of the most reputable companies to find remote work with. There are over 30,000 jobs listed with over 5,000 companies. They have a 5 star, A+ rating on the Better Business Bureau, with features on Forbes, CNBC, Time, NBC, Inc. and many more.
FlexJobs offers jobs in over 50 career categories, with an emphasis on customer service and quality work options – no spam allowed. In fact, their team hand screens every single job posting and company before allowing it to appear on the website.
This company also offers customer service with a representative from the USA and excellent job search resources (checklists, career content from top writers, 170 expert skills tests to better assess and promote your skills, video introductions to help your resume stand out, and more).
FlexJobs members also receive discounts (10% – 50%) on various products, such as Dell, Skillshare, Audible, Costco, TurboTax, Yoga Pod and many more.
The membership cost is $14.95 / month, or pay quarterly or yearly to receive a 72% discount. If you're not satisfied with FlexJobs, they have a money back guarantee.
Sign up for FlexJobs today and use promo code NOMAD to save up to 30% off the membership fee.
Solid Gigs
When you're searching for freelance remote work jobs, it can be a time-consuming process to siphon through all of the spam or low-paying jobs out there. With Solid Gigs, they help you find just that – solid gigs! Their team does all of the hard work for you. They manually search through various job boards each week and sending you only the top 1% best jobs.
The gigs are sent straight to your inbox on Tuesdays, with numerous jobs for designers, developers, writers and marketers. The jobs posted by Solid Gigs are a great way to supplement your current income, or to find full-time freelance work.
As an added bonus, Solid Gigs has a library of 127 expert courses, tools, lessons and downloadable templates for you to learn from. All of which are included in the monthly fee of $19/month ($13/month if you sign up for a year). There's a money back guarantee as well, meaning you have nothing to lose. Click here to learn more.
Sign up for Solid Gigs and receive your first month for just $2. Use code GOATS2 at checkout 😀
We Work Remotely
This popular website offers information for both workers and employers. If you want to post a listing, it'll cost you $299/month, but if you're simply looking for remote work, that's free.
Basically this site just offers job postings, without the benefits of blogs and other resources for working remotely. You can, however, receive new job postings in your email inbox. Response times to your application are a bit slow with We Work Remotely, and their positions are usually in the tech industry. Click here to learn more.
Angel List
If you want a position with a start-up company, this is the place to look. Create a profile on the website (which acts as your resume), and click "I'm interested" on job postings that look good to you. The company will check out your profile and if they like what they see and are interested in speaking with you further, they'll set up a meeting with you. Click here to learn more.
Remote.com
This is a good bet for finding work with both start-ups and well-known companies. Their job board posts around 5 new positions daily, so make sure you pop in each day to take a look. Also, their computers automatically match you with jobs that fit your skills and what you're looking for. You can also earn cash when you refer friends to job positions. Click here to learn more.
Jobspresso
This is another great option for finding remote work. It's free to sign up and there are numerous job postings each day. Something unique about Jobspresso is that you can follow them on Twitter to see new job postings, and they also send relevant jobs to your email inbox. Click here to learn more.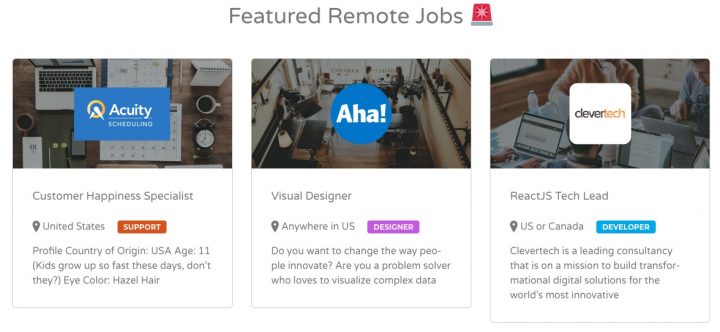 Ready to Start Working Remotely?
The internet is a wonderful thing. It's pretty incredible that these days you have the option to spend more time at home, work on your own schedule and potentially earn a higher salary than if you had to go into an office each day.
I hope this article gave you some inspiration to start working remotely. As travel bloggers, being able to work from anywhere in the world is something we are incredibly grateful for. We can't imagine going back to 9-5 jobs and love the freedom that running our own business gives us.
But for those of you who want to continue with your current career, or work remotely for an employer (or a few employers), then check out the websites I listed above.
It's time to start enjoying your job and not wasting precious time and money on commutes and appearances. As always, feel free to email us with any questions, or leave a comment down below.
Like This Article? Pin it!