If you've spent time researching ways to work remotely, you've probably heard about teaching online. This is an awesome way to join the laptop lifestyle movement and work from anywhere, but you might be wondering about the requirements for a job teaching English online.
With so many companies out there to choose from, including many freelance English teacher marketplaces, there isn't one set of requirements for teaching online.
This is great news!
It means that as long as you speak English fluently and are willing to put in a bit of work, there's a good chance you'll find an online English teaching gig that fits your credentials.
In this post, I'll break down some common requirements for online teaching jobs as well as the alternatives that exist.
Teacher Background Requirements
There are a few requirements that pretty much every company will ask for.
You Must Be a Native English Speaker
For the most part, online English companies require that teachers are Native English speakers. This means that you grew up in a country where English is the primary language spoken and it is your first language.
There are exceptions to this with some companies.
In some cases, you can teach English if you are fluent in English or if you have a C2 proficiency certification. You will usually have to demonstrate this by providing a speaking sample. The evaluator will listen to ensure that you have fluent speaking skills, correct grammar, and a neutral accent.
Unfortunately, the pay is often less for positions that hire fluent speakers in addition to native speakers. This can be annoying when you're starting out but there are opportunities to earn more with time.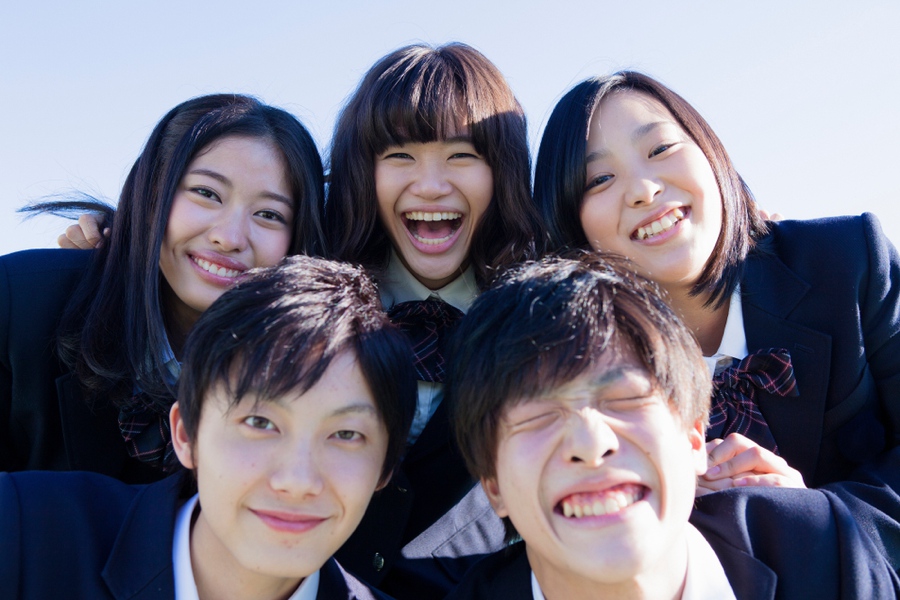 Here are two options for companies that will hire fluent speakers in addition to native English speakers.
PalFish – Palfish is a freestyle conversation platform that hires fluent English speakers. You must have a neutral accent to apply because part of the application process is submitting a 30-second speaking sample. PalFish Freetalk focuses on teaching English to adults in China.
iTalki – With iTalki, you'll create a teacher profile on their language marketplace website. There are no formal requirements to be a community tutor except that you must be fluent or C2 level proficient in the language you are teaching. You'll make all your own lesson plans and activities and you can teach more than one language if you want.
☞ SEE ALSO: How To Get Hired As An Online English Teacher
You Must Be From a Native English Speaking Country
Some online teaching companies have nationality requirements that teachers must meet. Often, this means that certain jobs are only available to teachers from native English speaking countries. Some companies only hire teachers from the United States and Canada.
While these companies (such as VIPKID) usually don't require that teachers are physically in a certain location to teach, teachers might have to provide a passport or other verification of nationality in order to be hired.
In general, when companies say they only hire teachers from native English speaking countries, they are referring to the following countries: the United States, the United Kingdom, Canada, Australia, New Zealand, Ireland, and sometimes South Africa.
That said, there are a few online ESL tutoring companies that hire teachers without restrictions on nationality. If you are an English speaker from a non-native English speaking country, you can consider the following options:
PalFish Freetalk – Palfish has three programs: the PalFish Official Kids Course, Palfish Philippines, and PalFish Freetalk. While the PalFish Official Kids Course only hires teachers from Native English speaking countries, Freetalk is more lenient. You can be from anywhere as long as you are a fluent speaker with a neutral accent.
Cambly – There are no nationality requirements to teach English online with Cambly.
iTalki – The community tutor program on iTalki does not have any nationality or residence requirements. You can be from anywhere as long as you are a fluent or C2 Proficient level speaker.
Online English Teachers Usually Need a Bachelor's Degree
Most online English platforms require that teachers have at least a bachelor's degree. The degree can be in any subject. It doesn't have to be related to teaching.
Some companies are quite strict about this and won't accept applications without a BA degree, even in situations where the candidate has teaching experience. Since so many of these large companies have automated hiring processes, there isn't a chance to appeal on a case-by-case basis.
But if you don't have a BA degree, don't worry! There are still quite a few options for online teaching companies you can explore.
The following companies will hire teachers without a BA degree:
PalFish – You can be a PalFish Freetalk or a PalFish Official Kids course teacher without a BA degree. The Kids Course program pays more than Freetalk.
Cambly – Cambly hires native English speakers to teach adults around the world. Cambly is unique because they are one of the only companies mentioned in this post that doesn't focus mainly on the Chinese market. No experience and no degree needed.
iTalki – You don't need a BA degree to create a community tutor profile on iTalki
SkimaTalk – Skimatalk is open to teachers who are native English speakers from native English speaking countries. They do not require a degree, a teaching certification, or any teaching experience at this time.
Most Companies Look For Some Form of Teaching Experience
On the application pages for most online English teacher companies, they say that teachers must have teaching experience. This might be discouraging to people who are new to the teaching world, but usually this doesn't mean traditional classroom instruction.
Very often, online ESL companies will count tutoring, mentoring, coaching, babysitting, and other types of activities with children toward your "teaching experience."
Of course, having traditional classroom experience is a huge plus, but you'll likely be qualified for most jobs if you have worked with children in some kind of leadership role.
If you don't have any of the kinds of experiences mentioned above, consider volunteering at your local after school program to get this qualification.
☞ SEE ALSO: How To Plan An Online Teaching Lesson (With Examples)
Online English Teachers Usually Need a TEFL Certification
Having a TEFL (Teaching English as a Foreign Language) certification is a great idea when applying to online teaching jobs. While it's not required for all online teaching jobs, you will have more choices and potentially a higher starting pay rate.
A TEFL certification means that you've gone through training in how to teach English to students who speak another language. You can get TEFL certified online or in-person through training programs around the world.
TEFL courses can vary from a few weeks to several months. They range in price from a few hundred dollars to over a thousand dollars depending on the company you go with and the level of certification you want to pursue.
You can compare some popular TEFL courses online here.
Most online ESL companies want teachers with a TEFL certification. Sometimes, companies will look for either a TEFL certification or a traditional teaching degree.
VIPKID is a notable exception to the TEFL certification requirement. If you don't have a TEFL certification, you can still apply to VIPKID. Before you can teach your first class, you'll need to complete their in-house VIPKID TESOL course.
This course will make you eligible to teach online on their platform, though I'm unsure if it transfers to other companies since it's not as in-depth as other full-length TEFL programs.
If you aren't TEFL certified and aren't able to get certified, you can still apply to teach on Cambly or list your services on a teacher marketplace like iTalki.
But if you're able to, I'd recommend getting TEFL certified. You'll learn more about strategies for teaching students who speak other languages and you'll have more job options to choose from.
There are numerous TEFL courses out there, so you'll want to make sure you choose a reputable, legitimate company to get certified with. I list the top 6 companies (plus the one that I personally went with), in my article: 6 Best Online TEFL Courses For English Teachers.
Online ESL Teachers Should Be Available During High Demand Class Times
Online English teachers need to be available when their students want to take classes. Since many online English companies offer lessons to students in China, this means that teachers need to be online for classes during the afternoons and evenings, China time.
Some companies also require that teachers open a minimum amount of class time slots per week. If you sign up with one of these companies, make sure you can commit to consistently opening up time slots for the duration of your contract.

Technology and Gear Requirements to Teach English Online
If you meet the teacher criteria above, the next thing you'll need is the proper gear and technology to teach English online. Learn more about the equipment you'll need to teach online in my article, here.
High-Speed WiFi
A high-speed internet connection is a must for any online job. This is especially true for online teaching since your lessons happen in real-time. Because your job is streaming with a student who could be anywhere in the world, you'll probably need more internet power than other digital nomads.
Most online teaching companies recommend that you have an internet speed of at least 20 Mbps. You can test your internet speed by using a website like www.speedtest.net.
When I'm travelling, I breathe easily if I see more than 10 Mbps at my accommodation. I've successfully taught with lower speeds, but I wouldn't recommend it. Occasional internet flickers and lags can be frustrating and distracting for your students.
Most online teaching companies also recommend that you teach with a wired connection instead of over WiFi. If you have access to your router, you can establish a wired connection by using an ethernet cord. Wired connections are usually faster and have fewer drops.
Once, on a six-month backpacking trip, I traveled with a (not kidding) 100-foot ethernet cord in my backpack. As you can probably imagine, I got some strange looks at airport security!
Unfortunately, I never ended up staying anywhere where I had access to the router to connect my ridiculously long cord, but if I had I would've used it. I also might have won some kind of award for the most obnoxious person in the hostel, but at least my online classes would have been well connected!
That being said, WiFi is definitely sufficient for teaching online if it's all you have. As long as you're seeing speeds above 10 Mbps, you'll be good to go.
☞ SEE ALSO: 15 Pros and Cons Of Being An Online English Teacher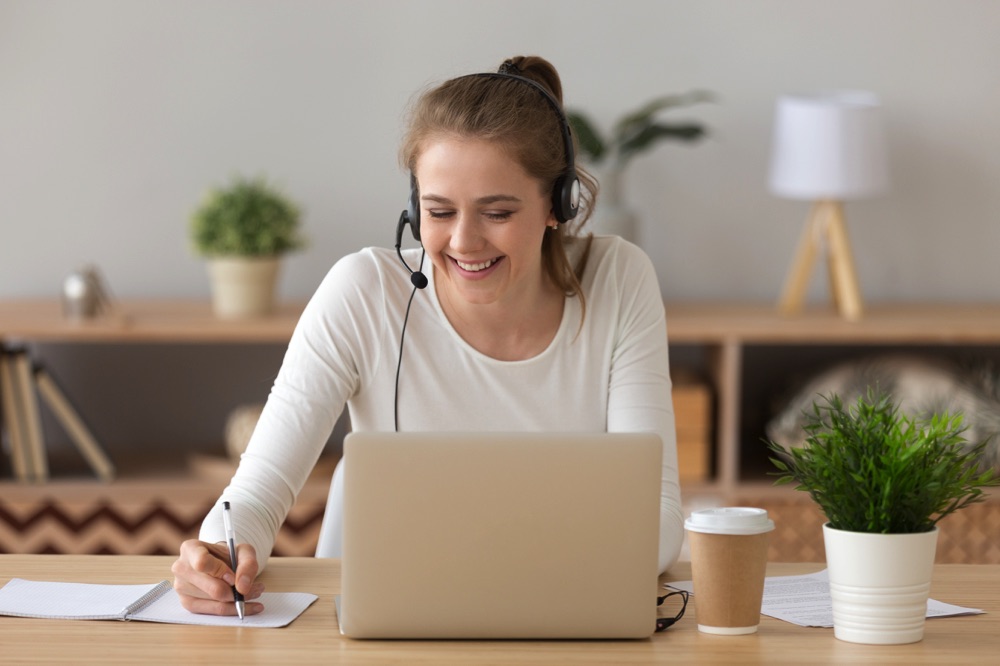 A Laptop With a Webcam
Most modern laptops with webcams will be perfectly sufficient for your online teaching jobs. There are a few companies that even let you teach from a tablet or phone. Make sure to check the technical requirements for your company of choice before applying to make sure your gear is compatible.
If you can't find those requirements online, a good way to test is to see if your computer can support skype calls. If it handles skype smoothly and your camera quality looks clear, there's a good chance you'll be able to teach also.
A Headset With Microphone
Another important piece of teaching equipment is your headset with a microphone. Headsets are required for most online teaching jobs because they prevent an annoying feedback sound for you and the student. They also reduce distracting background noises and make it easier for you to hear each other.
There are plenty of quality headsets out there. You can go really fancy with it and buy a top of the line Bluetooth headset, but even the earbuds that come with most phones are pretty high quality these days. Just make sure you are using some kind of headset for a clearer audio experience.
Props And Classroom Decorations
Depending on the age of your students, your company might require that you use props and classroom decorations. VIPKID, for example, will want you to have some academic and kid-friendly decorations on the wall behind you while teaching. During the interview, they expect teachers to use at least three props.
If you're teaching younger students, a few good props to have in your online teacher toolbox are:
A dry erase board and markers
A set of ABC flashcards or an ABC chart
A puppet (this helps demonstrate conversation skills since you can "talk" to the puppet)
If you're teaching adults, you won't have as many props in the mix, but using visual teaching aids is still important. If you're teaching older students or adults, consider using:
A dry erase board and markers
Photos of the topics you're discussing or scenes like a house, a mall, or a park
Worksheets or activities that are printed out large enough for the student to see on the webcam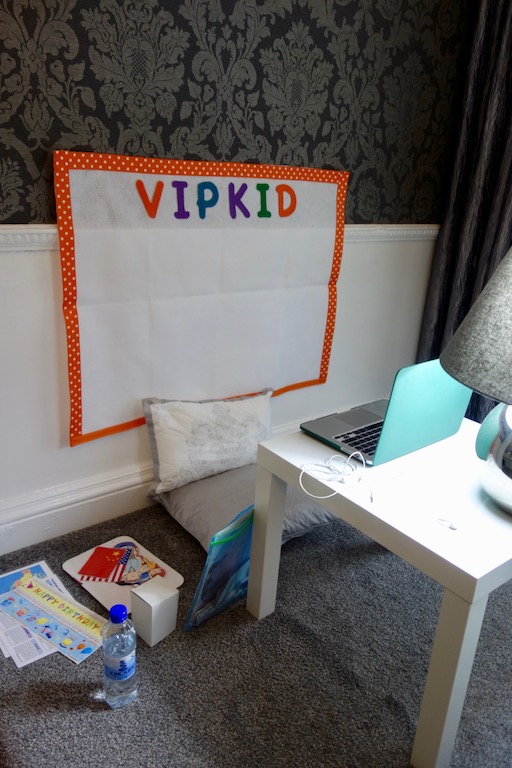 A Positive Teaching Mindset
While most aspects of online teaching – like being able to work from anywhere in pajama pants and making your own schedule – are huge perks, it isn't always sunshine and roses.
Teaching online can be challenging at times. Online teachers need to have a patient disposition and be able to lead a classroom, even when students aren't excited or are struggling to learn the material.
You'll likely face technical issues outside of your control. You might have to keep teaching even if you're under the weather. And depending on your time zone, you might be doing it all very early in the morning.
Even though I love my job, I don't think I'll ever get used to singing a cheerful ABC song at top volume at 4:30 am. That's why having a positive teaching mindset is so important.
Online English teachers have a lot of responsibility. You're in charge of helping a child learn another language, a skill that could open up opportunities for them in the future.
For this reason, teachers should be excited, passionate, and ready to roll with the punches if need be. You should have a genuine interest in working with children if you decide to sign up for a company that teaches kids, and you should enjoy helping other people achieve those "lightbulb moments."
Learning a language is hard, so you'll need to be patient and able to put a positive spin on a lesson even if the student isn't having the breakthroughs you want them to have.
At the end of the day, one of the most important jobs a teacher has is inspiring confidence. Students should feel supported and encouraged, and it's up to the teacher to create an environment where that can happen.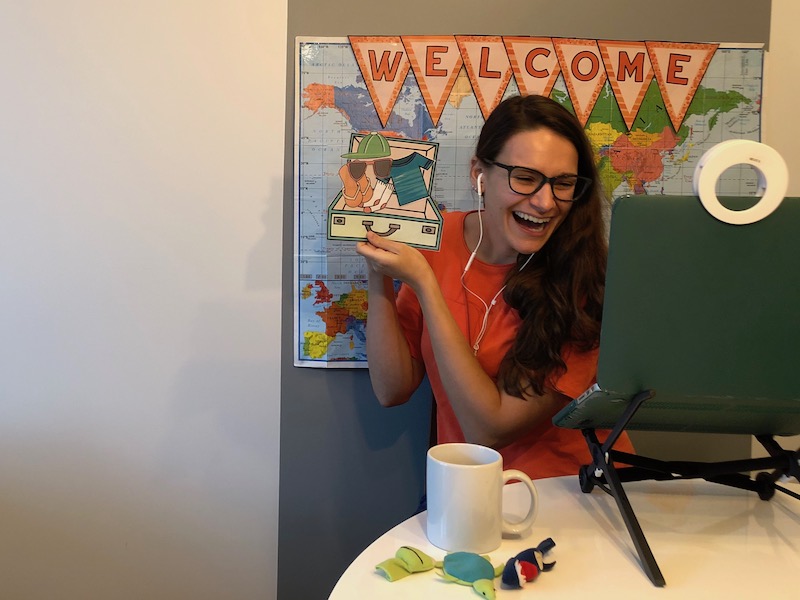 Quick Look: Popular Teaching Companies and Their Requirements
Throughout this post, I've mentioned several teaching companies and their requirements. I wanted to you have all that information in place. In the section below, I'll give you a quick look at the basic requirements for several popular online teaching companies.
Note that occasionally companies may update their requirements, so it's always a good idea to verify the requirements on the companies website before applying. I personally teach with VIPKID and you can check out my review of the company and what a day in the life looks like, here.
VIPKID Requirements
VIPKID teachers must be native English speakers from the USA or Canada (BUT, you don't have to be living in those countries!). At this time, VIPKID no longer hires teachers from California. If you want to teach with VIPKID, you'll also need to have:
A bachelors degree or higher in any subject
A TEFL certification OR teaching license OR in-house VIPKID TESOL Certification
2+ years of teaching/tutoring/mentoring/coaching experience
You'll also need to have reliable high-speed internet and a computer, webcam, and headset.

EF Education First Online Requirements
EF First teachers must be from the UK or the USA, and actually be living in those countries. You'll also need:
A bachelor's degree or higher in any subject
A 40 hour TEFL certificate
Agree to a background check (cost is covered by EF Education First)
As with VIPKID, you'll also need a reliable internet connection, computer and webcam.
To learn more about teaching English with EF Education First Online, check out our review article here, or visit their website.
QKids Requirements
QKids teachers must be native English speakers from the USA and Canada. AND, you'll also need to be currently living in the USA or Canada to work for QKids. QKids teachers also need:
A bachelors degree or higher in any subject
The ability to teach at least 6 hours each week
Prior experience working with children in some way, which can include tutoring, coaching, babysitting, and mentoring
A TEFL certification
Qkids teachers are expected to have a computer with a webcam as well as a headset with a microphone.
PalFish Freetalk Requirements
PalFish Freetalk is open to fluent English speakers. They do not have any nationality requirements but they do look for a neutral-sounding accent. To become a PalFish Freetalk Teacher you should also have:
A TEFL certification (TEFL course online is fine) OR teaching license
Teaching/tutoring/mentoring experience
A High-speed internet connection
Classes are held through your smartphone via the Palfish App. Teachers must be able to download the app and should use a headset when speaking to students.
PalFish Official Kids Course Requirements
In addition to the Freetalk program, PalFish also offers an Official Kids Course. The Official Kids Course is only open to native English speakers from the United States, Canada, the United Kingdom, Ireland, or Australia. To become an Official Kids Course teacher, you'll need
A TEFL Certification or Teaching License
Able to commit to 10+ hours per week
Experience teaching or working with kids
Like Freetalk, the Official Kids Course is taught through your smartphone. Teachers will need to download the PalFish App in order to teach.
Cambly Requirements
To become a Cambly teacher, you must be fluent in English. You'll also need a reliable computer or laptop and a consistent internet connection.
iTutor Group
iTutor Group hires teachers with a BA degree or higher. You'll need a TEFL certification or a year or more of formal teaching experience. iTutor Group requires that teachers are able to work a minimum of 5 hours per week. Teachers should have a reliable computer and internet access.
iTalki Requirements
There are two kinds of teachers on iTalki, Community Tutors and Professional Teachers. To become a community tutor, you need to be a native English speaker or a fluent speaker with C2 Level Proficiency. You'll also need to create a 1-3 minute introductory video.
Professional Teachers are also required to be a native English speaker or a fluent speaker with C2 proficiency. In addition, professional teachers need to have either a bachelor's degree, a TEFL certification, or a teaching license. They will also be required to submit a CV with previous related experiences.
Now You're Ready to Teach
There you have it! Now that you know the requirements for the main online English teaching companies, all that's left to do is apply to become a teacher. VIPKID is the most recognized, reputable and popular company, while Qkids and EF Education First are second. The others are good options if you don't have a degree, or if you aren't from a country that speaks English as a first language. Learn more about teaching English online in our article here.
Like This Article? Pin it!