Trendy, clean and spacious. These are words that are constantly used to describe Easyrome Guesthouse. This is what travellers look for when choosing their accommodation and deciding where to stay in Rome. Not only are the rooms immaculate, but the location is excellent and the host is very helpful.
Traveling to Rome is the trip of a lifetime. With endless amounts of history, numerous ancient sites and fantastic cuisine, what's not to love?! If you're looking to spend less money and get some exercise by walking to the main sights, then staying at Easyrome Guesthouse in the Roma Termini (main train terminal station) is your best bet.
In this article I'll break down the facilities on offer at Easyrome Guesthouse, the things to do nearby, how to get there, and more.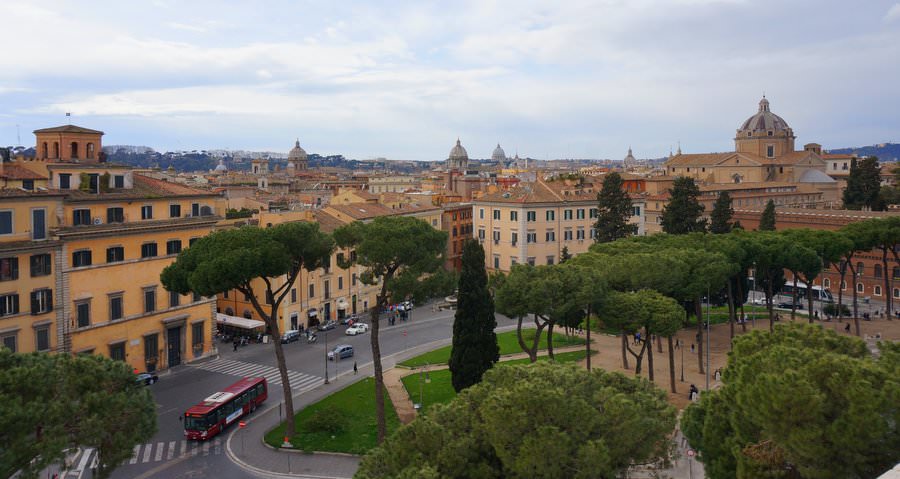 ☞ Travelling to Florence after your stay in Rome? Check out our post of 21 things to do! If you're wondering what to do in Florence, have a look at our article and start planning!
Location of Easyrome Guesthouse
It's all about the location in Rome, and lucky for you, this guesthouse is in an excellent spot. The Termini is comprised of different neighbourhoods and areas including Tiburtino and Monti, which are safe and are known for being trendy / artsy areas.
This area is great base for exploring Rome. The main train terminal is just a few minutes away, which is where you can catch public buses and connect to major metrolines into the city.
Rome is a city where basically every street you take is scenic. This, coupled with the fact that you should probably get some exercise after indulging in Roman cuisine, means that the 20 – 30 minute walk into the historical center is an enjoyable one.
From this guesthouse you'll be a 30 minute walk to the Colosseum, 34 minutes to Piazza Venezia and 14 minutes to the Basilica Papale di Santa Maria Maggiore. Plus, you're just steps from churches, museums, restaurants and the metroline.
Rooms and Facilities at Easyrome Guesthouse
Spacious, beautiful, bright rooms await you! This is a relief as most hotels and guesthouses in Rome are quite small. Each of the 3 rooms are modern, clean and tastefully decorated. In your room you'll find a flatscreen TV, a kettle (with tea and coffee) and a private bathroom with some toiletries for you to use. The guesthouse also offers free luggage storage (which is great when you have a late train or flight to catch), WiFi and air-conditioning / heating.
In the main communal area you'll find some complimentary fruit, and you can enjoy a free breakfast of a croissant and coffee at the nearby cafe (insider tip: When eating breakfast at a cafe, Italians typically stand at the bar, rather than sitting at a table).
As an added bonus, the host Enrico is wonderful. He'll be there to help you out with anything you need, give you his favourite dining spots, and is on call 24/7 for any problems that may arise.
Booking.com Rating for Easyrome Guesthouse: "Exceptional" 9.5/10. Double occupancy rooms from $129/night in the high season.

☞ Click here to see the latest price and traveler reviews of Easyrome Guesthouse on Booking.com
Top Things to See and Do Near Easyrome Guesthouse
There are numerous incredible places to visit in Italy, but Rome offers travellers endless things to see and do. As I said above, this guesthouse is in an excellent location. Far enough away from the touristy areas, yet close enough to walk in by foot. Plus, you are able to be near the terminal station, making getting around Rome and to nearby cities a breeze. Here's a list of the must-sees nearby:
Trevi Fountain – this stunning Baroque fountain has had a facelift and is showing itself once again. This is a very popular attraction for both locals and tourists, try to visit both during the day and evening. Trevi Fountain is an enjoyable 35 minute walk away.
Piazza Venezia – you can't miss this major intersection in the city, and dominating the roundabout you'll find the spectacular Piazza Venezia. It's about a 35 minute walk from Easyrome.
Basilica San Lorenzo – this church is one of the 7 Pilgrim Churches of Rome, with your "pilgrimage" taking only about 25 minutes to reach.
The Pantheon – the dome here is the largest, unreinforced, concrete dome in the world. Standing inside of this feat of architecture is something you don't want to miss. It's free to enter and takes about 35 minutes to get to.
Basilica di San Pietro in Vincoli – best known for being home to Michelangelo's statue of Moses, this Roman Catholic church was built in the 5th century, but has undergone many restorations since. It's a 24 minute walk to this sight.
Santa Maria degli Angeli e dei Martiri – designed by Michelangelo and built into an ancient bath house (frigidarium of the Baths of Diocletian), this church is very unique. Not only was it built into a bath house, but there's a meridian line in the church which was meant to check the accuracy of the new Gregorian calendar. The frescos and overall design are incredible. It's free to enter and will take you 15 minutes to reach.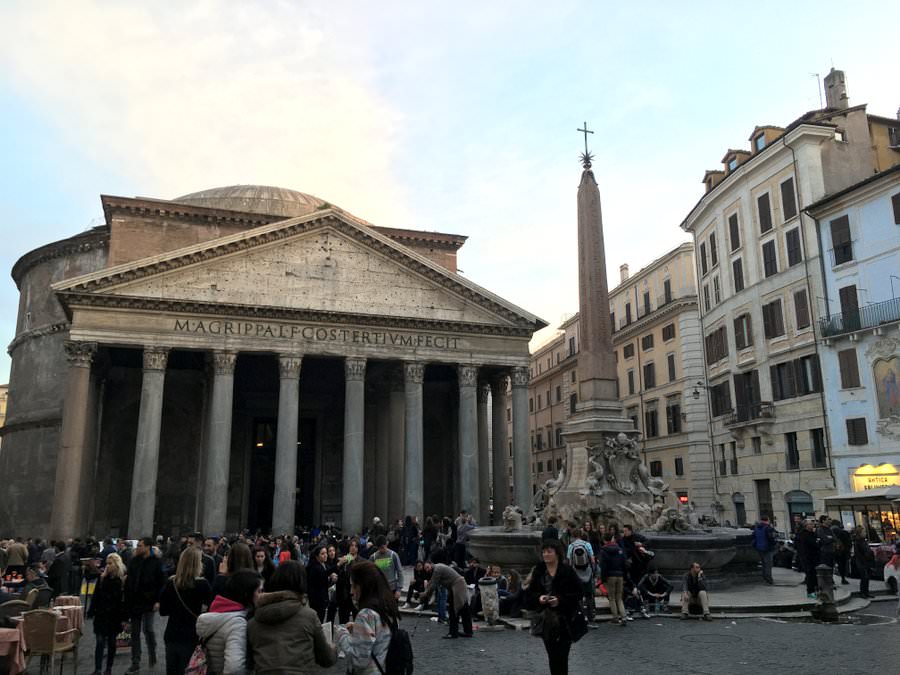 Getting to Easyrome Guesthouse
Location, location, location! Getting to Easyrome is, well, easy. If you're arriving by train, you simply walk 6 minutes and you'll reach the guesthouse.
If you're arriving by plane, you can take the 30 minute journey on the Leonardo Express train to the Roma Termini Train Station. When you arrive at the Train Station, you just get off and walk to the guesthouse. The cost of the Leonardo Express train ticket is €11 ($12.20).
Book Your Room!
All that's left to do is plan your trip to Rome, book your room at Easyrome Guesthouse and enjoy your holiday. I hope this article helped you learn a bit more about this accommodation option in Rome. Happy travels!