When we did some island-hopping in Greece, Rhodes was my favorite of the places that we stopped. Although Santorini is lovely and picturesque, and Mykonos is known for the best parties, I found the combination of history and scenery on Rhodes Greece just right for stealing my heart.
This is one of the places to visit in Greece that you don't want to miss.
Located between the country of Turkey and the Greek Island of Crete, this Dodecanese island has a little something for everyone. Over the centuries, Rhodes has seen the ancient Greeks, the Romans, the Byzantines, The Order of the Knights of St. John, the Ottomans, and the Italians — as you can imagine, the cultural identity of Rhodes is quite unique.
With so many stunning islands to choose from, it can be difficult to decide where to go. But, the fourth largest island in Greece offers an interesting history, varied culture, and the longest summer of all the islands!
Greece is one of the cheapest countries to travel to and Rhodes also has some incredible value for money.
In this article, I'll share why Rhodes Greece should be on your travel itinerary.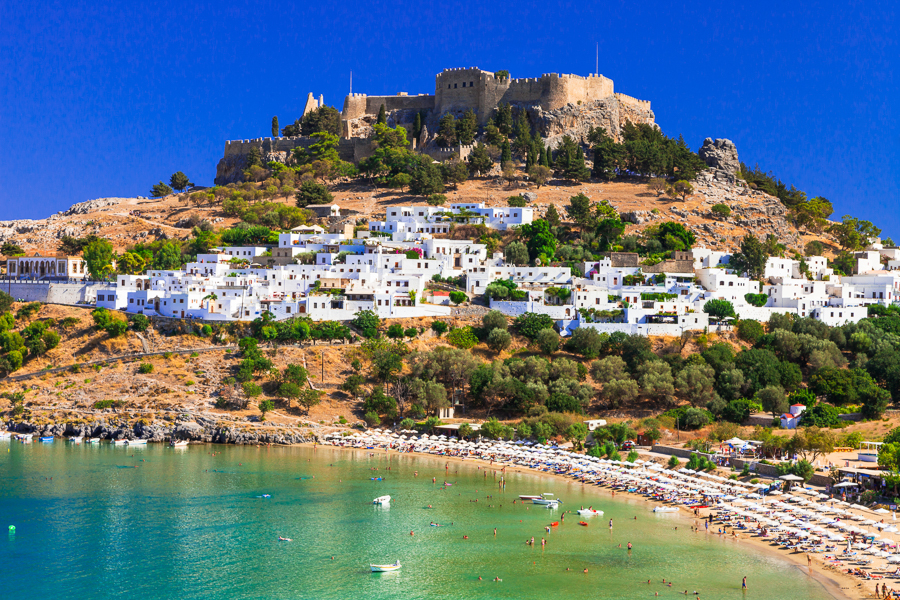 Jump To:
Things To Do In Rhodes Greece
There is a wide variety of things to do in Rhodes, which was my favorite part about spending time there — I was never bored. Dine on regional cuisine, visit ancient sites, learn about the history of the Knights of Malta, and much more. Here are a few of the best things to see and do in Rhodes.
Rhodes Old Town
Many people choose to base themselves in the old town, but if you don't, the main city of Rhodes is worth at least a day of exploration.
Much of the structure of its time as a medieval port has remained, and you feel transported to another era just by walking the streets and doing a bit of exploring. I recommend making the climb to the top of the wall where sentries used to guard the treasures taken from the Holy Land — which were hidden inside.
For some more modern fun, there are also some wonderful art galleries, great restaurants, and plenty of museums to keep you busy for a number of days.
See Also: The Ultimate Guide To Travelling in Greece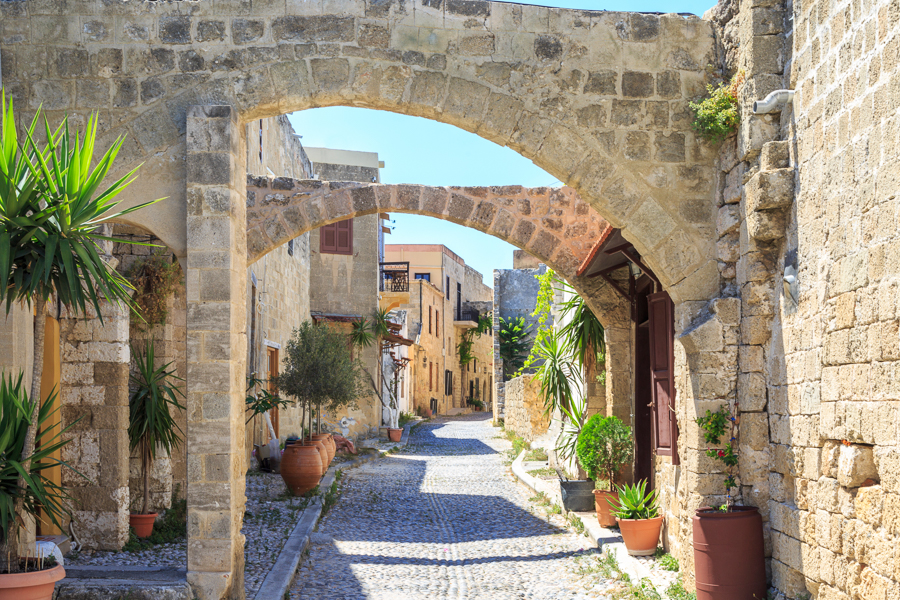 Kallithea Thermal Springs
Recently renovated, the Kallithea Thermal Springs offers an alternative to just heading to the beach (though, the beaches are fantastic). Built in 1928 by the Italians, this Greek favourite is located just 9km from the city center — you can get a cheap taxi to take you to the complex.
Swim in crystal-clear, refreshing waters (19 °C/66 °F), while enjoying numerous health benefits. If you plan to visit, try to avoid Sundays (unless you like crowds), as that's when many locals spend a full day here and it can get pretty busy.
A taxi from Rhodes Old Town is about €10, and the entrance fee to the thermal springs is €3.50. Click here to find the thermal springs on the map.
The Village of Lindos
Visiting Lindos was my favorite part of spending time in Rhodes. If you want to feel as though you've stepped into a time machine, Lindos is the perfect way to see what life on Rhodes was like for hundreds of years.
It can get busy with tourists, but navigating the tiny streets and ducking into quaint shops and restaurants is all part of the fun. Make sure to grab a glass of fresh-squeezed orange juice. Click here to find Lindos on the map.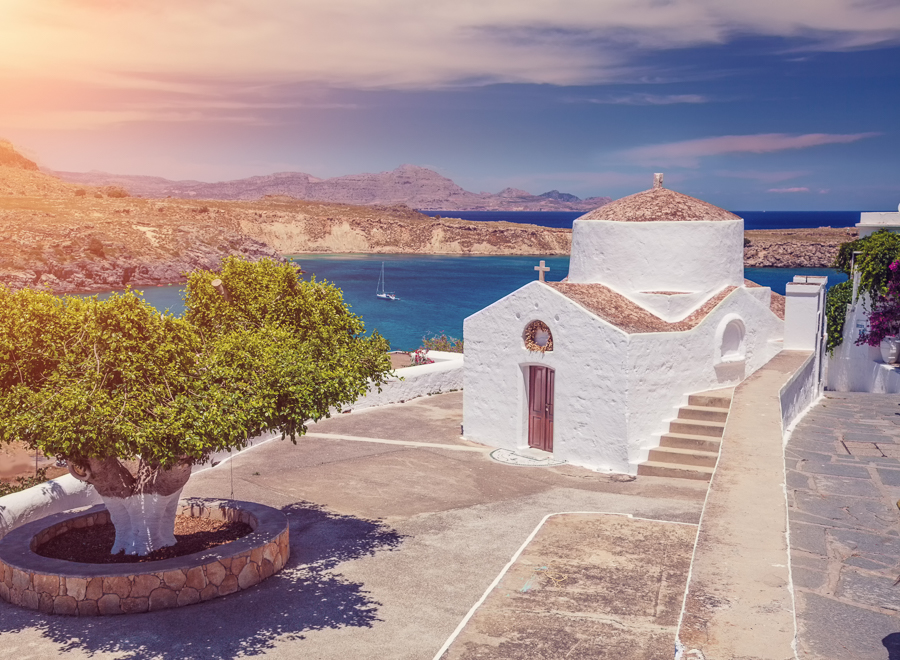 Palace of the Grand Master of the Knights of Rhodes
As one of the few examples of Gothic architecture in Greece, you can spend hours wandering the halls of this palace. Originally built as a hospital and hotel for pilgrims, it was then transformed to a palace once the crusaders retreated after the Holy Wars.
You'll find artifacts from almost everywhere in the region, and it seems to go on and on. This is also the spot where the original Colossus of Rhodes was supposed to have stood. Entrance is €12. Click here to find the location on the map.
Acropolis of Lindos
The village of Lindos isn't the only thing to see in the area. The Acropolis has some of the most amazing views of the island, while also offering a dose of history.
You can choose to ride a donkey up to the top or to make the walk yourself. While they are still discovering new information about this site, it's likely that it was a temple dedicated to the goddess Athena. It's also an active excavation site, which is very interesting to see.
Entrance is €12. Click here to find it on the map.
Monolithos Castle
Located on the west side of the island, this castle was built in 1480 for the Knights of Saint John. While most of it is in ruins today, you still get some stunning views of the surrounding area. Be careful of the old steps, as they can become slippery when wet. Once you are finished exploring the castle ruins, you can head over to the small chapel devoted to Agios nearby.
Entrance is free. Click here to find Monolithos Castle on the map.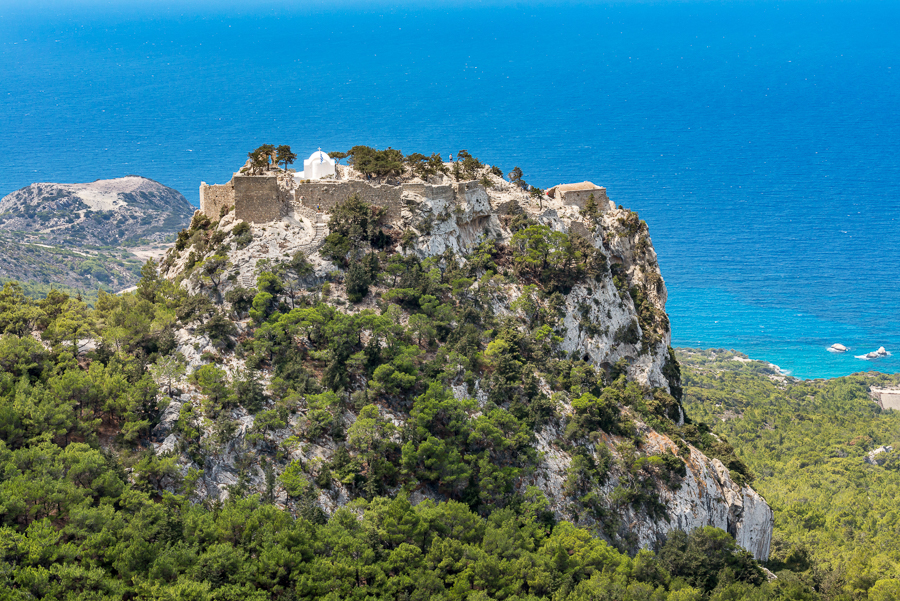 Archeological Museum of Rhodes
When in Rhodes, you must visit some medieval structures. This museum was formerly the hospital of the Knights of Saint John, where pilgrims headed to Jerusalem could rest, grab a meal, and get ready for the next leg of their journey.
Built in 1440, it also houses a number of interesting items from the surrounding areas that the crusaders conquered — in particular, ancient sculptures and mosaics. Click here to find it on the map.

Where To Stay In Rhodes Greece
Unless you are purposefully choosing to stay away from the action by heading to a quiet beach, you'll probably want to stay in the heart of the Rhodes Old Town.
There are a number of spots in all price ranges, so you should be able to find the right accommodations for you. It's also the perfect location to arrange day trips out to see other areas of the island.
While you can stay in some of the smaller villages, it's much simpler to get around by using Rhodes Old Town as your base and checking out the sights from there. I'm recommending hotels below, but many people opt to stay in Airbnb accommodation when travelling Rhodes.
Here are a few of the top hotels in the Old Town:
Medieval Rose Hotel
This hotel offers free breakfast and a homey feel. It's run by two owners, who are dedicated to helping you feel as though you feel at home during your stay in Rhodes Greece. At $28 a night, it's a perfect option for solo travelers and couples.
It's also located right in the heart of the Old Town, so you don't have to worry about getting to and from your hotel to the main area. Click here to see the latest reviews and price on Booking.com.
Evdokia Hotel
This hotel is ideal for couples looking for a romantic getaway. This recently renovated building was originally built in the early 1900s and offers pristine rooms that open up to gorgeous city views. You're in the center of it all if you stay here — the location is excellent. Click here for the latest price and reviews on Booking.com.
Hotel Anastasia
At $42 a night, this family-run hotel has basic amenities and is close to the Old Town. Best of all, it's a short walk to one of Rhodes's best beaches, so after a long day of sightseeing, you can grab a glass of ouzo and walk down to the water. WiFi is included, and guests can ask the owners about their favorite secret spots to visit. Click here for the latest price and reviews on Booking.com.
Where To Eat In Rhodes Greece
Of course, one of the main reasons to visit Greece is to sample the amazing food options, and Rhodes doesn't disappoint. In fact, eating is one of the best things to do in Greece as it offers a wonderful, cultural experience. I actually found the dishes to be some of the most authentic that I sampled during my trips to Greece.
You can also find a number of restaurants offering a more affordable menu, which is great after spending time on some of the more popular (expensive) islands.
Mezzaluna
Hours: 12:00 pm–12:00 am, Sunday-Saturday
Phone: +30 2241 074607
Location: Click here
Rating on TripAdvisor: 5/5
You can't get more authentic than this spot. With a patio for outdoor seating and some amazing pork souvlaki, it has it all. Plus, Mezzaluna also offers some options for those with special diets — vegans and veggies don't have to miss out on the dishes here.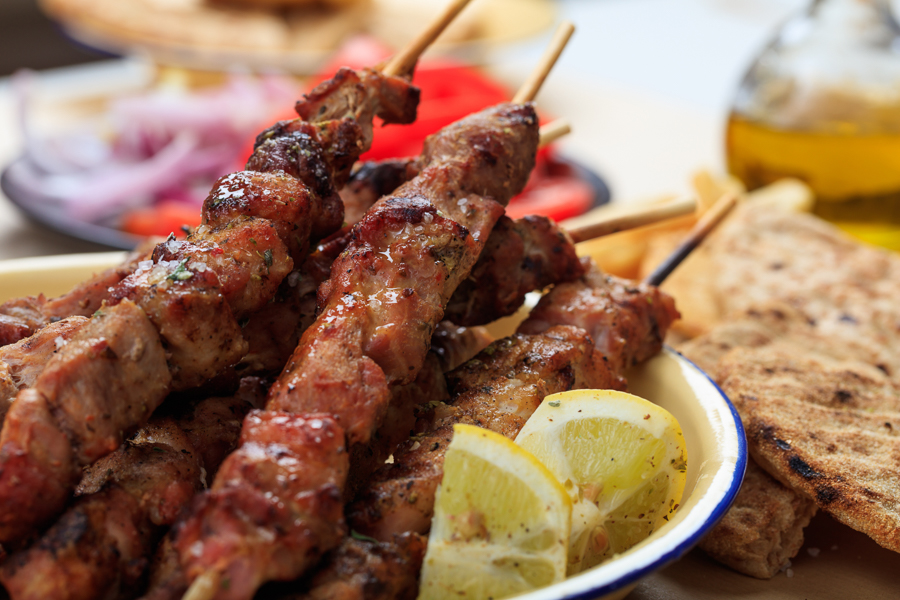 To Megiston
Hours: 10:00 am-1:30 am, Sunday-Saturday
Phone: +30 694 291 5033
Location: Click here
Rating on TripAdvisor: 4.5/5
This casual restaurant specializes in seafood and a welcoming environment. This can be a great option for solo travelers or families. It's also a popular tavern for locals, and you can expect to see patrons staying from the late evening onwards. If you want to try some calamari, this is the place to do it.
Hermes Greek Grill House
Hours: 8:00 am-12:00 am, Sunday-Saturday
Phone: +30 2241 027153
Location: Click here
Rating on TripAdvisor: 5/5
This budget-friendly grill has taken the traditional meat dishes associated with Greece and made them better. It's also incredibly cheap, making it perfect for the traveler on a budget. The staff also speak great English, so it's worth it to ask for their recommendations!

Beaches in Rhodes
While many choose to visit Rhodes for history, the scenery is another main reason to visit Rhodes. Most of the island has the typical white sand beaches associated with the Greek islands, but each is unique and offer their own vibe.
From sandy to pebbled, there's a beach for you in Rhodes. Some are more popular than others, so you might have to hop on a bus or moped to find more private options.
Anthony Quinn
Named after the actor who fell in love with this spot while shooting a movie, it's an intimate beach with clear waters. It's a bit rugged with some nearby rocks, but it also offers the perfect area for those looking to catch a tan while on holiday. You can also hop right next door to Ladiko, which might be a bit quieter in the afternoon. Click here for the location.
Tsampika
Tsampika has enough fine sand for everyone, and it stretches into another lovely beach called Prasonisi Tsampika. You'll be hard-pressed not to enjoy yourself here since the water is shallow and there are a variety of tavernas, refreshment stands, and umbrellas. This is the perfect beach for families, and there's plenty of room to play. Click here for the location.
St. Paul's
If you are near Lindos, St. Paul's offers stunning views of the Acropolis and an excellent bar and restaurant. You can rent umbrellas for €15 for the day, and you are close to the village of Lindos if you want to do some sightseeing or grab dinner at the end of a long beach day. You can easily catch a taxi when you are ready to head back for around €20. Click here for the location.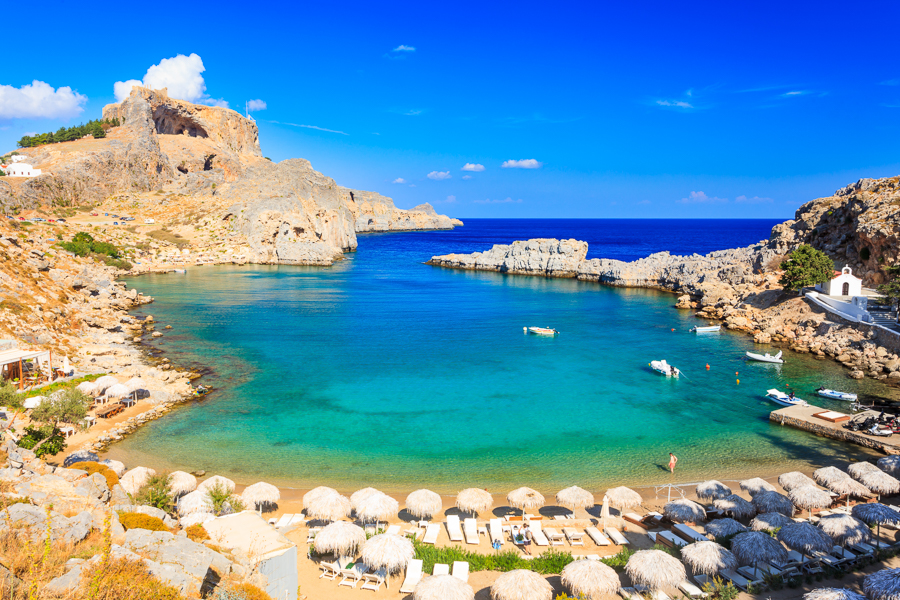 Exploring Rhodes Old Town
Many tourists don't get beyond Rhodes Old Town, and there are a number of reasons why. Along with plenty of museums, castles, and shops, there are numerous other things to do.
You'll also have no trouble finding delicious restaurants and fun tavernas where you can try out some ouzo. It's also incredibly easy to get around because it is so compact—a good pair of walking shoes will get you a long way!
The main sights are usually the historic ones relating to the knights who made their home in Rhodes after the Crusades. As I said above, don't miss the Palace of the Grand Master of the Knights of Rhodes for an overview of the region's crusader's influence.
After some basic information, head over to the Archaeological Museum of Rhodes for a more in-depth look at that time period. Rhodes is a haven for those passionate about history!
While the list above reflects some of the best restaurants in the Old Town, you shouldn't be limited to just those! There are a number of authentic spots that you can grab a great meal.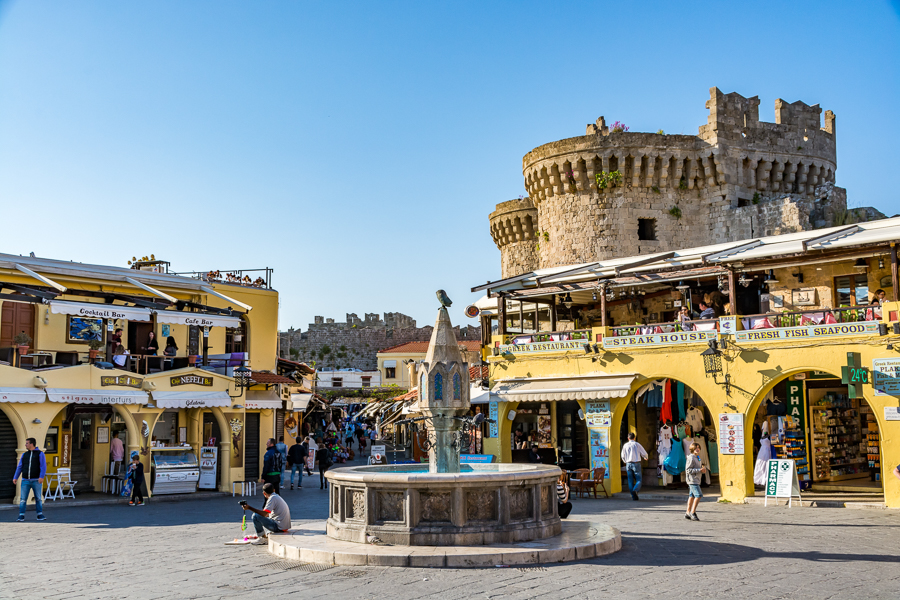 When you are looking for a decent, local restaurant, don't be afraid to venture into some of the neighborhoods on the edge of the main city. These offer an authentic taverna experience and are often cheaper than ones you will find in the more touristy areas.

Transportation in Rhodes
How To Get To Rhodes
There are three ways you can arrive in Rhodes Greece: airplane, ferry, or cruise ship.
If you arrive by ferry or ship, you will be dropped off about a five-minute walk from the Old Town.
It takes about a half-hour to get from the airport to the Rhodes Old Town. You will most likely want to take a taxi if you aren't renting a vehicle (cost for a car is around €25 a day) and you'll want to make sure to ask for the flat rate or decide on one in advance.
Ideally, around €0.74 per kilometer should be just right in the Old Town. A taxi can take you right to your hotel, which can be helpful if you have a number of bags, as well.
How To Get Around Rhodes
If you choose to rent a car, you can pick one up from a few rental businesses or even book one online in advance. You usually have to be over the age of 26 to rent a car in Europe, and it's highly recommended that you book insurance along with it.
You can book with the company you are choosing to work with, or some travel credit cards offer it as a benefit, as well. You can find a small one that fits four people for the price of around €25 and day depending on the time of year. You will have to pay for gas on top of that.
Scooters are also a possible option, and they can be perfect for quick trips to the beach or getting around the narrow streets of the Old Town. They are slightly cheaper at about €20, and you will probably need to look into specialized insurance that you can get through the rental company.
The same rule for age applies: you will probably have to be 26 in order to rent. Again, you will have to pay for gas.
Taxis are a great way to get around if you aren't sure about driving. Before you agree to get in, make sure you and your driver have decided on a price. Everything is negotiable, so you should feel free to bargain for a price that works for you. Because taxi drivers are used to driving tourists around, they might try to upcharge you. Ridesharing hasn't quite made it to Rhodes yet.
The best way to really enjoy the town and see most of the sights is to tie on your sneakers and to hit the cobblestones. It might be worth it to get a map or to download one from Google maps in order to find your way to specific sites. If in doubt, you can always ask some of the locals — they mostly know what you are looking for.
Ready For Rhodes?!
Rhodes is an amazing place to get the feel of Greek island culture without some of the other negatives of the more popular spots.
Even though it's the fourth largest of the Greek islands, it's also the one likely to be the least crowded during tourist high season. For crystal clear waters, delicious local food, and a laidback atmosphere, Rhodes has got a little bit of everything for the vacationer.
Images in this post are courtesy of Shutterstock.
Like This Article? Pin it!