Even though Russia is an amazing country to backpack through, and the largest country in the world, not many people travel here partly due to the bureaucratic nightmare of getting a visa. Luckily, we were able to get our visa in Shanghai without any issues and are so glad we made the effort!
Russia is a country that blew away any expectations we had. Basically, we were imagining very unfriendly, serious people, everything made of metal and free-flowing vodka.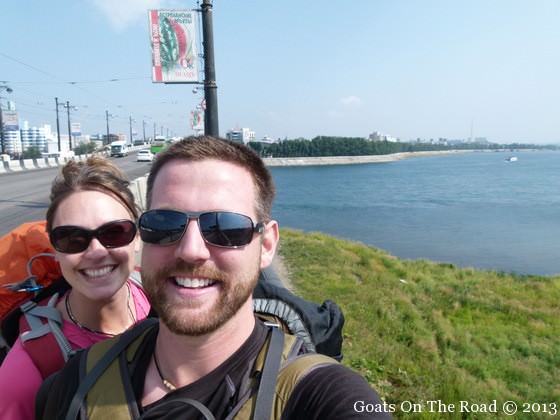 Although we did find lots of vodka, the people of Russia were outstanding and not everything was made of cold steel. In fact, most of the homes and buildings in Siberia were made from wood.
The food was delicious, the outdoors were fantastic, the hostels were some of the best and the scenery was awesome.
Even though we only had 8 days in this massive country, we're glad we made the decision to stop off along the Trans-Siberian Train route and explore the Siberian region of Russia. We definitely want to return to Russia one day and visit the cities and sights that we missed. In particular, the stunning cities of St. Petersburg and Moscow, as there are endless things to see and do there!
Here's a quick round-up of our 8 days of backpacking through Russia
We travelled by train, bus, marshuka, old Soviet vans, tram and boat. We've taken some interesting modes of transportation during our travels, and the transport in Russia was an awesome addition to our list.
Taking The Trans-Siberian Train Video:
We learned a bit about the strong Russian Orthodox faith while gazing up at gorgeous cathedrals.
We sun-tanned, swam and hiked around an island in the middle of the deepest lake in the world, Lake Baikal.
Borsh, sausage, potatoes, smoked braided cheese and fish became our favourite foods for 8 days…and we gained a new appreciation for dill-seasoned foods.
We camped on a beach, stayed in immaculate dorm rooms and in a quaint private room made from wood in Siberia.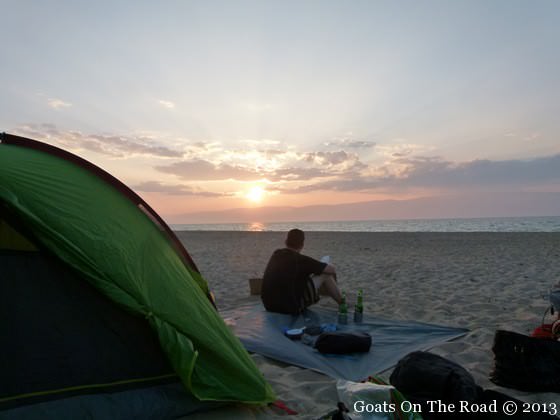 We thrashed ourselves with birch branches and eucalyptus leaves before sweating out our toxins in the sauna. A visit to a traditional Russian banya is a must.
We enjoyed a small, local cultural show with traditional instruments and song.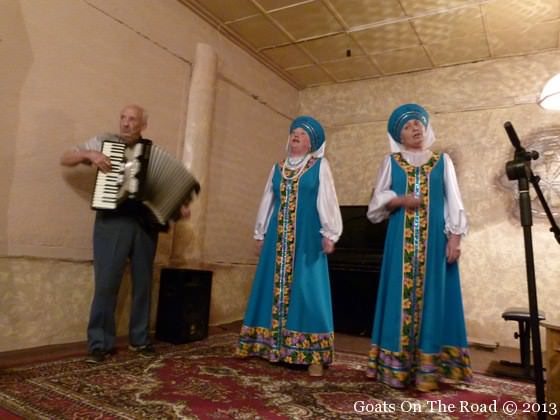 We made many new friends over many shots of vodka!
We also learned that Russians chase their shots of vodka with food of some sort – cucumbers, apples, bread and smoked cheese being the popular choices. They're smarter drinkers than us! It makes more sense to be consistently eating while consuming copious amounts of booze.
We didn't speak any Russian (except for hello, thank-you, yes and no) and the Russians didn't speak any English, at all. It's amazing how charades and hand gestures can really get a point across!
After a wonderful 8 days filled with shattered stereotypes of Russia and its people, we were off to our next country, Kazakhstan! Instead of getting on yet another train, we opted for the overnight bus from Omsk to Astana. Although trains are much more comfortable than buses, the cost of the train for this leg was 50% more than the bus. We sucked it up, prepared ourselves for a 15 hour bus journey and waved goodbye to Russia.
Have you ever been to Russia? What did you think? Tell us below!
More Russia Posts:
Travelling On The Trans-Siberian Train: Ulan Bator to Irkutsk
Olkhon Island: A Little Piece Of Paradise In Russia (with Video)
Trans-Siberian Train Journey: Irkutsk to Omsk
Travelling On The Trans-Mongolian Train: All You Need To Know
More Travel Videos (Goat Shows)
Like this Post? Pin it!