Renting a car in South Africa is a must! Not only does it end up being the cheaper option than local transport, but it gives you the chance to be spontaneous and have the freedom to choose where you want to go, when you want to go. Some people might be a bit wary of renting a car in a country that has some of the highest crime rates in the world. However…
We drove through South Africa for 5 weeks and highly recommend it to everyone!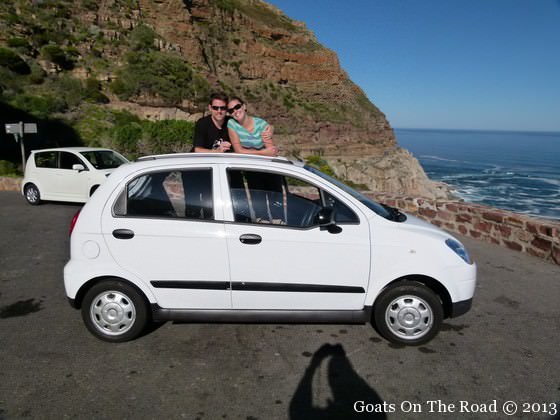 Here's our list of tips for staying safe on a South African Road Trip:
1. Gas Up. Be aware of your gas tank gauge and top up on petrol when you see a station. We were dangerously low on fuel one day and thought there would be a gas station coming up, but it was much further away than we had thought. You don't want to be stuck out on the roads here, so keep an eye on the amount of gas you have.
2. Older Is Better. You don't want to have a flashy, new looking ride while in South Africa. Nice cars = money. If given the choice between a BMW and a Chevy, go for the Chevy.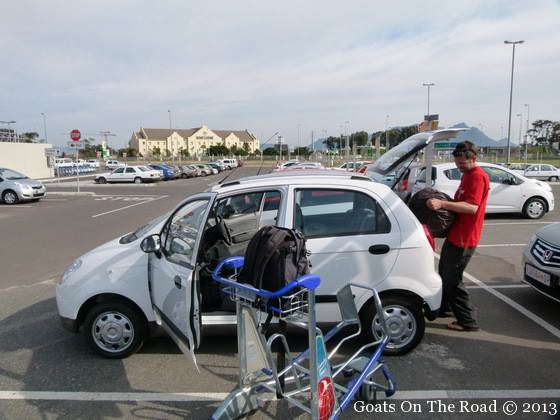 3. Don't Pick Up Hitch-hikers & Don't Stop For Anyone. We were told this numerous times by the local people. There are scams in South Africa targeted at drivers. Someone will act as though they need help with their broken-down vehicle and as you pull over to help them out, their friend jumps out of the bushes and steals your car, and/or robs you. Stop for no one.
4. Lock Your Doors. Always lock the doors to your vehicle, even when driving. Again, you could be a target for a robbery or carjacking when you pull up to a stop sign or a red light.
5. Don't Drive At Night. Figure out how long it will take you from where you are to where you want to go, and then leave early enough to make it there before dark. Being out on the road in South Africa at night can be a dangerous place. There are even laws that say you can run a red light or a stop sign at night, due to the high number of carjackings!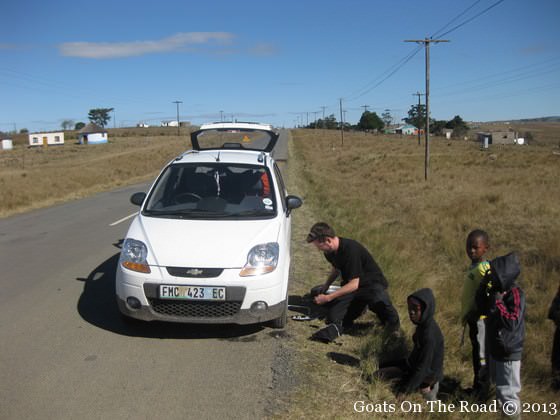 6. Watch Out For Pot Holes! The main roads and highways in South Africa are really good. However, when you get off of them and are heading to some smaller towns and villages, the roads can be quite poor. The potholes become more like canyons, there's no shoulder and many people are walking along the roads, so you have no choice sometimes but to hit the craters head on. Our car was the victim of 2 massive potholes.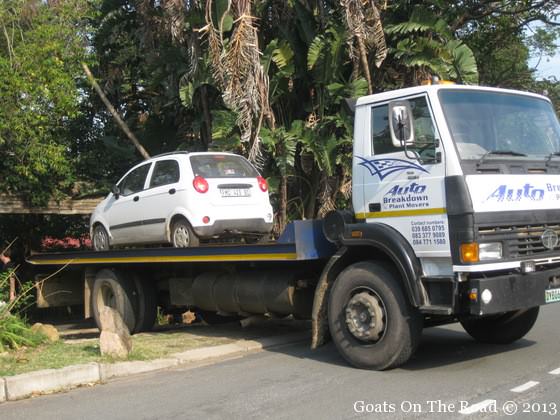 7. Pay The Parking Attendant. When you go to a grocery store, restaurant, shop, mall or anywhere like that, there will almost always be a man standing outside wearing a neon vest, who will say "watch your car?" Basically he keeps an eye on it while you're away and makes sure no one vandalizes or steals it. He may even top up the parking meter for you! When you get back to your car, he will ask you for some money, typically about 2-5ZAR is appropriate.
8. Have A Mobile Phone. If you have a breakdown, are lost, need to call the rental company, or have an emergency, having a mobile phone is a must. It's not a good idea to get out of the car and wait on the shoulder, stay in your car with the doors locked.
9. Get A Cooler (Ice-box). It's a good idea to always have some food and water in case of breakdowns, or if you get lost! Being able to keep food cold while on the road is awesome. We had cheese, leftover dinner, cold chicken, fruits and veggies and of course, cold drinks.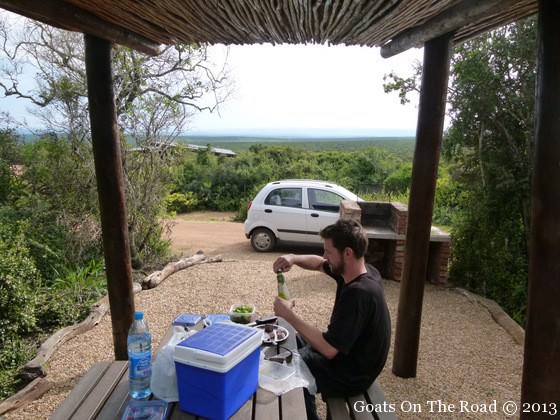 10. Have A Good Map. Having a good map is key to your road trip experience. There are so many different routes you could take in South Africa. By having a good map, locals can show you the most scenic and fastest routes from point "a" to point "b"…and of course, you won't get lost.
11. Windows Up. One of the great joys of driving through South Africa is seeing the beautiful landscapes and feeling the wind blowing in your face. Which is what you should do, until you arrive in the city, then it's time to put the windows up, and turn the air conditioning on! Having your windows wide open makes it easy for someone to reach in and steal something.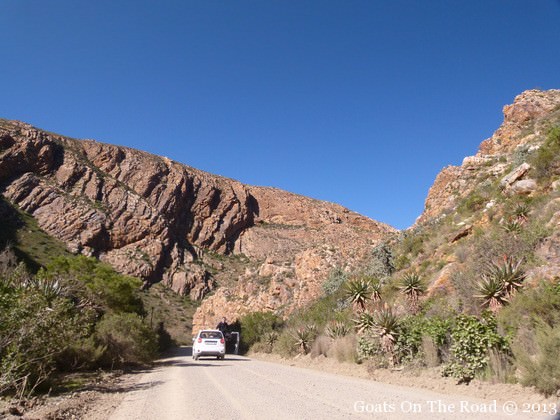 12. Watch out for wildlife. Livestock and wildlife often roam the roads here. Be aware! You don't want to go head-on into an antelope, you'll lose.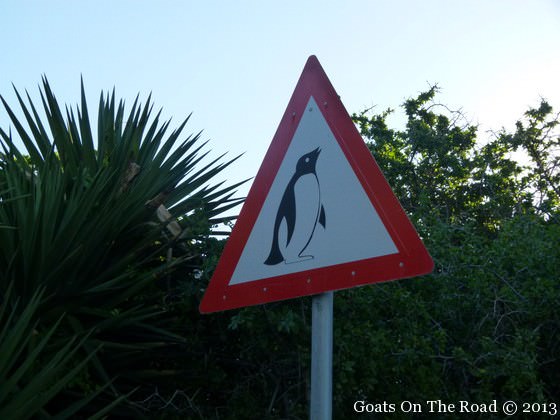 There you have it. Some great tips to help keep you safe while driving in South Africa. Having said all of this, we spent 5 weeks in this awesome country and drove from Cape Town all the way up the coast to St. Lucia and veered into Swaziland before ending our trip in Pretoria.
We had nothing but great experiences and if you follow these guidelines, you will too!
***GOAT NOTE:
Rent A Car With Carhire3000. We found this online company to be professional, prompt and easy to deal with. We ended up getting a Chevrolet Spark car, with insurance (including windshield and tires), drop off in a different city than the pick up all for $25/day. We loved our little Chevy Spark. It was good on gas, and having 4 doors made life so much easier when it came time to load up the car.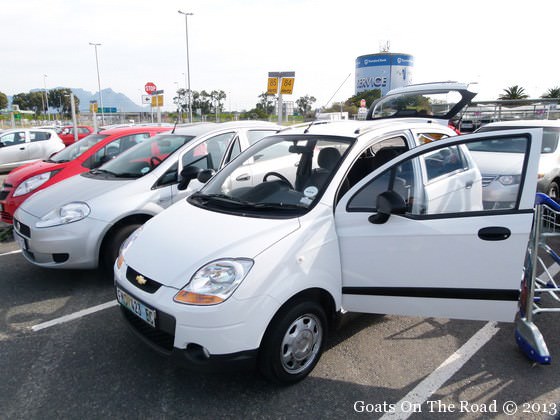 Have you ever done a road tip in South Africa? Did you feel safe? Leave a comment below!
SOUTH AFRICAN SAFARI: NATIONAL PARKS YOU CAN AFFORD!
BUDGET GUIDE TO BACKPACKING SOUTH AFRICA
Like this Post? Pin it!
Disclaimer: Some links in this article are affiliate links, which means that if you purchase through them, we receive a small commission. This will never cost you extra and in many cases you receive a special discount. We appreciate your support!