There's nothing quite like hitting the open road to see some familiar (and not-so-familiar) scenery. You could be visiting a friend or a relative, or even be cruising along without a destination in mind. There's something about road trips that gives you that feeling of total freedom.
Of course, what you bring with you on your road trip will definitely make or break the journey. It's no secret that those who have taken adequate time to prepare themselves have the best road trips – making sure your car insurance is up to date is just a starting point.
Maps, duh
Don't even think about hitting the road without at least two sets of maps. Yes, your smartphone may be able to predict the weather and send pictures of your holiday instantly to friends, but once your battery's run out, you're not going to be able to rely on Google Maps any longer.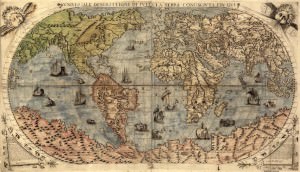 Playlists! 
As a rule of thumb, the driver gets to pick the music, but if it's a road trip, you have to take everyone's musical tastes into consideration. Make sure you make few playlists that reflect everyone's tastes before you leave, in order to avoid arguments on the road later.
Snacks
Healthy ones, mind. Your road trip won't feel as good if you're really bloated on crisps. Make sure you take a lot of healthy snacks such as fruit, nuts and so on for a bit of light snacking. Pack your own sandwiches daily if the trip is going to be long, in order to avoid being fleeced by fast food joints along the way.
Comfort items
Make sure your car is loaded up with plenty of pillows and perhaps a few blankets, just so everyone's nice and comfortable for the ride. This'll definitely reduce the level of complaining, especially if you've got kids riding in the back.
Camera(s)
A camera is more or less essential for any kind of holiday. But you can make photographing the trip extra fun by buying a bunch of disposables and giving them to each passenger to get a range of diverse and interesting shots.
Repair supplies
Leaving before you ensure your car is in optimum condition is a serious error. Get your oil checked and your tyres inspected. You'll also need to bring an emergency toolkit.
Toilet paper
This goes without saying, but you'd be surprised by how many travellers forget about this essential item. Emergency situations aren't necessarily restricted to engine problems!
So the next time you're thinking of heading out on the open road, consider checking over this list and making sure you have everything you need. There's nothing worse than getting 200 km into your trip and then slamming on the breaks and realizing you've forgotten something. The seven items above will surely improve any road trip and ensure smoother sailing for everyone involved.
What special items do you always carry on a road trip? Comment below.
This Article Is By:
[googleplusauthor]
Disclaimer: Some links in this article are affiliate links, which means that if you purchase through them, we receive a small commission. This will never cost you extra and in many cases you receive a special discount. We appreciate your support!